Well, this Chicken and Spinach Lasagna is my all time favourite lasagna recipe. Tried and tested more times I can count over pretty much the past 20 years. Made with homemade marinara sauce, lots of fresh spinach and mozzarella. A real winner of a dinner!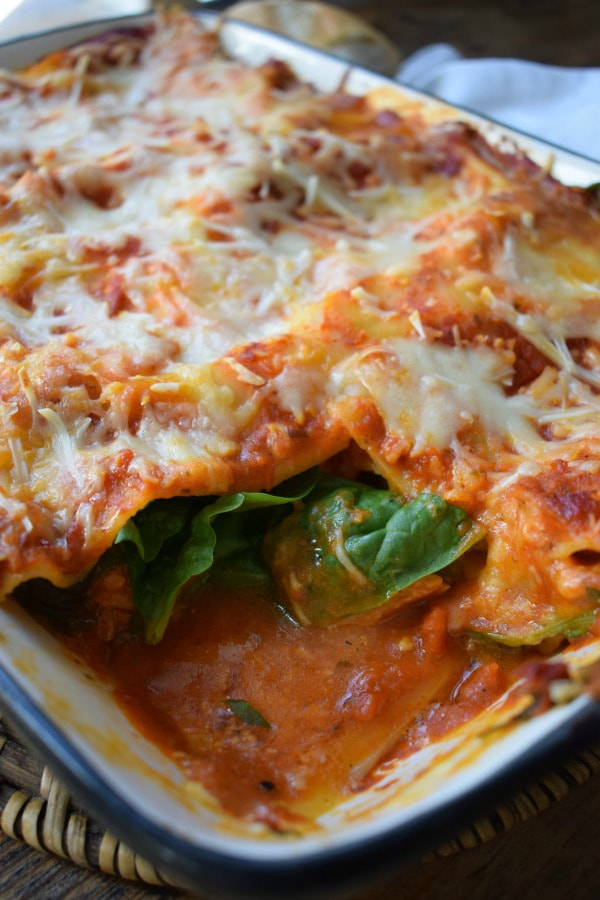 ---
Lasagna is Work, fact
I know, I know, lasagna is a lot of work. There is no way around it, to make a great lasagna, you just got to put in the time and the effort.
Take this little beauty we see in front of us here. Start to finish it's a few hours. Well, basically one hour hands on and then about 45 minutes in the oven. But can i just say, it's worth it. Every single minute. Just like my Classic Lasagna, this one is a true family favourite!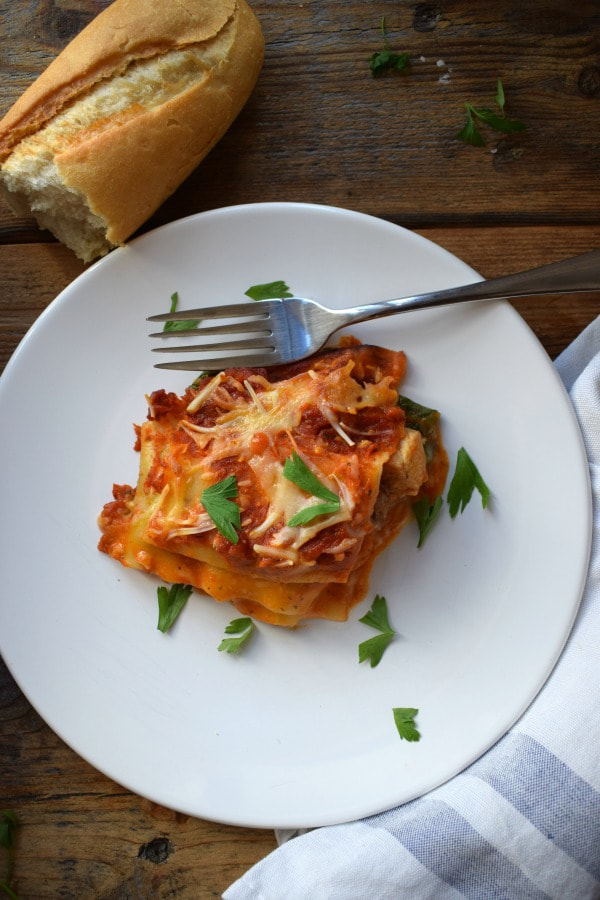 ---
You might not want to make it on a rushed day when you schedule is packed full or when you're rushing in from work. Save it for a Saturday when you have time to spare and enjoy the cooking process. If you're looking for an easy Italian comfort food, why not try my Italian Sausage & Tomato Stew…yum!
Truth, I don't always love (or even like), the cooking process. My days are generally packed and quite often dinner is rushed. But days when I have time, I know there's lasagna.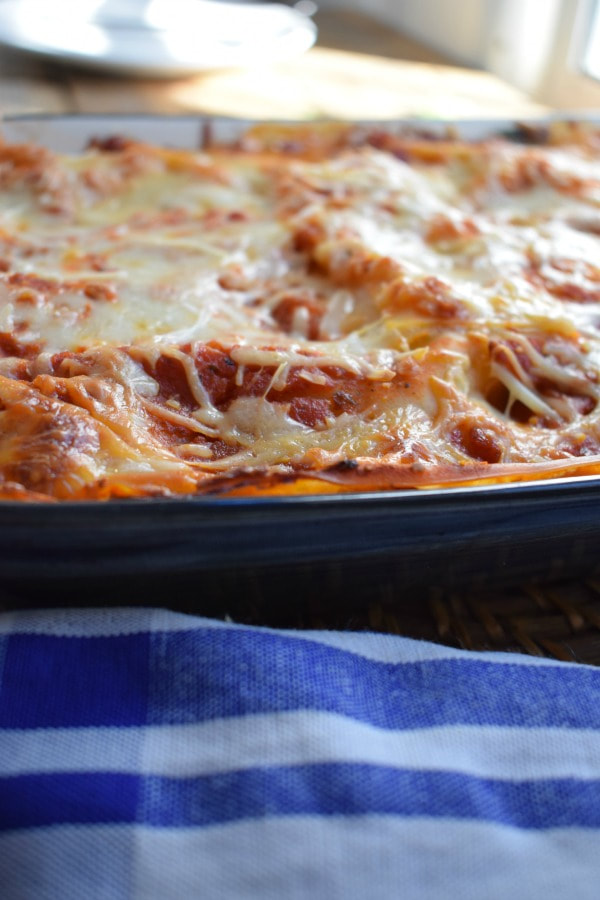 ---
I promise you, this lasagna is worth the effort. All one and half hours of it! Yea, it's not a quick midweek dinner. I have made this more times that I can count and every single time it is a huge success. Much like my Roasted Squash and Zucchini Lasagna and the Roasted Zucchini & Cherry Tomato Lasagna, it's an absolute winner.I have served it to countless friends over the years and it's usually a hit with kids as well as adults.
Like what you see today? Don't forget you can follow on Facebook for daily inspiration or over on Instagram where I sometimes do daily cooking videos for fun! I'm also on Pinterest which is a great place that you can save and share your favourite recipes. As well, if you haven't yet, Subscribe to the newsletter. You'll be notified whenever there's a new recipe! You can do that at the top of the page.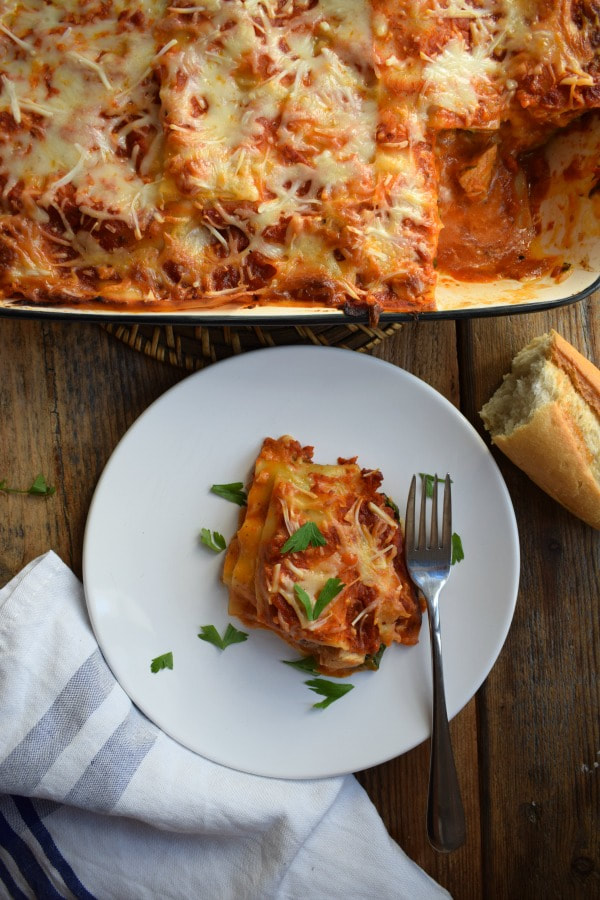 ---
Chicken & Spinach Lasagna
Well, this Chicken and Spinach Lasagna is my all time favourite lasagna recipe.  Tried and tested more times I can count over pretty much the past 20 years. Made with homemade marinara sauce, lots of fresh spinach and mozzarella. A real winner of a dinner!
Ingredients
20

lasagna sheets

3

cans

whole tomatoes

16 oz cans (large ones)

1

large

red pepper

roughly chopped

1

large

green pepper

roughly chopped

1

large

onion

roughly chopped

6 to 8

cloves

garlic

crushed

1

bag

spinach

8 oz/200 grams

2

chicken breast

cut into small pieces or into ground chicken

2

Cups

mushrooms

sliced

1

Cup

sour cream

2

Cups

mozzarella

grated

Fresh basil

rosemary & parsley

Salt and pepper to taste

Olive oil
Instructions
First, make the marinara sauce

In a large frying pan, add olive oil and about half of the crushed garlic. Cook for a minute until fragrant..

Add the peppers and onions. Stir well and cook on high heat for a few minutes until they start to brown. Then reduce heat to medium-low and continue to cook for about 10 more minutes. While the onions and peppers are cooking, add in a little of the tomato juice from the can. This will ensure they soften while they cook and not burn

Add can tomatoes, herbs, salt and pepper. Continue to cook until the liquid in the tomatoes reduces by half. This will take around 30 minutes. Stir as it cooks. At this point taste your sauce and see if it is bitter at all. If so, add about a teaspoon of sugar. Stir well and leave to simmer for a few more minutes.

Once you have finished this, add the mixture to the blender and blend in batches until you have a smooth sauce. Flavours can be adjusted once you have made your sauce with additional herbs, salt, pepper, sugar….

Heat the reserved skillet and add a little olive oil and garlic. Add mushrooms and cook until browned, about 5 minutes.

Then add in chicken to the mushrooms. Cook just to brown the chicken for a about 3 – 4 minutes. Remove from heat. Add prepared sauce and the fresh spinach to the chicken and mushroom mixture. Stir well

Cook pasta in boiling water for 8 minutes. Remove and instantly rinse with cold water. Let drain.

To assemble the lasagna you need a large lasagna pan. Put a tiny amount of sauce on the bottom layer. This is just so the pasta does not stick. Then you can start layering. First a layer of lasagne sheets, followed by a few ladles of sauce, few spoonfuls of sour cream and finally cheese. Keep repeating the process until all layers are done. I usually get around 4 layers.

Bake in a preheated oven of 350 degrees for around 40 minutes. Remove from oven and let stand for 10 to 15 minutes. This allows time for the lasagna to set so when cut it stays together.

Can be served with any fresh salad and garlic bread. Makes for great, fuss free entertaining as it can be made ahead and refrigerated up to 24 hours before baking.
*A note on times provided: appliances vary, any prep and/or cook times provided are estimates only.
Notes
If your lasagna is browning too quickly, loosely place a sheet of aluminum foil over the top while it finishes cooking.
Nutrition Facts
Chicken & Spinach Lasagna
Amount Per Serving (1 serving)
Calories 399
Calories from Fat 108
% Daily Value*
Fat 12g18%
Cholesterol 59mg20%
Sodium 240mg10%
Potassium 654mg19%
Carbohydrates 48g16%
Protein 24g48%
Vitamin A 3546IU71%
Vitamin C 45mg55%
Calcium 190mg19%
Iron 2mg11%
* Percent Daily Values are based on a 2000 calorie diet.
---
Thanks For Stopping By & Hope To See You Soon!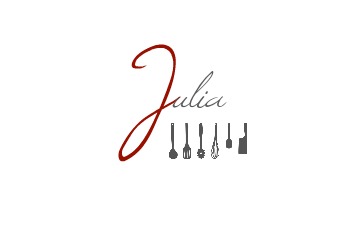 By