A quick and easy dessert or snacking cake the whole family will enjoy. This Chocolate Chip Loaf Cake is buttery, moist and loaded with chocolate chips. This is a great cake to serve with a cup of tea or coffee or even for a small gathering.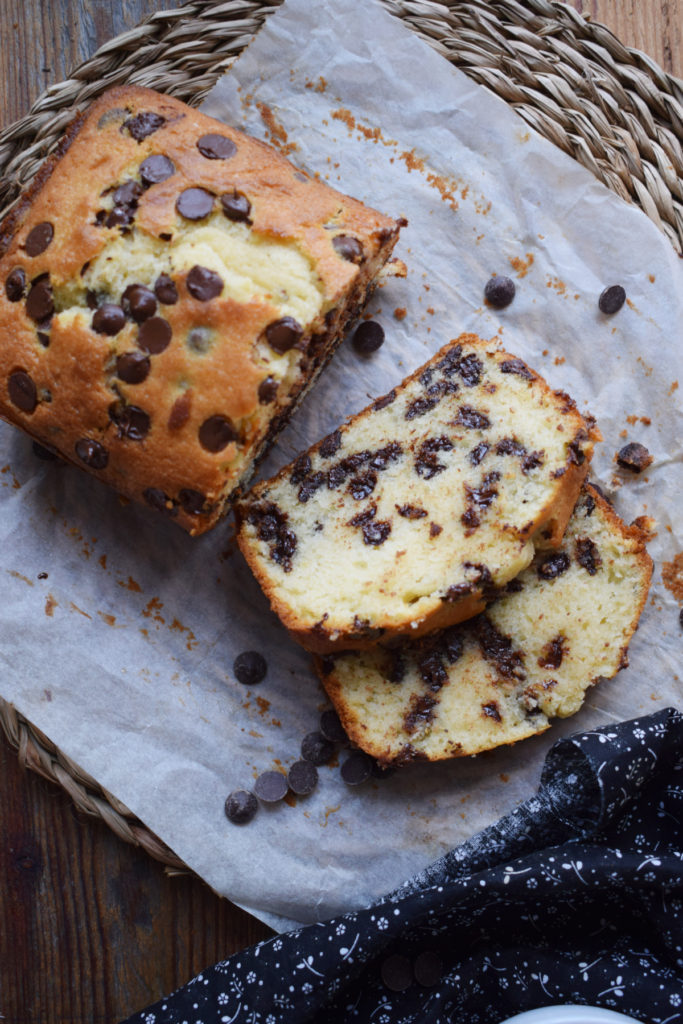 ---
Welcome to one of the most popular recipes on Julia's Cuisine for two years and running. And it's no accident that this recipe is viewed and baked by readers daily, because it's a keeper.
Honestly, this loaf cake is super easy, uses basic ingredients and even novice bakers can make it. I've been making it for close to 20 years now and it always goes down so well. A moist vanilla loaf cake filled with chocolate chips that just melts in your mouth. Much like my Chocolate Chip Cake Squares, this is a family favourite!
And friends, if you're looking for a healthier version, check out my Chocolate Chip Bran Muffins.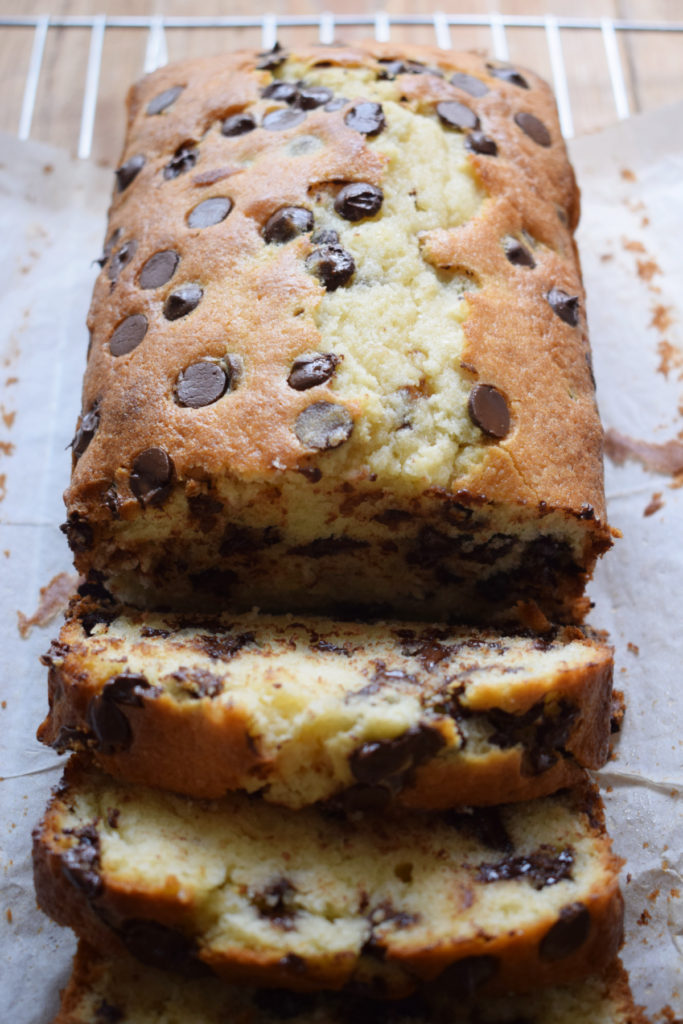 ---
Everything We Need To Make The Chocolate Chip Loaf Cake
1 1/2 cups plain flour
3/4 cup sugar
1 teaspoon baking powder
1/4 teaspoon salt
1/2 cup butter at room temperature
2 eggs large
2 teaspoons vanilla extract
1/2 cup whole milk
1 cup chocolate chips
REMEMBER, The full recipe is always found at the end of the post in the recipe card.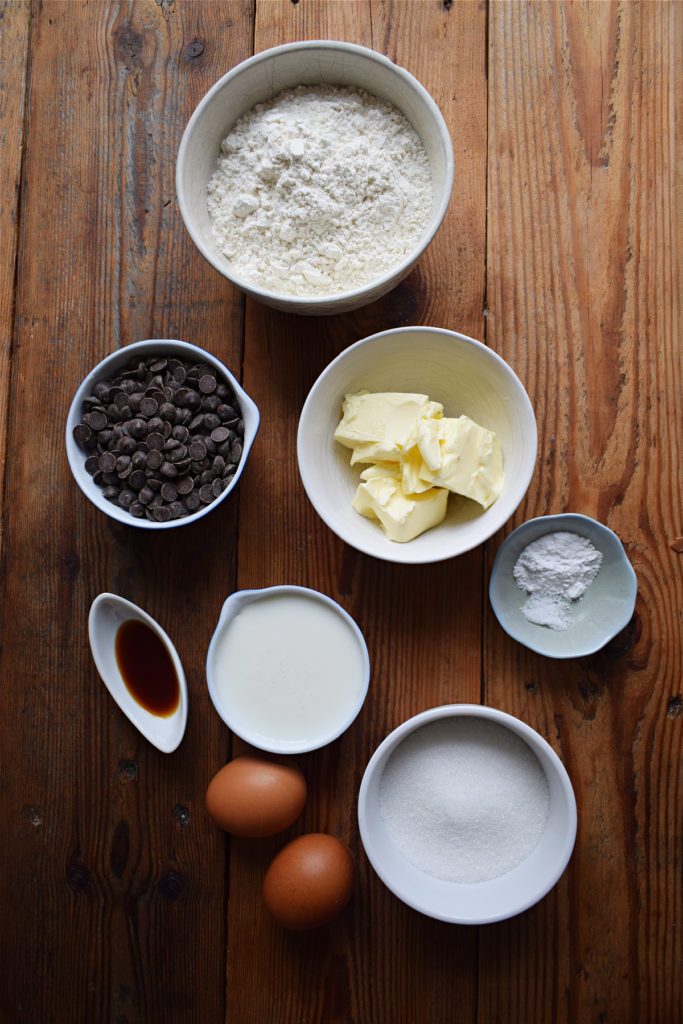 ---
How to Make the Chocolate Chip Loaf Cake
Preheat oven and get baking pan ready

– preheat oven to 350 degrees f and grease and line with parchment paper a 9 x 5 inch loaf tin.

Cream butter and sugar

– in the bowl of your electric mixer, mix on high the butter and sugar until light and fluffy, about 2 – 3 minutes.

Add the eggs

– add in the eggs one at a time until well incorporated.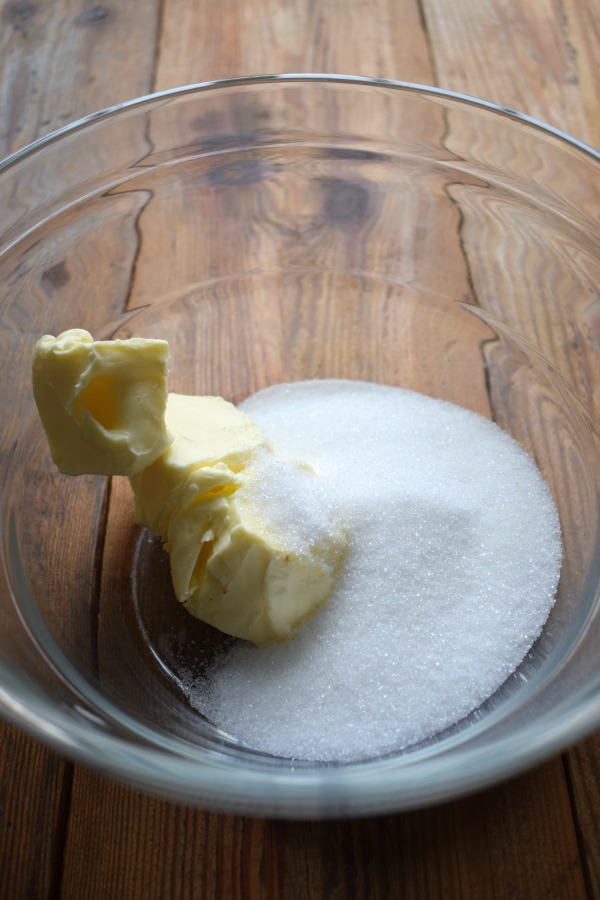 ---
Combine dry ingredients

– in a separate bowl combine the flour, baking powder and salt. Whisk to combine.

Add half of the flour to the batter

– we're going to add the flour and milk in three additions. Keep reading and you'll see. First up, add 1/2 of the flour and stir just to combine.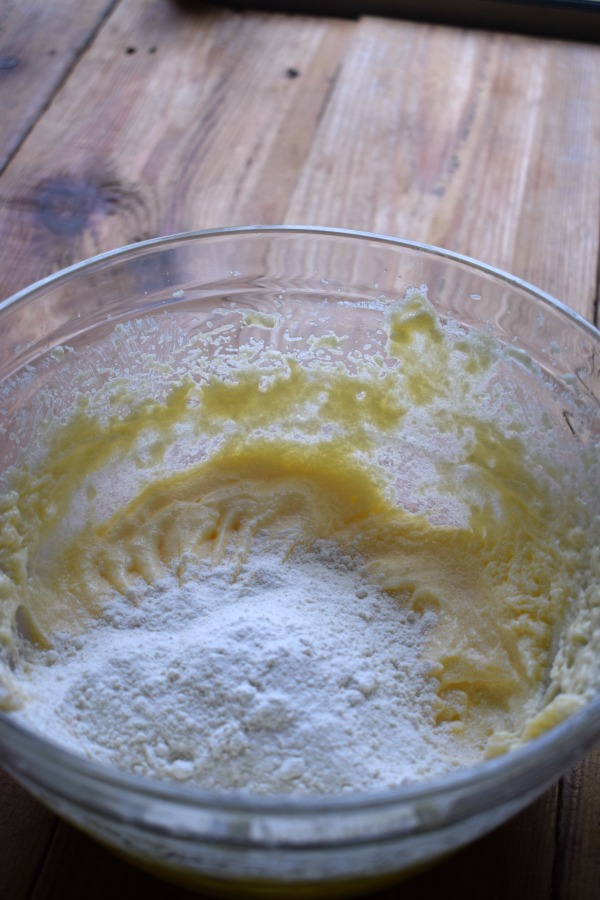 ---
Whisk vanilla into milk

– whisk the vanilla into the milk. Add all the milk to the batter and mix with until until just combined, about 30 seconds.

Add remaining flour

– add remaining flour (*except about 2 tablespoons that we want to keep to toss in the chocolate chips) Stir the flour in with a wooden spoon until just combined.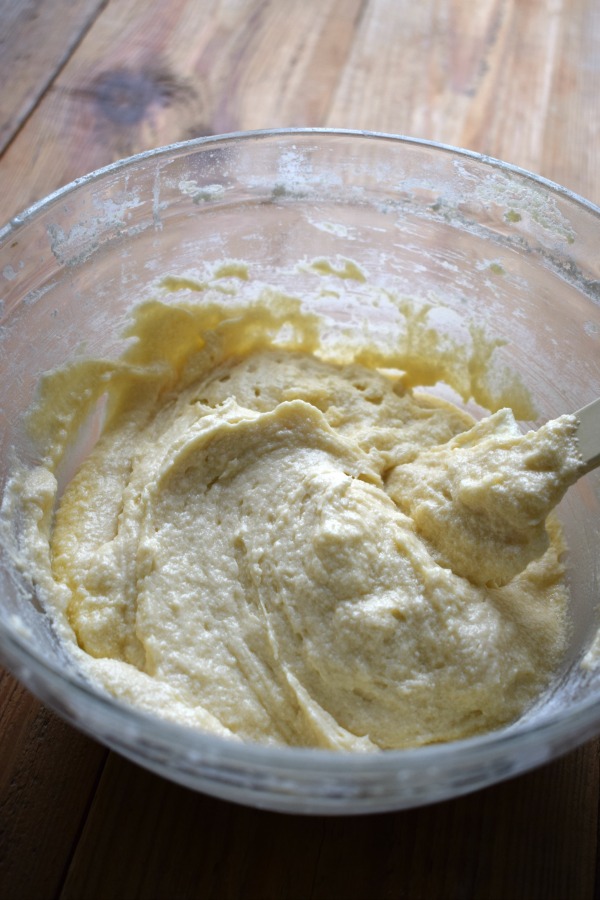 ---
Toss chocolate chips in flour

– in a small bowl toss the chocolate chips in the remaining flour.

Add chocolate chips to the batter

– Fold the chocolate chips into the batter and stir in just until they are incorporated.
BAKING TIP – Tossing chocolate chips in flour before adding them to the batter prevents them from sinking in the cake. Don't forget to do this!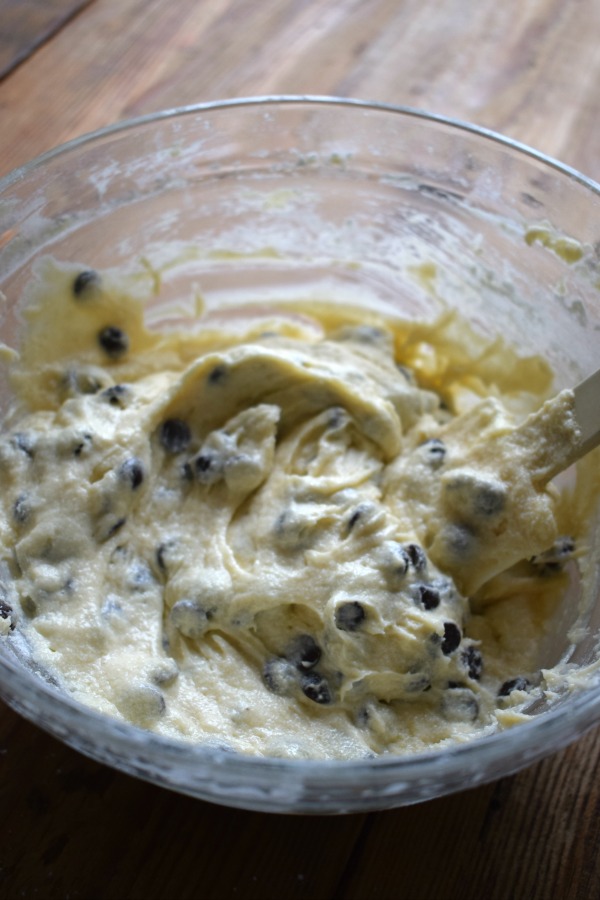 ---
Baking Your Chocolate Chip Loaf Cake
Pour batter into prepared loaf tin

– pour the cake batter into your prepared loaf tin. Smooth it out evenly. Add extra chocolate chips on top if you like. This is purely decorative.

Bake loaf cake

– This cake will vary in baking time between 40 – 60 minutes. Yes that's a huge variation. I have hundreds of bakers make this cake and it seems to be different for everyone. So check on your cake.

Place foil on cake half way through baking –

Check on your cake at about the 25 minute mark, if you notice it browning too quickly, place a sheet of foil over the cake to prevent it browning too much.
BAKING TIP – Remember all ovens bake differently. I bake this cake every single time in about 40 minutes. However, many readers have told me theirs take a big longer. It can take up to 60 minutes. Keep this in mind when baking so yours is just as delicious as the one pictured here.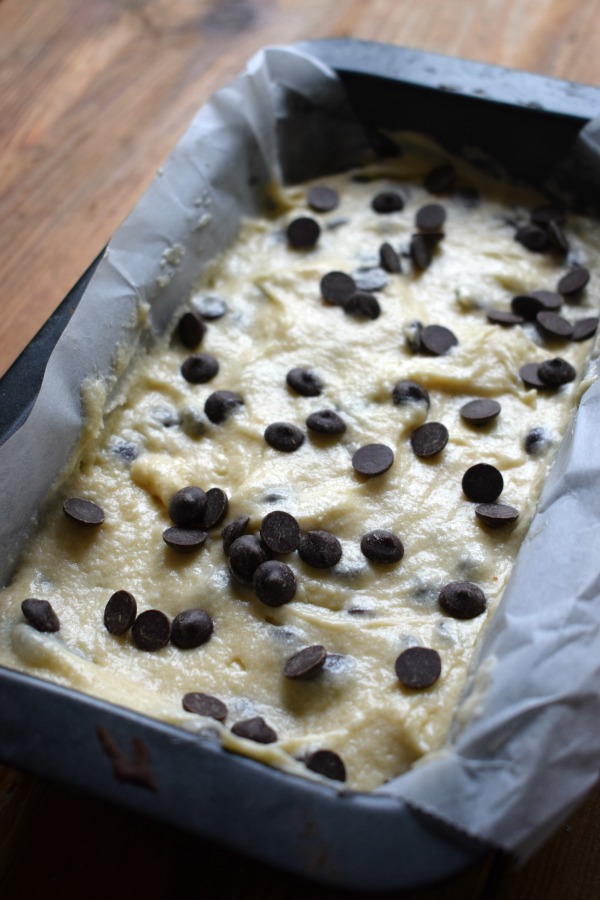 ---
How To Enjoy The Freshly Baked Chocolate Chip Loaf Cake
Allow to cool completely

– allow the cake to cool in the pan for about 10 minutes. Then remove and allow to cool on a baking rack.

Slice when cooled

– this cake is best after it has cooled, it will be difficult to slice when warm and may even fall apart. So let it to cool properly.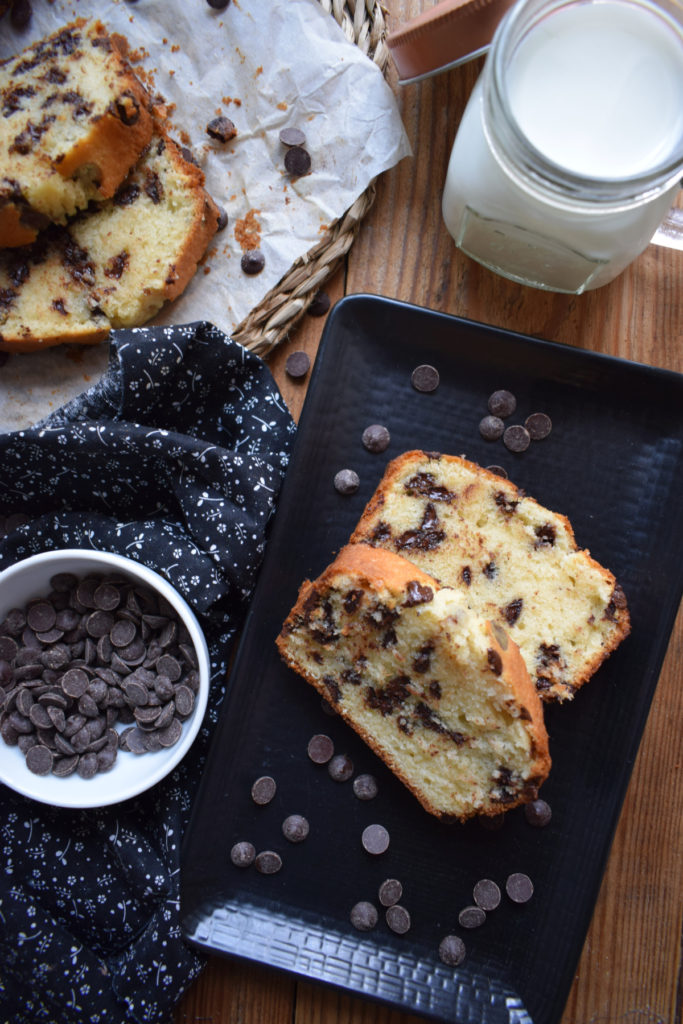 ---
How Long Will This Cake Last and how can I store it
Best the day it-s baked

– this is not a cake that will stay fresh for long. It's honestly best the day it's baked but will still be good on the second day

Store in and airtight container

– keep this cake in an airtight container and keep it at room temperature. It will dry out if you store it in the fridge.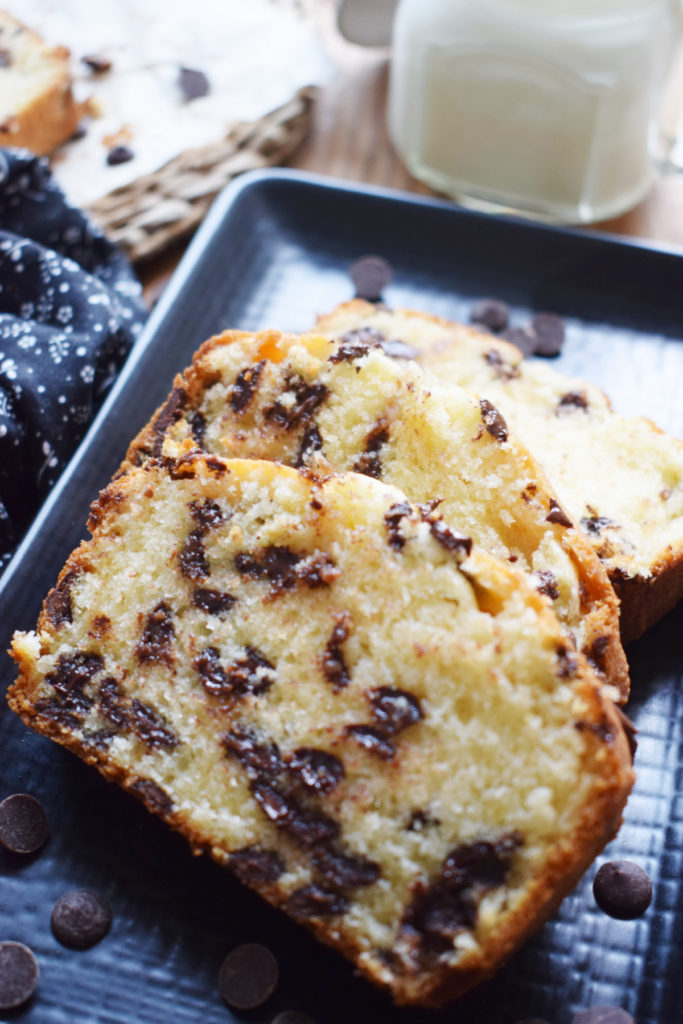 ---
Summary of Baking Tips For This Loaf Cake
Use the correct size pan

– pan size is important. If the pan is too small the batter won't fit properly and will rise and fall and end in a sunken. Alternatively, if the pan is to big, you will end up with a cake that won't rise as high and baking time could be shorter.

Add foil half way through baking

– check the cake at the half way baking point, if it's browning too quickly, loosely put foil on top.

Baking time varies

– baking time will be between 40 – 60 minutes. Check the cake at 40 minutes. A toothpick inserted into the center will have a few crumbs. That's how you know it's done.

Toss the chocolate chips in flour

– don't skip this step. It will ensure they don't sink to the bottom of the cake.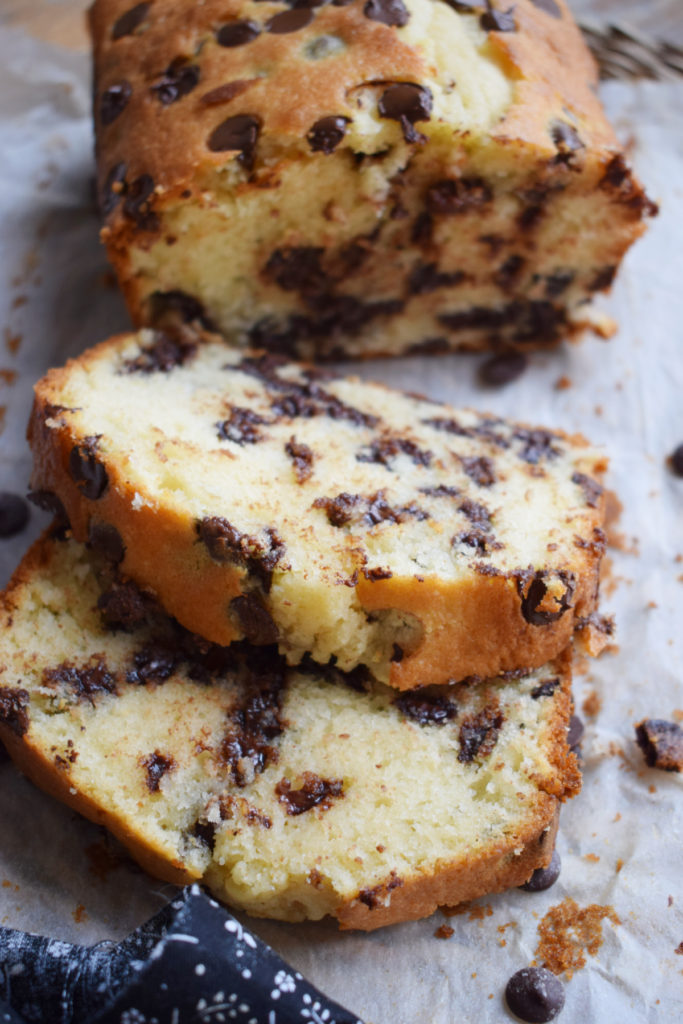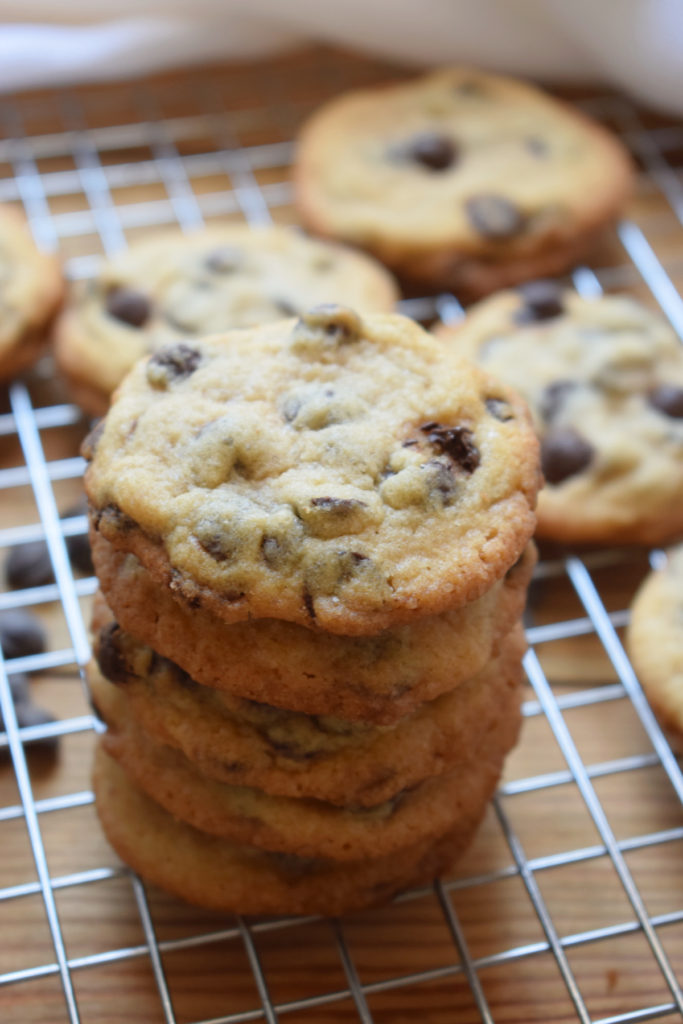 ---

Get the recipe!
---
Chocolate Chip Loaf Cake
A quick and easy dessert or snacking cake the whole family will enjoy. My teens have been enjoying this Chocolate Chip Loaf Cake their whole lives. Easy to make and tastes great!
Ingredients
1 1/2

cups

plain flour

3/4

cup

sugar

1

teaspoon

baking powder

1/4

teaspoon

salt

1/2

cup

butter

at room temperature

2

eggs

large

2

teaspoons

vanilla extract

1/2

cup

whole milk

1

cup

chocolate chips
Instructions
Preheat oven to 350 degrees F. Grease a 9×5 loaf pan. I recommend you line the bottom of the pan with parchment paper and grease that as well.

In a medium sized bowl sift together the flour, baking powder and salt. Set aside.

Whisk the vanilla into the milk and set aside.

In a large mixing bowl cream the butter and sugar. After the mixture is pale and fluffy, add the eggs one at a time mixing until they are incorporated into the batter.

Next, add half the flour and stir in gently. Then add all the milk and mix in the remaining flour. Once it is all incorporated, add the chocolate chips and stir to combine.

Pour batter into your prepared dish and bake for approximately 45 – 55 minutes. Insert a toothpick in the center and when just a few crumbs come off, it is done. Remove from oven and place on a wire rack to cool for just a few minutes. Remove from pan after about 5 minutes and let it cool for a further few minutes. This can be served straight away.
*A note on times provided: appliances vary, any prep and/or cook times provided are estimates only.
Notes
To help prevent chocolate chips from sinking in cakes, you can toss them in about 1 tablespoon of flour before adding them to the cake batter.
Remember all ovens bake slightly different.  Every time I bake this cake, it bakes between 40 – 45 minutes.  I use a fan assisted electric oven that's calibrated correctly.  Depending on the type of loaf pan you use, the size of the pan and your oven, your cake may take a little longer.
If you notice the cake is browning too quickly, loosely place a sheet of tin foil over the top to prevent over browning.
It's best the day it's made.  As in, it does dry pretty quickly.  So, if you are planning to make it, make it fresh!
Nutrition Facts
Chocolate Chip Loaf Cake
Amount Per Serving (1 serving)
Calories 401
Calories from Fat 171
% Daily Value*
Fat 19g29%
Cholesterol 76mg25%
Sodium 265mg12%
Potassium 60mg2%
Carbohydrates 53g18%
Protein 5g10%
Vitamin A 489IU10%
Vitamin C 1mg1%
Calcium 86mg9%
Iron 2mg11%
* Percent Daily Values are based on a 2000 calorie diet.
---
Thanks for stopping by and hope to see you soon!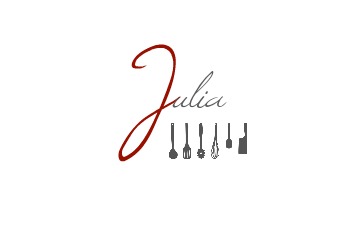 By