Who loves brownies? They are pretty much the cornerstone of easy at home baking. A treat that's been around since forever and everyone has their family favourite recipe. If you're still searching for that perfect brownie recipe, take a look at these Chocolate Pecan Brownies.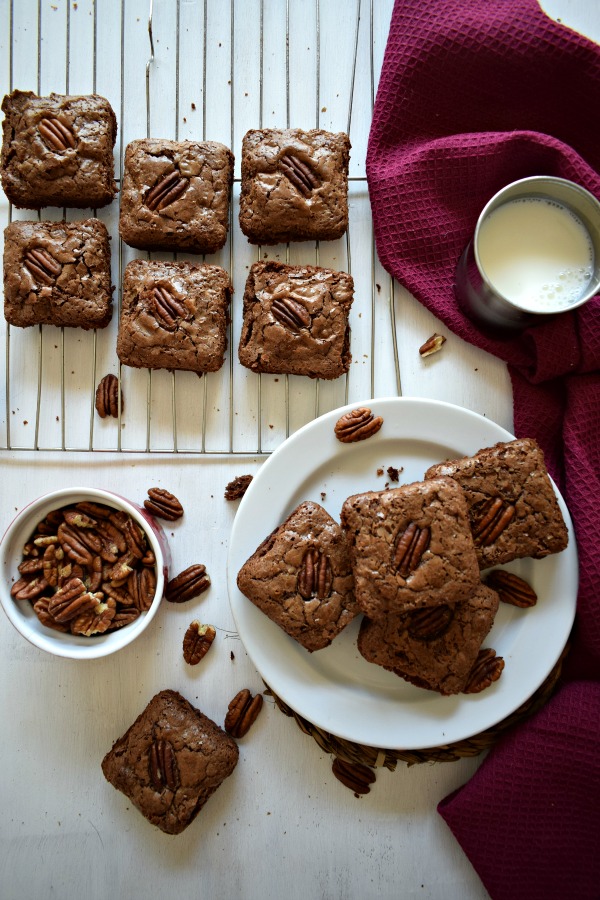 ---
Baking seems to at an all time high at the moment with so many of us stuck at home. What are you all baking? I can honestly say that I'm baking more than ever at the moment. Or at least outside of Christmas period. Despite running this food blog, I don't bake much on a regular basis. Well, by not much I mean probably just something once a week or so. Everyone has their very own bench mark of what constitutes "often".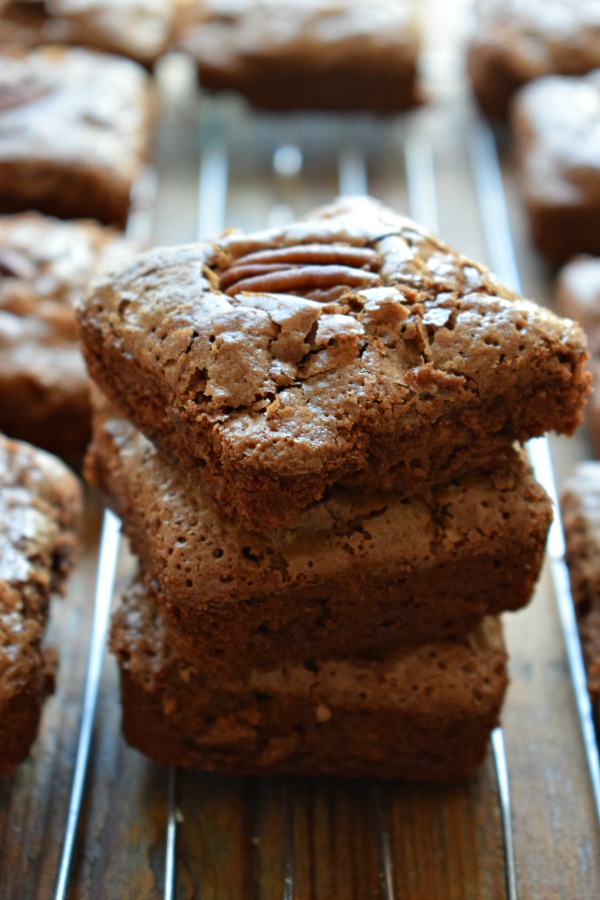 ---
For now, I'm baking something two to three times a week. We're all at home, we're a family of four and we've decided we love treats! These are stressful times people. And if I can find comfort in a piece of chocolate or cake, I'm going for it. Hell, I might just eat the whole cake.
Side note, last night I was reading and article on what people are buying right now. Top of the list, alcohol, chocolate and crisps! Are we even vaguely surprised? Probably not. My house has several from all categories I'm proud to say.
Anyway, if you can find ingredients and are on a baking binge, take a look at these brownies. I've made them three times in the past three weeks. That probably tells you all you need to know.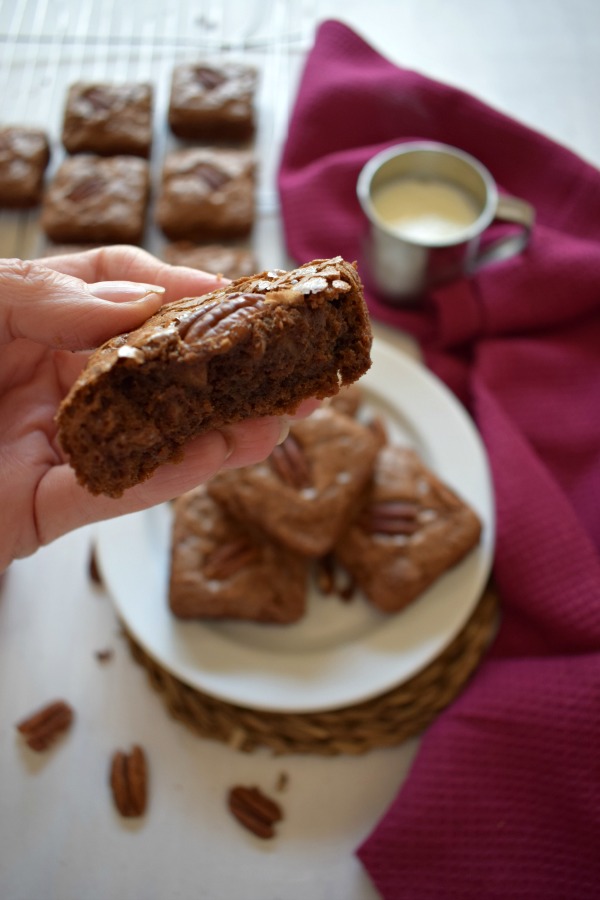 ---
What you need to make your Chocolate Pecan Brownies
Visually here we got flour, sugar, semi sweet dark chocolate, eggs, butter, salt, vanilla and pecans.
Take a look through the recipe at the end of the post to get a full list of ingredients and measurements.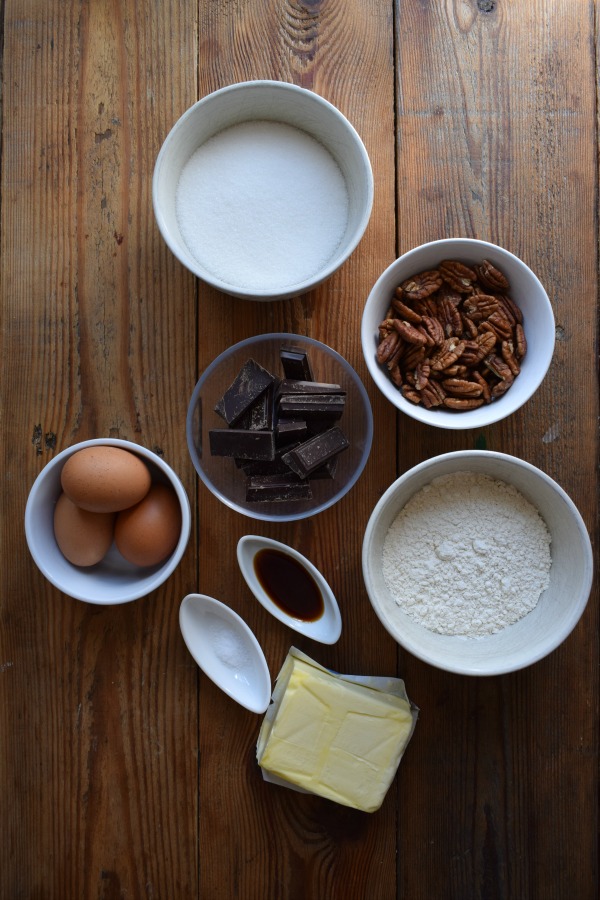 ---
Let's make the Chocolate Pecan brownies
In my experience the trick to getting chewy brownies is two things. Do not over mix your batter and make sure you have a high sugar content. Note, these are high in sugar.
So, we start with mixing together the sugar, eggs and vanilla. Just mix it for about 1-2 minutes until it's completely combined and light and frothy like seen here.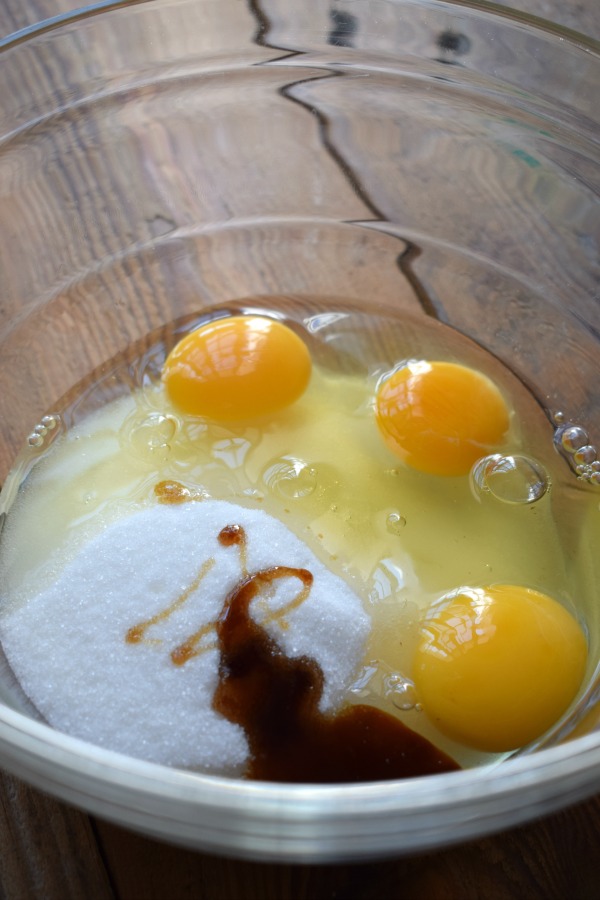 ---
melting chocolate
We're going to melt the chocolate and butter together in a small saucepan over a medium heat. Stir as it melts so it doesn't end up sticking to the bottom of the pan. As soon as it's melted, remove from heat. Pour into the beaten egg mixture.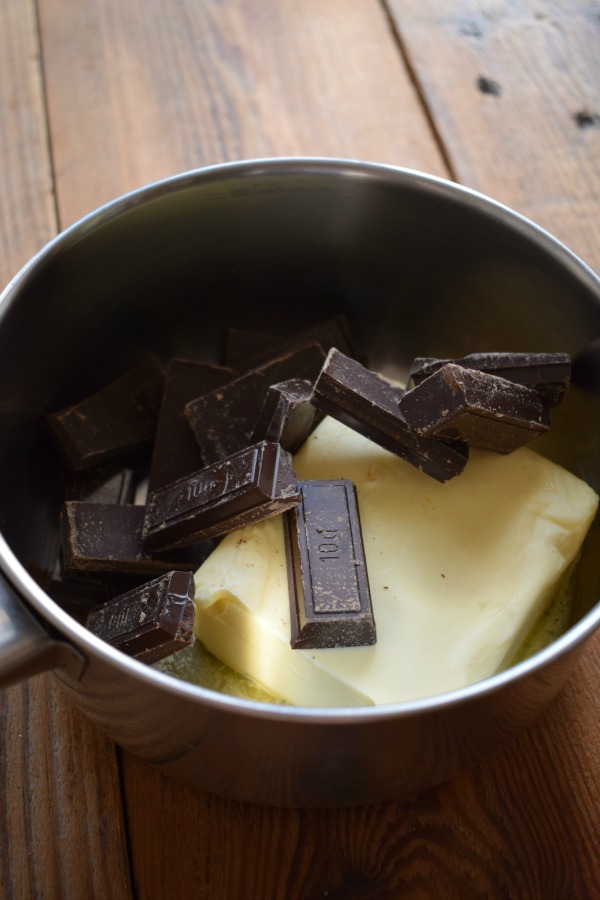 ---
mix the batter but don't over mix
Whisk in the chocolate until it just combined.

Takes less than a minute.

Then fold in the flour and DON'T over mix.

This is where dry brownies will happen. If you mix too long, you will most likely end up with a cake like texture instead of a dense brownie texture. So, basically just fold in the flour until it's combined. This will take you less than a minute.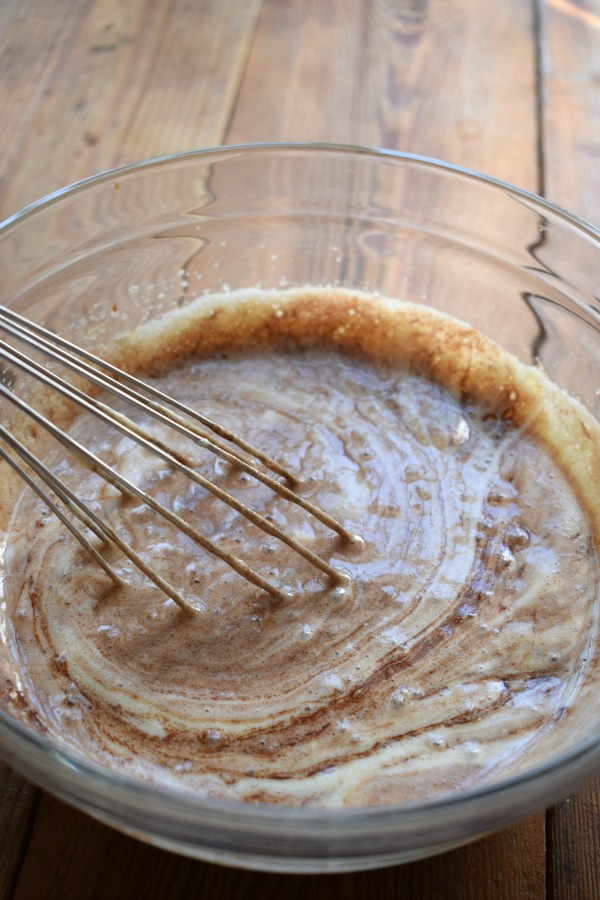 ---
chop the pecans
Roughly chop up the pecans and toss them in the batter. Just fold until you have stirred them in.
You can reserve some pecans for top if you like. This is purely decorative and not necessary. If you do plan to decorate the top with pecans, get a few more and don't chop them.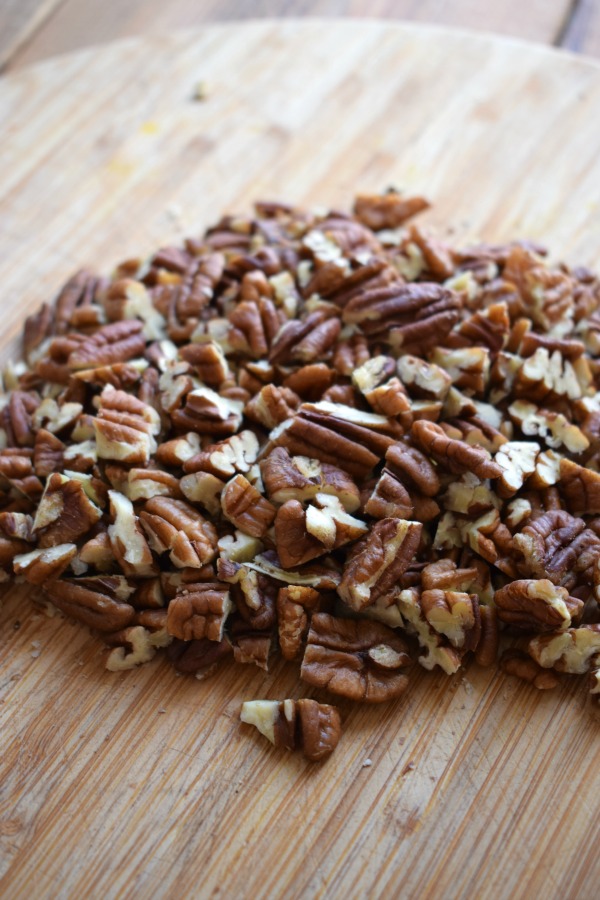 ---
Pour and bake
I have an individual brownie pan as you will see here. You don't need one to make the brownies, I just really like mine. It's from Pampered Chef and I've had it for over four years now. It's bakes to perfection every single time.
You can use an 8 x 8 inch baking dish and it will be just fine. If you do this, you will get 16 brownies instead of 12. Bonus!
Baking time varies. If you have an old oven or one that you haven't calibrated in a while, you might want to look into it to ensure even baking every single time.
These bake between 15 – 18 minutes. Insert a toothpick into the center. A few moist crumbs will be on the toothpick. That's how you know they are ready.
Place them on a cooling rack and leave for about 10 minutes before getting them out.
Delicious!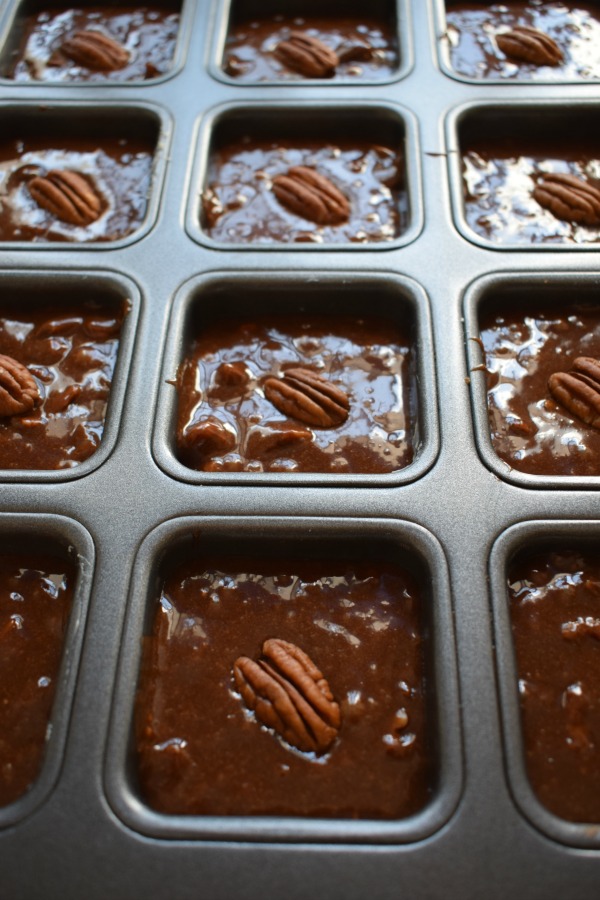 ---
Everyone in our house loves brownies, I mean who doesn't, right? I can't remember when I baked my first batch but it was decades ago.
The addition of pecans is great. We weren't able to buy pecans here until recently. Let me clarify, they weren't easy to get your hands on. But now I can get them at Lidl and the price is pretty good as well.
If you're looking for more brownie ideas, I've got lots to choose from. Take a look!
More Brownie Recipes
Hope you find something you like.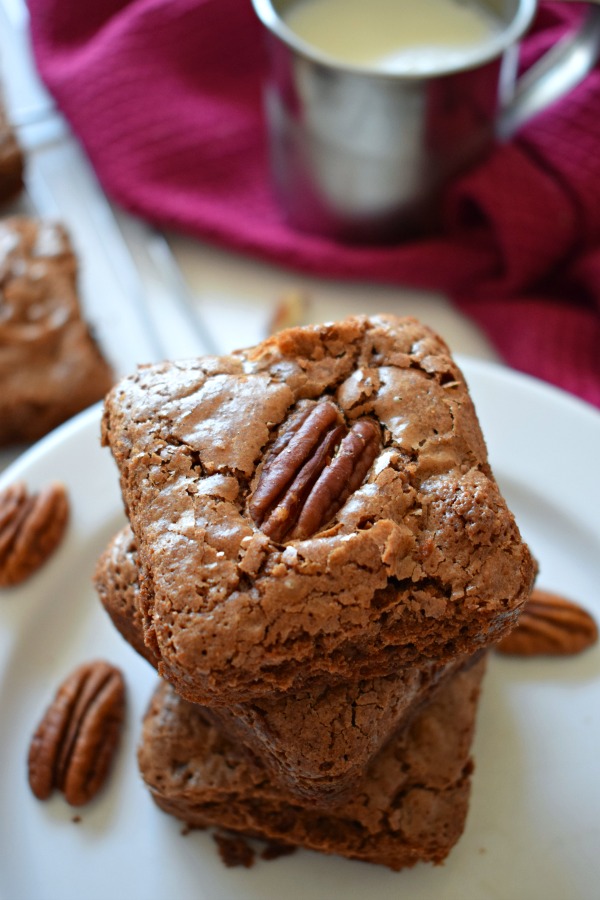 ---
That pretty much sums up the brownies. They use such basic ingredients and are so easy to make. If you love chocolate and need a bit of a stress reliever right now, make a batch or two! You'll be happy you did.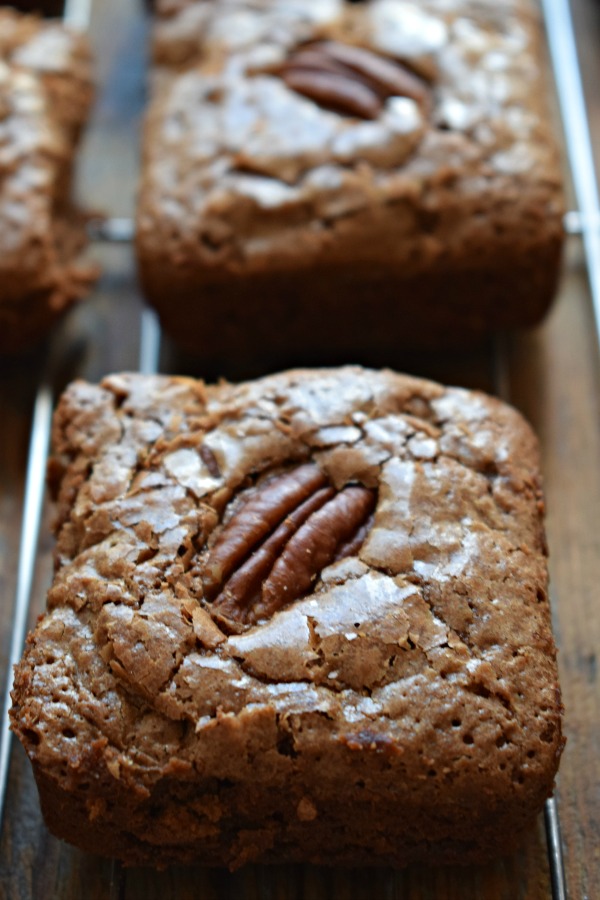 ---
Apart from baking, I've been pretty busy. I don't seem to have problems finding things to do, In fact, it's always the opposite for me, finding things I don't have to do! There's always an endless list and it just never ends. Something I have learned is that time is not my husband's problem for not helping out around the house. Another topic for another time. Oh, the stories.
I leave you with what that argument must look like. I'm sure I'm not alone. Okay friends happy baking, stay safe and treat yourself to something delicious today!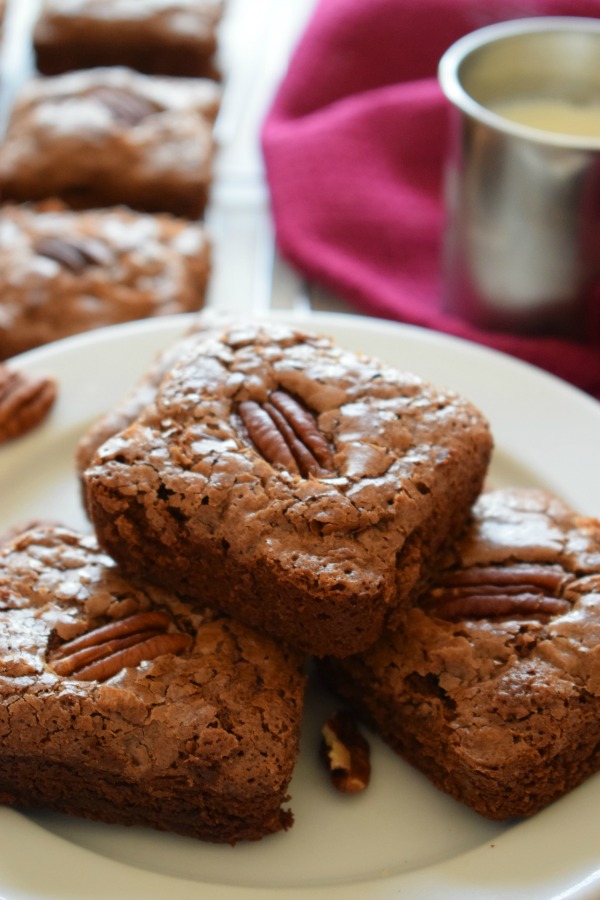 ---
Get the recipe!
Chocolate Pecan Brownies
A delicous, chewy and moist brownie stuffed full of pecans. Perfect for a simple dessert idea or just snaking!
Ingredients
6

oz

dark chocolate

chopped

1

Cup

butter

1 1/3

cups

white sugar

2

Teaspoons

vanilla

3

eggs

2/3

cup

plain flour

Pinch

salt

1 1/4

cups

pecans

roughly chopped

Additional pecans for the top if desired
Instructions
Preheat oven to 350 degrees F. Grease an individual brownie pan or an 8 x 8 inch pan.

Add the salt to the flour, mix well and set aside.

In a medium sauce pan set over medium to low heat, add the chocolate and the butter. Stir until it melts, about 2 – 3 minutes. Remove from heat.

In a large mixing bowl add the eggs, sugar and vanilla. Whisk until just combined, about 30 seconds.

Add the melted chocolate butter mixture to the whisked eggs and sugar.

Sift in the flour and stir until just combined.

Pour evenly into 12 individual brownie tins or your prepared 8 x 8 inch tin. Top with extra pecans if desired.

Bake for about 15 – 18 minutes or until a toothpick inserted comes out with moist crumbs.

Remove from oven and place on a cooling rack to cool.

Will keep in an airtight container for about 3 days.
*A note on times provided: appliances vary, any prep and/or cook times provided are estimates only.
Notes
I used an individual brownie tin for this recipe.  But you can just as easily bake these in an 8 x 8 inch tin.  The baking time will vary and you will have to increase it up to 20 minutes possibly.  As well, you will get 16 square brownies if doing them this way. 
If baking in an individual brownie tin, check for doneness at 15 minutes but may take up to 18 minutes.  A toothpick inserted in the center with a few crumbs will show they are done and ready to come out of the oven.
Nutrition Facts
Chocolate Pecan Brownies
Amount Per Serving
Calories 421
Calories from Fat 270
% Daily Value*
Fat 30g46%
Cholesterol 82mg27%
Sodium 154mg7%
Potassium 171mg5%
Carbohydrates 36g12%
Protein 4g8%
Vitamin A 543IU11%
Vitamin C 1mg1%
Calcium 29mg3%
Iron 2mg11%
* Percent Daily Values are based on a 2000 calorie diet.
---
Thanks for stopping by and hope to see you soon!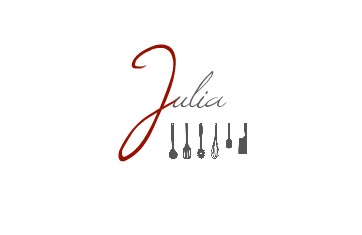 By