You need to put these Dulce de Leche Thumbprint Cookies on your must bake list! A soft buttery cookie that's filled with rich and creamy dulce de leche. A great cookie to make in advance and keep on hand for those sweet cravings.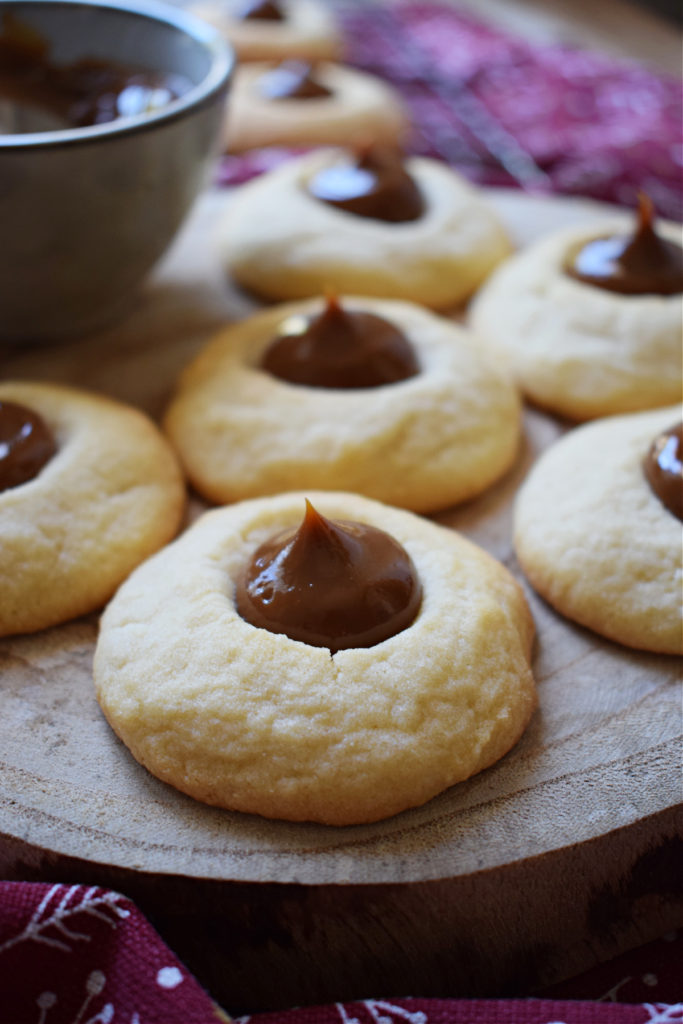 ---
Is it cookie season yet? I'm saying yes because we're into November and many of you are starting to think ahead to the holiday season and baking. The best baking season, if I do say so myself. And I know I don't normally start sharing Christmas treats until the 1st of December, but People are already starting to look around, so I decided to get a head start this year.
And if you're new to using Dulce de Leche, let me tell you that you're in for a treat. This stuff is like liquid gold! I have a few recipes on the blog using dulce de leche and they are all delish! I have a Dulce de Leche Brownie Torte, Chewy Chocolate & Dulce de Leche Bars and Dulce de Leche Pistachio Brownies. All worth taking a look at for the upcoming holiday season.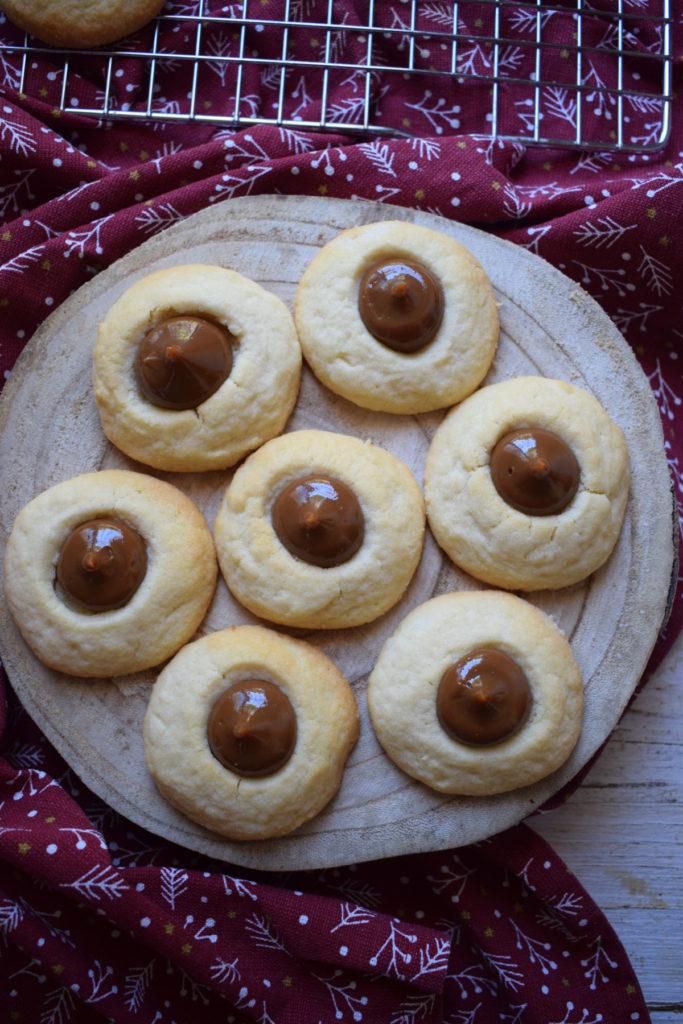 What is Dulce de Leche
Dulce de leche is a caramel confection which is originally from Latin America. It made by slow heating condensed milk or heating milk and sugar together for several hours. It results in a thick caramel like sauce.
If you have never used Dulce de Leche in baking, why not? All I can say is that I am a total convert and can't imagine not using having it in cupboard. The only problem, of course, it that's it's hard to resist. It is quite sweet though, so you really don't need a whole lot to go a long way for a delicious treat!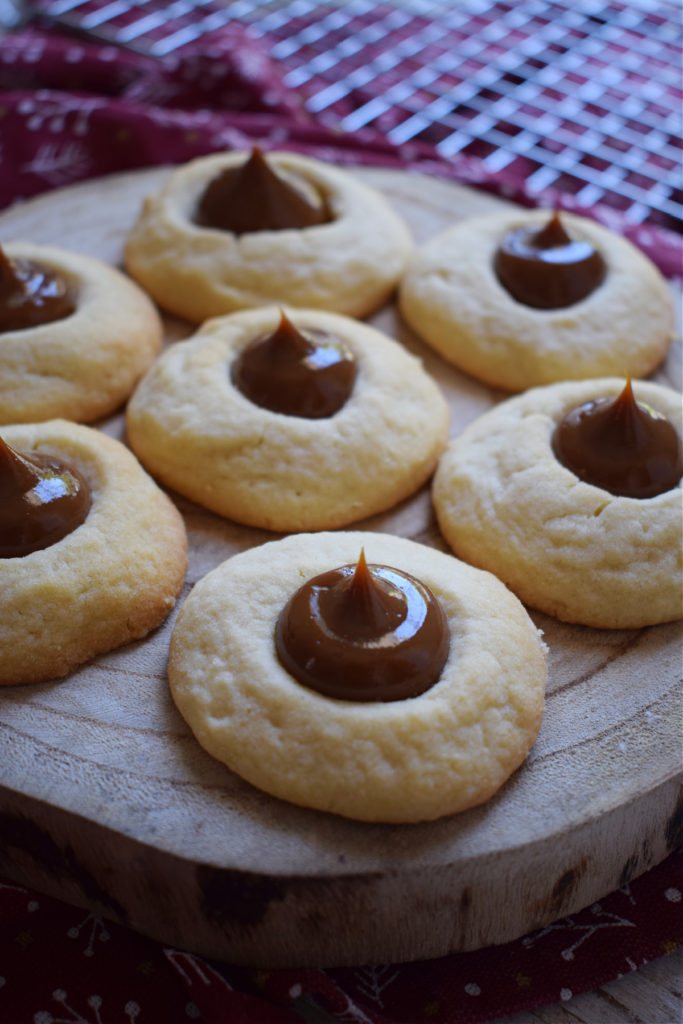 ---
Here's What We Need To Make The Dulce de Leche Thumbprint Cookies
Butter
Granulated white sugar
Vanilla
Plain flour
Egg yolks
Salt
Dulce de leche
REMEMBER, The full recipe and instructions can be found at the end of the post in the recipe card.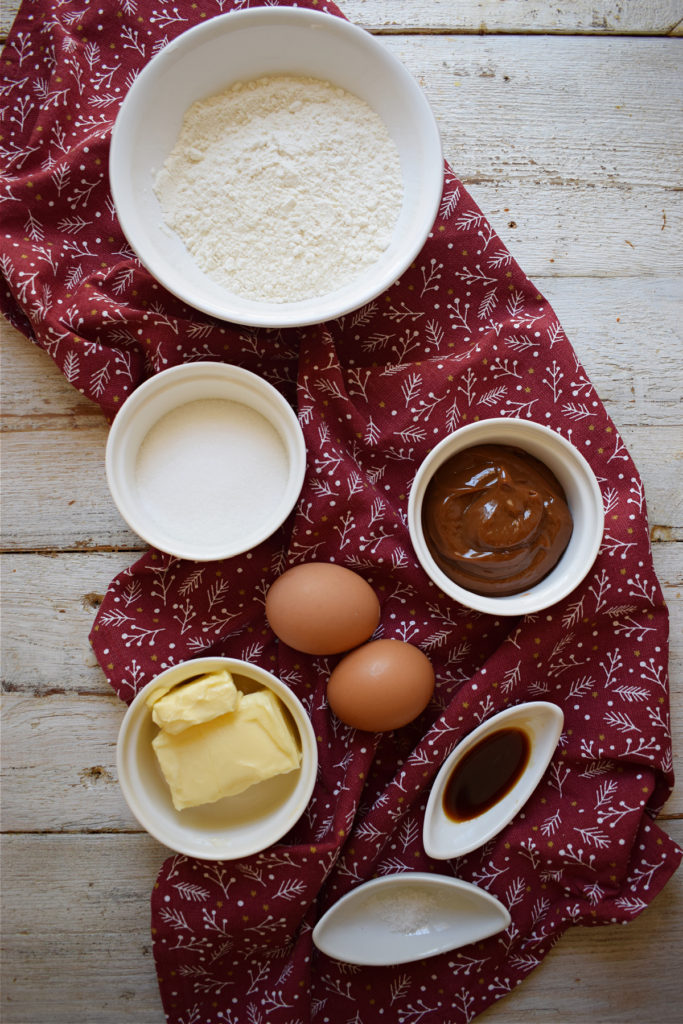 ---
How To Make The Dulce De Leche Thumbprint Cookies
Beat Butter and sugar

– Start off by beating the butter and sugar until pretty light and fluffy and then add in the vanilla and mix for just a minute.

Add egg yolks and flour

– Then beat in the egg yolks until they are incorporated and then the flour and salt. You can mix this by hand or using an electric mixer on stir speed. Just mix it until it's combined.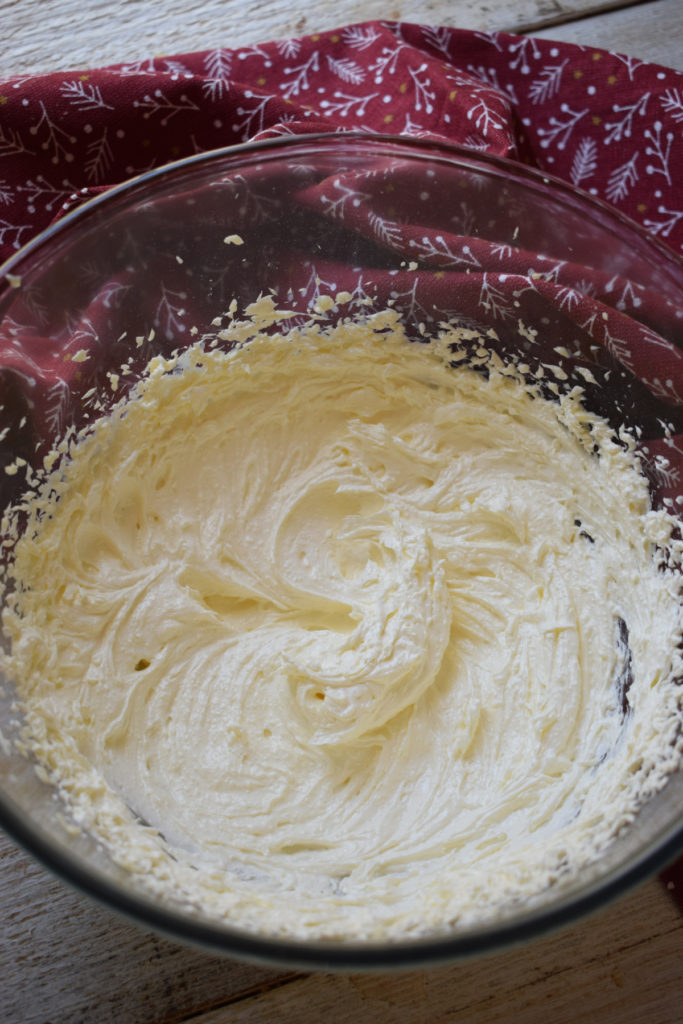 ---
Chill The Dough
Chill The Dough – Cover the cookie dough with plastic wrap and chill for about 30 minutes.
IMPORTANT – If you don't chill your dough, the cookies will spread out when baked and you won't end up with a thumbprint cookie. So, chill that dough. This cookie dough can be made in advance and even frozen.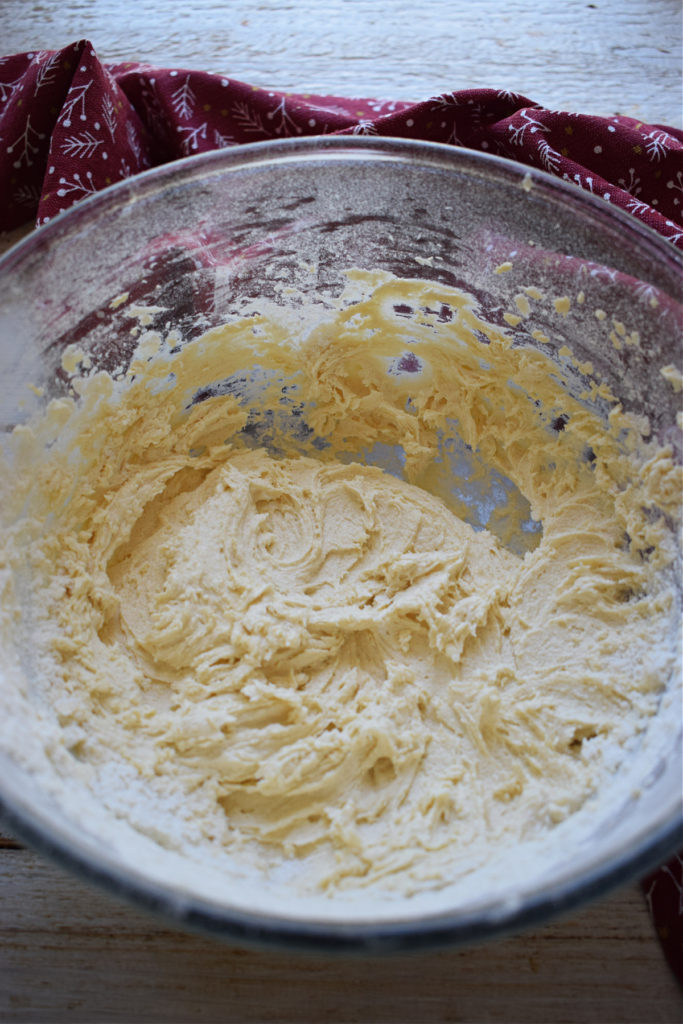 ---
Form The Thumbprint Cookies
Form into balls

– scoop up about a tablespoon of dough into your hands and roll into a small ball. Repeat for all cookie dough.

Make indent in the center

– You use your thumb to make a small indent in the middle like shown here. You don't want to make it too big, literally just and small indent.
BAKING TIP – If baking in batches, keep unbaked cookies in the fridge until baking. This will ensure, even baking and less spreading while they bake.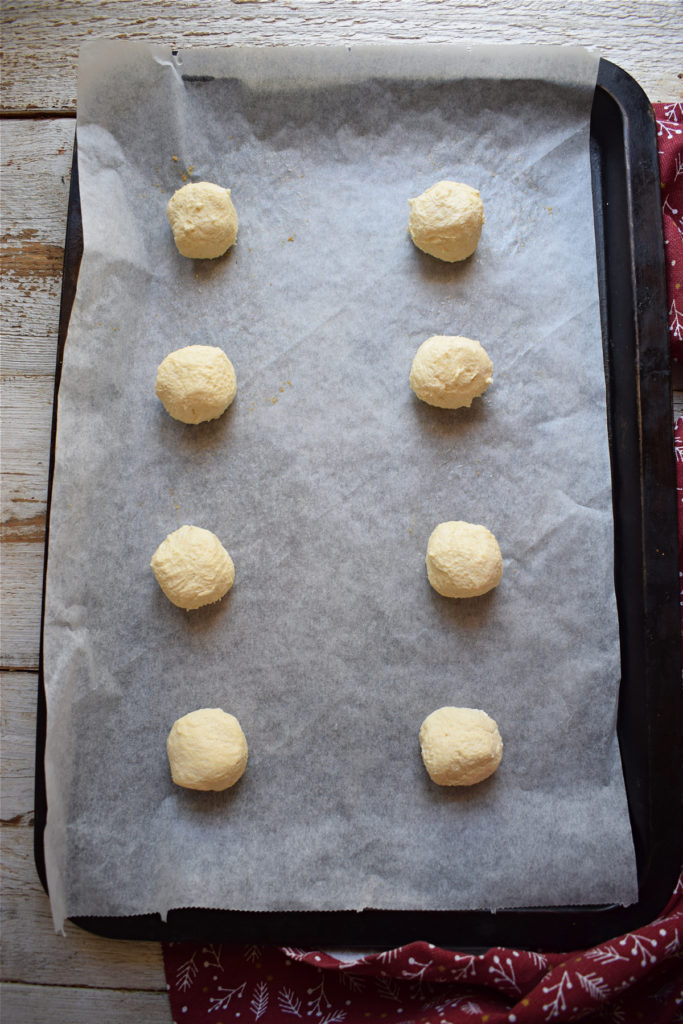 ---
Don't Over bake The Cookies
Don't over bake the cookies – They will be dry and crumble apart.
BAKING TIPS – I use a convection fan oven and it's regulated pretty well. These baked in 12 minutes. If you're not a baker or don't understand your oven very well, bake a few cookies on a tray before doing a whole batch. Some ovens run hotter or colder than other ovens. The cookies should still look pale when they come out of the oven and be soft to touch They will harden as they cool.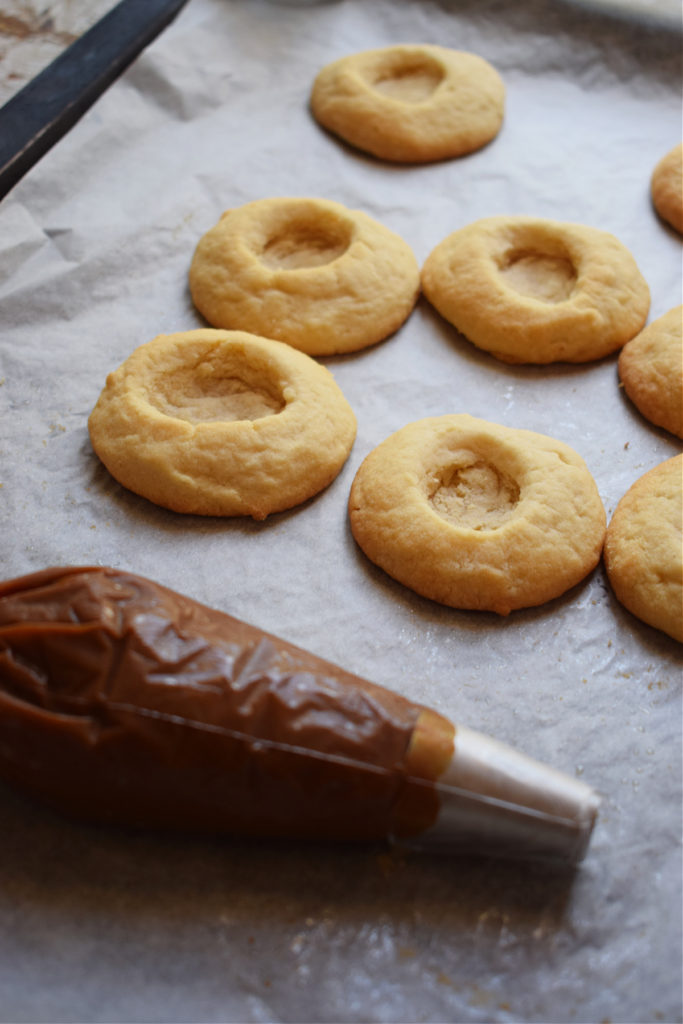 How to Fill Thumbprint Cookies
Piping bag

– Fill the piping bag with a fitted 1/2 inch circle tip. Pipe the dulce de leche into the centers of the cookies

Zip-lock bag

– make a small cut in the corner of a zip-lock bag and fill the bag. Pipe the dulce de leche into the centers of the cookies.

Spoon

– alternatively you can use a teaspoon and spoon the dulce de leche into the center. Just smooth it over. It will create a smooth center as opposed to a high one like pictured in this recipe.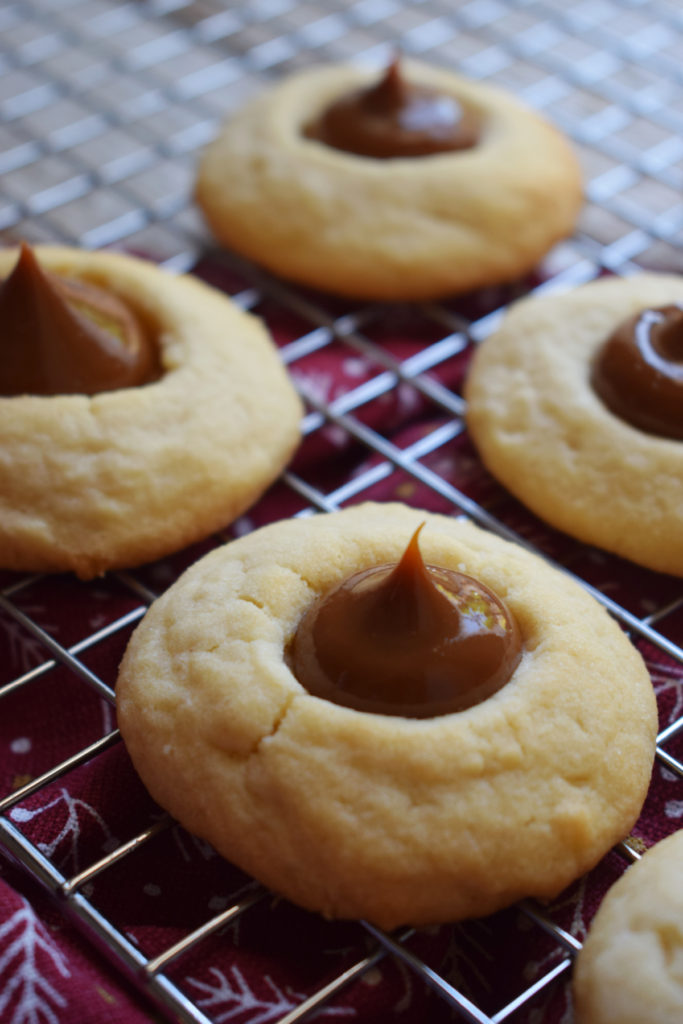 How Long Will These Dulce De Leche cookies Stay Fresh For and How Can I store Them
Store for up to 5 days in the fridge

– These cookies will keep for up to 5 days in an airtight container in the fridge. Just make sure you don't layer them if you pipe the dulce de leche like I did, otherwise the center filling will flatten.

Store unfilled in the freezer up to 2 months

– You can bake these thumbprint cookies and store them in the the freezer for two months. Just remove from freezer and allow to defrost. Then fill according to the recipe.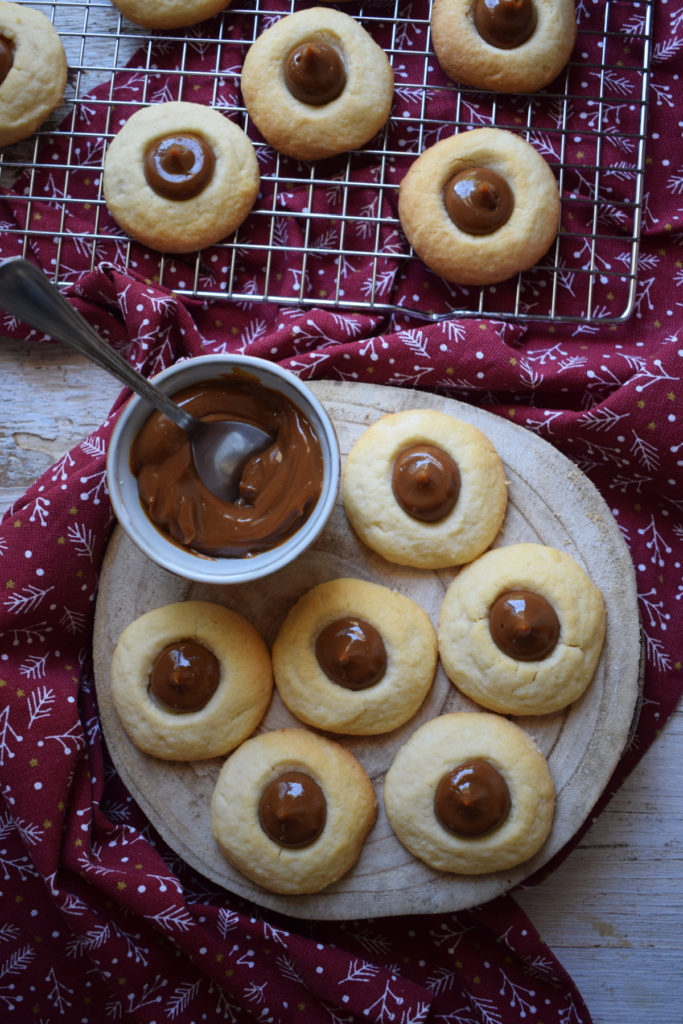 ---
Yes, You Can Make Your Own Dulce De Leche
We can buy it locally in the grocery store in Spain. I know you can buy Dulce de Leche on Amazon no problem and it's widely available in many grocery stores and sometimes in the international section. Just check around and ask if you can't find it.
Make Dulce de Leche in a Double Boiler

– You fill the bottom of the double boiler with water. Open the can of sweetened condensed milk and pour it in the top part. Set it over medium heat on the stove top. Give it a good stir, cover and leave it for about 3 hours. You'll want to stir it occasionally while to cooks to ensure even cooking with no lumps. Remove from heat when thick and golden in colour.

NOTE:

By making Dulce de leche this way, it will not achieve the colour like seen here. The dulce de Leche used in this recipe was purchased.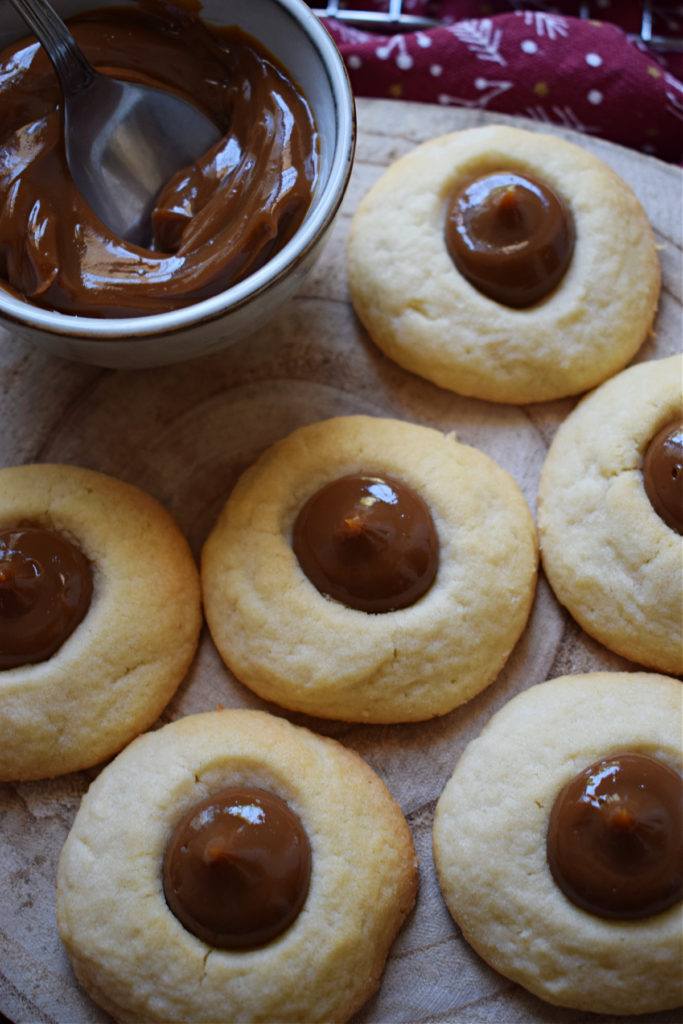 ---
Well friends, this is a great cookie recipe that I really hope you get a chance to make sometime. And let me know if you make them in the comments below. I'd love to hear from you. Happy baking and I see you all soon!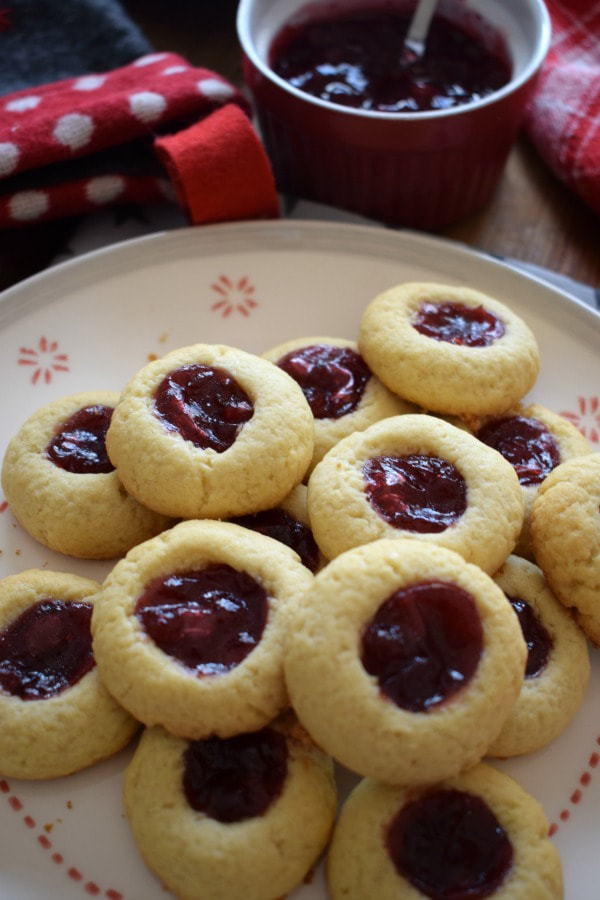 ---

---
Get the recipe!
---
Dulce de Leche Thumbprint Cookies
You need to put these Dulce de Leche Thumprint Cookies on your must bake list! A soft buttery cookie that's filled with rich and creamy dulce de leche A great cookie to make in advance and keep on hand for those sweet cravings.
Ingredients
1

Cup

butter

unsalted

1/2

Cup

granulated white sugar

1

Teaspoon

vanilla extract

2

Cups

plain flour

2

Egg yolks

Pinch

salt

1/2

Cup

dulce de Leche
Instructions
Combine the flour and salt and set aside.

Add the butter and sugar to a large mixing bowl and mix on high until light and fluffy. This will take about 3-4 minutes. Add in the egg yolks and vanilla extract until combined. Stir in flour until combined. Cover and chill the dough for about 1/2 an hour.

Preheat oven to 350 degrees f/180 degrees c and line a baking tray with parchment paper.

Form about 36 balls with your cookie dough. Place them evenly spaced out on your baking tray and use your thumb to make an impression in the middle of each ball.

Bake in a preheated 350 degree F oven for about 12 minutes. Remove from oven and let cool.

Place the dulce de leche in a piping bag with a round 1/2 inch fitted tip. Pipe the centers with the dulce de leche.

Store in the fridge in an airtight container for up to 5 days.
*A note on times provided: appliances vary, any prep and/or cook times provided are estimates only.
Notes
Alternatively for filling the centers, you could use a zip-lock bag and just cut a corner off to squeeze it out.  Or you could just spoon the dulce de leche into the centers.
Nutrition Facts
Dulce de Leche Thumbprint Cookies
Amount Per Serving (1 cookie)
Calories 85
Calories from Fat 45
% Daily Value*
Fat 5g8%
Cholesterol 24mg8%
Sodium 46mg2%
Potassium 10mg0%
Carbohydrates 8g3%
Protein 1g2%
Vitamin A 172IU3%
Calcium 4mg0%
Iron 1mg6%
* Percent Daily Values are based on a 2000 calorie diet.
---
Thanks For Stopping By & Hope To See You Soon!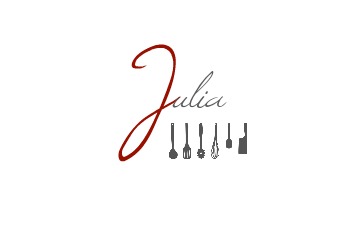 By