One of the easiest party appetizers you will ever make! Using just three ingredients and put together in no time at all, these Easy Sausage Rolls are sure to be a party hit for all ages.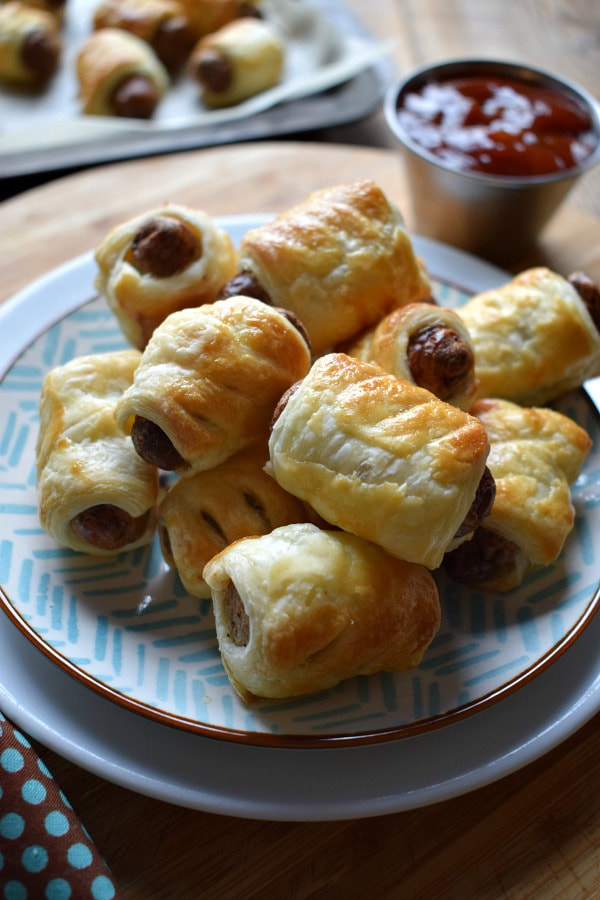 What does everyone call these? I've always called them sausage rolls but I know they are also know as pigs in a blanket. I always thought pigs in a blanket used wieners and not sausages. Then again, some people say sausage rolls use sausage meat that is mixed in with other ingredients and spooned inside pastry and rolled up. Confused yet? I know I am…haha.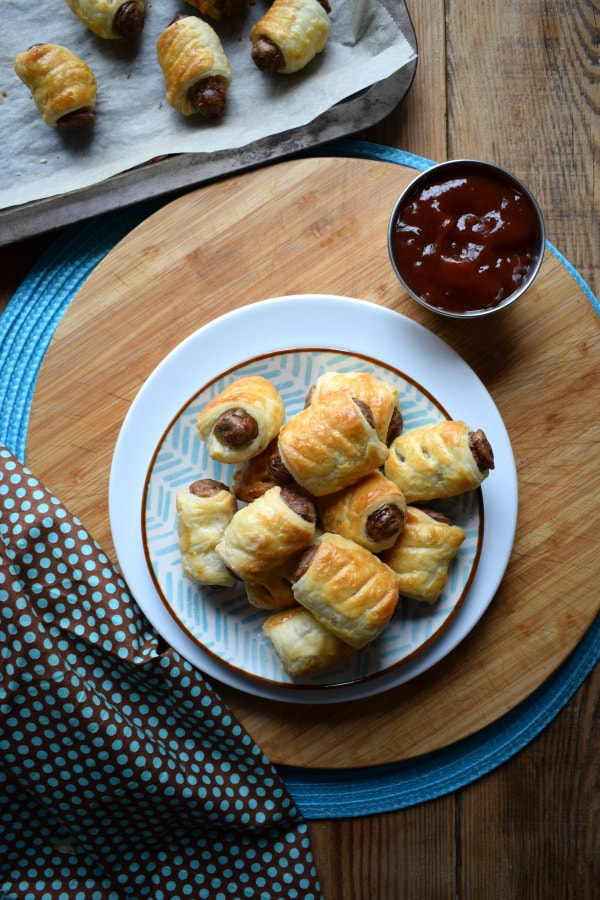 ---
Ingredients For The Easy Sausage Rolls
---
So, let's take a little look at what we use. Just puff pastry, sausages and one beaten egg for these. I always use these sausages pictured here. I buy them at Aldi here in Spain and they are fantastic. I know a lot of my readers don't have an Aldi, so any sort of small Chipolata sausage will do. Just make sure not to use the fat sausages for these. The key is a thin sausage for a small bite as well to ensure it cooks all the way through.
And again, I can't tell you enough times how easy and tasty they are.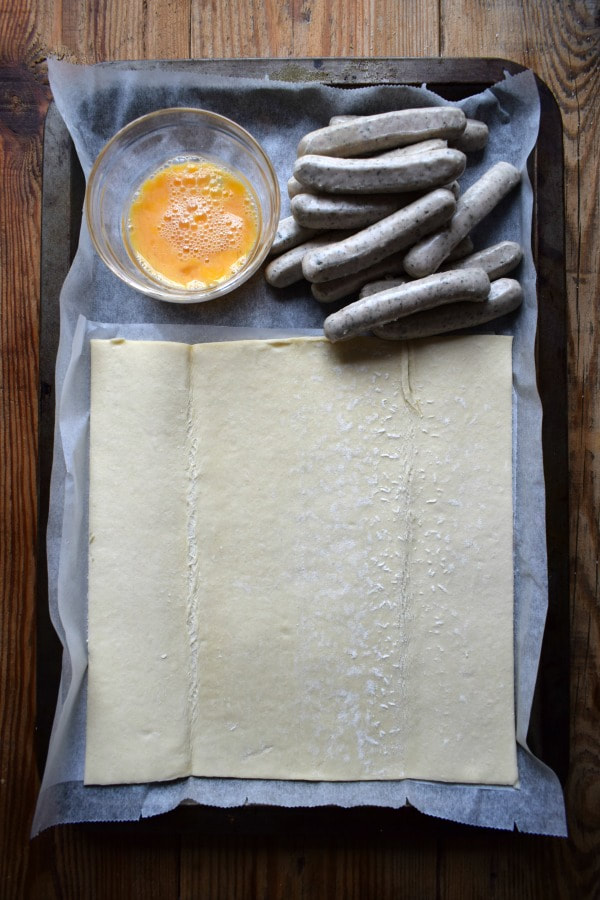 ---
Here's how we put them together. First cut all your sausages in half. Then cut your pastry into thin strips. You want to cut it slightly smaller than the sausages so the sausage will peek out of each end when they are rolled up.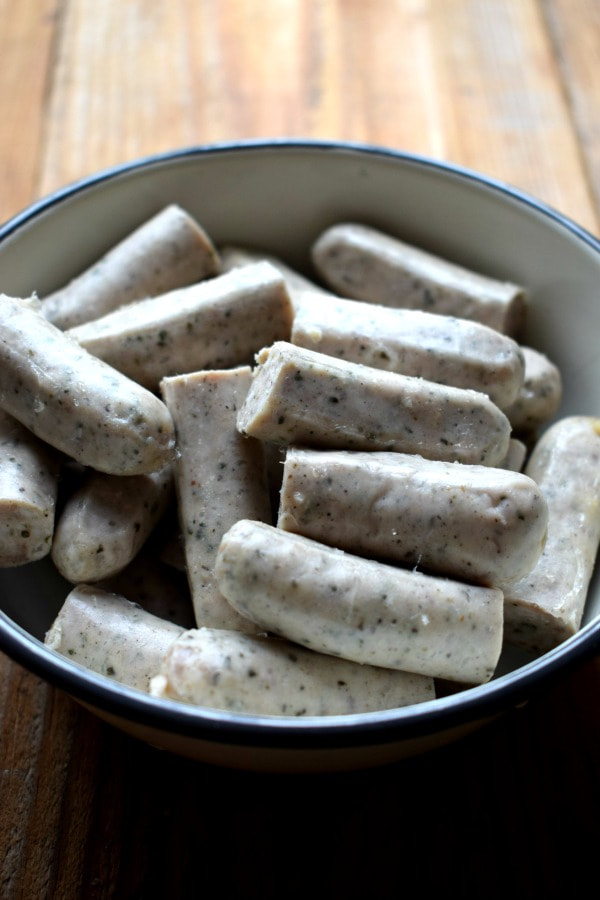 ---
Then you start rolling them up. You roll until the pastry ends meet and then you press it together until it holds. Repeat this for all the sausages and arrange them on the baking tray. Place the sausages with the join at the bottom. Pierce the top of the pastry with a small sharp knife like seen below here.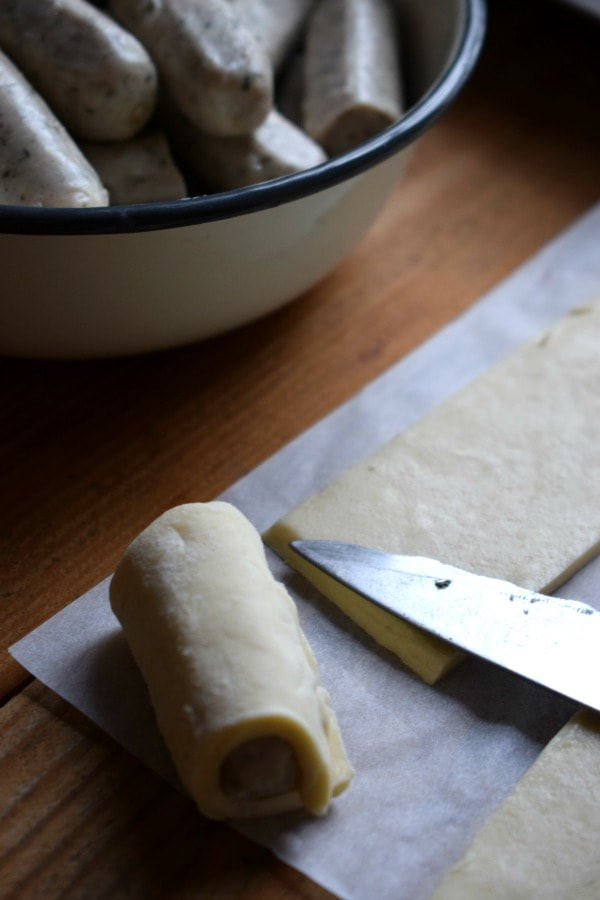 ---
Using a pastry brush, lightly brush all the tops of the sausage rolls with the beaten egg. If you don't have a pastry brush, don't worry. You can just use your fingers to brush them.
Ready for the oven.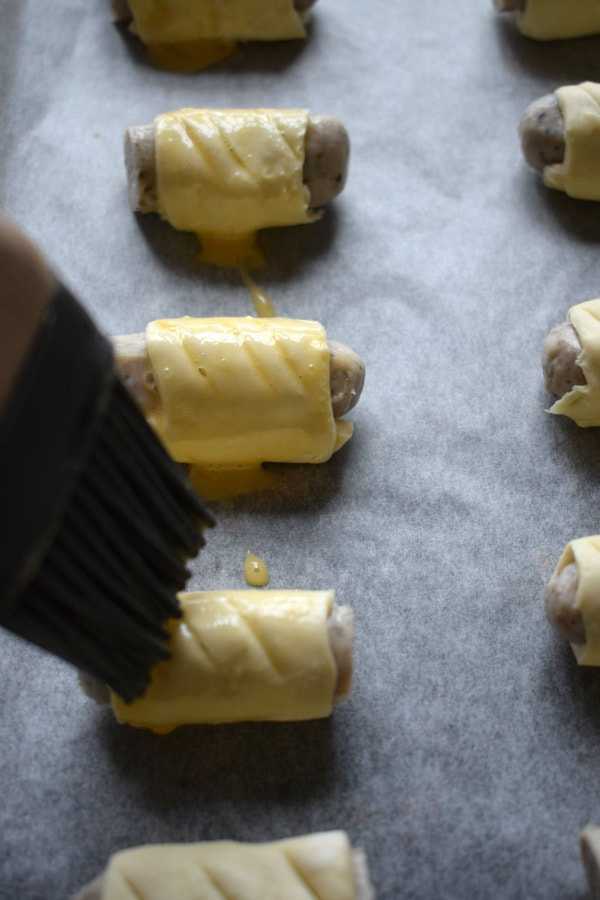 ---
Baked for just about 15 minutes they will come out looking a bit like this. A super easy appetizer that you won't want to miss out on this upcoming holiday season.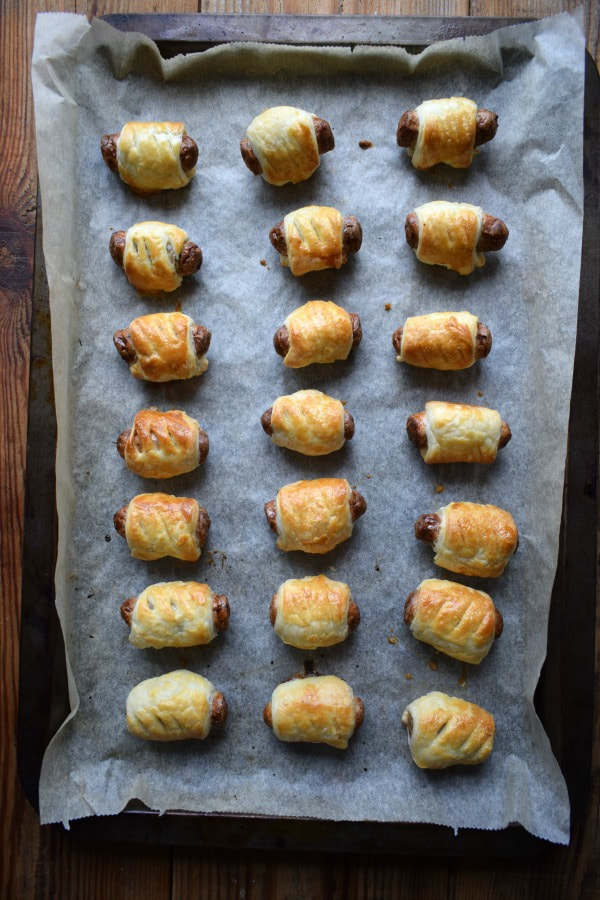 ---
Including More Steps In The Recipes
---
You might also be noticing that I'm starting to include more steps in the blog posts. It's something I've been thinking about doing for quite some time now and have just recently gotten into it. I think I'm going to target to do most of my posts this way in the future. That being said there will still be the odd recipe with just the end results. My 17 year old told me that this generation growing up is visual. Well, I think generations before are pretty visual as well. We just might have longer attention spans. Something to think about.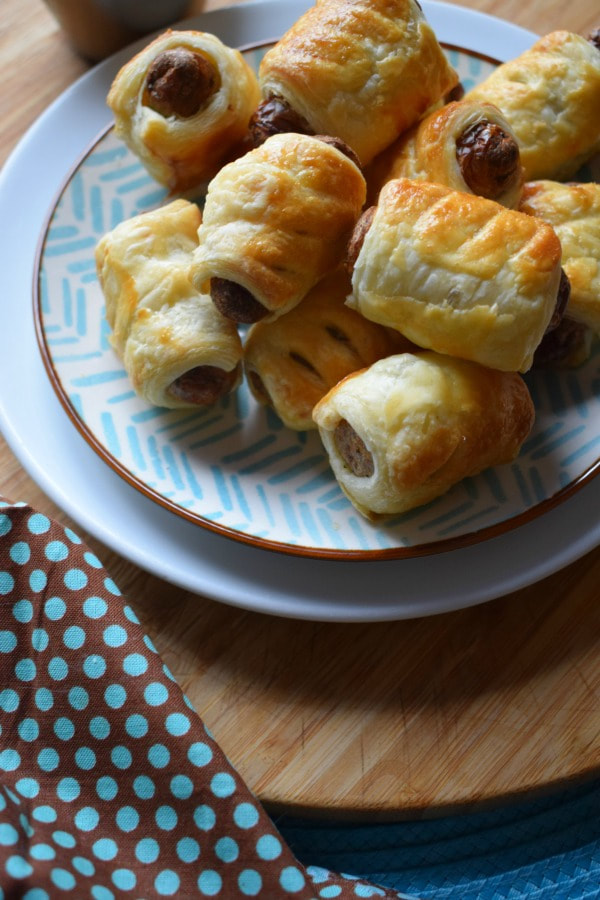 ---
And remember there will always be a Skip to Recipe at the top of the page after the first picture. I know many people just want to get straight to that. So, look out for that if you don't want to do the endless scrolling.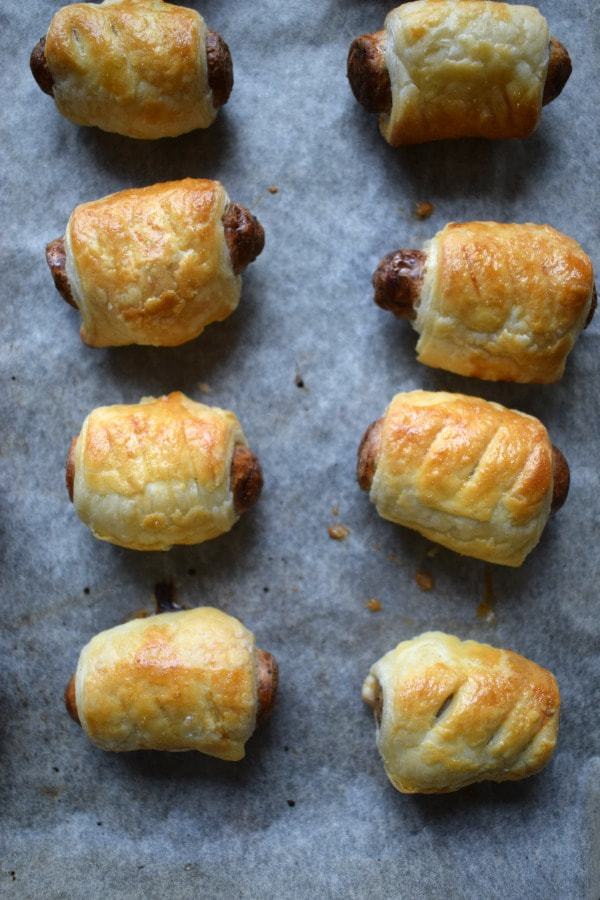 ---
Notes about the sausage roll
---
I've probably covered everything in the steps above and the recipe below, but here's a recap.
Use thin sausages. The thick ones take way longer to cook and they don't have a small bite to them.
Frozen puff pastry works perfectly fine. In fact, it's what I use most of the time anyway.
Don't skip the egg wash for brushing them before baking. This ensures a golden colour. If you skip it, you won't get the desired colour on your sausage rolls.
And remember, you can prepare them in advance and put them in the fridge until you are ready to put them in the oven. And that sums up the easy sausage roll.
Happy cooking friends and keep checking back for more step-by-step recipes coming to the blog.
---
Like what you see today? Don't forget you can follow on Facebook for daily inspiration or over on Instagram where I sometimes do daily cooking videos for fun! I'm also on Pinterest which is a great place that you can save and share your favourite recipes. As well, if you haven't yet, Subscribe to the newsletter. You'll be notified whenever there's a new recipe! You can do that at the top of the page.
---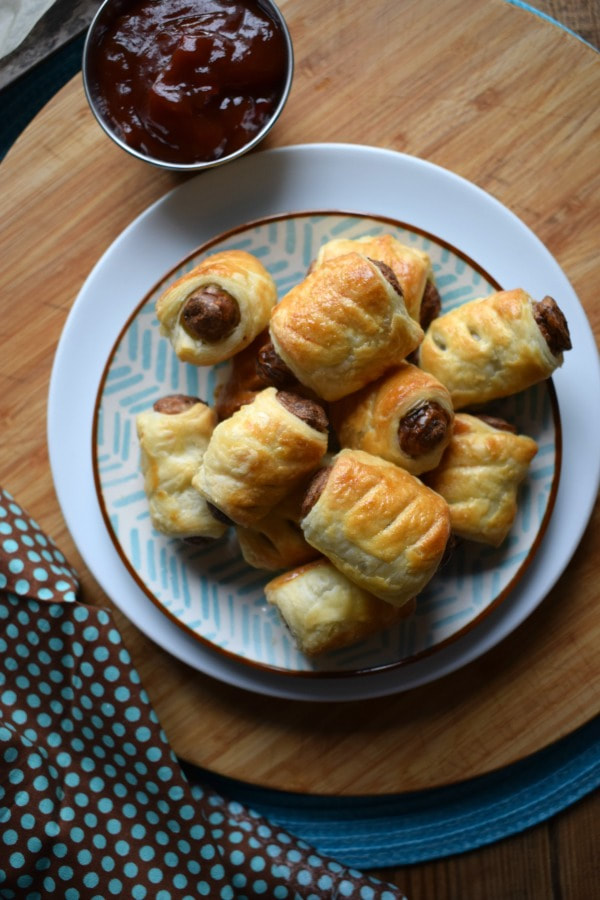 ---
Get the recipe!
---
Easy Sausage Rolls
One of the easiest party appetizers you will ever make! Using just three ingredients and put together in no time at all, they are sure to be a party hit for all ages.
Servings:
32
sausage rolls
Ingredients
16

pork and herb sausages

the thin kind are preferable

1

puff pastry

sheet, 30 cm x 15 cm (approximate size)

1

Egg

beaten (for brushing the pastry)
Instructions
Preheat oven to 375 degrees F. Line a large baking tray with parchment paper. Set aside.

Cut all of the sausages in half cross ways.

Cut the pastry in strips, slightly smaller than the width of the sausage. Next, place a sausage on top of the pastry and roll it up. Cut the pastry as soon as you have rolled up for your first sausage. Continue to repeat these steps until you have rolled up all of your sausages.

Arrange the sausage rolls on the baking tray. With a sharp knife, slit the tops of the pastry a few times. Now with a pastry brush, brush the egg over the pastry to cover it.

Bake in a preheated oven for about 15 – 18 minutes or until golden and the pastry has puffed up. Remove from oven and transfer to a serving plate. These are delicious hot or cold.
*A note on times provided: appliances vary, any prep and/or cook times provided are estimates only.
Nutrition Facts
Easy Sausage Rolls
Amount Per Serving
Calories 126
Calories from Fat 126
% Daily Value*
Fat 14g22%
Cholesterol 36mg12%
Sodium 291mg13%
Potassium 112mg3%
Carbohydrates 3g1%
Protein 7g14%
Vitamin A 39IU1%
Vitamin C 1mg1%
Calcium 5mg1%
Iron 1mg6%
* Percent Daily Values are based on a 2000 calorie diet.
---
thanks for stopping by and hope to see you soon!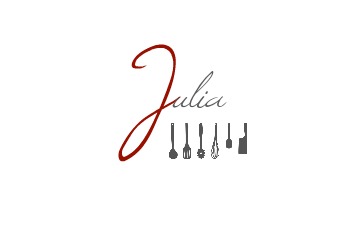 By