There is nothing like a big bowl of soup to warm you up on a chilly day. This Green Lentil & Quinoa Soup is as hearty as it is healthy and easy to make. A one pot soup made easy!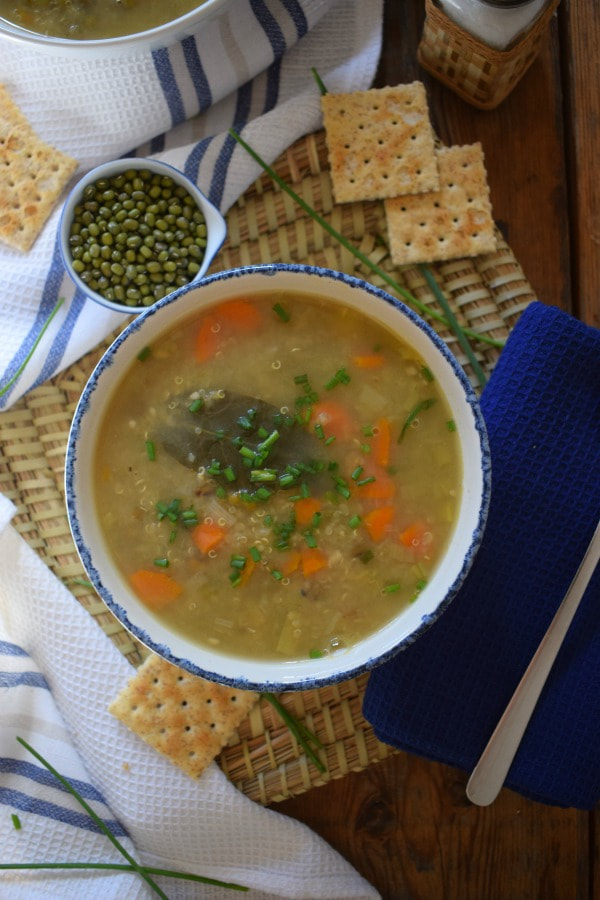 ---
Lately I've been in the mood for soup and have been making soups at least once a week. Which, I have to say, is a little odd for me. I can go months and months and never touch a soup ladle. Then, all of a sudden, I'm all about soup. I've already made my Tomato & Lentil Soup a few days ago. and am looking forward to making the Red Lentil & Coconut Soup again soon.
I think it just might have something to do with the damp, the cold and the rain. It really is all or nothing around here. We go forever with not a drop of rain, then the skies open up and it just doesn't seem to stop. I'm not complaining because I do love the rain.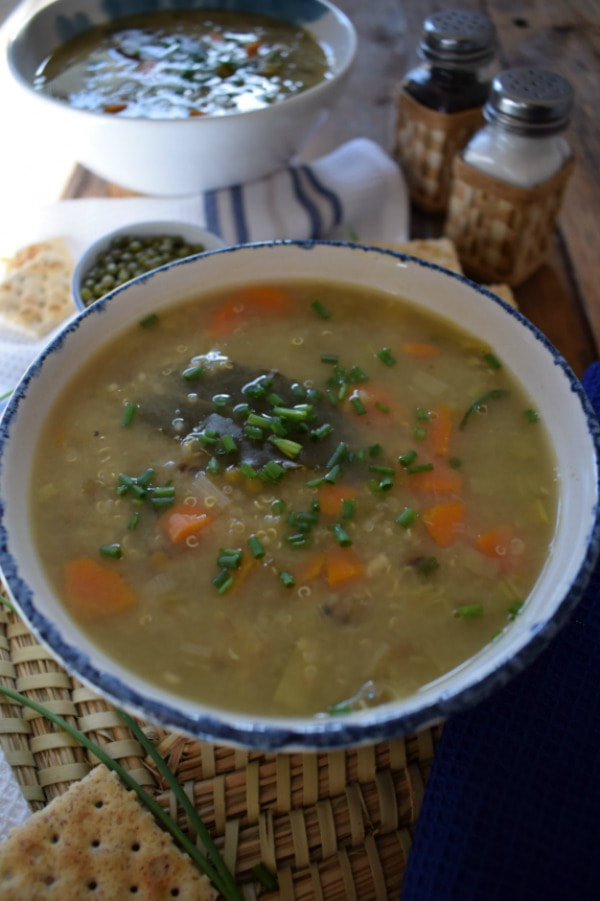 ---
Back to the soup.
This season alone, this is the fourth new soup recipe on the blog. And for once, it's not an orange soup. I've posted a Roasted Tomato Soup, Carrot and Coriander Soup and most recently, Coconut Curried Butternut Squash Soup. And that one was my person favourite so far this season. And what did they all have in common? They were all on the orange to red scale. Although none of them tasted the same, at a distance they were kind of looking like triplets.
Stay tuned to see what the rest o the fall and winter has in store for soups.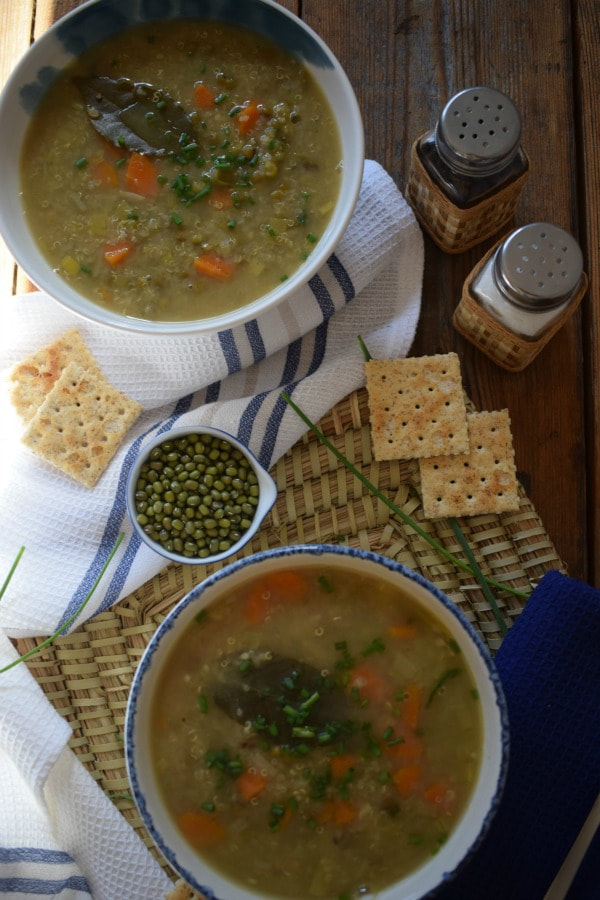 ---
Notes about the soup Green Lentil & Quinoa Soup
First off, you will see in the recipe below that I state to use pre soaked lentils. Because lentils are so small they really don't need soaking, but I do find they have a softer texture if they have been soaked. As this type of lentil is a little bigger than others, it does benefit a little from soaking. And no, you don't have to soak them for hours and hours like bigger beans and legumes, just and hour will do. Or even less if you are pressed for time. And like I said, you don't even need to soak them if you don't want to.
I used green beans in this recipe because that was what I had. It was a clean out the fridge soup and the beans we were on their last legs. You could easily substitute these for thinly sliced runner beans or another green vegetable of your choice.
I also added a little white wine vinegar to the soup in very last stage. I like a bit of the tangy flavour. If your not a fan, just leave it out.
If you are making this soup in advance to reheat later, you will most likely need to add a little more stock to get it back to a thinner texture.
And that sums up the soup!
Happy soup making friends and have a great Monday!
Like what you see today? Don't forget you can follow on Facebook for daily inspiration or over on Instagram where I sometimes do daily cooking videos for fun! I'm also on Pinterest which is a great place that you can save and share your favourite recipes. As well, if you haven't yet, Subscribe to the newsletter. You'll be notified whenever there's a new recipe! You can do that at the top of the page.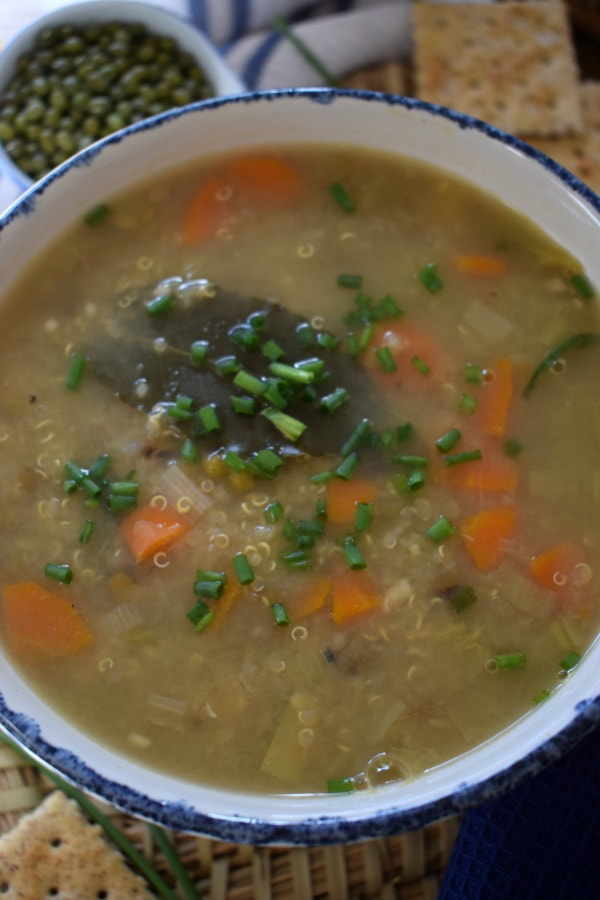 ---
Green Lentil & Quinoa Soup
There is nothing like a big bowl of soup to warm you up on a chilly day. This Green Lentil & Quinoa Soup is as hearty as it is healthy and easy to make. A one pot soup made easy!
Ingredients
2/3

Cup

quinoa

uncooked

3/4

Cup

green lentils

soaked

2

Carrots

diced

1

Leek

ends trimmed and chopped

Green beans

cut into 3 inch pieces

8 1/2

Cups

vegetable stock

1/3

Cup

white wine vinegar

2

Garlic cloves

crushed

3

Bay leaves

2

Tablespoons

olive oil

1

Tablespoon

onion powder

1 1/2

Teaspoons

salt

1

Teaspoon

black pepper

Small bunch fresh chopped chives to serve
Instructions
In a large pot set over medium to high heat, add the olive oil, garlic and leeks. Stir for a minute and leave to cook stirring occasionally for about 5 minutes or until the leeks are soft and slightly browned.

Add the bay leaves and stir to coat completely and fry them for about 1-2 minutes.

Add the carrots, beans, quinoa, lentils, onion powder, salt and pepper. Stir really well and leave over the high heat for about 2 minutes.

Add all the stock and bring to a simmer. Reduce heat to low, cover and leave to cook for about 40 minutes, stirring occasionally.

After the soup has cooked, remove lid, add the vinegar and bring back to a gentle simmer for about 3-5 minutes.

​Garnish with fresh chives and extra black pepper.
*A note on times provided: appliances vary, any prep and/or cook times provided are estimates only.
Nutrition Facts
Green Lentil & Quinoa Soup
Amount Per Serving (1 serving)
Calories 233
Calories from Fat 54
% Daily Value*
Fat 6g9%
Sodium 1935mg84%
Potassium 424mg12%
Carbohydrates 35g12%
Protein 9g18%
Vitamin A 4362IU87%
Vitamin C 5mg6%
Calcium 43mg4%
Iron 3mg17%
* Percent Daily Values are based on a 2000 calorie diet.
---
Thanks for stopping by and hope to see you soon!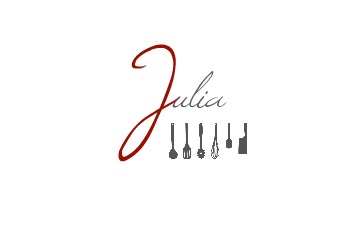 By