It's time to throw away the frozen Hash Browns! I've cracked these and am sharing the very easy and worth the effort recipe. And what better timing with Easter around the corner as they would make a great addition to a brunch.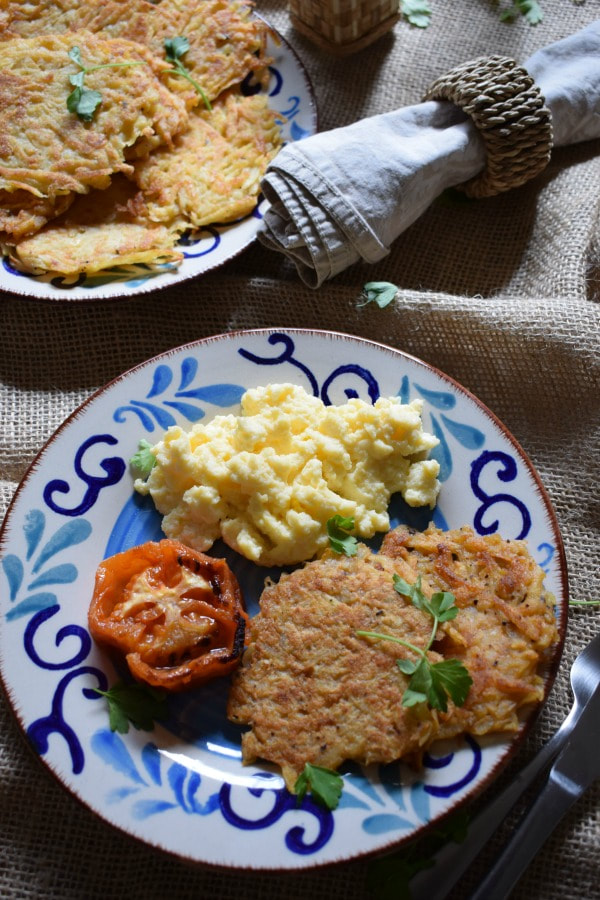 ---
---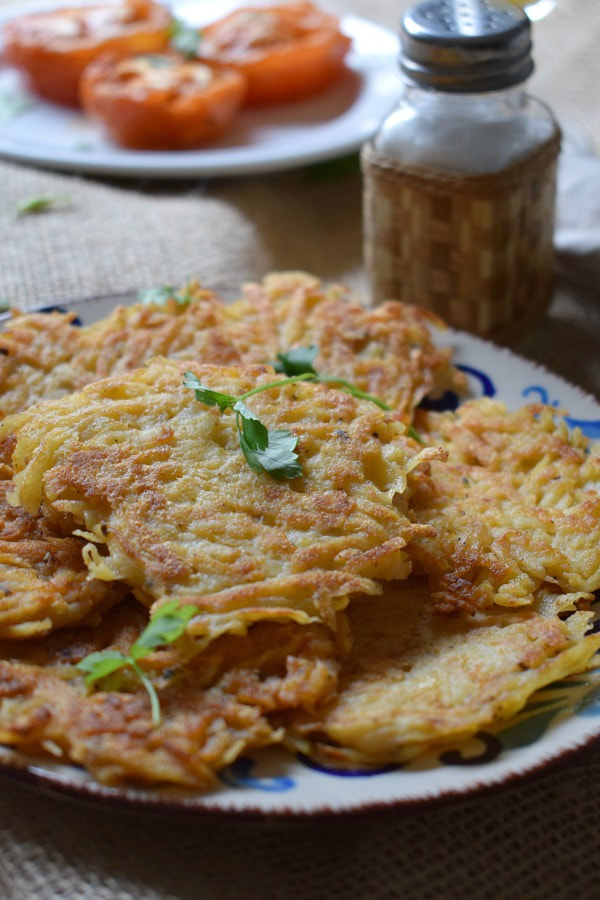 ---
Growing up, the only Hash Browns I ever remember having were the frozen kind. In fact, I would say, I never even understood that you could even make them. I mean what was involved? Well, I did some research, and then a bit more and came up with these.
You see I was in search of making a different type of crust for a quiche, something gluten free. So you can read a bit below about how that went down.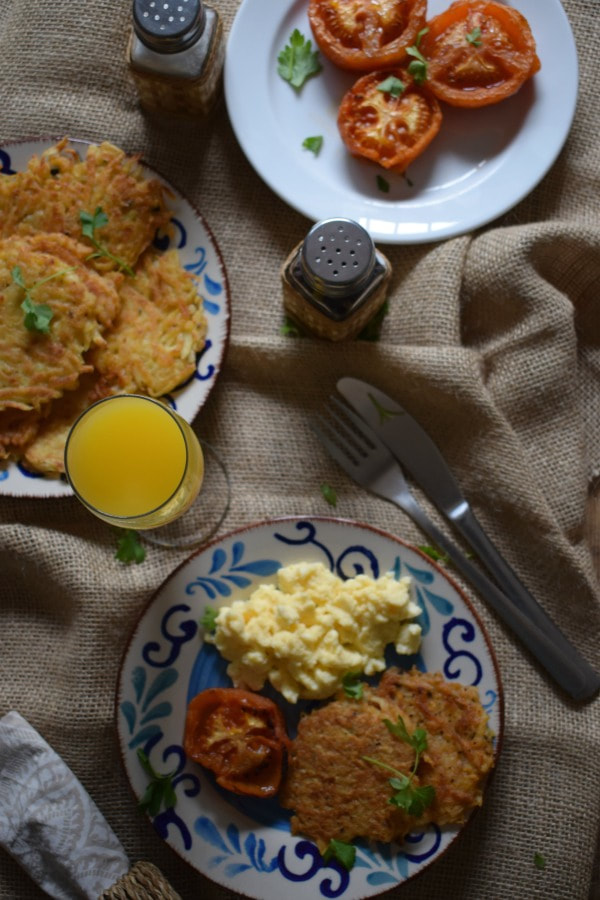 ---
Always Learning Something New
---
First, I had to figure out how to do hash browns. I have never made those either. Out came google and the search was on for how to hash brown. Again, too many recipes to count with too many different instructions and I was already confused and possibly losing my patience. So, I decided to wing it with my own method. Well, with some aid from the dozen or so articles/recipes I had read.
If you are wondering about the different methods. I saw some recipes where you literally just grated and fry the potatoes. They were all loose on a plate. Neat. I also saw some using mashed potatoes. Umm, wouldn't that be more of a potato cake? Others using just grated potatoes in a pan with some seasoning and pushing them to together to hold shape. Also some using egg, bread crumbs and flour. So there was a bit of everything out there as I am sure you can imagine.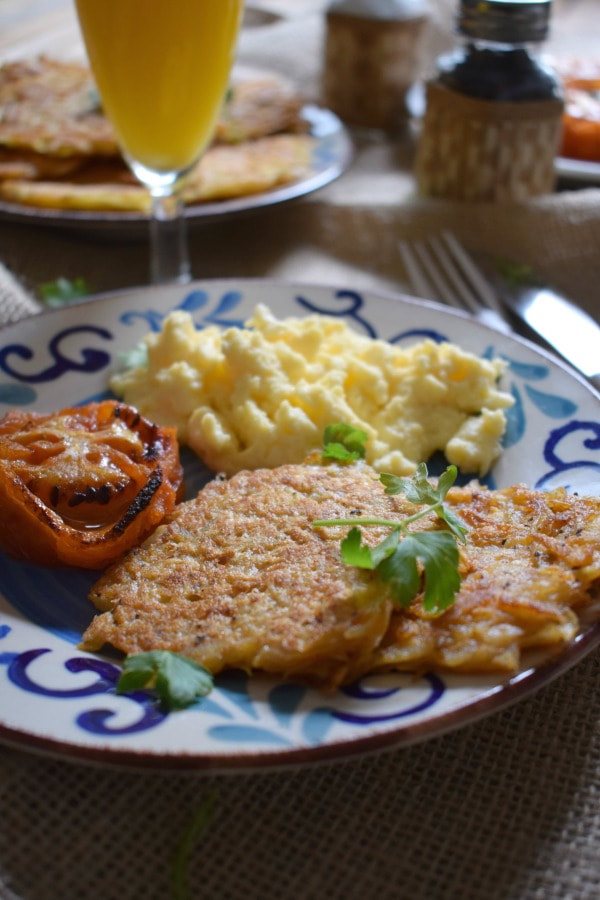 ---
I chose the grated potato method using egg and flour. Well, I actually made two batches, one using corn flour for the gluten free potato base an another using regular flour. That is the one I have written out here in this recipe. So, if you are reading this and want a gluten free recipe, this recipe can be adapted easily using corn flour.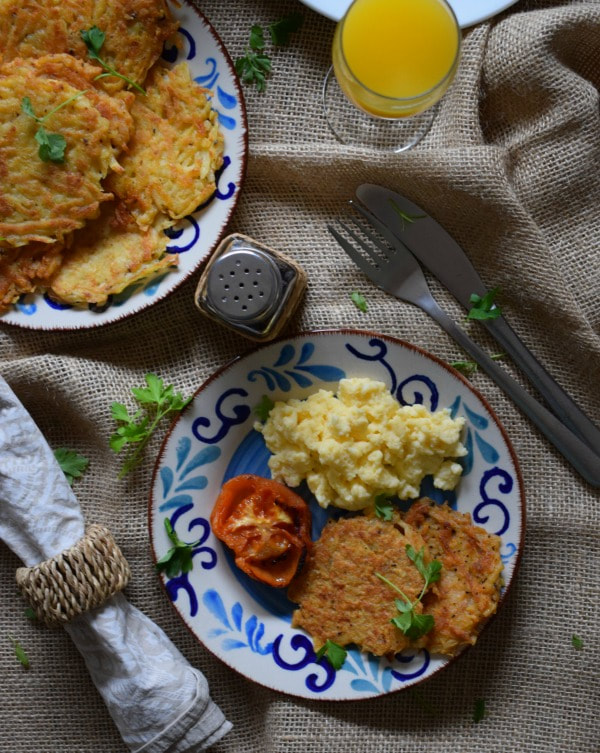 ---
Notes On The Hash browns
---
First I peeled, cleaned and grated the potatoes. I gave them a good rinse and let them soak in cold water for about 30 minutes. This gets out the starch and gives you a crisper potato. Then I wrapped the potato shavings in a tea towel and rinsed out the rest of the water. This is really important. If you don't get out all the water, you risk having soggy hash browns.
I added them to the egg mixture and literally dropped them into a hot pan. Well, a medium hot pan. If the pan is too hot, you risk cooking them on the outside and having raw potato pieces on the inside. Basically, I dropped them into sizzling butter with a tablespoon and then gently flattened them into disks. I let each side cook for about 5 minutes or so. I was golden and crisp when I flipped it over. Then the other side was cooked for about the same amount of time.
I used butter because I love the flavour. You could just as easily use oil if that is your preference. Remember it wants to sizzle but not burn or cook too fast.
---
They are Honestly Easy to Make and Would Go Great at a Weekend Buffet
These were easy to do and they even freeze well because I tried them out. To reheat, put them on a baking tray in the oven for about 15 minutes at say 350 degrees F. That should do it just fine. And although I say it myself, they were so good. Crispy, light, tasty and a great addition to the breakfast table.
And you can now find the recipe for the Spinach Quiche with a Hashbrown Crust here as well.
Happy cooking friends and send my computer good working vibes!
---
Like what you see today? Don't forget you can follow on Facebook for daily inspiration or over on Instagram where I sometimes do daily cooking videos for fun! I'm also on Pinterest which is a great place that you can save and share your favourite recipes. As well, if you haven't yet, Subscribe to the newsletter. You'll be notified whenever there's a new recipe! You can do that at the top of the page.
---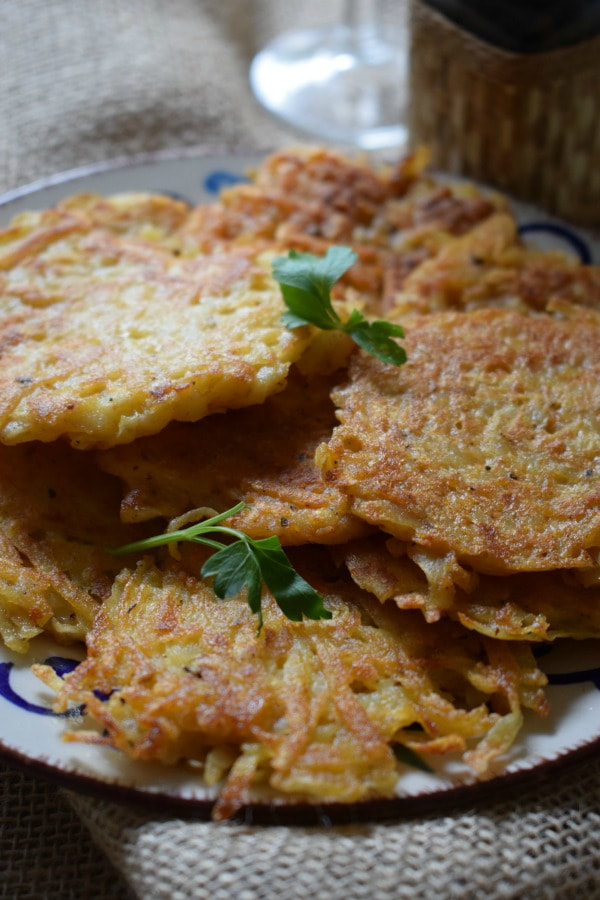 ---
Get the recipe!
---
Hash Browns
It's time to throw away the frozen Hash Browns! I've cracked these and am sharing the very easy and worth the effort recipe. And what better timing with Easter around the corner as they would make a great addition to a brunch.
Ingredients
4

medium

potatoes

1

Egg

lightly beaten

2

Tablespoons

flour

1

Teaspoon

salt

1/2

Teaspoon

black pepper

1/2

Teaspoon

paprika

Butter for frying
Instructions
Peel and wash potatoes. Grate the potatoes with the larger holes of your grater. Put the grated potatoes in a large bowl of cold water and leave them there for about 20 to 30 minutes. Drain and rinse potatoes.

Lay the potatoes out on a clean tea towel and pat dry or squeeze to get out as much of the water as you can. Put the potatoes back in the colander and shake them around. They should easily separate and not be clumped together.

In a large mixing bowl add the potatoes, beaten egg, flour, salt, pepper and paprika. Mix well.

Melt butter in a large skillet set over medium heat. Drop the batter by mounds and gently flatten out with a spoon. Fry for about 3-5 minutes then flip them over. Fry other side for the same amount of time or until golden and crispy. Repeat for all the batter. Serve immediately when cook. Can be reheated in the oven.
*A note on times provided: appliances vary, any prep and/or cook times provided are estimates only.
Nutrition Facts
Hash Browns
Amount Per Serving (1 Hash Brown)
Calories 78
Calories from Fat 9
% Daily Value*
Fat 1g2%
Cholesterol 16mg5%
Sodium 244mg11%
Potassium 365mg10%
Carbohydrates 16g5%
Protein 2g4%
Vitamin A 73IU1%
Vitamin C 17mg21%
Calcium 13mg1%
Iron 1mg6%
* Percent Daily Values are based on a 2000 calorie diet.
---
Thanks For Stopping By & Hope To See You Soon!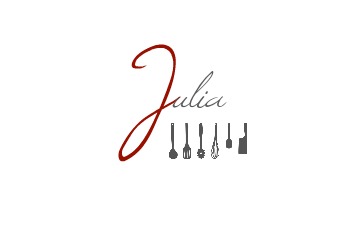 By