Who doesn't love a good dinner roll? Well, if you are anything like me, you might just love them. And I have to say, these Herb Dinner Rolls were excellent and I didn't mange to stop at one. Take a look!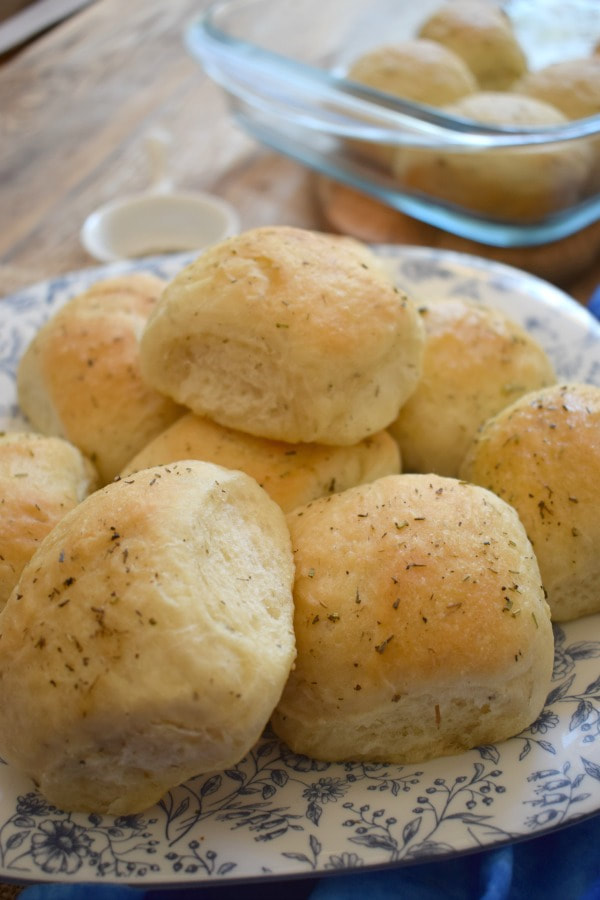 ---
---
We are just past the half way mark in August, which means soup season is just around the corner. Or is it?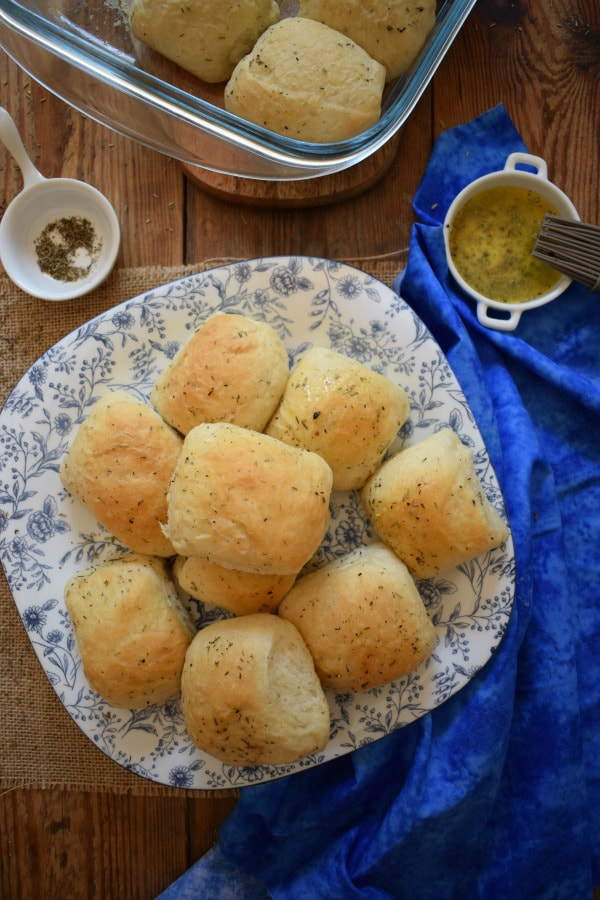 ---
I was in my complete happy place, the kitchen. Home alone, the radio blaring, the tomatoes roasting and the onions simmering. I was even letting my thoughts drift ahead to Thanksgiving and what new dishes I might like to try out this year.
Fall is my happy season for cooking. I mean it's the best season anyway.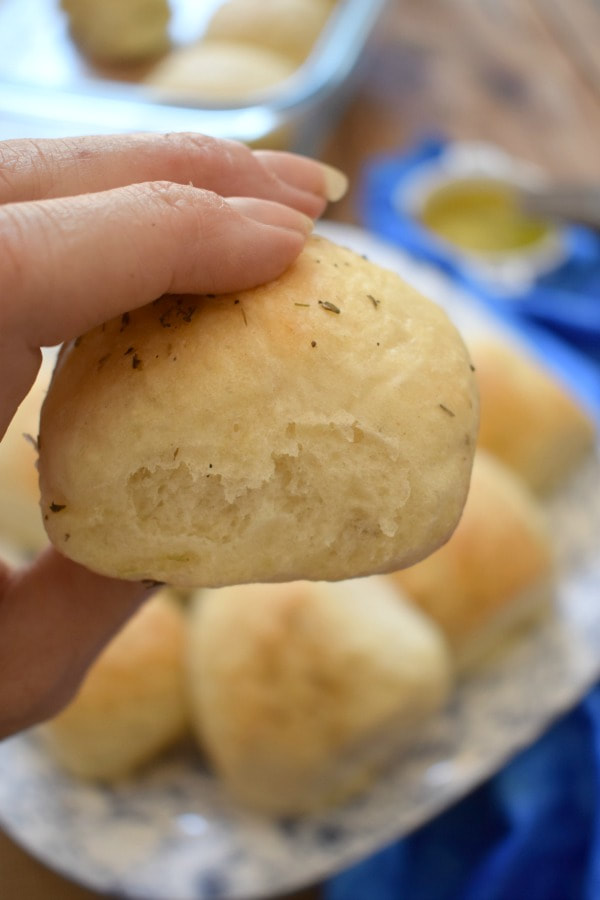 ---
Anyway, I made a delicious Roasted Tomato Soup and that recipe will also be hitting the blog once the temperatures seem a bit more fit for such a thing.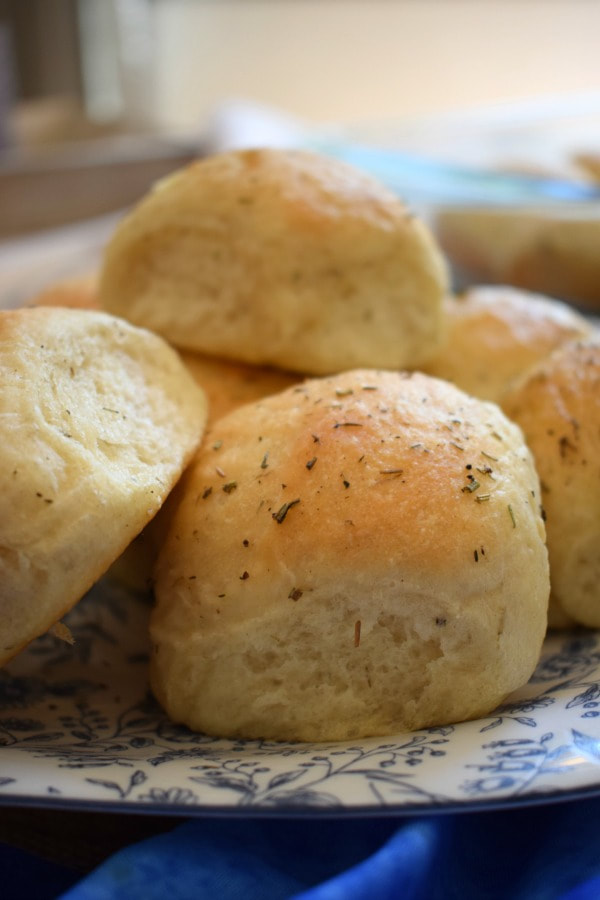 ---
And finally, what better to go with that soup than dinner rolls. Yes, you really can't beat a great dinner roll and this one is packed with all the goodness that a roll needs to deliver on. Great with salads and a barbecue as well but the best home for a dinner roll is next to a bowl of hot soup.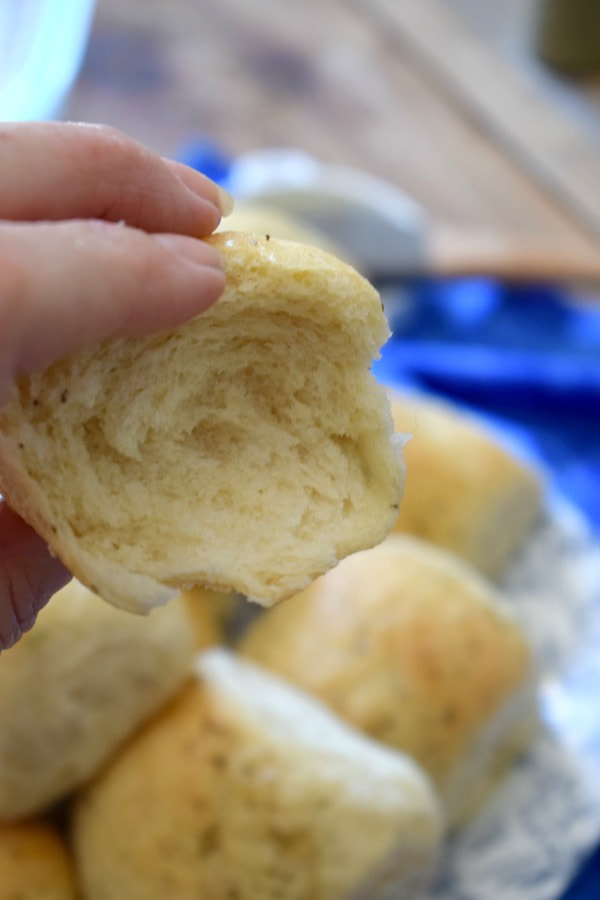 ---
Notes about the rolls
---
Use Strong Bread Making Flour
First of all, always use good strong flour. If you use pastry flour, you will not get a good bread. Fact. You can choose to use fresh yeast, if that is your preference, but I always use dry yeast. And lately I have gotten into instant dry yeast, which I really love, You just add that directly to the flour mixture. I have never ever had it let me down. It's great stuff.
A Warm Place To rise
You do need a warm place for bread to rise. I would say anywhere between 1/2 hour to 1 hour and you dough should have doubled in size. Then of course, as these are dinner rolls, they have to do a second rise. So, they are not quick. From start to eating, we are talking about 3 hours. If you compare that to sour dough bread, it's pretty quick!
Dough Will Be Sticky
This dough will be quite sticky, but it is meant to be that way. So, when you are kneading the dough, you will probably need to add a little more flour so it doesn't stick to your hands too much. I generally always coat my hand with flour when kneading dough. It helps. Be careful not to add too much flour. I am merely talking about a dusting. If you do this, you should be able to knead your dough to perfection.
Happy bread making and have a great weekend!
---
Like what you see today? Don't forget you can follow on Facebook for daily inspiration or over on Instagram where I sometimes do daily cooking videos for fun! I'm also on Pinterest which is a great place that you can save and share your favourite recipes. As well, if you haven't yet, Subscribe to the newsletter. You'll be notified whenever there's a new recipe! You can do that at the top of the page.
---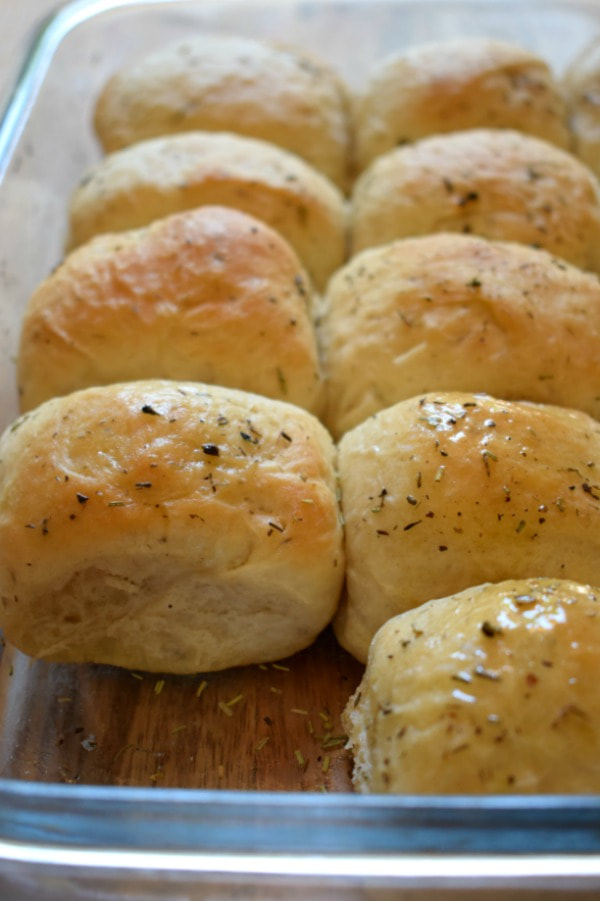 ---
Get the recipe!
---
Herb Dinner Rolls
Who doesn't love a good dinner roll? Well, if you are anything like me, you might just love them. And I have to say, these Herb Dinner Rolls were excellent and I didn't mange to stop at one. Take a look!
Ingredients
4

Cups

strong bread making flour

2

Tablespoon

sugar

1

Tablespoon

instant dry yeast

1 1/2

Teaspoon

salt

1

Teaspoon

rosemary

1

Teaspoon

thyme

3/4

Cup

water

2/3

Cup

milk

3

Tablespoon

butter

cut into small pieces
For topping the rolls:
Extra melted butter

1

Teaspoon

rosemary

1

Teaspoon

thyme
Instructions
In a large bowl, add the flour, sugar, salt, rosemary, thyme and yeast. Stir and set aside.

In a medium saucepan set over medium to low heat, add the milk, water and butter. Stir until the butter is pretty soft and the mixture is hot to touch. Remove from heat.

Make a well in the center of the flour and pour in the milk mixture. Using a fork or spoon, start mixing the flour into the milk. Continue doing this until it is completely combined. Dough may be sticky.

Knead the dough on a floured surface for about 5-8 minutes. This dough will probably be sticky and that is okay. Use little bits of flour while you knead the dough if you find it is too sticky.

Place the dough back into the bowl and cover with a damp tea towel. Leave it in a warm place to rise for about an hour. The dough should double in size.

Punch the dough down and then divide it into 15 equal parts. Gently roll each one into a ball.

Lightly grease a deep sided 16 x 10 inch baking dish. Evenly place the dough balls in the baking dish. Cover and leave in a warm place to rise for another hour or until it has doubled in size.

Preheat oven to 350 degrees F. When the rolls are ready, place them in the oven and bake for 15-18 minutes or until they are golden.

Remove from oven.

In a small bowl, combine the extra melted butter with the rosemary and thyme. Brush warm rolls with the melted butter. Great served hot!
*A note on times provided: appliances vary, any prep and/or cook times provided are estimates only.
Notes
Rise time varies depending the humidity and room temperature.  You are looking for the dough to double in size, this may happen before or after the stated time in recipe. 
Nutrition Facts
Herb Dinner Rolls
Amount Per Serving (1 serving)
Calories 174
Calories from Fat 27
% Daily Value*
Fat 3g5%
Cholesterol 7mg2%
Sodium 258mg11%
Potassium 14mg0%
Carbohydrates 2g1%
Protein 1g2%
Vitamin A 100IU2%
Vitamin C 1mg1%
Calcium 13mg1%
Iron 1mg6%
* Percent Daily Values are based on a 2000 calorie diet.
---
thanks for stopping by and hope to see you soon!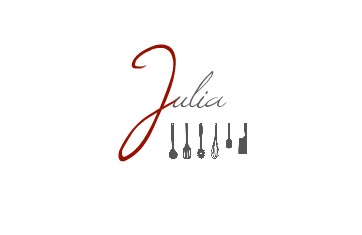 By