Peach season is in full swing and this Homemade Peach Cobbler should have a place setting at you dessert table soon. This is the dessert I didn't know I needed until recently. And if you're a fan of Crumbles and peaches you need to check this out. A great summer dessert.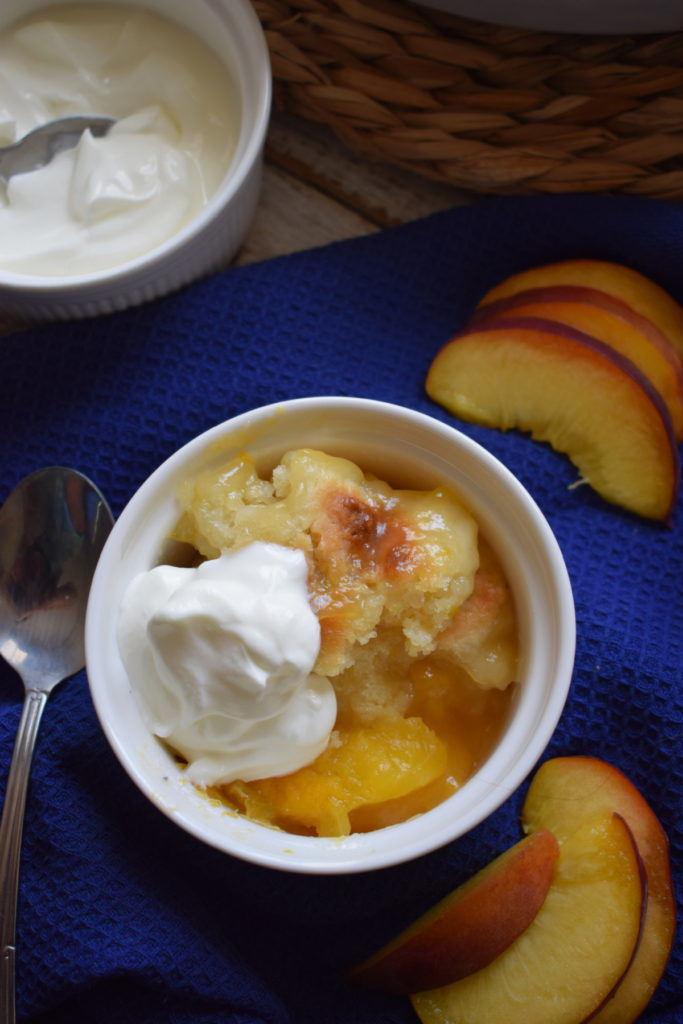 For some reason, this is only the second peach recipe on the blog. That's TWO PEACH RECIPES in over six years! What? So, as it stands for now, there is this Peach Cobbler and a recipe for my Mascarpone Cream & Peach Tarts. How is this even possible because I LOVE peaches.
Turns out, my family, not so much in love with peaches. As diverse as I try to make my recipes on the blog, I still want my family to eat what I cook…hahaha. Otherwise it's just me an a big ol' cake. That being said, my 16 year old loved this and went back for seconds. My husband even had a try. He's not a fan of peaches, so it wasn't his favourite.
But, if you love peaches, like I do, you need to take a look at my spin on the classic Peach Cobbler!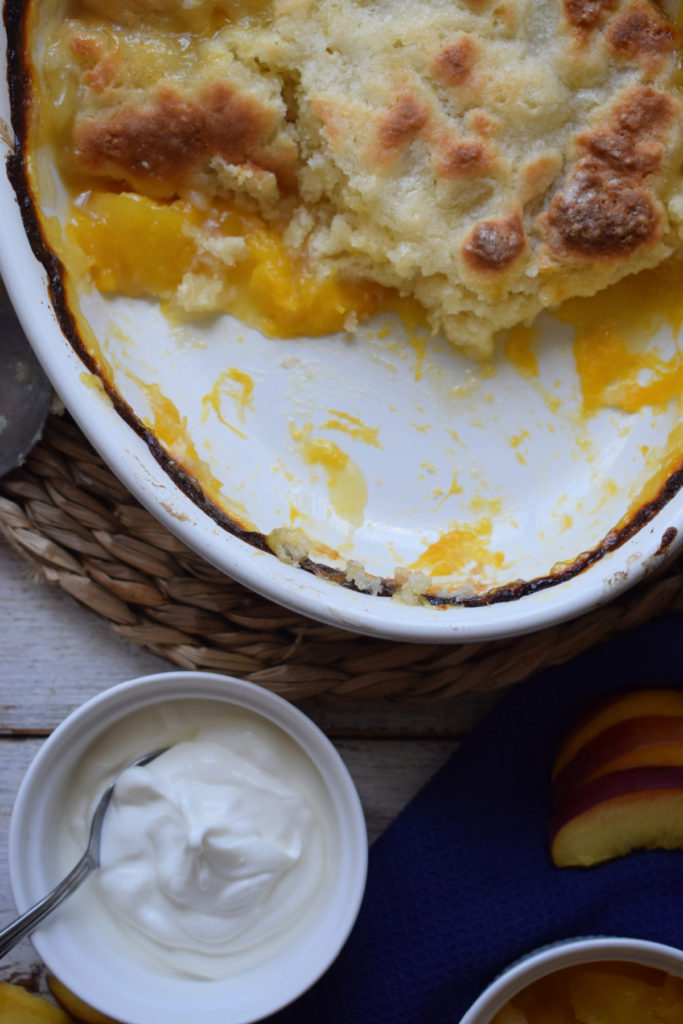 ---
What is a Cobbler
A Cobbler is a fruit dessert made from a cooked fruit base topped with a biscuit, scone or dumpling topping. It came about in America from the British settlers that couldn't get their hands on ingredients to make traditional suet desserts.
This one I'm sharing today is a little different because I did my topping a little differently. So keep on reading to see how this cobbler is different.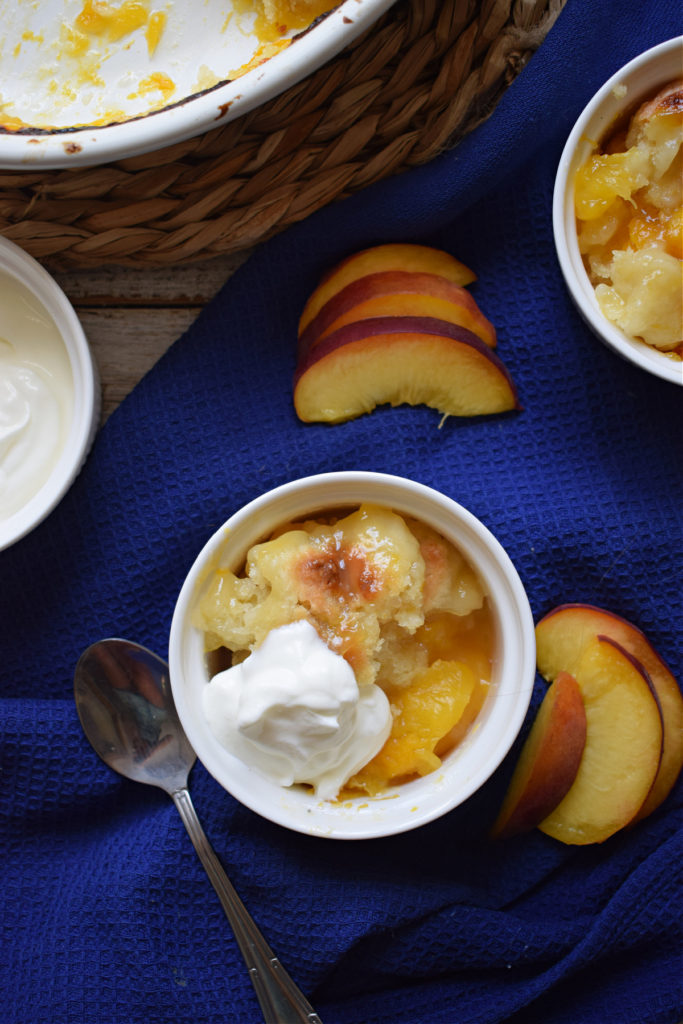 ---
Here's Everything We Need To Make The HOmemade Peach Cobbler
Peaches
Lemon juice
All purpose flour
Sugar
Baking powder
Plain yogurt
Butter
Cornstarch
Boiling water
REMEMBER, The full recipe and instructions is always found at the end of the post in the recipe card.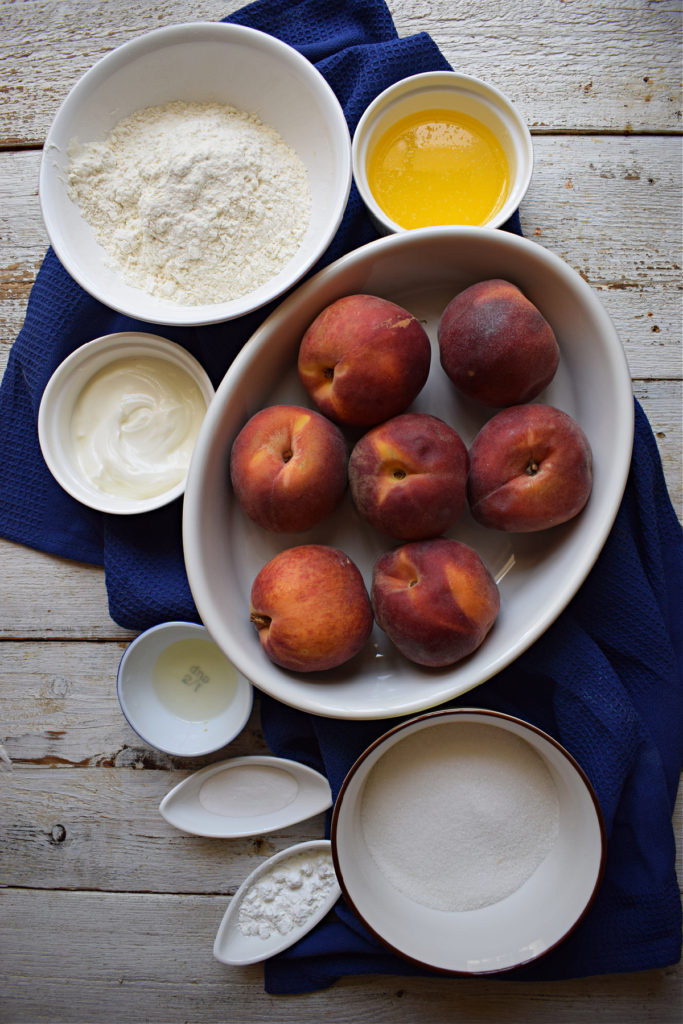 ---
Make The Peach Filling
Peel & slice the peaches

, I find it easier to peel the peaches first and then slice them up.

Cook the peaches

, add the sliced peaches to a saucepan over medium heat and add the lemon juice. Give a good stir. Cook down for about 10 minutes and they are really soft and look like a pie filling.

NOTE

, you can add about a tablespoon of sugar to the peaches if you like it a little sweeter. I don't find that necessary.

Pour peaches into prepared baking dish

, I used an oval dish that was about 8 x 6 inches. An 8 x 8 square dish would work well also. Don't go any bigger or it will be really flat.
TIP TO EASILY PEEL PEACHES – lower peaches into a pot of boiling water for just about 30 seconds. Immediately remove and place in icy cold water. Remove and peel.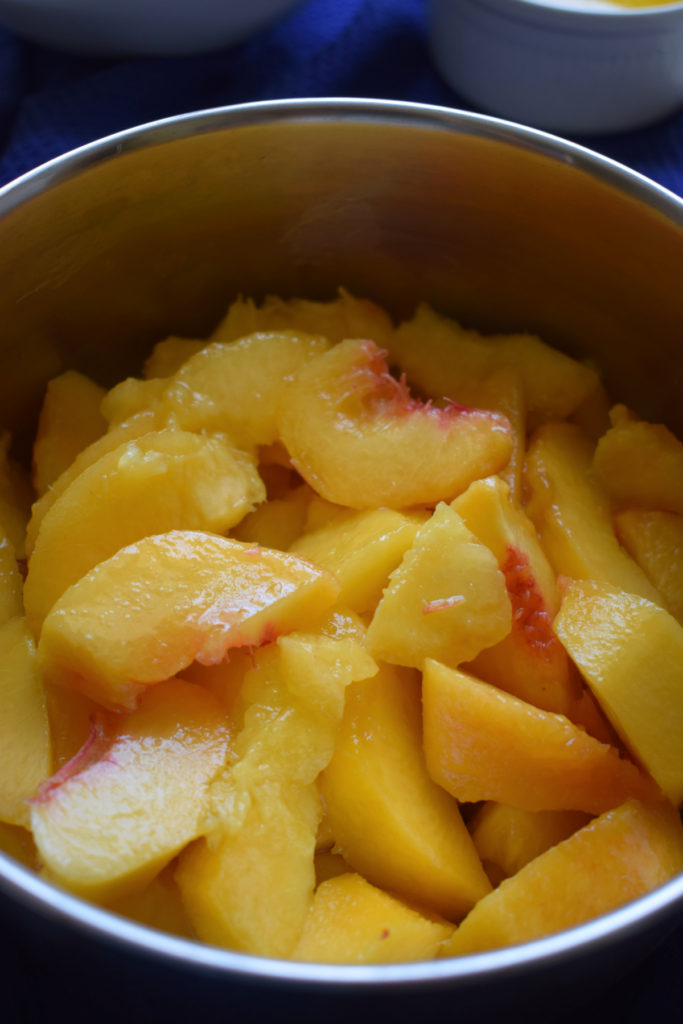 ---
Make The Dough For The Peach Cobbler
Make the dough

, combine the flour, baking powder and 1/2 Cup/100 grams of the sugar.. Add the melted butter and yogurt. Mix until a you have a thick batter consistency.
NOTE, this is really thick, almost like biscuits or scones. This is exactly what you are looking for with the consistency.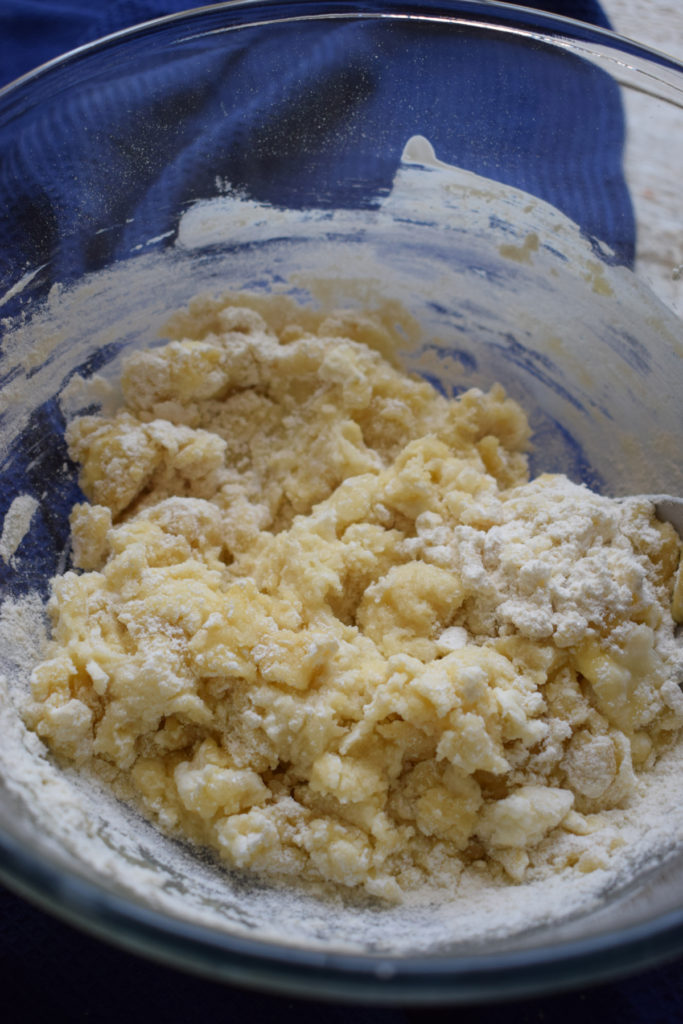 ---
Spoon over cobbler dough

, I used a tablespoon to spoon over small amounts all over the cooked peaches, like shown below.

Sprinkle over remaining sugar

, mix together the remaining sugar and cornstarch and sprinkle over the entire top.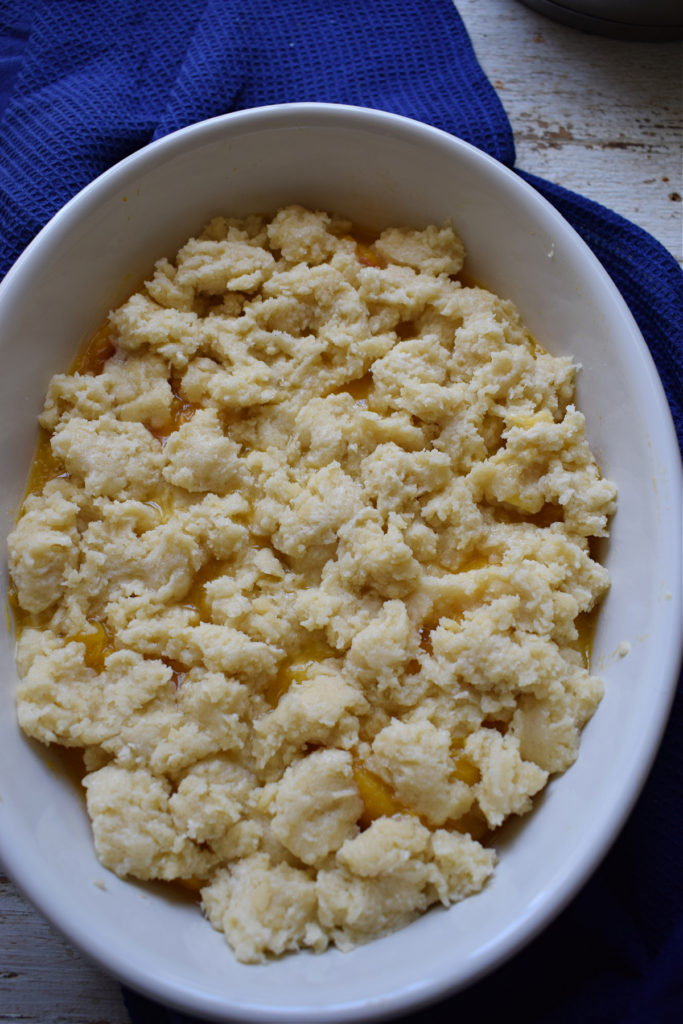 ---
Pour over boiling water

, make sure to evenly pour the water over the entire surface and not just in one place.

Bake in preheated oven

, make sure the oven is preheated to 350 degrees f/180 degrees C. Bake in the middle rack for about 35 – 40 minutes. The top will be lightly golden brown and the peaches all bubbly around the sides.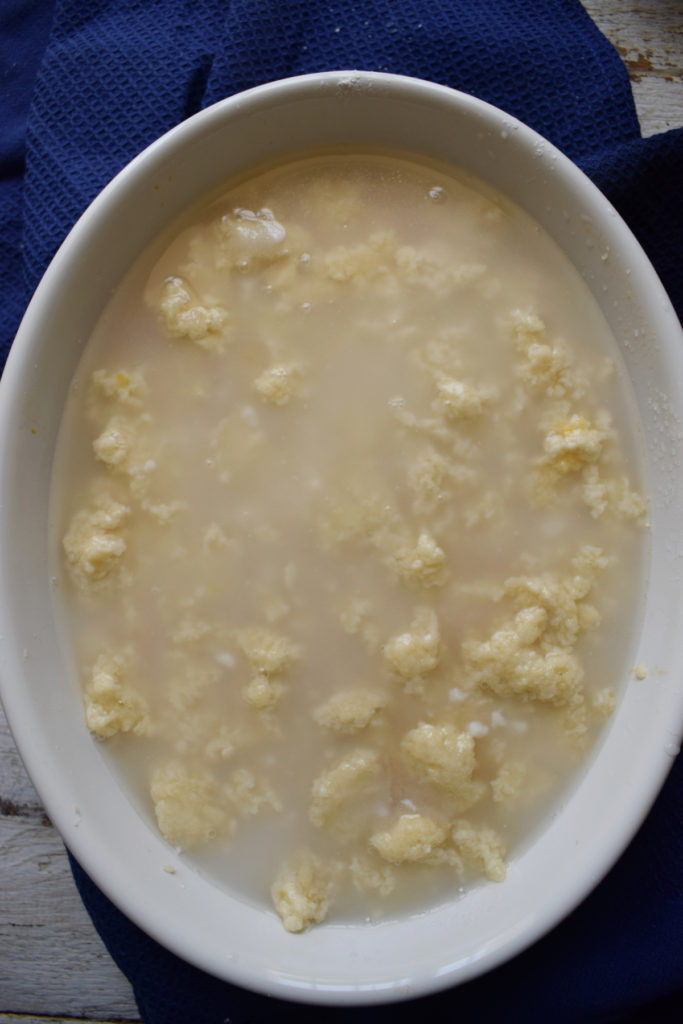 ---
Freshly Baked peach Cobbler Ready To Devour
Friends, this was honest to goodness fantastic. As much as my kids love the Chocolate Self Saucing Pudding Cake, that's how much I loved this dessert. I could have probably eaten it all, but you know…calories. Darn! I ate it fresh out of the oven served with fresh whipped cream, and it really was delicious on every level.
The peaches were creamy and just the right amount of sweet and the cake part was spongy and dense enough and so moist. I already can't wait to make it again.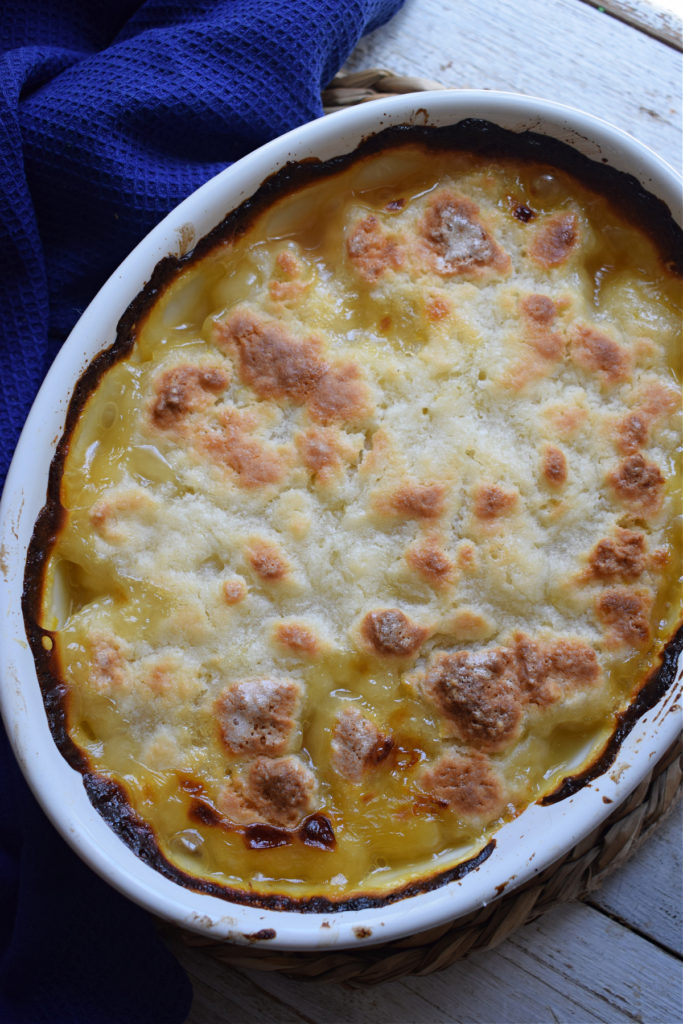 Can The Peach Cobbler Be Prepared in Advance
Parts of it can, and parts of it can't. I'll explain below to help you out.
Peaches

, you can make the peach filling the day before and store it in the fridge in prepared pan and cover it well with plastic warp.

The filling

, has to be made fresh just before you bake it. However, you can sift together the dry ingredients if this makes life a little easier. As this recipe uses baking powder, that is activated as soon as it's added to liquid. So, it will need to be baked as soon as it's put together.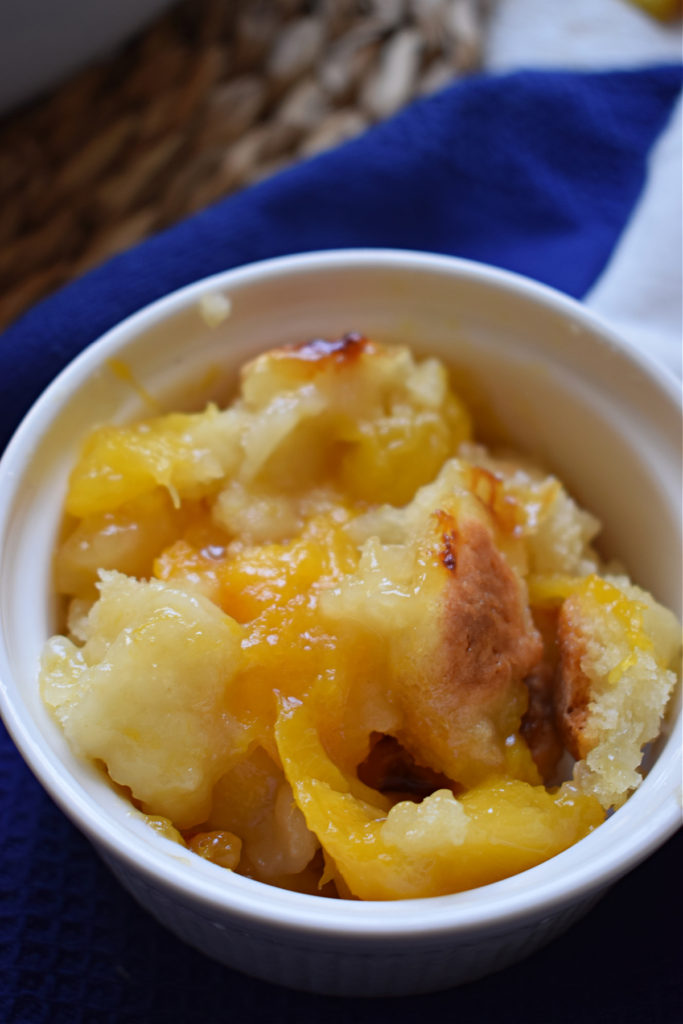 How To Serve The Homemade Peach Cobbler
Hot out of the oven,

I enjoyed this fresh out of the oven with some whipped cream on the side. It was delish. You could even top it with icecream if you like.

At room temperature,

if you planning to bring this to a potluck, barbecue or any summer event, yes it's delicious at room temperature. Much like fruit pies, this can be eaten at room temperature no problem.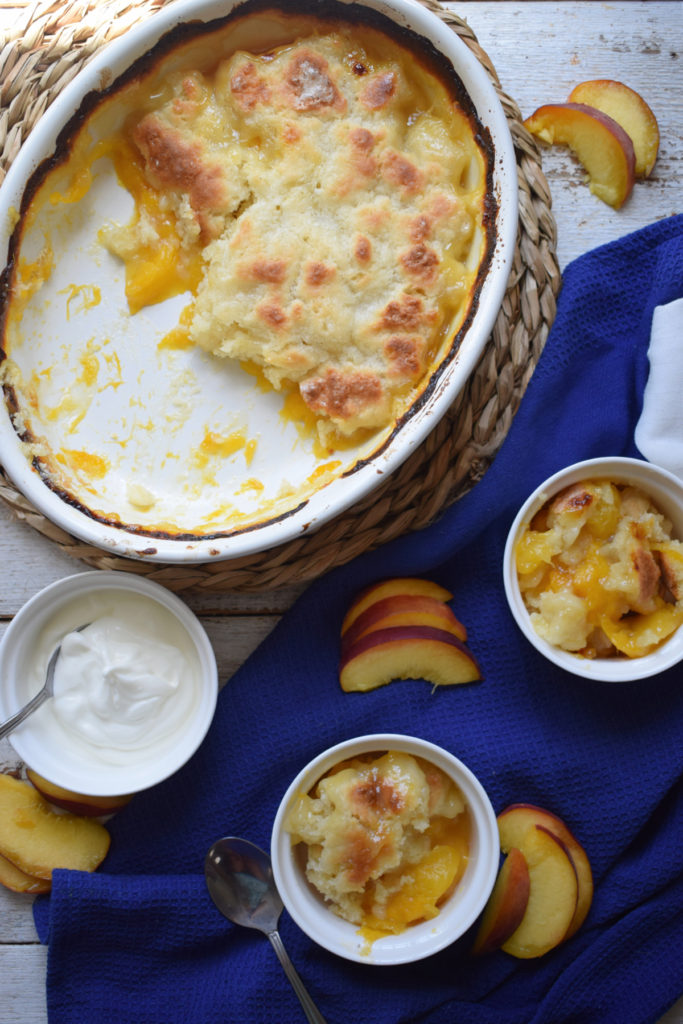 Are You Able To substitute Can Peaches For This Peach Cobbler
Honestly, fresh is better and if you are making it in the summer months, peaches are in season. But with that being said, yes you can substitute the fresh peaches.
Can Peaches

– yes, you can use canned peaches. Drain away all the liquid and use them straight out of the can.

Frozen Peaches

– allow them to defrost and then cook on the stove top as per the recipe below.
See this handy chart from The Spruce Eats for all peach substitutes.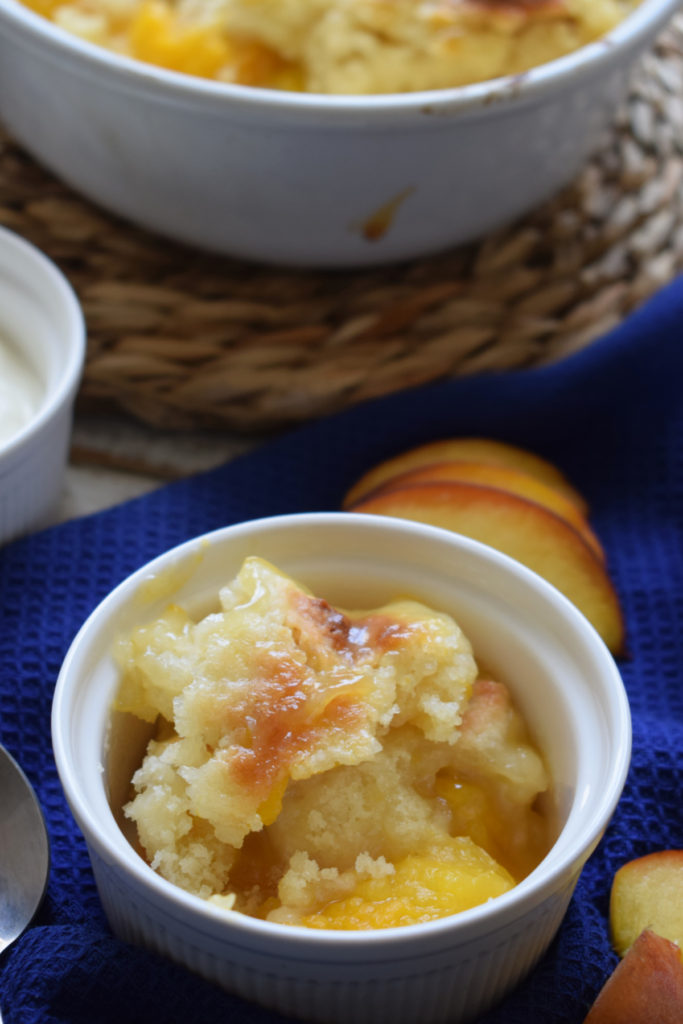 ---
File this one in favourites friends and make it next time you want to swoon your family or friends. It's really a fantastic summer dessert that will sure to be my favourite for years to come. Let me know in the comments below what you think.
Have a great Monday and I'll see you all in a day or two with more delicious kitchen inspiration!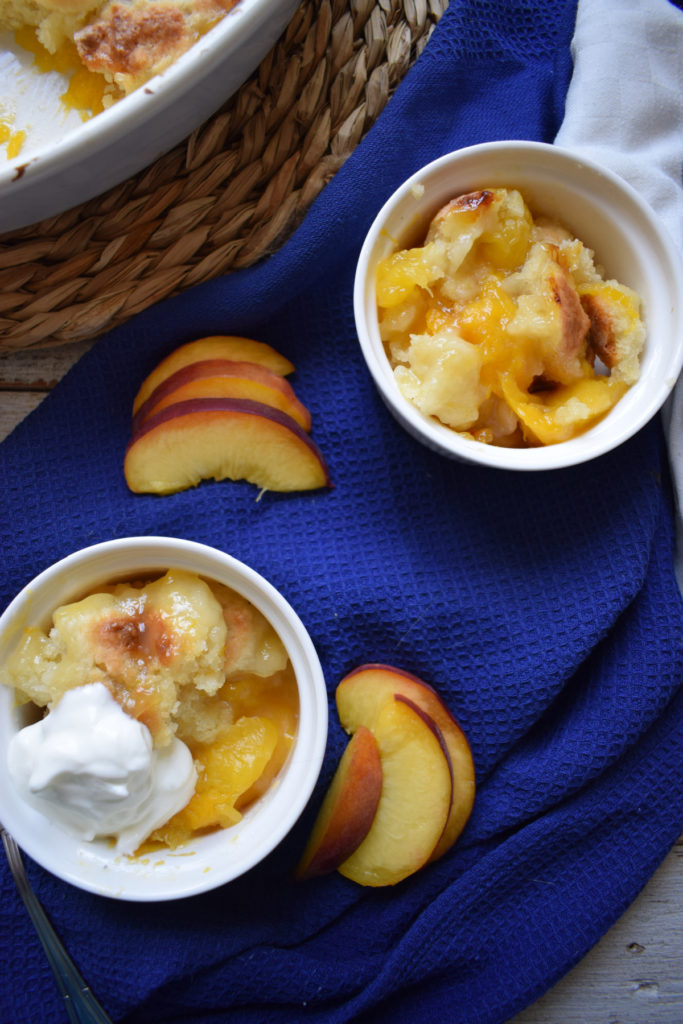 Here's Some More Recipes You Might Enjoy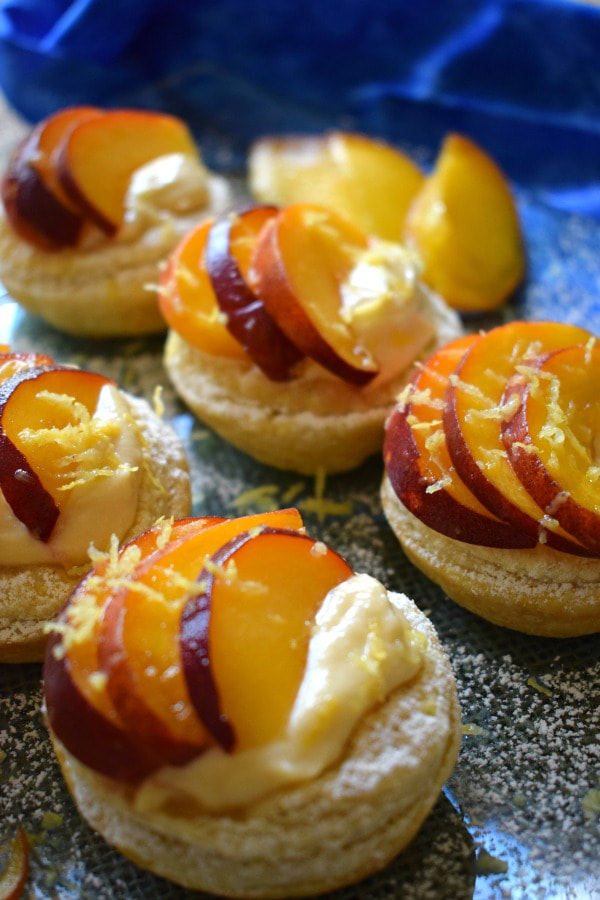 ---
Get The Recipe!
Homemade Peach Cobbler
Peach season is in full swing and this Homemade Peach Cobbler should have a place setting at you dessert table soon. This is the dessert I didn't know I needed until recently. And if you're a fan of Crumbles and peaches you need to check this out. A great summer dessert.
Ingredients
7

fresh peaches

peeled and cut into slices

1

Teaspoon

fresh lemon juice

1

Cup

all purpose flour

3/4

Cup

sugar

divided

1

teaspoon

baking powder

1/2

Cup

plain yogurt

4

Tablespoons

butter

melted

1

Tablespoon

cornstarch

1

Cup

boiling water
Instructions
Preheat oven to 350 degrees F. Grease a deep sided 8 inch baking dish.

Peel & slice the peaches. In a medium sized sauce pan set over medium heat, add the peaches and the lemon juice. Stir and bring to a simmer and cook for about 10 minutes Remove from heat and pour into prepared dish. Set aside.

In a medium mixing bowl, whisk together the flour, 1/2 Cup/100 grams of the sugar and baking powder. Add the melted butter and yogurt. Mix until a you have a thick batter consistency. Spoon over the entire surface of the peaches.

In a separate bowl, whisk together the cornstarch and remaining sugar. sprinkle this evenly over the batter and pour over boiling water.

Bake for approximately 30 – 40 minutes. A toothpick inserted in the cake part should come out with moist crumbs.

Serve hot or warm with cream or ice cream.
*A note on times provided: appliances vary, any prep and/or cook times provided are estimates only.
Notes
This recipe has a ratio of more cake to filling.  If you are looking for a cobbler with more peaches, simply double the peach part.  This will not change the cooking time.
Nutrition Facts
Homemade Peach Cobbler
Amount Per Serving (1 serving)
Calories 326
Calories from Fat 81
% Daily Value*
Fat 9g14%
Cholesterol 23mg8%
Sodium 147mg6%
Potassium 389mg11%
Carbohydrates 60g20%
Protein 5g10%
Vitamin A 824IU16%
Vitamin C 12mg15%
Calcium 80mg8%
Iron 2mg11%
* Percent Daily Values are based on a 2000 calorie diet.
---
Thanks For Stopping By & Hope To See You Soon!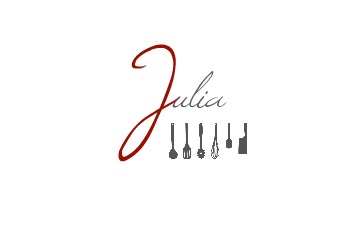 By