A versatile sweet and garlicky sauce that you can make in advance, store in the fridge and get out in a hurry when you're ready to use it. This Honey Garlic Sauce is made with minimal ingredients and cooked in just 10 minutes, it's one you might want to file in marinade favourites!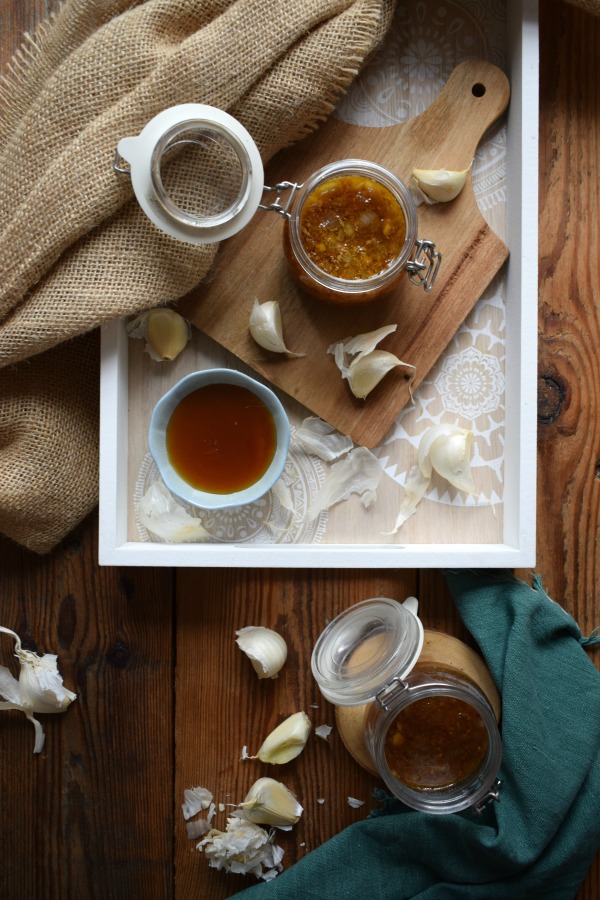 Well, we all made it to Friday once again. What does that even mean anymore? Is Monday the new Friday or Sunday or whatever? All days seem to be rolling into one and I can't lie, I'm starting to get a touch of cabin fever. Jack Nicholson, here I come….hahaha!
It's been five weeks people. I know, many of us are in the exact situation, or something that resembles this situation . Whether you like us in total lock down or social distancing, this whole new world feels a tad uneasy to me right about now.
I was cool at week one, two and three. By week four I was starting to wonder what the great outdoors looked and smelled like. And by great outdoors, I really just mean outside my front gate. Then we pushed into this week and I think I've probably hit a wall. Haven't we all.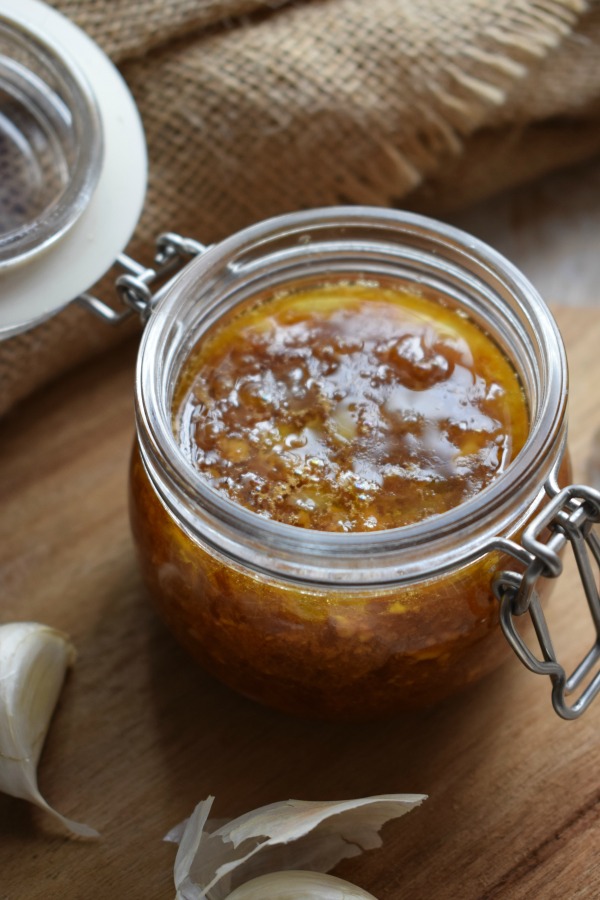 ---
On the bright side, the weather is pretty nice and we are fortunate to have outside space around our home where we can enjoy the warm days. Things could be a whole lot worse.
So for now, I'm saying cheers to Friday and looking forward to cocktails in a few hours. But before I pop the cork I'm sending this little recipe your way. Easy peasy and one you might want to use at the weekend for some chicken, pork or even beef. So, let's take a little look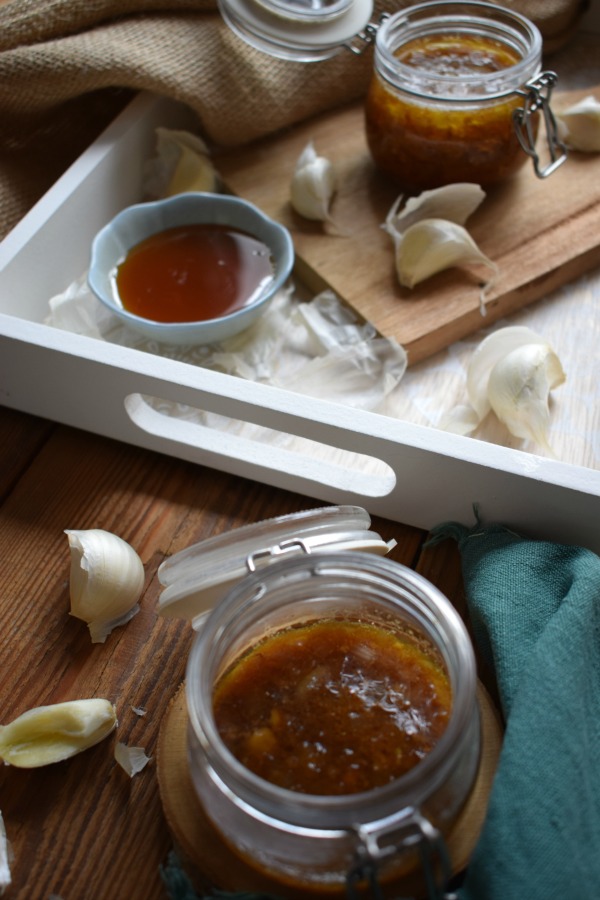 ---
The ingredients
Just a few simple & basic ingredients to make a great sauce. I'll give you a quick run through. We've got an onion, honey, mustard, soy sauce, brown sugar, butter, salt, pepper and garlic. That's it, so let's get started.
If you want to skip the step-by-step, click the link below to get straight down to the recipe.
Jump to Recipe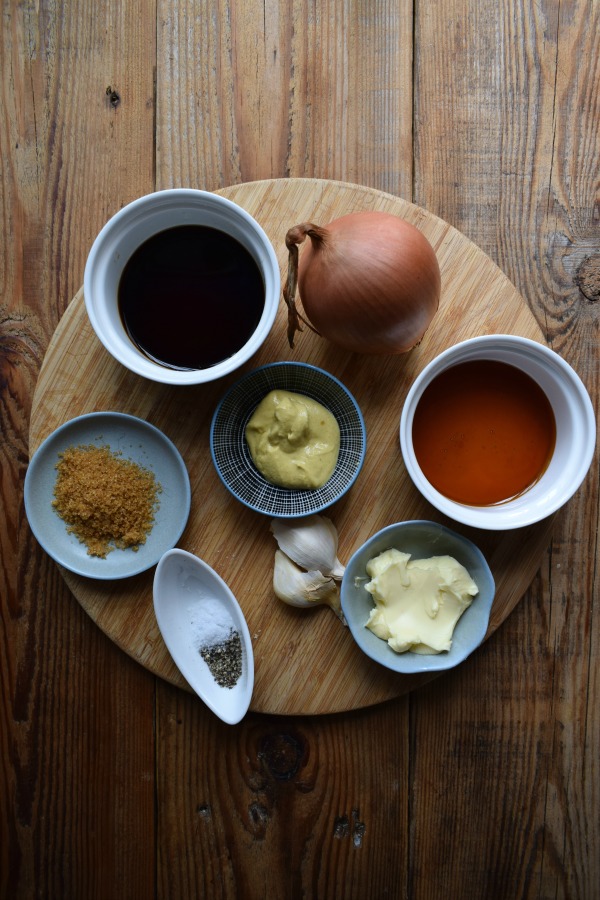 ---
Instructions
Start by finely dicing the onion. Chop it really fine so that you don't end up with any big pieces. And crush the garlic through a garlic press.
Toss it in a small saucepan with the butter and set it over medium heat.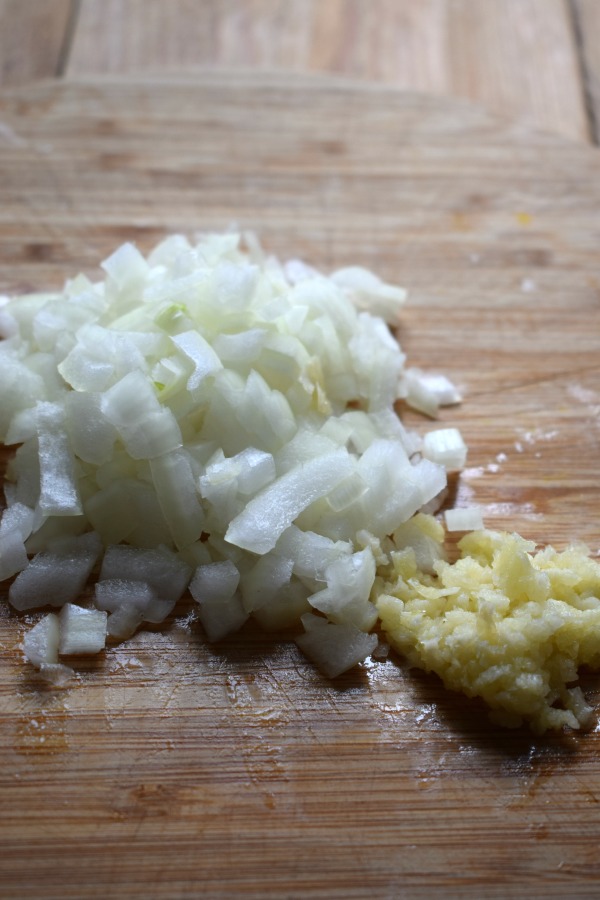 ---
Cook the onions down for about 5 minutes until they soften and are a light golden colour. Next, add the rest of the ingredients, stir and bring to a gentle simmer for 5 minutes.
Remove from heat and you are done and dusted! Easy, just like I said it would be.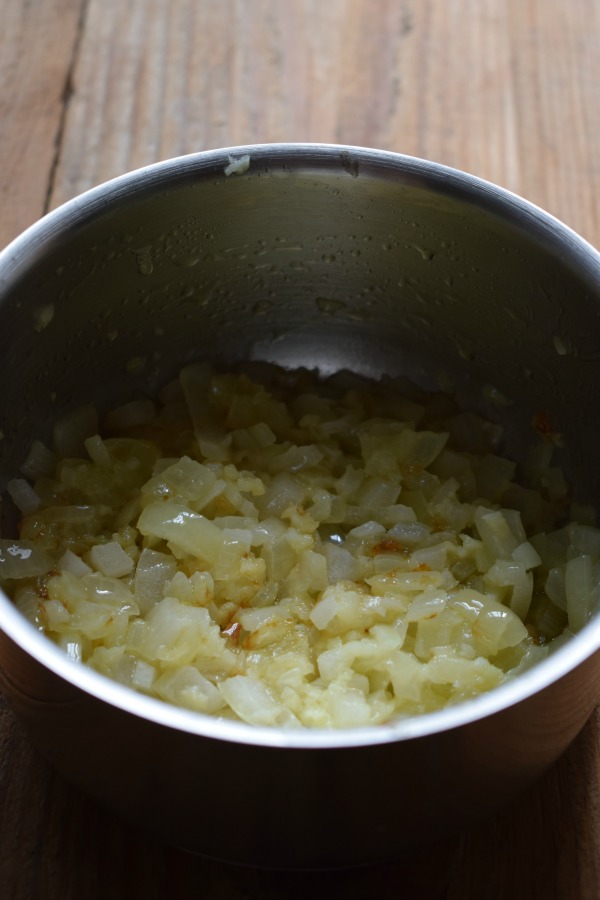 ---
Now it's up to you to do what you would like with your Honey Garlic Sauce. It's ready to use right now straight out of the pan. Just pour it straight over whatever you are planning to cook. I personally love it on wings, chicken thighs and even pork loin. All great options for this versatile Honey Garlic Sauce.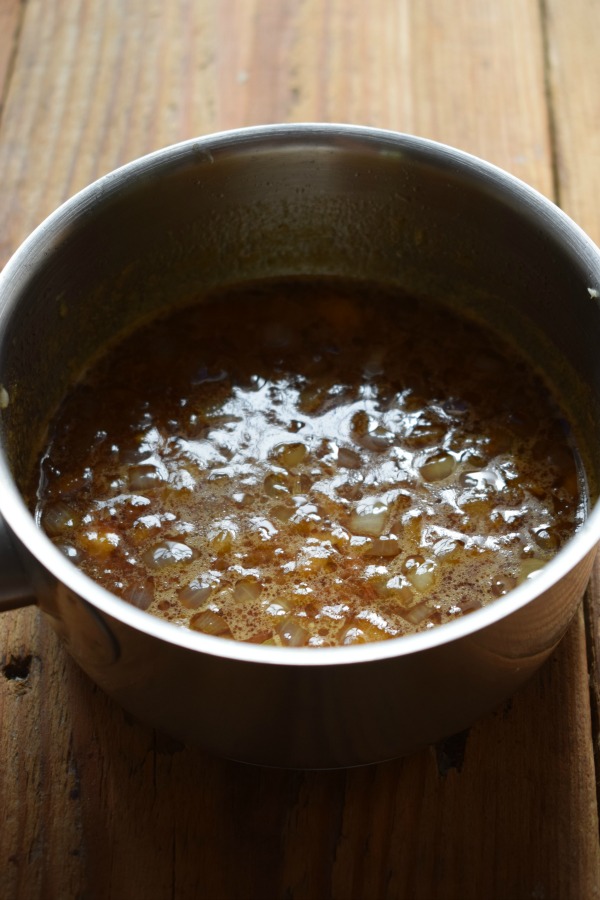 ---
I have a new recipe coming out next week using this sauce and I think you'll all love it. Well, i hope you enjoy it as much as we did last week. Spoiler alert, it's with chicken! Surprise as chicken is the number one protein cooked at our place. It pleases everyone and I'm all about one dinner for all.
Update
You can now find the recipe for that Oven Roasted Honey Garlic Chicken Dinner here! It's a delicious chicken dinner that the whole family will enjoy! And I also discovered this is a great dipping sauce for the Cajun Dry Rub Chicken Wings and the Crispy Fried Chicken Cutlets.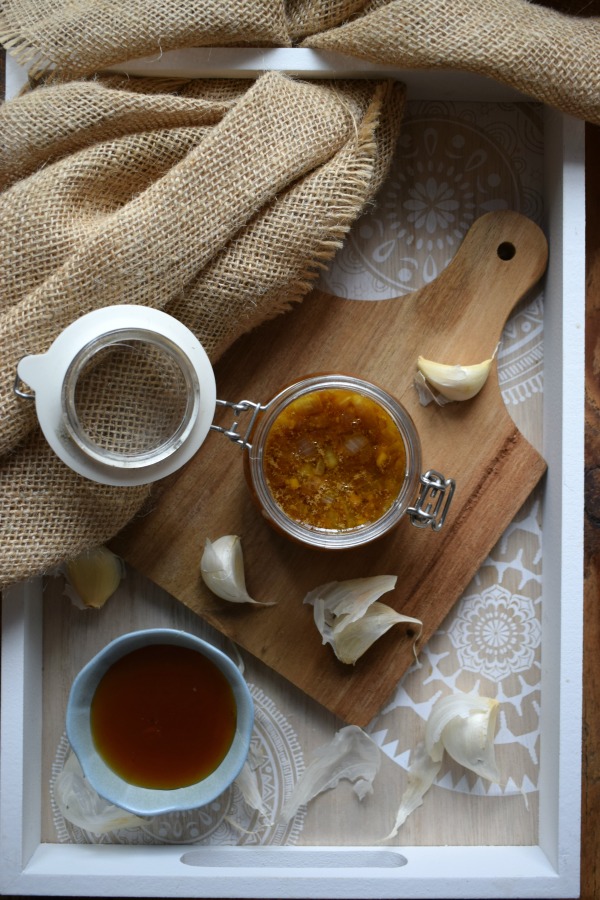 ---
Can I store this sauce in the fridge
Yes! The great thing about this sauce, is you can make it in advance and store it in the fridge. Makes for easy dinner prep when the time comes. If you want to store it in the fridge, here's what you do.
Let the sauce cool naturally to room temperature. Store it in an airtight container. I prefer glass jars but plastic tupperwear is just fine if that's what you have. Then use it up within three weeks. Easy.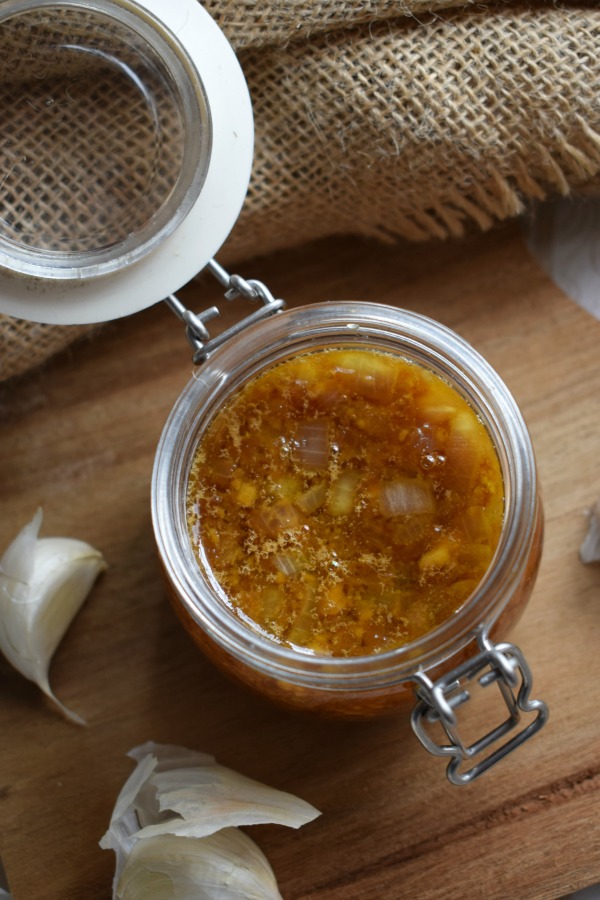 ---
Serving suggestions for the Honey Garlic Sauce
The list is probably endless but here are a few ideas to get you started.
Use it as a marinade for any kind of chicken, pork or even beef. It's honestly great on wings and chicken thighs as well.
You could also use it in a fried rice dish which is delicious as I've done that a few times.
Okay friends that's it for today. Short, quick and easy. I'll be back on Monday with a new breakfast/brunch idea that could easily double up as a dessert. So keep your eyes open for that one.
And if you love Honey Garlic Sauce, you need to check out my Honey Glazed Chicken & Carrots!
Enjoy the weekend whatever you are are planning. The kitchen or the living room. So many options…hahaha! Stay sane and keep cooking.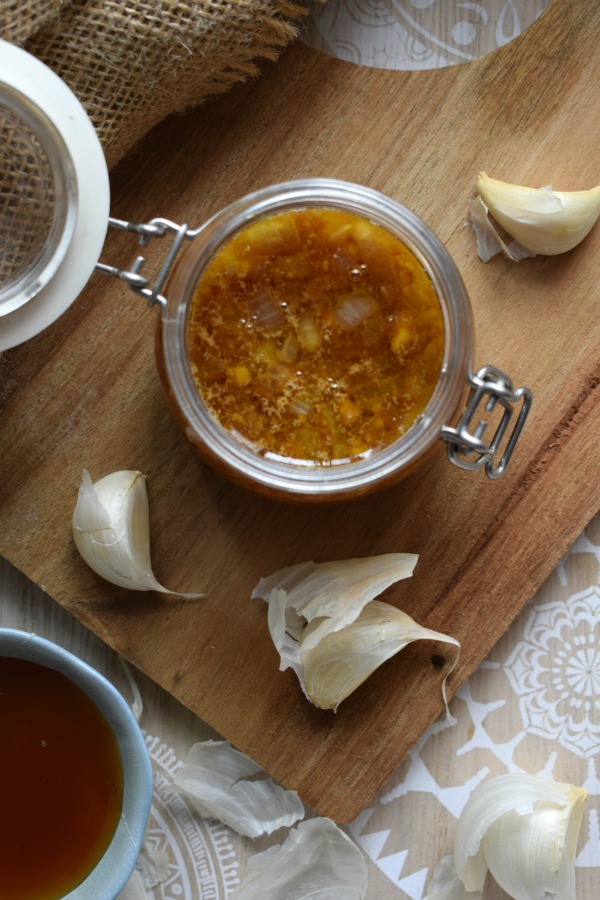 ---
Honey Garlic Sauce
A versatile sweet and garlicky sauce that you can make in advance, store in the fridge and get out in a hurry when you're ready to use it. Made with minimal ingredients and cooked in just 10 minutes, it's one you might want to file in marinade favourites!
Ingredients
1

Onion, finely chopped

1/2

Cup

honey

2

Tablespoons

brown sugar

1/2

Cup

soy sauce

4

Tablespoons

butter

2

Teaspoons

Dijon mustard

4

Garlic cloves, crushed
Instructions
In a small saucepan over medium heat, add the butter, garlic and onions. Stir well and lightly saute for about 5 minutes.

Add honey, brown sugar, soy sauce and mustard. Stir well and continue to cook for a further 5 minutes. Remove from heat and use straight way or cool and refrigerate to use later.
*A note on times provided: appliances vary, any prep and/or cook times provided are estimates only.
Nutrition Facts
Honey Garlic Sauce
Amount Per Serving (1 cup)
Calories 1146
Calories from Fat 414
% Daily Value*
Fat 46g71%
Cholesterol 120mg40%
Sodium 7013mg305%
Potassium 543mg16%
Carbohydrates 184g61%
Protein 16g32%
Vitamin A 1399IU28%
Vitamin C 13mg16%
Calcium 114mg11%
Iron 4mg22%
* Percent Daily Values are based on a 2000 calorie diet.
---
Thanks for stopping by and hope to see you soon!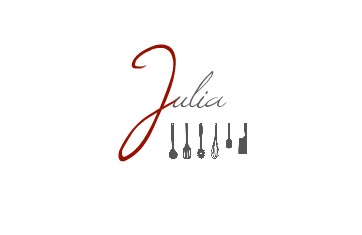 By