This fresh and light Mediterranean Vegetable & Chicken Salad is perfect for summer dinners. Perfectly sauteed zucchini, peppers and little cherry tomatoes. Served over a bed of arugula leaves and topped off tender strips of lemon marinaded chicken cutlets. Serve it with some fresh Fluffy White Dinner Rolls and a pitcher of Sangria for the perfect summer dinner.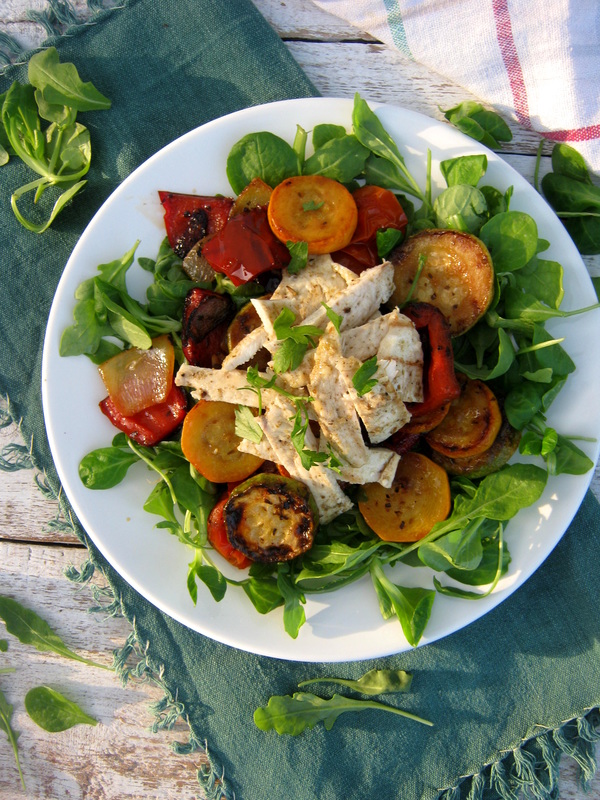 ---
This dish is a great example of how the same ingredients can be used to make completely different dishes. A few weeks back I made Barbecue Vegetable Kebabs in a Mint and Lemon Marinade. I loved the flavour on the vegetables so much that I did it again, but for this dish. It tastes completely different to the kebabs but kinda' the same as well.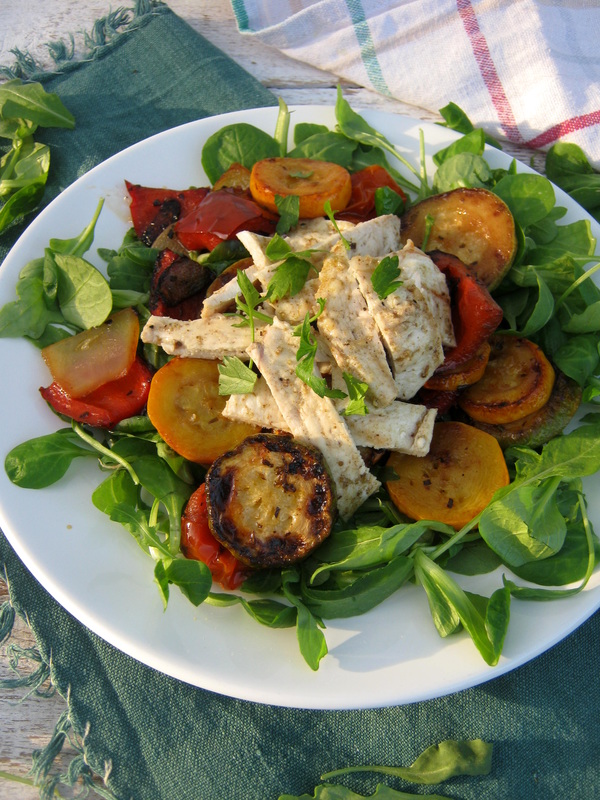 ---
This salad would be a great addition to a barbecue. You could just as easily serve this salad cold on a hot day. If doing so, remember not to assemble the salad until just before serving. You can store all cooked ingredients in the fridge and then just put it together when you are ready to bring it to the table.
Such a delicious, light but filling salad.  This could be a main course for a lunch, a starter or a side dish.  You decide!
Note: Don't add the vegetables to the arugula leaves until you are just about to serve the salad. Otherwise the arugula will wilt and not be very nice.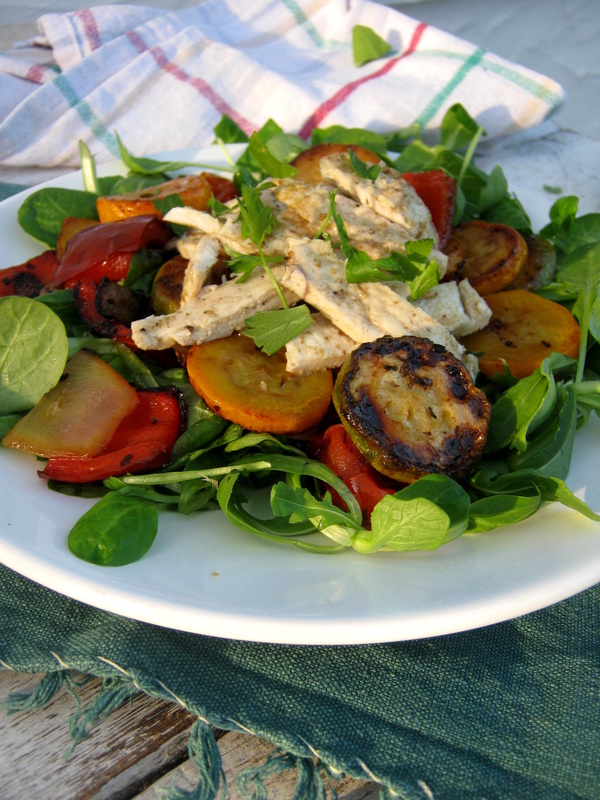 ---
Here's Some More Great Salad Inspiration For Your Summer Table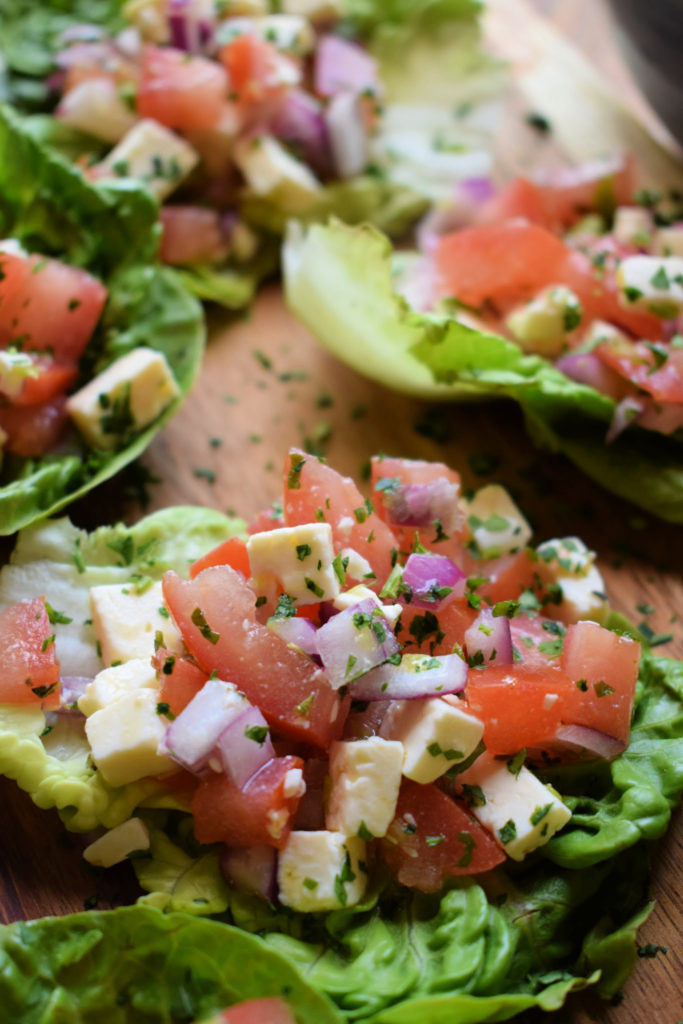 ---
Mediterranean Vegetable & Chicken Salad
Grilled zucchini and chicken make for a wonderful & light summer time meal!
Ingredients
24

Cherry tomatoes

1

Large onion

cut into 1 inch pieces

1

Red pepper

cut into 1 inch pieces

1

Green zucchini

cut into 1/2 inch slices

1

Yellow zucchini

cut into 1/2 inch slices

2

Chicken breasts

each cut in half so you will have 4 fillets in total

Sea salt

1

Tablespoon

olive oil

1

Teaspoon

rosemary

Juice of 1/2 lemon

4

Cups

fresh arugula salad leaves
Marinade for the vegetables:
1/3

Cup

olive oil

Juice of one lemon

1

Teaspoon

sea salt

1/2

Teaspoon

fresh ground black pepper

1

Teaspoon

brown sugar

2

Spring fresh mint

finely chopped

1

Teaspoon

oregano

1

Teaspoon

rosemary
Instructions
Combine all the ingredients for the vegetable marinade in a bowl and stir well. Pour over vegetables and toss well. Refrigerate for at least an hour before cooking.

Season the chicken on both sides with salt and rosemary. Heat one tablespoon of olive oil in a large skillet set over medium high heat and add the chicken. Cook for about 7 minutes and turn over. Squeeze over lemon juice and cook other side for about 7 minutes or until chicken is cooked through. Remove chicken from pan and set aside.

In the same skillet, add the vegetables with all the marinade. Cook, stirring occasionally for about 15 minutes. Remove from heat.

Place the chicken fillets on a cutting board and cut them into thin slices. Arrange the arugula leaves on a large serving dish, top with vegetables and chicken. Serve immediately.
*A note on times provided: appliances vary, any prep and/or cook times provided are estimates only.
---
By