This is is a simple Alioli Sauce! Using the cheat method and combining olive oil, Dijon mustard, egg yolks, lemon juice, mayonnaise and a little salt. Comes together quickly and a great condiment with seafood and chicken.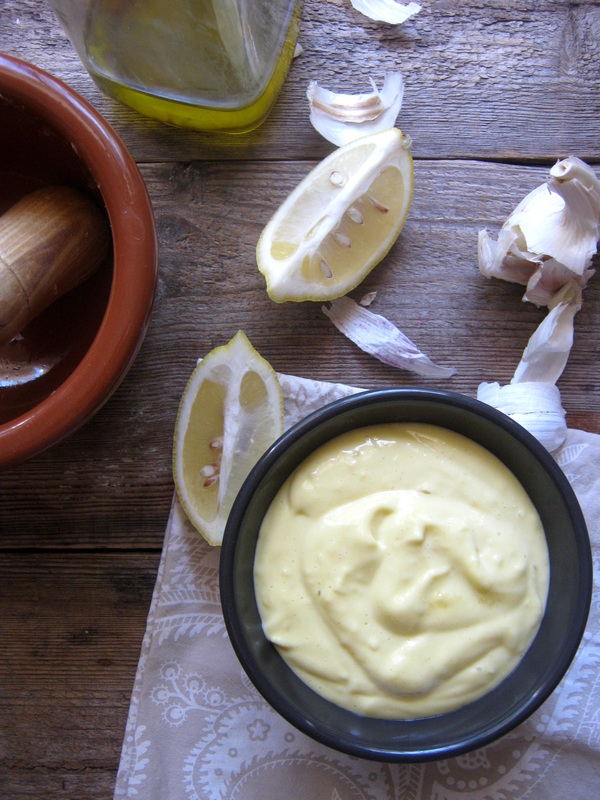 ---
Yes, "My" Alioli Sauce. What makes it different? It breaks the technical rules of making traditional alioli. If you have never had alioli, it is a sauce using the bases of olive oil and eggs with the texture of hollandaise sauce It isn't cooked, just whisked. Mayonnaise is a no no, but guess what? I used a small amount in this alioli, simply because I prefer it. I have made alioli the traditional way using just oil and eggs and I think it is too oily. As well, I have made it the not so traditional, or cheating way, by using mayonnaise. I found that to be just too bland. In this recipe, I have combined the two methods and have come up with an alioli that suits my taste buds just perfect!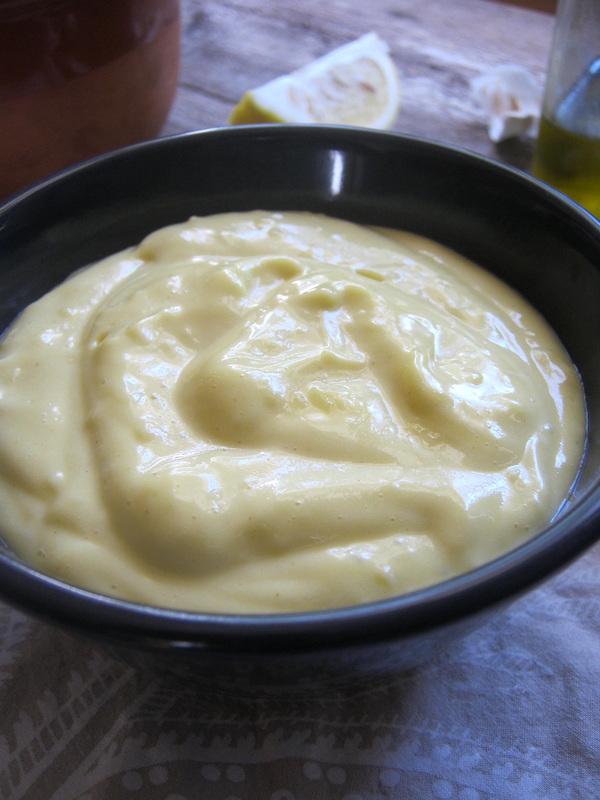 ---
A Great Sauce To Serve With Fish & Seafood
---
This sauce is great served with fish. Stay tuned as there is a new fish cake coming up with this alioli sauce. Delicious! Believe it or not, it is great with vegetables, added to potato salads, as dipping sauce for Country Fries, Cajun Dry Rub Chicken Wings and so much more. As well, you can add stuff to it t jazz it up! Chives, parsley, cayenne pepper, basil and paprika are just a few examples of how you can change or enhance the flavour of your alioli to cater to the dish you are serving. If you choose to add herbs to your aloili, make sure they are very finely chopped. This will just make it taste better.
---
Like what you see today? Don't forget you can follow on Facebook for daily inspiration or over on Instagram where I sometimes do daily cooking videos for fun! I'm also on Pinterest which is a great place that you can save and share your favourite recipes. As well, if you haven't yet, Subscribe to the newsletter. You'll be notified whenever there's a new recipe! You can do that at the top of the page.
---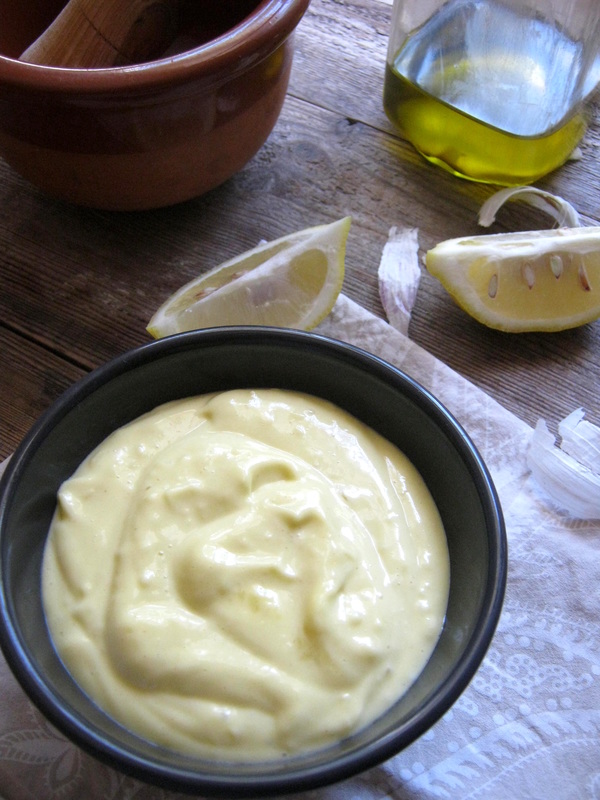 ---
Get the recipe!
---
My Alioli
Make cheat alioli in no time, take a look!
Ingredients
2/3

Cup

olive oil

1

Teaspoon

Dijon mustard

2

Egg yolks

1

Tablespoon

lemon juice

Pinch

of salt

1/4

Cup

mayonnaise
Instructions
Place the garlic in a mortar and pestle and smash it around until it is completely crushed, about 2-3 minutes. Whisk in the mustard and then the eggs. Slowly pour in about 1/2 of the olive oil, whisking as you go. This is important so it doesn't separate. Add the lemon juice and whisk. Whisk in the remaining olive oil. Once you have completely whisked in all the oil, whisk in the mayonnaise until you have a smooth consistency. Season with salt.

Store in a glass container with lid for up to two days in the fridge.
*A note on times provided: appliances vary, any prep and/or cook times provided are estimates only.
Notes
I use a mortar and pestle for breaking up the garlic as you get the most flavour out that way.  After I do that, I transfer the garlic to a largish bowl and whisk in the mustard.  Remember, your eggs must be at room temperature. If not, the sauce will risk separating.  So, when you take your eggs out of the fridge, separate the yolks from the whites and leave the yolks in a bowl to come to room temperature.  This will take about 30 minutes.  Once the eggs have reached room temperature, whisk them into the mustard and garlic.  Whisk until it is slightly frothy.  Now it it time to add about 1/2 of the olive oil. Do this slowly, and whisk as you pour.  It is important to keep whisking, otherwise it may not set properly.  Add your lemon juice and whisk it again.  Then you slowly pour and whisk in the remaining olive oil.  Finally, you whisk in the ingredient of all sins, mayonnaise.  Season with salt and you are all done.  Like I stated previously, mayonnaise is considered a cheating way of making alioli sauce, but sometimes we need to break tradition, right?
Nutrition Facts
My Alioli
Amount Per Serving (1 cup)
Calories 1776
Calories from Fat 1764
% Daily Value*
Fat 196g302%
Cholesterol 414mg138%
Sodium 433mg19%
Potassium 39mg1%
Carbohydrates 3g1%
Protein 7g14%
Vitamin A 519IU10%
Vitamin C 6mg7%
Calcium 46mg5%
Iron 2mg11%
* Percent Daily Values are based on a 2000 calorie diet.
---
Thanks For Stopping By And Hope To See You Soon!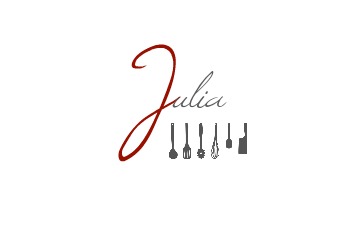 By