Without doubt, my favourite dessert of all time. Follow this recipe for Profiteroles: A Step-by-Step Guide and you have have them too!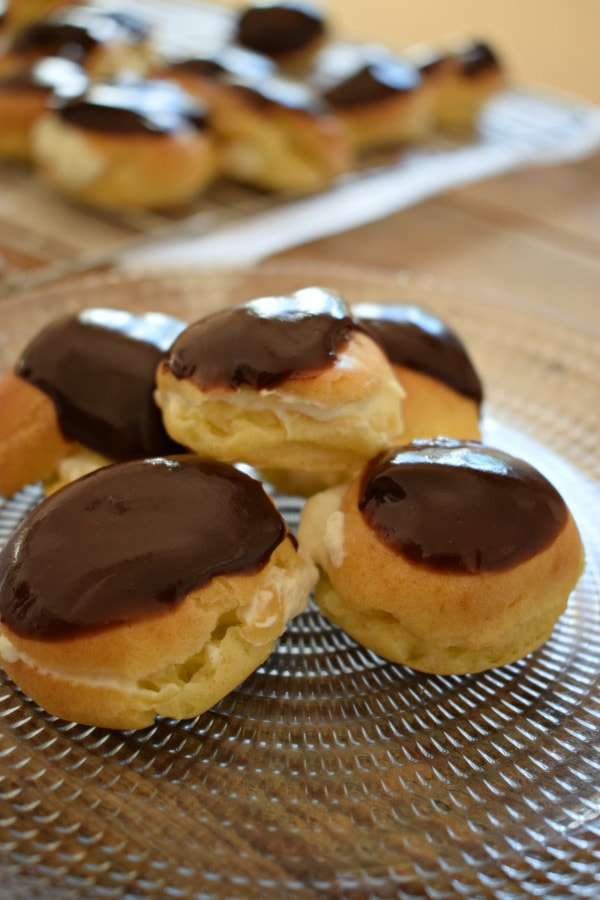 ---
Delicious little bites of air, filled with cream and topped with chocolate. Need I say more! If you have always wanted to divulge into making profiteroles but were a little bit intimidated by that label, Choux Pastry, here's an easy step-by-step guide on how it's done. Take a look and give them a try!
Learning a Love For Cooking From The Ground Up
Years ago, I was given a book. Not just any book, a great book. The Readers Digest Complete Guide to Cookery. Admittedly, I was somewhat overwhelmed at the in depth explanations and photos of how to skin a goose, cooking with offal and and making the perfect gelatine beef terrine. But beyond the culinary alleys I would never divulge, I still read that book cover to cover.
That book taught me how to roast a turkey properly, explained the difference between pretty much every variety of potato, how to make a base for any sauce great, which cut of meat to use in different dishes, how to make perfect puff pastry and so much more. But for my money, the best skill I learned with that book by my side was mastering choux pastry.
As I love profiteroles so much, I thought it was a great idea to share this step-by-step guide into how exactly they are made and how to avoid disasters along the way.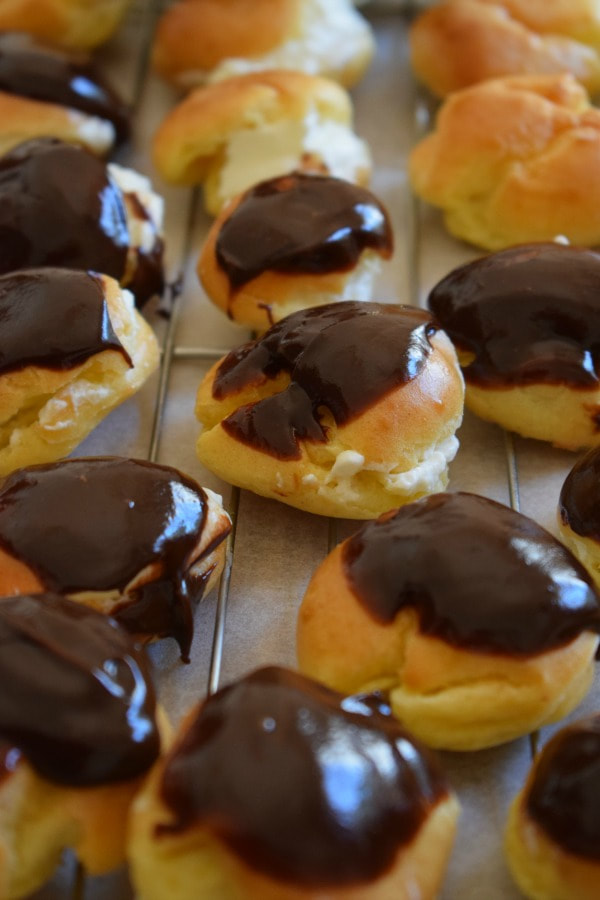 ---
Making Profiteroles
Start by adding the water, butter, sugar and salt to a saucepan set over medium to high heat. Stir until the butter dissolves and it starts to simmer. Just like you see in the photo below to the right. This will just take 2-3 minutes.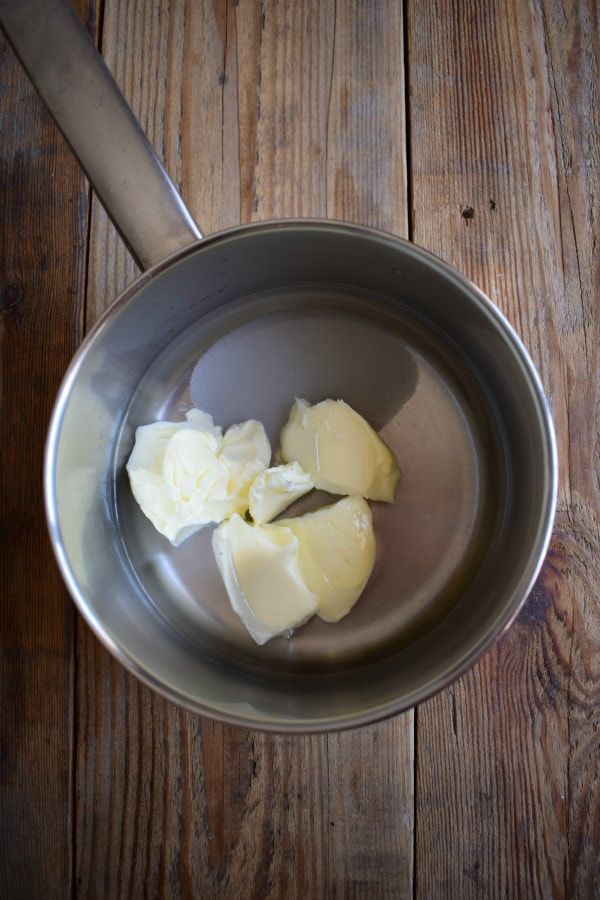 ---
With the saucepan still set over heat, reduce heat to medium add all the flour at once. As soon as you add the flour, use a wooden spoon to start stirring instantly.
Point of interest, there is no wooden spoon to be seen, but I did have one!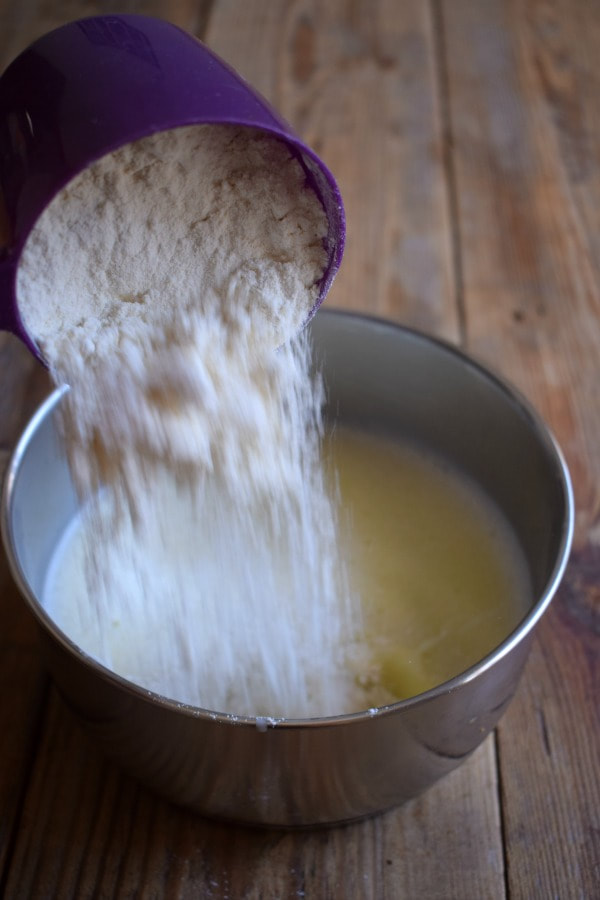 ---
Understanding How To Get The Pastry Just Right
Okay, lets talk about how to get that batter just right. Start stirring the batter and continue stirring it and cutting through it with the wooden spoon for about 5 minutes. I always cook the dough until I can smell it. Honestly, it is obvious. If you put your nose close to the pan you will be able to smell the batter cooking. Once you have reached this stage, transfer the batter to a mixing bowl with an electric mixer.
First, give the batter a quick mix with the beaters for a few seconds. This is just to cool it down a little. Then start adding the eggs, one at a time scraping down the sides as you go. The recipe below calls for between 4-5 large eggs. Sometimes I need all 5 and sometimes I only need 4. How do you know when to stop adding eggs?
The batter should slowly fall from the beaters. If it is just a large clump, add a bit more of that 5th egg. I always whisk the 5th egg into a glass a add a little bit at a time until it is just right. I am sure it is already sounding tedious and out of control, but it really isn't difficult doesn't take as much time as it sounds. If you look at the photo the the bottom right, you will see the type of consistency you are looking for.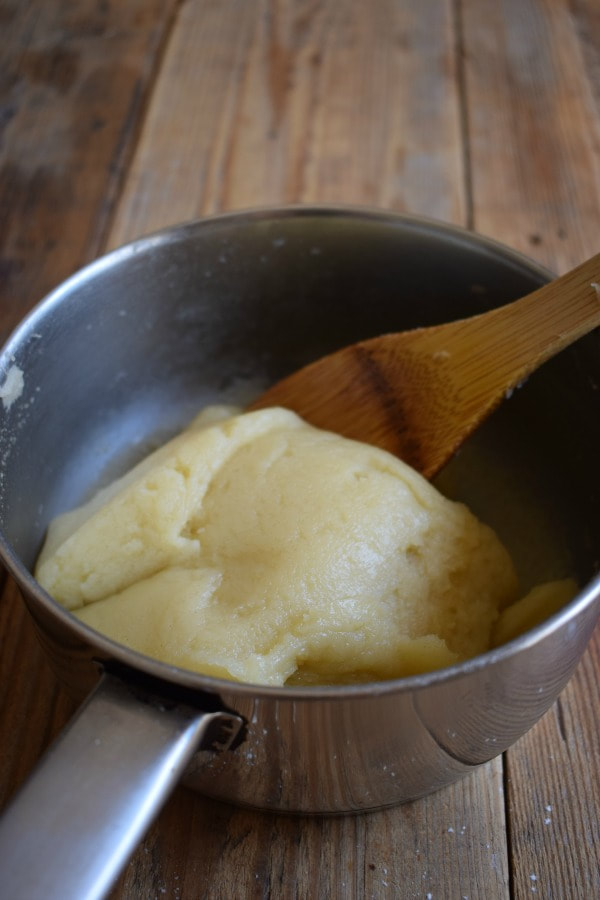 ---
Pipe The Profiteroles with a Pastry Bag or Just a Small bag with a small cut in the corner
Just a point of interest, any small bag will do with a cut made in the corner to pipe out your pastry. I usually pipe out about a teaspoon for each profiterole. This can get a bit messy along the way. That might just be me, but in case it's you as well, here's a tip to help you along the way.
I always have a small glass of water with a teaspoon alongside while I make these. I sometimes have to dunk the spoon in the water and then gently shape the profiterole into a little circle. This might not be necessary, but it is helpful if your profiteroles are out of control and not shaping correctly.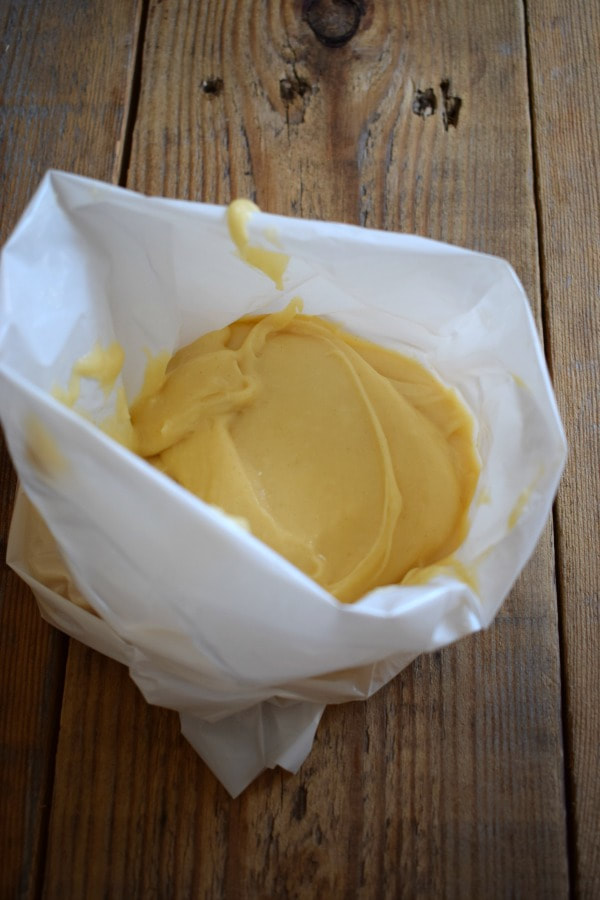 ---
You can see here what your are aiming for. 15 seems to be a good number to fit on a tray at once. You can see by looking at the bottom left hand photo that they are far from perfect little circles. But they are good enough.
You start baking the profiteroles on a very high heat, 450 degrees F. I usually keep them in the oven at this heat for about 7-8 minutes or until they are all puffed up. You need the high heat to get that "puff". Then reduce the heat to 350 degrees, turn the tray around and bake for a further 5-7 minute or until cooked through.
How will you know when they are ready?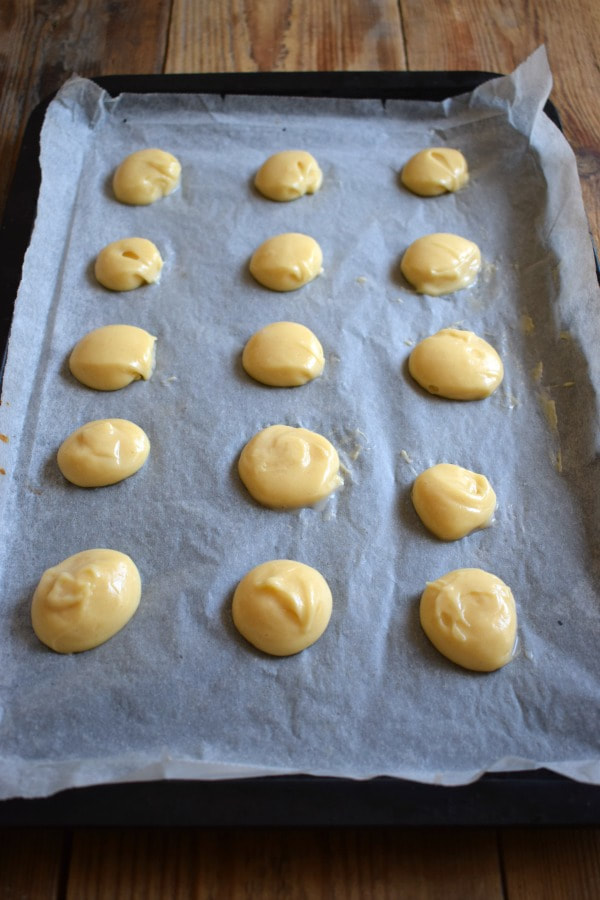 ---
Well, you are targeting your profiterole to be pretty much hollow on the inside and not moist or eggy. Look at the picture to the bottom left hand side and you will see what it should look like inside. If you notice it is still a bit eggy, put the profiteroles back in the oven for a few minutes and keep and eye on them. They can be put back in with success as I have done this countless times.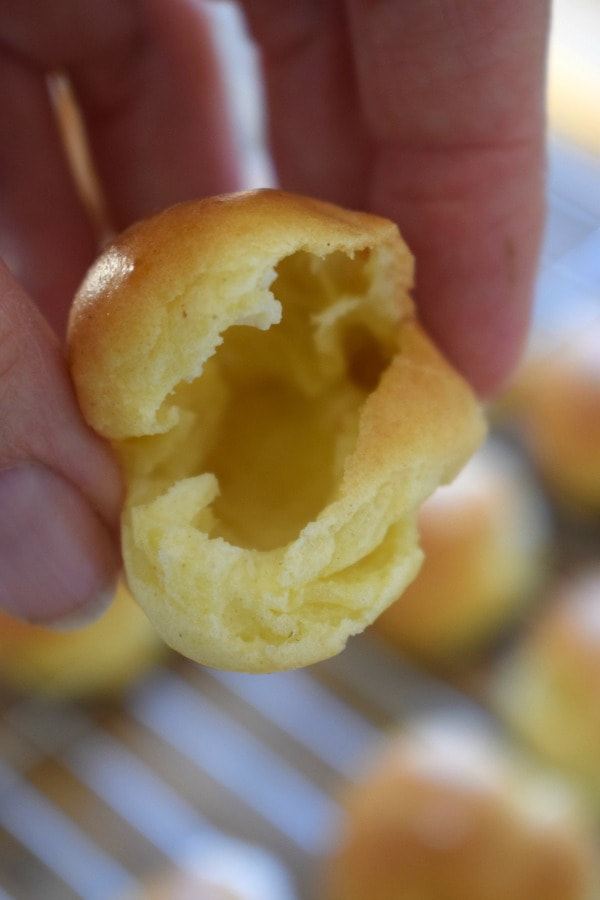 ---
Fill Them When They Have Cooled
Let them cool. I used whipping cream for these profiteroles not pastry cream.
Put the cream in a pastry bag, and if you have attached a sharp nozzle, you can directly push this through the side or the bottom of the pastry and fill it. If not, you can just use a sharp knife to make a small hole and fill them that way. As I couldn't find any of my pastry stuff, I used a knife and a plastic bag. Repeat this for all the profiteroles.
You can see in the bottom left hand picture, what they look like when filled. Okay, a bit on the messy side this time around. Oh well!
Then you are going to have your chocolate ready to drizzle over or dip into. This time around I picked up each profiterole and dipped the top straight into the chocolate.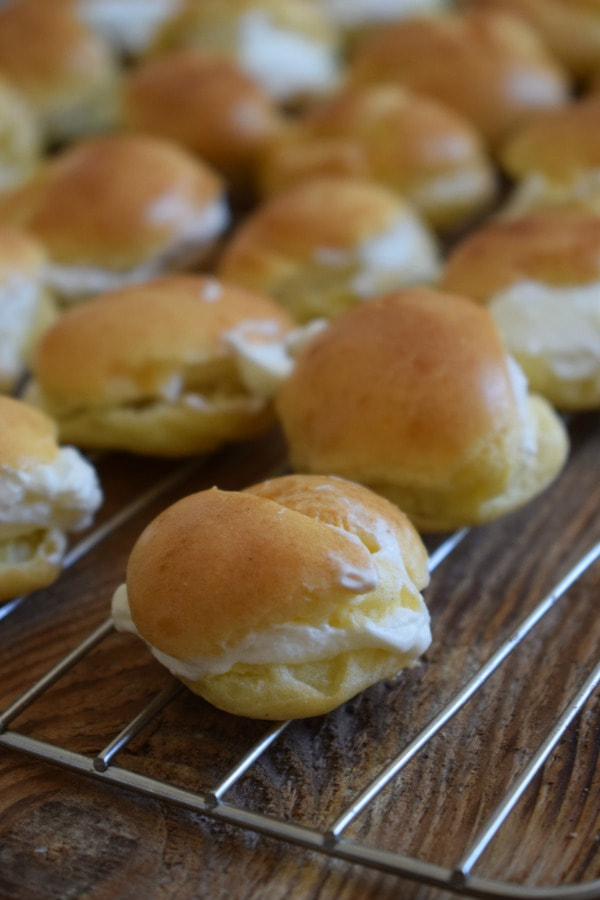 ---
Here you can see what that looks like. Basically, just dunk it in the chocolate and give it a quick swirl and take it out. Repeat for all profiteroles. Equally you can drizzle over the chocolate. Whichever you prefer. Don't they just look fantastic???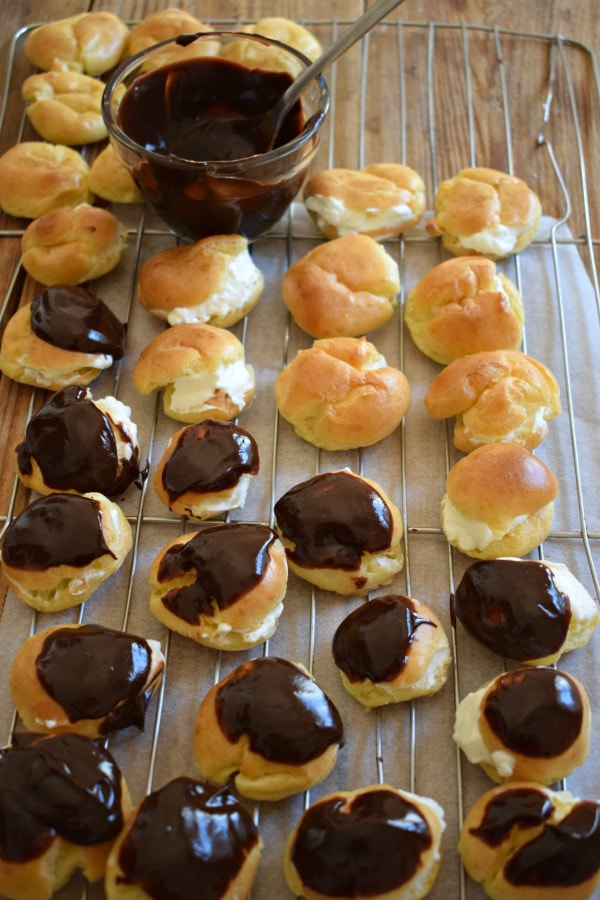 ---
There you have it folks, profiteroles as easy as 1-2-3! Ha! Seriously, if you do love them as much as I do and have always wanted to give them a go, try them out. Plan a morning or evening when you are not rushed and make the time for these delicious little cream filled, chocolate topped bites of air. Once you master it, you will never look back!
Happy Profiterole Making!
Like what you see today? Don't forget you can follow on Facebook for daily inspiration or over on Instagram where I sometimes do daily cooking videos for fun! I'm also on Pinterest which is a great place that you can save and share your favourite recipes. As well, if you haven't yet, Subscribe to the newsletter. You'll be notified whenever there's a new recipe! You can do that at the top of the page.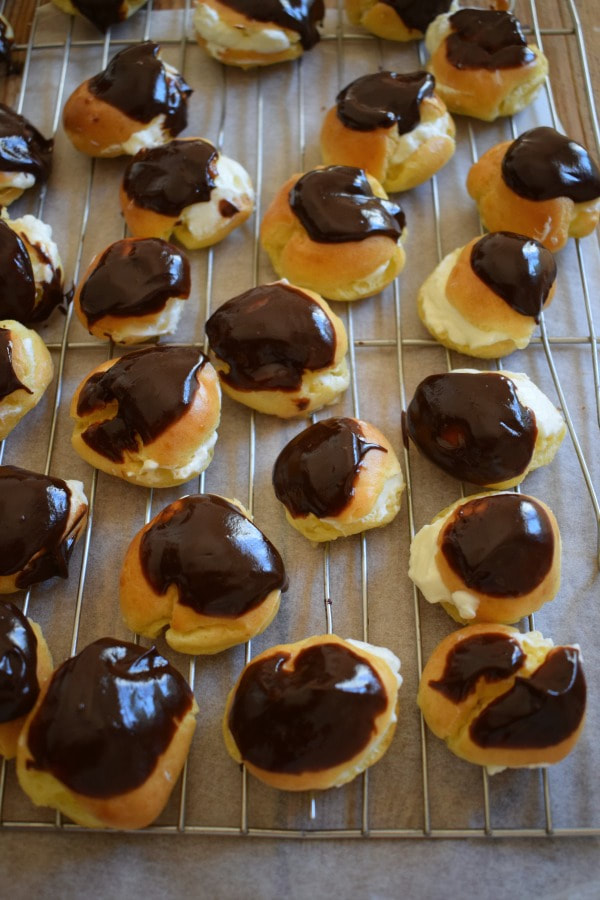 ---
Profiteroles
Profiteroles: A Step-by-Step Guide. Everything you need to know to make this classic french pastry and airy little bites!
Servings:
45
profiteroles
Ingredients
Ingredients for Profiteroles
1

Cup

water

5 1/3

tablespoons

butter

butter

1

tablespoon

sugar

1

teaspoon

sugar

1/8

teaspoon

salt

1

cup

flour

5

large

eggs

4 – 5 five eggs
Ingredients for Chocolate Sauce
8

ounces

semisweet chocolate

finely chopped

1

Cup

cream

1/2

Cup

corn syrup
Ingredients for Filling
1

Cup

whipping cream

1

tablespoon

sugar
Instructions
Preheat oven to 450 c. with rack in the middle of the oven. Line & grease two baking sheets with parchment paper. Set up your mixer with a large mixing bowl and set aside.

Meanwhile, combine water, butter, sugar and salt in a medium saucepan and bring to a simmer over medium-high heat. Reduce the heat to medium and add all the flour. Stir the mixture using a wooden spoon very quickly. You will notice that the dough quickly forms one big lump and it will pull away from the sides of the pan. The dough should look glossy and smooth. You have to continue stirring the dough for about 5 minutes over medium-low heat. The idea is to allow moisture to evaporate from the dough so that when the eggs are added, it will be able to absorb more fat. As the dough cooks, you will start to smell it and steam will rise from it. At this point the dough is ready to be transferred to the mixing bowl.

Once you have transferred the dough, immediately mix with your mixer for a few seconds. This is just to get rid of some of the heat. Now start adding the eggs, one at a time. Beat each egg until it is completely incorporated before adding the next one. Continue doing this, along with scrapping down the sides, until all 4 eggs are added. To test the dough, get a rubber spatula and lift some of the dough. It if slowly falls off, the dough is fine. If it is just a big clump, add the extra egg and mix until incorporated.

Next, place the dough into a pastry bag and pipe them onto your baking sheets. You should be able to pipe about 15 – 18 small profiteroles on each sheet. Leave about 1 inch between them as they expand when baking. So I pipe about a teaspoon each time. Once they are all piped out on the tray, you may notice they have a pointy top. You can gently flatten this out by using the back of a wet spoon.

Place one tray in the oven at a time. Bake for around 6 to 7 minutes or until they are quite risen. Then reduce heat to 350 and turn the sheet around. Return to the oven for a further 6 or 7 minutes or so. They should be slightly golden and hollow on the inside. Take one out and test it. If it is at all gooey, bake for a further few minutes.

Remove from oven and let cool completely. They can be stored in and airtight container for a day or so. They are most definitely best served the day they are made.

Method for Chocolate Sauce

Place the chocolate in a metal bowl.

Combine the cream and corn syrup in a small heavy saucepan and bring to a simmer. Pour the liquid over the chocolate and allow it to sit for a few minutes, or until the chocolate has melted. Whisk to combine.

This can be used immediately or cooled slightly and stored in an airtight container in the refrigerator for several weeks.

Method for Filling

In a medium glass mixing bowl, add the whipping cream and sugar. Stir well and cover with plastic and refrigerate for about ½ hour.

Remove from the refrigerator and mix on high speed for about 5 minutes. Store in a refrigerator until ready to use.

To assemble your Profiteroles

Pick up a profiterole and with a sharp knife make an small hole in the side of it. Do this for all the profiteroles you are planning to fill. Next, put the cream into a pastry bag and gently put the mouth of the bag into the side of the profiterole and squeeze a small amount of cream. Continue doing this for all the profiteroles.

Now arrange them all on a serving platter, or individual plates. Whichever you are using. Drizzle over warm chocolate sauce and enjoy!
*A note on times provided: appliances vary, any prep and/or cook times provided are estimates only.
Nutrition Facts
Profiteroles
Amount Per Serving (1 Profiterole)
Calories 109
Calories from Fat 72
% Daily Value*
Fat 8g12%
Cholesterol 39mg13%
Sodium 33mg1%
Potassium 47mg1%
Carbohydrates 9g3%
Protein 2g4%
Vitamin A 229IU5%
Vitamin C 1mg1%
Calcium 14mg1%
Iron 1mg6%
* Percent Daily Values are based on a 2000 calorie diet.
---
Thanks For Stopping By & Hope To See You Soon!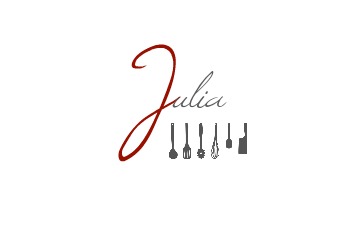 By