Here is your perfect Valentine's Day dessert! If you're still looking for ideas to make that special dessert, look no further than this beautiful Strawberry & Cream Swiss Roll Cake. Perfect for any special occasion or just for a special treat.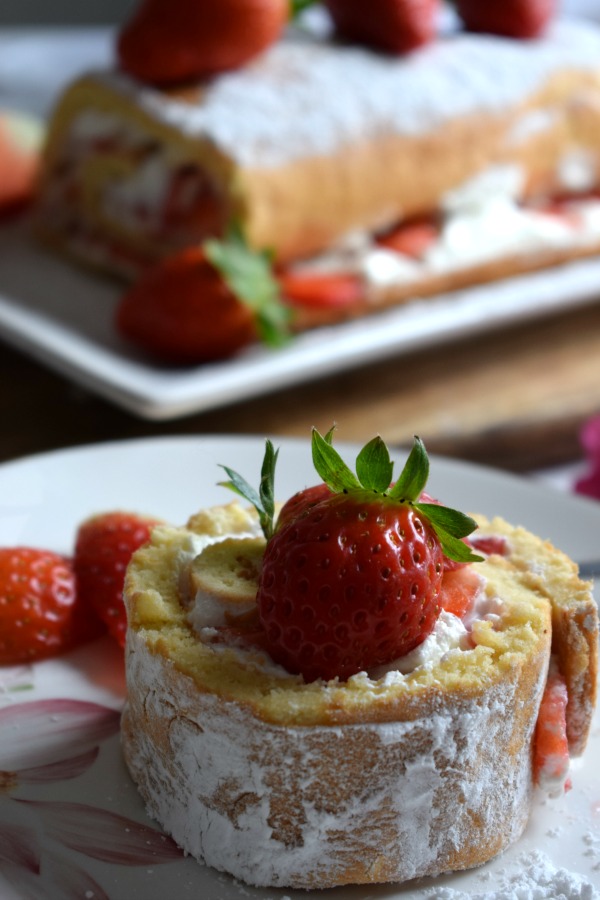 ---
What's your Go To Fancy Dessert
If you happen to be a baker, you probably have your go to dessert for special occasions. Or even if you're not a baker, you probably have that special dessert that you pick up from your favourite bakery or grocery store. We all like comfort zones.
I'm no different. I like to stick with what I know and what's safe. It's all good and well that I create recipes, but I NEVER experiment if I'm having people over. Ever. I play it safe.
And one of my favourite ways of playing it safe is with a cake just like this one or my Classic Victoria Sponge Cake.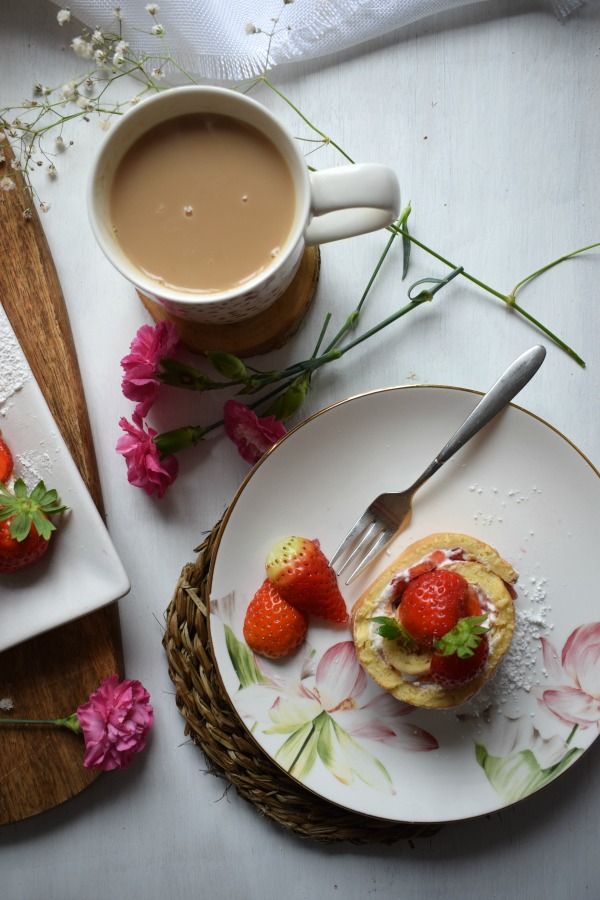 ---
Making this Strawberry & Cream Swiss Roll Cake is Easier than you think
The infamous Roulade or Swiss Roll Cake. Scary right? Well, I'm here to tell you it's not difficult at all. The first time I ever made one was about 15 years ago and it was a success on the first try.
Like most things in baking, the best advice I would ever give is pay attention. Read the entire recipe! Twice if you have to. And if there does happen to be extra information or step-by-step instructions, follow them.
Today, for the first time, I'm going to go through the swiss roll cake step-by-step, so you'll have to get it right. No excuses….hahaha!
Grab yourself a cup of coffee and let's dig into this not so mysterious mystery.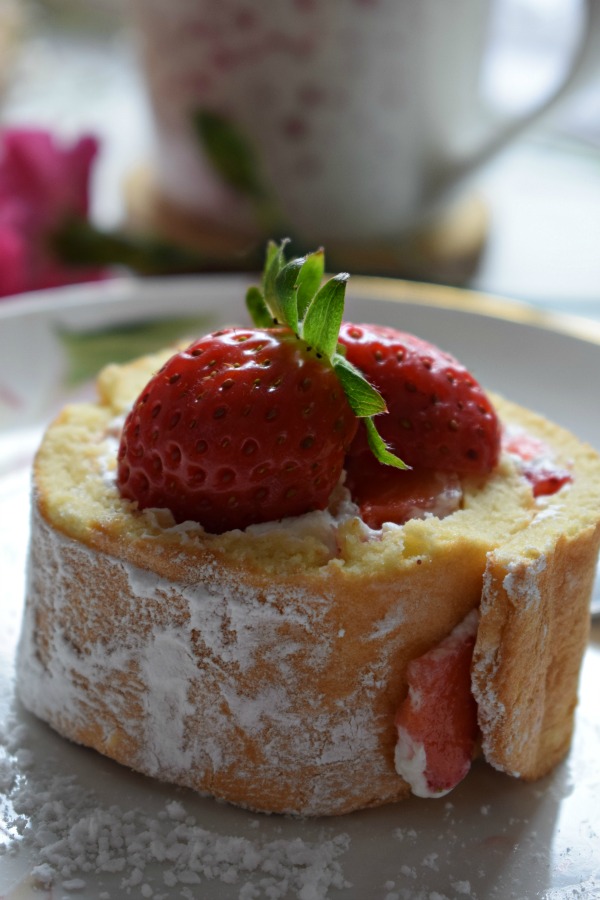 ---
Ingredients to Make the Strawberry & Cream Swiss Roll Cake
Time to take a little look at our main stars. Such simple ingredients to make such a beautiful cake.
So, like always get all your stuff ready & read the full recipe below to the end! Can't stress enough the importance of reading before you start to bake. And get all your things ready and have the oven preheated.
Preheat the oven to 450 degrees F and place the rack in the middle of the oven. Grease and line a large baking tray with a one inch side. Make sure to grease the parchment paper as well. This is so important because if you don't the cake's edges will likely stick on and it will be difficult to pull the paper away.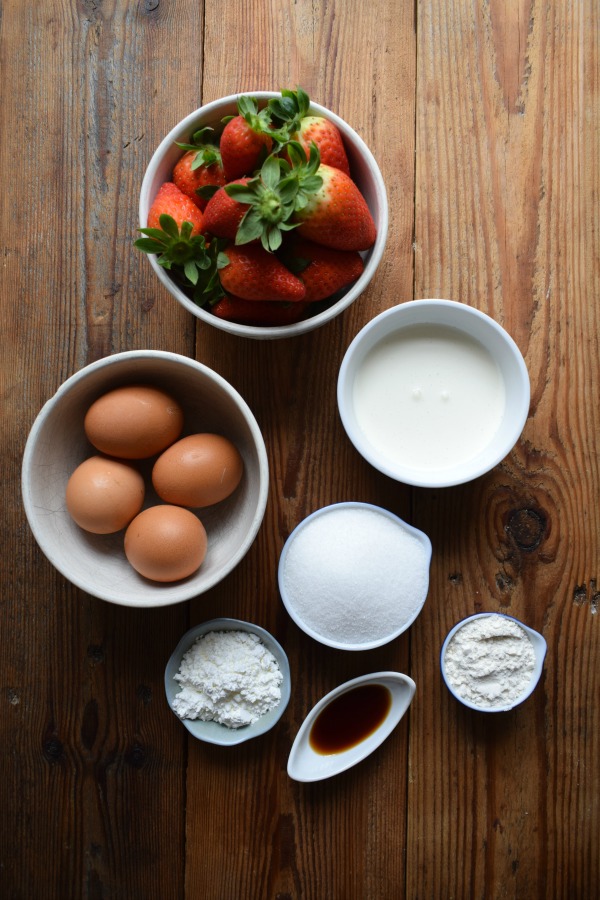 ---
Time to get baking
We're using four eggs for this recipe. Add two of the eggs to your large mixing bowl. And to that add the yolks of the other two eggs. Place the egg whites in a separate mixing bowl. We'll get to those after.
Important. Make sure the eggs are at room temperature. Cold eggs will not reach full volume when beaten. So, make sure they are out of the fridge for a good 30 minutes.
Then beat the eggs on high speed with the sugar. Do this until it has basically tripled in volume and you have a smooth and thick batter., this will take 3 – 5 minutes. Like you will see below. Then whisk in the vanilla.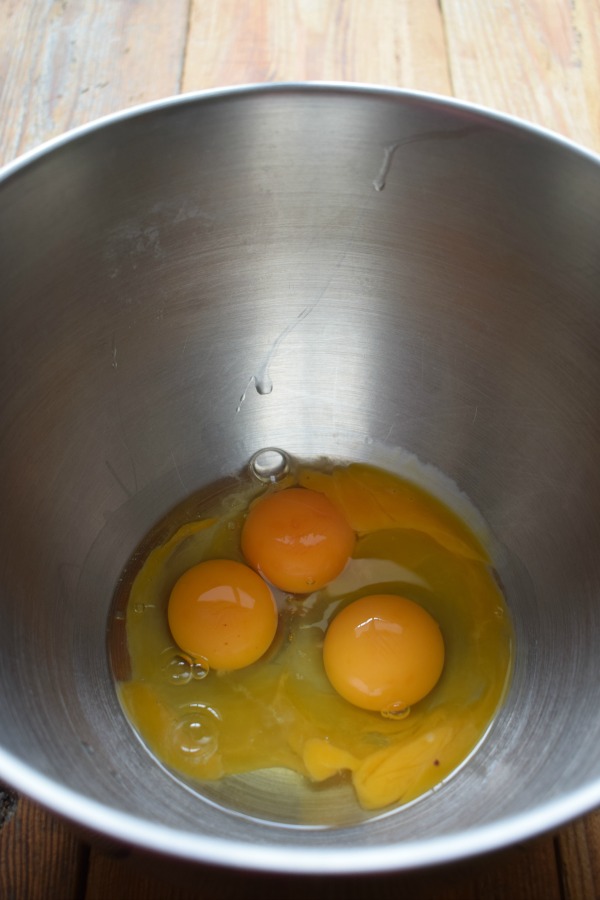 ---
In a small bowl combine the flour and the corn flour. Next, sift it into the batter. This is super important. If you just pour it in quickly without sifting, you will deflate the batter.
This cake requires a light and airy batter to get a light sponge cake. So, sift in and gently stir until just combined, about a minute.
In a separate bowl with the egg whites. Whisk on high speed until foamy, about 30 seconds. Add a drop of white vinegar and whisk for a further minute until soft peaks form. Next, add the sugar and continue to whisk until stiff peaks form.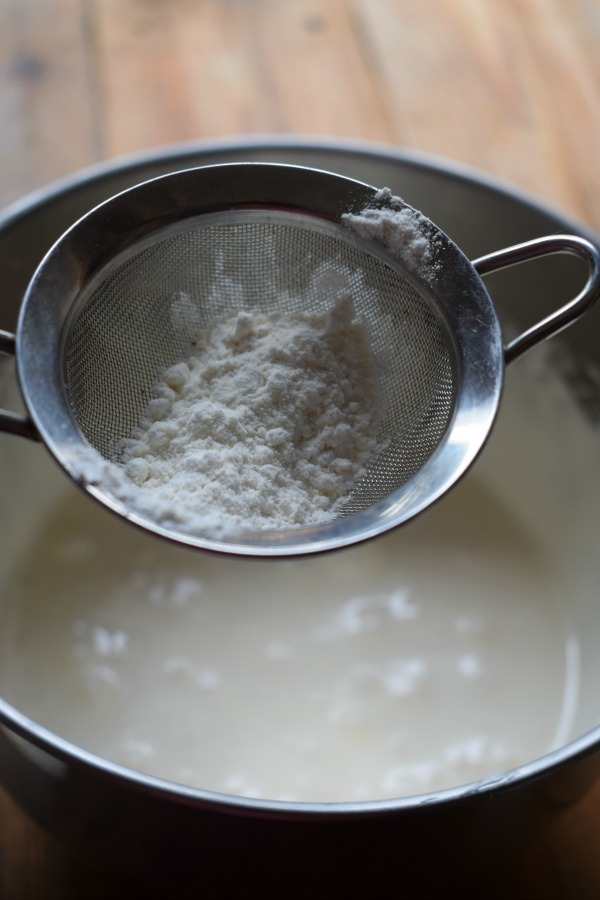 ---
Add the beaten egg whites to the batter and GENTLY fold it in until it's just combined. And yes, gentle is the way forward otherwise you will deflate the batter.
Evenly pour and spread the batter out into the prepared pan.
Bake for about 5 – 7 minutes. The cake will be slightly puffed up and will spring back a little when touched.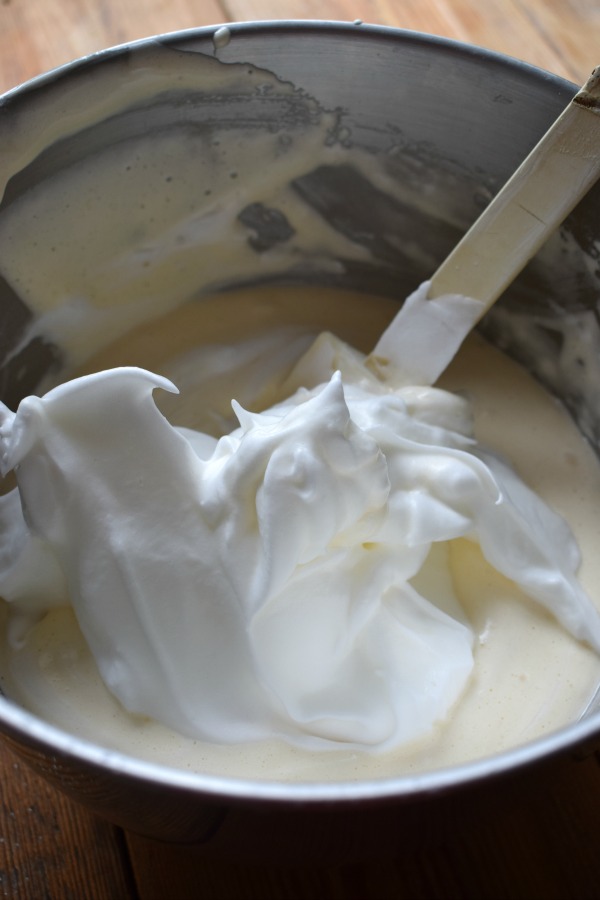 ---
Have ready your Cooling Rack and a Damp Tea Towel
Have ready a cooling rack with a damp tea towel placed on top. Immediately invert the cake on top and take away the pan. Then gently start peeling back the paper. Yes, it will most likely look like this. You might get a clean pull but probably not. Don't worry, this is normal and it's going to be the inside of the cake that you won't see.
Gently roll up the cake and leave it on the cooking rack. I like to leave it for a good two hours to make sure it's cooled completely.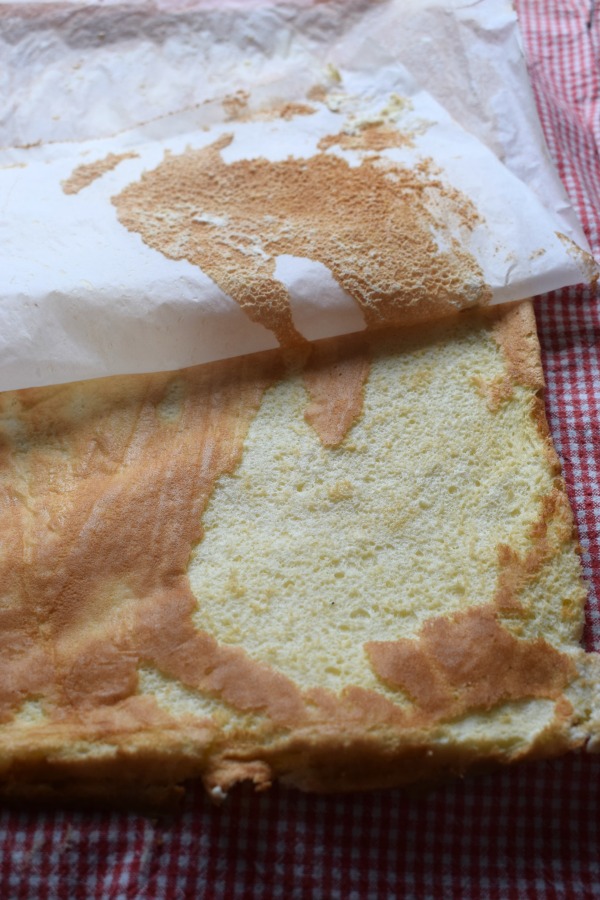 ---
Get Organized to Fill The Cake
While the cake is cooling, whip the cream and roughly chop the strawberries.
You can use sweetened cream if you like, or add sugar to your plain whipping cream. We like it with just a little sugar.
Then unroll the cooled cake.
Top tip for whipping cream, make sure the bowl and the beaters are freezing cold. You will not believe how much this helps. Warm cream is difficult to whip and even a warm bowl or beaters can cause the cream to NOT whip.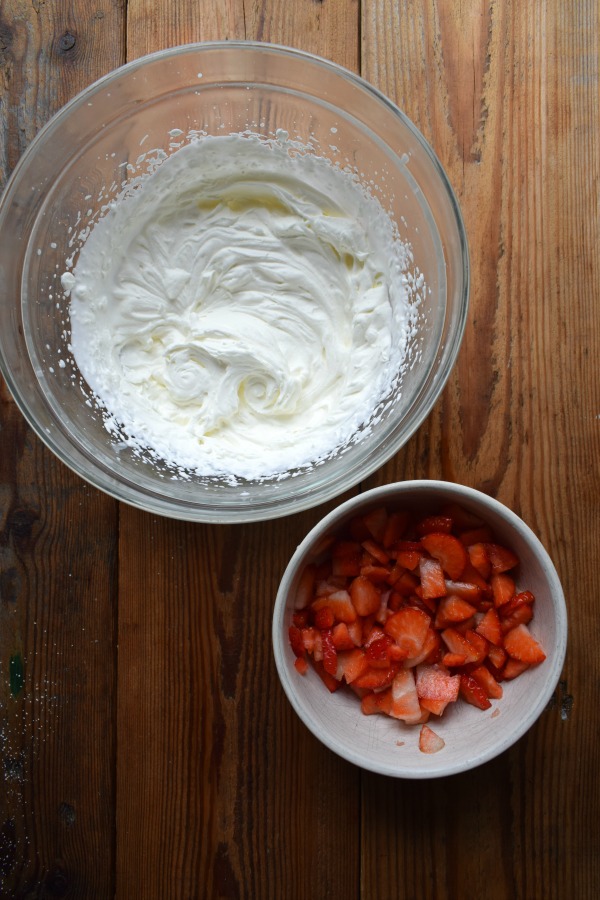 ---
Evenly spread out the whipped cream and sprinkle over the chopped strawberries. Looks good enough to eat already?
Now, you just simply just roll the cake back up. Go slow so you don't end up pushing all the filling out. When you rolled the cake up. Loosely wrap it and place it in the fridge for about an hour.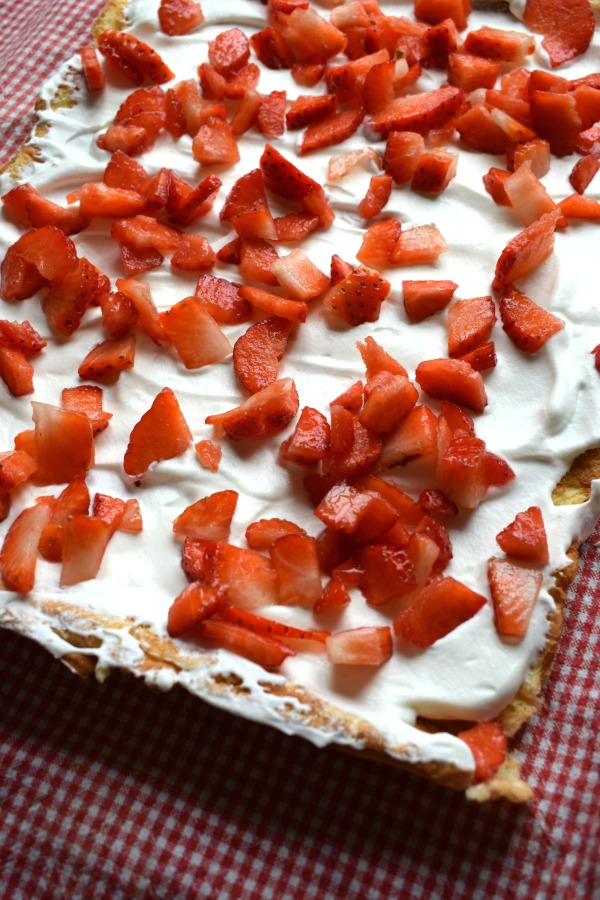 ---
After the cake has completely set in the fridge, remove it to dress it up. I just sprinkled over powdered sugar and topped it off with a few extra strawberries. So, pretty basic. You can use your own creative flare to make yours how you like it.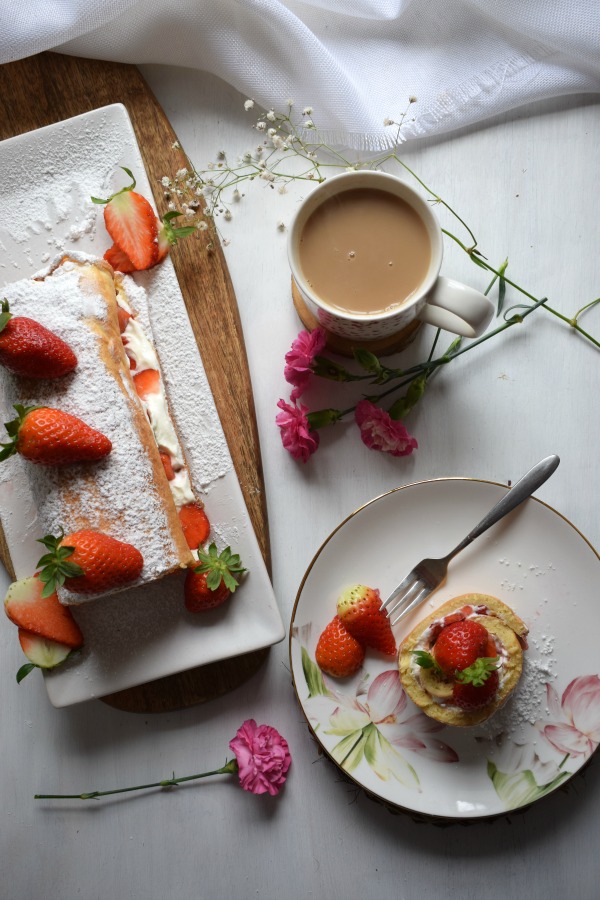 ---
This is a beautiful dessert for Valentine's Day. It comfortably serves eight people. But we've been know to eat it all ourselves…I know.
Make it in Advance
Yes, you can make the day before serving it and it will still taste fantastic. But I don't recommend decorating it until just before serving the cake. Powdered sugar has a lot of moisture and will sink into the cake and become wet in the fridge. So dust the cake just before serving.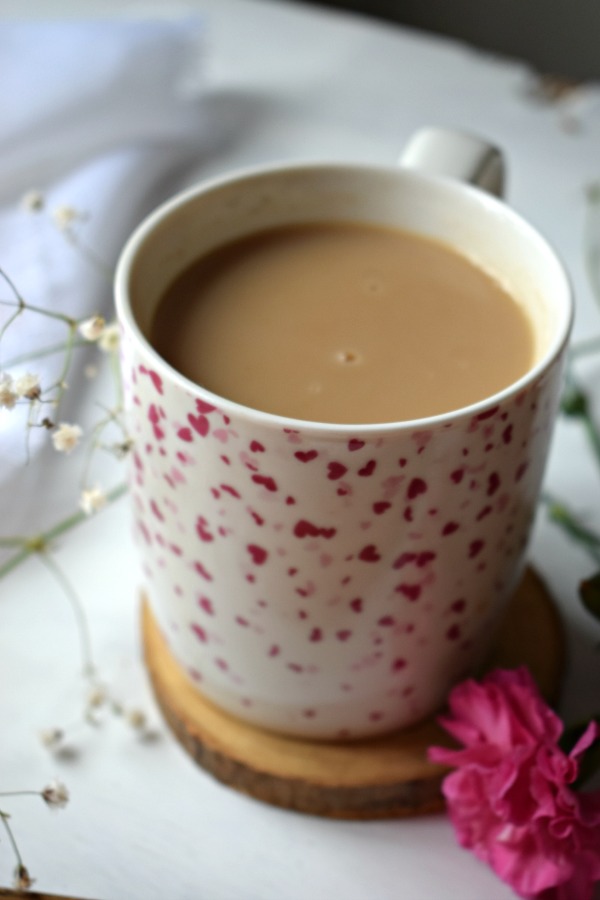 ---
Make it This Valentine's Day
And that sums up the infamous Swiss Roll Cake. I hope the explanations and photos along the way have helped understand this relatively easy cake a bit more.
This one, much like my Lemon Blueberry Swiss Roll Cake, is a keeper.
Well folks that's it for now. I'll be back another day this week with another recipe. I know, it's pretty random at the moment. And I promise it won't be another cake.
Happy Baking!
---
Like what you see today? Don't forget you can follow on Facebook for daily inspiration or over on Instagram where I sometimes do daily cooking videos for fun! I'm also on Pinterest which is a great place that you can save and share your favourite recipes. As well, if you haven't yet, Subscribe to the newsletter. You'll be notified whenever there's a new recipe! You can do that at the top of the page.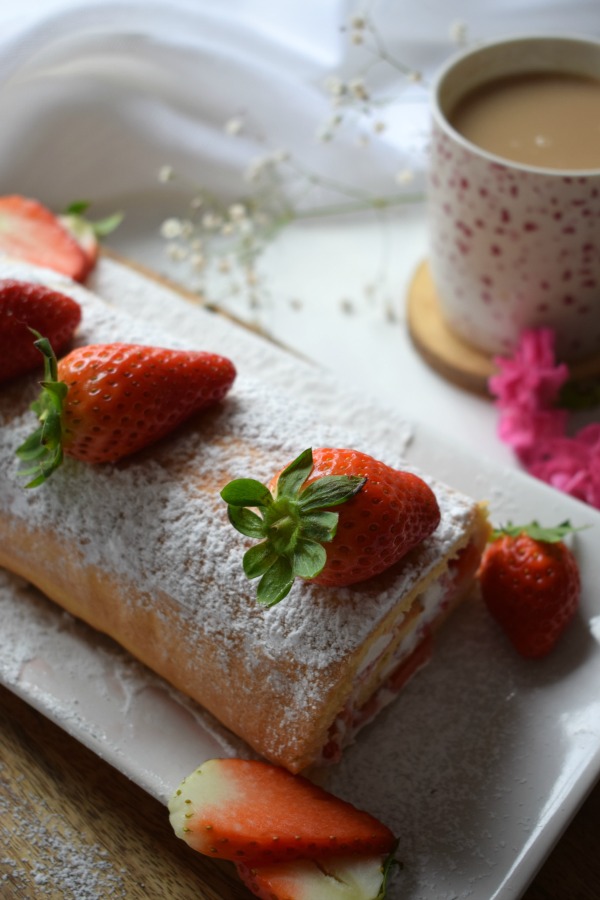 ---
Get the recipe!
---
Strawberry & Cream Swiss Roll Cake
Here is your perfect Valentine's Day dessert! If you're still looking for ideas to make that special dessert, look no further than this beautiful Strawberry & Cream Swiss Roll Cake. Perfect for any special occasion or just for a special treat.
Ingredients
For the Sponge Cake
4

Large eggs

1/4

Cup

plain flour

4

Tablespoons

cornstarch

1/2

Cup

white sugar

plus 1 tablespoon

1

Teaspoon

vanilla extract

1/4

teaspoon

white vinegar

Zest of one lime
For the filling:
1

Cup

whipping cream

double cream (not low fat)

1

Teaspoon

sugar

2

Cups

strawberries

fresh, roughly chopped
For garnish:
Powdered sugar

Extra strawberries
Instructions
Preheat oven to 450 degrees F and have the rack at the middle setting in the oven. Grease and line with parchment paper a 12 x 8 baking tray. Grease the parchment paper as well.

Have ready a cooling rack with a damp tea towel spread on top. (This is for rolling the cake up when it comes out of the oven)

In a medium bowl, sift together the flour and the cornstarch. Set aside

Separate two of the eggs. Placing the whites in a medium bowl and the yolks in a large bowl. Add the two additional eggs to the egg yolks. Add 1/2 cup of the sugar and mix on high speed until pale and fluffy and has just about tripled in size. Mix in the vanilla extract for just a few seconds and sift in flour and stir until just combined.

With a clean whisk attachment, beat the egg whites until foamy, about 30 seconds. Add the vinegar and beat until soft peaks form, about another minutes. Next add the sugar and beat on high speed until stiff peaks form.

Fold a small amount of the egg whites into the batter until combined. Add the remaining egg whites and mix until just combined.

Pour into the prepared pan and evenly spread out the batter. Bake for 7-10 minutes or until golden and springs back when touched.

Remove cake from oven and invert on the damp tea towel set over a cooling rack. Remove the tray. Gently remove the parchment paper. Roll the cake up with the tea towel. Leave it to cool completely for a few hours.

Make the filling. In a medium sized bowl, add the cream and the sugar. Beat on high speed until thick and fluffy.

When the cake has cooled, unroll and evenly spread over the cream and top with strawberries. Roll the cake back up and refrigerate for at least an hour before cutting.

Garnish cake with powdered sugar and a few strawberries.

Cake will keep covered in the refrigerator up to two days.
*A note on times provided: appliances vary, any prep and/or cook times provided are estimates only.
Nutrition Facts
Strawberry & Cream Swiss Roll Cake
Amount Per Serving (1 serving)
Calories 195
Calories from Fat 99
% Daily Value*
Fat 11g17%
Cholesterol 41mg14%
Sodium 12mg1%
Potassium 77mg2%
Carbohydrates 23g8%
Protein 1g2%
Vitamin A 437IU9%
Vitamin C 21mg25%
Calcium 25mg3%
Iron 1mg6%
* Percent Daily Values are based on a 2000 calorie diet.
---
Thanks for stopping by and hope to see you soon!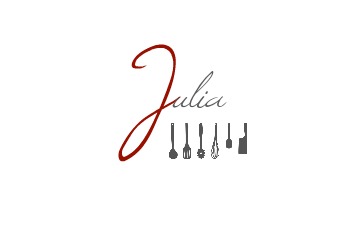 By