These are honestly The Best Cinnamon Rolls. A super soft roll, filled with layers of a buttery cinnamon filling and topped with a sweet glaze. These rolls are a two rise dough, so they are not done in a hurry, but they are worth the wait. The perfect treat!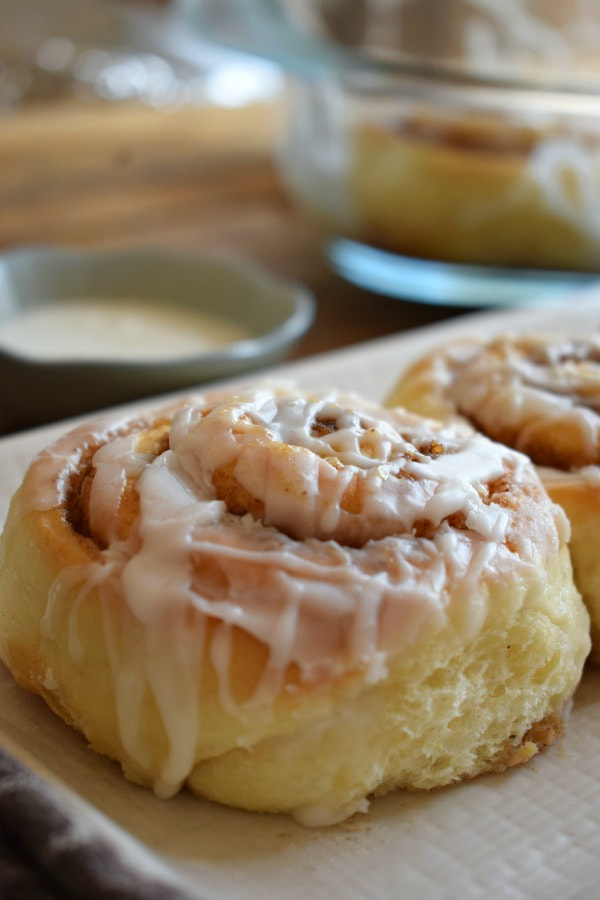 ---
UPDATED
---
Sometimes, everything needs a bit of an update. These Cinnamon Rolls are no exception. Although they have been on the blog for quite sometime now, I thought they needed to be brought back to life.
Take a look.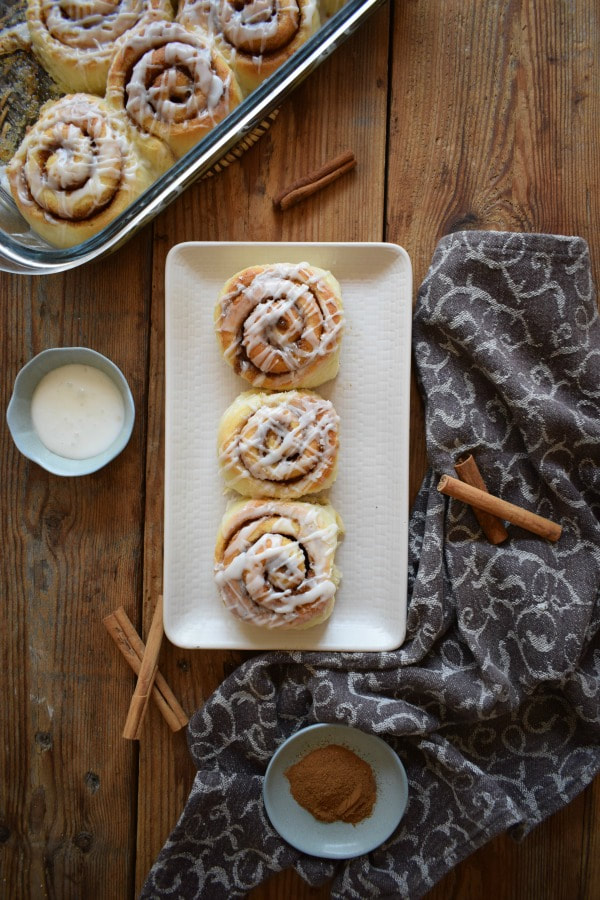 ---
Let's have a little look into how we make the Best Cinnamon Rolls
---
I use Instant Yeast always. I used to use Dry Active Yeast but switched a few years back. If you aren't sure what the difference is, here I'll fill you in.
Instant Yeast is added directly to the flour and proves itself naturally after you add the wet ingredients.
Dry Active Yeast needs to be added to warm water to prove itself and then added to the flour.
---
Now let's make some cinnamon rolls
---
Start the cinnamon rolls by making a sticky dough. When you read through the recipe below, you will see how this is done. The dough will be quite sticky, and this is exactly how you want it to start with.
Once you have you sticky dough, you can start kneading it so it forms a more elastic and soft dough. This could take up to 5 – 8 minutes and you will have a dough like the one in the bottom right hand side. When you push the dough with a finger it should bounce back slightly.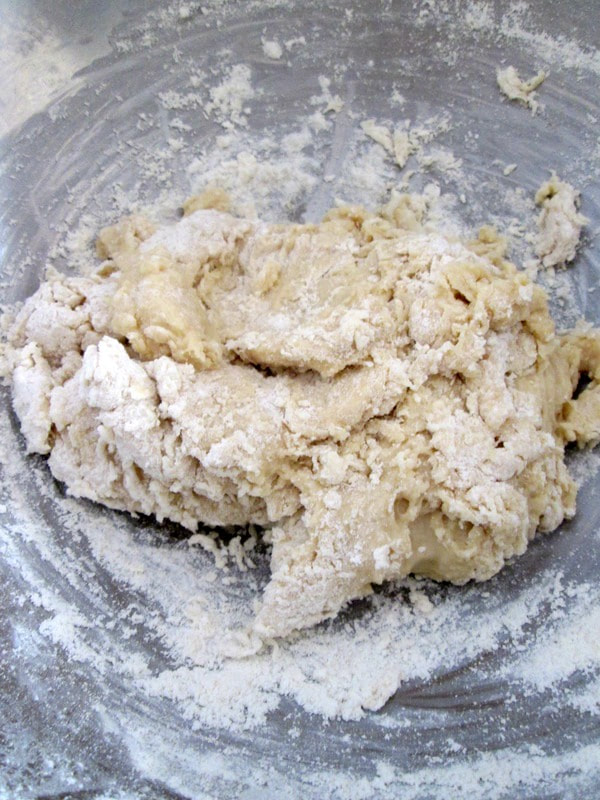 ---
Leaving Dough To Rise
---
After the dough has been left to rise, it should have doubled in size. Then you punch it down remove it from the bowl and place it on a clean floured surface. Roll it out to about a 16 x 10 inches, approximately.
Pour over your brown sugar mixture and evenly spread it out over the dough.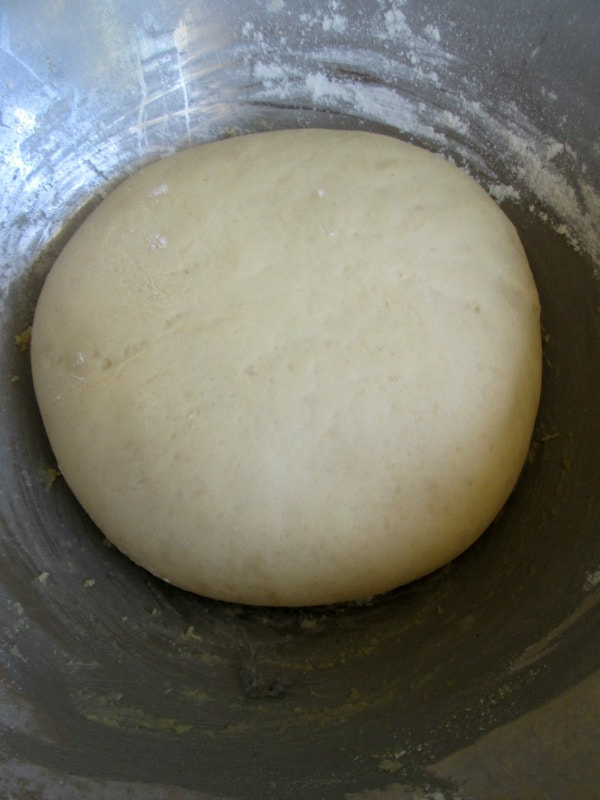 ---
Rolling it up and Cutting it into equal parts
---
Once you have spread the filling evenly over the dough, roll it up like seen below. This is about a 12 inch long log. It doesn't have to be exactly the same size!
Then cut the log into 12 equal parts and arrange on a baking tray like seen here. Then you cover it again and leave them to rise for the second time around.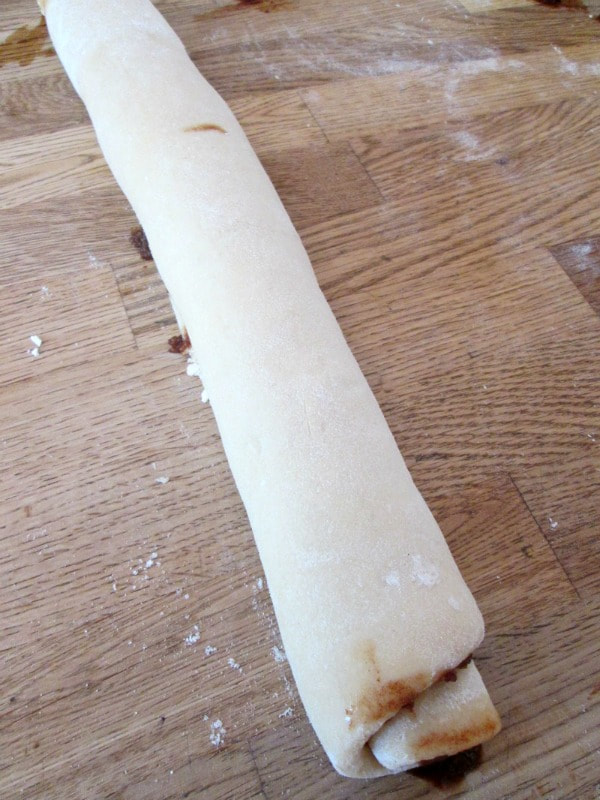 ---
After the second rise, they should look a little like this. They should fill the pan up completely and be touching on all sides. Now they are ready for the oven.
Remember they could take a while. This isn't a quick recipe. Because it's a two rise dough, you are talking hours till they are ready to eat. But they are worth it every single time. And the hands on time isn't much really, it's just the waiting for dough to rise.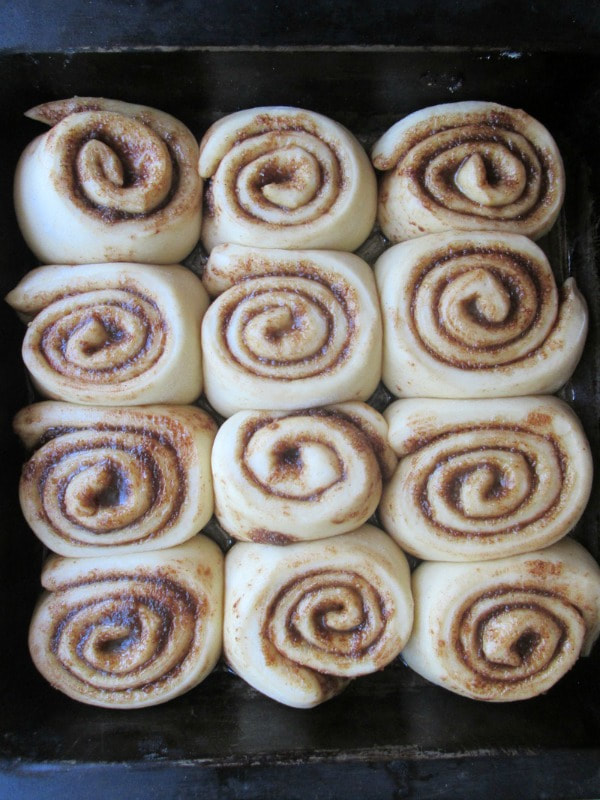 ---
I really don't make these very often, probably just a few times a year because I can't stop eating them when they are in the house. I made these yesterday and there's not many left. Okay, the kids love them as well. But I just may be substituting these for meals at the moment….lol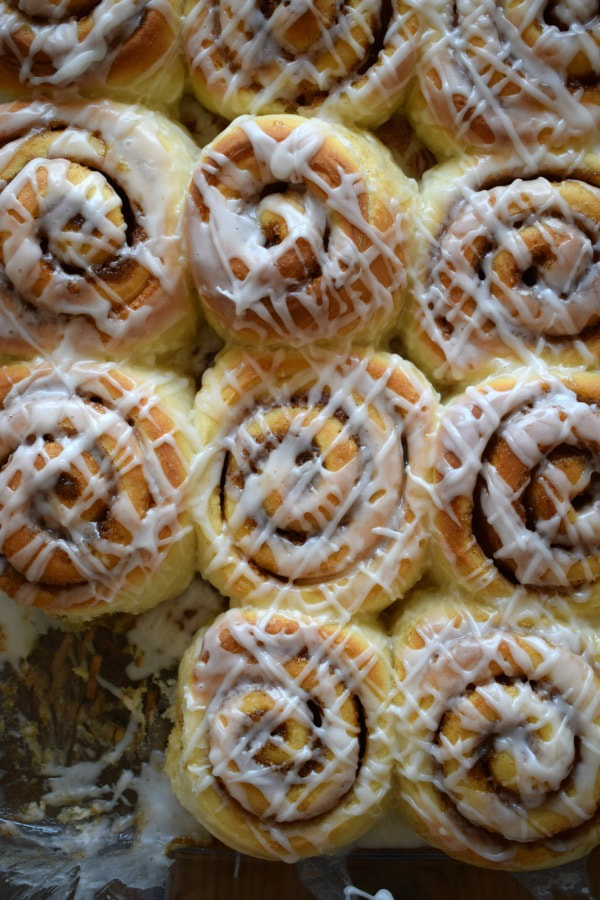 ---
That being said, the are a great fall treat. Goes wonderful with a cup of tea or coffee and maybe a cat or two by you side. Oh, and don't forget the dog for added extra comfort…ha!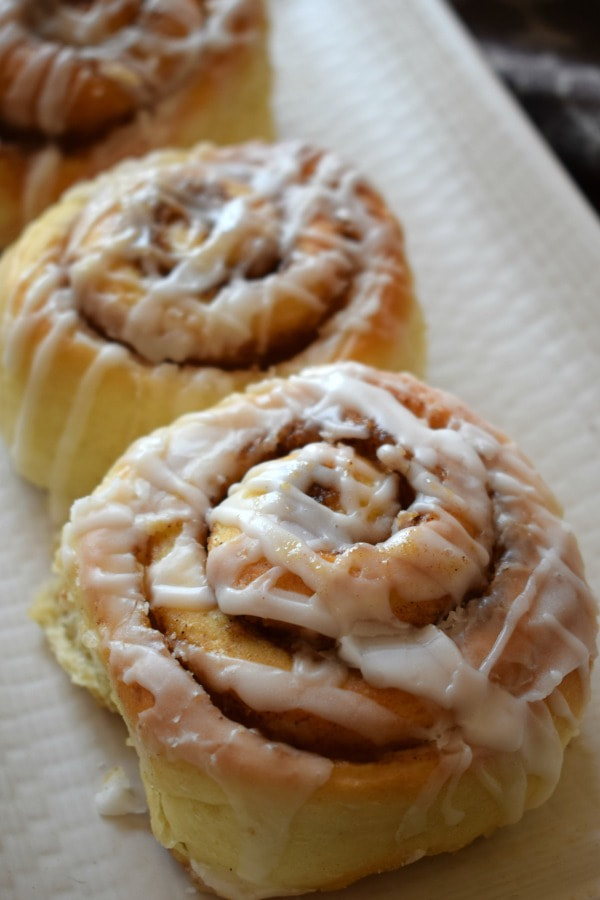 ---
One other thing that I wanted to talk about is reheating.
Fresh is best, but not always possible. You can use a microwave to warm them if you like or wrap them in foil and heat in the oven for about 15 minutes.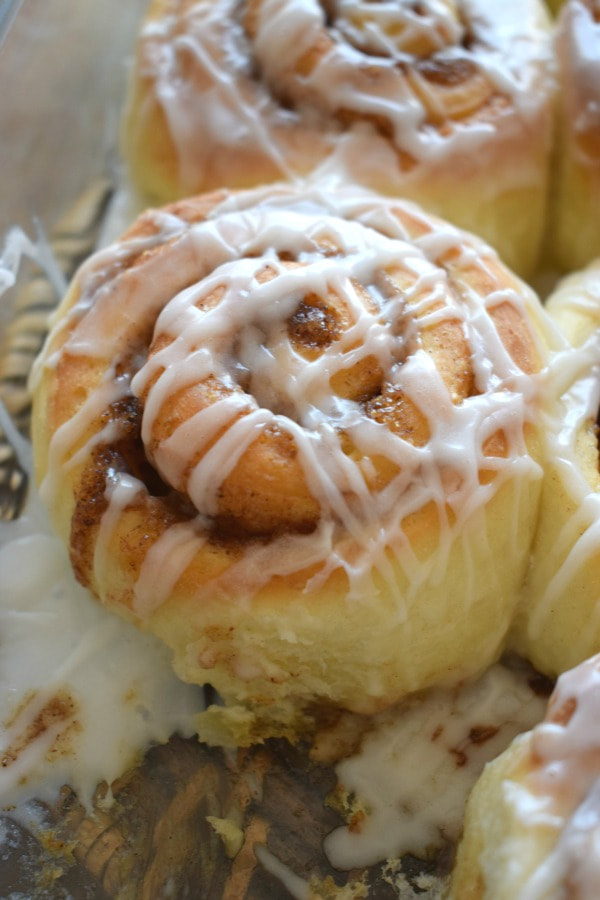 ---
If you bake one thing this fall, make this be the thing you bake. Put it on your list and make it happen. I love all baked goods made with yeast. However, if you are looking for an quicker cinnamon treat, check out my Traditional Mexican Buñuelos!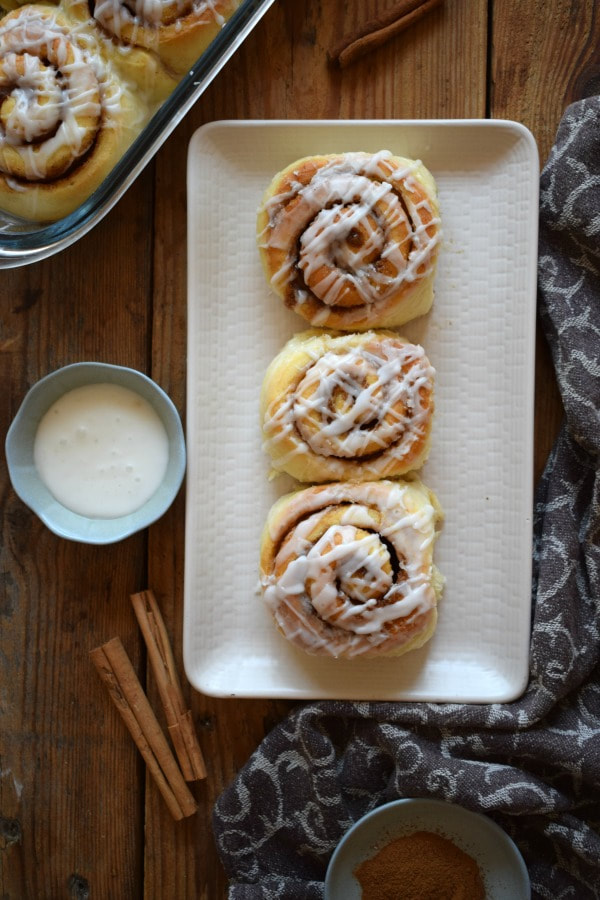 ---
Notes about the Best cinnamon rolls
---
Just remember that I used instant yeast. Make sure you know what kind of yeast you are using before making these as that's pretty important.
When making the dough it will start out quite sticky. If you find it too sticky, just add about a teaspoon of extra flour and keep kneading. It will come together with a bit of time.
What can I say, these are worth the time, effort and calories!
Happy baking friends and it's almost fall! Time to get cosy.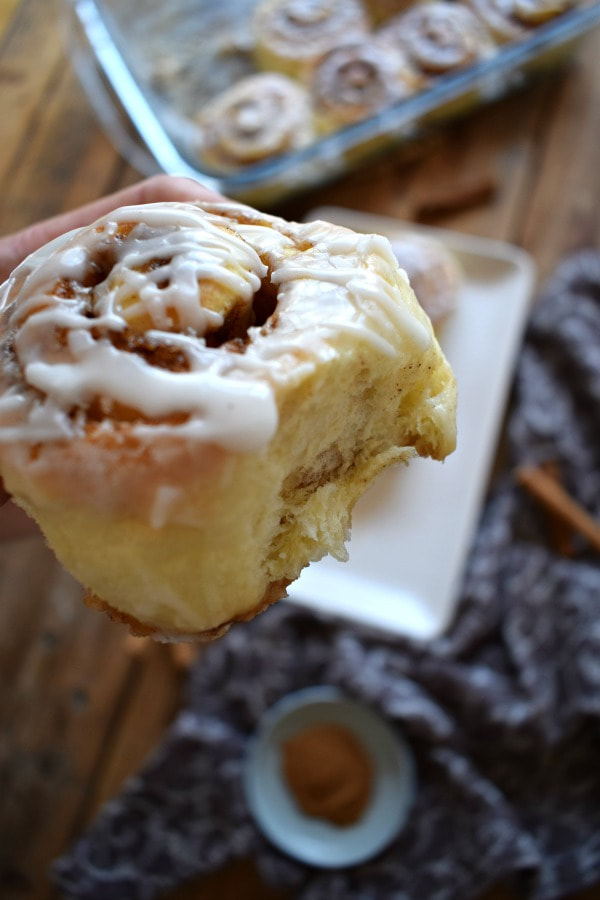 ---
Get the recipe!
---
The Best Cinnamon Rolls
These are honestly The Best Cinnamon Rolls. A super soft roll, filled with layers of a buttery cinnamon filling and topped with a sweet glaze. The perfect treat!
Servings:
12
Cinnamon Rolls
Ingredients
For the rolls:
1/4

Cup

whole milk

1/4

Cup

sugar

1

Teaspoon

salt

2

Tablespoons

butter

melted

1/4

Cup

water

2

teaspoons

instant yeast

1

large

egg

beaten

2

Cups

flour
For the filling:
3

Tablespoons

butter

melted

1 1/2

Teaspoons

cinnamon

1/2

Cup

brown sugar
For the Glaze:
1

Cup

powdered sugar

2-3

Tablespoons

milk

1

Teaspoon

vanilla
Instructions
Add instant yeast to the flour. Sift together and set aside.

In a saucepan set over high heat, bring the milk and water to a simmer. Remove from heat and add the sugar, salt and melted butter. Stir well and leave it until it's luke warm, about 10 minutes.

In a large mixing bowl pour in the milk mixture and add the beaten egg and about 1/2 of the flour. Stir until you have a smooth batter. Mix in the rest of the flour. You should have a slightly sticky dough. Turn the dough out onto a floured surface and start to knead it. Do this until the dough becomes quite elastic and bounces back when pressed. Probably about 8 minutes or so. Put the dough back in the large bowl and cover with a damp cloth. Put the dough in a warm place to rise. It will be ready in about one or 1 1/2 hours.

Make the filling by combining the brown sugar, cinnamon and melted butter. Stir to combine and set aside.

After the dough has risen, punch it down and roll it out into a large rectangle. Mine was probably about 10 x 16 inches. Drizzle over the brown sugar mixture and spread it out over the dough. Roll it up and cut it into 12 slices. Grease a 10 x 10 inch baking dish. Place the rolls in the pan evenly spaced out. Cover them again and return them to a warm space to rise. About another hour.

Preheat your oven to 350 degrees F. Bake the cinnamon rolls for 15 – 20 minutes. Remove from oven and let cool in pan for about 10 minutes. While the rolls are cooling, make your glaze. Mix together the powered sugar, milk and vanilla. Pour it over the rolls.

These are great hot straight out of the oven. Or, you can cover them, refrigerate and rewarm when you would like. They will keep for a couple of days.
*A note on times provided: appliances vary, any prep and/or cook times provided are estimates only.
Notes
Rise time will vary.  It could be as short as 2 hours in total or as much as 4 hours in total.  Please keep this in mind.
Baking time will be between 15 – 20 minutes. Check at 15 minutes.
Nutrition Facts
The Best Cinnamon Rolls
Amount Per Serving (1 Cinnamon Roll)
Calories 187
Calories from Fat 54
% Daily Value*
Fat 6g9%
Cholesterol 29mg10%
Sodium 249mg11%
Potassium 72mg2%
Carbohydrates 41g14%
Protein 4g8%
Vitamin A 181IU4%
Vitamin C 1mg1%
Calcium 26mg3%
Iron 1mg6%
* Percent Daily Values are based on a 2000 calorie diet.
---
Thanks For Stopping By & Hope To See You Soon!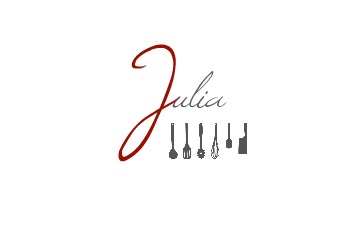 By