This Tomato & Zucchini Oven Baked Pasta is a great mid week comfort. Tender pasta noodles with sauteed zucchini in a rich tomato sauce and topped with fresh mozzarella cheese.Make in advance, pop it in the fridge and bake when ready.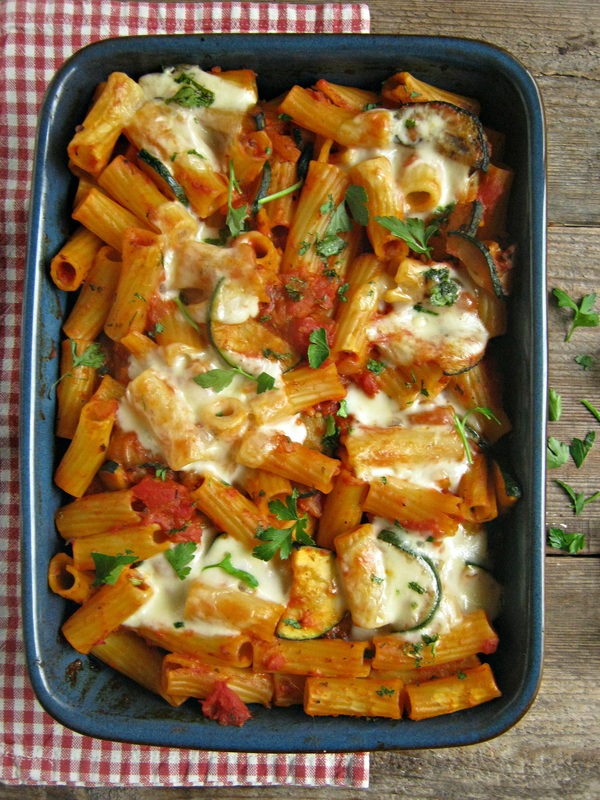 ---
I've just come in from outside checking on the tomatoes. And boy, does it look like we're in for quite a few this year. Exciting!
So, once the tomatoes are in full force, I can get back into cooking sauces with them. there is nothing better than a good marinara sauce made from home grown tomatoes.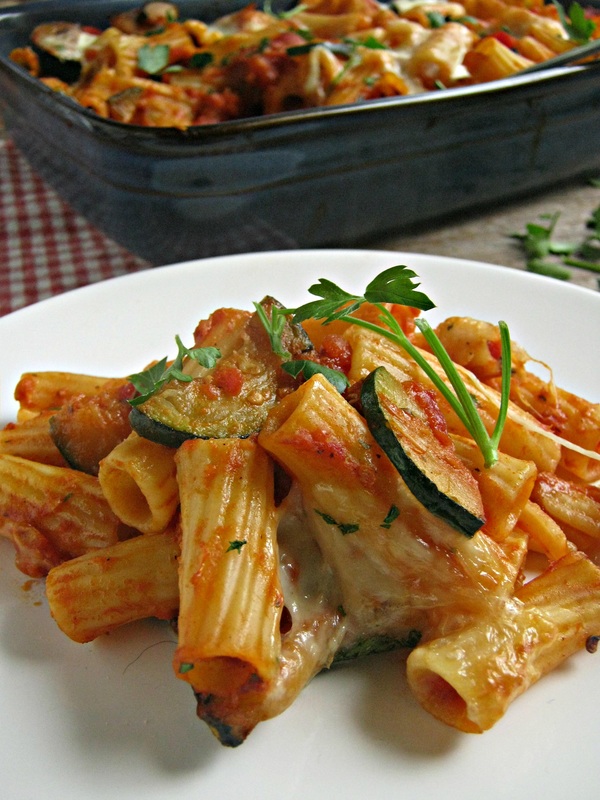 ---
Notes About This Dish
A great dish for rainy days, cold days, weekends, pot lucks. family get togethers, having friends around…well, good for anything really. In my house, you just can't go wrong with pasta. I know many people are gluten intolerant, so you could use gluten free pasta if you still love pasta but can't have the gluten
Like a lot of pasta bake dishes, this can be made ahead and refrigerated and cooked several hours later. If you do it this way bake the dish for about 5 minutes longer than the time recommended.
And if you looking for a creamier baked pasta dish, you need to check out the Bowtie Pasta and Broccoli Pasta Bake, the Tomato & Mozzarella Baked Penne or my Fusilli Pasta Bake with Bacon and Zucchini. Happy cooking friends.
---
Like what you see today? Don't forget you can follow on Facebook for daily inspiration or over on Instagram where I sometimes do daily cooking videos for fun! I'm also on Pinterest which is a great place that you can save and share your favourite recipes. As well, if you haven't yet, Subscribe to the newsletter. You'll be notified whenever there's a new recipe! You can do that at the top of the page.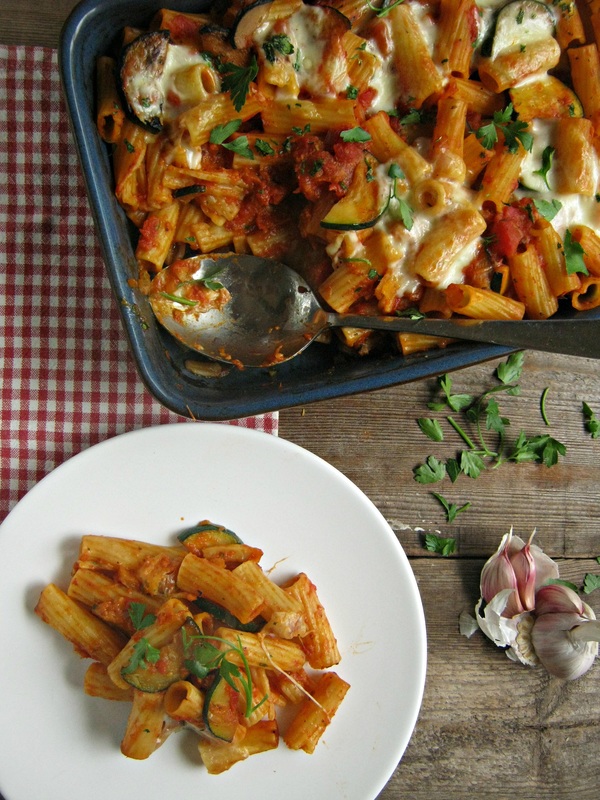 ---
More Great Baked Pasta Dishes
Penne Pasta & Broccoli Bake
This family friendly, weeknight Penne Pasta & Broccoli Bake is a great mid week dinner. Tender pasta noodles in a creamy parmean sauce with broccoli. A great make ahead dish the whole family will love. You can prepare it in the morning, pop it in the fridge and bake just before serving.
Check out this recipe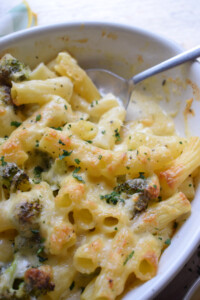 Ground Turkey Pasta Bake
Make this warming and hearty Ground Turkey Pasta Bake soon. An easy baked pasta dish made with penne pasta, marinara sauce, ground turkey and mozzarella cheese. An easy to make budget friendly family dinner.
Check out this recipe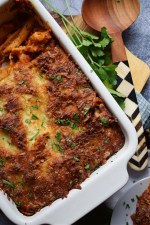 Bell Pepper & Bacon Pasta Bake
What's more comforting than a delicious pasta dish?  If I find out, I'll let you know.  This Bell Pepper and Bacon Pasta Bake would be sure welcomed on a blustery cold evening.  Take a look and see how it comes together.
Check out this recipe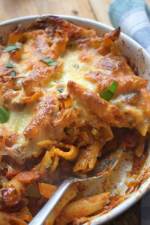 ---
Tomato & Zucchini Oven Baked Pasta
Make ahead oven pasta and bake when you're ready to eat!
Ingredients
8

oz

penne pasta

1

Zucchini

halved length ways and cut into 1/2 inch pieces

1/2

onion

finely diced

3

cloves

Garlic

crushed

4

Tablespoons

olive oil

divided

1

can

can whole tomatoes

16 oz

1

Cup

Marinara Sauce

1/2

Teaspoon

oregano

1/2

Teaspoon

rosemary

Fresh black pepper

Sea salt

2

Tablespoon

fresh chopped parsley

1/2

Cup

Parmesan

finely grated

6

0z

mozzarella

fresh ball, cut into slices
Instructions
Preheat oven to 350 degrees F and have ready a deep sided 8 inch baking dish.

In a large skillet set over medium high heat, add 2 tablespoons of the olive oil and the zucchini. Stir well and cook for about 10 minutes until the zucchini is cooked and charred on the outside. Remove from heat.

In a separate large skillet set over high heat, add the remaining olive oil, garlic and onion. Cook, stirring occasionally, for about 10 minutes. The onions should be softened and slightly caramelized.

Add the canned tomatoes to the skillet and set heat to high. Stir well. Using two wooden spoons, start chopping up the tomatoes until they are all fairly chopped well. Add the oregano, rosemary, black pepper and sea salt Stir well and allow to cook until most of the pan juices have evaporated and you are left with quite a thick sauce. This will take about 15 minutes. Add the marinara sauce, parmesan cheese and parsley to the pan,bring to a simmer and sir well. Leave to simmer for just a couple of minutes and remove from heat.

Cook the pasta al dente, drain and set aside.

Add the pasta to the baking dish, spoon over zucchini and finally the sauce. Stir well to combine. Top with fresh mozzarella slices and bake for about 25 minutes. Remove from oven and let stand for about 5 minutes before
*A note on times provided: appliances vary, any prep and/or cook times provided are estimates only.
Nutrition Facts
Tomato & Zucchini Oven Baked Pasta
Amount Per Serving (1 serving)
Calories 438
Calories from Fat 171
% Daily Value*
Fat 19g29%
Cholesterol 10mg3%
Sodium 686mg30%
Potassium 691mg20%
Carbohydrates 54g18%
Protein 15g30%
Vitamin A 581IU12%
Vitamin C 24mg29%
Calcium 226mg23%
Iron 3mg17%
* Percent Daily Values are based on a 2000 calorie diet.
---
Thanks For Stopping by & Hope To See You Soon!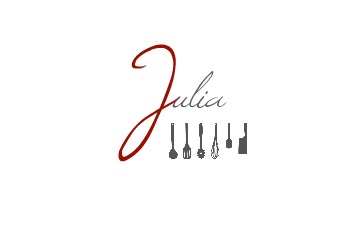 By