Creamy pasta dishes can be enjoyed any season. This Classic Turkey Tetrazzini is no exception with it's sauteed mushrooms, tender turkey, creamy parmesan sauce and a delicious pasta. An absolute pleaser for all pasta lovers.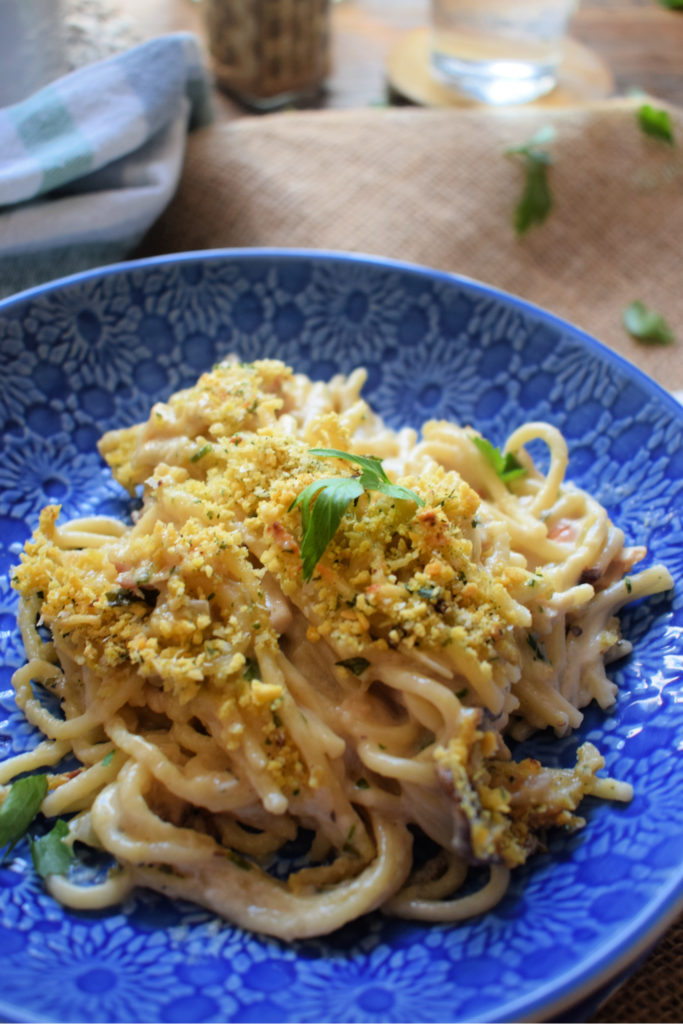 ---
Hello friends! It's been a minute since I've posted anything new. I just had to take a bit of time to enjoy summer before it slipped away and fall set in before my eyes.
It's the first break I've taken this year as it's been a hectic on on the blog front. I knew with the busy fall season approaching, it was a break now or never. So, I took it and enjoyed it. But now, the break's over and time to get cooking.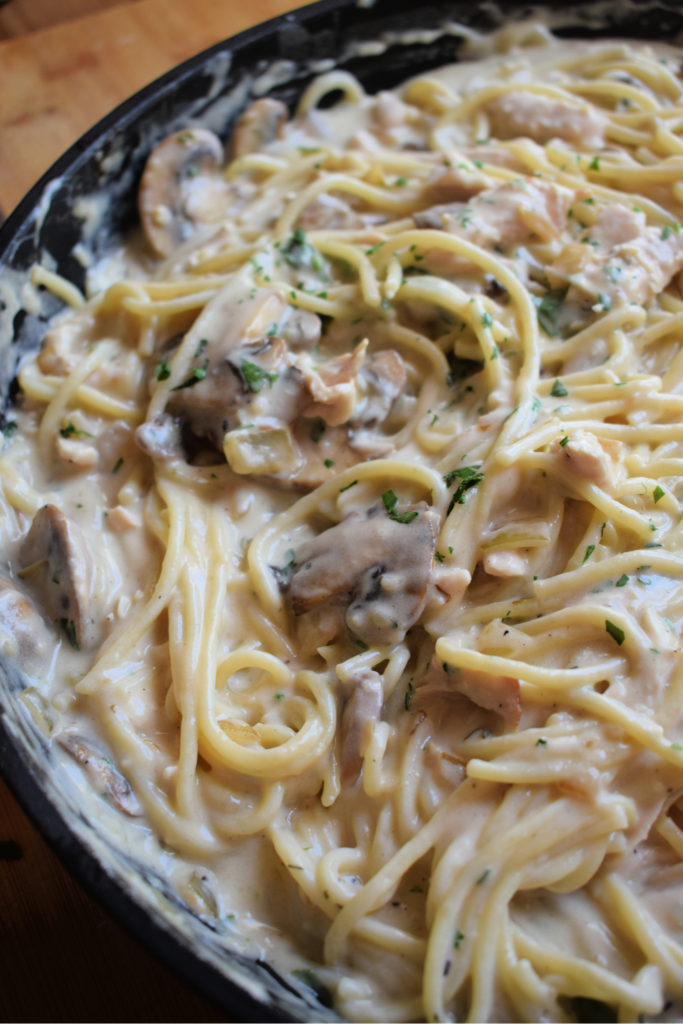 ---
Instead of sharing a summer inspired recipe on this steaming hot July day, I'm sharing comfort food. Yes, because I'm crazy like that. You see, I've been cooking pretty much all things barbecue and salads all summer long to date. I just needed a break and turned on the oven. I might have increased the kitchen temperature by a zillion and one degrees, but it was worth it.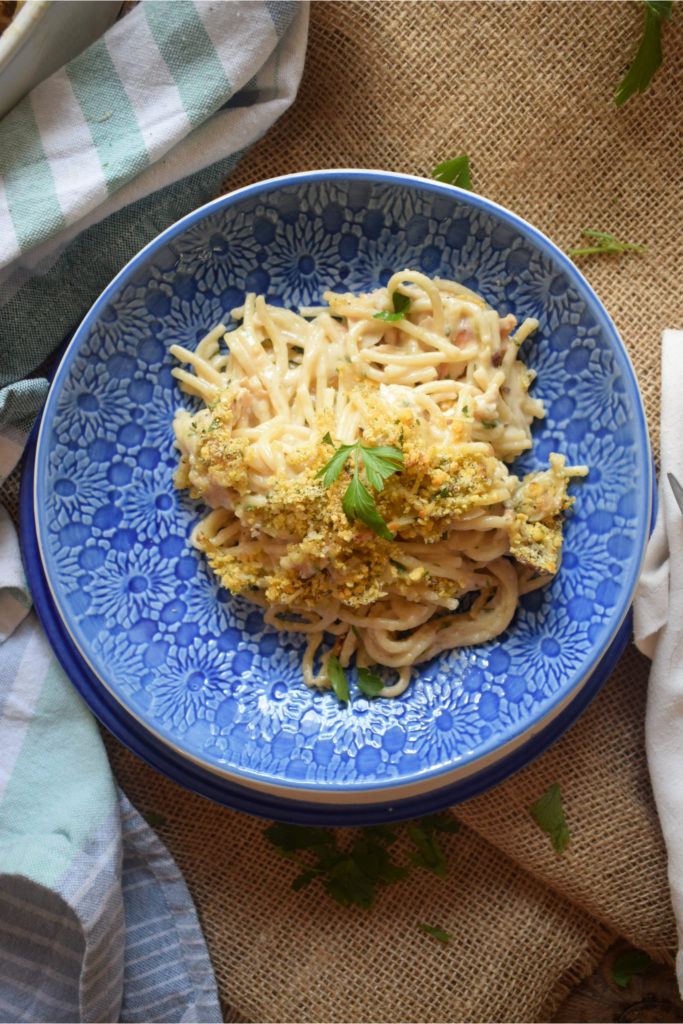 ---
What is Turkey Tetrazzini
---
Turkey Tetrazzini is a baked pasta dish using spaghetti or linguini, mushrooms and turkey. It's all put together in a creamy bechamal sauce and topped with a bread crumb mixture and then baked to comforting perfection. Traditionally, it's uses wine or sherry for extra flavour. I didn't use either in my recipe today, but you can add that if you would like to.
---
Have you ever had Turkey Tetrazzini? Well, if not, now's time to give it a try. Or file it in favourites for the fall. I first had this dish in my hometown back in the mid nineties at the Restland Motel. It might have changed it's name by then, I can't remember. But it will always be the Restland Motel to me. Anyway, I fell in love with the dish instantly and mentally filed it in my mind to cook later.
A decade or so later, i ventured into the kitchen and made it. Well, I was disappointed as it didn't taste much like the one I had back in the 90s. So, I tried again a few times, until I finally got the taste I was looking for.
Flash forward another decade, (God, I'm old), and I'm finally sharing the recipe with you all. Make it and love it like we do.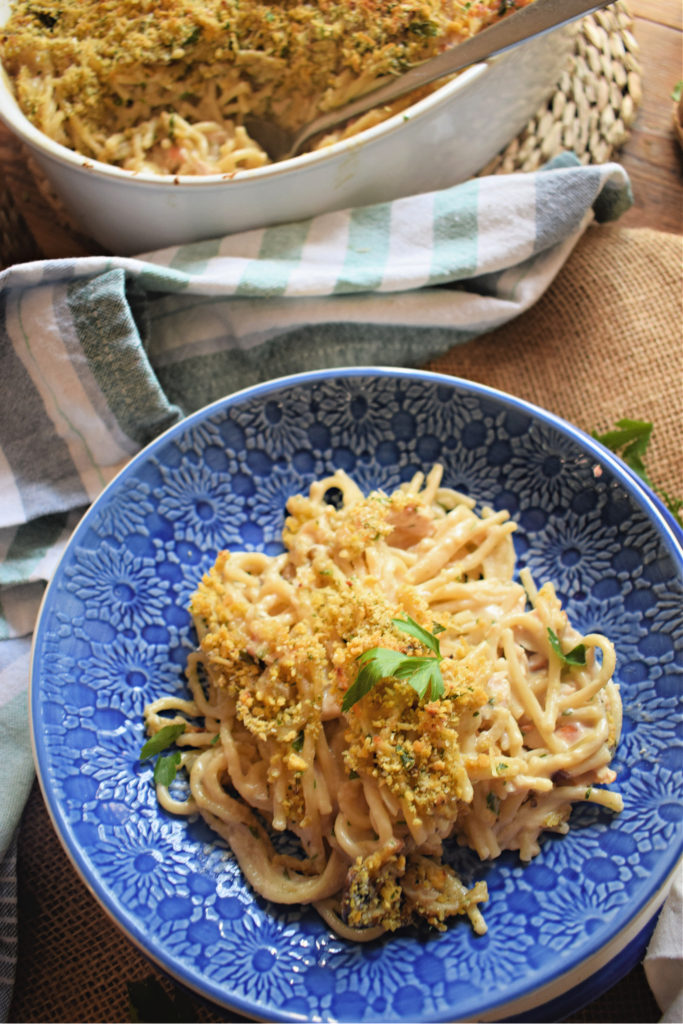 ---
What You'll Need To Make This Classic Turkey Tetrazzini
---
Okay, so you can use leftover turkey if you have it in your fridge. I didn't because it's July! But this recipes lends itself to using leftover turkey no problem at all. In this recipe I used two turkey tenders. You can use turkey breast as well. If you aren't sure the difference between the turkey tender and the turkey breast. The tender is attached to the breast just under. And as with it's name, it's a tender cut of meat. I used it because, I knew shredding the turkey tenders is quite easy.
As for the rest of it, it's pretty self explanatory from the picture. Remember, read the recipe through to the end and get all your ingredients and cooking stuff ready before you start. I always talk about this. You never know what surprises a recipe will have in store for you, right?
THE FULL RECIPE IS ALWAYS LOCATED AT THE END OF THE POST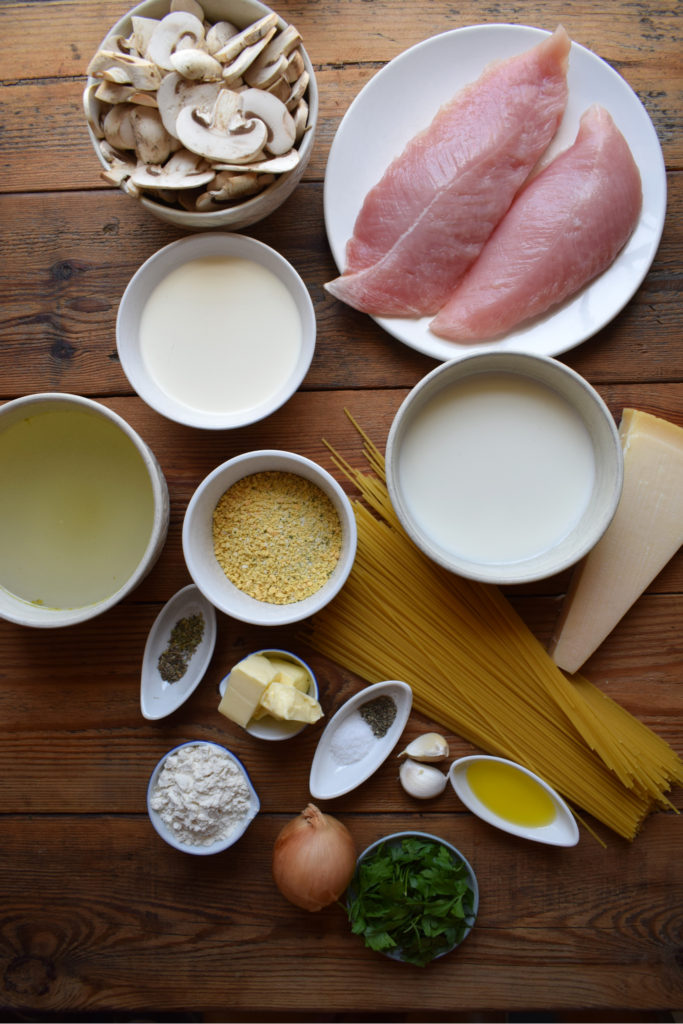 ---
Cook The Turkey Tenders
---
Season the turkey with a little salt and pepper on each side. Heat one tablespoon of olive oil in a large skillet and add the turkey. Cook each side for about 6-7 minutes. Remove from pan and transfer to a cutting board.
Reserve the pan.
Oh, I almost forgot. While the turkey is cooking, cook and drain the spaghetti. Easy!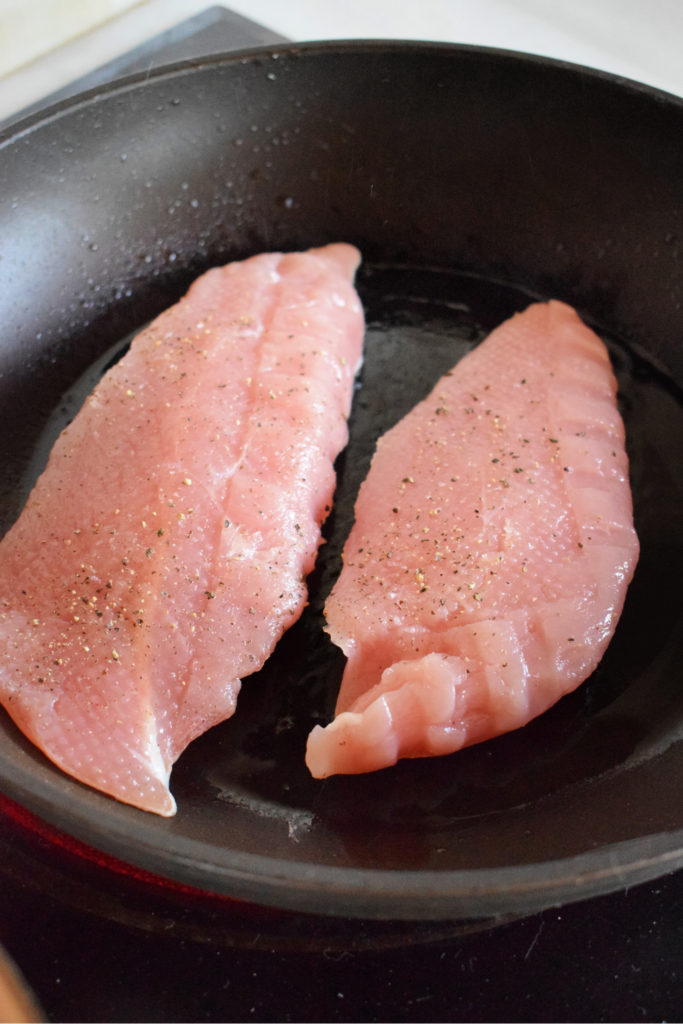 ---
Shred or cube The Turkey
---
Personally, I prefer to shred the turkey with two forks. It's pretty quick and I really like the results and the texture in the final dish. If you prefer, you can cut it into small bite size pieces.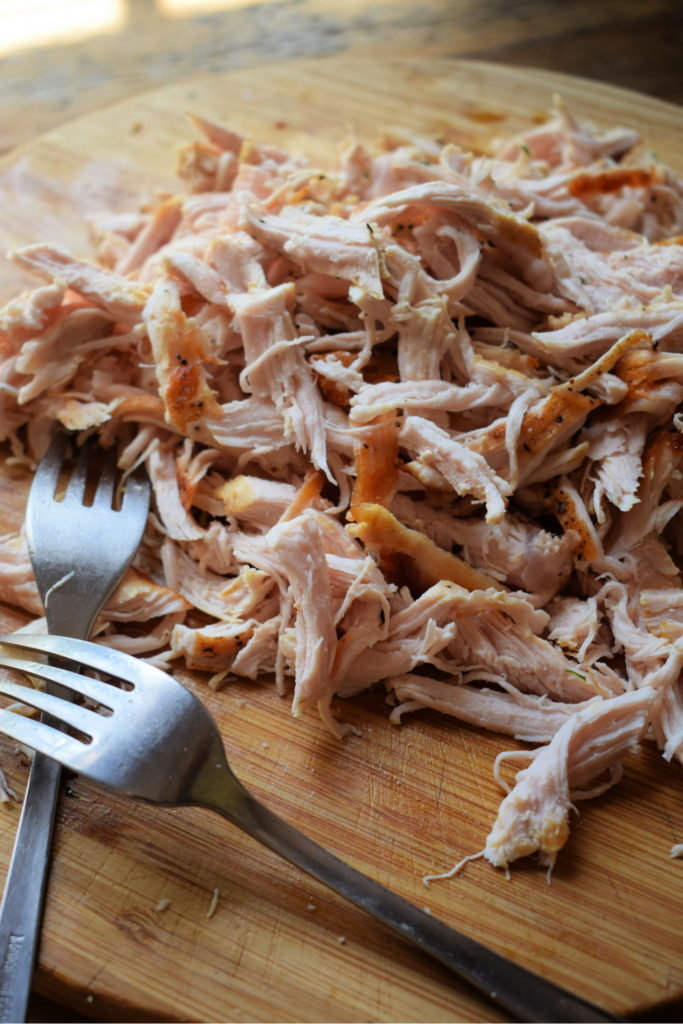 ---
Prepare and Chop Ingredients
---
Anything that needs chopped, crushed or prepared, get it done now. You don't want to be midway through the recipe and find that there's something not ready. Remember, we like to prep everything at the beginning and then cook. Makes for an easy stress free cooking time..haha!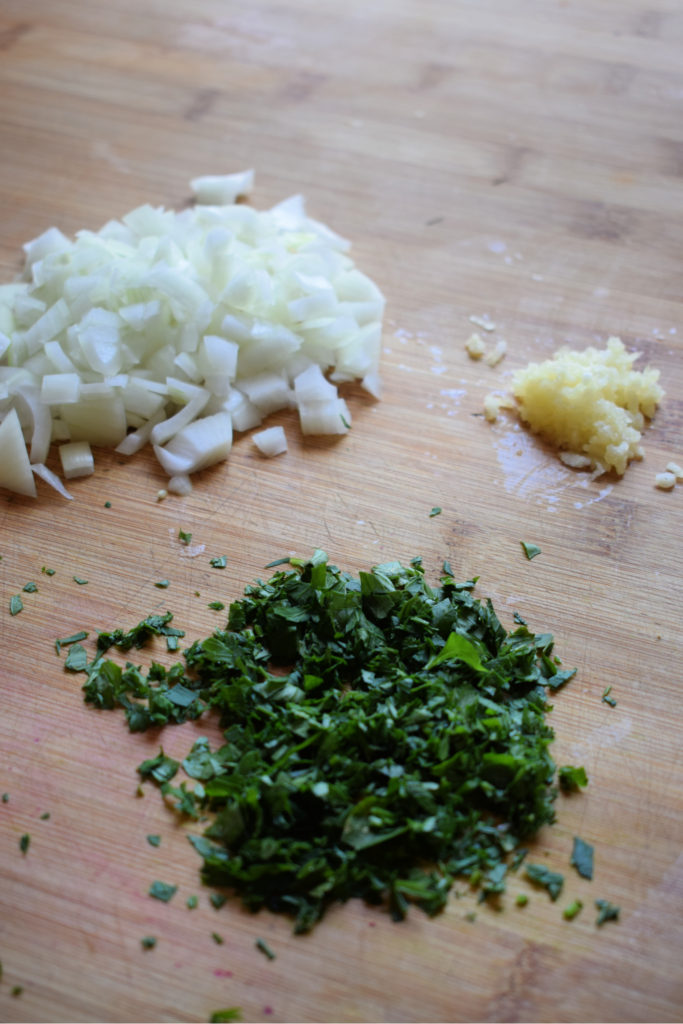 ---
Cooking The Mushrooms And Onions
---
I used white mushrooms for this recipe. I bought pre sliced mushrooms but you can just buy them whole and slice them yourself. Heat two tablespoons of butter to the skillet over high heat. Add the mushrooms and let them cook for about 3 minutes, stirring occasionally.
Next, add onions, garlic and dry herbs. Give a real good stir and leave to cook for about 5 more minutes, stirring occasionally.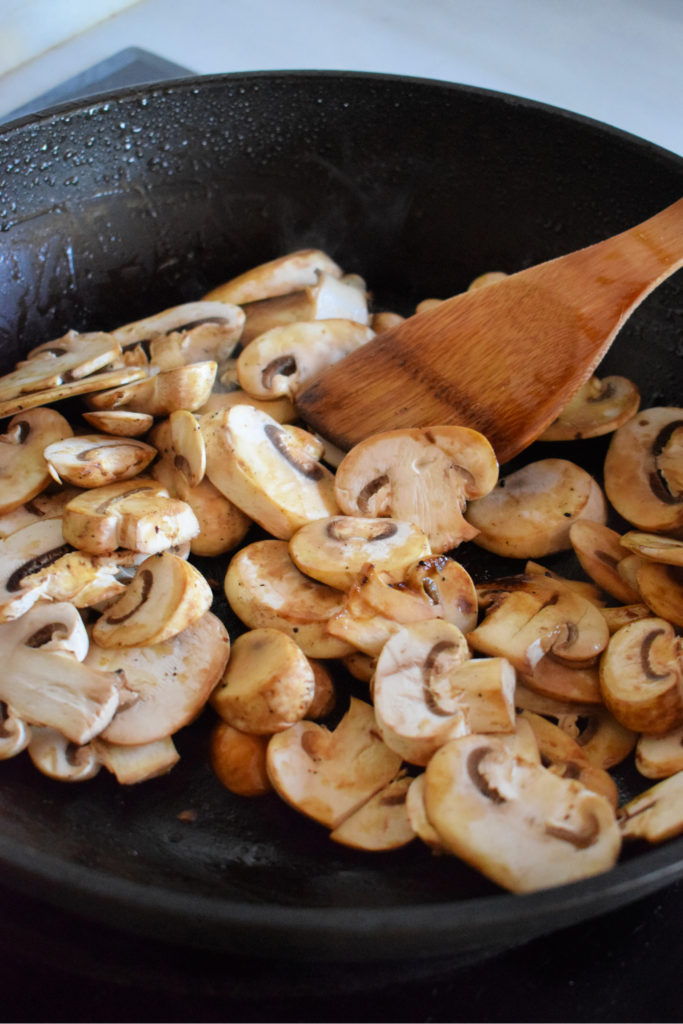 ---
Making the Sauce
---
Remove the cooked mushrooms and onions from the pan and transfer to a bowl.
In the same skillet set over medium heat, add the remaining butter. Stir for about 30 seconds and add the flour. Stir quickly to form a paste. This is the basic way to make a roux sauce which is the base for many white and cheese sauces.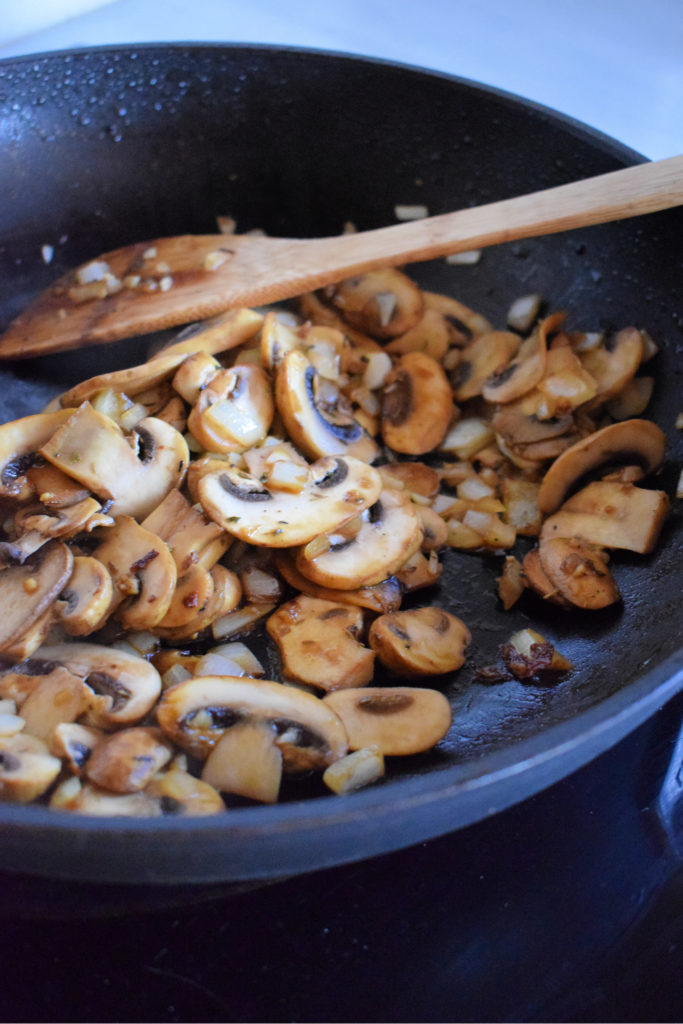 ---
Add all The Liquids
---
For this recipe, we're using chicken stock, milk and cream. Gradually start pouring in the chicken stock and whisking as you pour to create a smooth sauce. Once you have added all the stock and it's smooth, add the milk and the cream. Continue to whisk until it's smooth like velvet and thickened. Add the parmesan cheese, season with salt and pepper and stir. Remove from heat.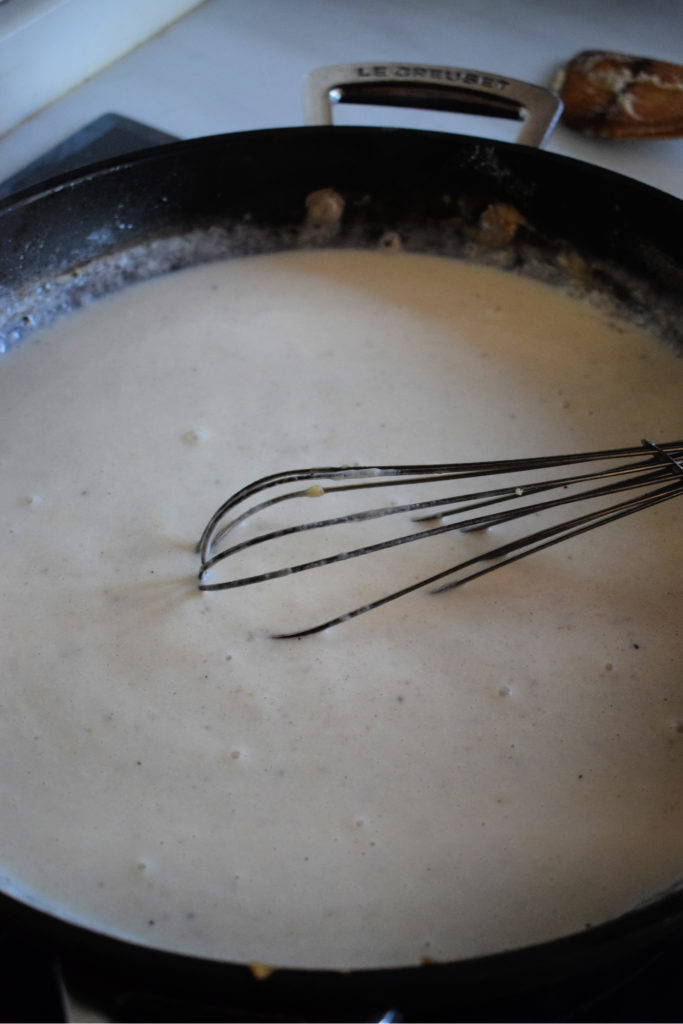 ---
Toss everything together
---
Now, the fun part. Add the shredded turkey, cooked spaghetti or linguini, mushrooms and parsley to the sauce. Give it a really good stir.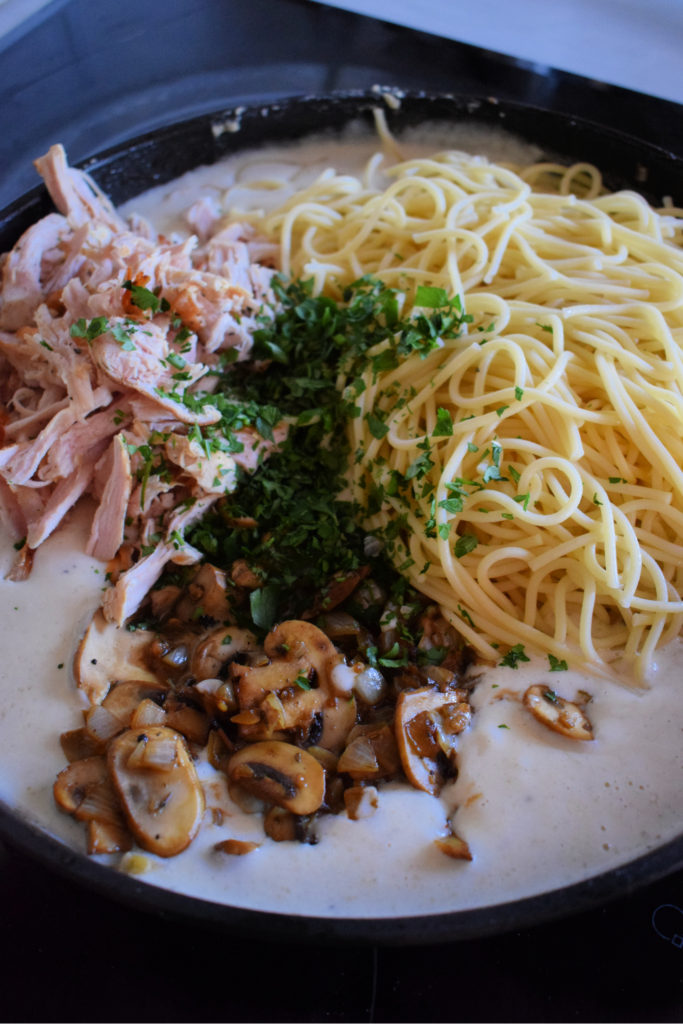 ---
Yes, You Can Eat it Now Or Top and Bake It
---
Doesn't this just look delish! Confession, I usually have to taste more than my share at this point before it goes in the oven. And you and just serve it at this stage. It's delicious. Or, you can carry on with the recipe and bake it in the oven. Both great options.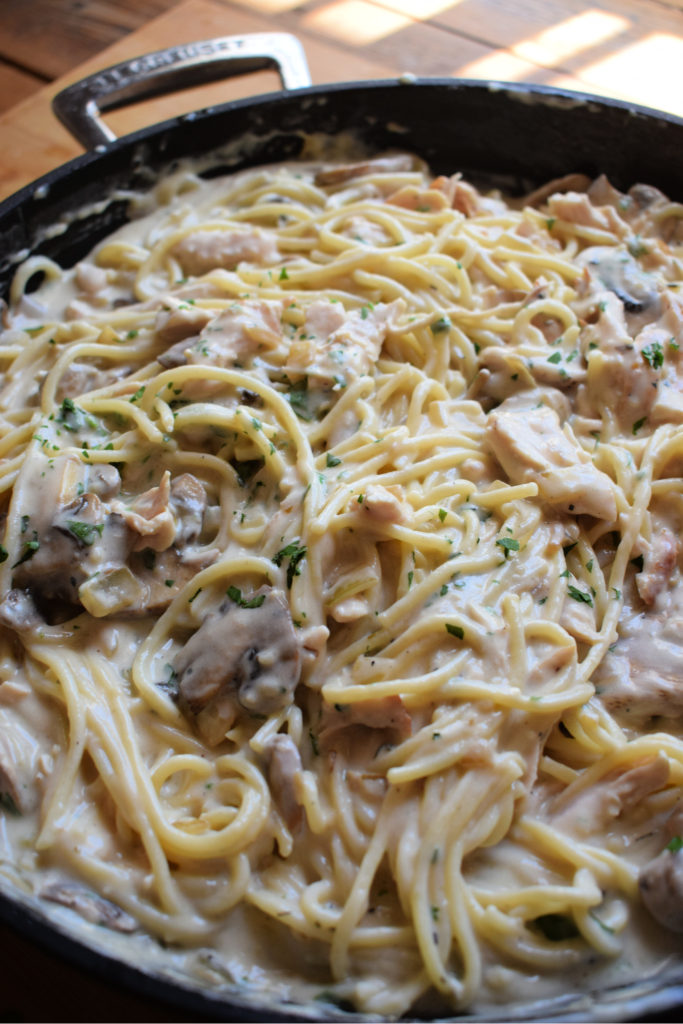 ---
Top with Bread crumb Mixture and Bake
---
Transfer the pasta to an oven proof casserole dish.
Combine the bread crumbs with remaining parmesan and pàrsley. Give a good mix around and evenly spread out over the Turkey Tetrazzini. Bake in a preheated 375 degrees f/190 c for 25-30 minutes or until it bubbling and the crust is golden.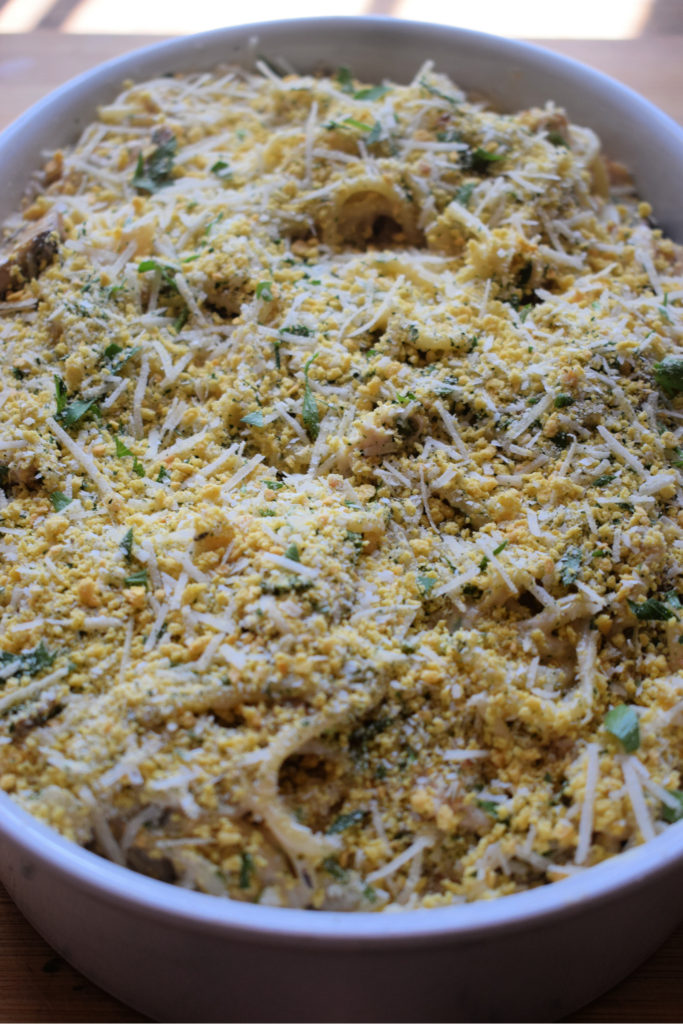 ---
Turkey TEtrazzini Ready To Serve
---
Remove from oven and leave to rest for about 10 minutes before serving. The sauce will thicken as it's cools slightly. Serve it and love it. It's a honest to goodness pleaser for anyone that loves pasta and comfort food. It doesn't need anything on the side as it's perfect just the way it is.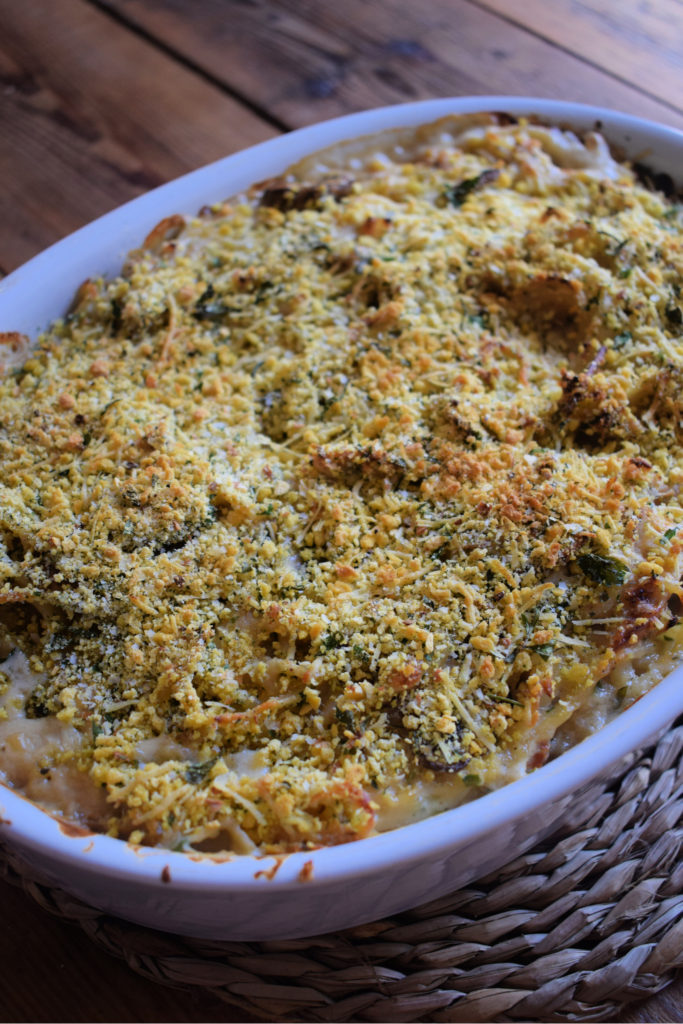 ---
Yes, You Can Even Made This Ahead Of Time
---
One of the really great things about this dish is that you can make it ahead of time to bake just before serving. So, it's prefect for weeknight dinners when you can do the prep work before hand. It's also a great kind of dish you can make for friends and deliver unbaked. They they can just cook it when ready.
---
If Preparing in Advance to Bake Later, here's What to do
---
Once it's in the dish all ready to bake, you will just cover it with foil and leave it on the counter to cool to room temperature.
Place it in the fridge
Before you are ready to cook it, remove it from the fridge and preheat oven to 350 degrees F.
Increase the cooking time by about 10 minutes as you will be cooking it from cold.
If you notice the breadcrumbs browning too quickly, just place a loose sheet of aluminum foil over the top.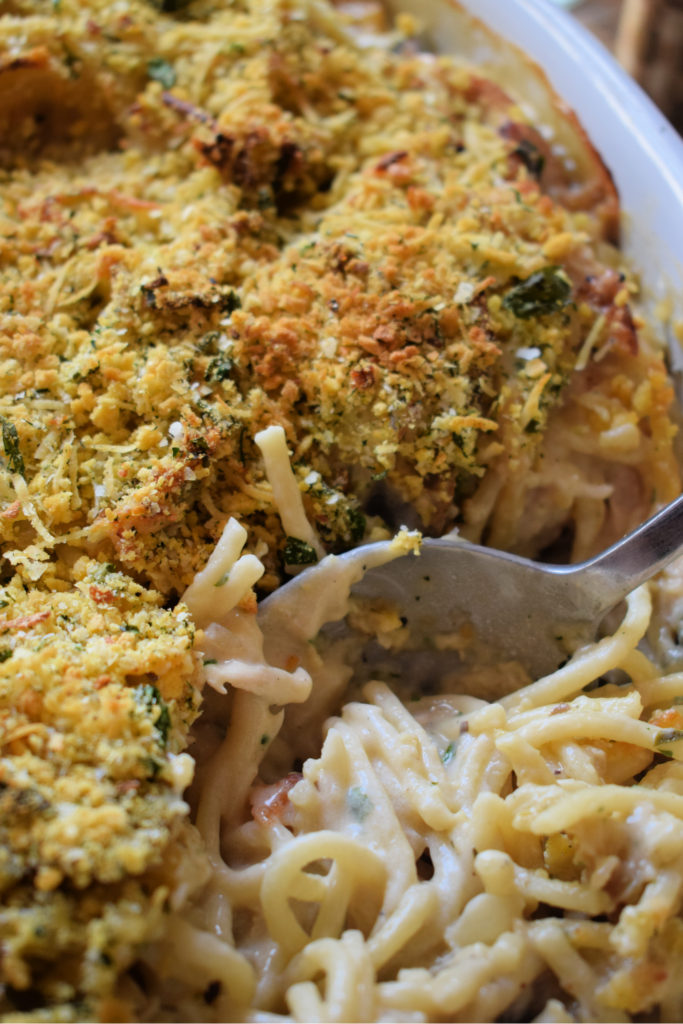 ---
Here's a Few Other Dishes You Might Like To Try
---
If you're a regular reader, you'll know my love for comforting pasta dishes. Big love! I've put just a few here that you might want to take a look at. But if you browse through the Pasta Section on the blog you'll find a whole lot more to temp those taste buds.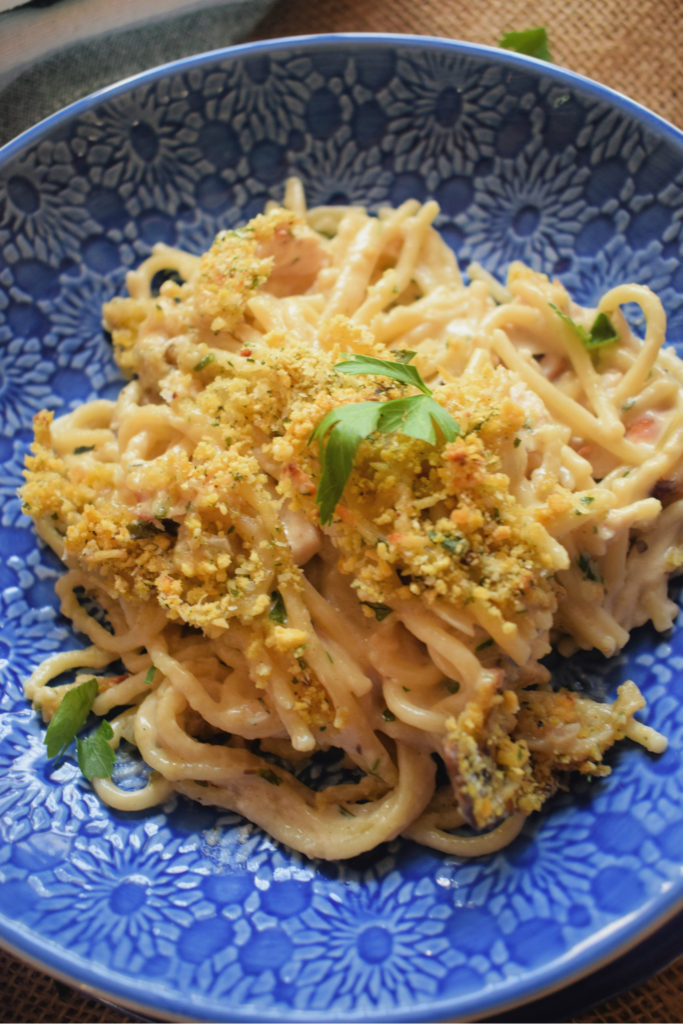 ---
Well friends, that just about sums of this mouth watering Turkey Tetrazzini. I'm off to the kitchen now to work on a few new recipes ahead of enjoying some sunshine this weekend. Hope everyone is well and enjoying summer to the fullest. I'll see you all soon.
Keep cooking and stay cool!
---
Like what you see today? Don't forget you can follow on Facebook for daily inspiration or over on Instagram where I sometimes do daily cooking videos for fun! I'm also on Pinterest which is a great place that you can save and share your favourite recipes. As well, if you haven't yet, Subscribe to the newsletter. You'll be notified whenever there's a new recipe! You can do that at the top of the page.
---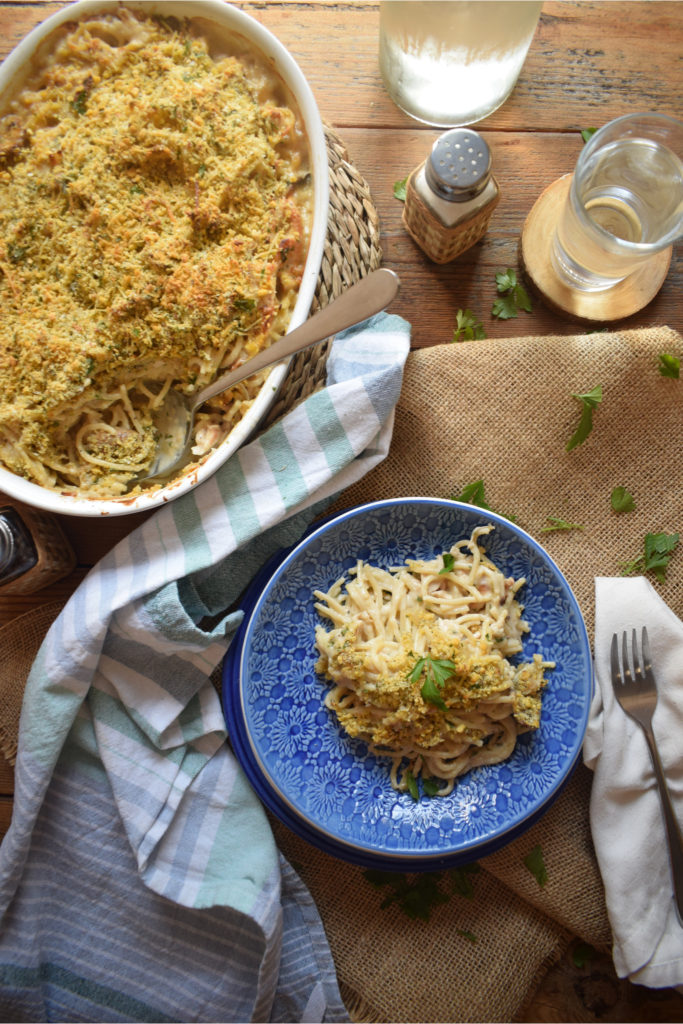 ---
Get The Recipe!
---
Classic Turkey Tetrazzini
Creamy pasta dishes can be enjoyed any season. This Classic Turkey Tetrazzini is no exception with it's sauteed mushrooms, tender turkey, creamy parmesan sauce and a delicious pasta. An absolute pleaser for all pasta lovers.
Ingredients
1

lb

turkey breast

1

tbsp

olive oil

5

tbsp

butter

divided

10

oz

white mushrooms

sliced

1

yellow onion

finely diced

3

garlic cloves

crushed

1

tsp

oregano

1

tsp

thyme

1/3

cup

flour

2 1/2

cups

milk

1

cup

cream

2

cups

chicken stock

1 1/4

cups

parmesan cheese

finely grated and divided

1/2

cup

panko bread crumbs

small bunch fresh parsley

finely chopped

12

ounces

spaghetti

1

tsp

salt

divided

1

tsp

black pepper

divided
Instructions
Preheat oven to 375 degrees F/190 C. Grease a deep sided large casserole dish.

Season both sides of the turkey with half of the salt and pepper. Heat 1 tbsp of olive oil in a large skillet over medium to high heat. Add the turkey and cook each side for about 6 minutes, or until cooked through. Remove from pan and transfer to a cutting board. Shred with two forks and set aside.

While the turkey is cooking, cook spaghetti or linguini for 8 minutes. Drain and set aside.

Combine bread crumbs with1/3 cup parmesan cheese and about 1 tablespoon of the parsley. Whisk to combine and set aside.

In the reserved skillet, add two tablespoons of the butter. Add the mushrooms and cook, stirring occasionally for about 3 minutes. Add the onions, garlic and dry herbs. Stir really well and continue to cook for about 3 – 4 minutes. Remove the mixture from the pan and set aside.

In the same pan, add remaining butter and stir until it has melted. About 30 seconds to a minutes. Add all the flour at once and quickly whisk into the butter until a paste forms.

Gradually start adding the stock and whisk as your pour. Continue to pour and whisk until you are used all the stock. There should be no lumps. Add the milk and the cream. Whisk for 2- 3 minutes until it starts to bubble and thicken. Season with salt and pepper and add remaining parmesan cheese. Stir to combine and remove from heat.

Add the turkey, mushrooms and spaghetti to the sauce. Stir well to combine. Pour into the prepared casserole dish. Top with bread crumb mixture and bake in your preheated oven for 25-30 minutes. The sauce will be bubbly and the crust browned.

Remove from heat and let stand about 10 minutes before serving.
*A note on times provided: appliances vary, any prep and/or cook times provided are estimates only.
Nutrition Facts
Classic Turkey Tetrazzini
Amount Per Serving (1 serving)
Calories 579
Calories from Fat 261
% Daily Value*
Fat 29g45%
Cholesterol 111mg37%
Sodium 886mg39%
Potassium 583mg17%
Carbohydrates 49g16%
Protein 30g60%
Vitamin A 925IU19%
Vitamin C 3mg4%
Calcium 325mg33%
Iron 2mg11%
* Percent Daily Values are based on a 2000 calorie diet.
---
Thanks For Stopping By And Hope To See You Soon!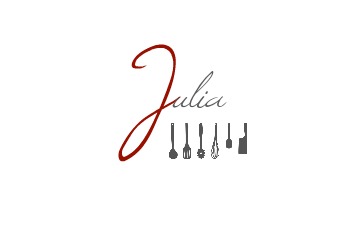 By