What, french fries? Yes, french fries! Basic, easy and good. You'll want to make these. It's easy to associate fries with having to be fried, but these Crispy Oven Fries are perfect every time. Take a look!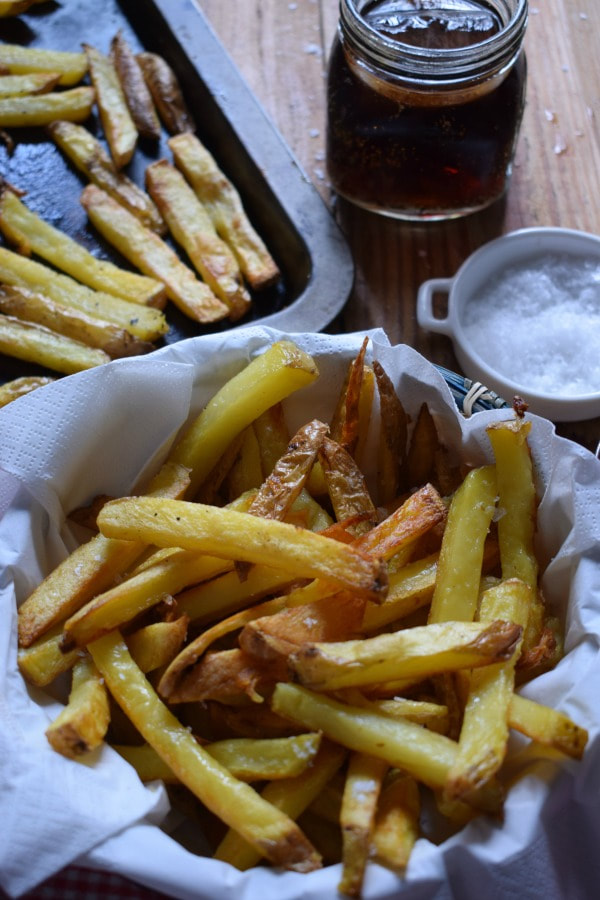 ---
Everyone loves fries, right? Well, if not, why not?
Well, I love them. Admittedly, I don't have them often, but I sure can eat them when I do indulge. And, honestly, what better way than with this baked not fried version. And I can't tell you how great they go with the Chicken Cutlet Sandwiches with Roasted Italian Peppers.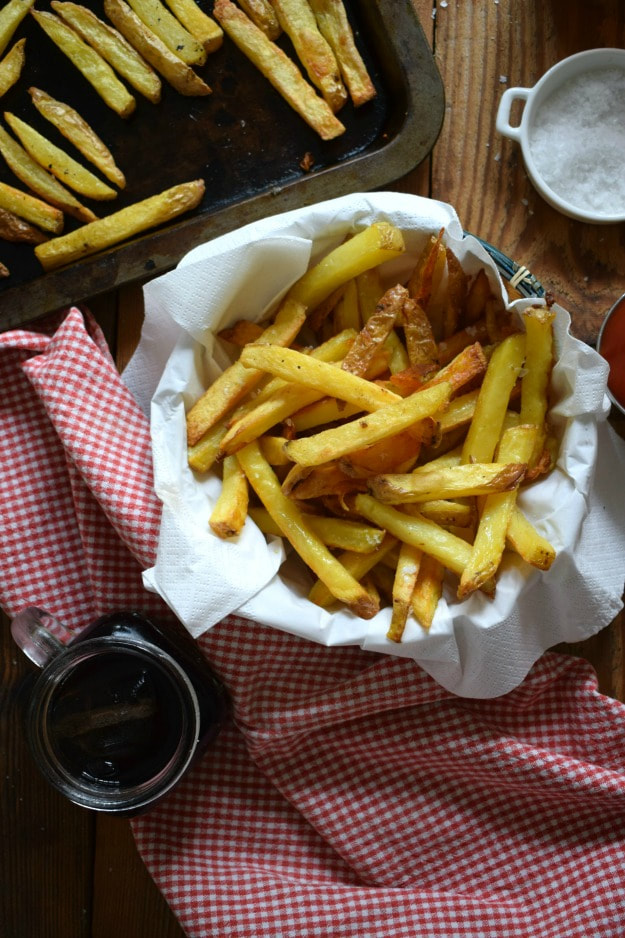 ---
What do we need to make Crispy Oven Fries
Just three simple ingredients. Now listen carefully…..
You need to find potatoes are largish and considered good for frying or baking potatoes. Sometimes these could be called russet potatoes. If you're not sure, ask in your grocery store. Do not, and I repeat do NOT use baby potatoes, new potatoes or fingerling potatoes. All of these potatoes have a high water content and you will not get crispy fries.
I recommend a vegetable oil like sunflower. I find it works really well for getting a good flavour to the fries.
You can use any salt you like, but salt really is a must.
Like I said, they are a treat after all!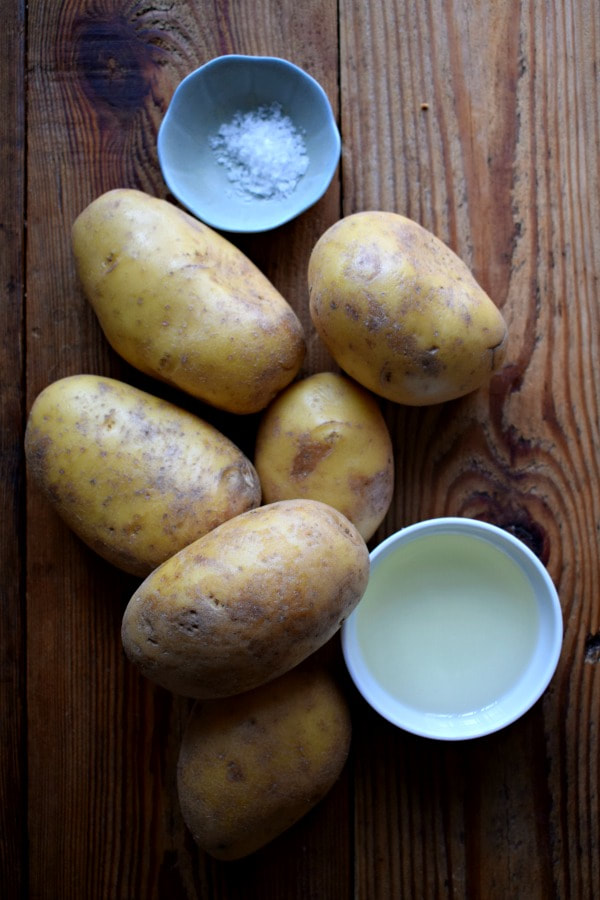 ---
Peel or keep the skin on
You can choose to peel the potatoes or keep the skin on. Your choice. If you keep the skin on, give them a good wash and scrub.
Cutting the potatoes
You will see in the photo below that I use a cutter. This isn't necessary, it just makes life easy. If you are hand cutting them, just cut the potato into 1 inch thick slices. Then cut those slices into long fries. Make sense?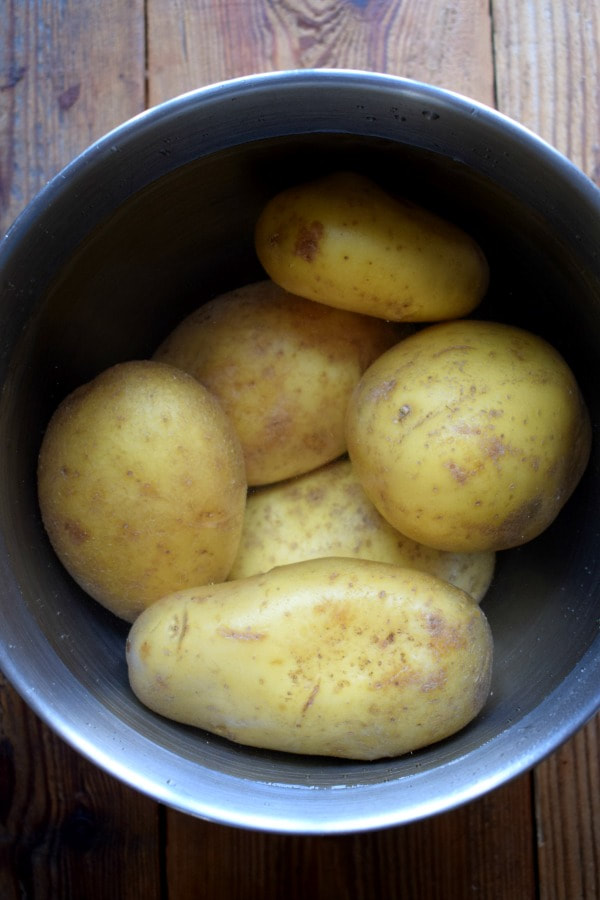 ---
You are targeting something like this! Again, these come out perfect because of my cutter, but you can just as easily hand cut your fries.
Soak the fries
This is a must! I soak them for about 30 minutes. Honestly, some people say do it for hours or even overnight but you really don't need to. I rarely soak them for longer than 30 minutes. You might ask, why are we soaking them? It helps them reach the ultimate crispness!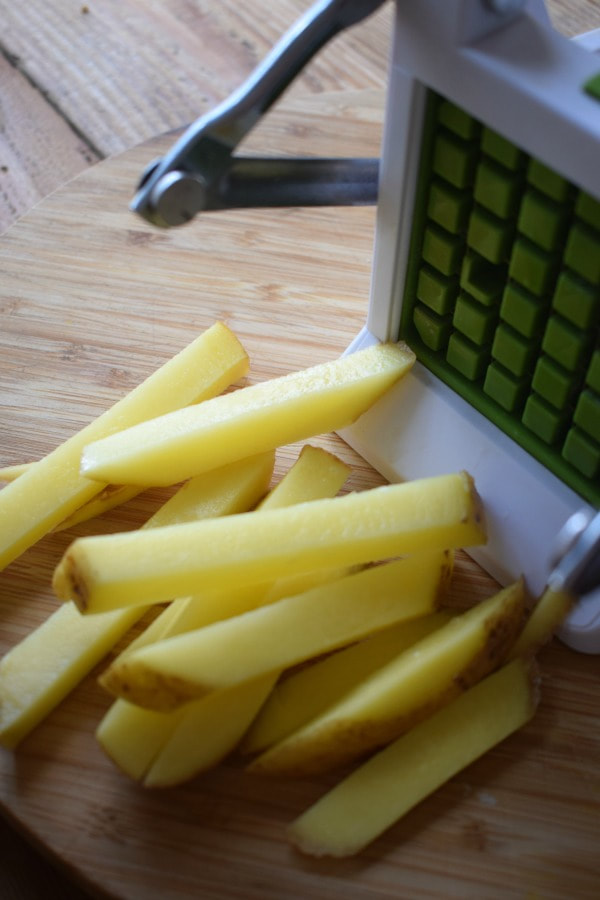 ---
Next up, drain the fries
Like all the previous steps, this is equally as important. I put them in a colander and give them a really good shake over the sink. I usually do this a few times. After you drain off the excess water, lay them out on a large clean tea towel. You may need two tea towels. Roll them around and get them really dry. Once you are happy with how dry they are, coat them in the salt.
Arrange the fries on two baking trays if necessary. For this batch of 6 large potatoes, I needed two trays. Evenly spread them out and then drizzle over the oil. Give them a toss on the pan to coat with oil evenly.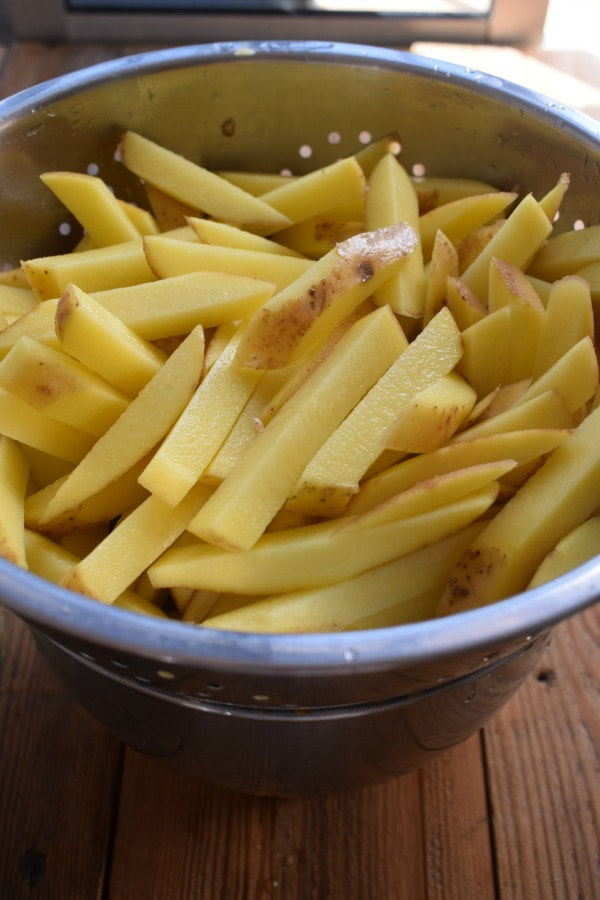 ---
Cook those fries and get them crispy
Preheat the oven to 400 degrees F. If using two trays, you'll need to cook on two racks in the oven. Try to place the racks in the lower two thirds of the oven. Cook them for around 25 minutes. Remove from oven and give the pans a really good shake and loosen them if they are stuck to the bottom. Return the trays to the oven and cook for a further 20 – 25 minutes or until they are perfectly crisp.
All fries are best served straight away. Enjoy!
See full recipe at bottom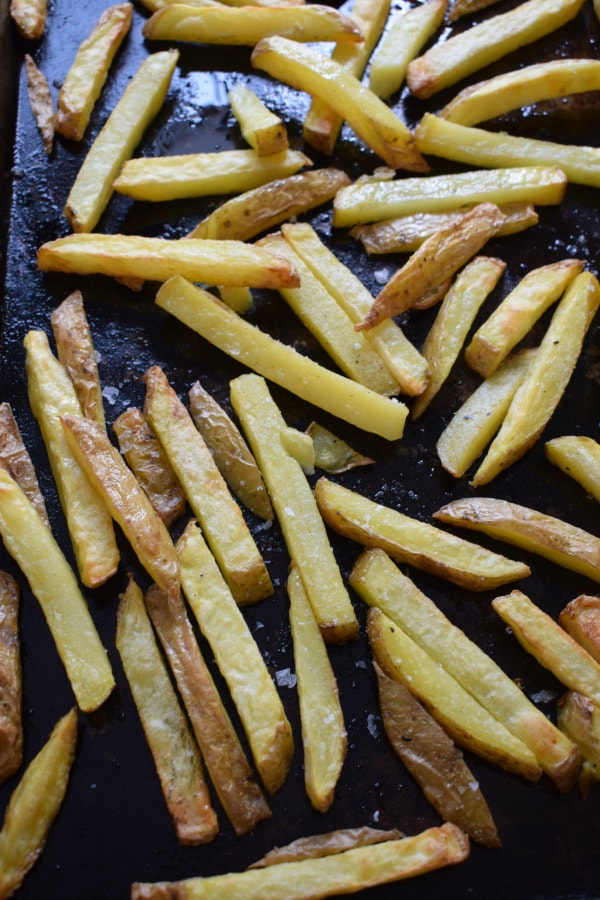 ---
Enjoy The Crispy Oven Fries
And that's it folks. The prefect Crispy Oven Fries.
I know, you are probably thinking "we all know this anyway". And you most likely do! But one of my aims moving forward with my blog is being more informative with the food. As in, I want even the most basic beginner to be able to come here and feel like there is nothing in their way! I know when I stared out cooking, I needed all the help and instructions that I could get my hands on. So, I'm keeping that in mind with all my future posts. And if you are a seasoned cook/chef/baker, you can just be amused…ha!
When my husband is explaining something technical to me (I'm not technically minded), I always say, "Explain it to me like I'm five.". I kid you not. It works.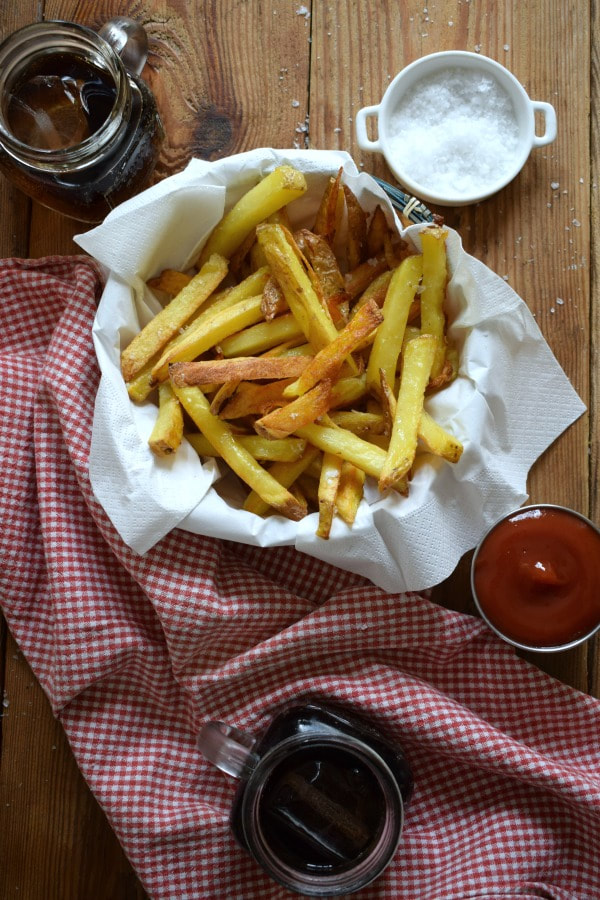 ---
That's a Wrap For Today
If you have been a long time reader and haven't been around in a while, you might notice the subtle changes. I know some people are on board and some aren't, but it's all good! And the new website will be coming in just over a month. Good or bad….hahaha!
Thanks for checking in today and don't forget to come back on Friday for something really special. It's a recipe you won't want to miss. Promise.
And if you're looking for something to serve with these fries, you need to check out The Best Chicken Sandwiches, Pan Fried Hake or the Slow Cooker Barbecue Ribs.
Happy cooking folks and see you in a few days!
---
Like what you see today? Don't forget you can follow on Facebook for daily inspiration or over on Instagram where I sometimes do daily cooking videos for fun! I'm also on Pinterest which is a great place that you can save and share your favourite recipes. As well, if you haven't yet, Subscribe to the newsletter. You'll be notified whenever there's a new recipe! You can do that at the top of the page.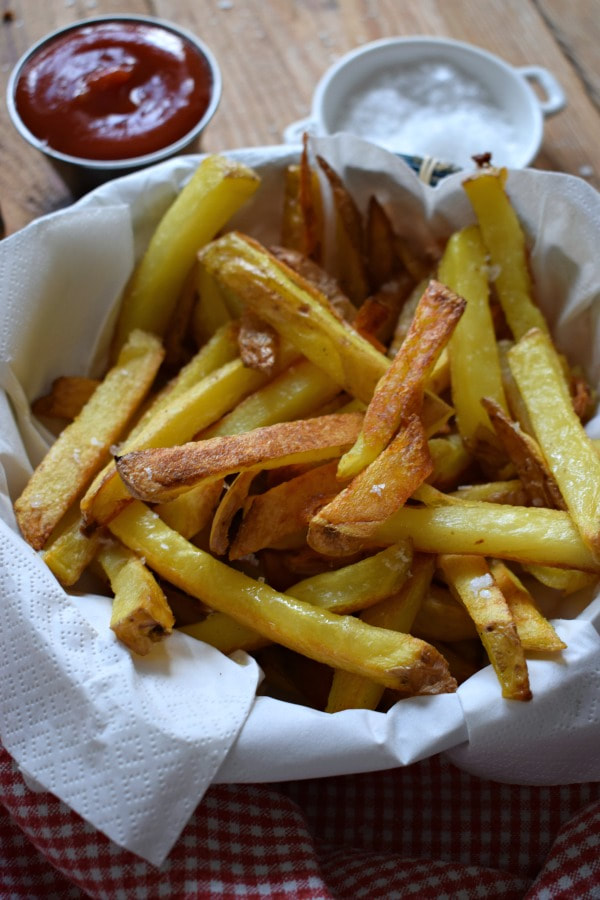 ---
Crispy Oven Fries
What, french fries?  Yes, french fires!  Basic, easy and good.  You'll want to make these.  It's easy to associate fries with having to be fried, but these Crispy Oven Fries are perfect every time.  Take a look!
Ingredients
6

potatoes

large

1/4

Cup

vegetable oil

2

Teaspoons

salt
Instructions
Preheat oven to 400 degrees F. Have ready two large baking trays.

Wash and scrub the potatoes. If using a french fry cutter, place the potato in and push it through to get perfect fries. If cutting manually with a knife, cut the potato into 1 inch slices. Then cut then into strips about 1/2 inch thickness. Repeat for all potatoes.

Place the potatoes in a large bowl of cold water and let sit for about 30 minutes. Wash and rinse. Drain in a colander. Then dry in a clean tea towel. Toss in the salt.

Evenly distribute the fries on two of the trays. It's important they don't overlap. Drizzle over the vegetable oil and toss to coat.

Bake in the oven for about 25 minutes. Remove trays and give the pans a good shake and loosen them from the pan if they are stuck. Return to oven for a further 20 – 25 minutes or until perfectly crisp.

Serve immediately.
*A note on times provided: appliances vary, any prep and/or cook times provided are estimates only.
Nutrition Facts
Crispy Oven Fries
Amount Per Serving
Calories 363
Calories from Fat 126
% Daily Value*
Fat 14g22%
Sodium 1182mg51%
Potassium 1345mg38%
Carbohydrates 56g19%
Protein 6g12%
Vitamin C 63mg76%
Calcium 38mg4%
Iron 2mg11%
* Percent Daily Values are based on a 2000 calorie diet.
---
Thanks for stopping by and come back soon!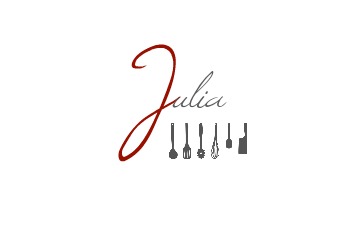 By