This Homemade Lemon Curd needs to go on your must make list soon. Using just four ingredients and you can make it in no time at all. Great for pies, cakes, scones and so much more.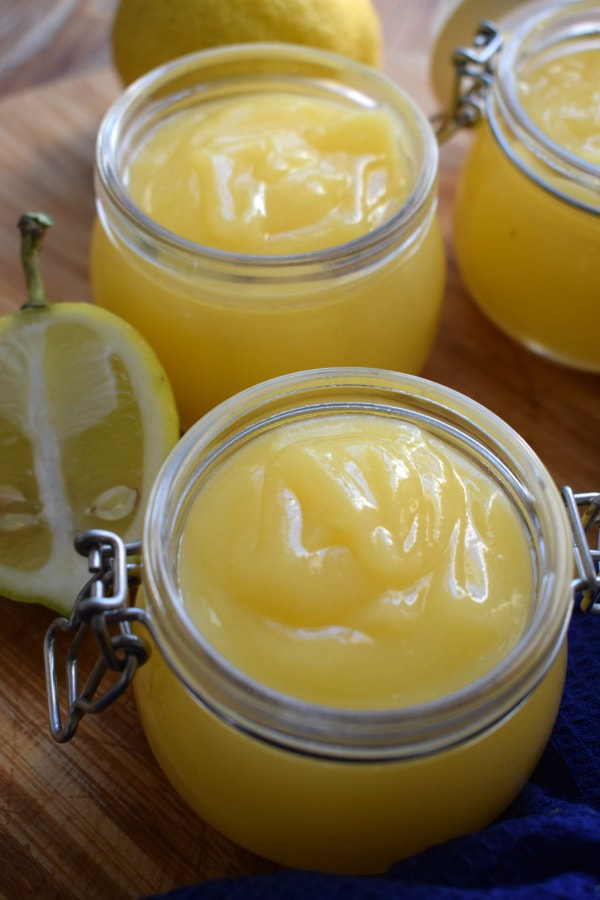 Lemons Everywhere
And just like that someone flicked a switch and we have a tree full of lemons. It's a good thing, a real good thing. I'm still in awe at times, that I have a lemon tree in my garden. After almost 23 years living here in Spain, sometimes, I still forget where I live. Then I see lemons in January and am reminded once again of my very sunny location.
If you happen to be nearby, ask for lemons and I'll fill you a bag.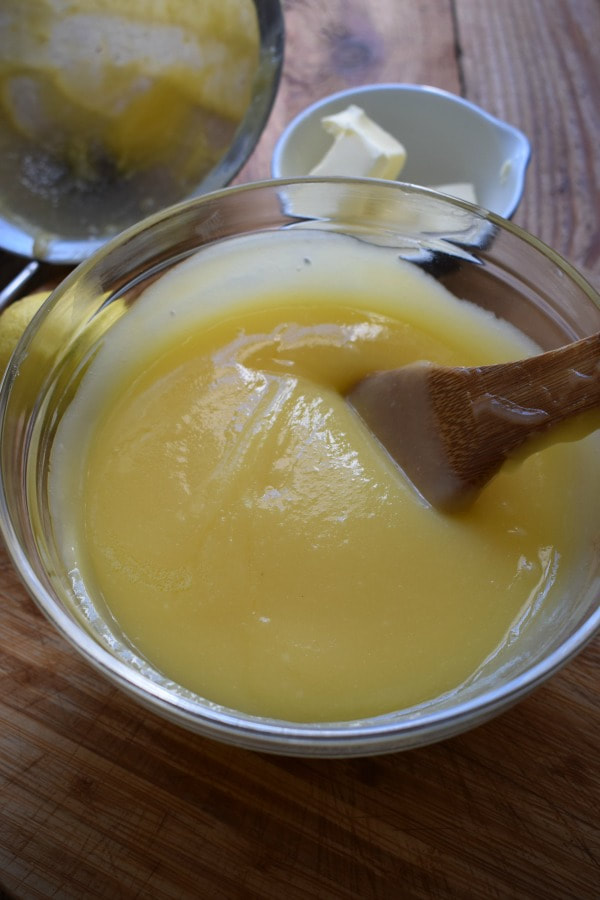 ---
What you need to make Lemon Curd
There are so few ingredients involved in making Lemon Curd. You just need lemons, eggs, sugar and butter. Easy. Yes, you need to use real lemons. Don't try to substitute by using lemon juice from a bottle, it just won't be the same.
You're also going to need a double boiler. Don't know what that is? It's just a two in one pot where you can put water at the bottom. If you don't have one, don't worry. You can just put water in a saucepan, and then place another saucepan on top of that saucepan. Make sense. I did this for a long time before I got my hands on a double boiler.
You have to use a double boiler because you can't put the eggs over straight heat. They will cook and curdle. I don't think anyone want's Lemon Curd scrambled eggs.
Now, let's make the Lemon Curd.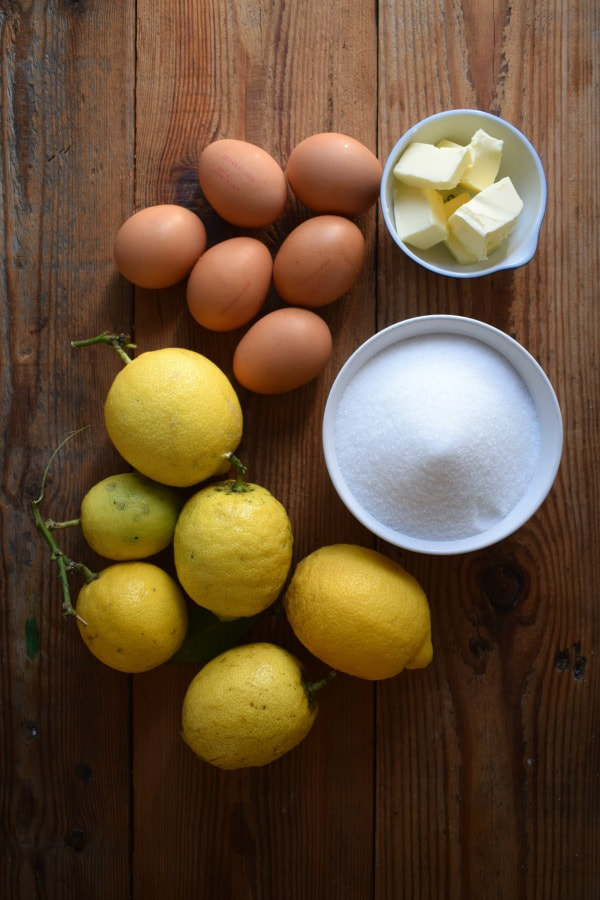 ---
How to make It
First up, squeeze all your lemons. It's best to use some kind of juicer, either a manual or electric one. You can hand squeeze the lemons, it's just more difficult to get all the juice out. Also, you'll have to fish out the seeds afterwards. So, if you have a juicer of any kind, just use it to make life a little easier.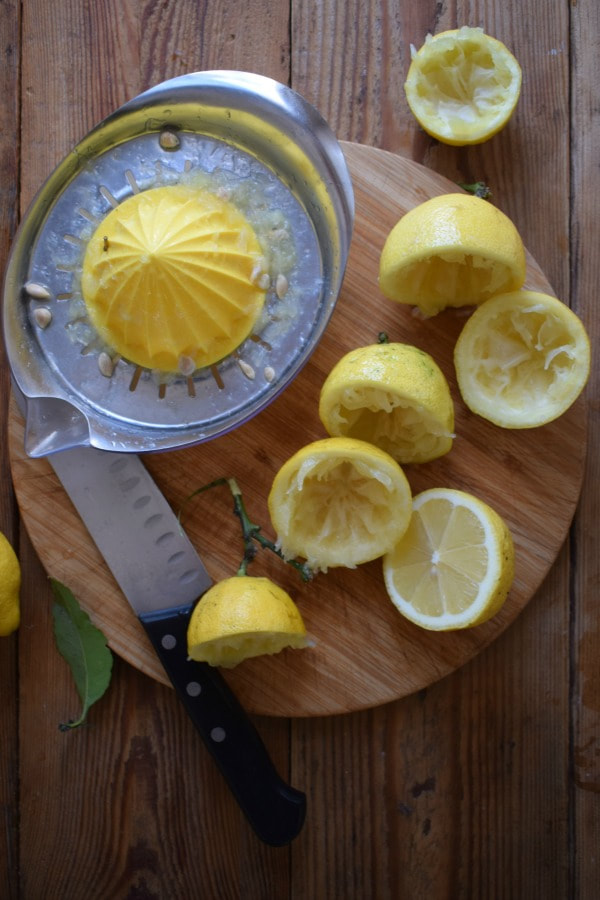 ---
Add the lemon juice, eggs, and sugar in a saucepan placed over another saucepan or a double boiler. Place on the stove top and set the heat to medium. Start whisking until it is completely blended.
Continue to whisk or stir as it cooks. You need to do this to ensure even cooking as well as to prevent curdling.
The whisking might seems tedious, but it's worth it. At first it seems like it isn't doing anything, but continue to whisk and it will start to thicken.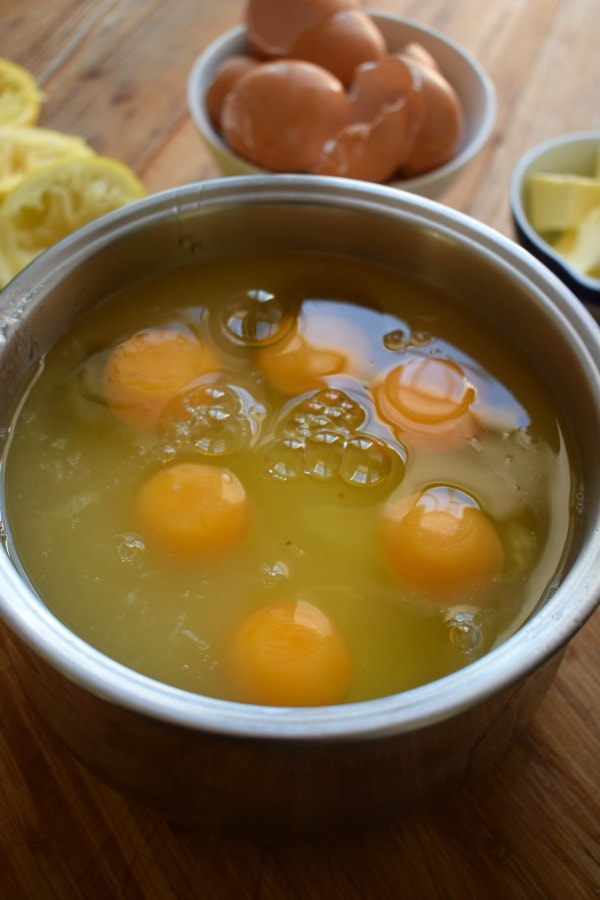 ---
What Happens When It Starts To Thicken
Once it starts thickening, it becomes thick very quickly. At this stage remove from heat. Pour the Lemon Curd through a fine strainer. You may think it's a good idea to skip this step, don't! There will be some small lumps and you want to get rid of those to have the smoothest result.
After it's strained, add in the butter. Give a really good stir.
It will thicken as it cools, so don't worry if it's not as set as you think it should be. The fridge will do that magic for you.
It can be used straight away or you can store it in the fridge for up to a month in a sealed glass jar.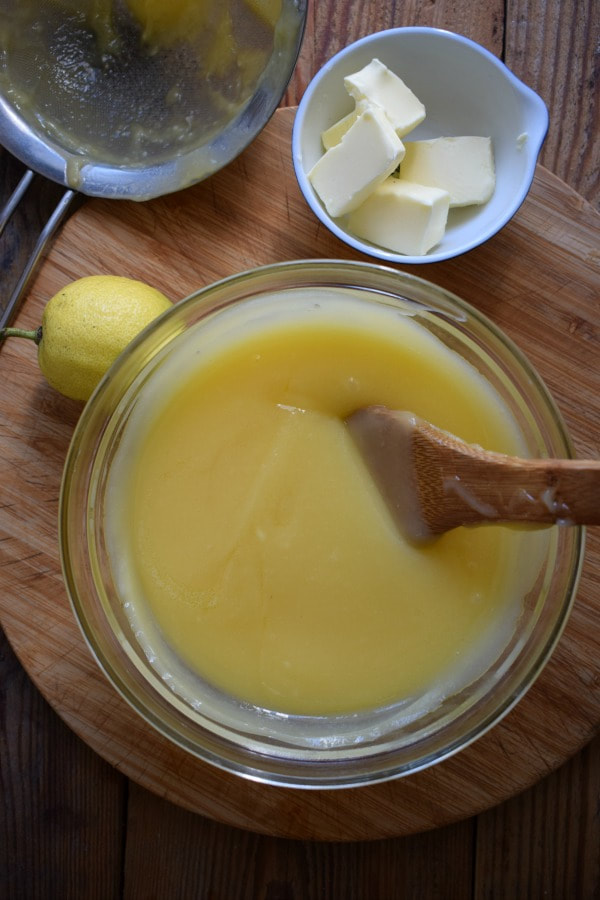 ---
If you've never tried making it, it's honestly so easy and so delicious. Yes, it's a bit on the sweet side as you'll see in the recipe below….eeek. January, doesn't have to be all clean eating right? Besides, considering it's supposed to be the most depressing month of the year, why deprive ourselves of one of life's simple pleasures. Food!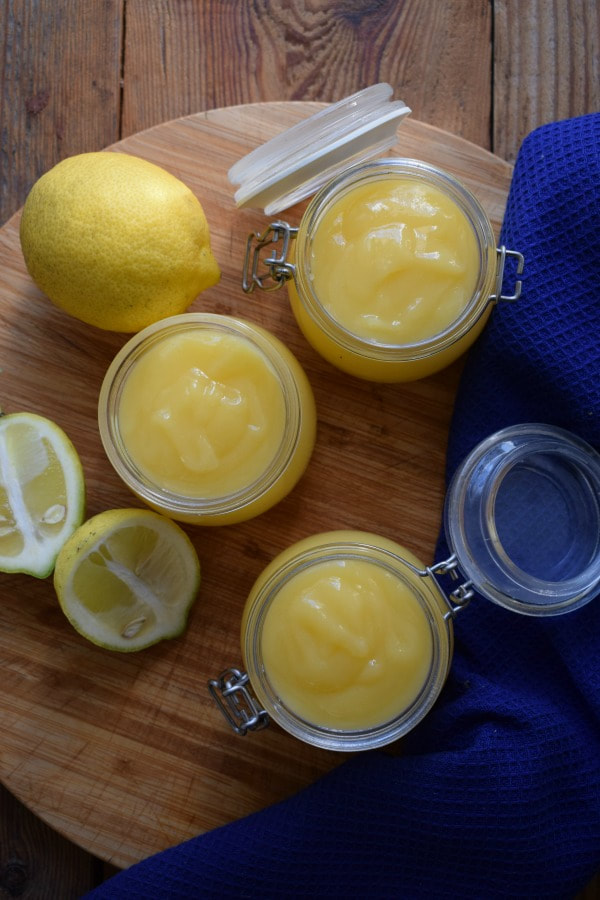 ---
Ways to Use The Lemon Curd
It can be used in so many ways and is delicious in just about anything you put it in. Goes great in pies, tarts, on scones, in muffins, as a layering for cakes, in parfaits or even on toast. The list is endless of what you can use it for. here's a few recipes to get you started.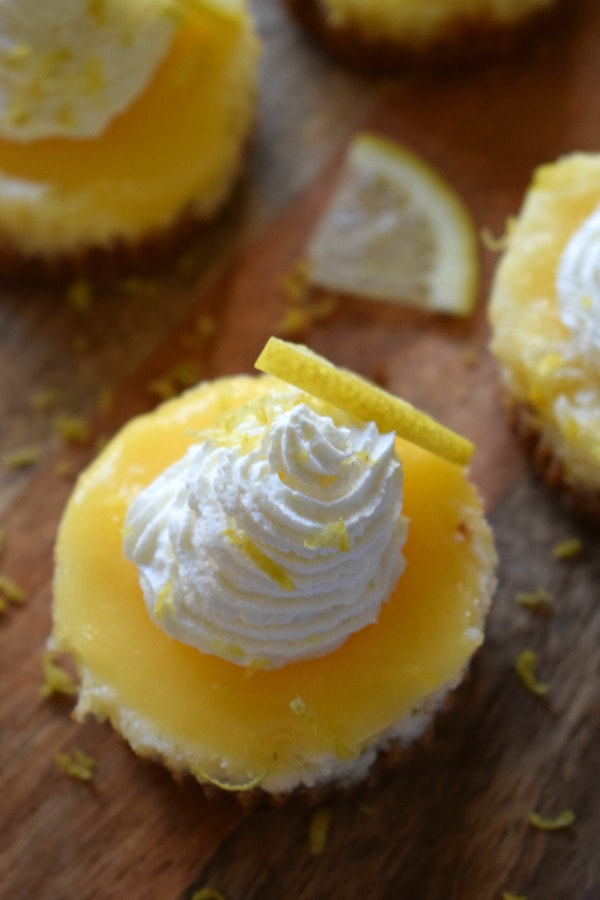 ---
Make It And Love it
I hope you get a chance to try out the recipe. If you have any questions, just fire away in the comment box below and I'll get back to you as quickly as I can.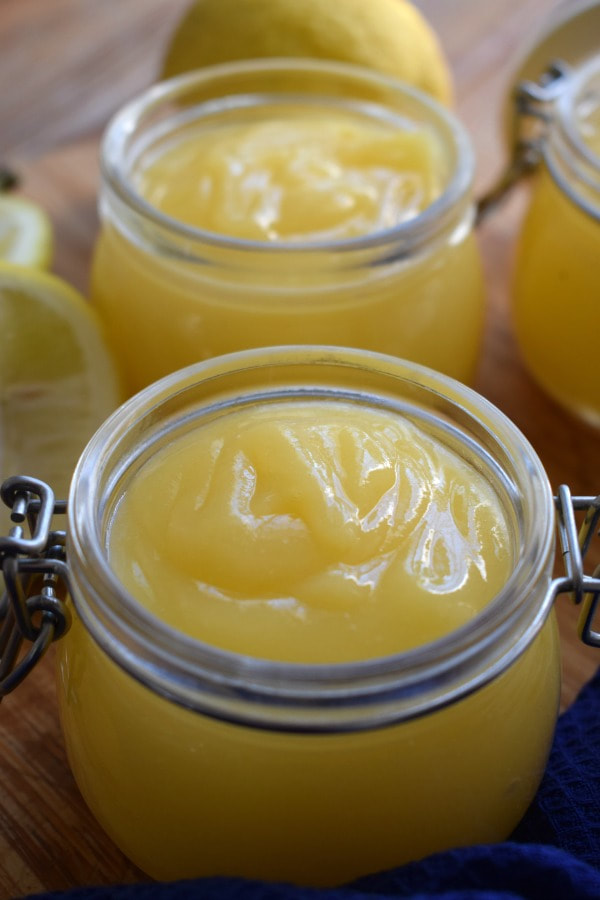 ---
Like what you see today? Don't forget you can follow on Facebook for daily inspiration or over on Instagram where I sometimes do daily cooking videos for fun! I'm also on Pinterest which is a great place that you can save and share your favourite recipes. As well, if you haven't yet, Subscribe to the newsletter. You'll be notified whenever there's a new recipe! You can do that at the top of the page.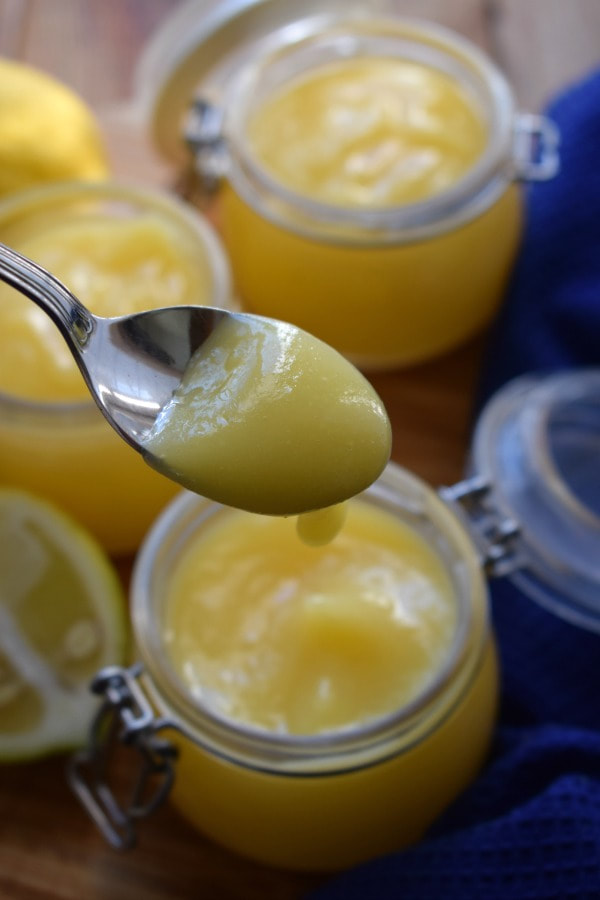 ---
Homemade Lemon Curd
Ingredients
6

eggs

large

1 1/2

Cups

white sugar

1

Cup

lemon juice

fresh

5

Tablespoons

butter
Instructions
In a stainless steel bowl placed over simmering water, whisk together the eggs, sugar and lemon juice until blended. Cook, stirring constantly. This is really important, otherwise you risk the chance of it curdling. Continue to stir until it becomes thick. This will take between 5-10 minutes. Once it has reached a lovely thick and creamy texture, immediately remove from heat. Put through a fine strainer to remove any lumps. Cut in the butter and give a good stir.

Can be used straight away or stored in a glass jar in the fridge for up to a month.

Lemon curd is delicious used as a filling for cakes, pies, tarts, on scones and the list goes on.
*A note on times provided: appliances vary, any prep and/or cook times provided are estimates only.
Nutrition Facts
Homemade Lemon Curd
Amount Per Serving (1 serving)
Calories 262
Calories from Fat 90
% Daily Value*
Fat 10g15%
Cholesterol 142mg47%
Sodium 110mg5%
Potassium 77mg2%
Carbohydrates 40g13%
Protein 4g8%
Vitamin A 397IU8%
Vitamin C 12mg15%
Calcium 22mg2%
Iron 1mg6%
* Percent Daily Values are based on a 2000 calorie diet.
---
Thanks For Stopping By And Hope To See You Soon!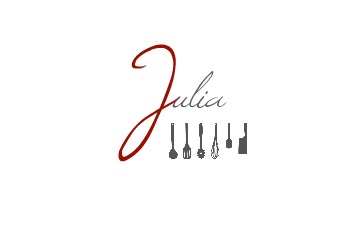 By