What better way to head into May than with these light and airy Lemon Curd Filled Scones. A perfect treat for a sunny day, or to brighten up a gloomy one for that matter.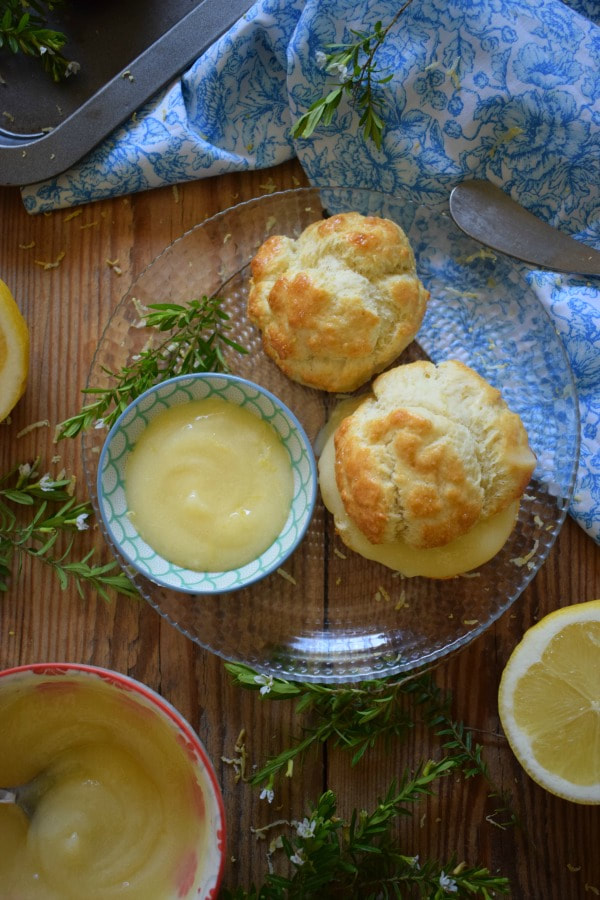 ---
I absolutely love Lemon Curd. I can easily eat it with a spoon no problem. And lucky for me, I have a lemon tree!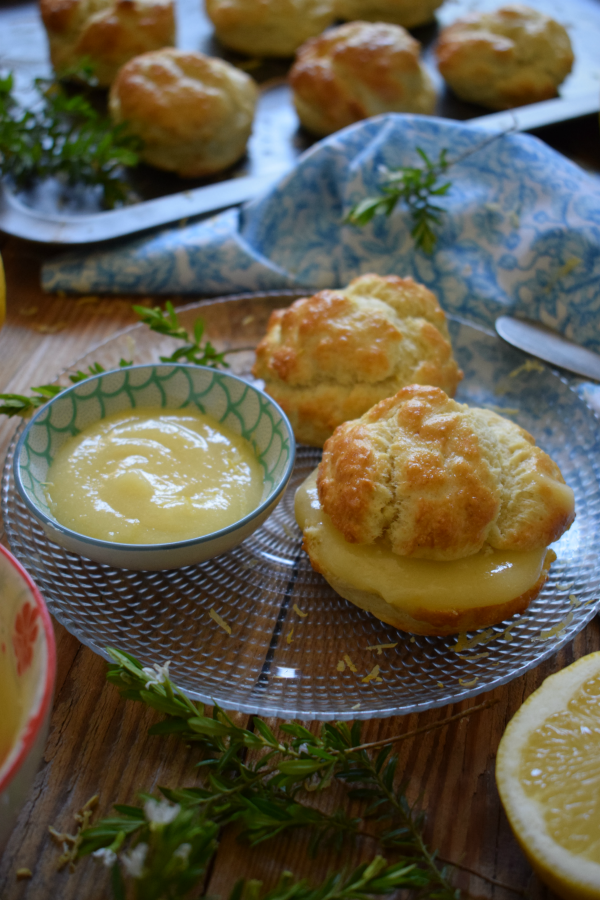 ---
This Lemon Curd recipe is on the blog in it's own separate post. If you happen to check out that post, you can see the lemon tree as well! We moved since then, but still have an abundant lemon tree. Lucky!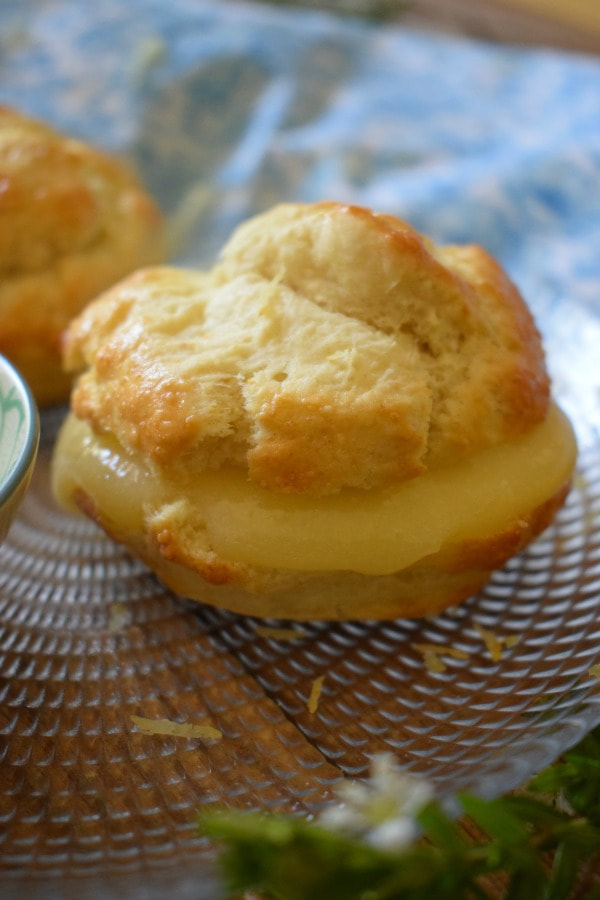 ---
Which kind of brings me to the making of these scones earlier in the week.
First of all, I think we can finally say winter is over and the storms have subsided until goodness knows when. If you live around my area, you know the winter we have had and the rain. I don't ever remember a year like it in the 21 years I have lived here. And we've seen a lot of rain.
So when I was out cleaning up after the torrential rain and all it's debris, tons of lemons had fallen off the tree. And what better use than Lemon Curd.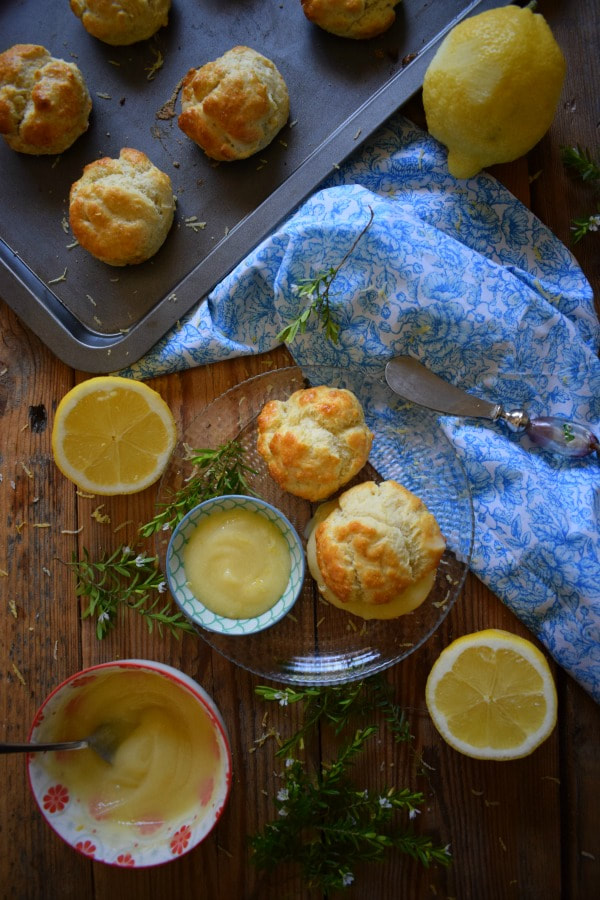 ---
So, that day I picked a few off the ground that had already dropped and lemon curd it was. As well as lemon tea, marinated lemon chicken and a few in a bowl for decoration.
The lemon saga continues.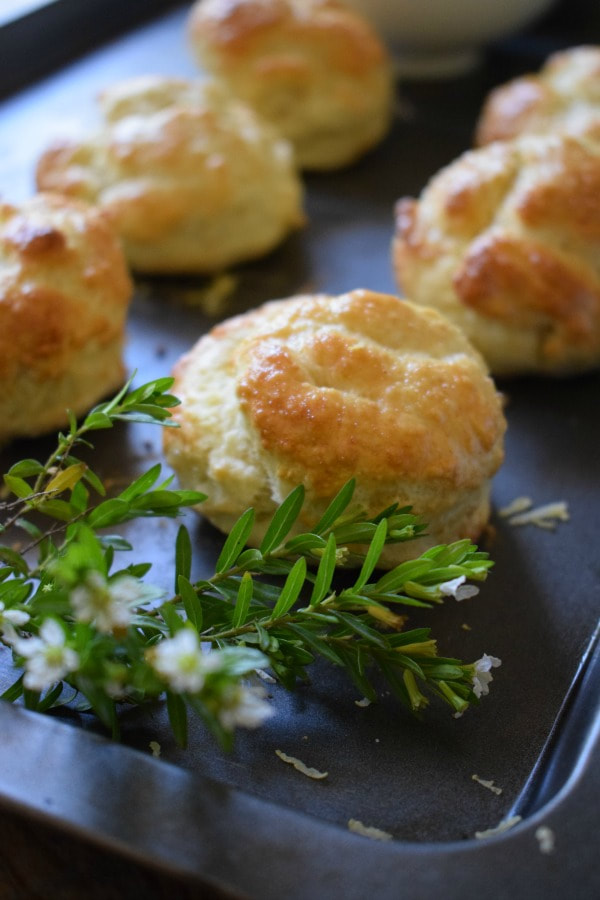 ---
Making Lemon Curd
---
Lemon Curd really is so easy to make. It requires minimal ingredients and the only technique is whisking. Easy. Here are a couple of notes just to make sure you get it right.
Always use fresh lemon juice. There really is no substitute for freshness or flavour, so don't buy that plastic bottled stuff. You will be disappointed.
Make sure you put it in a double boiler. Or a saucepan set over another saucepan of simmering water. This is important to even cooking of the curd. Otherwise you risk cooking the eggs too quickly and it will curdle.
And when it says whisk, it really does mean whisk. So if you just stir it occasionally the bottom will likely stick and cook too fast. For the first few minutes, it might not seem like it's doing anything, but it really is. It is just getting up to temperature and slowly cooking. Then once it starts to thicken, it finishes off quite quickly. You will probably notice that when it's done, it's not as thick as the stuff you might buy in a jar? Don't be alarmed, because as it cools, it thickens even more to the perfect consistency.
And yes strain it to get out any lumps. Even though it may seem like there are none, I guarantee you there will be a few.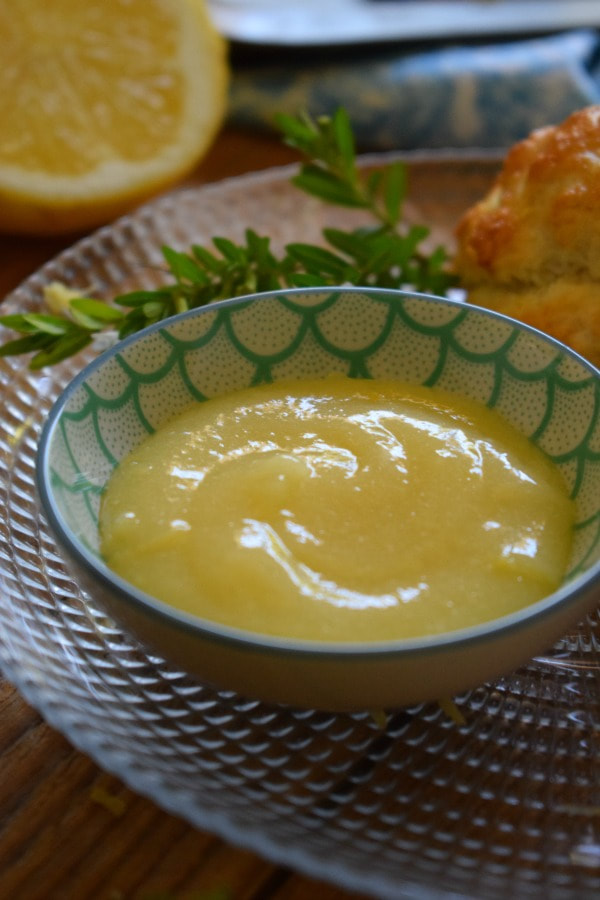 ---
Make The Scones
---
As for the scones themselves, easy also. These are drop scones and require very little ingredients, effort and technique. Here's what I would say to get them right.
Use cold butter, always. I have been using cold cubed butter in pasty and scones for years and it works every time. If you are tempted to use butter at room temperature, don't! It changes the consistency of the scones completely. The whole point of using cold butter, is that you end up some some butter not being completely incorporated and it then melts into the scone while it is cooking. This creates a buttery and somewhat flaky texture inside the scone. If you use room temperature butter, the texture of the scone will be more like muffin. Apart from that, they are made just as described in the recipe below.
These Lemon Curd Scones make the perfect spring treat, to go with a brunch, afternoon tea or even a late night snack.
And if you love scones as much as we do, check out my Strawberry Cream Scones as well!
Happy baking friends!
---
Like what you see today? Don't forget you can follow on Facebook for daily inspiration or over on Instagram where I sometimes do daily cooking videos for fun! I'm also on Pinterest which is a great place that you can save and share your favourite recipes. As well, if you haven't yet, Subscribe to the newsletter. You'll be notified whenever there's a new recipe! You can do that at the top of the page.
---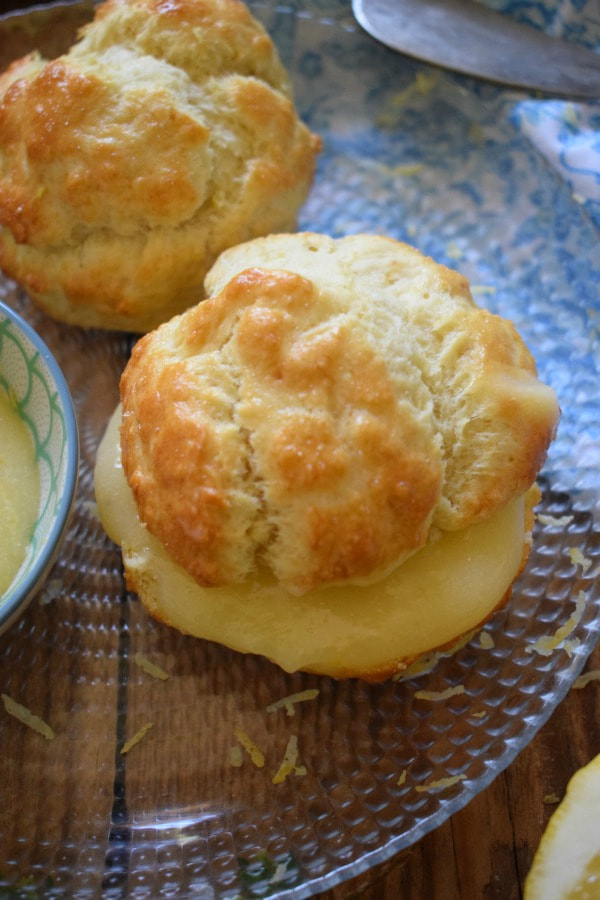 ---
Get the recipe!
---
Lemon Curd Filled Scones
What better way to head into May than with these Lemon Curd Filled Scones. Light and airy scones with a sweet lemon filling.
Ingredients
For the scones:
2

Cups

flour

4

teaspoons

baking powder

½

teaspoon

salt

1/3

Cup

butter

2/3

Cup

milk

1

Egg

lightly whisked for brushing
For the lemon curd:
3

large

eggs

3/4

Cup

white sugar

Juice from 3 lemons

4

Tablespoons

butter
Instructions
Preheat oven to 400 degrees F and grease a baking tray.

In a large mixing bowl, add flour, baking powder and salt. Whisk lightly to combine. Cut in butter and use the tips of your fingers to incorporate it until it resembles a bread crumb mixture. Add milk all at once and stir until it comes together as a dough. Don't over mix.

Place the dough on a lightly floured surface and lightly press it out with your hands. With a small 2 inch circle cutter, cut out 8 scones. With a pastry brush, lightly brush the tops of the scones with the egg wash. Place on your baking tray and bake for 12-15 minutes. Remove from oven and set aside

In a stainless steel bowl placed over simmering water, whisk together the eggs, sugar and lemon juice until blended. Cook, stirring constantly. This is really important, otherwise you risk the chance of it curdling. Continue to stir until it becomes thick. This will take between 5-8 minutes. Once it has reached a lovely thick and creamy texture, immediately remove from heat. Put through a fine strainer to remove any lumps. Cut in the butter and give a good stir.

Serve scones topped with lemon curd.
*A note on times provided: appliances vary, any prep and/or cook times provided are estimates only.
Nutrition Facts
Lemon Curd Filled Scones
Amount Per Serving (1 scone)
Calories 352
Calories from Fat 153
% Daily Value*
Fat 17g26%
Cholesterol 128mg43%
Sodium 519mg23%
Potassium 94mg3%
Carbohydrates 44g15%
Protein 7g14%
Vitamin A 575IU12%
Calcium 163mg16%
Iron 2mg11%
* Percent Daily Values are based on a 2000 calorie diet.
---
Thanks For Stopping By & Hope To See You Soon!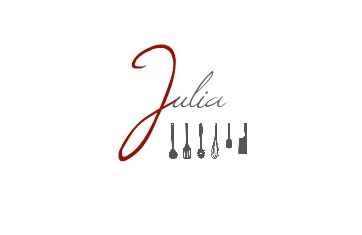 By