Crispy baked in the oven Parmesan Crusted Turkey Tenders could be on your dinner table tonight. Quick prep and cooking time makes them a great weeknight dinner. Add a salad and you're all set for dinner. Take a look!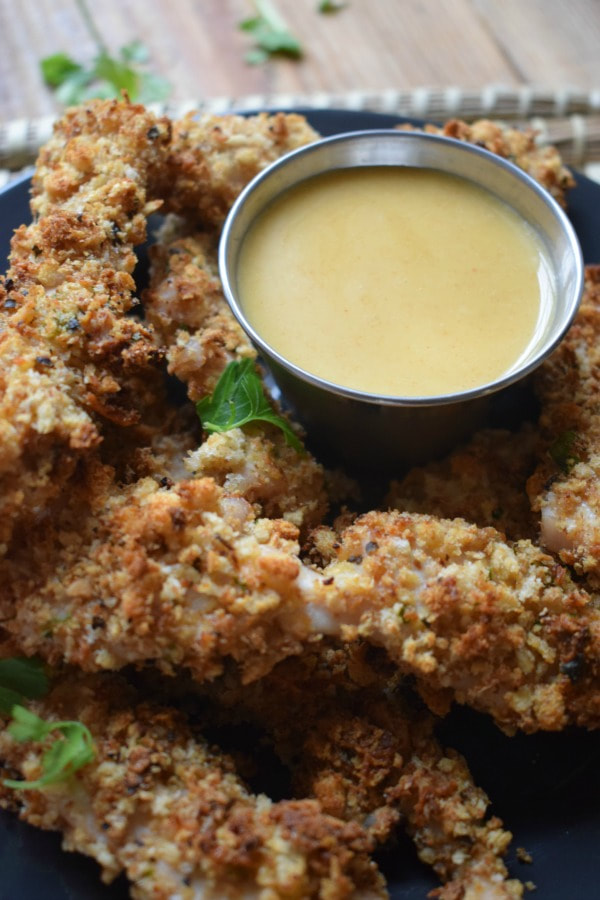 ---
What's Happening On The Home Front
And just like that, it's Monday once again. How does it go so fast and can we please hit pause on the weekend.
Our weekend was relatively relaxing and quiet. Saturday was spent in the kitchen cooking and photographing new recipes. I'm trying my very best to get three recipes out a week. I find if I organize myself to get all the new recipe cooking done and dusted in one day, this is much more likely to happen . Let's see how it goes.
---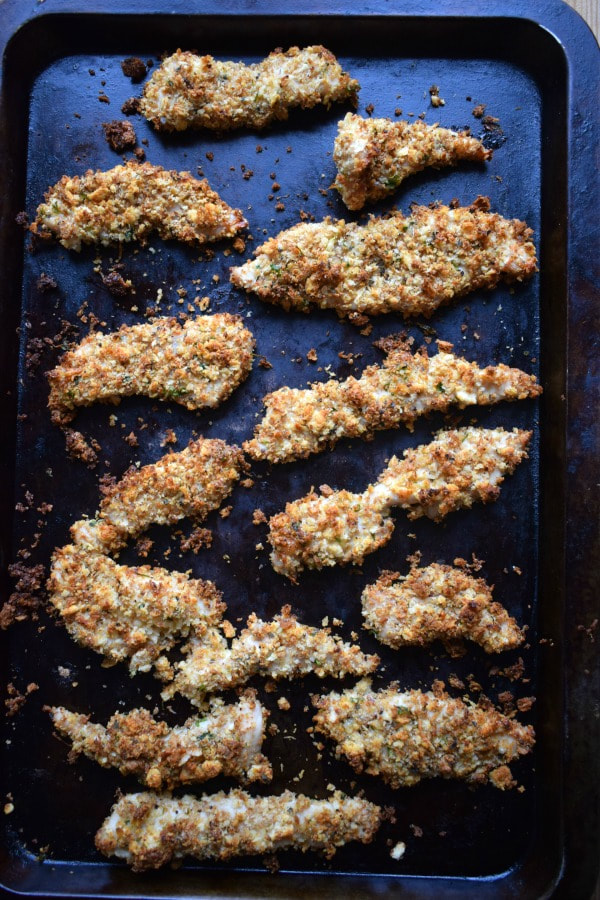 Work Better On My Own
On that note, I successfully cooked three new dishes to share this week. Starting today with this delicious dish.
So, Saturday is the best day for creating new stuff to share over here.
Plus the teens are low key on Saturdays and I don't usually have to do much by way of taking them places and other mundane mom things that we seem to have to do. Why?
Plus, Saturday is a low distraction day for me. My dear husband is at work, which he needs to be when I'm working in the kitchen. He's great, but creates chaos in every direction. Let's just say, working next to him faffing about in the kitchen off an on for a day leads to a stressed out me!
---
All that said, let's talk food and see these Turkey Tenders.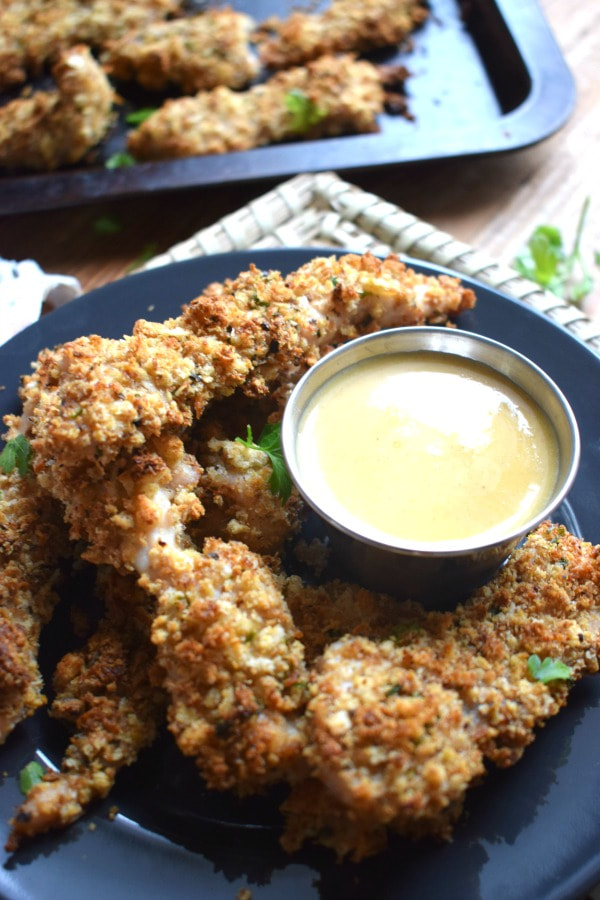 ---
What we need to make the Turkey Tenders
First off, I used turkey cutlets and cut them into strips. If you find those hard to get your hands on, just use turkey breasts.
TIP FOR TURNING TURKEY BREAST INTO TURKEY TENDERS! Place the breast between two sheets of parchment paper and using kitchen mallet to flatten them to about 1 inch in thickness. Then cut them into strips
I used fresh bread crumbs. Basically just sliced bread that I put in the food processor. Then there's a few herbs, spices, cheese and stuff to make the dip. You'll see a full list of ingredients in the recipe below.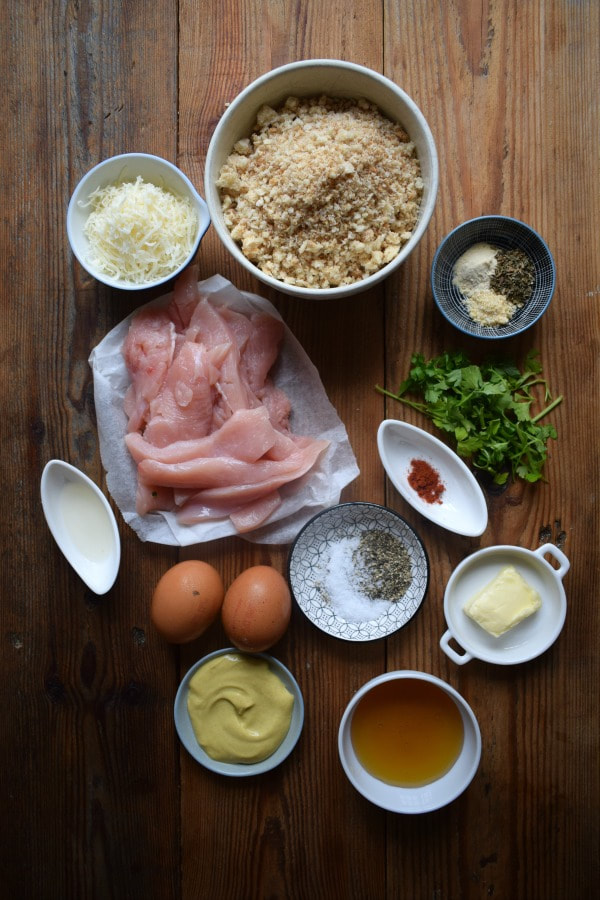 ---
Make your bread crumbs crispy
When using fresh bread crumbs in cooking, sometimes it's a good idea to crisp them up first. In this recipe, it's essential. If you don't get them crispy before coating the Turkey Tenders, you likely won't get the best result. So, make sure not to skip this step.
The easiest way to do this is on the stove top. Just melt the butter in a skillet set over medium heat. Add the bread crumbs and give a good stir. Add the seasonings and stir for a few minutes until the are a bit golden. Then take them off the heat and let them cool.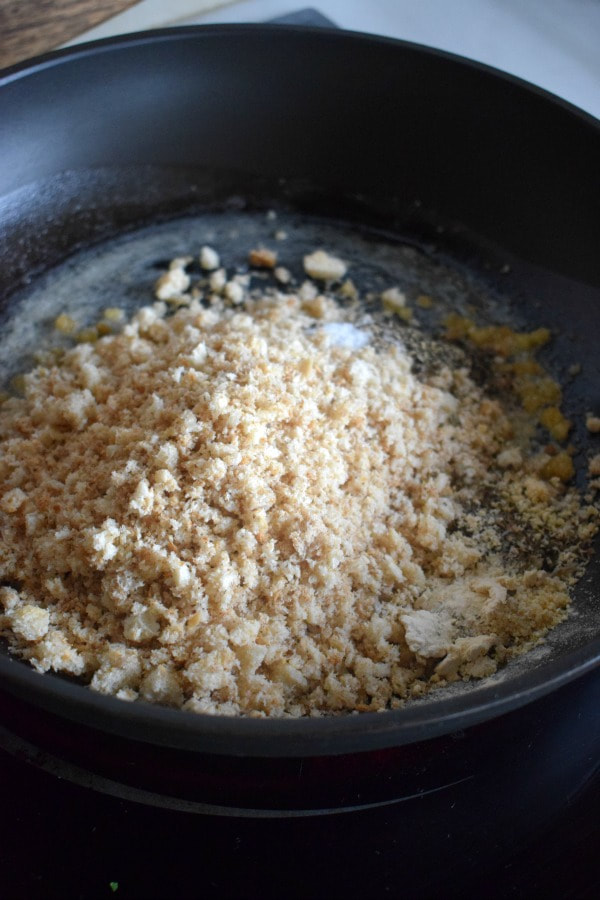 ---
After you've crisped the bread crumbs, let them cool for a few minutes before. If you want to speed up the cooling process, just shake the pan a few time to help them cool down.
Don't add the parmesan cheese until the bread crumbs have cooled. If you add the cheese too soon, it will melt into the bread in clumps. You don't want that.
Add the parmesan and parsley to the cooled bread crumbs and you're ready to put these Turkey Tenders together.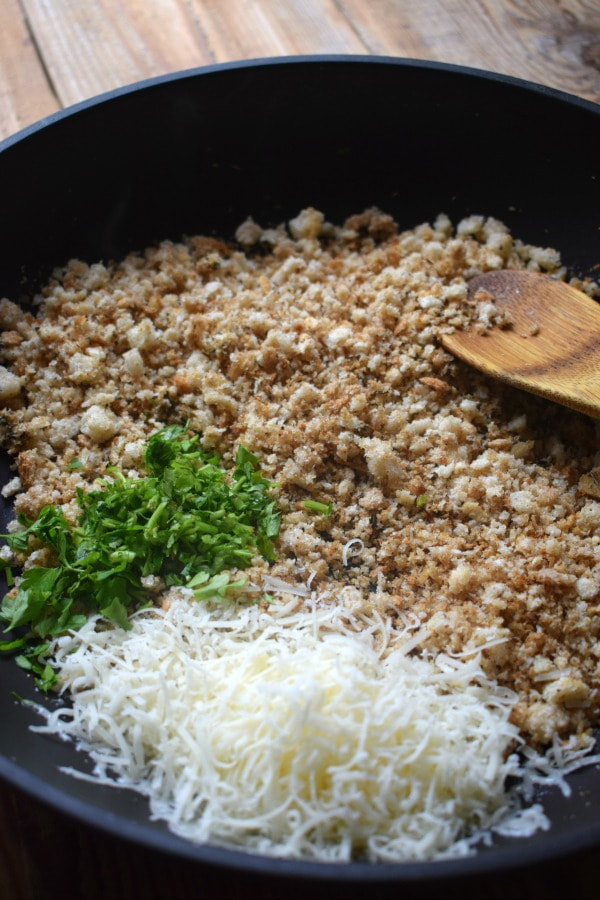 ---
Now put them all together. Remember to have your oven preheated to 375 degrees F.
Dip the turkey in the beaten egg. Then firmly press it into the bread crumb mixture. Place them on the baking tray as you coat them. Repeat for all turkey. All these fit on one large baking tray.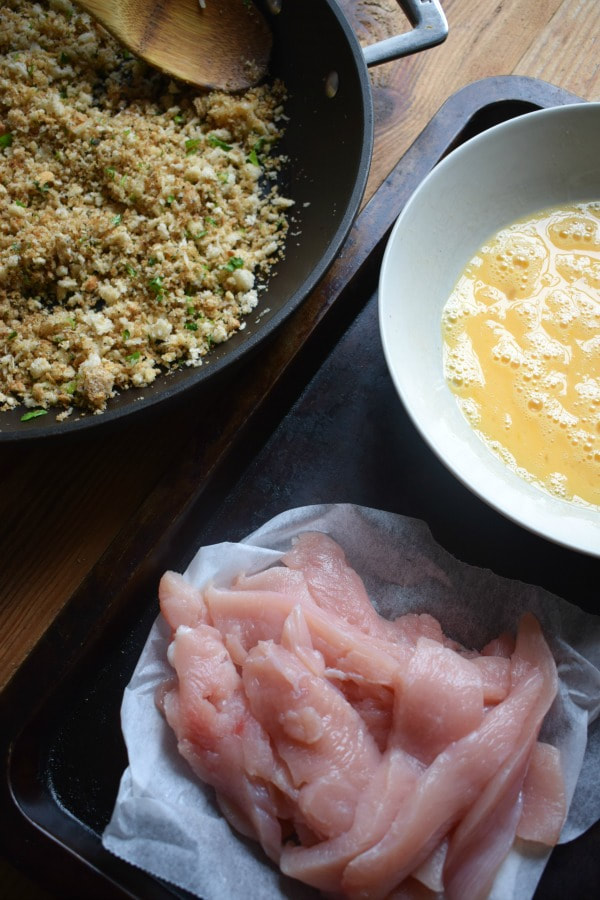 ---
Make the Djjon Mustard and Honey Dipping Sauce
So simple. Just combine the honey, mustard, mayonnaise, white vinegar and paprika in a bowl. Whisk and done. It doesn't get a whole lot easier than that. Don't like mustard? Well, you can use any dipping sauce for these Turkey Tenders, this is just merely a suggestion. But if you love mustard, make this sauce. So simple and delish! And this dipping sauce goes great with the Cajun Dry Rub Chicken Wings too.
Here's a few dipping sauces to get you started!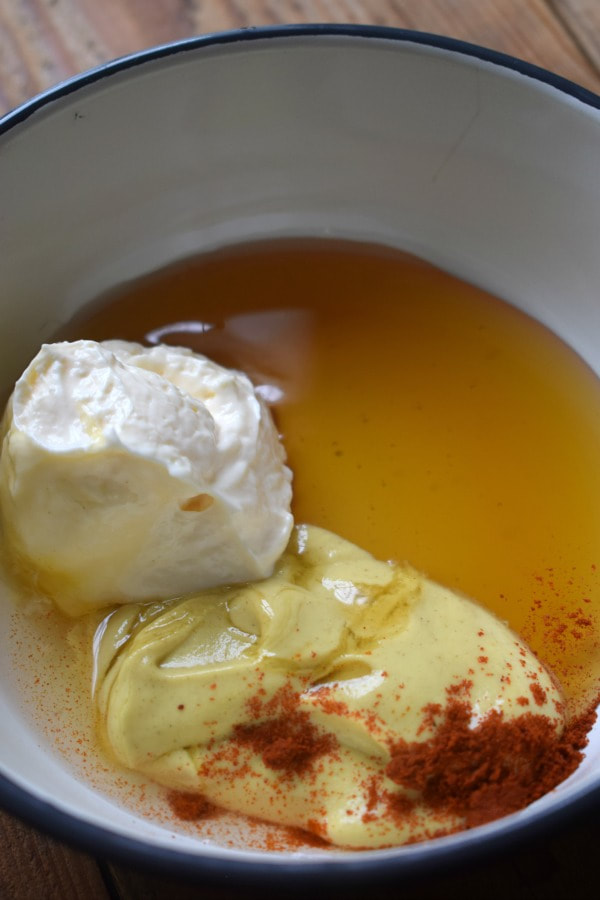 ---
Oven Baked Crispy Turkey Tenders
---
I baked the Turkey Tenders for exactly 15 minutes in a 375 F degree oven. They were perfectly crispy and tender on the inside. Quite often turkey gets a bad reputation as being dry and flavourless, I disagree! I use turkey cutlets quite often and we always find they turn out perfect.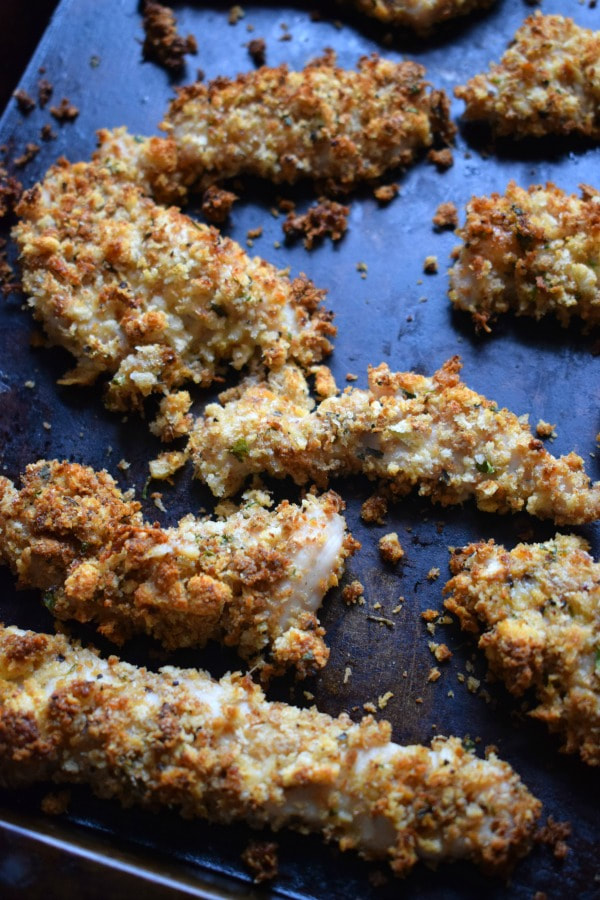 ---
Can you shallow fry the Turkey Tenders
Yes, of course you can. You can do them in a deep sided skillet over high heat. Get the oil good and hot. I recommend using a vegetable based oil for this. Something like sunflower oil would work really well.
After the oil is hot, add one and see if it sizzles. If so, add the turkey tenders and cook for a few minutes each side until cooked through. Remove and drain on paper towels. Easy.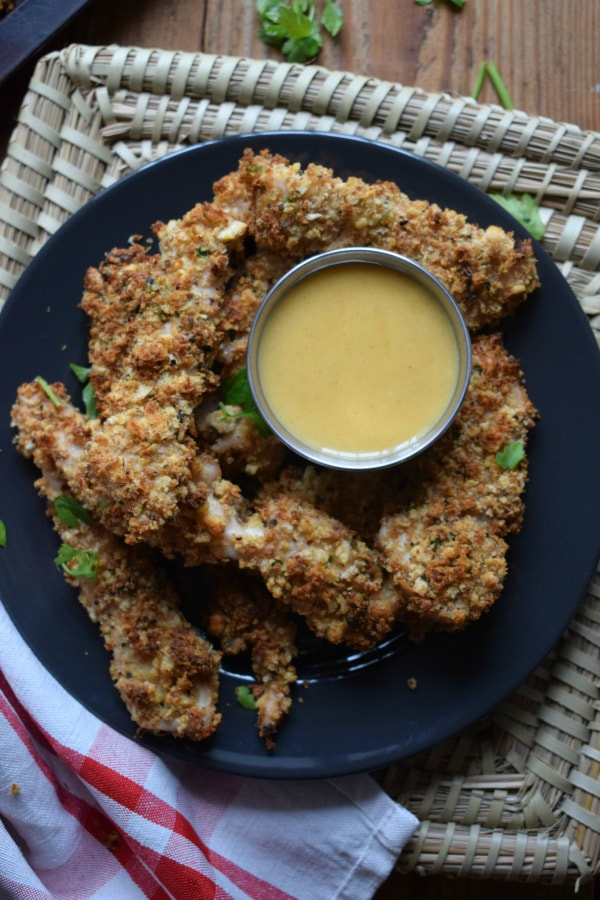 ---
Can you serve the Turkey Tenders cold
The short answer is yes. No lie, they are best hot, but can be eaten after they've been sitting around for a while. The main difference is the crunch. After they sit for a while, they loose their crispness. But still great.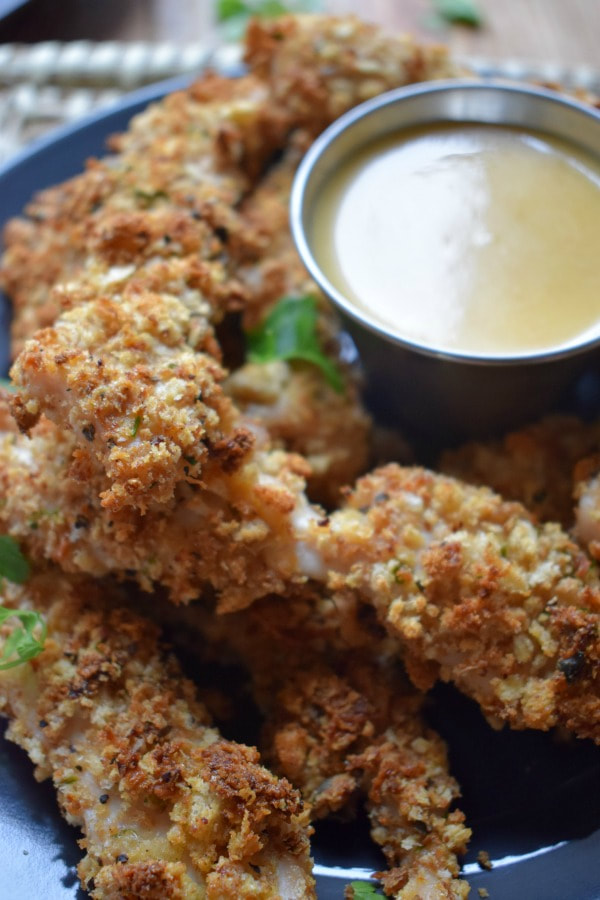 ---
Store the Dipping Sauce in the fridge

The sauce will keep up to a week in the fridge. You can make and store it for later if you like. This recipe also easily doubles, triples, quadruples…you get the picture.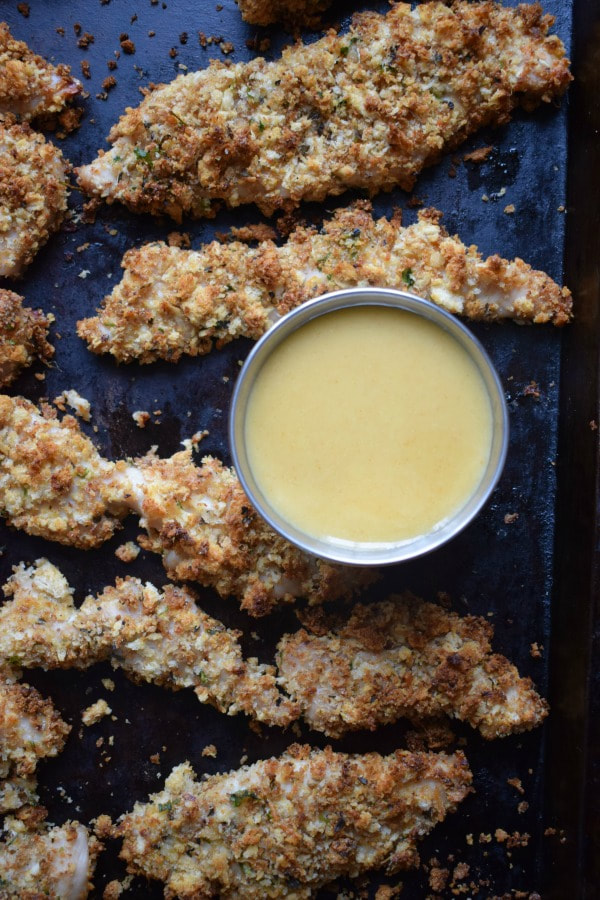 ---
That pretty much sums up all you need to get your perfect Parmesan Crusted Turkey Tenders. Keep them in mind for quick evening dinners, appetizers or pot lucks. We loved them and hope you get a chance to enjoy them as well. Much like the Spicy Barbecue Chicken Strips, they are a hit!
Don't forget to come back Wednesday to see what's coming your way. Hint, something on the sweet side.
As always, thanks for stopping by and happy cooking!
---
Like what you see today? Don't forget you can follow on Facebook for daily inspiration or over on Instagram where I sometimes do daily cooking videos for fun! I'm also on Pinterest which is a great place that you can save and share your favourite recipes. As well, if you haven't yet, Subscribe to the newsletter. You'll be notified whenever there's a new recipe! You can do that at the top of the page.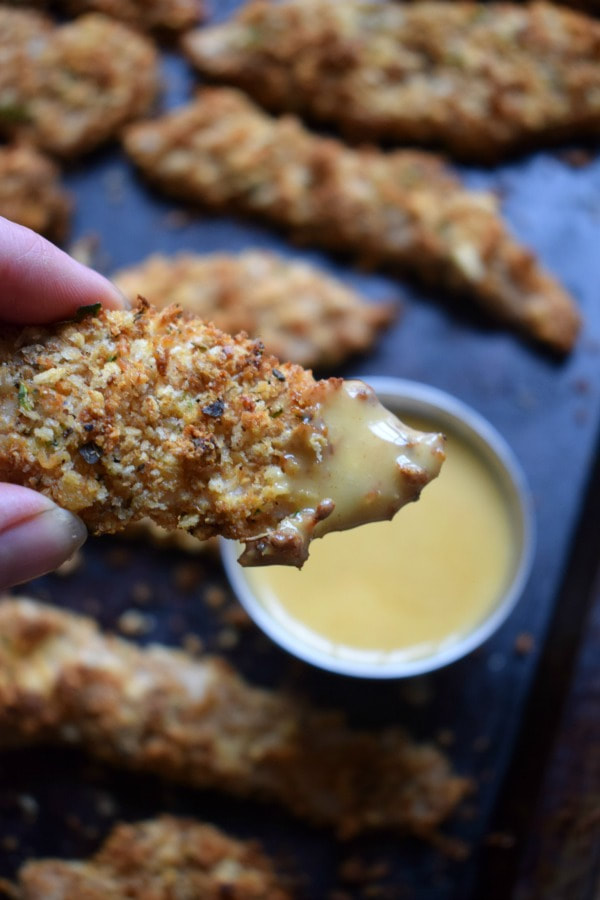 ---
Get the recipe!
---
Parmesan Crusted Turkey Tenders
Crispy baked in the oven Parmesan Crusted Turkey Tenders could be on your dinner table tonight.  Quick prep and cooking time makes them a great weeknight dinner.  Add a salad and you're all set for your Monday evening.  Take a look!
Ingredients
For the turkey:
12

oz

Turkey cutlets

cut into 2 inch strips (approximately 4 turkey cutlets)

2

Cups

bread crumbs

coarse

2

Tablespoons

butter

2

Eggs

beaten

1/3

Cup

parmesan cheese

finely grated

1

Teaspoon

onion powder

1

Teaspoon

garlic powder

1

Teaspoon

oregano

1/2

Teaspoon

black pepper

1/2

Teaspoon

salt

Small bunch fresh parsley

finely chopped
For the Dijon mustard and honey dipping sauce:
1/4

Cup

Mayonnaise

1/4

Cup

honey

2

Tablespoons

Dijon mustard

1

Tablespoon

white wine vinegar

1/2

Teaspoon

paprika
Instructions
Make the sauce. Combine the mayonnaise, honey, Dijon mustard, vinegar and paprika in a small bowl. Whisk to combine and set aside.

Preheat oven to 375 degrees F. Have ready a large baking tray.

In a medium skillet set over medium to high heat, melt the butter. Add the bread crumbs and give a good toss in the butter. Add the onion powder, garlic powder, oregano, pepper and salt and give a good stir. Cook for 3 – 4 minutes and remove from heat and let cool.

Add the parmesan cheese and fresh parsley to the breadcrumbs and stir.

Dip each turkey strip in the beaten egg and then the bread crumb mixture. Repeat for all turkey strips. Bake for 15 – 18 minutes or until crispy and cooked through.

Serve hot with the dipping sauce.
*A note on times provided: appliances vary, any prep and/or cook times provided are estimates only.
Nutrition Facts
Parmesan Crusted Turkey Tenders
Amount Per Serving (1 serving)
Calories 591
Calories from Fat 216
% Daily Value*
Fat 24g37%
Cholesterol 162mg54%
Sodium 1116mg49%
Potassium 167mg5%
Carbohydrates 59g20%
Protein 35g70%
Vitamin A 482IU10%
Calcium 222mg22%
Iron 4mg22%
* Percent Daily Values are based on a 2000 calorie diet.
---
thanks For Stopping By And Hope To See You Soon!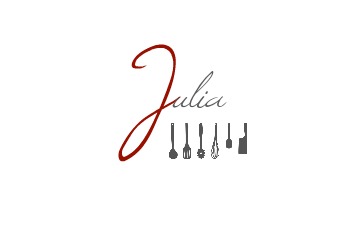 By