This Split Pea and Carrot Soup is warming and hearty. Made with minimal pantry staples and packed full of nutrients. Great for mid week winter dinners.
---
It's cold and I can't really think of any better way to warm up than with a big bowl of Soup. Soups like this one, the Chicken & Vegetable Soup, the Red Lentil & Coconut Soup, Slow Cooker Tomato Soup with Fresh Tomatoes and my Warming Vegetable Soup are perfect for colder weather.
If you're into soups as much as I am right now, put this split pea soup on your list to make this week! It's easy to make, full of nutrients and full of flavour. Don't let the basic ingredients fool you.
And do you know what goes great with soup? Why Bread Rolls of course. So, don't miss out and get the delicious Fluffy White Bread Roll recipe too!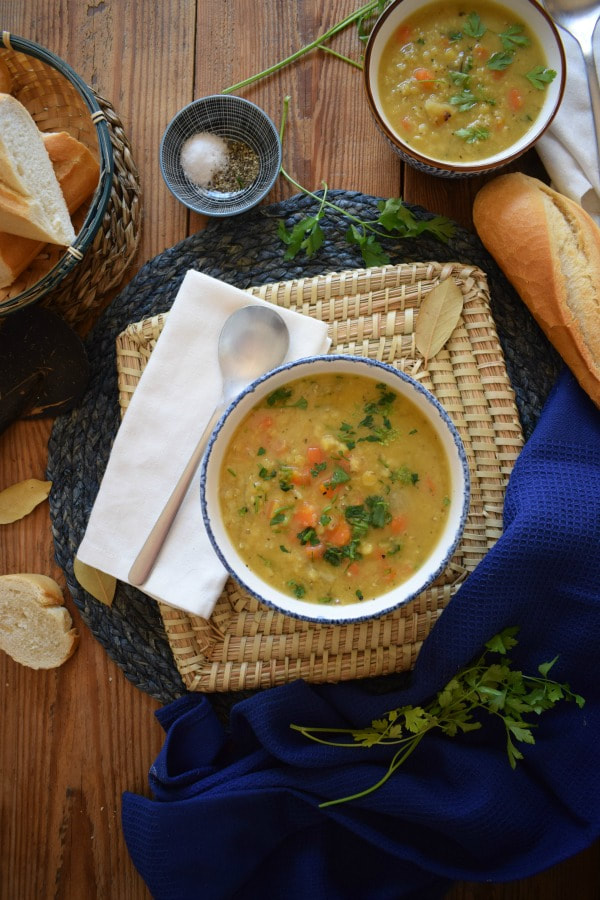 ---
Ingredients to Make The Split Pea & Carrot Soup
Legumes

– I used yellow split peas

Fresh

– carrots, onion and parsley

Seasonings & stock

– vegetable stock, garlic, bay leaves, olive oil, salt and pepper
REMEMBER, The full recipe and instructions is always found at the end of the post in the recipe card.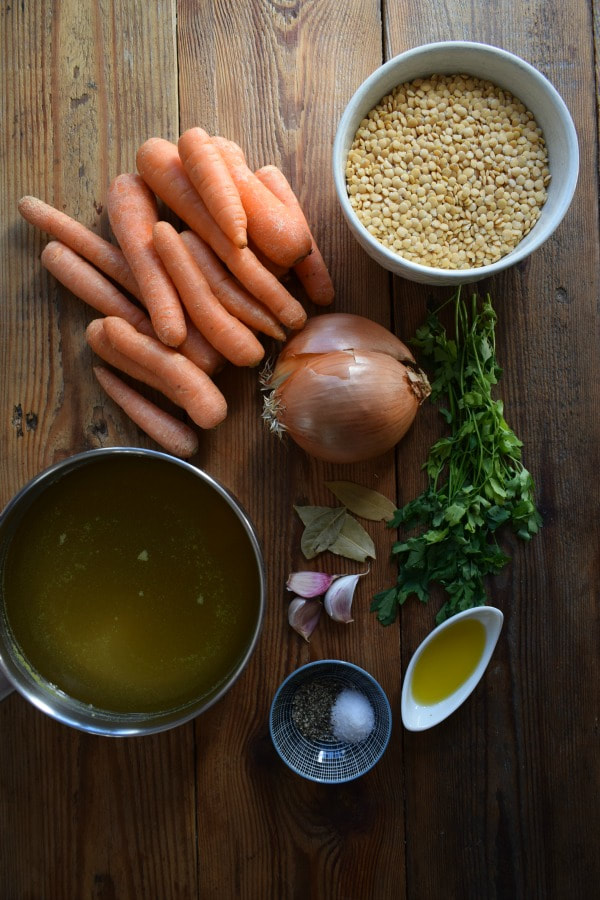 ---
Instructions to make THE Split Pea Soup
Dice the onions and chop the garlic.
In a large pot set over a medium to high heat, add the olive oil, garlic, bay leaves and onions. I like to add the bay leaves at the frying stage, always. I do this simply because it gives much more flavour to the soup than adding them at the stage with you add the stock. It's a subtle difference but it's noted.
Cook the onions down for around 10 minutes.
While the onions are cooking down, finely chop the carrots. If you prefer bigger pieces, you can cut them to a size you prefer. I liked them small for this soup.
Add the carrots to the cooked onions and give a really good stir.
Add the split peas and stir.
Pour in the stock, stir, cover and reduce heat to medium low. Leave for around 40 minutes. And that's it, so easy. There's nothing else to say because that's how easy this soup was to make.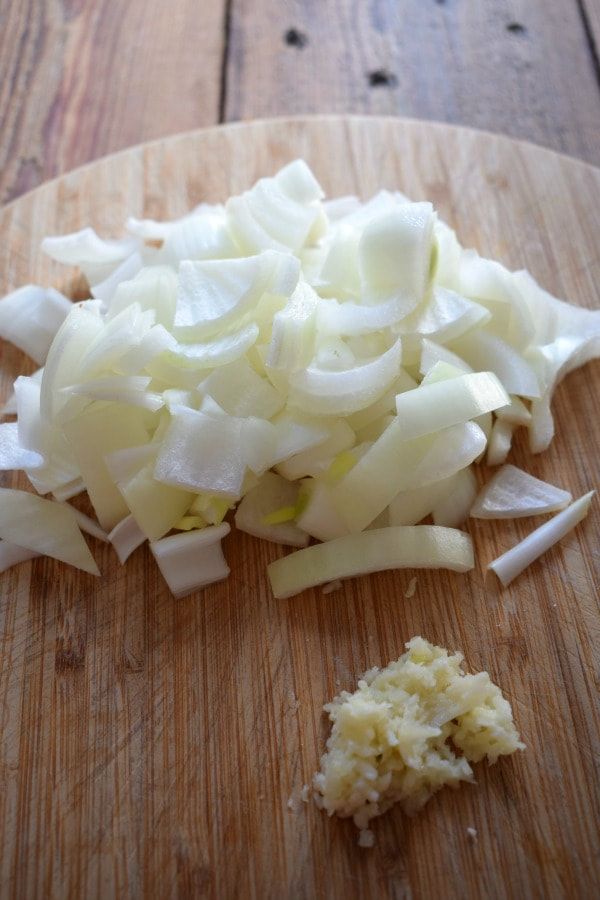 ---
Do you Often Cook With Legumes
Somehow, I don't often cook with yellow split peas and I really like them. They are so good and they cook pretty quickly. So, I have to make a reminder to myself to use them more often.
If you're a Newfoundlander you won't be a stranger to these and probably have Split Pea Soup or Peas Pudding regularly. Growing up, we had peas pudding every single Sunday. And to my embarrassment, yet again, I have never made it.
I don't now how you get to be a Newfoundlander and never make Peas Pudding? Or the traditional Split Pea Soup for that matter. Okay, now I'd better stop before the confessions get out of hand.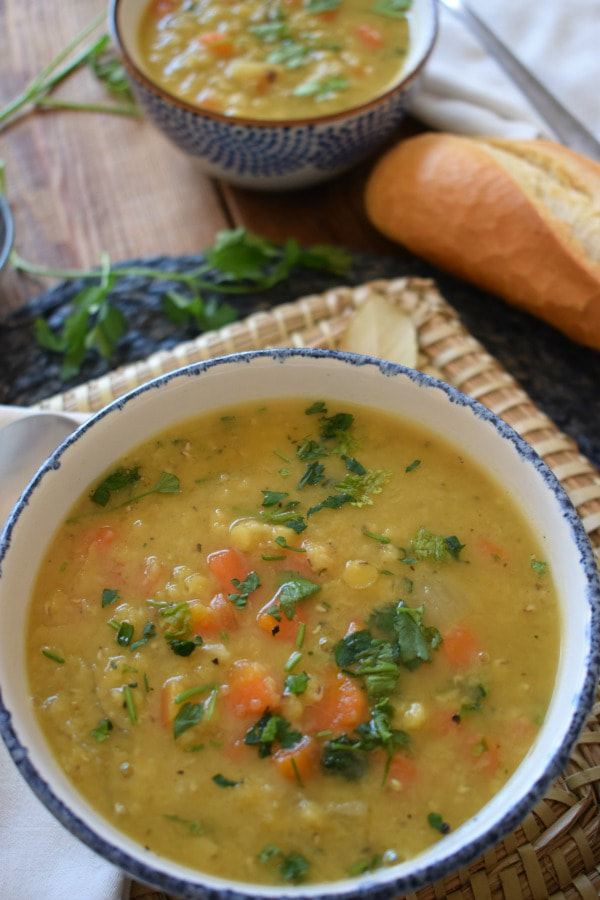 ---
I'm sure there are many of us that grown up in a culture that we've never cooked the staple dishes. I've met loads of people here in Spain that have never made Payella or Tortilla de Patatas.
I was shocked. But then reminded myself that I haven't cooked half of the traditional Newfoundland dishes. I'm sure if I stayed and didn't catch the runaway train back in 1997, I'd be knee keep in salt beef, cods tongues. and peas pudding. And that's life my friends!
But, I'm no stranger to soups and my Roasted Carrot & Parsnip Soup is fantastic! And so is the Carrot and Coriander Soup, yum!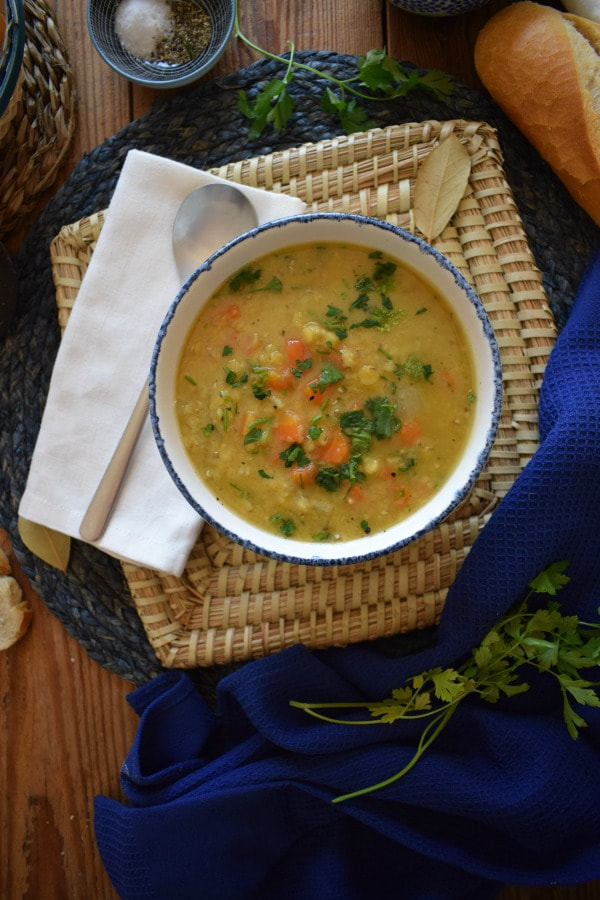 ---
Enjoy The Split Pea & Carrot Soup
But for now I'll continue making orange soups and using familiar ingredients. I know, I need to up my cooking game and get out of my comfort zone! My cooking zone is pretty cosy and maybe, just maybe, needs a little encouragement to learn some new stuff!
But not today. Today was a grilled cheese for lunch and I'll be doing a well loved Risotto for dinner later. That's if I can get of my lazy way today.
Hope your all having a decent Saturday and I'll be back next week with something sweet to share!
Oh, happy leap day!
---
Like what you see today? Don't forget you can follow on Facebook for daily inspiration or over on Instagram where I sometimes do daily cooking videos for fun! I'm also on Pinterest which is a great place that you can save and share your favourite recipes. As well, if you haven't yet, Subscribe to the newsletter. You'll be notified whenever there's a new recipe! You can do that at the top of the page.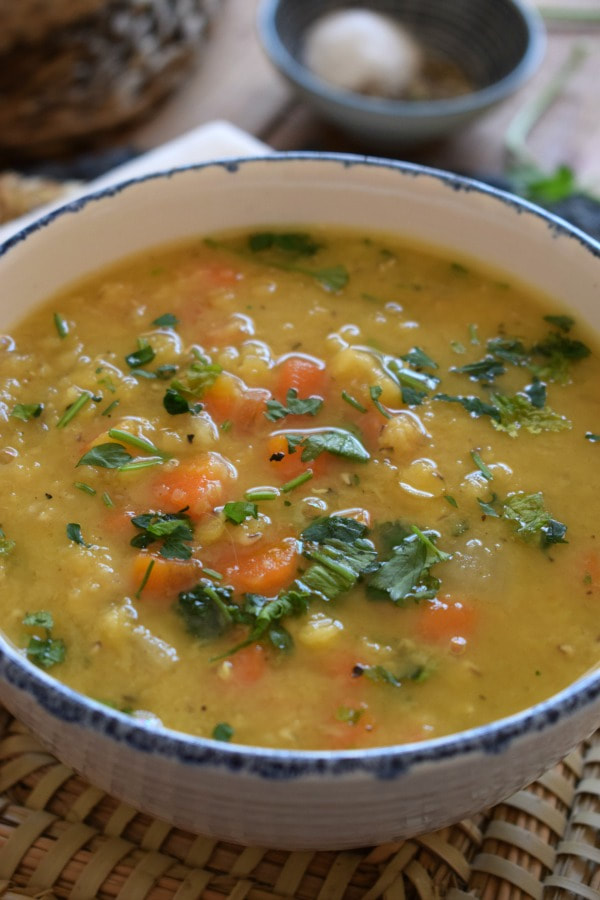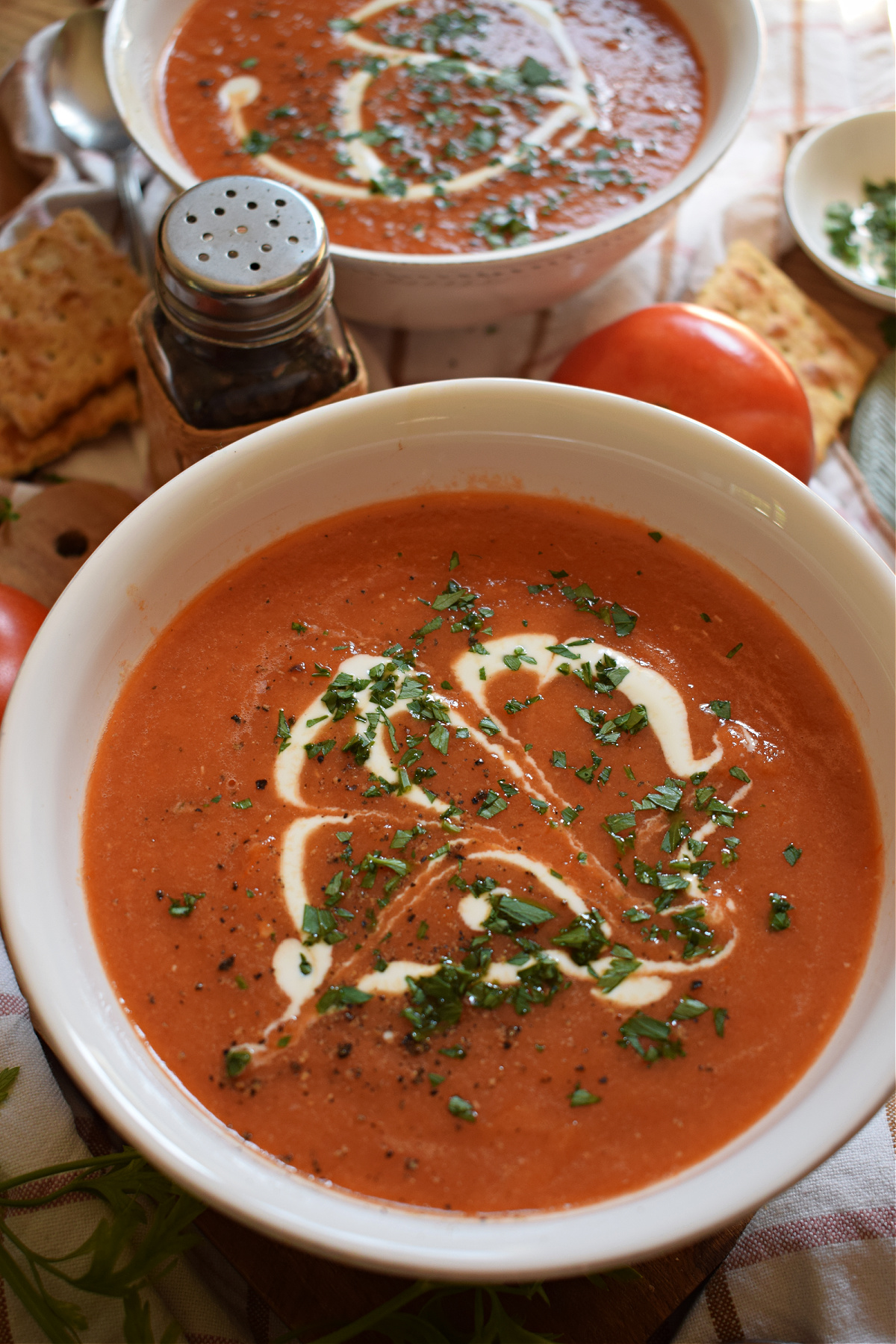 ---
Frequently Asked Questions
Do split peas need to be soaked?
Unlike larger legumes, yellow split peas do not need to be soaked before cooking. They are so small, they will just cook without soaking. Just remember to rinse them before cooking.
Is split pea soup healthy?
Yes, legumes are healthy and split peas are high in fiber and protein.
Can you overcook split peas?
Split peas just become softer over time, so you don't need to worry about over cooking them at all.
---
Split Pea & Carrot Soup
This Split Pea and Carrot Soup is warming and hearty. Made with minimal pantry staples and packed full of nutrients. Great for mid week winter dinners.
Ingredients
1 1/2

Cups

yellow split peas

3 – 4

carrots

medium, peeled and finely chopped

1

onion

peeled and finely chopped

4

Garlic cloves

chopped

3

Bay leaves

2

Tablespoons

olive oil

6

Cups

vegetable stock

Salt

Pepper

Bunch of fresh chopped parsley
Instructions
In a large stainless steel pot set over medium to high heat, add the olive oil, garlic, bay leaves and onions. Stir really well and leave to cook until softened, about 10 minutes. Stir occasionally to prevent sticking.

Add the diced carrots and yellow split peas. Stir well. Add stock, reduce heat to medium low, cover and leave to cook for 35 – 40 minutes. Stirring occasionally.
*A note on times provided: appliances vary, any prep and/or cook times provided are estimates only.
Nutrition Facts
Split Pea & Carrot Soup
Amount Per Serving (1 serving)
Calories 391
Calories from Fat 72
% Daily Value*
Fat 8g12%
Sodium 1497mg65%
Potassium 1118mg32%
Carbohydrates 63g21%
Protein 20g40%
Vitamin A 18695IU374%
Vitamin C 11mg13%
Calcium 88mg9%
Iron 4mg22%
* Percent Daily Values are based on a 2000 calorie diet.
---
Thanks for stopping by and hope to see you soon!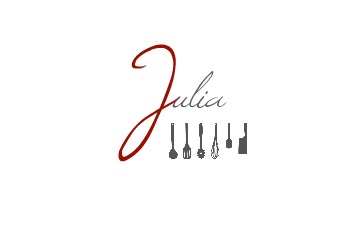 Pin For Later
---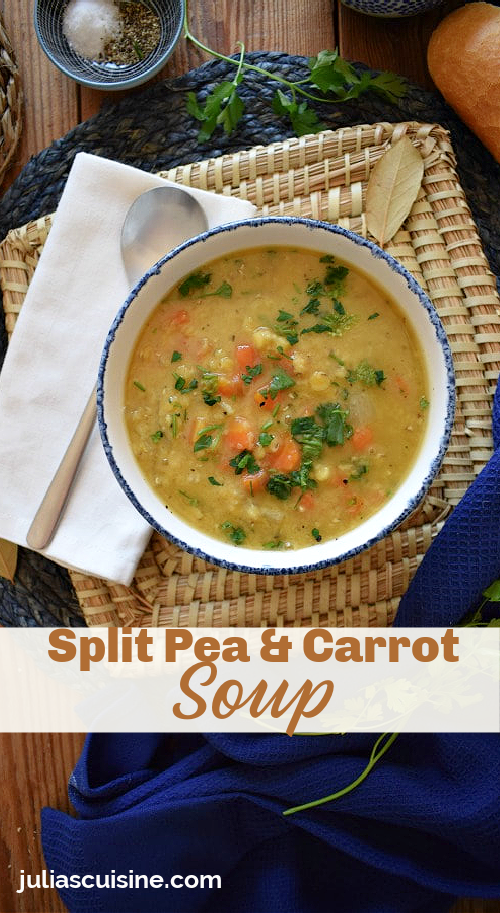 By