It's October! And what better way to head into this month than with a piping hot bowl of this Spiced Roasted Squash Soup. A rich and delicious soup made by using roasted squash, soft caramelized onions, stock and cream with a kick of heat. Hello October!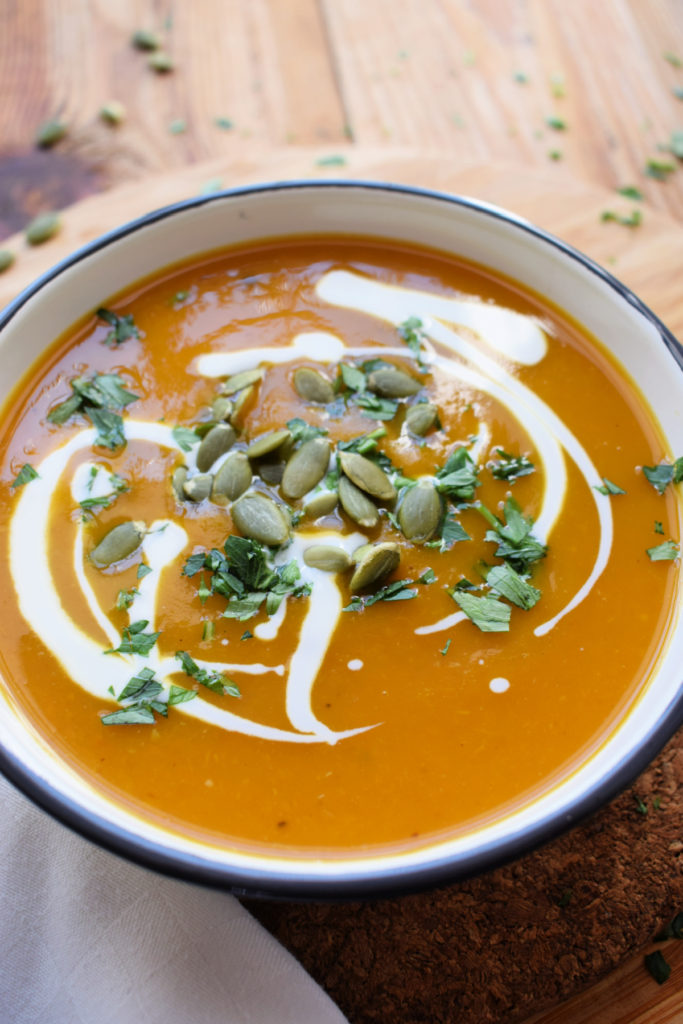 I'm ready friends. Are you ready? Yes, I'm talking about the official start to pumpkin season. After a long hot summer and and extended hot September, let's bust into the soups! I'm kind of sad of the passing of summer, but excited for the real fall to start. Dishes like this one, my Chicken & Leek Pie, Creamy Chicken Stroganoff and Beef Stew will all be making their way to the dinner table. And let's not forget the Dinner Rolls. Let's embrace the season for all it's worth. And starting today with the Roasted Butternut Squash Soup.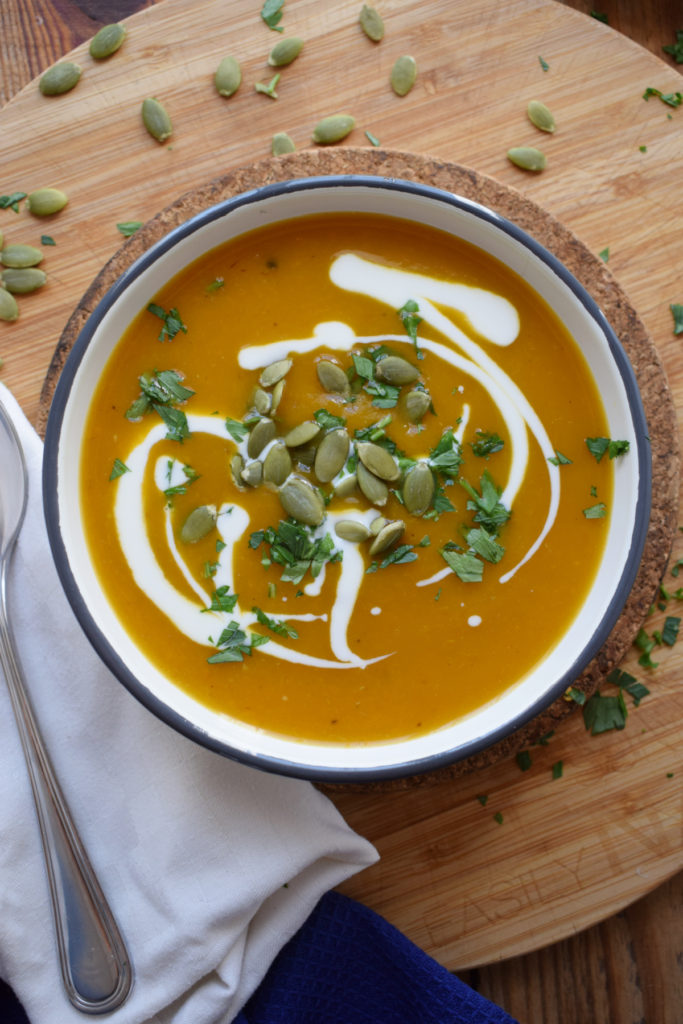 ---
Ingredients To Make The Spiced Roasted Squash Soup
1 Butternut squash apprx 2lb/1kg, peeled and chopped into cubes
1 onion medium, chopped
4 Garlic cloves crushed
2 1/2 Cups vegetable stock
1/2 Cup white wine
1/2 Cup cream plus 2 tablespoons for garnish
1 Teaspoon salt
black pepper
2 Tablespoons olive oil divided
3 dried chilies Small , finely chopped
3 Tablespoons pumpkin seeds
2 Bay leaves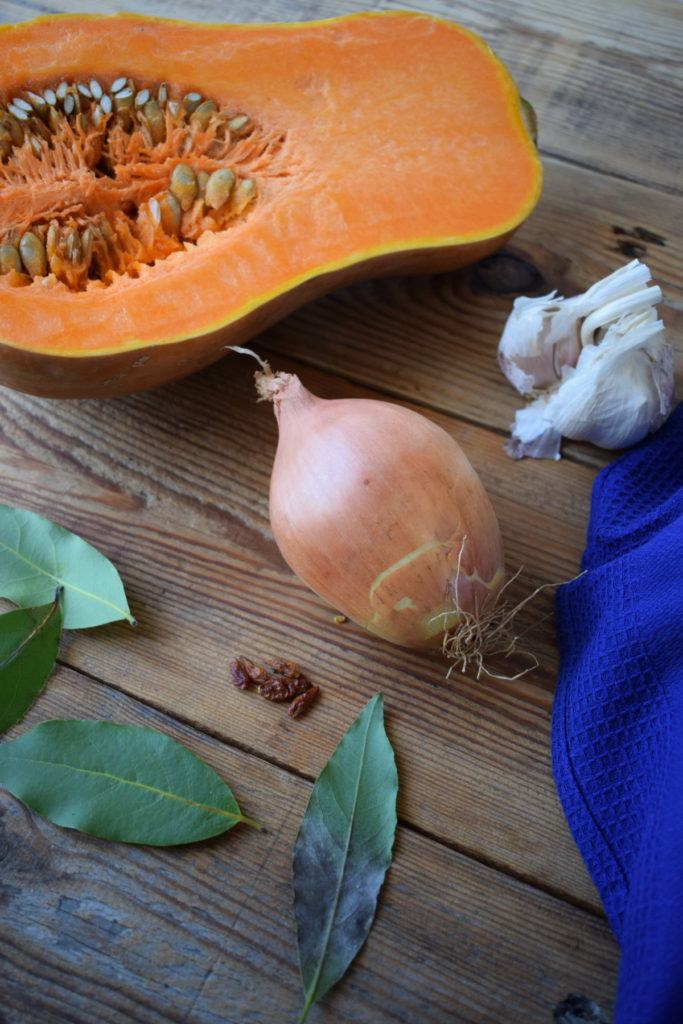 ---
Improving Old Content
I know I'm as guilty as the next person in shaming food based on it's looks. And some food is just so difficult to dress up and make pretty no matter how many makeover attempts it has.
So, as a food blogger, I try my best to give food the best presentation that I can. I try to make, even the ugliest of dishes, look like it would be something you'd like to put on you dinner table.
But, that wasn't always the case.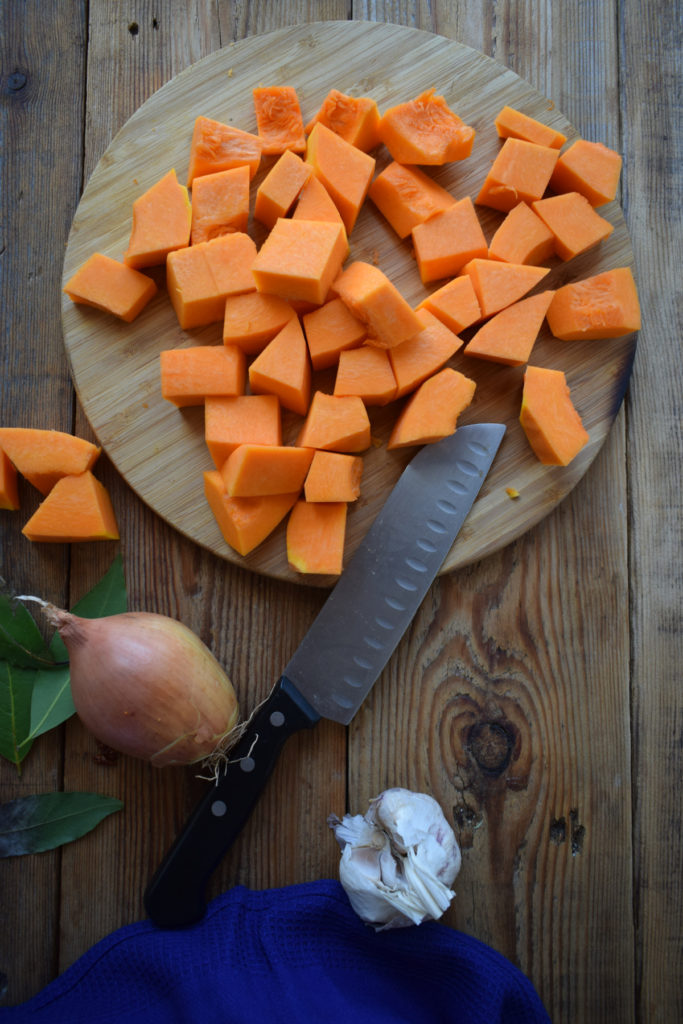 ---
When I started the food blog back in 2015, I didn't know much about how to make food look good in photos. It was completely hit and miss. More miss that hit, but I knew the food was good so I carried on with putting the recipes out there. In fact, 2015 I wrote and published far more recipes that I had in any other year that followed. Let's not even get into this year, because it's been dire.
I'm really hoping the fall perks up and I manage to get more recipes out there.
I'm trying.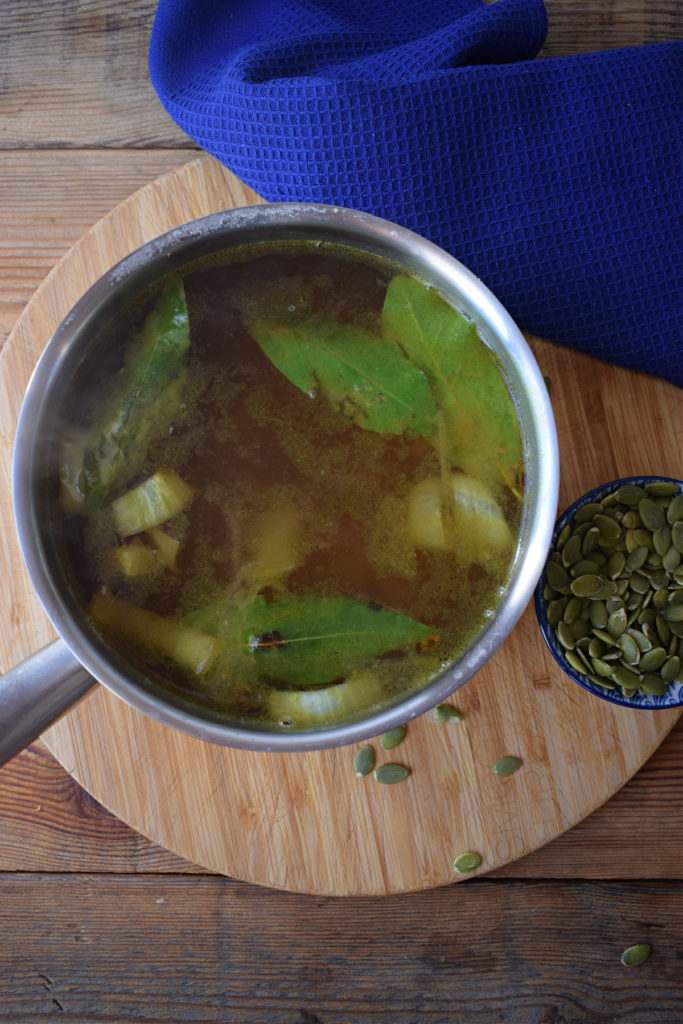 ---
New Recipes Will Have To Wait
So, what I'm trying to say is that as much a I want to dive into a whole pile of new recipes, there's some old favourites that need revisiting.
I have a lot of fantastic recipes from the first year that are our family favourites and we make them all the time. And by we, I really mean me.
With all that being said, I am planning on bringing some of the old favourites back to life. Soups like this one and my Tomato and Basil Soup! I know a lot of these great recipes are overlooked because they are just plain….ugly! Sorry food, it's the truth. Don't worry, I'm still on a venture to create new recipes and get those out there as well. But there's a dozen or so recipes I really want to redo for the blog so you can just see how great those recipes are.
Starting today with this Spiced Roasted Squash Soup.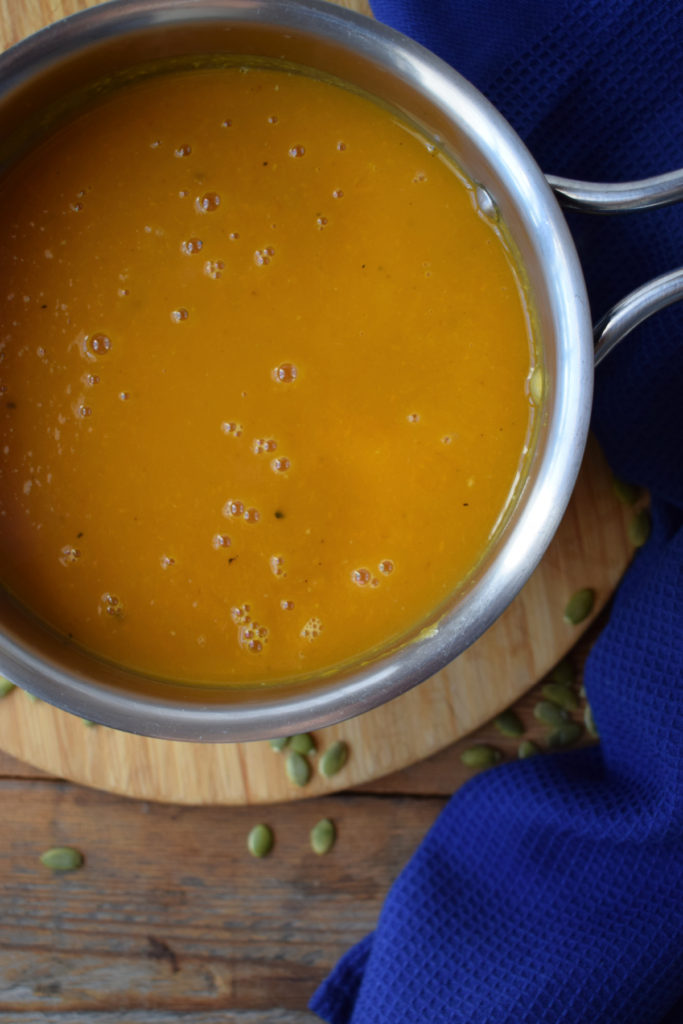 ---
Improving Content and Adding Step-by-Step Photos
To be honest, the original post wasn't too bad at all. But after making this soup again, I thought why not give it a little bit of a boost.
Plus, I'm attempting to add more photos to my posts. A bit more of a story if you would. I can't say for sure this will always be the case, but it's kind of what I'm attempting to do. Yes, you will still always be able to skip straight to the recipe at the top of the page. Obviously, a lot of you come straight for the recipe. It's is about the food after all.
But I am going to attempt to add a bit more the the story along the way showing some of the ingredients and steps along the way. It isn't about turn into a step-by-step blog if that's what your thinking. I just don't have the time for that. I know there are a lot of food sites and food blogs out there like that, but not mine. Not today.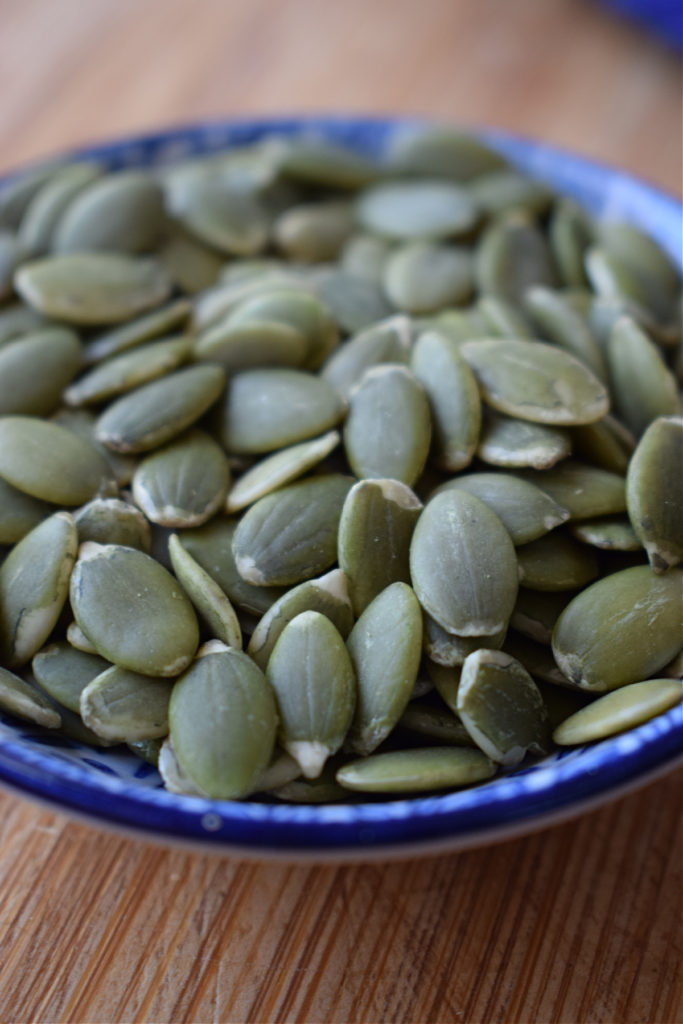 ---
Improving for a better Blog Expericnce
I've kind of wanted to head in that direction for a while now, but just didn't get myself organized to make it happen. You see, I don't photograph my food in my kitchen. Well, not normally. Usually it's always done in the dining room on top 5 separate pieces of planks that I put together every single time I want to take some pictures. Talk about a fuss. Why do I continue with the madness?
So, this past weekend after having a near disaster with the planks and one very naughty cat, I knew something had to change.
Puma, the cat in question, is just made of bad. I love her, I really do, but she just loves pushing buttons. Is that really a thing for cats?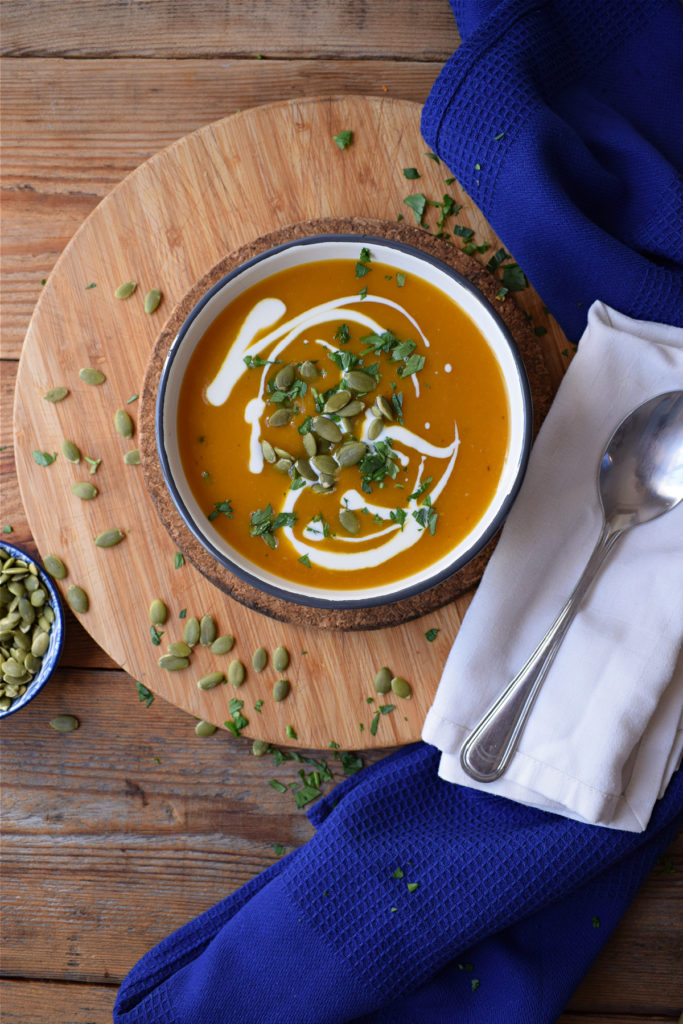 ---
So, with a near attempt to kill my camera off, Puma was in the bad books on Saturday. But I couldn't really blame her. I knew my balancing act of solid timber was on borrowed time. So, I got to thinking on how I could make my photography safe. Yes, safe!
And that's where the handy man came to the rescue. He's the husband and he's never happier than when he is surrounded in a sea of tools.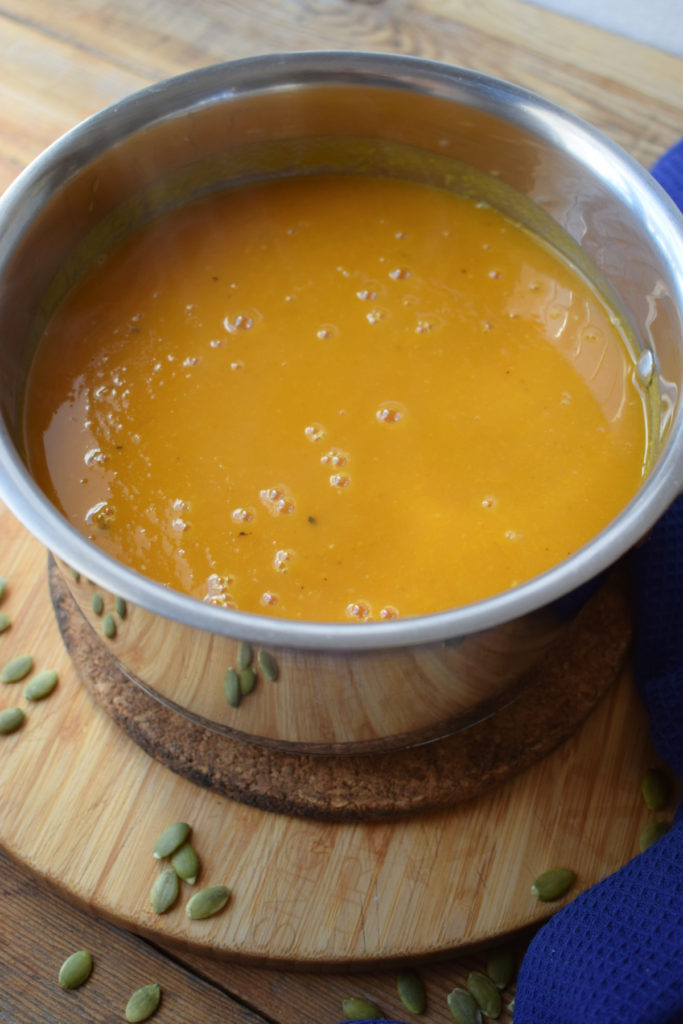 ---
Working on More Functioning Photography Background Boards
Flash forward to Monday morning and he was out there tackling the task at hand. The task being to cut those darn boards and make them one big sheet! Yes, he succeeded and now I can happily do my photography in a "safe" environment in the kitchen. Happiness.
What this really means is I am hoping to get more recipes out to you guys. You see I often make new dishes never photograph them because I just don't want to set up for photography. Some days, it's just daunting and we just want to eat. So that delicious whatever it was dish gets put on hold. Usually to never.
So for now, I'm going to try my best to make up for 2019 by making it a great fall for food!
Don't forget to check out More Than 20 Sweet & Savoury Ways To Embrace Fall for all your fall recipe!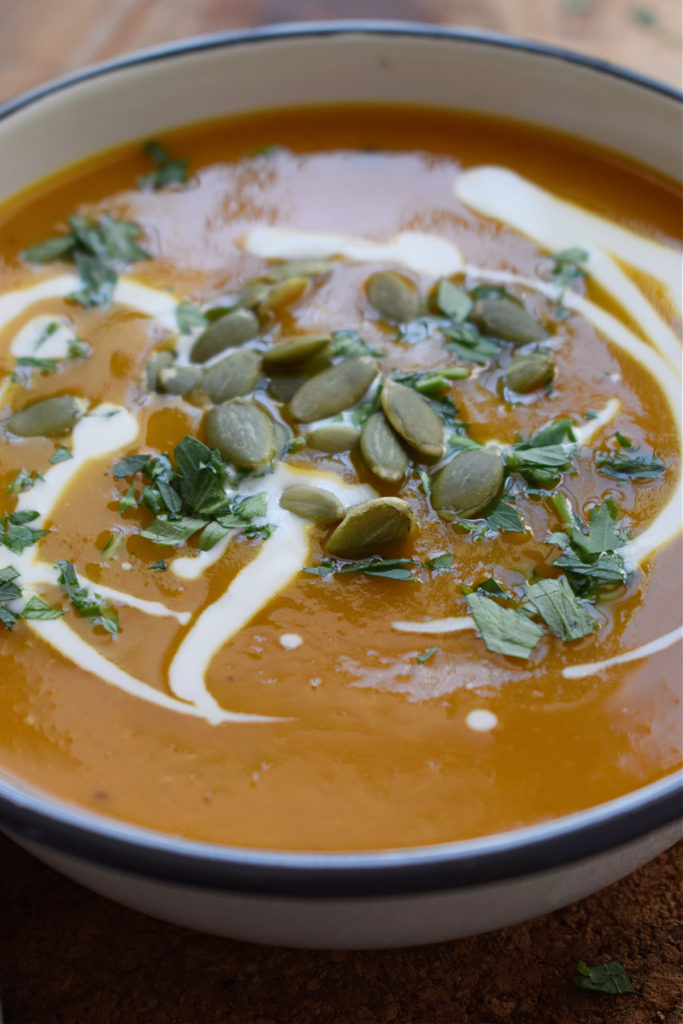 ---
Notes about the soup
If you love butternut squash, make this soup and you won't be disappointed. I've made this more times that I can count and it's still a keeper. I made this today to have for dinner tonight and I'm already looking forward to it!
This soup has added chilies for heat But if you don't like the spice, leave the chilies out.
I love the addition of the cream, again if you can leave that out and it's still a fantastic soup.
But I'm in for all of it, all day long! A rich and delicious soup coming back to your dinner table in 2019.
Happy soup making friends and give that unattractive casserole a second look the next time you're at a pot luck.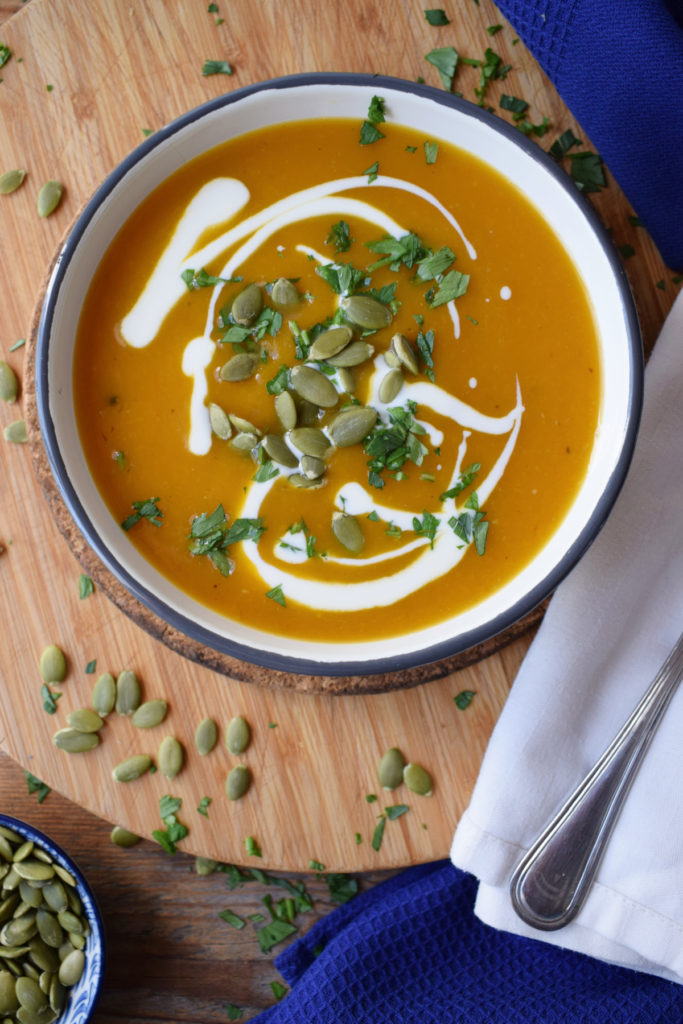 Here's Some More Great Soup Recipes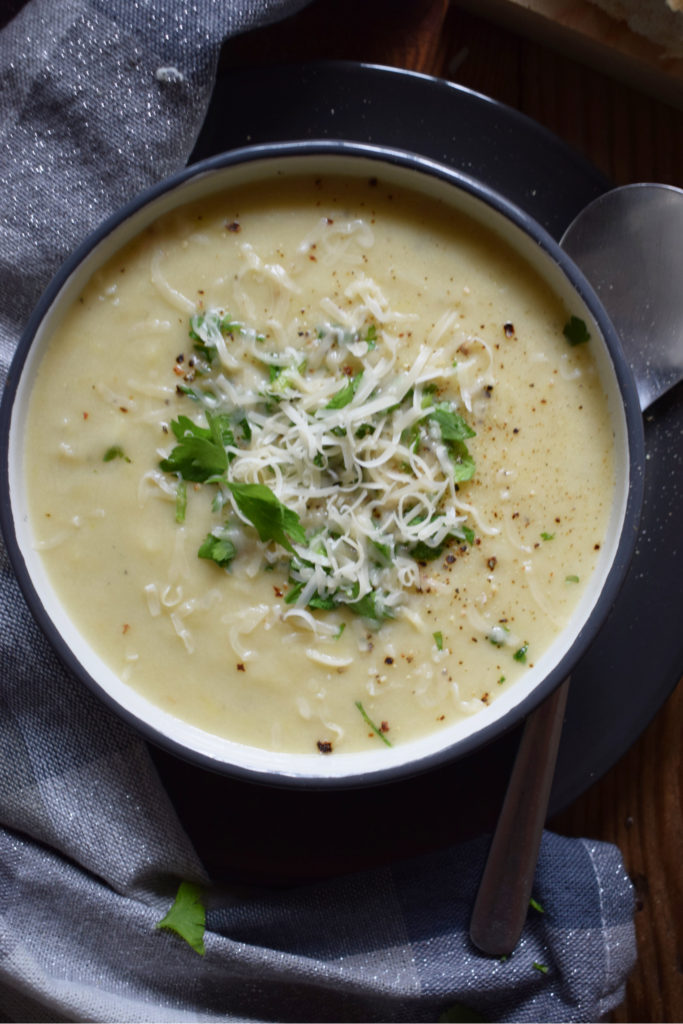 Like what you see today? Don't forget you can follow on Facebook for daily inspiration or over on Instagram where I sometimes do daily cooking videos for fun! I'm also on Pinterest which is a great place that you can save and share your favourite recipes. As well, if you haven't yet, Subscribe to the newsletter. You'll be notified whenever there's a new recipe! You can do that at the top of the page.
Get the recipe!
Spiced Roasted Squash Soup
It's October! And what better way to head into this month than with a piping hot bowl of this Spiced Roasted Squash Soup.  A rich and delicious soup with a kick of heat.  Hello October!
Ingredients
1

Butternut squash

apprx 2lb/1kg, peeled and chopped into cubes

1

onion

medium, chopped

4

Garlic cloves

crushed

2 1/2

Cups

vegetable stock

1/2

Cup

white wine

1/2

Cup

cream

plus 2 tablespoons for garnish

1

Teaspoon

salt

black pepper

2

Tablespoons

olive oil

divided

3

dried chilies

Small , finely chopped

3

Tablespoons

pumpkin seeds

2

Bay leaves
Instructions
Preheat oven to 375 degrees F.

Put the squash on a large roasting tray. Season with salt, pepper and drizzle over 1 tablespoon of the olive oil. Roast for about 45 minutes or until the squash is soft.

Meanwhile in a large pot over high heat add the remaining tablespoon of olive oil, garlic, chilies (if using), bay leaves and onions. Cook for about 5 to 8 minutes stirring constantly so it does not stick and burn. Reduce heat to medium and add a splash of the wine. Continue this method until all the wine has absorbed and the onions have caramelized. This will take about 10 – 15 minutes. Then add the stock, reduce heat to low and cover.

Remove squash from oven and add to the pot. Give it a good stir and turn off heat.

Remove from heat, and blend soup until smooth.

Add cream and stir well to combine.

Garnish with extra cream, pumpkin seeds, parsley and black pepper. Serve hot.
*A note on times provided: appliances vary, any prep and/or cook times provided are estimates only.
Nutrition Facts
Spiced Roasted Squash Soup
Amount Per Serving (1 bowl of soup)
Calories 340
Calories from Fat 198
% Daily Value*
Fat 22g34%
Cholesterol 41mg14%
Sodium 1192mg52%
Potassium 816mg23%
Carbohydrates 30g10%
Protein 5g10%
Vitamin A 20781IU416%
Vitamin C 42mg51%
Calcium 127mg13%
Iron 2mg11%
* Percent Daily Values are based on a 2000 calorie diet.
---
Thanks for stopping by and hope to see you soon!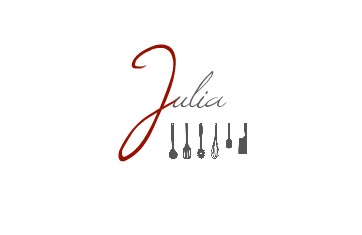 By