This Creamy Chicken & Leek Pie is your perfect comfort food. Tender pieces of chicken wrapped up in a creamy leek sauce and topped with golden puff pastry!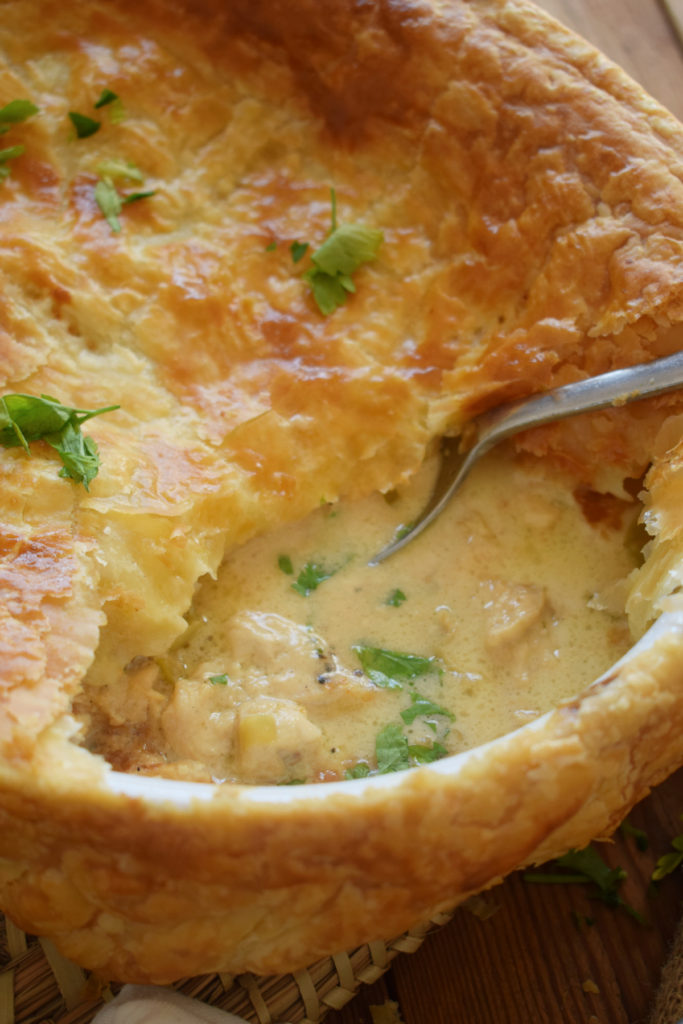 ---
This pie, to this day, is one of the top requested dinners in my house. Not that I get requests often. Every time I sit to plan meals, I get about zero help from the peanut gallery. Sometimes, input could be helpful. Well, at least they are all past the years of complaining of what goes on the dinner table. Oh the childhood days.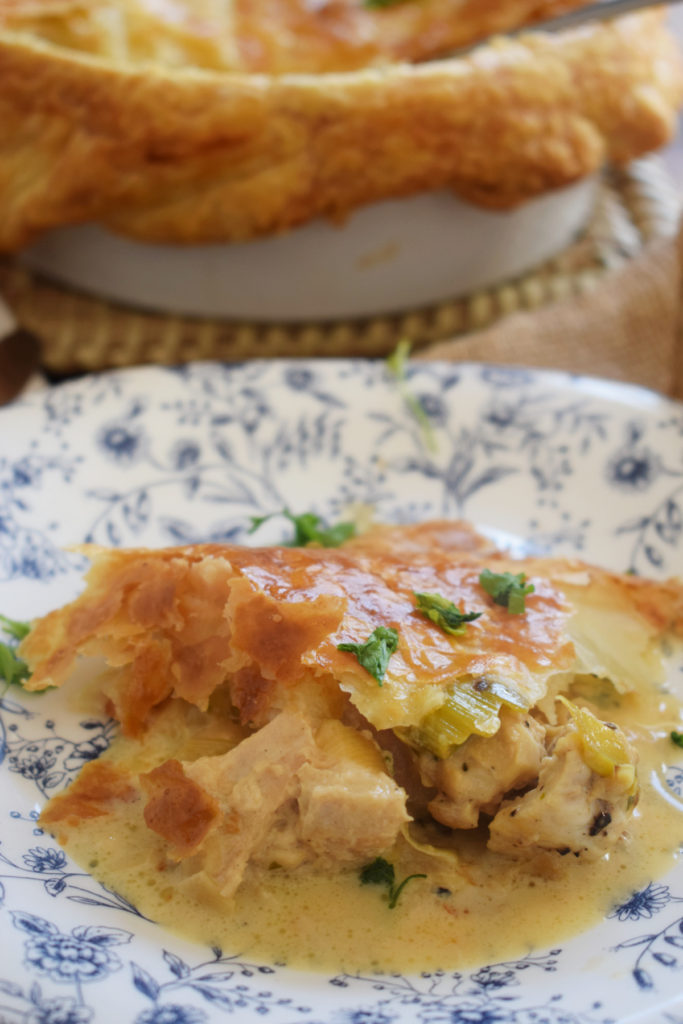 ---
Ingredients
Chicken

– I used boneless and skinless chicken breast for this pie. It's easy to use and tender.

Pastry

– This recipe uses purchased frozen puff pastry.

Fresh ingredients

– Leeks add an amazing flavour to this pie.

Dairy

– I used double cream and Mascarpone cheese.

White wine

– this is used to cook down the leeks and it adds a lot of flavour.

Butter and oil

– I used a combination of butter and olive oil to cook the chicken and the leeks.

Seasonings

– Fresh garlic, salt, pepper and fresh parsley.

Thickening agents

– Water mixed with cornflour makes a paste to thicken the sauce.

Topping the pastry

– I used an egg wash to brush to pastry to give it a golden colour after it's baked.
FULL RECIPE IS ALWAYS FOUND AT THE END OF THE POST IN THE RECIPE CARD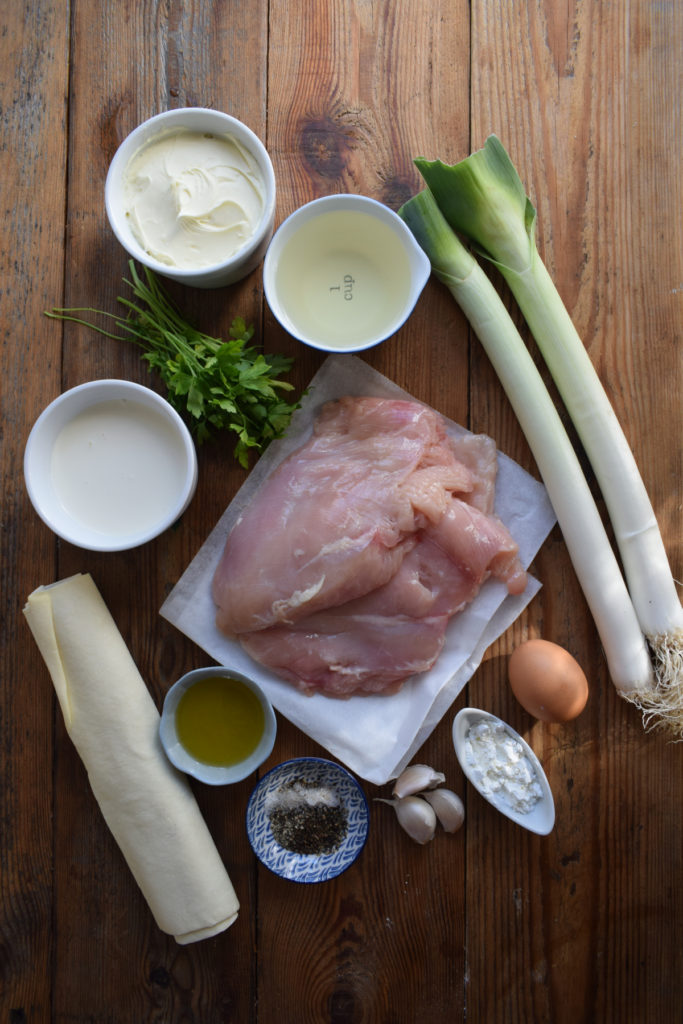 ---
Instructions
Get started by flattening out your chicken breast. The easiest way to do this is to place each chicken breast between two pieces of parchment paper. Gently flatten it out to about 1 inch thickness with a kitchen mallet. Season the chicken on each side with salt and pepper.
Heat the olive oil in a large skillet set over high heat. Add the chicken. You are not looking to cook the chicken, just sear it on each side for a few minutes.
Remove from pan and transfer to a chopping board. Cut the chicken into bite size pieces. Yes, I know it's not cooked, but it's going to get finished off in the oven.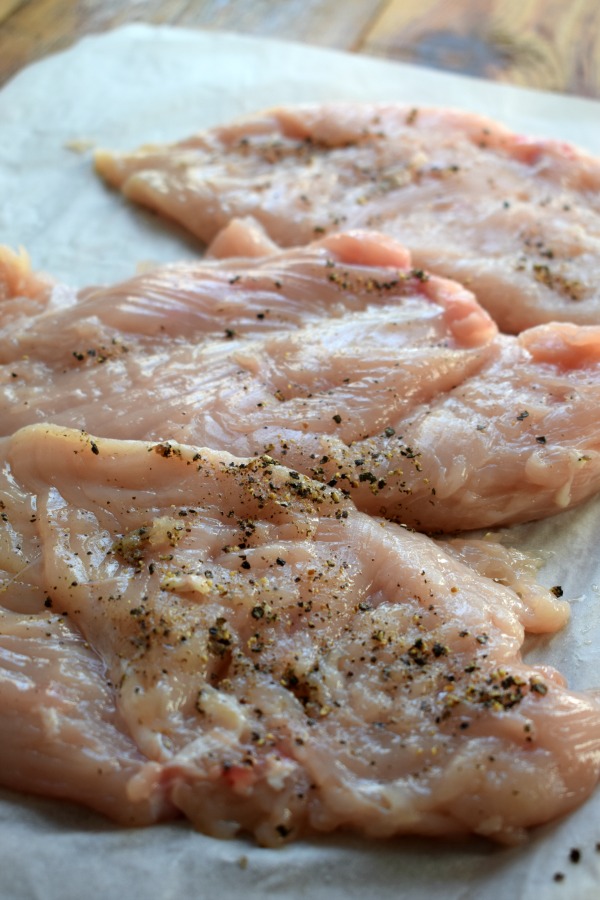 ---
Roughly chop up the leeks and crush the garlic.
In the same skillet you cooked the chicken, add the butter, leeks and garlic. Reduce heat to medium and give a really good stir and cook for about 10 minutes until they are quite soft.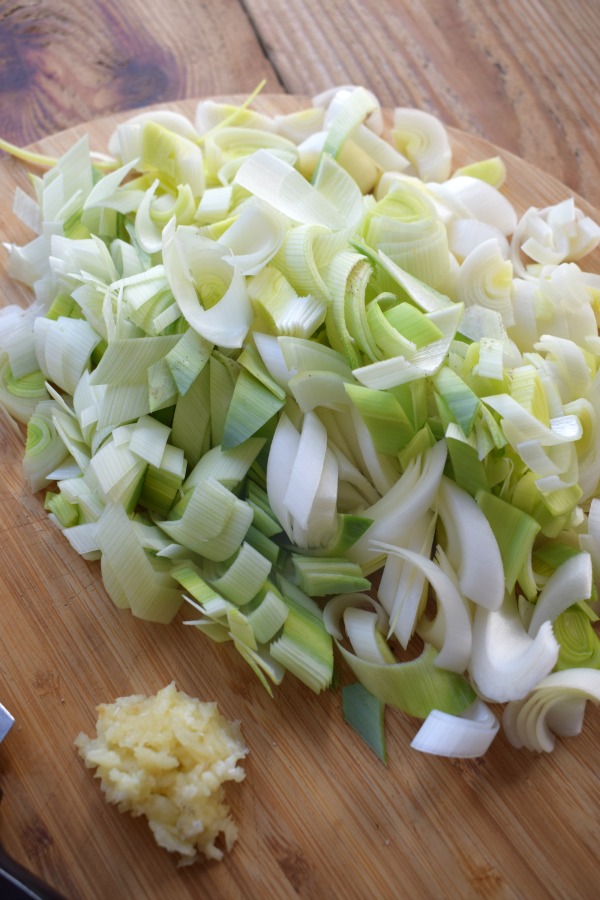 ---
Add the cooking wine and give a really good stir. Reduce the cooking wine by about half. This will take about 5 minutes. If you don't like using wine in cooking you could substitute chicken stock
Add the Mascarpone cheese and cooking cream. Yes, we're ramping up the calories because it's good! Stir really well until you have a smooth sauce.
COOKING TIP Don't use cooking wine? No problem, just substitute extra stock where it says to use wine. It will still be great!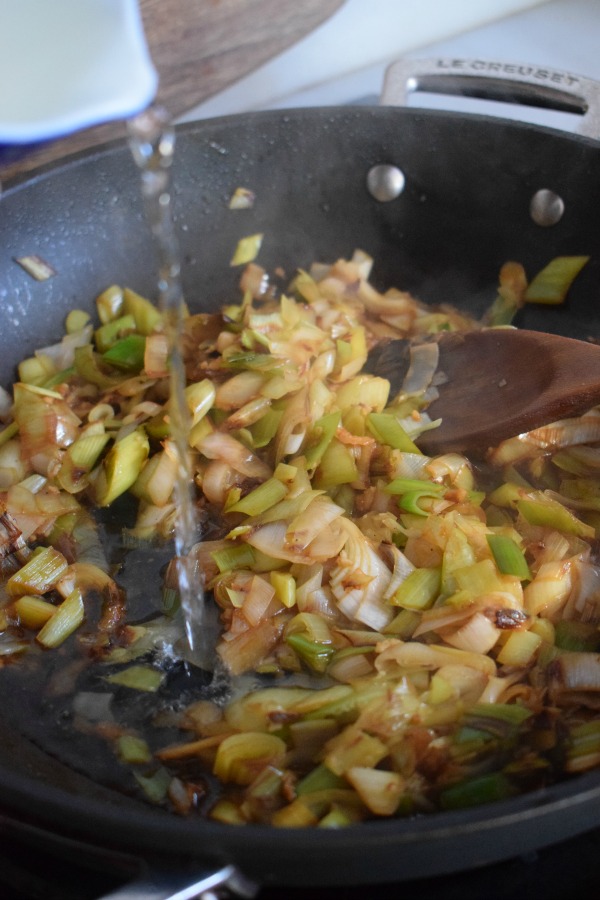 ---
Bring the sauce to a simmer and add the cornflour mixture. Stir really well. Add chopped parsley and stir really well. Remove from heat.
Add the chopped chicken to the casserole dish.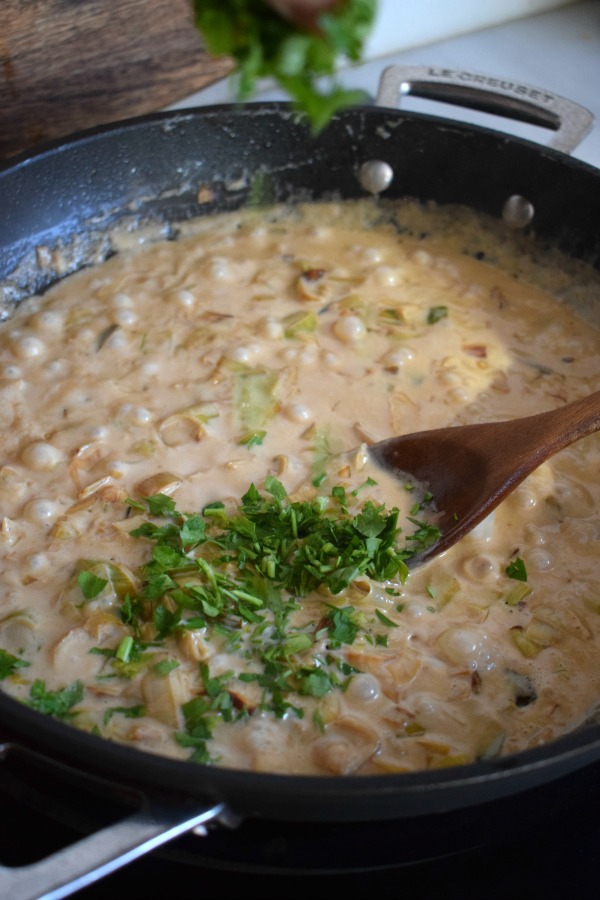 ---
Putting the Pie Together
Pour over the sauce and stir well to completely combine.
Roll the pastry sheet over the top of the dish.
Tips for using Puff Pastry: I usually defrost my pastry in the fridge. But if you are in a hurry, you can leave it on the counter for about 20 minutes before rolling it out. Don't leave it out too long for it will become really soft and be quite difficult to work with.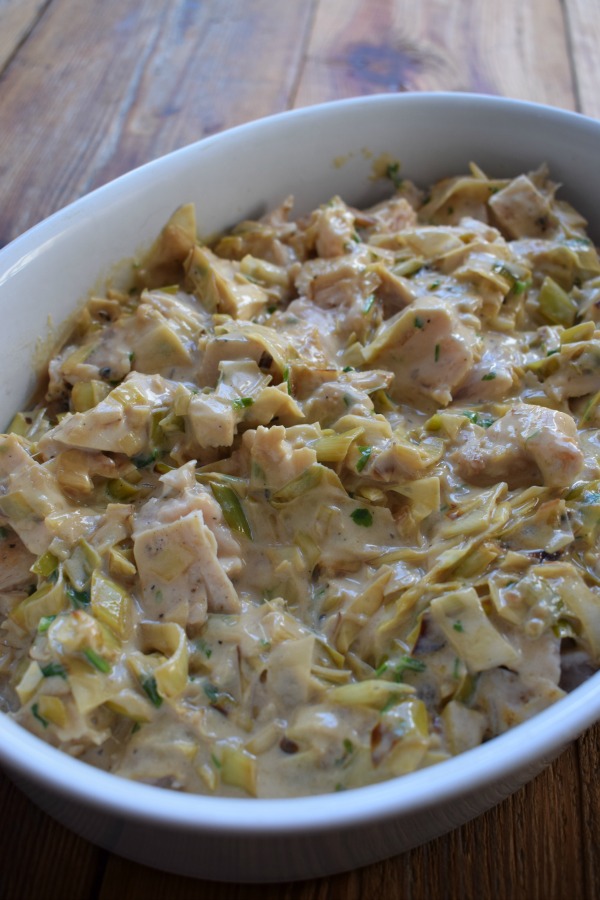 ---
Covering the Pie with The Pastry
Make sure you cover the top completely with the pastry. Press the edges firmly down. You can choose to cut off the loose ends that hang down or just press them against your dish and fold them in. I do this because everyone likes the extra pastry!
Make sure to pierce holes in the top of the pastry. This is so the steam can release as it cooks.
Whisk the egg and brush the pastry top.
At this stage you can cover and refrigerate the pie to cook later.
Making it now? Place in your preheated oven for 25 – 30 minutes. The pastry should be golden in colour and puffed. Delicious!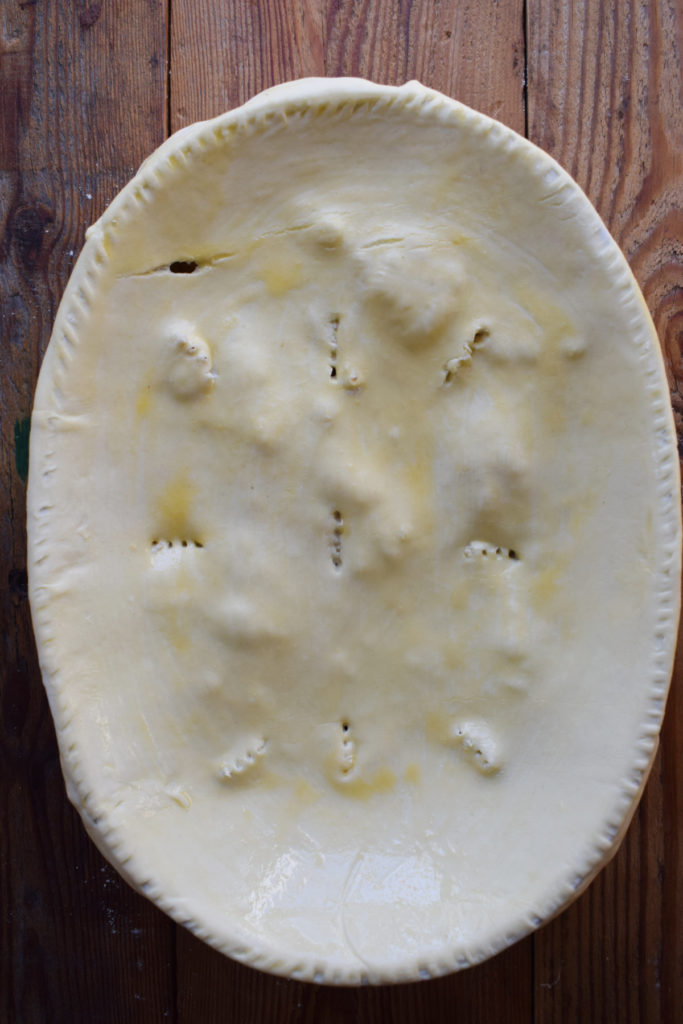 ---
Enjoy the Creamy Chicken & Leek Pie
For best results, let the pie rest for about 15 minutes before serving. The sauce thickens up more as it cools a little after removing from the oven.
It's comfort food!
You can make it in advance and keep it in the fridge until cooking time
Makes for an easy make ahead dinner when you know you won't have much time later on.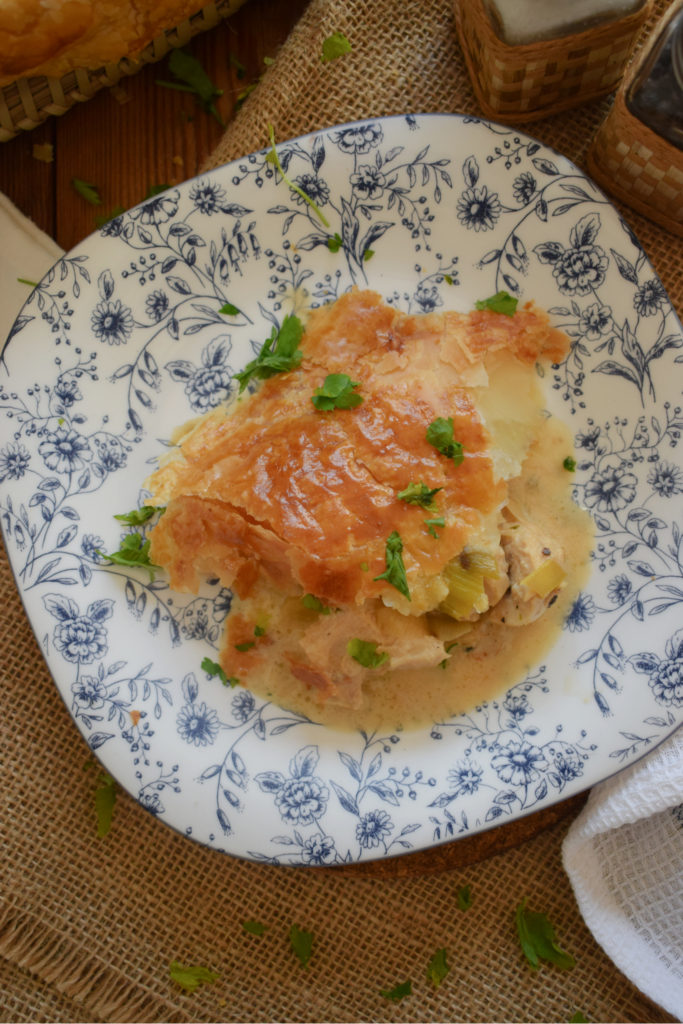 What to serve on the side
We usually serve this with fresh steamed vegetables. But the Parmesan Topped Green Beans would be great as well. And if you're looking to turn it into a real hearty dish, why not add the Thyme & Lemon Roasted Potatoes, yum!
I hope you enjoyed the recipe and get a chance to make it sometime. It's a keeper.
Happy cooking friends and I'll see you all soon!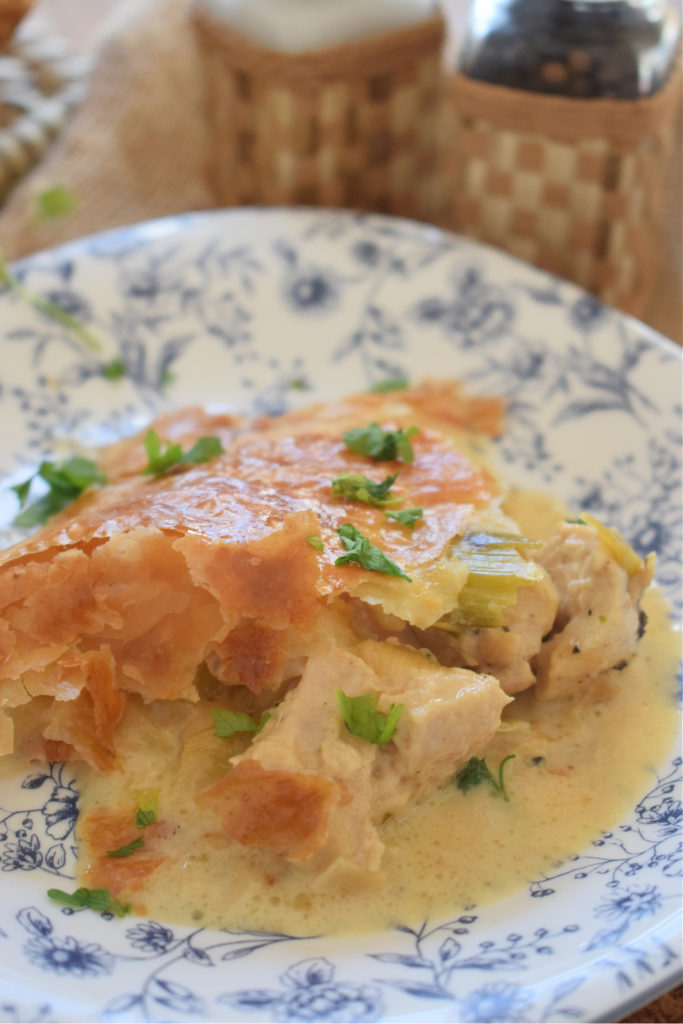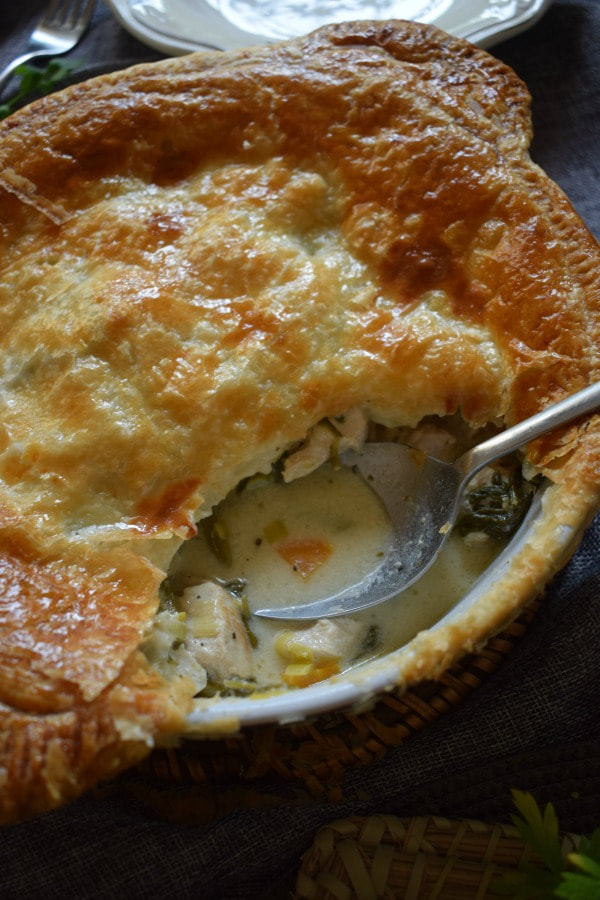 Creamy Chicken & Leek Pie
A delicious creamy chicken and leek pie topped with perfectly crisp pastry!
Ingredients
3

boneless skinless chicken breast

2

Tablespoons

butter

1

Tablespoon

olive oil

2

leeks

green ends cut off and thinly slices cross ways

1

Tablespoon

cornflour

2

Tablespoons

water

1

Cup

white wine

1

Cup

double cream

8

oz

Mascarpone cheese

2

garlic

crushed

parsley

finely chopped

1

puff pastry

sheet

1

Egg

beaten

1

tsp

salt

1

tsp

pepper
Instructions
Preheat oven to 375 degrees F. Have ready a deep sided 8 inch casserole dish.

Mix together the cornflour and water and set aside.

Place the chicken between two sheets of parchment. Gently flatten out to about 1 inch thickness. Season both sides with salt and pepper.

Heat olive oil in large skillet. Add chicken and sear each side for about 2 minutes. It is important not to cook the chicken throughout at this stage. It makes for a more tender pie if you partially cook before baking. Remove chicken from pan, cut into small pieces and set aside.

Using reserved pan, add the butter, garlic and the leeks. Cook over medium to high heat for around 10 to 12 minutes. Turn down low and add wine and reduce liquid by about half. Then add the marscapone cheese and cream and cook over low heat for a further few minutes. Bring to a simmer and stir in the cornflour mixture and parsley. Stir well and remove from heat.

Add the chicken and sauce to your casserole dish. Cover with pastry and press down the edges securely around the sides. You can make a pretty pattern with a fork if you like. Once you have done this make a few holes in the pie with a fork. This is so some air can escape while baking. Finally brush the pastry with the beaten egg. This is so you get that extra golden & perfect pastry.

Bake for 25 minutes or until golden. Remove from oven and let sit for 5-10 minutes before serving.
*A note on times provided: appliances vary, any prep and/or cook times provided are estimates only.
Nutrition Facts
Creamy Chicken & Leek Pie
Amount Per Serving
Calories 719
Calories from Fat 504
% Daily Value*
Fat 56g86%
Cholesterol 166mg55%
Sodium 643mg28%
Potassium 356mg10%
Carbohydrates 27g9%
Protein 20g40%
Vitamin A 1780IU36%
Vitamin C 5mg6%
Calcium 113mg11%
Iron 2mg11%
* Percent Daily Values are based on a 2000 calorie diet.
---
Thanks for stopping by and hope to see you soon!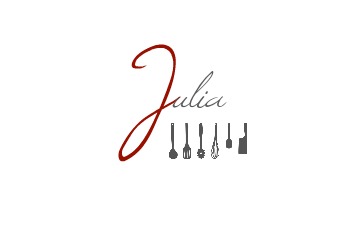 By