Finally making for the eighth day of the Twelve Days of Christmas Cookies. Today we've got Apple Pie Crumble Bars and they were worth the wait. A shortbread base with an apple pie filling and topped with a crisp buttery topping. Where an Apple Pie meets a Crumble and becomes irresistible.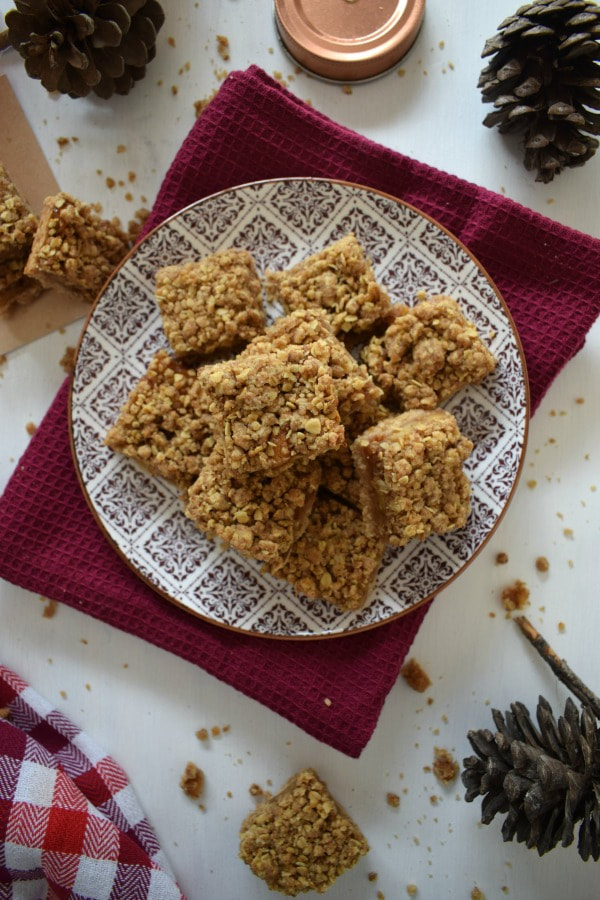 ---
Today, a day late, I'm here with something pretty delicious. These Apple Pie Crumble Bars are truly amazing and you NEED to make them…pronto! If you love Apple Pie and Apple Crumble, these are for you!
Don't miss Delicious Apple Desserts for Fall. More than a dozen great desserts from pie to cheesecake, muffins and more!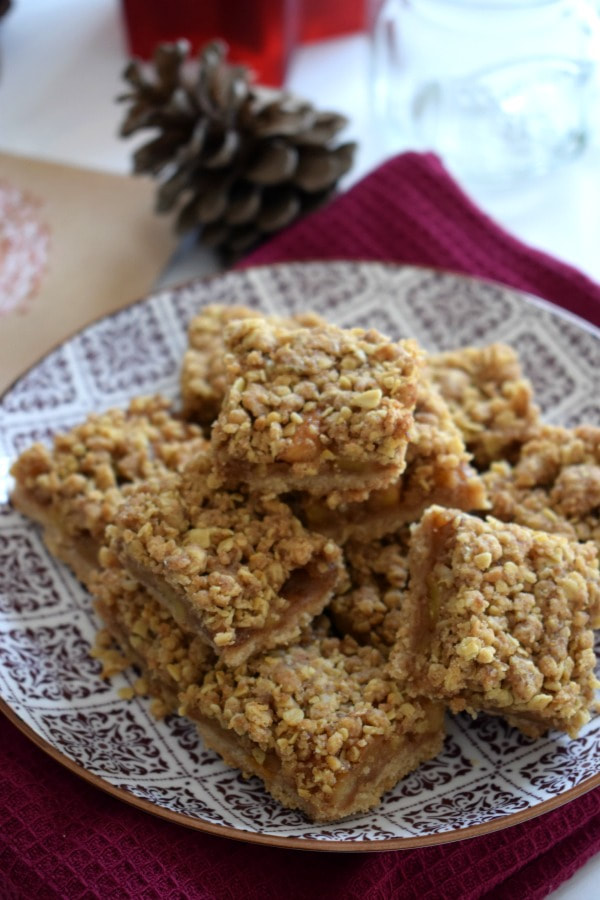 ---
This is an updated version that's been on the blog since 2015. I've tweaked a few things and made them a whole lot better. When I made these a few weeks back, they didn't last long at all. Silly, I thought I'd have some to stash in the freezer. The cookie monsters went to work once again. Looks like I'll have to make more because I think I only got one or two for myself. Never fails!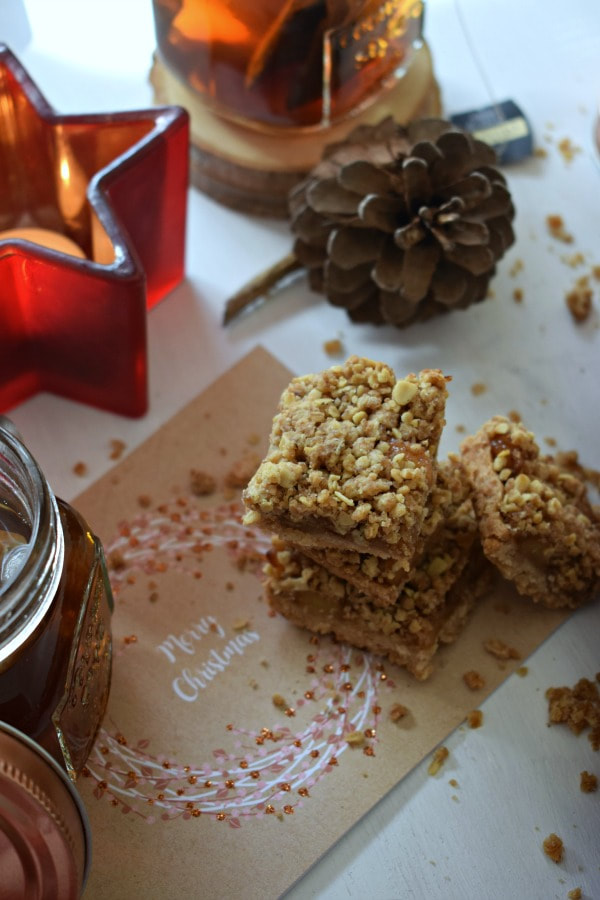 ---
Ingredients For The Apple Pie Crumble Bars
---
So, let's get started. And like always, read the recipe to the end and get all our ingredients out in front of you. Get that coffee, tea or whatever, turn up the tunes and let's start baking!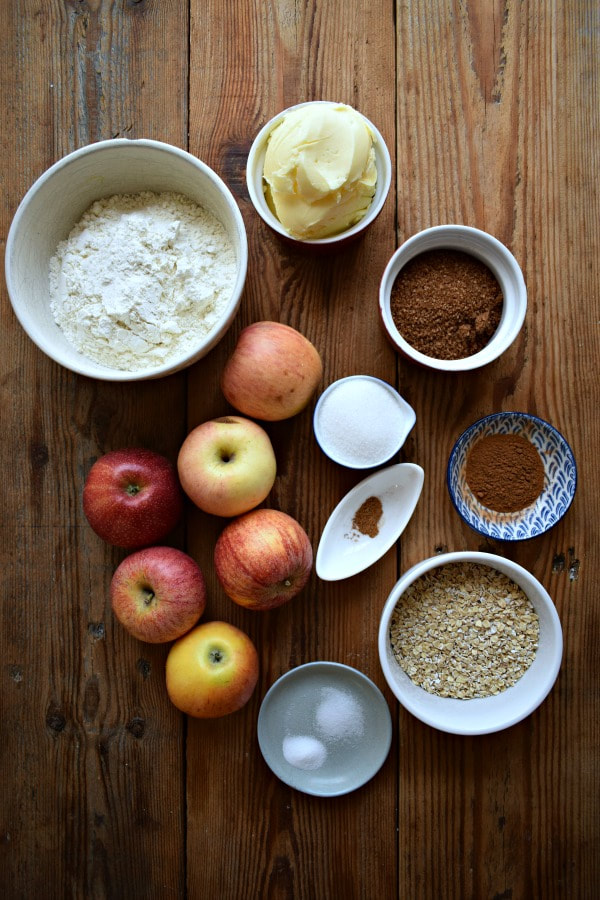 ---
Okay, now that you've read the recipe, right? Time to get started. And like all bar cookies, we work from the bottom up.
Have ready your 8 x 8 baking tin. Grease and line it with parchment paper. And don't forget to preheat the oven to 350 degrees F. Now, let's make the base.
You'll mix together flour, sugar and spices (as seen in recipe below), until you have a crumbly mixture like you see here. Then press it into your prepared pan. Make sure you press it firmly and evenly. If you don't press it in firm, it will likely fall apart when baked.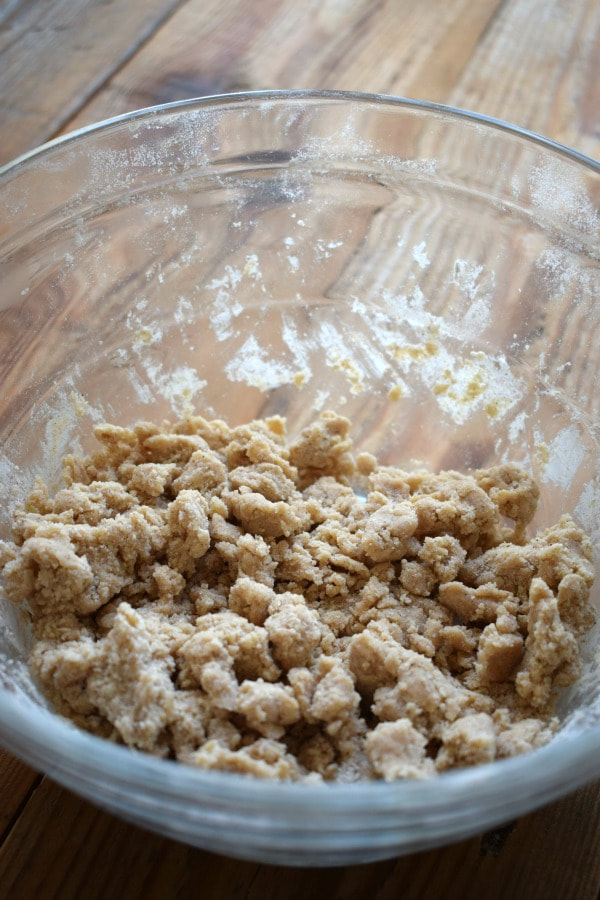 ---
It doesn't have to be perfect, just kind of like what I've got done here is just fine. But firm is key with this base, so make sure you press it in firm.
Bake it for about 10 – 12 minutes or until it's slightly golden and puffed up a bit. Remove from oven and leave to cool.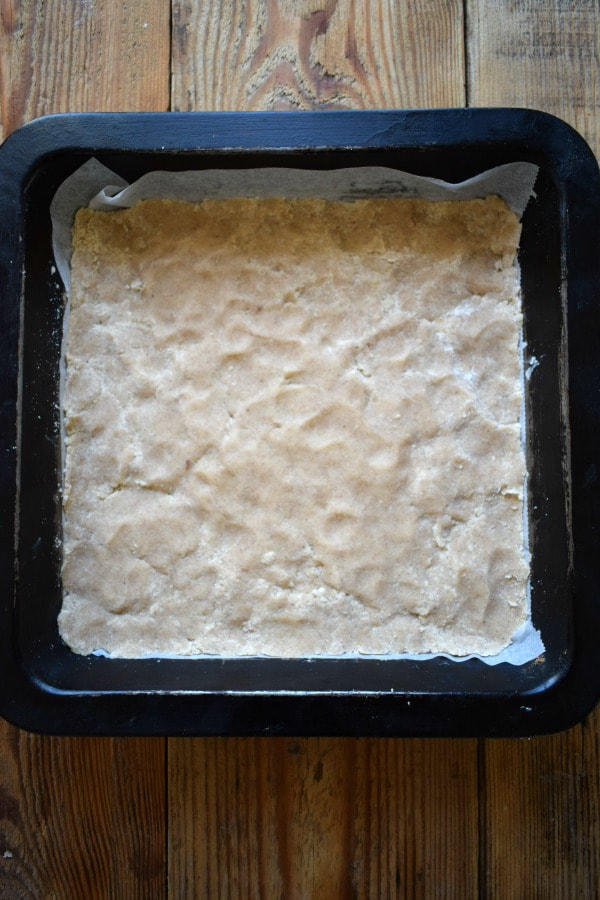 ---
Multi Task When You Make these
---
To save time, get going on the filling when the base is in the oven. I used 6 medium sized apples for this recipe. Peel the apples, cut them in slices and then dice them up like shown here.
Next up, time to cook the apples to make the delicious filling. Which you can easily eat all by itself! Place the apples, butter, brown sugar and cinnamon in a medium skillet over medium heat. Give a good stir and let cook for 10 – 15 minutes or until the apples are completely soft and golden. Stir them occasionally through the cooking process so they don't stick. You may need to reduce the heat a little and add a tiny splash of water if they start to stick.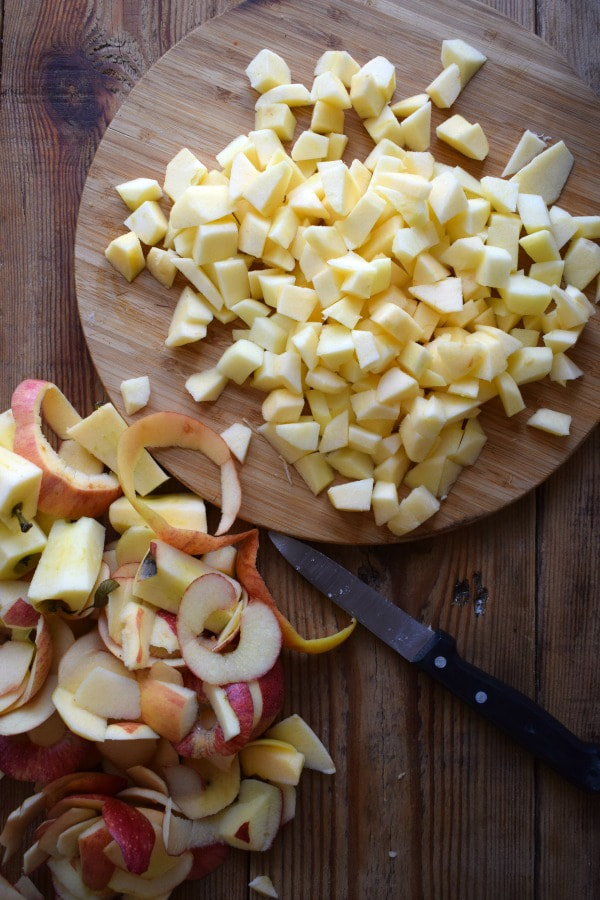 ---
Here's what you'll have when you're done. Soft, golden and delicious apples.
Evenly pour them over the cooled base and press them in evenly with the back of a spoon.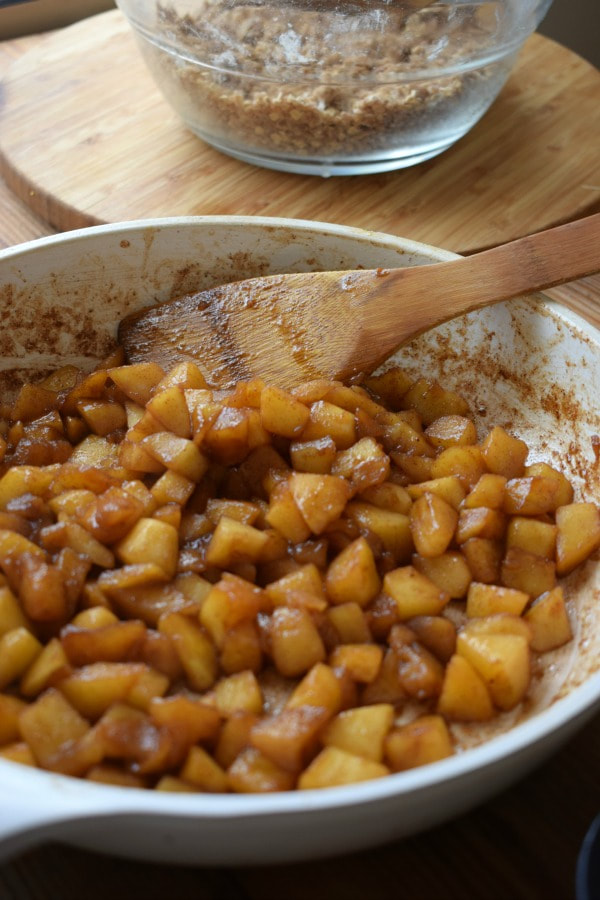 ---
Finally onto the last step for these bar cookies.
Make the crumble topping. Much like the base but with the addition of oats as well. Mix together the flour, sugar, oats, spices a butter in a medium mixing bowl. Using your hands, mix it together until it becomes crumbly. You don't want to form it into a full on dough, just a crumbly mixture.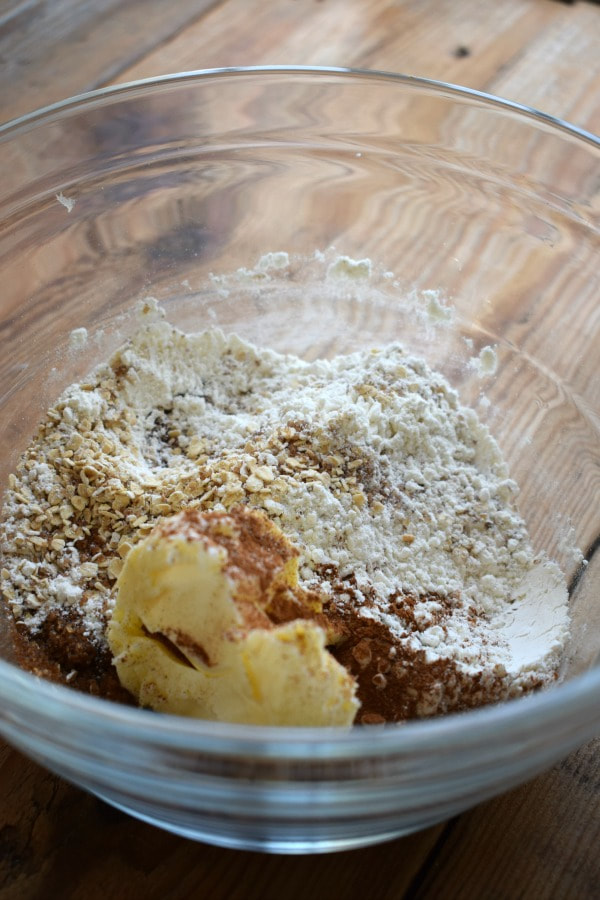 ---
Put The Mixture in the Baking Tray and get them Ready To Bake
---
Spread the crumble mixture all over the apples making sure the entire top is covered. And again, press it down with your hand or the back of a spoon. It doesn't need to be firm like the base, but give it a gentle press all over the top.
Bake these in a preheated 350 degrees F oven for about 20 – 25 minutes. The top will be golden and the edges looking a little crisp.
Remove from oven and place the tray on a cooling rack. Leave to cool completely before cutting into squares. Yes, that's tricky. I let them cool for two hours before attempting to cut them. If you cut them too soon, they will likely start to fall apart. The key is in waiting!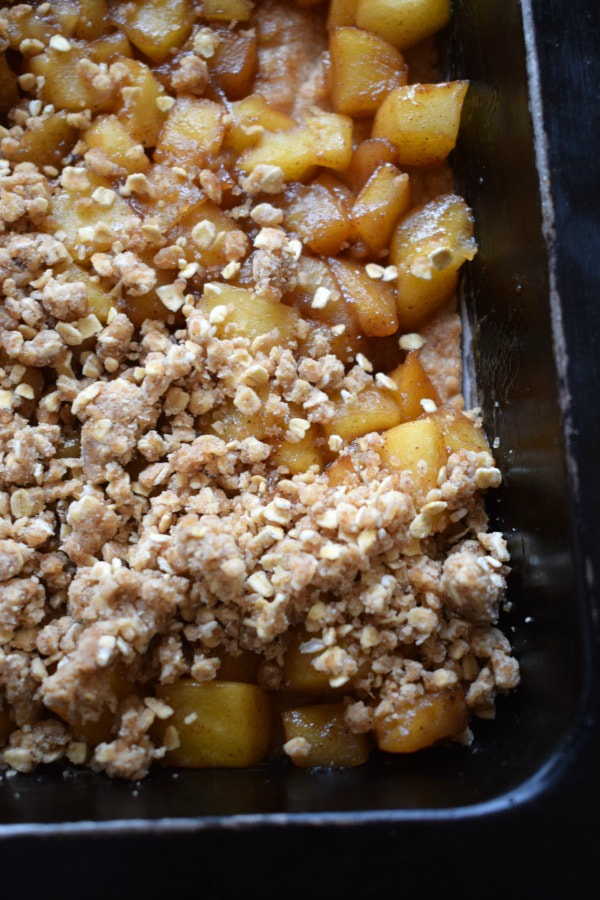 ---
How To Cut Them Out
---
The best way to cut them it to lift the entire parchment paper out of the tray with the bars. Place it on a large cutting board and use a big knife to do long even cuts. It really doesn't matter. But this is the best way to get them around the same size. I cut mine in rows of 5 which gave me 25 bar cookies. They are quite filling and this size seems to be quite good. You could always eat two or three or…..
These will keep on the counter for 2 – 3 days. In the fridge for about a week and in the freezer for about a month. Make them this December!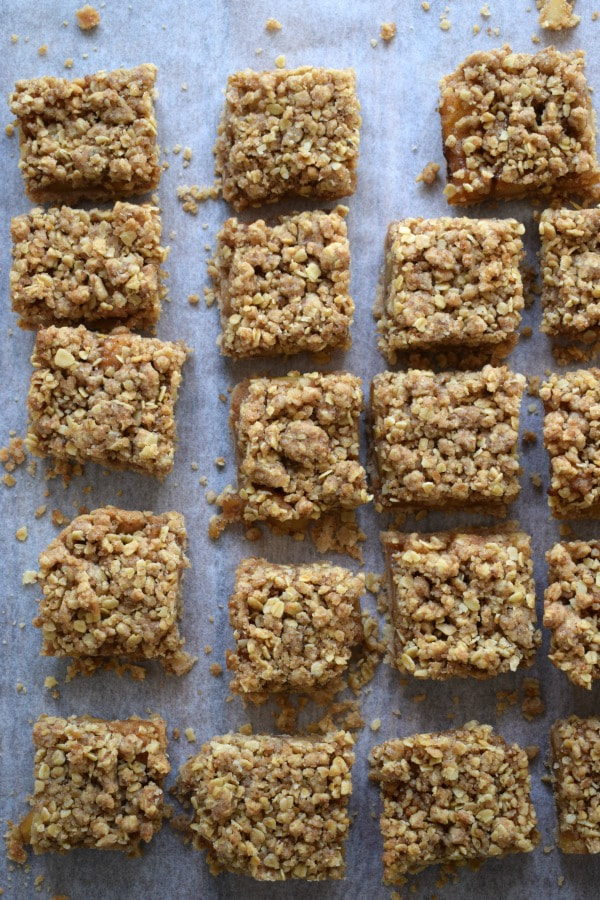 ---
If you Like These, Here's a few other Things You Might Like
---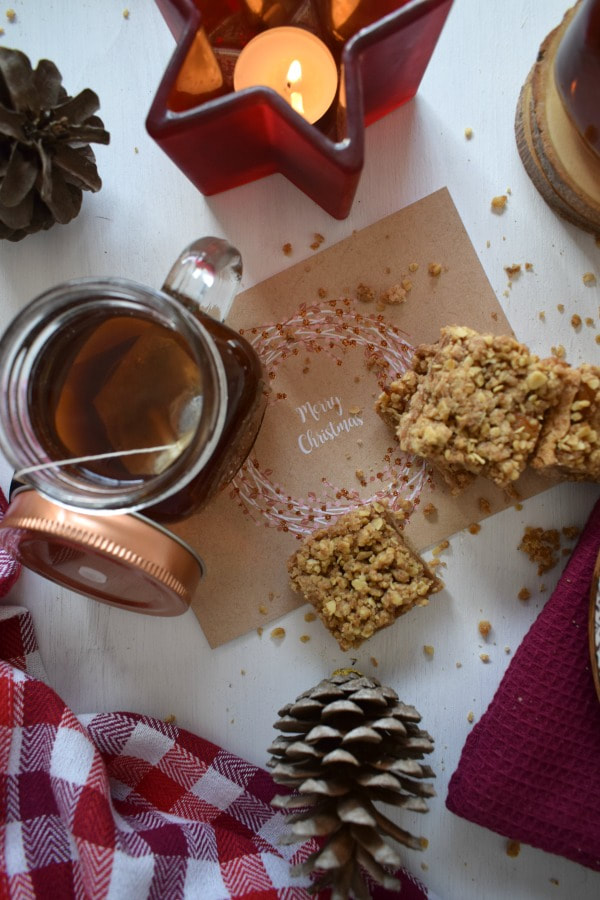 ---
A stack of Apple Pie Crumble Bars ready to store away or enjoy now!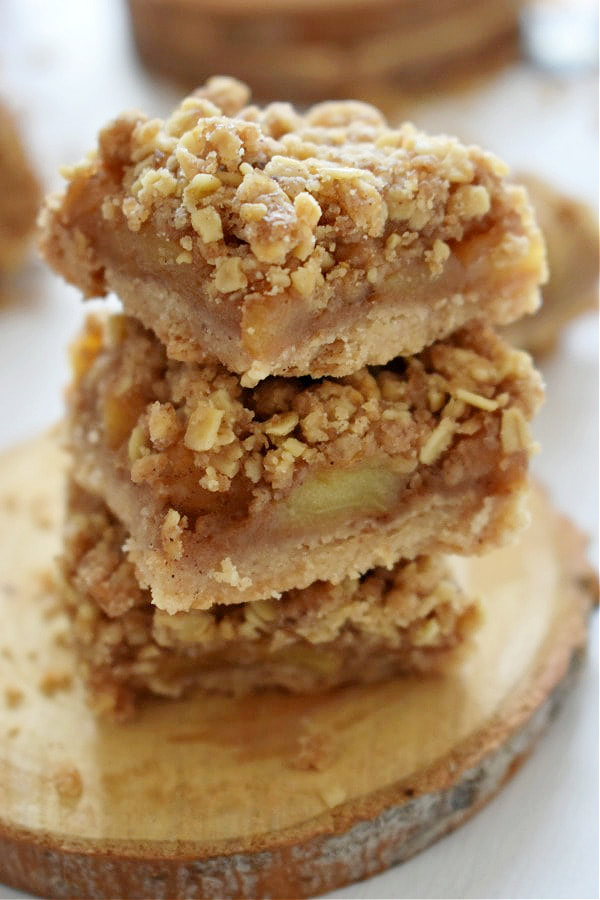 ---
Another great idea for these Apple Pie Crumble bars is gift giving. Personally, I love the idea of edible gifts. And who doesn't love cookies during Christmas.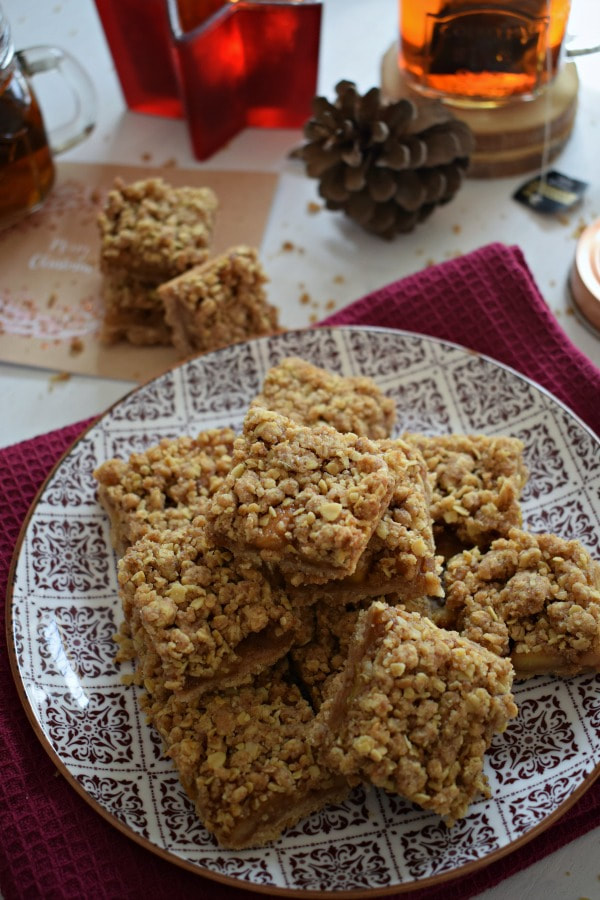 ---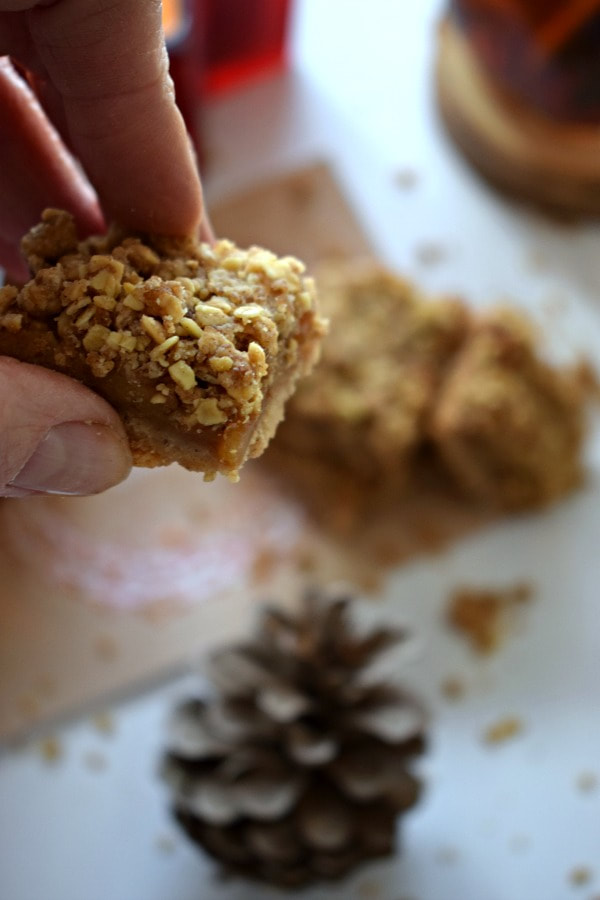 ---
In the meantime, I hope you're all enjoying the treats and can find some baking inspiration. If you like these bars you will probably like my Classic Apple Pie or the Apple Crumble. The pie is a bit of work but delicious. The apple crumble is fantastic and easy!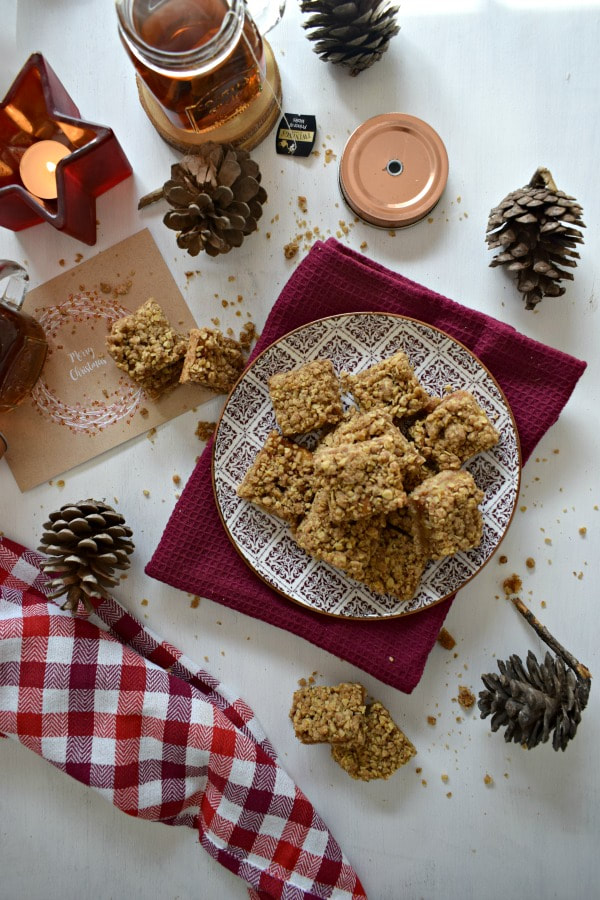 ---
Well, friends that sums up Day Eight of the Twelve Days of Christmas Cookies. I hope you enjoyed today's treat and are looking forward the next one. Tomorrow I'm bringing you a super easy non bake treat that takes just minutes to put together. Balancing out the time consuming Apple Crumble Pie Bars from today!
And the song of choice for today is Driving Home for Christmas by Chris Rea. Another 80s classic Christmas Tune that I listen to all the time. If only they would build a bridge over the Atlantic, I'd could drive home for Christmas. Easy, right?
Have a great day everyone. I'll be back tomorrow if technology is on my side!
---
Like what you see today? Don't forget you can follow on Facebook for daily inspiration or over on Instagram where I sometimes do daily cooking videos for fun! I'm also on Pinterest which is a great place that you can save and share your favourite recipes. As well, if you haven't yet, Subscribe to the newsletter. You'll be notified whenever there's a new recipe! You can do that at the top of the page.
---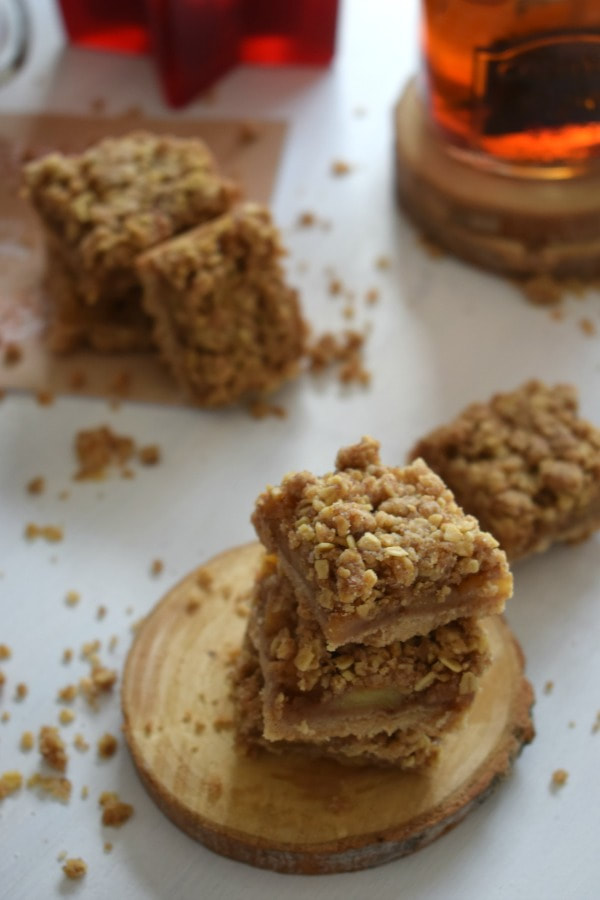 ---
get the recipe!
---
Apple Pie Crumble Bars
Today we've got Apple Pie Crumble Bars and they were worth the wait. Where an Apple Pie meets a Crumble and becomes irresistible.
Ingredients
For the base:
1/2

Cup

butter

1/4

Cup

sugar

1

Cup

flour

1/2

Teaspoon

cinnamon

1/4

Teaspoon

nutmeg

Pinch

salt
For the apple filling:
3

Tablespoons

butter

1/4

Cup

brown sugar

4-6

apples

peeled and diced (size depending, if using large apples you will only need 4)

1

Teaspoon

cinnamon
For the crumb topping:
3/4

Cup

oats

you can use either rolled oats, old fashioned oats or instant oats

1/2

Cup

flour

1/3

Cup

brown sugar

1/2

Teaspoon

cinnamon

Pinch

baking soda

Pinch

salt

1/3

Cup

butter
Instructions
First make your base. Grease and line a 8 x 8 inch baking pan. Mix together the butter and sugar. Add in the dry ingredients until it comes together into a pastry like consistency. Press it into your prepared pan. Bake in a 350 degree F oven for about 12 minutes. It should be just slightly brown at the edges. Remove from oven and leave to cool.

Make your apple filling by melting the butter and sugar in a skillet until slightly foamy. Add the apples and spices and leave to cook for about 10 – 15 minutes over a medium heat. The apples should be soft and no excess liquid in the pan. Leave to cool for a few minutes and then spread out over your base.

Finally, make your topping by cutting the butter into the dry ingredients. Use your fingertips to incorporate the butter into the dry mixture until it becomes crumbly. Evenly sprinkle the crumb mixture over the apples. Bake in your preheated 350 degree F oven for about 20-25 minutes. The crumble should be lightly golden brown. Remove from oven and leave to cool completely before cutting into squares.
*A note on times provided: appliances vary, any prep and/or cook times provided are estimates only.
Notes
For best results.  Allow to cool completely in the pan on the counter.  Then cover and refrigerate for several hours before cutting. 
Nutrition Facts
Apple Pie Crumble Bars
Amount Per Serving (1 serving)
Calories 146
Calories from Fat 72
% Daily Value*
Fat 8g12%
Cholesterol 20mg7%
Sodium 68mg3%
Potassium 55mg2%
Carbohydrates 19g6%
Protein 1g2%
Vitamin A 247IU5%
Vitamin C 1mg1%
Calcium 11mg1%
Iron 1mg6%
* Percent Daily Values are based on a 2000 calorie diet.
---
thanks for stopping by and hope to see you soon!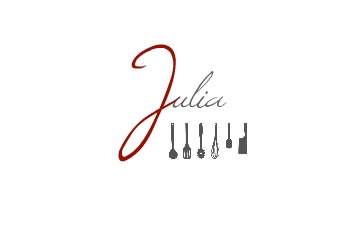 By