These Honey Garlic Butter Drizzled Carrots are quick, easy and tasty. A great side dish to a Sunday dinner. Made lots of garlic butter and added honey for a touch of sweetness.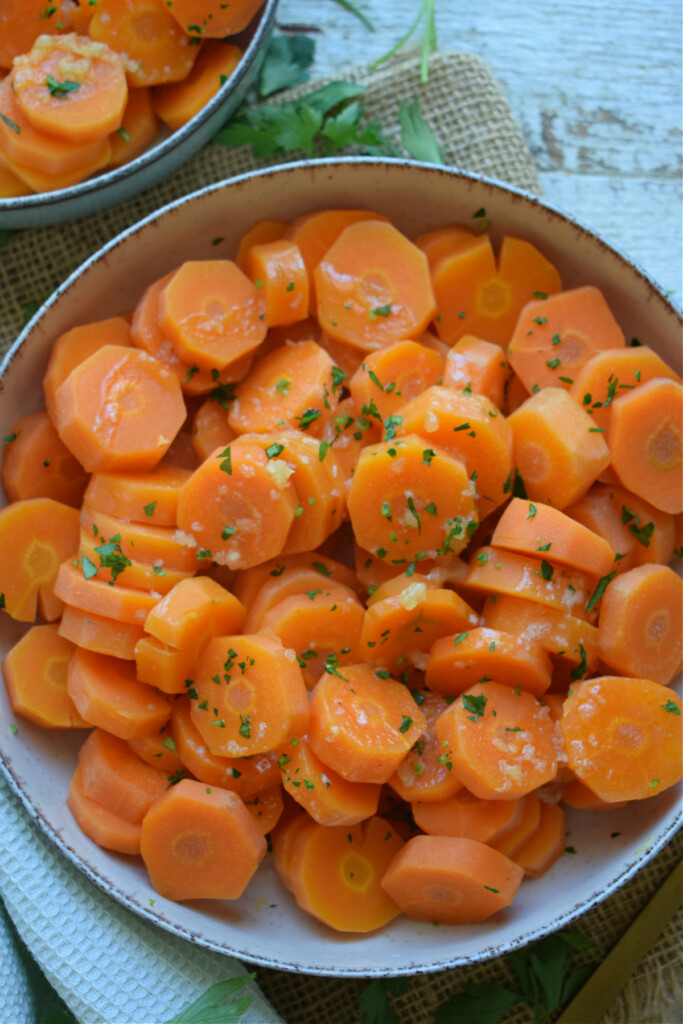 ---
Originally posted on January 20th, 2016. Updated on May 1st, 2023 to include new photos, recipes tips, frequently asked questions and more relevant information.
A great side dish to make with just about anything you may be serving all year long. Serve some Fluffy White Dinner Rolls, Spiced Roasted Potatoes and the Oven Roasted Rotisserie Style Chicken for a complete dinner!
What Are These Carrots Like
Difficulty

– This is a super easy dish to make with two components that's all done on the stove top. It comes together quickly as is a great last minute side dish.

Taste

– A great recipe for carrot lovers. The carrots are cooked al dente and have a lovely flavour with a slightly sweetened honey garlic butter.

Serving

– This recipe will easily serve six people as a side dish. In the recipe card you can easily scale the recipe up or down to the number of servings you would like to make.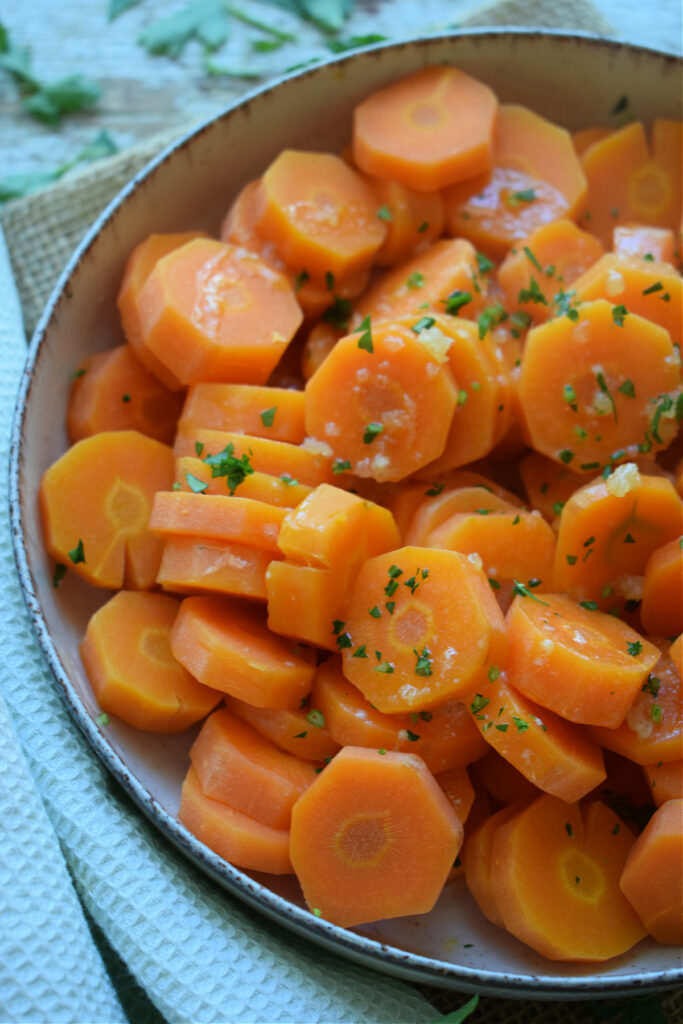 ---
Ingredients
Carrots

– I used large good quality carrots for this recipe. The feature is carrots so make sure your carrots are fresh and firm. If you choose to use small carrots, keep in mind that cooking time will vary.

Butter

– This recipe uses unsalted butter. If you decided to go with salted butter, omit salt from the recipe. Otherwise, you risk the dish being over salted.

Garlic

– Fresh garlic works best. However, you can use the pre peeled garlic cloves that come in a jar for a close subsitute.

Honey

– I used runny honey. However, any kind of honey will work in this recipe as it's just adding sweetness.

Fresh parsley

– This fresh herb adds a nice touch of flavour as well as colour to the dish. Fresh parsley will work best and I don't recommend using dried parsley for this recipe. If you don't have fresh parsley, you can use another fresh herb like basil or mint for a different flavour.

Salt

– I used fine table salt and it helps enhance the flavour of the honey garlic butter.
NOTE, The full recipe and instructions can be found at the end of the post in the recipe card.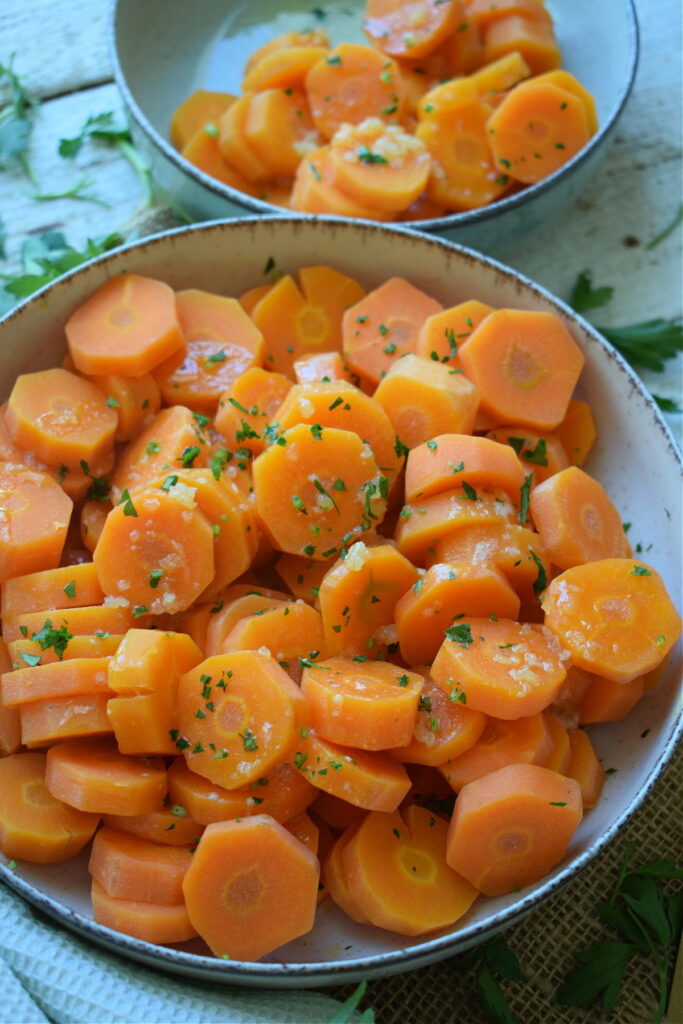 ---
Instructions
Cook carrots

– In a medium sized saucepan set over medium heat, cook the carrots in simmering water for about 15 minutes or until tender. Remove from heat and drain.

Make garlic butter

– While the carrots are cooking, make the honey garlic butter. In a small skillet set over medium-high heat, melt the butter. Add the garlic with the salt and allow to sizzle for about a minute until it becomes a little fragrant. Reduce heat to low and whisk in the honey. Remove from heat and add fresh chopped parsley. Stir well to combine.

Serve

– Transfer the carrots to a serving platter and pour over the honey garlic butter. Serve immediately.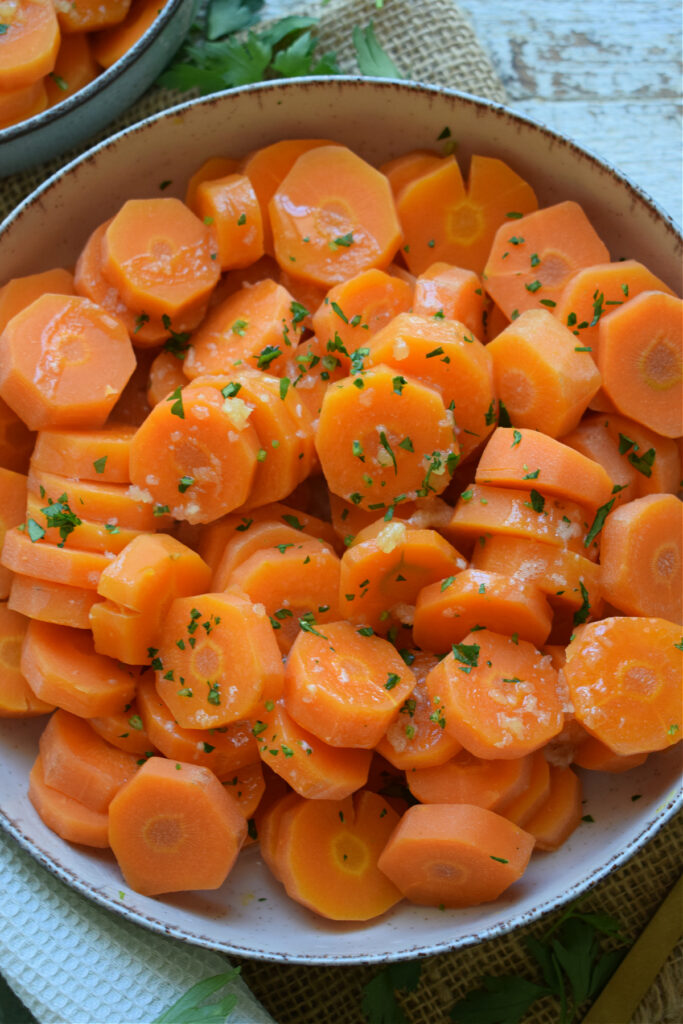 ---
Recipe Tips & Alternative cooking Methods
Multi task

– Although this is a super quick and easy recipe, it's recommended to cook the carrots and make the garlic butter at the same time. When your carrots have about 5 minutes of cooking time left, make the honey garlic butter. This way, the carrots will be served hot.

Don't overcook

– Carrots will become quite soft if they are overcooked. These cooked perfectly al dente (with a bit of a bite), in 15 minutes. Depending on the size of your carrots, yours could cook quicker or take a little longer.

Cutting carrots

– I liked these cut into rounds as you will see in the recipe. Don't slice them too thin or they won't have a bite to them after cooking. I sliced mine into about 1/2 inch rounds. You can also cut them on a diagonal

Roast instead of boil

– Alternatively, you can roast these carrots. Roast them in a preheated 350 degree oven for 20 – 25 minutes. You will have to drizzle them with a little olive oil so they don't stick while roasting. You will simply pour over the garlic honey butter after they are roasted.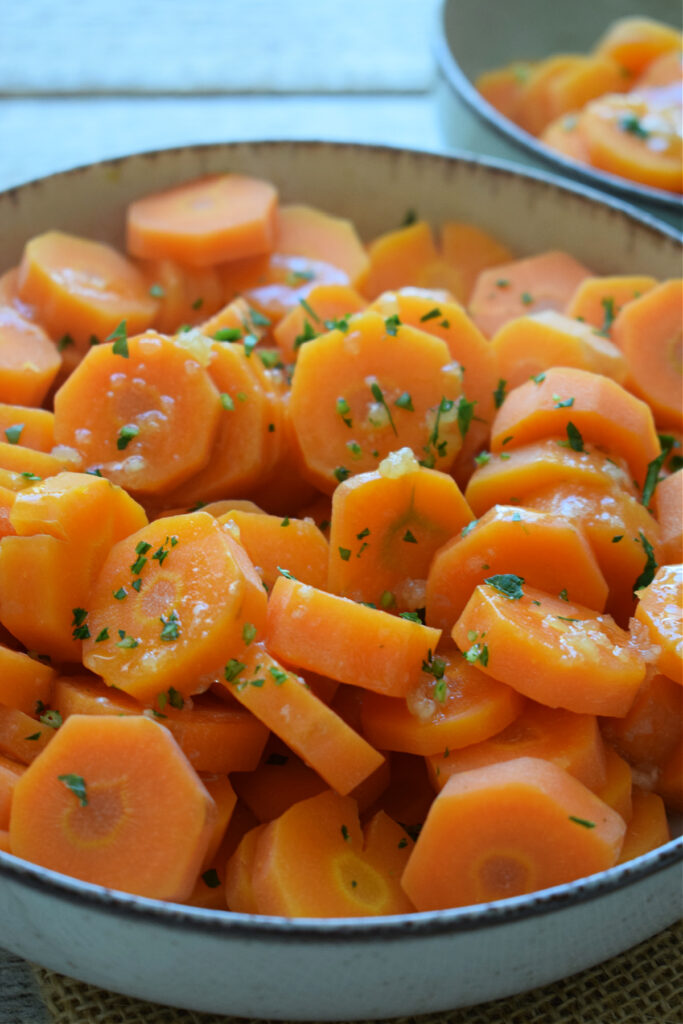 ---
What to Serve With These Carrots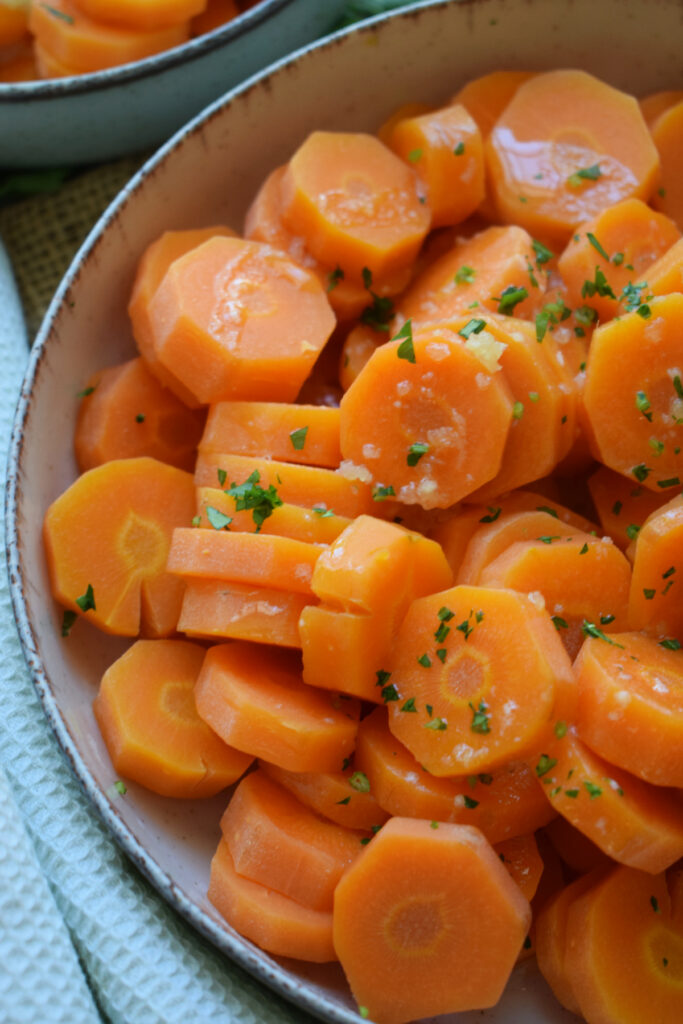 ---
Frequently Asked Questions
What goes well with carrots?
Carrots are so versatile and pair well with many different flavours. A few of the herbs and spices that go well are parsley, cinnamon, cloves, ginger, nutmeg, mint, dill and thyme. For a sweet touch, maple syrup, honey and brown sugar all go well.
Do you have to peel carrots before cooking?
Peeling carrots is down to personal taste. You can cook carrots with the peel or without. If you choose to cook carrots unpeeled, it's recommended to scrub them really well.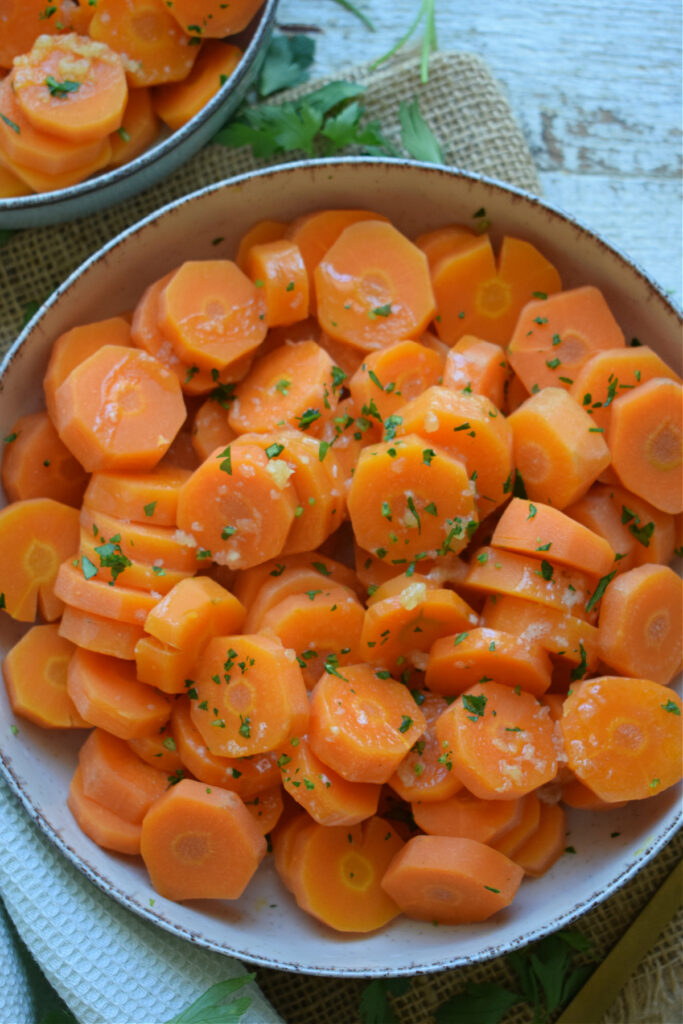 ---
---

---
Butter Sautéed Broccoli & Carrots
Why not make these quick and easy Butter Sauteed Broccoli & Carrots for your next weeknight side dish. Easy to make, nutritious and tasty!
Check out this recipe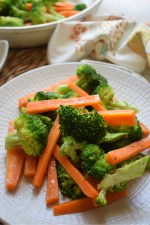 Sherry Sauteed Asparagus & Carrots
Why not jazz up your side dish with this Sherry Sauteed Asparagus & Carrots dish. A quick, easy and nutritious side that goes great with roast chicken, pork or even seafood.
Check out this recipe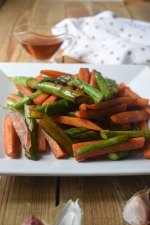 Cuming & Fennel Roasted Vegetables
Why not spice up your vegetables. These Cumin & Fennel Roasted Vegetables are a new take on a classic fall dish!
Check out this recipe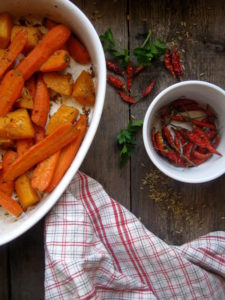 ---
---
Garlic Butter Drizzled Carrots
A great side dish to your Sunday roast or mid week dinner.
Ingredients
5 to 6

large

carrots

peeled and sliced on the diagonal

2

Tablespoons

butter

2

cloves

Garlic

crushed

1

Spring onion

very finely chopped

A few fresh chives

finely chopped

Salt to season
Instructions
In a small saucepan set over high heat, cook the carrots in boiling water for about 15 minutes. Remove and drain.

In a small skillet set over medium-high heat, melt the butter and add the garlic. When it starts to sizzle, remove from heat.

Transfer the carrots to your serving plate, pour over your garlic butter and top with the chopped spring onion and chives. Season with a little salt and serve.
*A note on times provided: appliances vary, any prep and/or cook times provided are estimates only.
Nutrition Facts
Garlic Butter Drizzled Carrots
Amount Per Serving (1 serving)
Calories 90
Calories from Fat 54
% Daily Value*
Fat 6g9%
Cholesterol 15mg5%
Sodium 113mg5%
Potassium 288mg8%
Carbohydrates 9g3%
Protein 1g2%
Vitamin A 15240IU305%
Vitamin C 6mg7%
Calcium 32mg3%
Iron 1mg6%
* Percent Daily Values are based on a 2000 calorie diet.
---
Thanks For Stopping By & Hope To See You Soon!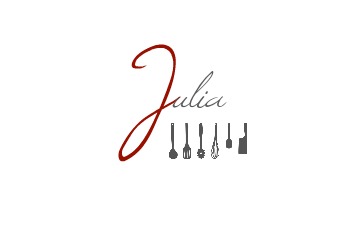 By