Sometimes, there is absolutely nothing better that a good home made pizza. And this Loaded Vegetable Pizza is no exception. Made with all fresh ingredients, you know it's going to be a hit!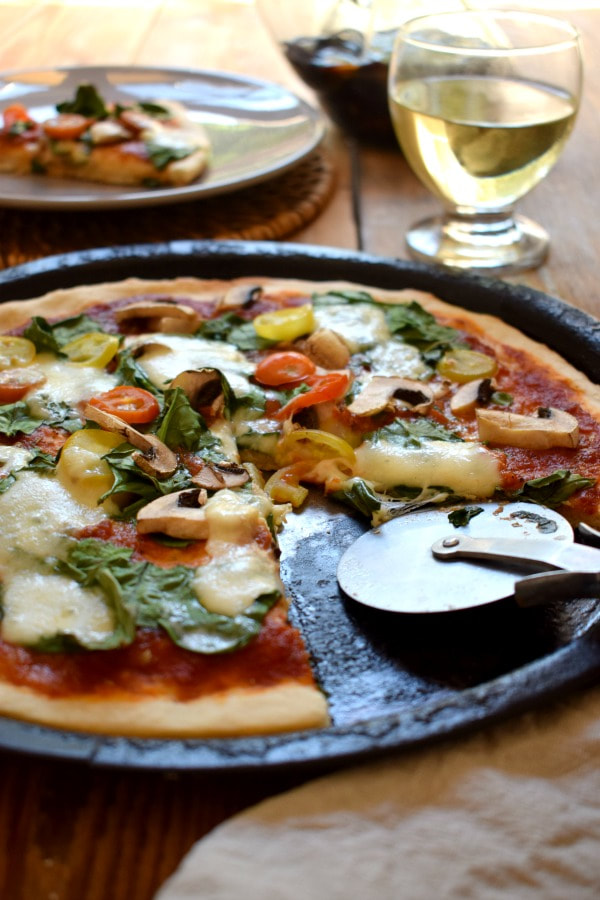 ---
Let's Make Some Pizza
This week I really wanted to focus on bringing you all some lovely Thanksgiving inspired recipes. Unfortunately, with my sheer lack of motivation to go all turkey in the sweltering heat, I have given up. Thrown in the towel and am about to burst into flames.
So, I am going to put my energy into pizza instead.
Look at all these lovely fresh ingredients. We got some fresh mozzarella, basil, spinach, mushrooms and pretty little cherry tomatoes. And then there's the freshly made sauce and the dough that just proved. All set to make a pizza and not a turkey.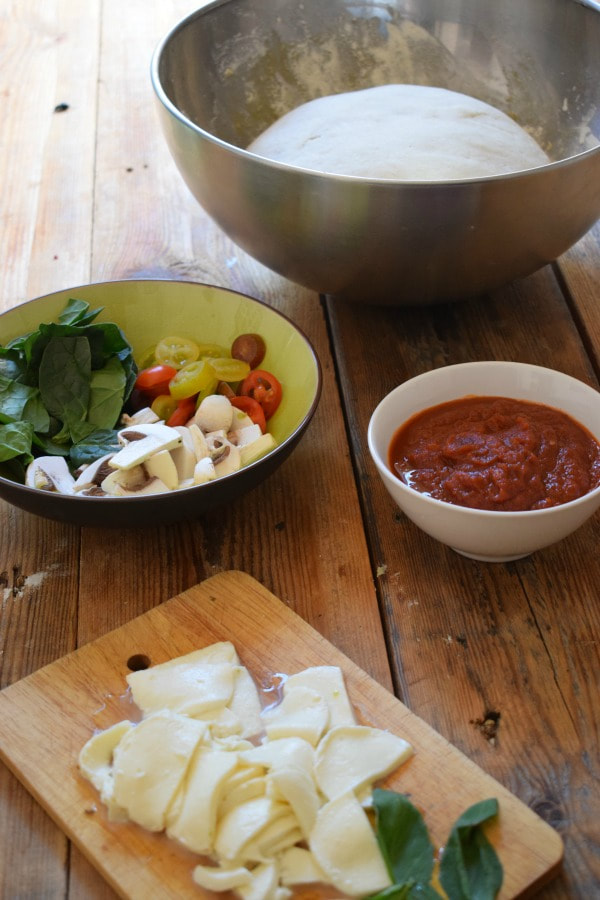 ---
Making Pizza Dough Using Pizza Flour Instead of Regular Strong Flour
I have a pizza dough that I absolutely love and have been using for quite some time now. You can click here for that recipe. It is a Jamie Oliver recipe and once I found it, I have not made another pizza base, ever. Until earlier this week.
---
Why I'm Trying Out The Pizza Flour
Okay, so I was out shopping the other day, like every other Tuesday morning of my life. That's my grocery day and God help the person that gets in the way of my Tuesday morning groceries. Yes, I am a creature of habit. Love my rituals and routine. Here is a quirky fact, I have been going to the same supermarket, on the same day and park in the same parking spot for 11 year now. Now that it out loud, it does seem weird.
In any case, I was taking my time picking up my stuff for the week and I spied Pizza Four. Umm. I always just use strong wheat flour for pizzas, so what is this stuff. I'll buy it. And I did.
I wasn't even planning to make pizza that day, but I did anyway as I had to try out the four. The Pizza Flour. Well, I honestly thought it was going to be magical and make life super easy with dough done and ready to do in minutes. Nope It was just regular flour with instant dry yeast added. I am sure you all know this stuff anyway and I am the late bloomer to Pizza Flour.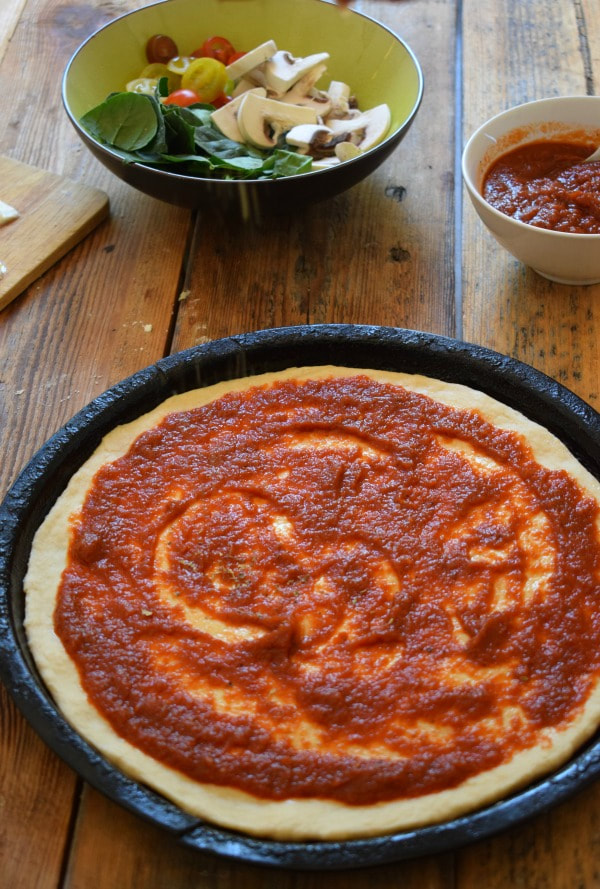 ---
Still I proceeded to make my pizza dough using the new flour and with a recipe on the pack. Yes, you still had to let the dough rise and it still took and hour. So, no speedy solution. Mind you the pack said to let it rest for 20 minutes. If any of you can ever get dough to rise in 20 minutes, please let me know your secret.
PS, yes I know this pan is ancient and I need a new one.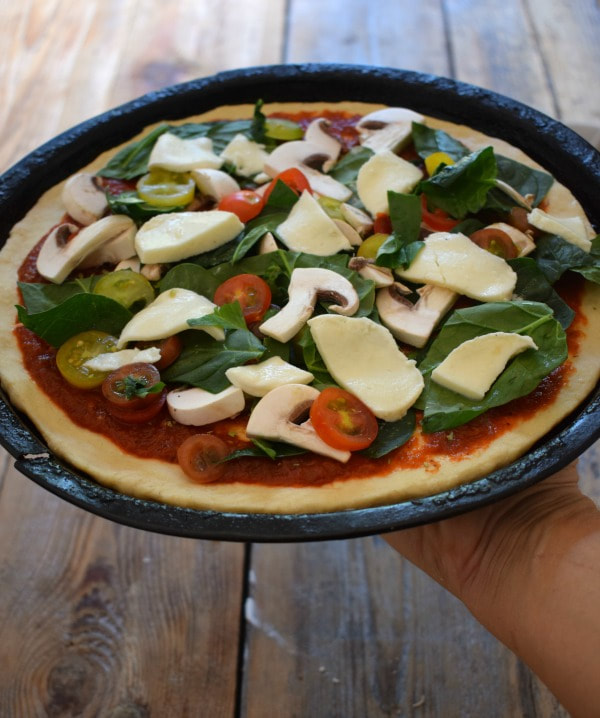 ---
What Did I Think About The Pizza Flour
What's my verdict on the Pizza Flour and new recipe? Honestly, it was good. Was it as good as my original Pizza Dough recipe? I have to be completely honest and say no. But it was still really good and easier than my other recipe. No waiting for the yeast to prove or sifting of semolina. Just straight mixing and a little bit of kneading. I will 100% make it again. Well, I do have half a bag of flour left.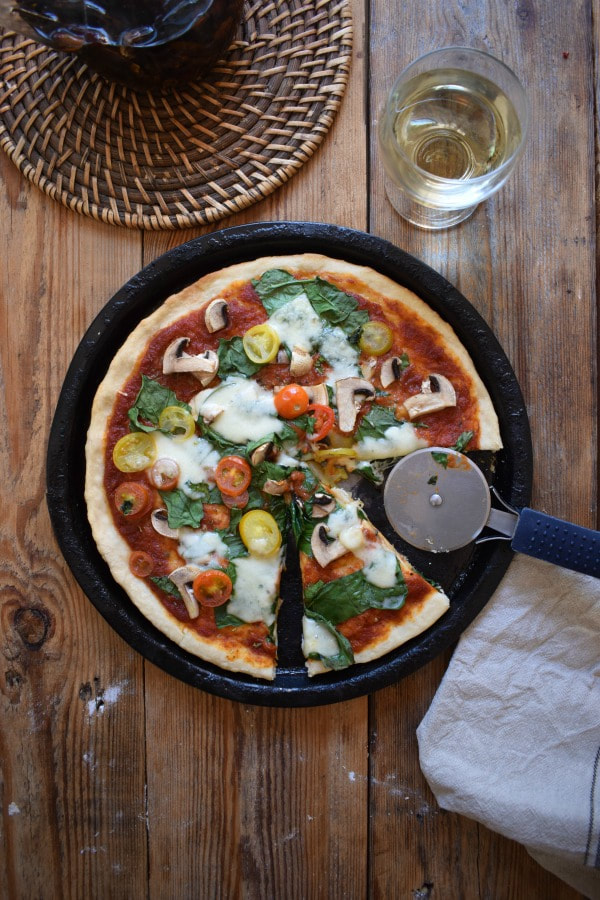 ---
The Proof Is In The Eating
As for this particular pizza you see in front of you, it was delish! Vegetable pizzas are my absolute favourite of all time. I used what I had in my fridge. Which by the way was a a lot because it was grocery day. Bonus. I am not a big fan of too much cheese on pizza, so you will see minimal fresh mozzarella on this pizza. I don't think it needs it with all those beautiful fresh vegetables and tasty sauce. If you are a cheese fan, pile it on!!!
---
Link To The Marinara Sauce
You will see in the recipe below that I added the link to the pizza sauce and did not include it in the prep time for this pizza. If you prefer, you could just as easily buy you sauce if that makes life easier. Honestly, pizza sauce is so easy to make and keeps in the fridge for weeks. One batch recipe makes enough for four or five pizzas. Not too bad.
And why not check out my Pizza Pocket Bites for the kids!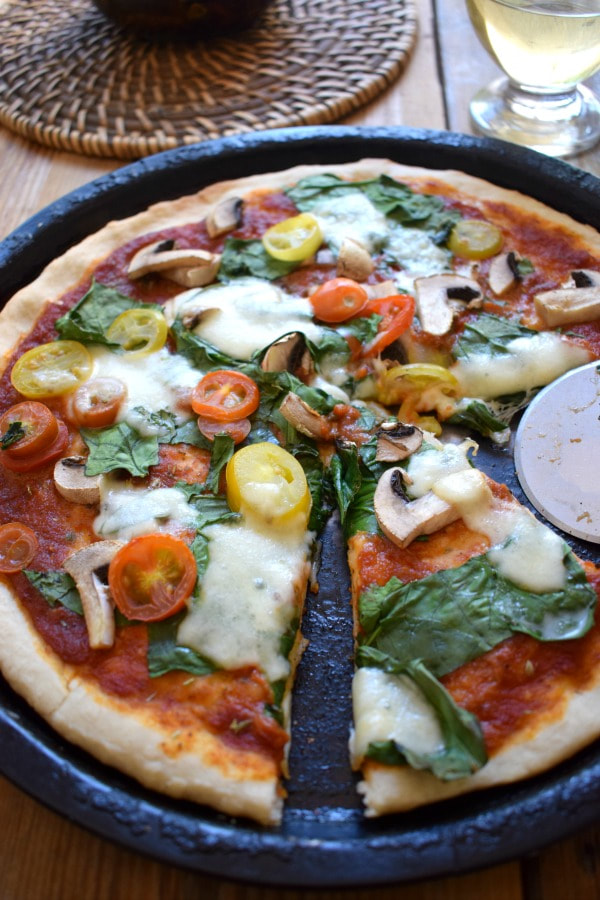 ---
More Great Pizza Recipes
Mushroom and Caper Pizza
Make this Mushroom and Caper Pizza for your next pizza night in! A crispy thin crust using homemade Pizza Dough with a rich tomato Marinara Sauce. Then topped with sweet caramelized onions, earthy mushrooms, tangy capers and fresh mozzarella cheese.
Check out this recipe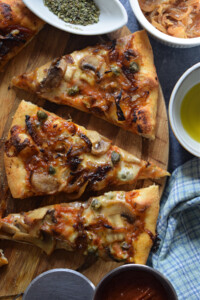 Mediterranean Thin Crust Pizza
This Mediterranean Thin Crust Pizza is a great way to enjoy pizza. Using premade pizza dough, fresh marinara sauce, roasted red peppers, black olives and spinach with mozzarella and parmesan cheese.
Check out this recipe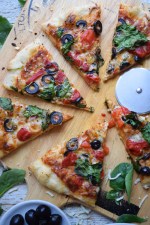 Caramelized Onion & Goat Cheese Pizza
Time to up your pizza game. This pizza with caramelized onions and goats cheese is worthy of red wine and fine dining. Make it and love it!
Check out this recipe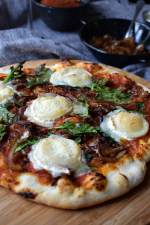 Loaded Vegetable Pizza
Sometimes, there is absolutely nothing better that a good home made pizza. And this Loaded Vegetable Pizza is no exception. Made with all fresh ingredients, you know it's going to be a hit!
Ingredients
For the dough:
2

Cups

pizza flour

1/2

cup

warm water

1

Teaspoon

salt

3

Tablespoons

olive oil
Other ingredients:
3/4

Cup

Pizza Sauce

1

Ball fresh mozzarella

cut into slices

1

Cup

fresh spinach

raw

1/2

Cup

fresh mushrooms

halved and sliced

1/2

Cup

cherry tomatoes

sliced

Small bunch of fresh basil

roughly torn

2

Teaspoon

dried oregano
Instructions
In a large mixing bowl, combine the flour and water. Stir until it starts to come together and then mix in the olive oil and salt. Use your hands to incorporate completely until it forms a dough, about a minute.

Turn the dough out onto a lightly floured surface and knead it for 2-3 minutes or until it becomes a soft dough.

Place the dough back in the bowl, cover with a damp tea towel and leave to rise. This will take anywhere between 1/2 hour and 1 1/2 hours. When dough has doubled in size, it will be ready.

Pre heat oven to 425 degrees F and have the rack on the lowest setting.

Have ready two 10 inch pizza pans. Grease each one with olive oil and dust with flour.

Divide the dough into two balls and place one in the middle of each tray. Start pressing down the dough and pushing it towards the side of the pan until you have a pizza base covering the entire pan.

Spread over the sauce leaving about 1/2 inch at the sides. Sprinkle over oregano and then cover with vegetables and top with fresh mozzarella and basil.

Cook for 10-12 minutes or until base is completely cooked. Serve immediately.
*A note on times provided: appliances vary, any prep and/or cook times provided are estimates only.
Nutrition Facts
Loaded Vegetable Pizza
Amount Per Serving (1 pizza)
Calories 676
Calories from Fat 207
% Daily Value*
Fat 23g35%
Cholesterol 1mg0%
Sodium 1656mg72%
Potassium 595mg17%
Carbohydrates 103g34%
Protein 15g30%
Vitamin A 580IU12%
Vitamin C 15mg18%
Calcium 31mg3%
Iron 7mg39%
* Percent Daily Values are based on a 2000 calorie diet.
---
Thanks For Stopping By and Hope To See You Soon!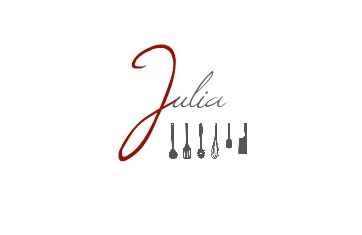 By