You can't beat the richness and taste of Homemade Marinara Sauce. This is a sauce I've been making for two decades, it's highly versatile and easy to store. Made using canned tomatoes, tomato paste, onions, olive oil, a few herbs along with salt and pepper, it's stuff you'll probably have on hand. Use it for Spaghetti, Lasagna and so much more.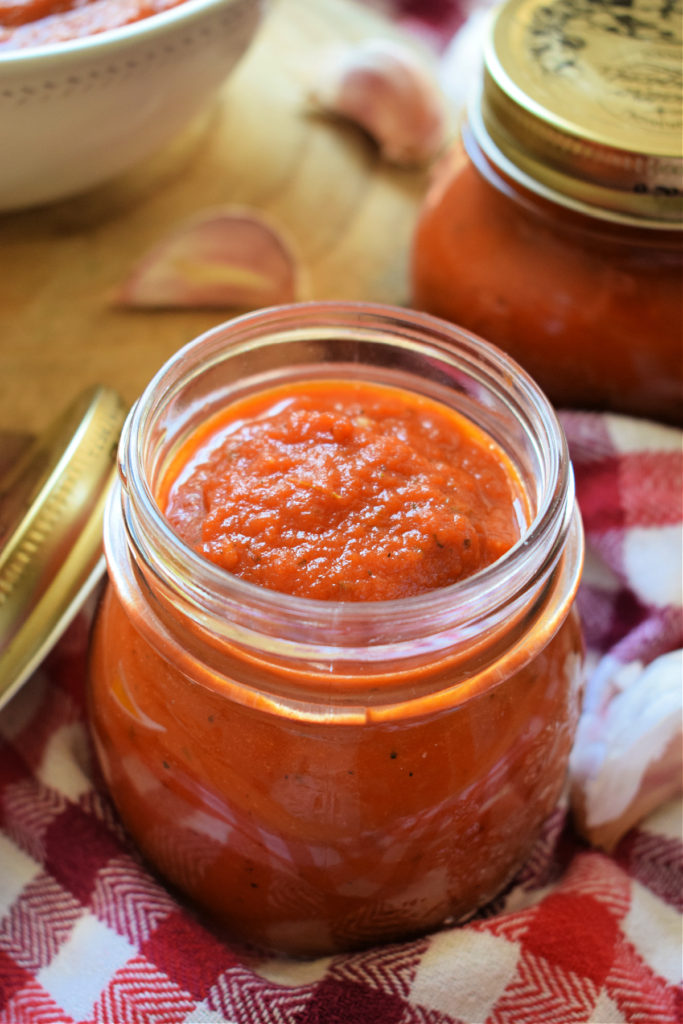 ---
This is my go to Homemade Marinara Sauce for every occasion possible. I use for for so many pasta dishes including my Meatballs in Marinara Sauce, Classic Spaghetti, Chicken & Spinach Lasagna and so much more.
I've been making this recipe for so many years now I cannot remember the last time I bought a jar of sauce. Once you get into the habit of doing something, it becomes just that, a habit! This sauce can be used exactly the way it is or you can jazz it up with fresh herbs of your choice. i love adding fresh parsley or fresh basil as well.
So, keep reading friends so you can have this sauce on hand for your next Italian dinner at home.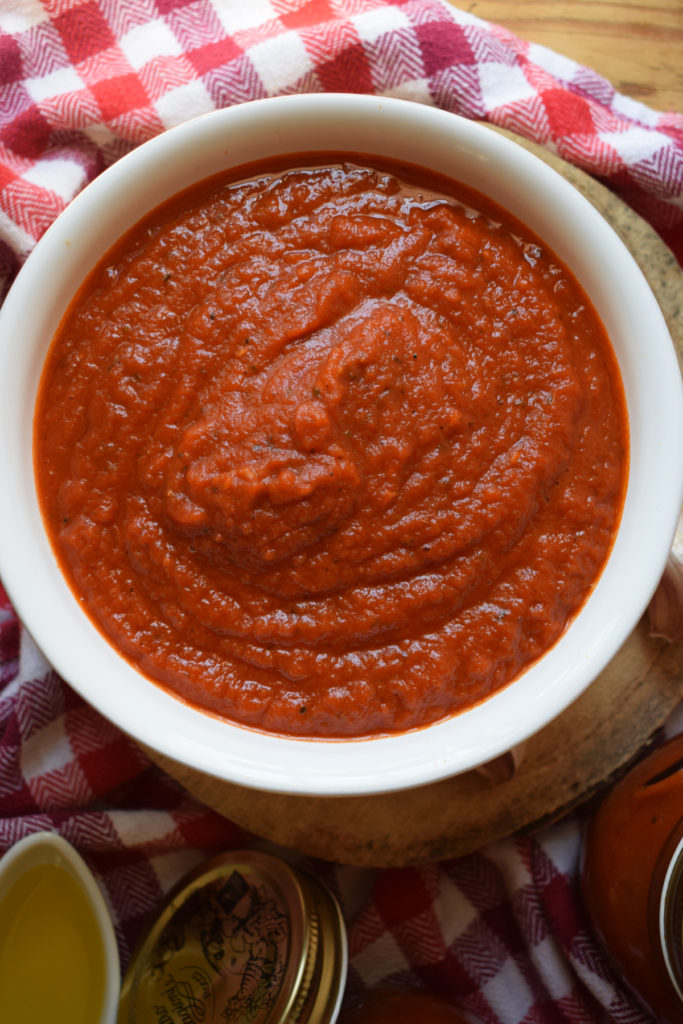 ---
Everything We Need To Make The Homemade Marinara Sauce
Can tomatoes
Tomato Paste
Onions
Garlic
Olive Oil
Sugar
Basil
Oregano
Salt
Pepper
REMEMBER, the full recipe and instructions can be found in the recipe card at the end of the post.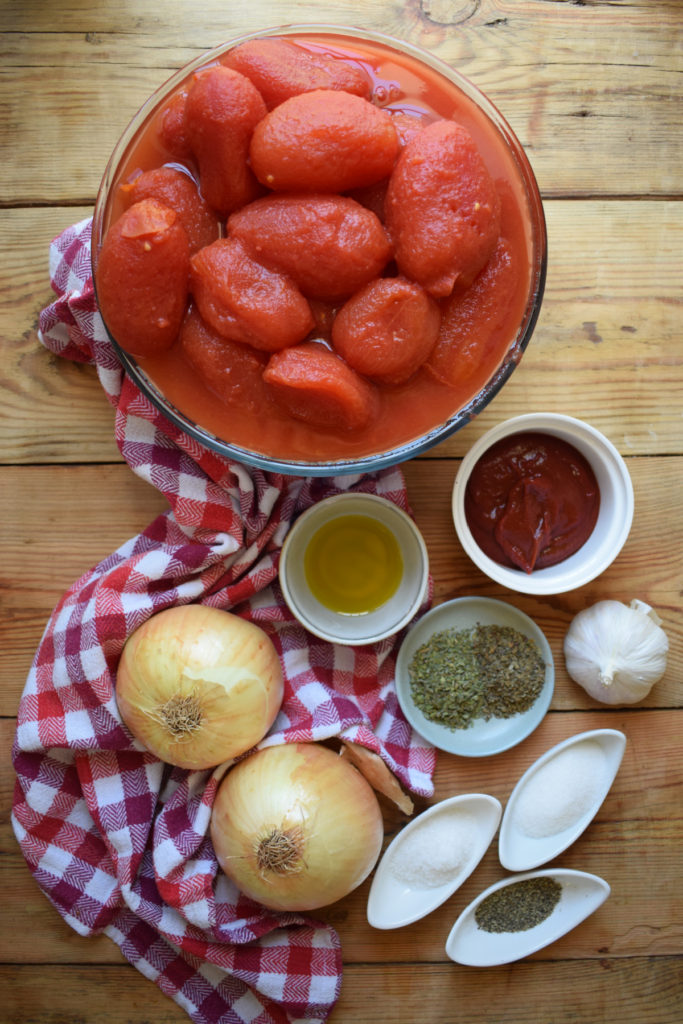 ---
Peel and chop the onions and garlic

, I used two large yellow onions and a whole bulb of garlic for this recipe. I just roughly chopped the onions and this time around I chopped the garlic. You can crush it as well. Either way works just fine.
---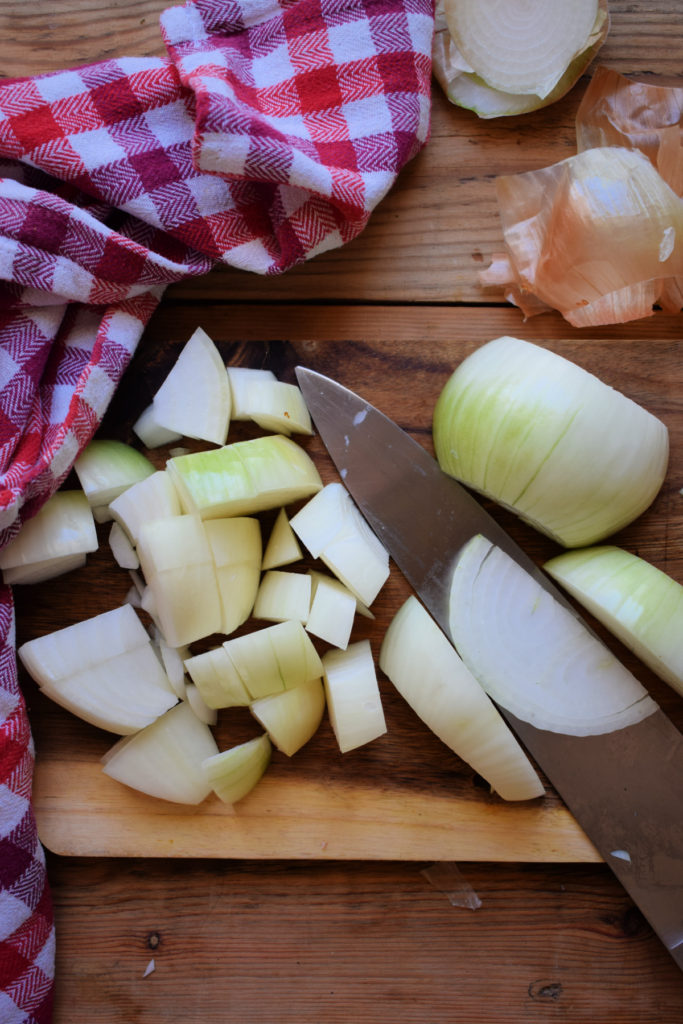 ---
Sautee garlic,

in a large stainless steel pot set over medium to high heat, add the olive oil chopped garlic and sautee for just a minute.

Add chopped onions,

next cook the onions for 4- 5 minutes on high heat until browned. Reduce heat to medium low and continue to cook until really soft. This will take about 30 minutes. It's important to stir occasionally while they cook to prevent them from sticking.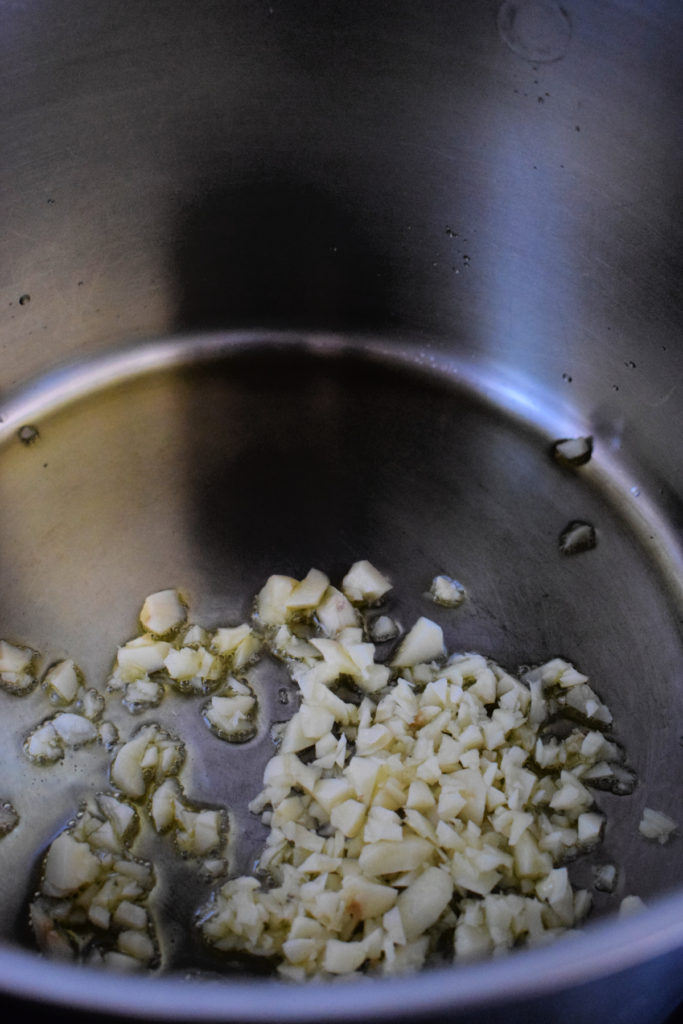 ---
Add The Can Tomatoes and cook to reduce
Add the can tomatoes

, stir well and cook on high heat for about 10 minutes. Reduce heat to medium and leave to cook down and reduce. This will take anywhere between 1 1/2 hours to 2 hours. You will know it's done when it's thick and most of the liquid has evaporated like shown below.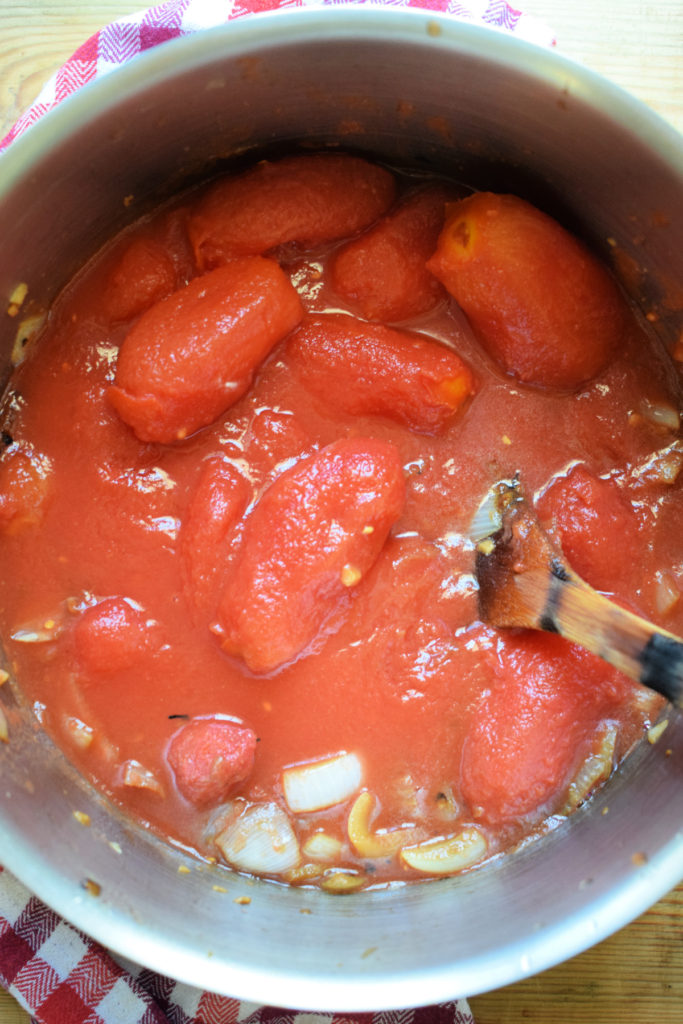 ---
---
Add seasonings to the Marinara Sauce
Add the seasonings and tomato paste

, and increase the heat to medium high. Stir well and bring to a simmer for about 10 minutes.

Remove from heat and blend

, you blend in batches in a stand up blender or use and immersion blender straight in the pot. Blend until smooth.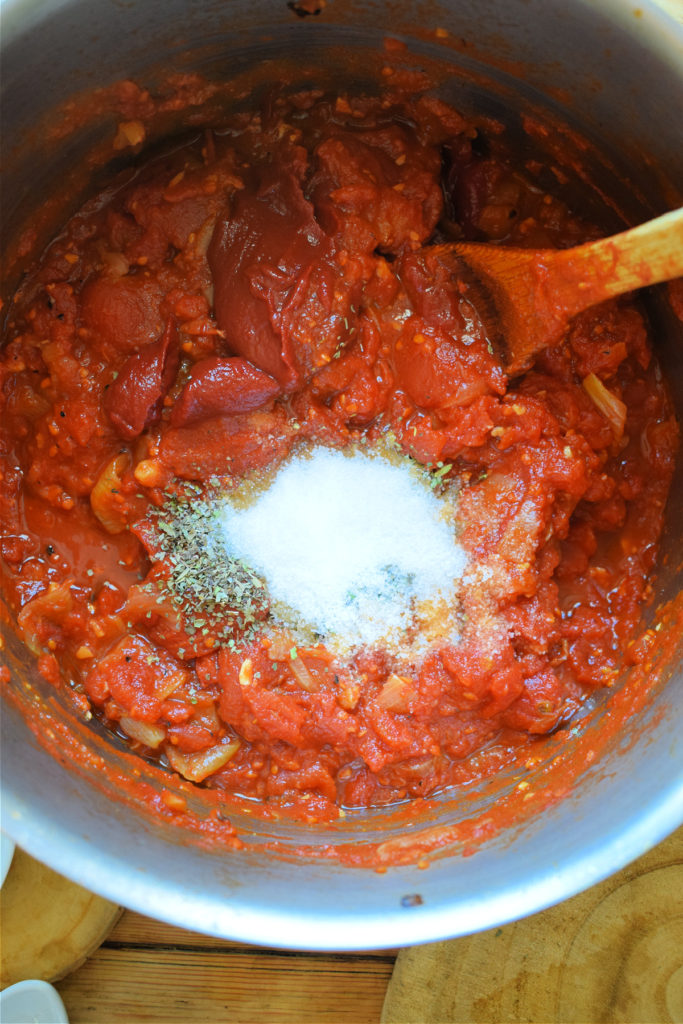 ---
Fresh Marinara Sauce Ready To Use
What's great about making your own Marinara Sauce is that you get to control what goes in it. If you like it sweeter, add a little more sugar, if you like it with a bit of a kick, add a chili. Over time you will learn what suits your taste buds best and adjust accordingly.
This particular recipe has had many versions over the years by adding and taking away. And this one here today is my definitive Marinara Sauce for all uses.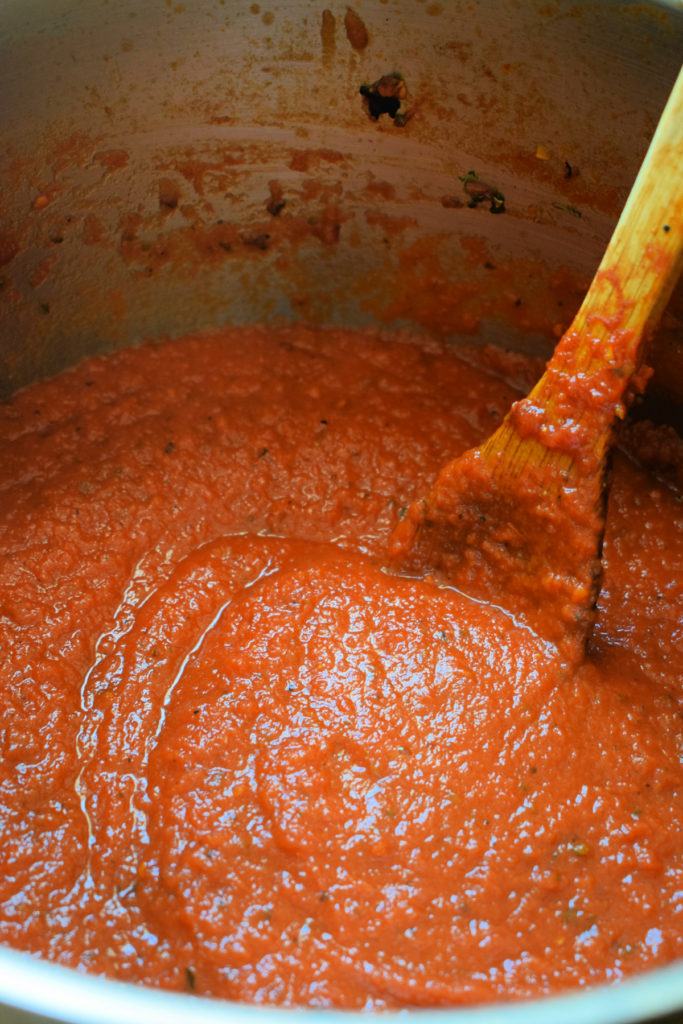 ---
Can I use Fresh Tomatoes for This Marinara Sauce
Yes, you can. In fact, I originally started making it using only fresh automates because I used to grow them. I would only recommend making it with fresh tomatoes if they are in season and affordable. Otherwise, it will be too expensive to make.
---
How To Make The Marinara Sauce Using Fresh Tomatoes
4 kg/8 lbs of fresh tomatoes

, this is approximate and you could use a few more or a little less

Remove skin from tomatoes,

place the tomatoes in boiling water for just a minute. Remove from water and the skin should be loose. Just pull the skin away from the tomatoes and discard.

Cut tomatoes in half

, this is only to speed up the cooking time

Follow recipe in recipe card below

, now that you have your fresh tomatoes ready for the Marinara Sauce, you can just follow the recipe below.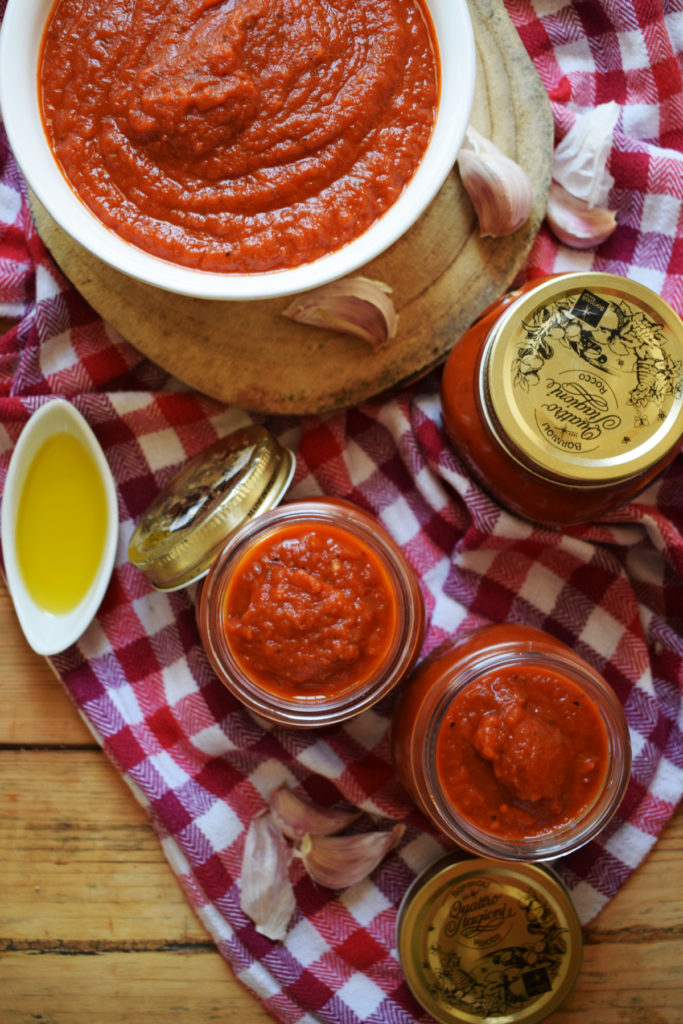 ---
How To Store The Homemade Marinara Sauce
Okay, so now that we've made this delicious Homemade Marinara Sauce, what next? We have so many options and I'm going to to through that with you right now.
Refrigerator

– Store it in an airtight container and it will keep in the fridge for about 4 – 5 days.

Freezer

– Allow sauce to cool and store in freezer proof zip-lock bags. Seal tightly getting out as much air as possible. Will keep up to six months.

Canning method

– If you are into canning and preserving, this will keep for at least a year in a properly sealed sterile jar using the correct method.
IMPORTANT NOTE THIS RECIPE DOES NOT CONTAIN PROPER CANNING METHOD, JUST FOR INFORMATION PURPOSES ONLY.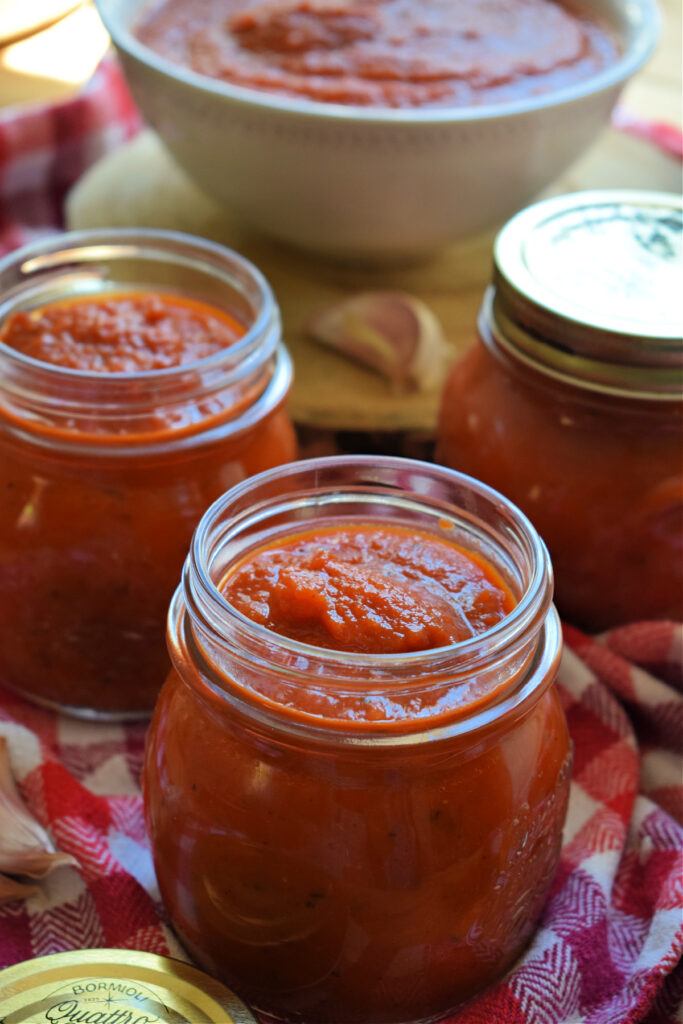 ---
That just about covers everything for the Marinara Sauce. Give it a try sometime and let me know in the comments below. I'd love to hear from you! Okay friends, I'll see you all in a few days with more inspiration for your kitchen table. Until then, keep on cooking.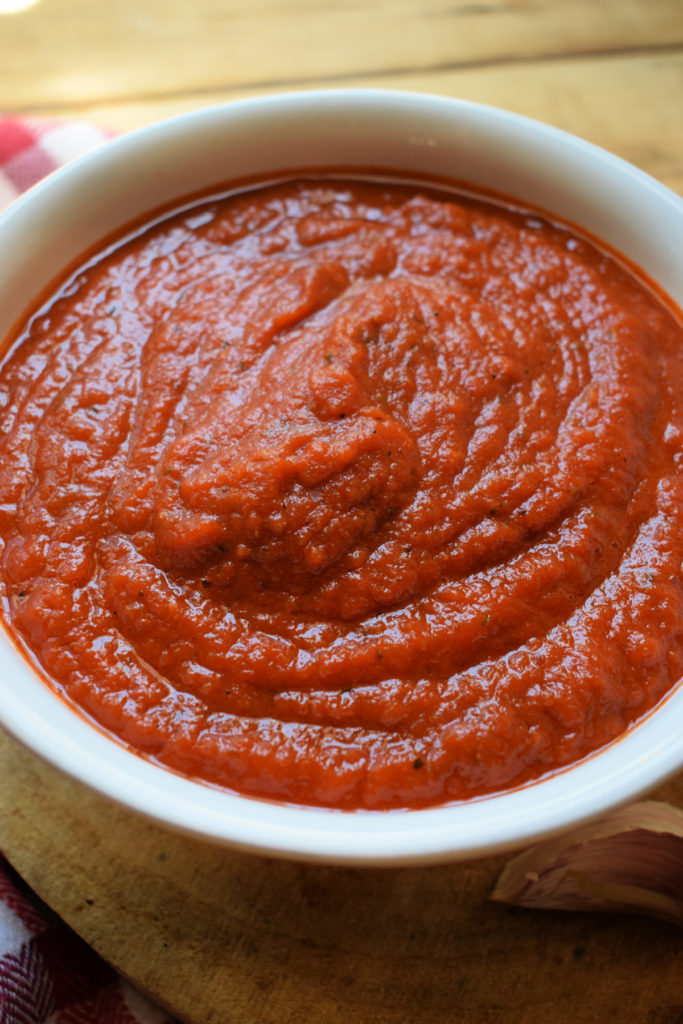 ---
Here's Some Other Recipes You Can Use The Marinara Sauce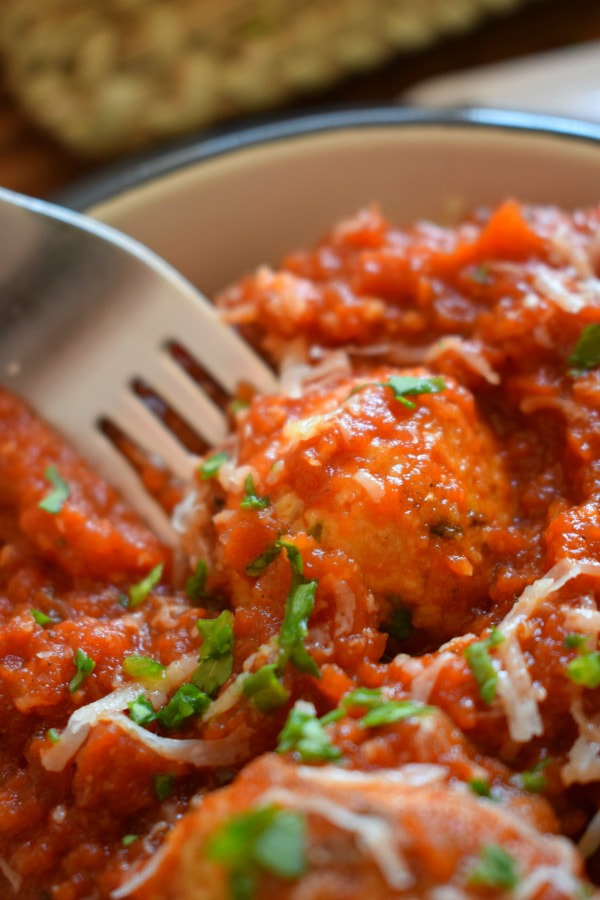 ---
Like what you see today? Don't forget you can follow on Facebook for daily inspiration or over on Instagram where I sometimes do daily cooking videos for fun! I'm also on Pinterest which is a great place that you can save and share your favourite recipes. As well, if you haven't yet, Subscribe to the newsletter. You'll be notified whenever there's a new recipe! You can do that at the top of the page.
---
Get the recipe!
---
Homemade Marinara Sauce
Ingredients
4

large

cans of whole tomatoes

16 oz cans/450 grams

3

tbsp

tomato paste

2

large

onions

peeled and roughly chopped

4

tablespoons

olive oil

1

bulb

garlic

peeled and chopped or crushed

2

teaspoons

basil

2

teaspoons

oregano

2

tablespoons

sugar

1

tsp

salt

1

tsp

pepper
Instructions
In a large pot set over high heat, add the garlic and sautee for just a minute. Add the chopped onions and sautee on high for 3 – 4 minutes until browned. Reduce heat to medium and continue to cook onions for about 30 minutes until soft.

Increase heat to high and add the tomatoes. Stir well and bring to a boil. Reduce heat to medium and leave to cook until almost all the liquid evaporates, about 1 1/2 to 2 hours. Stir occasionally while the tomatoes are reducing

Add the tomato paste, oregano, basil, sugar, salt and pepper. Give a good stir and leave to simmer for about 10 – 15 minutes.

Remove from heat and blend in batches.

Sauce can be used straight away, refrigerated, frozen or jarred.
*A note on times provided: appliances vary, any prep and/or cook times provided are estimates only.
Notes
If the onions start to stick while they are cooking, add small amounts of the juice from the canned tomatoes and stir to prevent sticking.
You will know the sauce is done, when almost all the liquid has evaporated from the tomatoes.  It's important to get most of liquid out to ensure a rich and thick sauce.
Sauce will keep in the refrigerator up to 4 – 5 days, in the freezer for about four months or jarred up to a year.
Nutrition Facts
Homemade Marinara Sauce
Amount Per Serving (1 cup)
Calories 319
Calories from Fat 117
% Daily Value*
Fat 13g20%
Sodium 42mg2%
Potassium 1872mg53%
Carbohydrates 42g14%
Protein 7g14%
Vitamin A 6078IU122%
Vitamin C 105mg127%
Calcium 110mg11%
Iron 3mg17%
* Percent Daily Values are based on a 2000 calorie diet.
---
Thanks For Stopping By & Hope To See You Soon!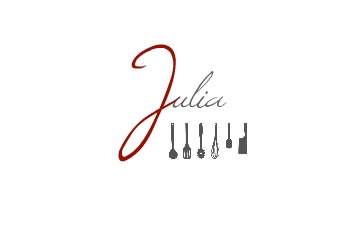 By