It's soup season! And what better way to dive in than with this Slow Cooker Chicken Noodle Soup. A classic soup all done in the slow cooker, that's full of flavour and easy to make.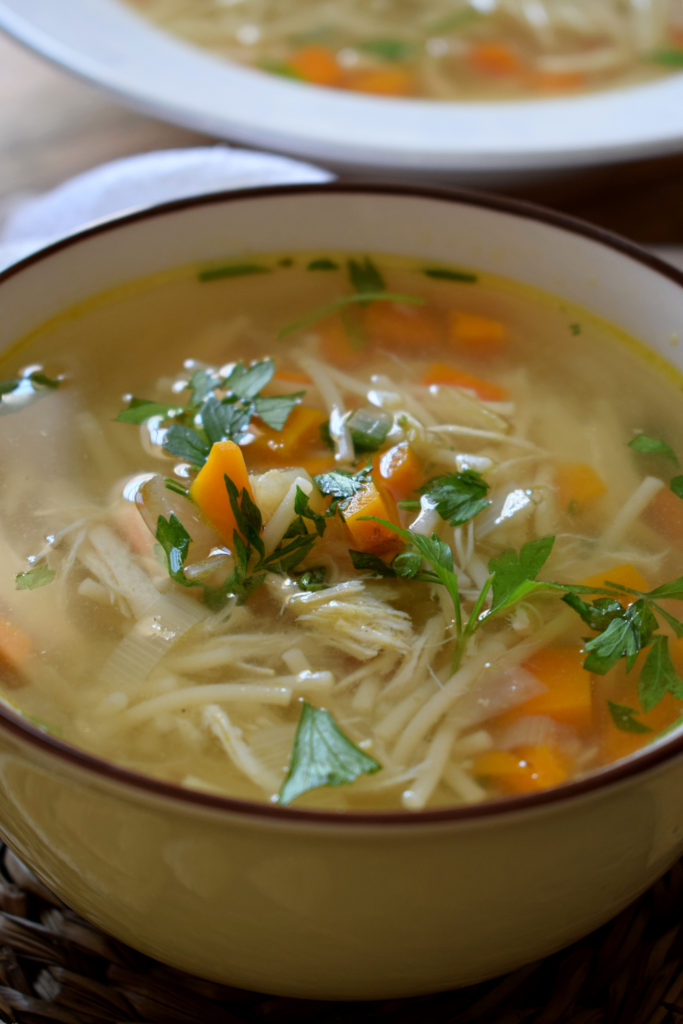 ---
First of all today, do we all realize it's November? What? I can't even begin to wonder where this year went. And I know, we're all thinking that exact same thing right about now. I mean, it's basically Christmas which means summer is just around the corner.
You know I'm right…hahaha.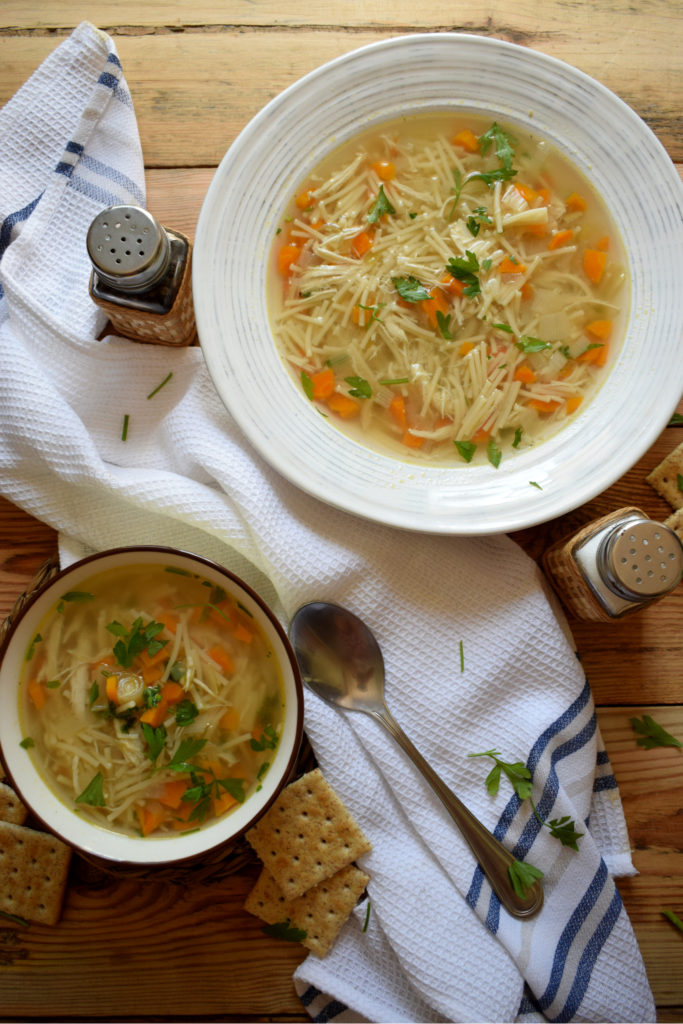 ---
For now, I'm sticking with fall and winter because I'm really not even over summer 2020 yet.
And what's really great this time of year is great soups. I think I love pretty much all soups. Okay, not true. I'm not a huge fan of cold soups. I know many people love them, but I'm not part of that bandwagon.
For me it all about cosy winter soups that you can warm yourself up with after a chilly day. Soups like this one and my Slow Cooker Tomato Soup with Fresh Tomatoes.
Now that fall is here is full force, every Wednesday is soup night at our place. And I look forward to it every week. I probably look forward to the fresh Dinner Rolls just as much as the soup though.
And what better to serve with those Dinner Rolls that this Chicken Noodle Soup. Keep reading to see how it's done.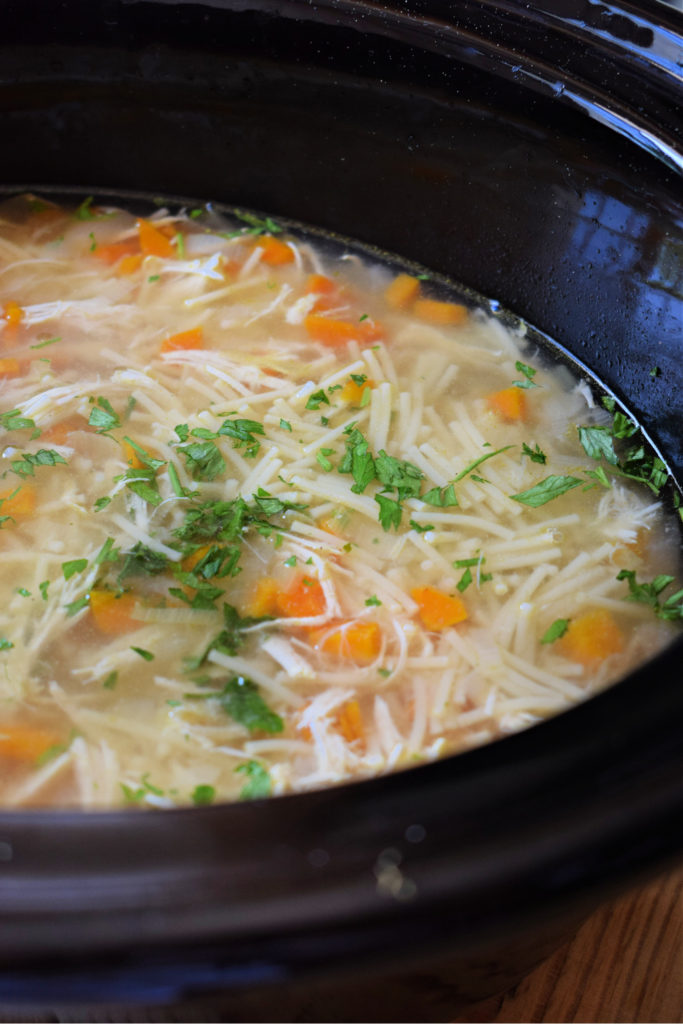 ---
Ingredients to Make The Slow Cooker Chicken Noodle Soup
---
The great thing about this soup, is we're using all basic ingredients. Nothing fancy or difficult to find. And you might have all things things on hand anyway.
If you follow my blog, you'll know that I don't often use ingredients that are hard to come by.
REMEMBER, the full recipe can be found at the end of the post in the recipe card. There you will find all the ingredients and full instructions.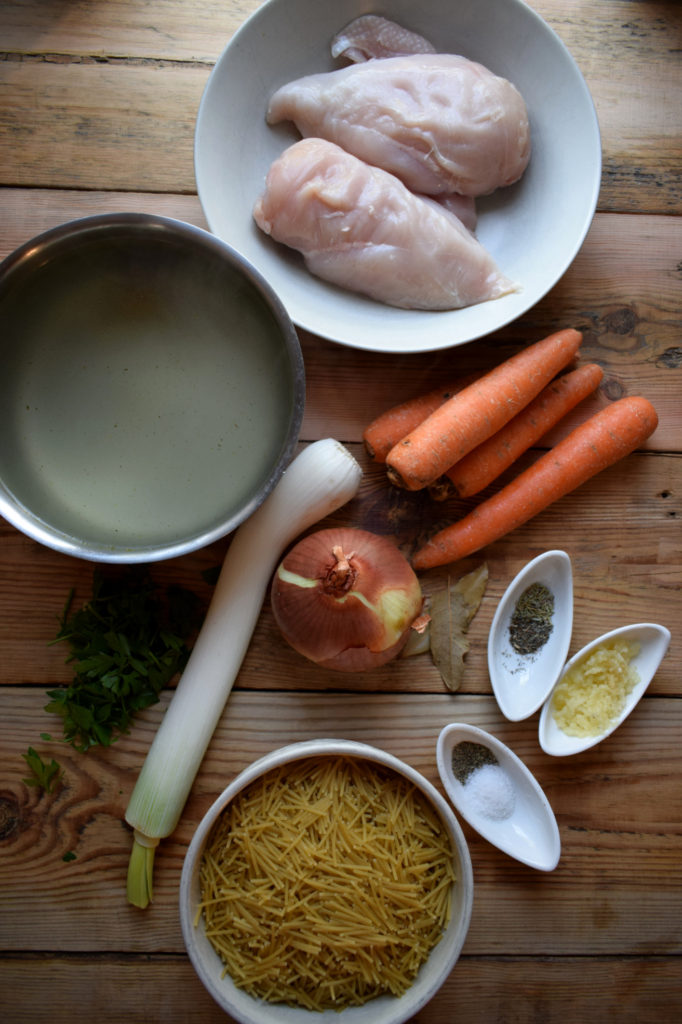 ---
Let's Cook
---
Like any cooking, do all your prep work first. In this case, we have to season the chicken with salt and pepper and dice all the vegetables.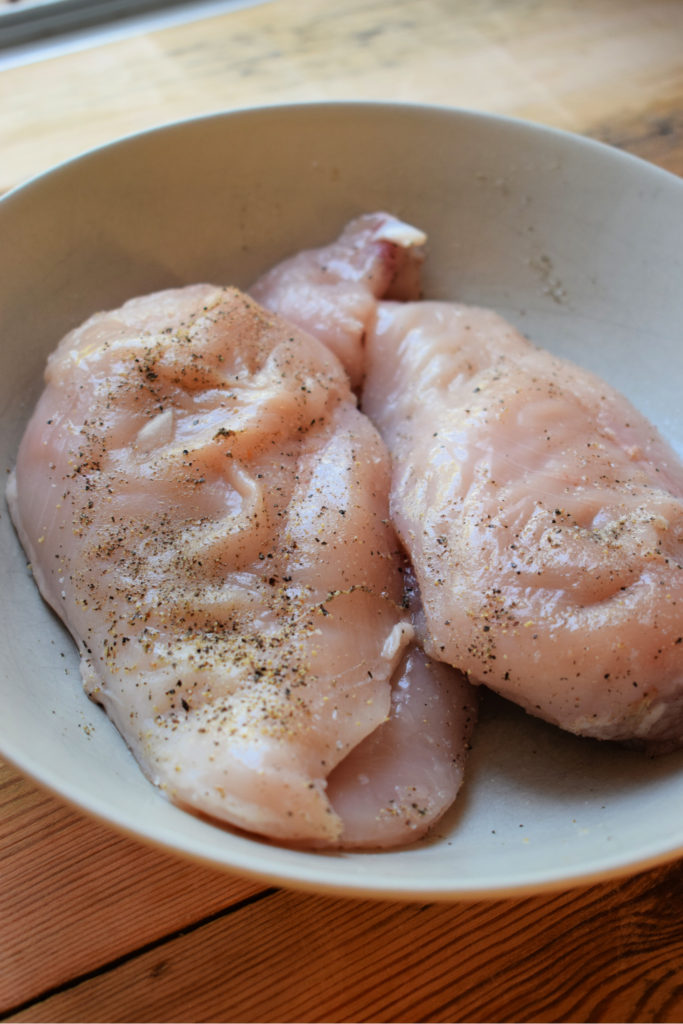 ---
Place the seasoned chicken breast on the bottom of you slow cooker. Toss over all the vegetables, the dried herbs, garlic and add the bay leaves.
Pour over the stock, give a good stir. Cover and let it cook on low for about 6 hours to 8 hours or until the chicken is tender enough to shred apart.
REMEMBER, all slow cookers vary slightly. Yours may cook a little faster or slower than mine. Keep this in mind.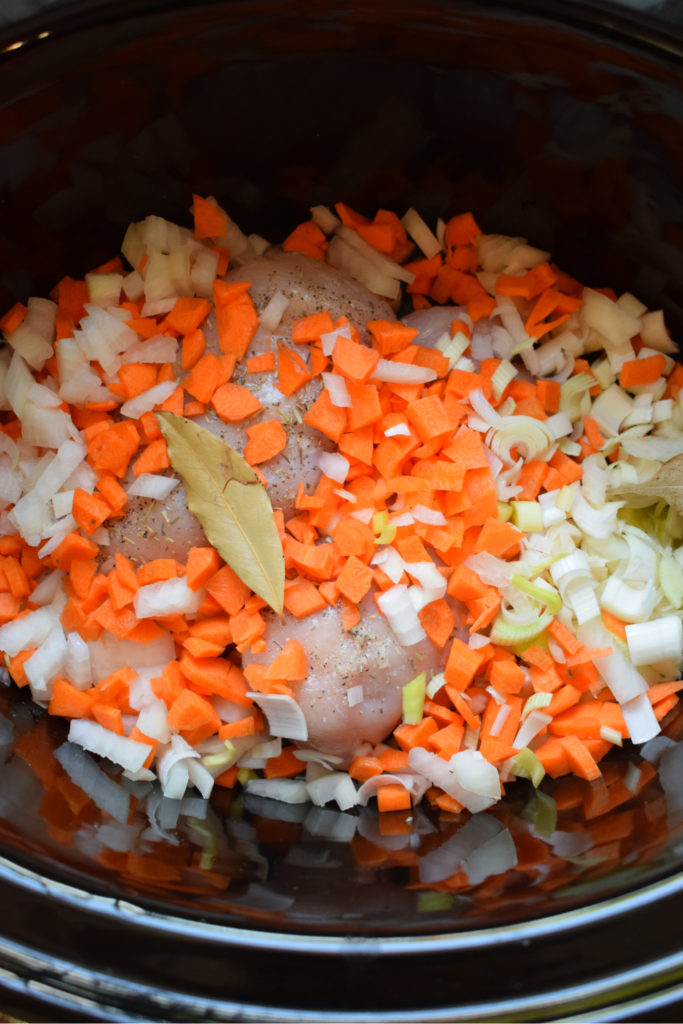 ---
Remove the chicken from the slow cooker and shred it apart with two forks like you see here. It should pretty much fall apart at this stage.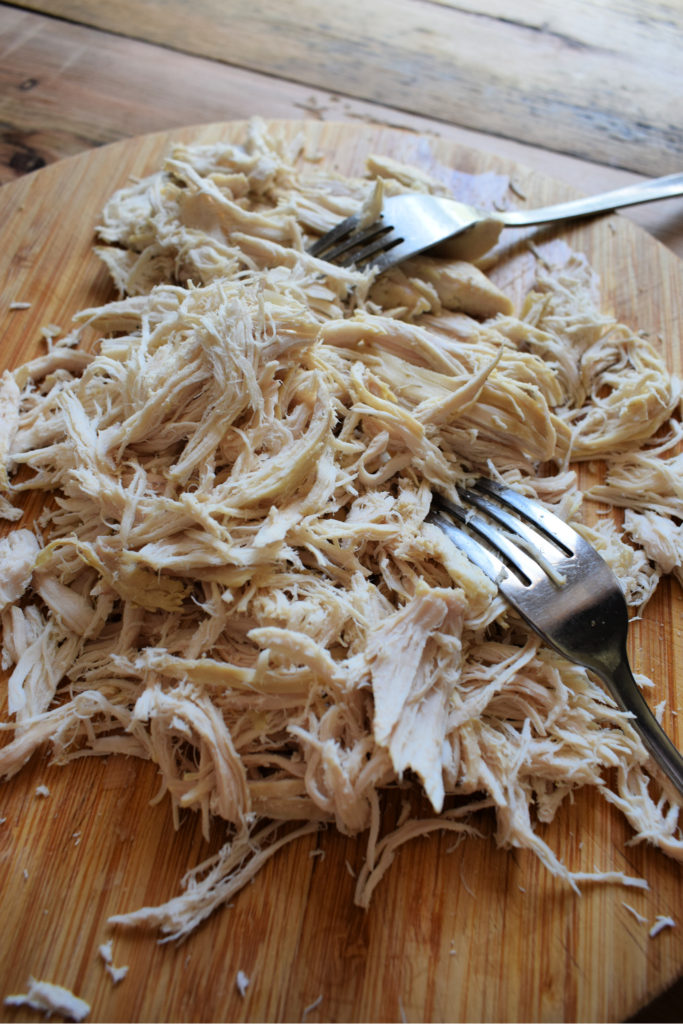 ---
Add the chicken back to the pot and give it a really good stir.
You are probably wondering about the pasta, keep reading because we are just about to get to that part.
And remember, the full recipe is in the recipe card at the end of the post.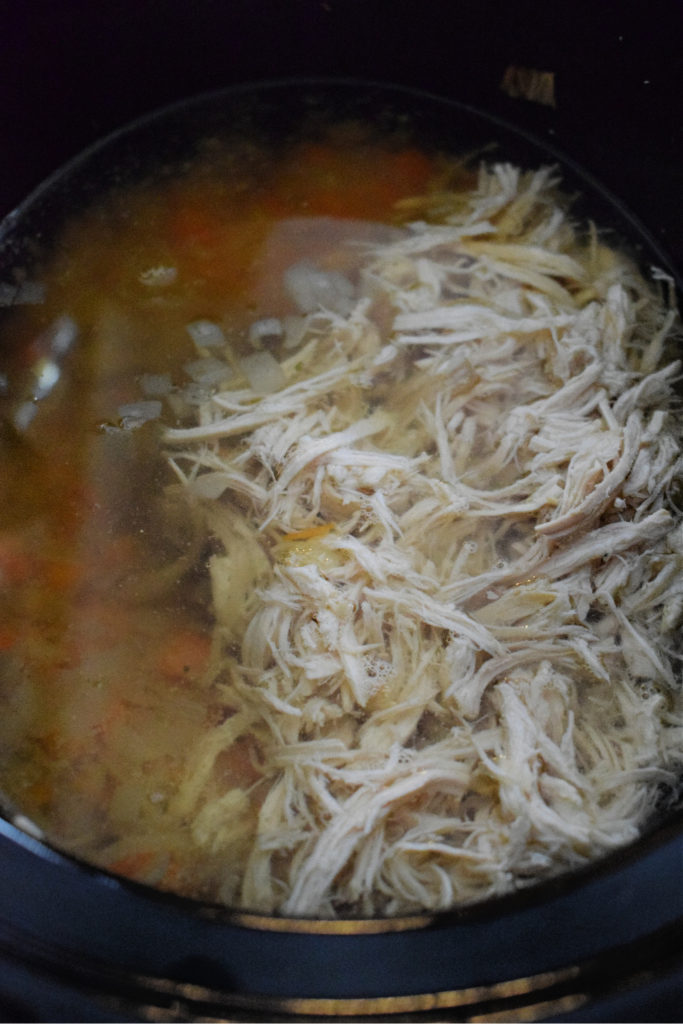 ---
cook the pasta separately
---
Okay, so you are probably wondering why I'm doing this and is it really necessary. The answer is NO, it's not necessary. But I do it because all pasta brands cook at different times and to remove the risk of overcooking it, I find it's easier to do it this way.
i used very small noodles, but you can use whatever kind you prefer.
So, cook pasta according to package, drain and add to the slow cooker. Give a good stir, cover and leave for about 30 more minutes before serving.
I like to add a bunch of fresh chopped parsley at the end, but this is optional.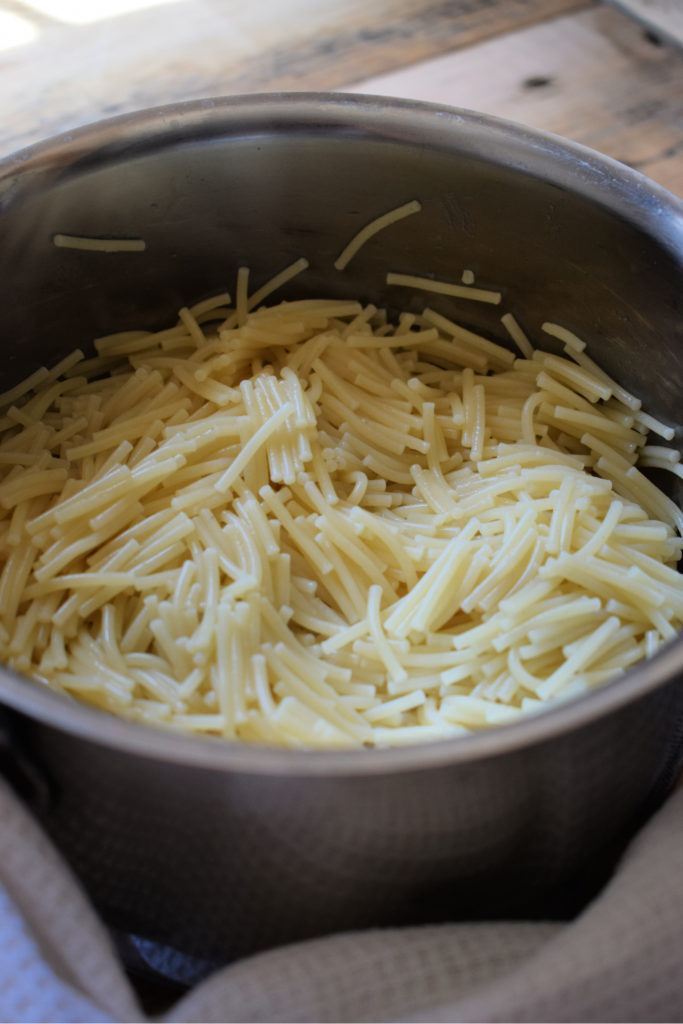 ---
And that my friend is how it's done! It's easy and a great soup to warm us all up in November.
What's great about slow cooker soups, is you can put it on in the morning, forget about it and get on with you day. I have to say, since getting my slow cooker back in August, I'm loving it!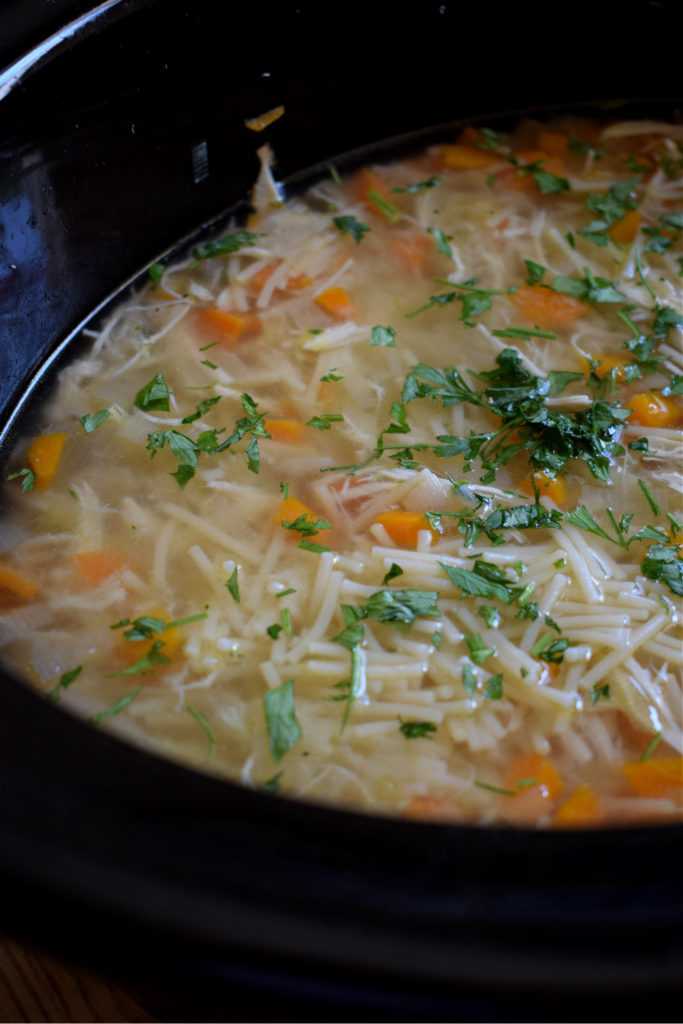 ---
I've had quite a lot of experimentation with it, but not much to share just yet because recipe testing takes a few time each time before a recipe can be written. So far, I only have the Slow Cooker Barbecue Chicken and the Slow Cooker Pumpkin Puree to show for my slow cooking success. But don't fret, I will keep them coming through the fall and winter.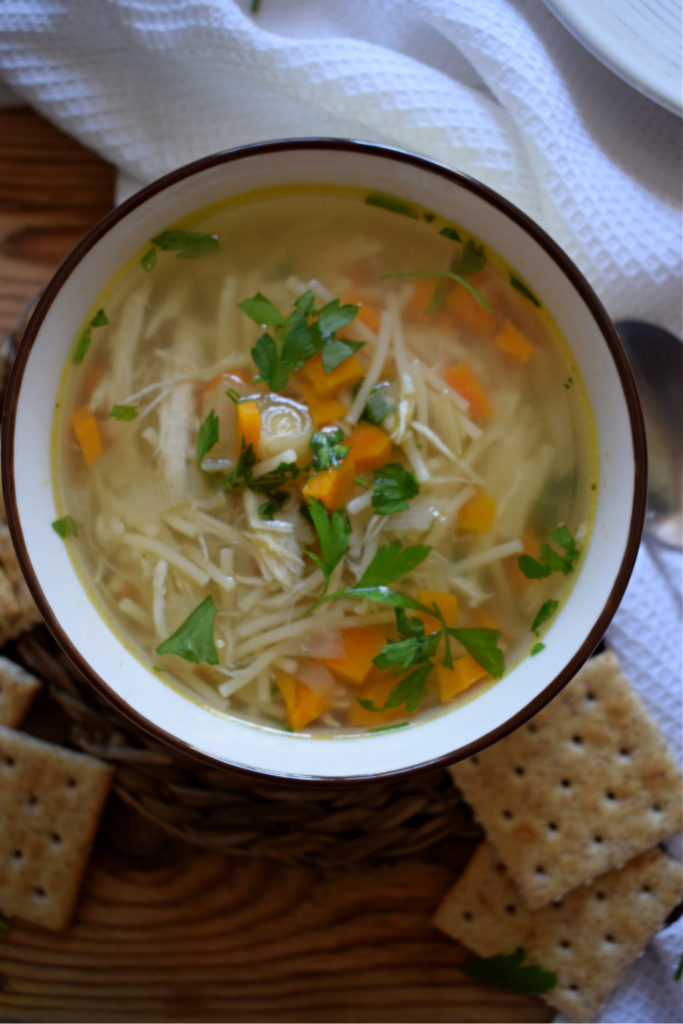 ---
Here's Some Other Soups That You Might Like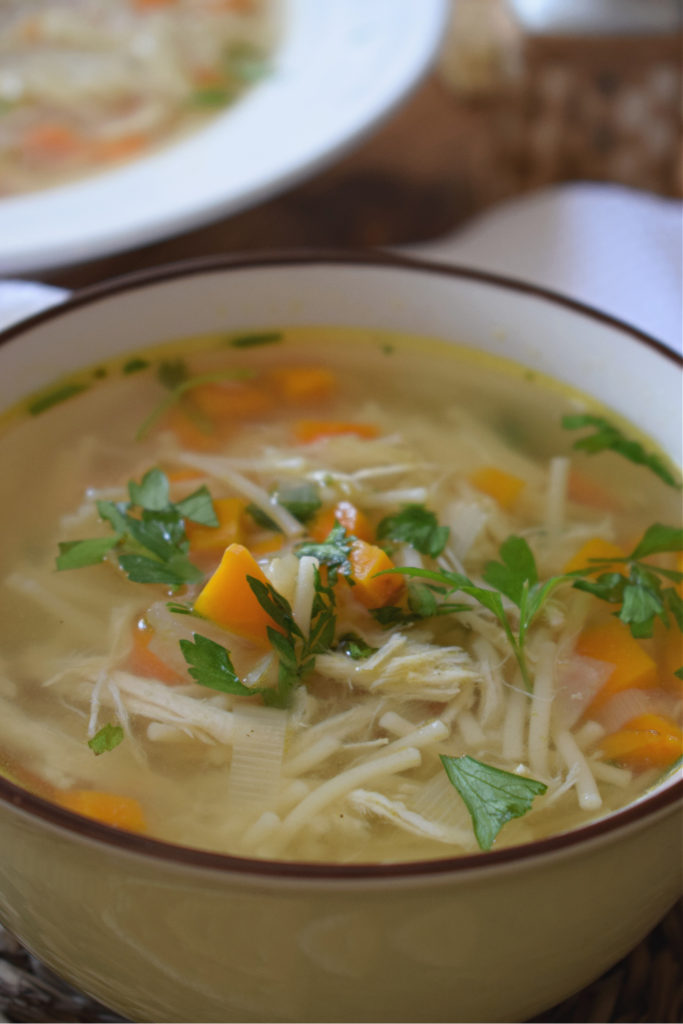 ---
Well, my friends, that's about it for today. I hope you get a chance to make the soup and enjoy it like we did. I hadn't made chicken noodle soup in years so I was quite pleased with how this adapted version turned out in the slow cooker.
Happy cooking and get started with soup season!
---
Like what you see today? Don't forget you can follow on Facebook for daily inspiration or over on Instagram where I sometimes do daily cooking videos for fun! I'm also on Pinterest which is a great place that you can save and share your favourite recipes. As well, if you haven't yet, Subscribe to the newsletter. You'll be notified whenever there's a new recipe! You can do that at the top of the page.
---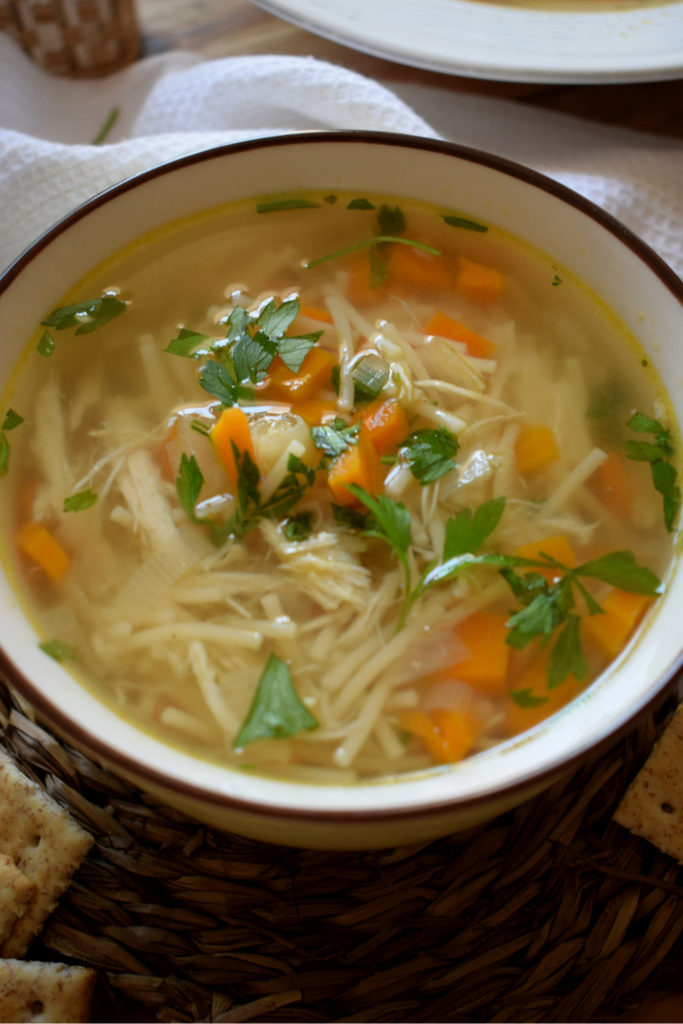 ---
Get The Recipe!
---
Slow Cooker Chicken Noodle Soup
It's soup season! And what better way to dive in that with this Slow Cooker Chicken Noodle Soup. A classic soup all done in the slow cooker that's full of flavour and easy to make.
Ingredients
2

chicken breasts

8

oz

noodles

4

medium

carrots

finely diced

1

leek

roughly chopped

1

onion

finely diced

8

cups

chicken stock

4

cloves

garlic

crushed

1

tsp

oregano

1

tsp

thyme

1

tsp

salt

1

tsp

pepper

2

bay leaves

small bunch fresh parsley

finely chopped
Instructions
Season the chicken with salt and pepper.

Place the chicken in the bottom of the slow cooker. Add the chopped vegetables, bay leaves, garlic, oregano and thyme. Pour over chicken stock. Stir well, cover and cook on low for 6 – 8 hours.

Remove chicken from the slow cooker and shred with two forks. Put the chicken back in the slow cooker.

Cook the noodles separately according to package. Drain and add to the slow cooker. Cook for about another 30 minutes.

Add chopped parsley and serve.
*A note on times provided: appliances vary, any prep and/or cook times provided are estimates only.
Notes
I used very small noodles but you can use noodles of your choice.  Any kind will work really.
This soup DOES NOT FREEZE well.  Advising you in case you are planning to make it for your freezer.  It will become mushy and need too much watering down and will lose it's flavour.
It will keep in fridge for a few days.
Nutrition Facts
Slow Cooker Chicken Noodle Soup
Amount Per Serving (1 bowl)
Calories 284
Calories from Fat 45
% Daily Value*
Fat 5g8%
Cholesterol 43mg14%
Sodium 725mg32%
Potassium 668mg19%
Carbohydrates 36g12%
Protein 22g44%
Vitamin A 5305IU106%
Vitamin C 6mg7%
Calcium 40mg4%
Iron 2mg11%
* Percent Daily Values are based on a 2000 calorie diet.
---
Thanks For Stopping By & Hope To See You Soon!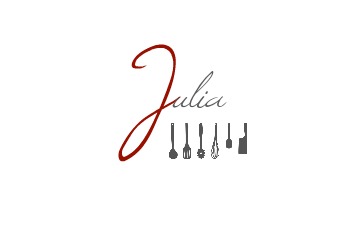 By