Where comfort food meets healthy eating and makes a delicious dish. Spicy Chickpea Curry! A super easy stove top dish that cooks relatively quickly, delivers on flavour and is even Vegan friendly. Take a look and see what's it all about.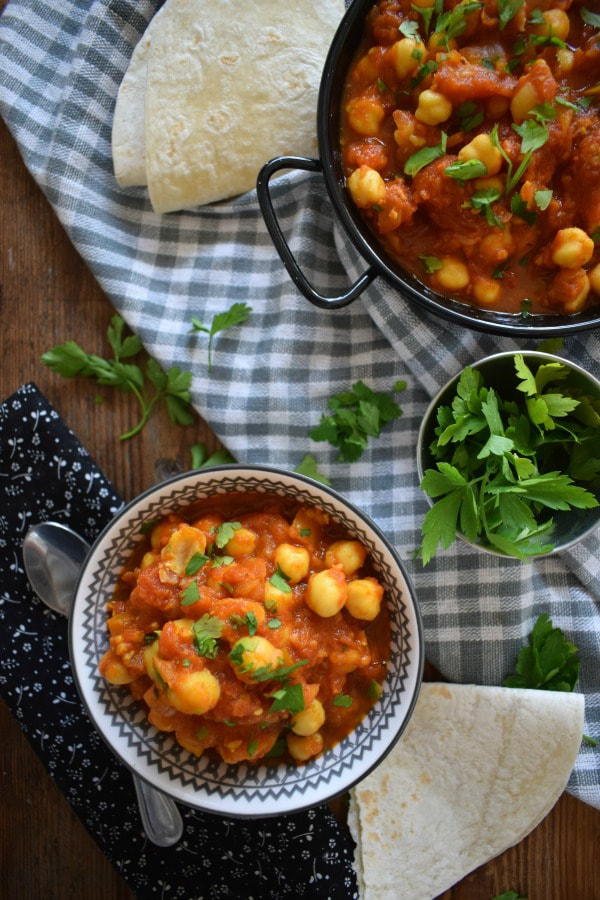 January and Clean Eating…For Today
Clean eating in January! Well, at least for this recipe.
Who's jumped on the Veganuary bandwagon? Shock, I haven't. But that doesn't mean I don't enjoy plant based meals as well. As I've said many time, I don't cook for any specific dietary requirements. I do, however, try my best to keep a balance. So, if you eat a clean dish like this, you can have that cake…ha! That's logical to me.
In all seriousness, we are living in a time where more and more people are choosing vegan lifestyles for all kinds of reasons. Whether it be dietary, medicinal, humanitarian, or whatever, Veganism is apparently here to stay.
As for me, I'm still full on omnivore.
Still, I do cook meals that are vegan friendly but never really pay much attention. I've made this Spicy Chickpea Curry several times recently without taking notice that it's actually vegan. And if you love dishes like this one, you need to check out my Spiced Zucchini & Eggplant dish.
---
See HOW TO MAKE Stove Top Nann Bread!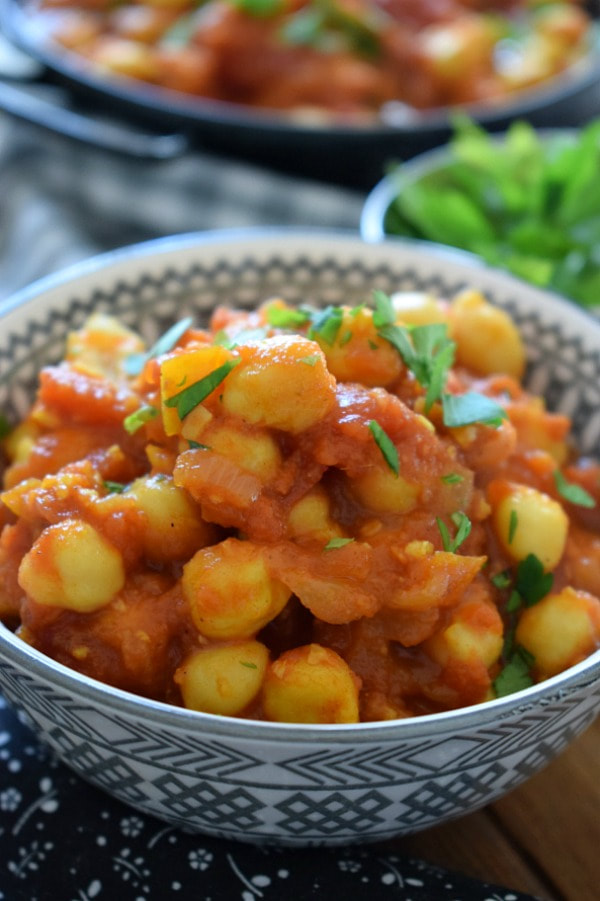 ---
What we're using to make Spicy Chickpea Curry
You'll see everything you need to get going on your Spicy Chickpea Curry right here.
I just want to take a second to talk about chickpeas. You can use canned, jar or cook your own. I usually cook chickpeas in batches and freeze them. I'm also lazy sometimes and use the ones from a jar. If you're into keeping the cost down, it's far better to cook your own. But sometimes convenience wins and you just pop that lid. And that's cool!
For this recipe I'm using precooked chickpeas. So, if you are considering cooking your chickpeas from scratch, keep that in mind. You'll have to soak them for about eight hours…eeek! I know, long. Then the cooking time which can be up to two hours. So, I would recommend starting out with cooked chickpeas for this recipe. If you don't have a tidy stash in your freezer or fridge, use a jar or can. They are just as good.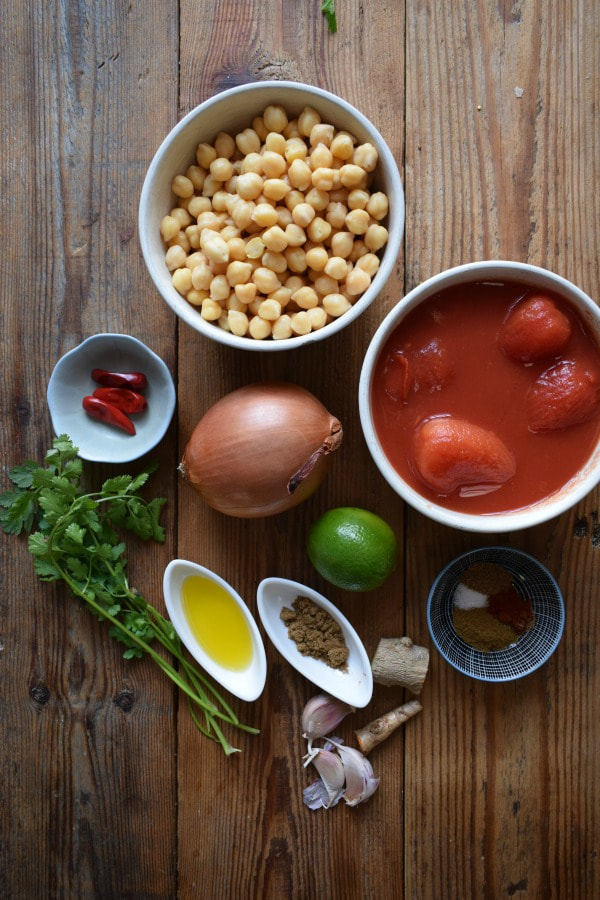 ---
How to cook the Spicy Chickpea Curry
The start the recipe, get chopping. I sliced the onions, but you can dice or roughly chop them if you prefer. I used fresh garlic, ginger and turmeric in this recipe. Fresh garlic is a must! But if you don't have ginger root or turmeric root, you can just used the powered spice. In fact, in the recipe below, I've written for dried turmeric because turmeric root isn't something most people keep on hand. If you are using fresh, use about a 1 inch piece.
Once you got everything chopped, crushed and grated. Time to get cooking.
Heat the olive oil over high heat in a medium sized deep sided pot. Add the onions and cook them on high heat for about 5 minutes. Reduce the heat to medium and continue to cook for about 10 more minutes until they are really soft.
REMEMBER, Full recipe and instructions are always found at the end of the post in the recipe card.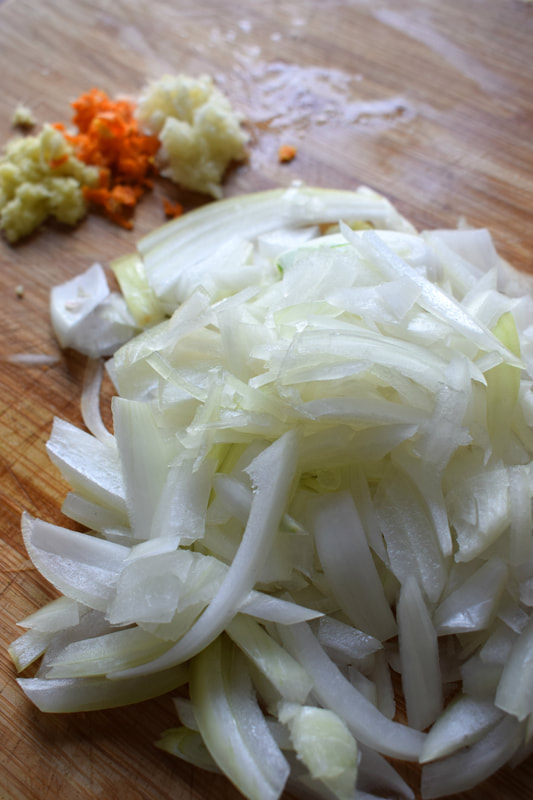 ---
Add the garlic, ginger, turmeric, chilies, ground cumin and ground coriander. Stir well to coat the onion and to infuse the spices. Cook this for 2 – 3 minutes.
Add the cooked chickpeas and can tomatoes.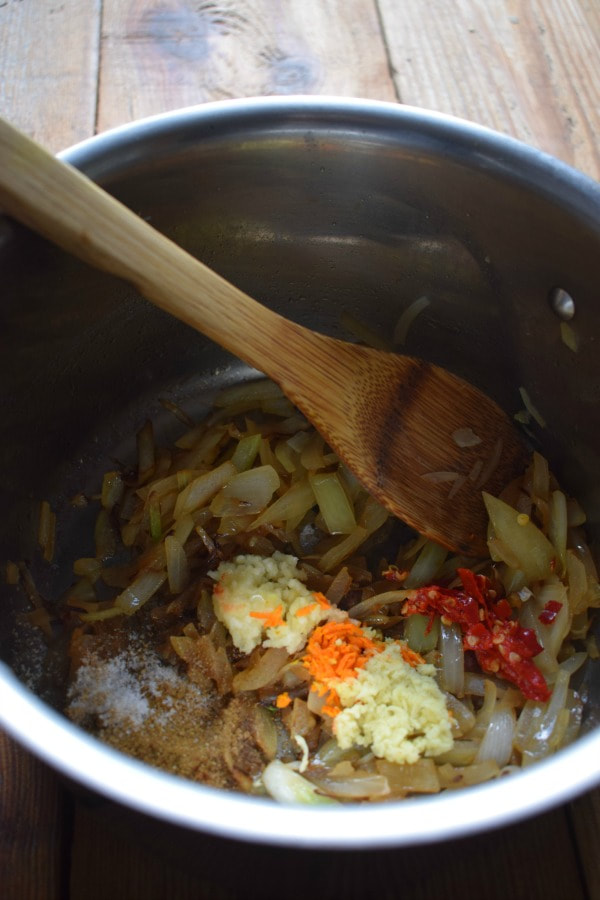 ---
What Kind of Tomatoes To Use
The tomatoes can either be whole or diced. Do not use tomato puree. If using whole can tomatoes, break them up a little with the wooden spoon. Give the mixture a really good stir. Bring to a simmer and then reduce heat and cover it. Leave to cook for a further 20 minutes, stirring occasionally.
Take the lid off after the cooking time is up and give another good stir. If it looks quite dry, as it too thick, you can add a little vegetable stock. Start with 1/4 cup (60ml) and add more if needed. Stir really well.
Add the Garam Masala, salt and the lime juice. Stir well and simmer for just a few more minutes.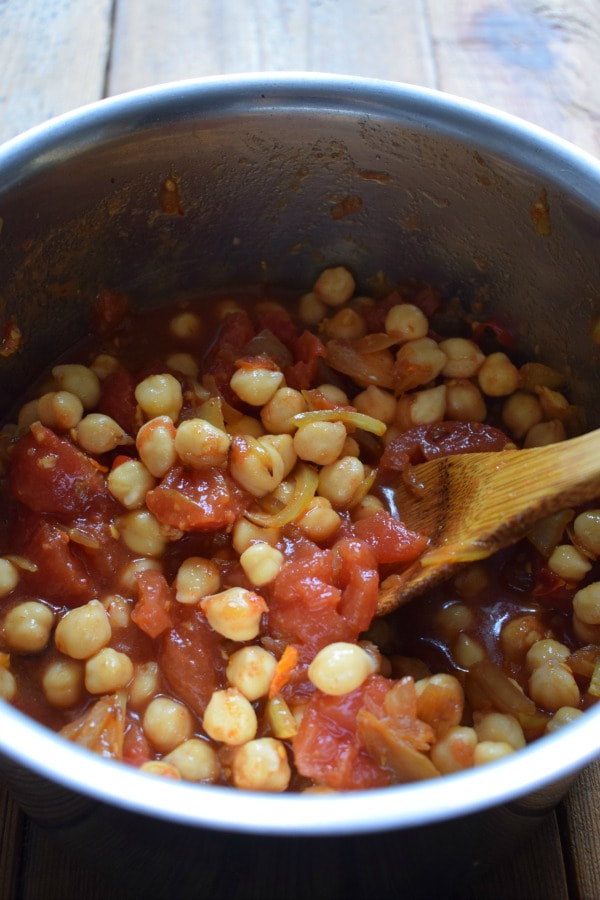 ---
The spicy Chickpea Curry is Ready
Top with fresh cilantro and hey presto dinner is ready!
I've made this three times in the past couple of weeks. Yes, three times! It was a surprise dish because I didn't have high expectations for it. It's so easy and there is zero marinading time which is quite often the case with curry dishes. Curry dishes can be quite labour intensive and time consuming to develop flavours, but this one is easy and it still delivers on the taste buds.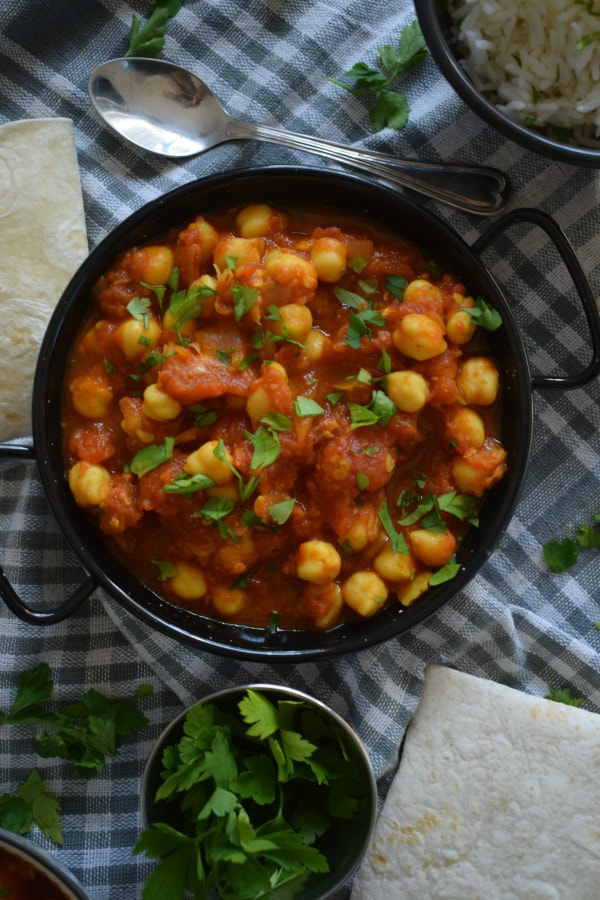 ---
And it's a super healthy option that fills you up. It's great served with Nann Bread and Basmati rice. Aren't those essentials with Indian food anyway? I've always got to have rice with any Indian inspired dishes I made. It's just one of those things that goes together like pancakes and maple syrup. You can't have one without the other.
Quick, delicious and budget friendly. What's not to like!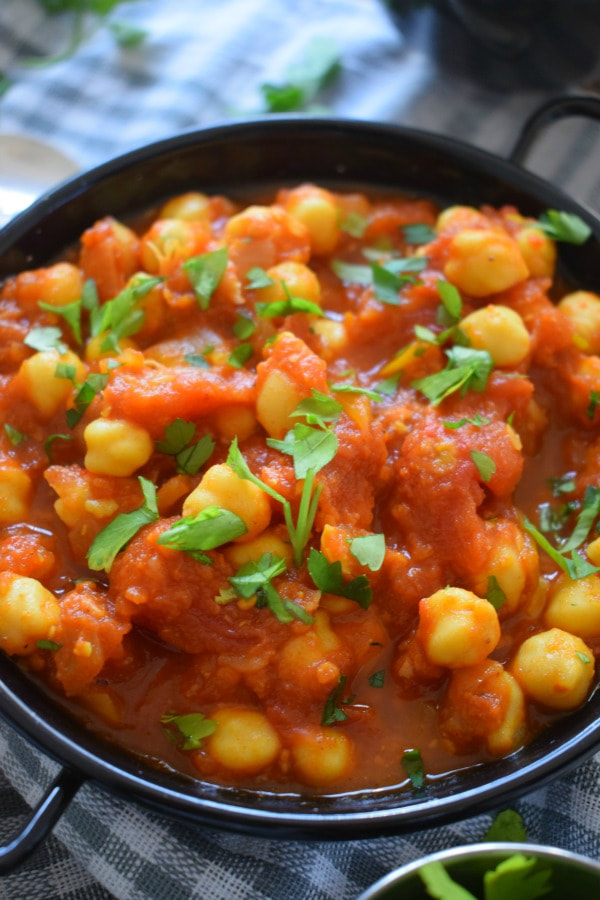 ---
That's a Wrap For Today
Hope you like the recipe or find some other inspiration on the site for your dinner table this weekend. If you're looking for more Indian inspired dishes, take a look around the blog and you'll be sure to find something you like for sure. And if you looking for more curry ideas, there's tons on the blog like my Coconut Curry Chicken & Broccoli and the Slow Cooker Curry Chicken with Coconut Milk. Just search around until you find what you love.
Thanks so much, as always, for stopping by the blog today and check back on Monday for another new recipe. I've got so many new dished planned that I'm finding it hard to keep up…ha! Tomorrow, I'll be recipe testing all day with hopes of some delicious dishes to share in the near future.
Have a great Friday and see you all on Monday!
---
Like what you see today? Don't forget you can follow on Facebook for daily inspiration or over on Instagram where I sometimes do daily cooking videos for fun! I'm also on Pinterest which is a great place that you can save and share your favourite recipes. As well, if you haven't yet, Subscribe to the newsletter. You'll be notified whenever there's a new recipe! You can do that at the top of the page.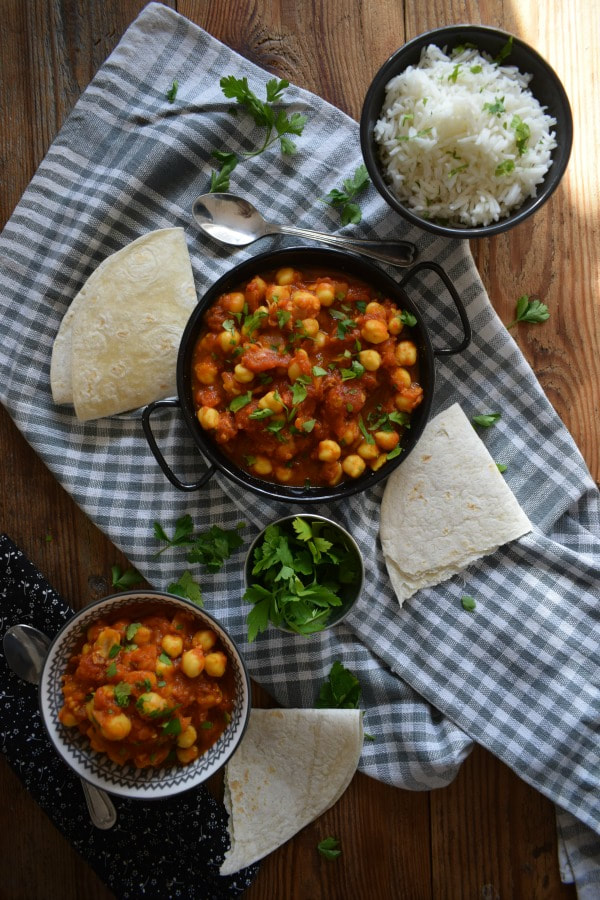 ---
Get the recipe!
---
Spicy Chickpea Curry
Where comfort food meets healthy eating and makes a delicious dish.  Spicy Chickpea Curry!  A super easy stove top dish that cooks relatively quickly, delivers on flavour and is even Vegan friendly.  Take a look and see what's it all about.
Ingredients
2

Cups

chickpeas

cooked

1 14

oz

Can tomatoes

diced or whole

1

white onion

Large, peeled, halved and thinly sliced

2

Tablespoon

olive oil

1

inch

piece ginger root

peeled and grated

4

Garlic cloves

crushed

1

Hot chili

finely chopped (can use chili flakes)

1/2

Teaspoon

ground turmeric

1

Teaspoon

ground coriander

1

Teaspoon

ground cumin

1

Tablespoon

Garam Masala

1/2

Teaspoon

salt

Small bunch fresh coriander

chopped

Juice of one lime

Vegetable stock

if needed (explained in recipe below)
Instructions
In a deep sided pot over high heat, add the olive oil and onions. Cook for 2 – 3 minutes to brown the onions. Reduce heat to medium and continue to cook for a further 10 – 12 minutes until onions are very soft.

Add the ginger, garlic, chili, turmeric, coriander and cumin. Give a really good stir and let the flavours infuse for about 2 -3 minutes.

Add chickpeas and tomatoes. Stir well to coat completely. If using whole tomatoes, break them up with a wooden spoon. Stir, cover and reduce heat to medium low. Cook for a further 20 minutes.

Remove lid and stir. If the mixture is very dry you can add 1/4(60ml) to 1/2(120 ml) of vegetable stock. Add the Garam Masala, lime juice and fresh coriander. Stir and let simmer for 2 – 3 minutes.

Serve with Basmati rice and Nann bread.
*A note on times provided: appliances vary, any prep and/or cook times provided are estimates only.
Nutrition Facts
Spicy Chickpea Curry
Amount Per Serving (1 serving)
Calories 255
Calories from Fat 90
% Daily Value*
Fat 10g15%
Sodium 440mg19%
Potassium 611mg17%
Carbohydrates 35g12%
Protein 10g20%
Vitamin A 251IU5%
Vitamin C 14mg17%
Calcium 96mg10%
Iron 4mg22%
* Percent Daily Values are based on a 2000 calorie diet.
---
Thanks For Stopping By And Hope To See You Soon!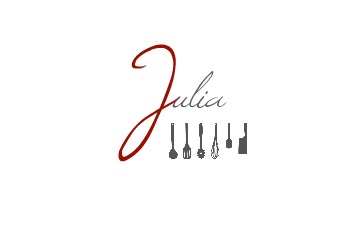 By