The almighty Cream Cheese Brownies! My favourite brownie of all time. A dense and moist layered brownie with a chocolate brownie base and a cream cheese topping. They keep for almost a week in the fridge and they even freeze great.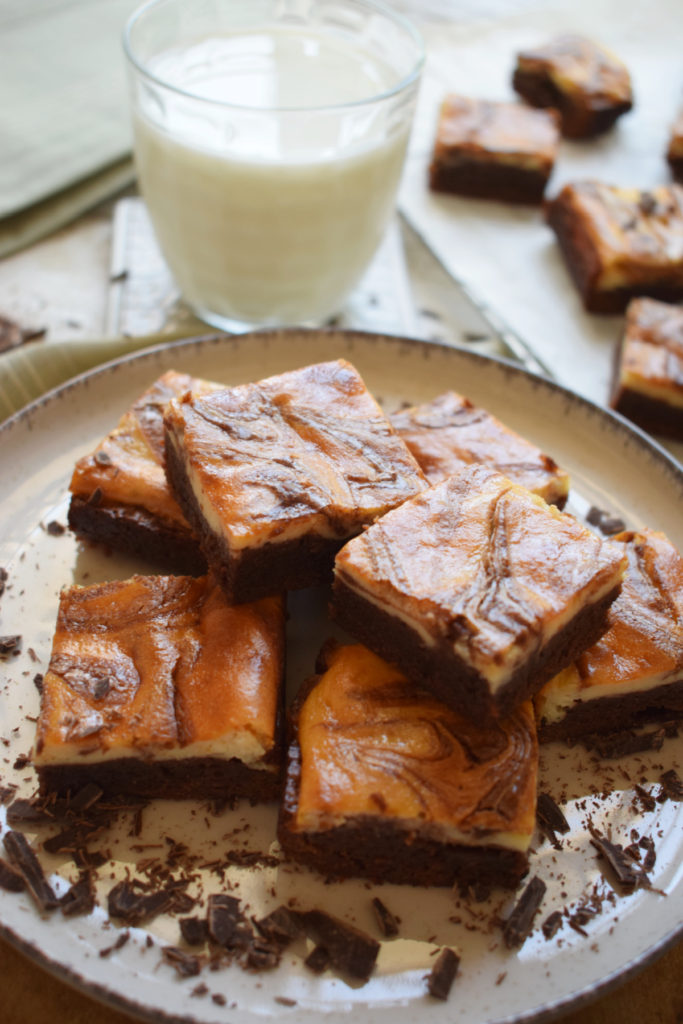 If you've never tried a Cream Cheese Brownie, what are you waiting for! I mean they are just about the best Brownie on the planet. In my humble opinion that is. These Brownies have been kicking around our house for the best part of 15 years or so and we all love them. Well, expect my husband, but we'll just ignore that problem!
And we've tried and tested so many different brownies over the years like The Ultimate Fudge Brownie, Chocolate Macaroon Brownies, Chewy Chocolate Brownies, Pecan Brownies, and so many more. And they really are all great BUT these are the all time winner in my books.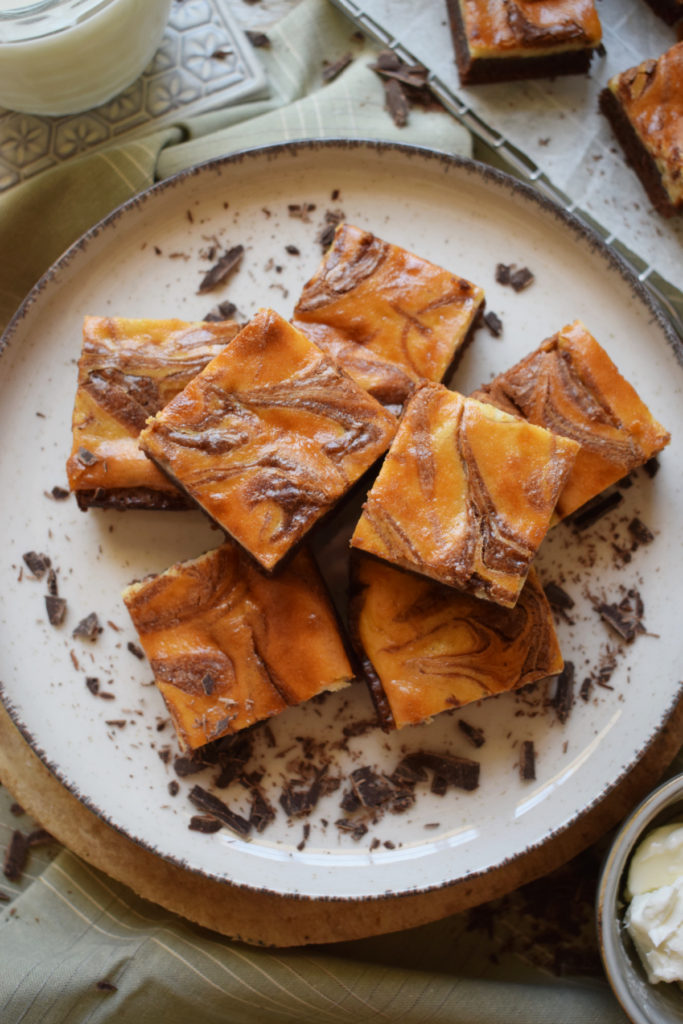 ---
Making Cream Cheese Brownies
This recipe uses two layers. A chocolate brownie layer and a cream cheese layer. As if the title didn't give that away! I always start with the brownie later first as you have to heat the ingredients on the stove.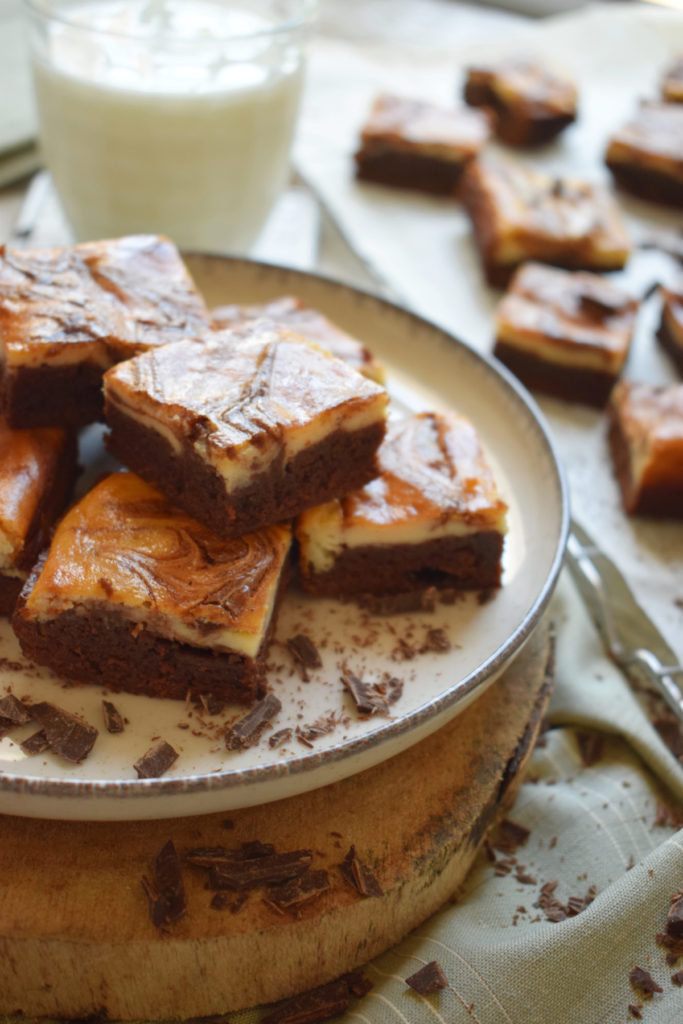 ---
The Best Way to Melt Chocolate
Double boiler on the stove top

– place water in the bottom of your double boiler and place over medium heat until the water comes to a simmer.

Place the chopped chocolate and butter in the top part

– stir until melted and smooth. This will take about 2 – 3 minutes
Add eggs, sugar and vanilla – whisk with a hand whisk until smooth and remove from heat. This will take about 2 minutes.
You don't need a pan like this You could just as easily use a heatproof glass bowl set over a saucepan of simmering water.
---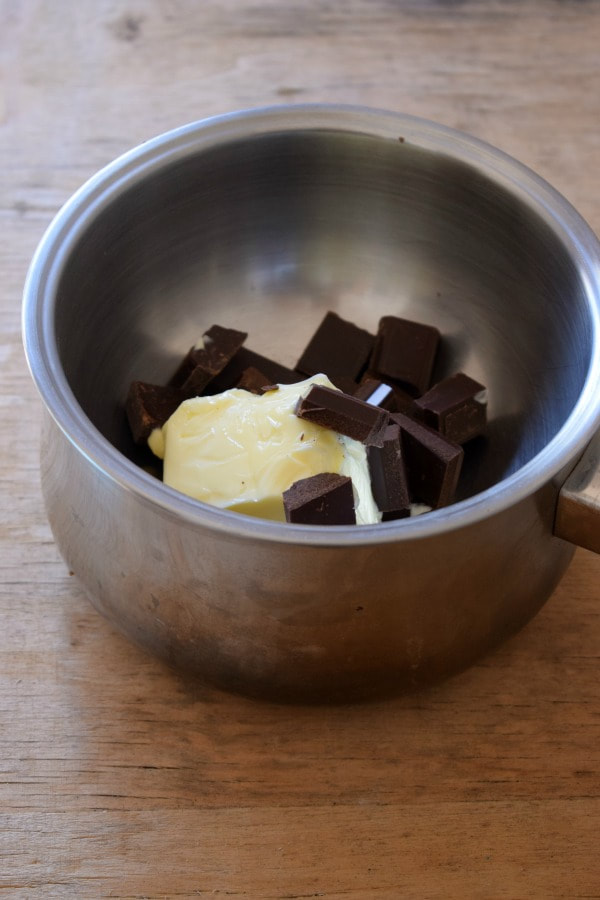 ---
A

dd flour

– whisk until just combined. Don't over mix or this will make the brownies more cake like.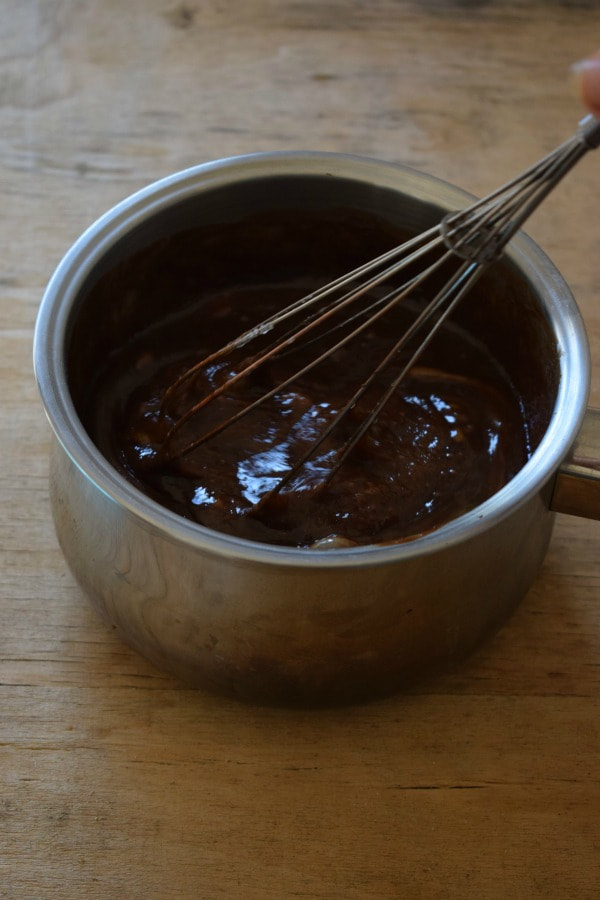 ---
make The Cream Cheese Layer
Add cream cheese to the bowl of your electric mixer

– mix for about 30 seconds until smooth.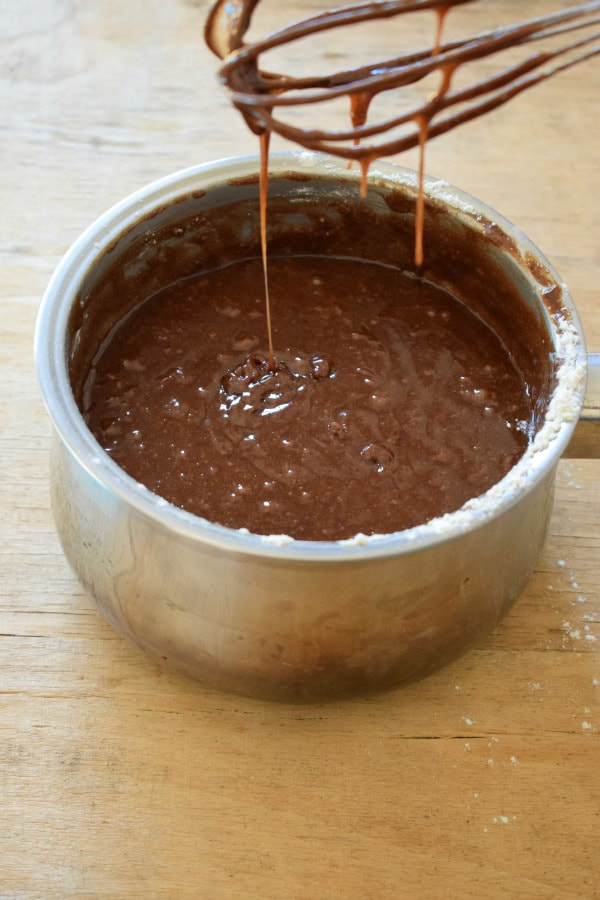 ---
Add the sugar, egg and vanilla

– mix on high sped until it's really smooth. This usually takes just about 1 -2 minutes. You may need to scrape down the sides with a rubber spatula as you go.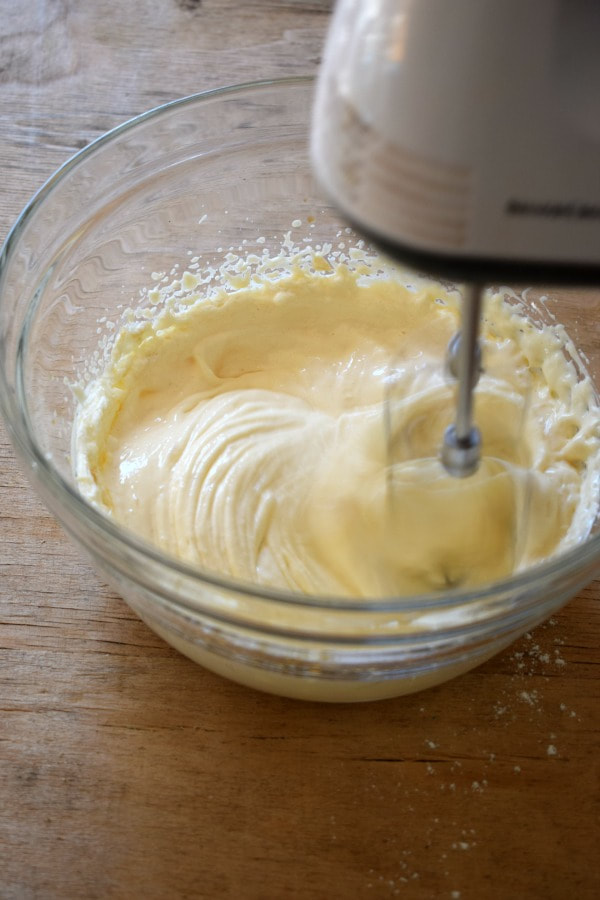 ---
Pour brownie batter into prepared pan

– Reserve about a 1/4 of the batter for he top layer. You will see what I mean. Smooth the brownie layer out until it's even. Then Pour over the cream cheese mixture.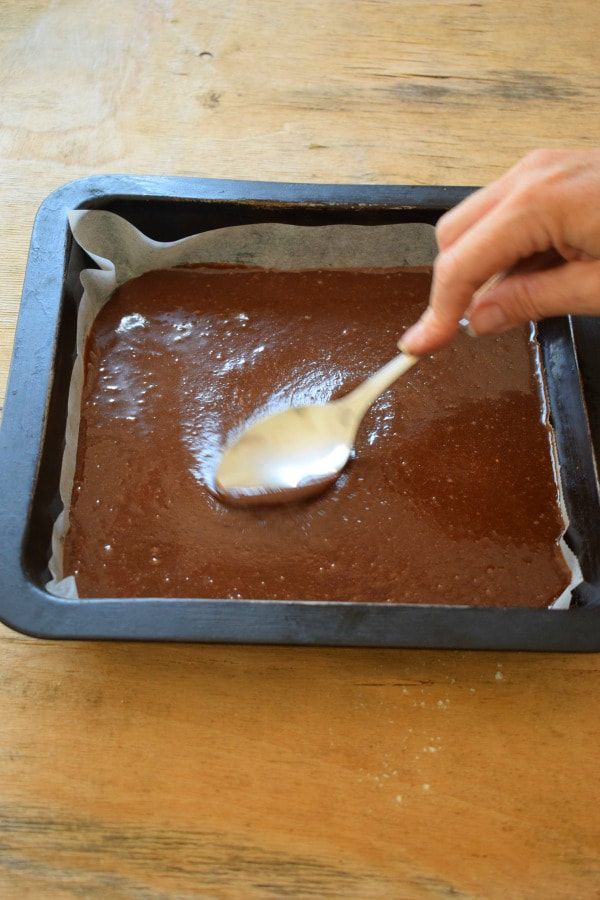 ---
Cover the entire brownie layer with the cream cheese batter

– Use a spoon to gently and evenly spread it out as seen below in the bottom left hand photo.

Spoon remaining brownie batter over the top

– I usually spoon over nine circles. You can take a look below. Once you have done this, use a knife to swirl the chocolate into the cream cheese batter. Like making a marble cake. Same thing! There are no rules here, just do it how you see fit.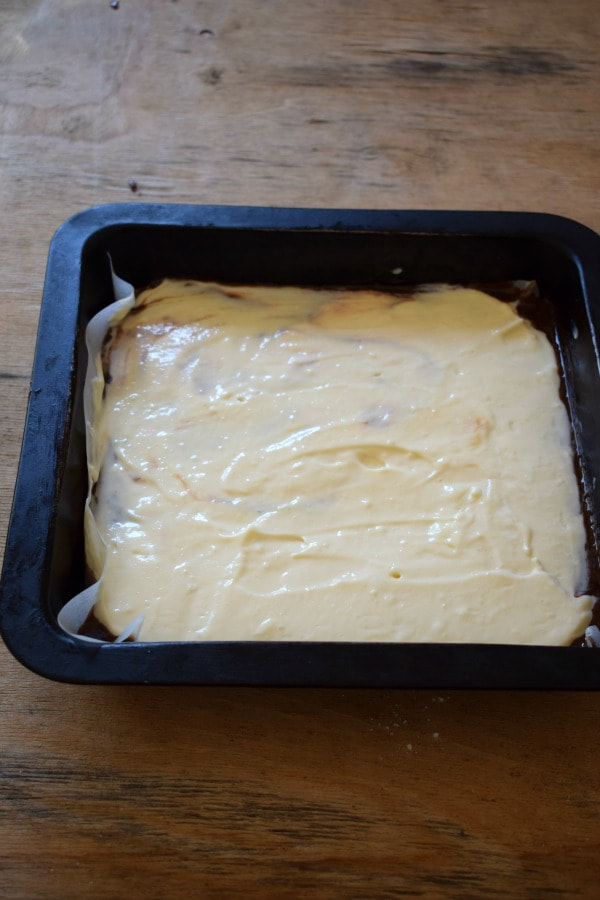 ---
Bake The Cream Cheese Brownies
Time to Bake The Brownies

– These take about 40 minutes in my oven. Bake in a preheated 325 degree f oven. You want a few moist crumbs to come out on a toothpick. Remove from oven and place on a wire cooking rack to cool completely
REMEMBER, All ovens bake differently, so yours might take a little longer or even be done a little quicker.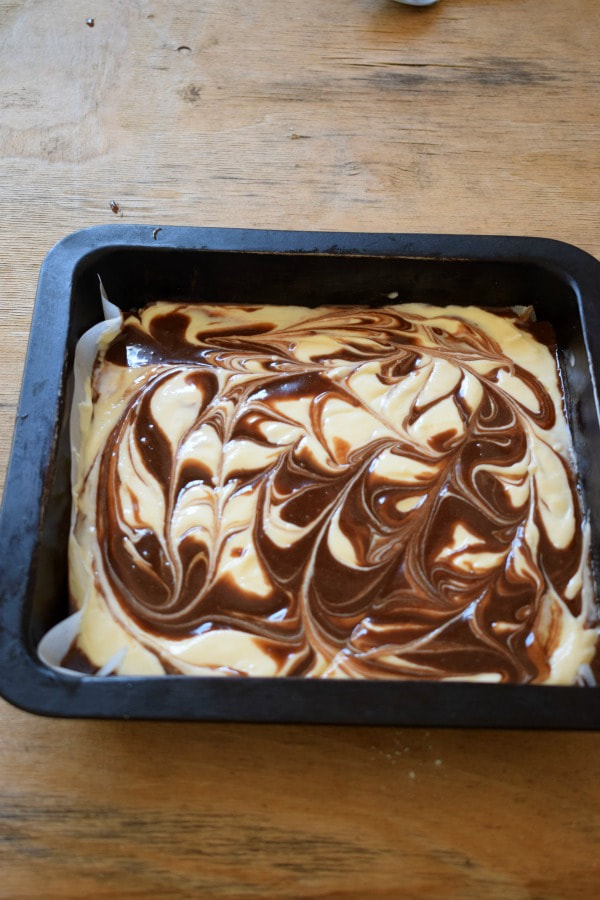 ---
Fresh Out of The Oven
You can see the perfect cracked top on these brownies straight out of the oven. These brownies are dense and creamy at the same time. My kids prefer these to any other brownies, which I was shocked by to be honest. I don't make them often because I am likely to eat way too many!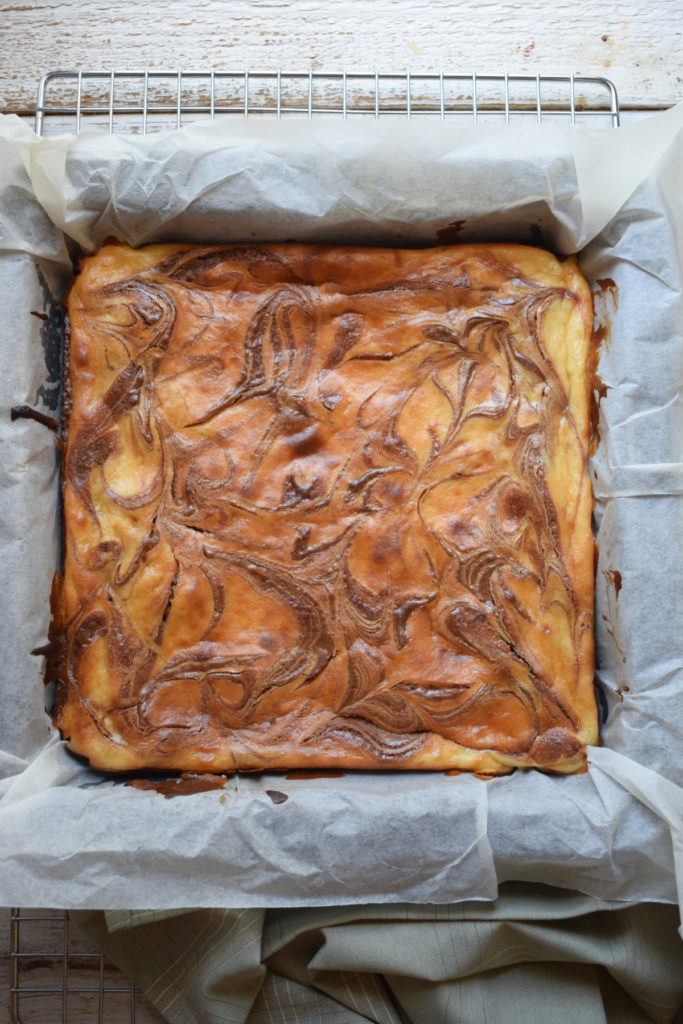 Tips For Cutting The Brownies
Allow brownies to cool completely

– this is really important if you want to get that perfect cut. I leave them for at least 2 -3 hours before cutting them. You can speed things up by putting them in the fridge.

Lift the brownies out on the parchment paper

– Once cooled, lift the entire thing out and lay on a cutting board. Do this carefully as you don't want to crack the brownies.

Cut with a large sharp knife

– I cut my brownies using a large kitchen knife. And i cut in rows and after cutting each row, I like to cut mine into 25 squares, but you can make them bigger if you prefer.I wipe down the knife. This will prevent any crumbs on top of your brownies.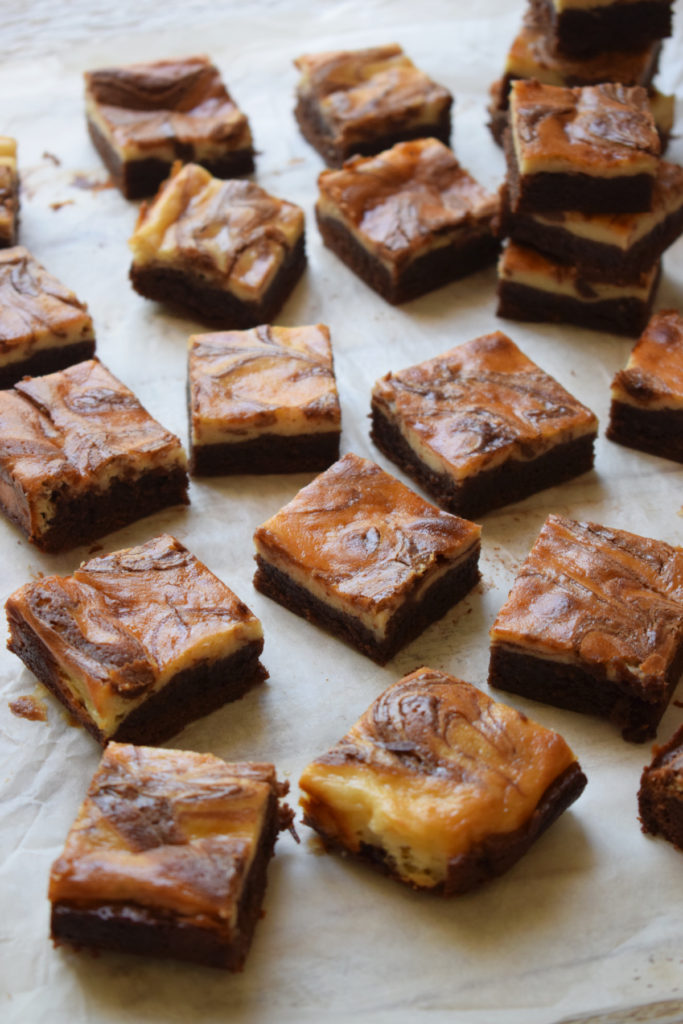 How To Store The Cream Cheese Brownies
Refrigerator

– These Brownies need to be kept in the fridge. I always store them in an airtight container and I separate the layers with parchment paper. They will keep for about five days and still taste amazing.

Freezer

– Yes, these freeze great as well. Make sure the container you are using is freezer proof to avoid any freezer burn. Again, separate layers with parchment paper. They will keep for about two months in the freezer.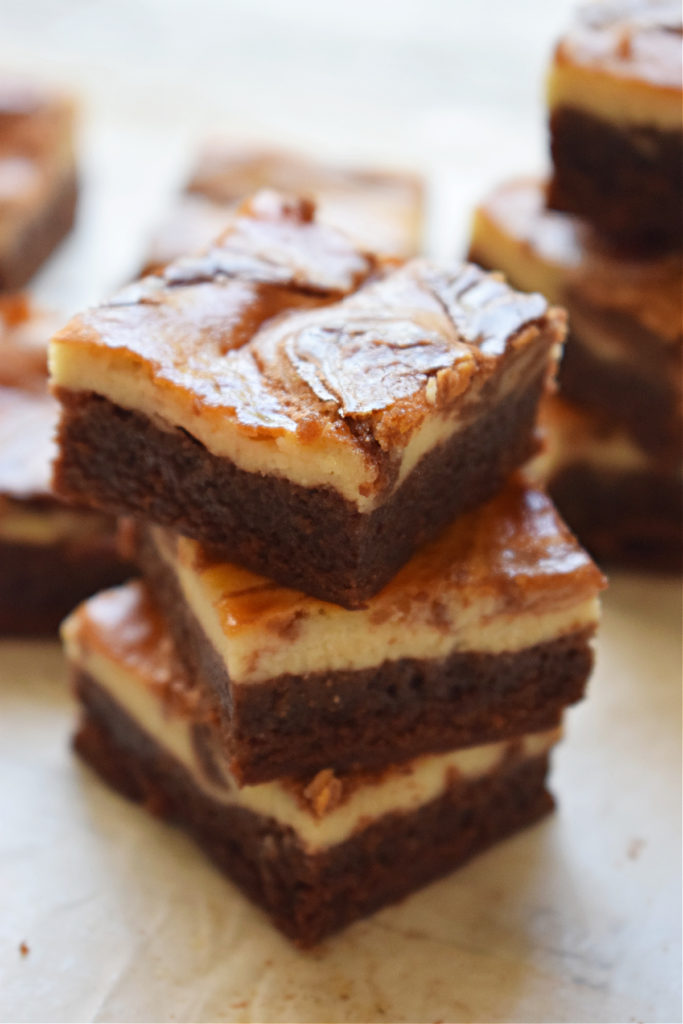 ---
Best Way To Enjoy These Brownies
Exactly as they are, you will love them if you love Brownies. Be sure to check out my Sweets Section for many more treats that you might want to try out as well. These brownies are the perfect make ahead treat to share with everyone.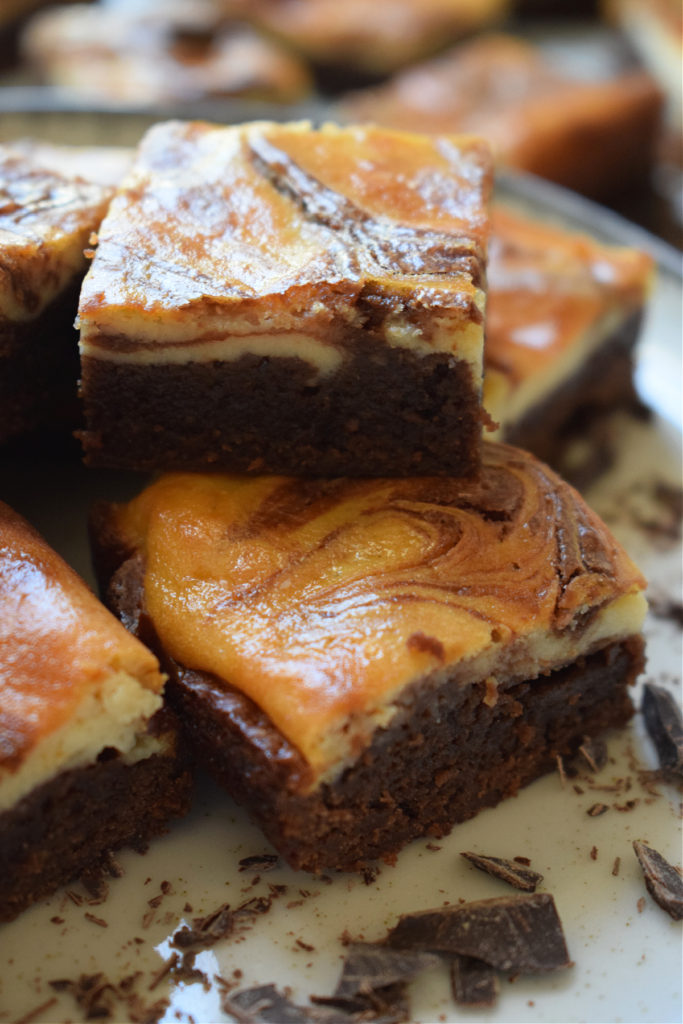 Are There Any Substitutions I Can Make For These Brownies
Honestly, I'm going to say no. As much as I am a fan of substitution in cooking, baking really is a science and these recipes are all tested using the ingredients in the recipe card. So, if you do change something, they likely will be different. And who knows, maybe better…hahaha.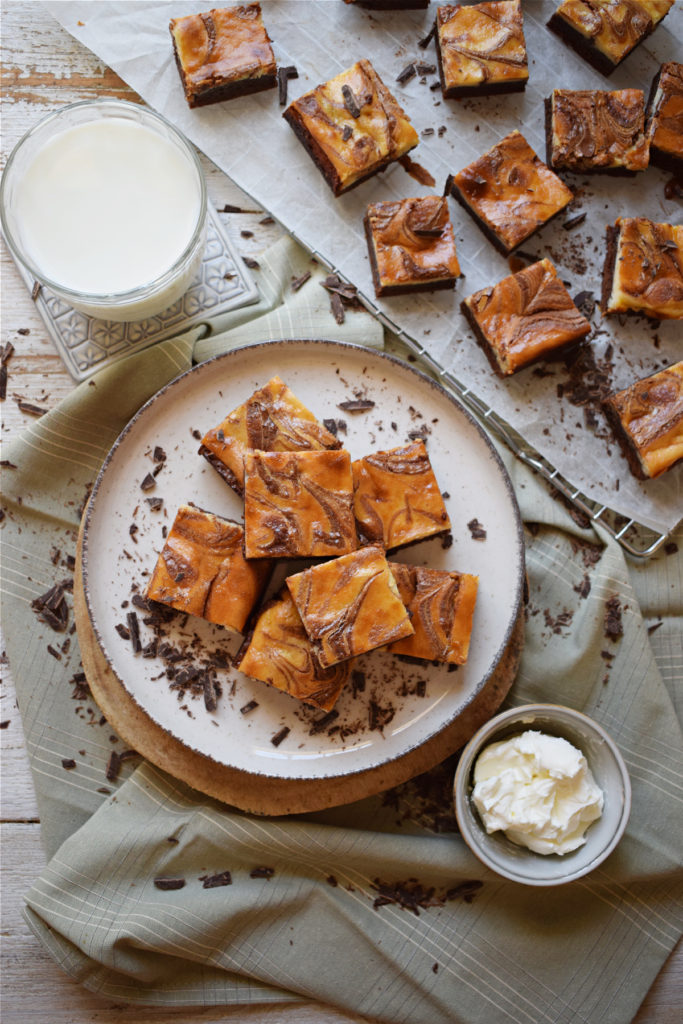 That's a wrap For Today
I hope you enjoy the brownies as much as we do. They really are a keeper and ones you might even want to bake for the Holiday period coming up this year…..eeeek! Oh, I almost forgot, my daughter baked these this time around and they turned out so great, I couldn't resist the opportunity to get some new photographs. She really is becoming a wonderful baker.
Happy Baking and enjoy the rest of the weekend.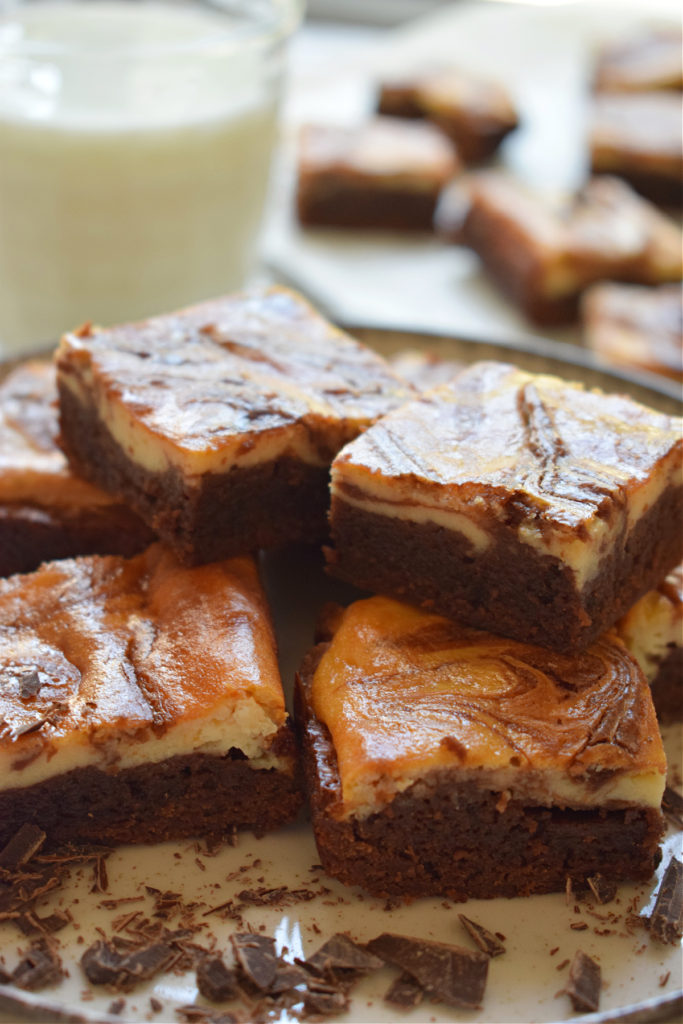 Here's Some More Brownies You Might Enjoy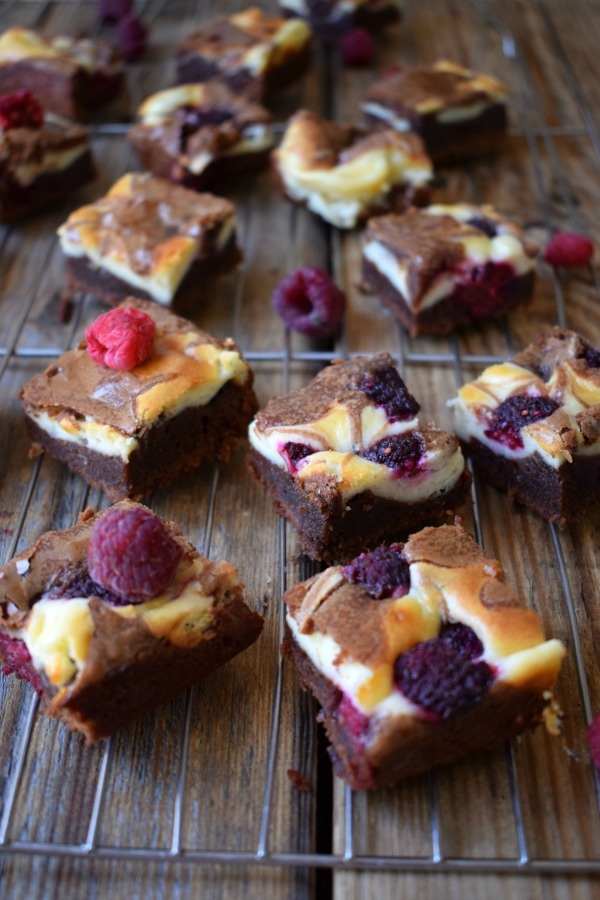 ---
Like what you see today? Don't forget you can follow on Facebook for daily inspiration or over on Instagram where I sometimes do daily cooking videos for fun! I'm also on Pinterest which is a great place that you can save and share your favourite recipes. As well, if you haven't yet, Subscribe to the newsletter. You'll be notified whenever there's a new recipe! You can do that at the top of the page.
---
Get the recipe!
---
Cream Cheese Brownies
The almighty Cream Cheese Brownies! My favourite brownie of all time. A dense and moist layered brownie with a chocolate brownie base and a cream cheese topping. They keep for almost a week in the fridge and they even freeze great.
Ingredients
Brownie Layer:
1/2

Cup

butter, unsalted

4

Ounces

dark chocolate

or bitter sweet chocolate, roughly chopped

1

Cup

granulated white sugar

1

Teaspoon

vanilla extract

2

eggs

large

1/2

Cup

flour

can be substituted for corn flour

Pinch

salt
Cream Cheese Layer:
8

Ounces

cream cheese

full fat kind

1/3

Cup

granulated white sugar

1

tsp

vanilla extract

1

Egg

large
Instructions
Preheat oven to 325 degrees F. Prepare a 8 x 8 inch baking tin by greasing it and lining it with parchment paper and again greasing the parchment paper. Set aside.

In a stainless steel saucepan set over simmering water, add the butter and chocolate. Stir until it has completely melted and it's of smooth consistency. Remove from heat and whisk in the eggs one at a time.

Add the sugar and vanilla and continue to whisk until smooth. Add the flour and salt and stir long enough until there are no lumps.

In a medium mixing bowl, add the cream cheese and beat on high speed until smooth. Now add the egg, sugar, and vanilla. Continue to mix this on high speed until a smooth consistency forms. Set aside.

Pour the brownie batter into the baking tin, reserving about 1/4 cup. Make sure it is spread out evenly. Next, pour the cream cheese mixture on the top and make sure the brownie layer is completely covered. Once you have done this, place spoonfuls of the brownie batter over this layer. I usually do nine spoonfuls on top of the cream cheese layer. Now, with a sharp knife you want to swirl the brownie layer that is on top into the cream cheese mixture. Basically, you will make swirling motions and pretty patterns will appear. Just do it long enough until you have the entire top covered in swirls.

Bake the brownies for about 40 – 45 minutes or until a toothpick comes out with a few crumbs on it. Remove from oven when done and place on a wire rack to cool. When cooled, cut into squares. Will keep in an airtight container in the fridge for about 5 days.
*A note on times provided: appliances vary, any prep and/or cook times provided are estimates only.
Nutrition Facts
Cream Cheese Brownies
Amount Per Serving (1 brownie)
Calories 150
Calories from Fat 81
% Daily Value*
Fat 9g14%
Cholesterol 40mg13%
Sodium 70mg3%
Potassium 55mg2%
Carbohydrates 15g5%
Protein 2g4%
Vitamin A 264IU5%
Calcium 16mg2%
Iron 1mg6%
* Percent Daily Values are based on a 2000 calorie diet.
---
Thanks for Stopping By And Hope To See You Soon!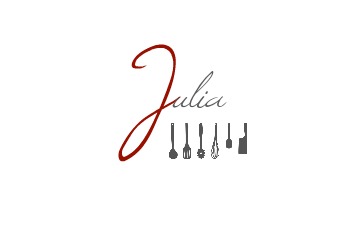 By