If you love curries but are short on this, this Creamy Chicken Masala is for you. It's not only full of flavour, creamy and delicious, it's also on the table in 45 minutes!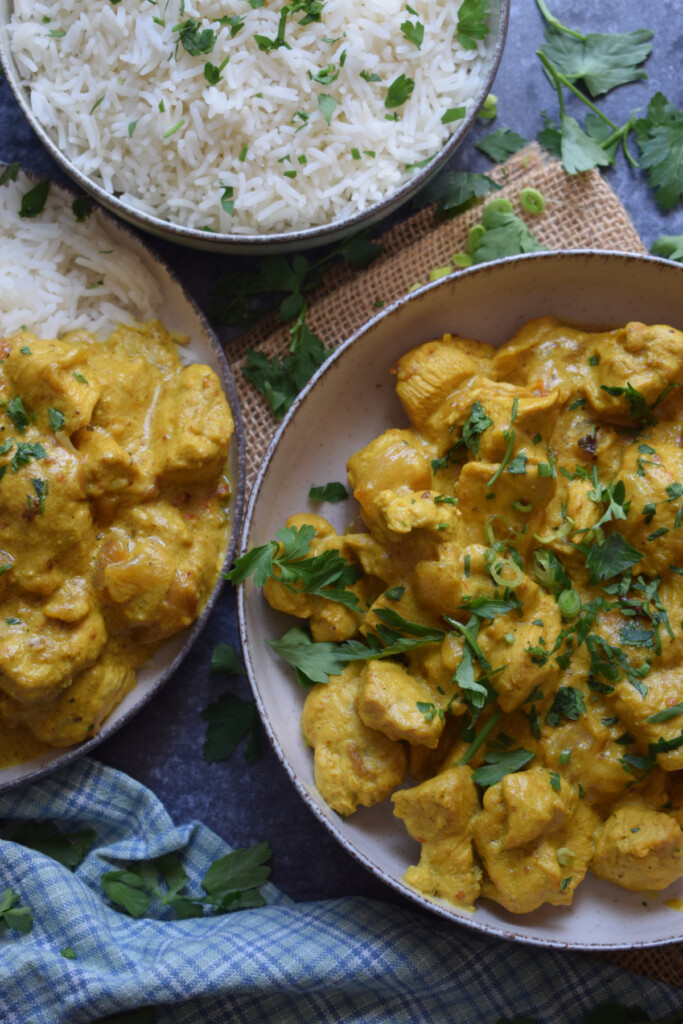 Originally published on may 22nd, 2015. Updated on April 26th, 2023 to include new photos, recipe tips, frequently asked questions and more relevant information.
What is Chicken Masala
Chicken Masala is an Indian dish made from fragrant spices and cooked in a creamy sauce. It doesn't require much marinading time and comes together in about 45 minutes. It is great served with fluffy basmati rice, Stove Top Nann Bread and even Onion Bhajis with Spiced Mango Chutney.
---
What is This Dish Like
Difficulty

– This is a relatively easy dish to put together. It has two components, the marinade and the rest of the ingredients for the dish. All in all it takes well under and hour to put together and can be completely prepared in advance.

Taste

– This is a lightly spiced creamy curry. It does had spice but is medium to mild in flavour and not too spicy. The chicken is tender and the sauce very flavoursome.

Serving

– I feel this dish easily makes 6 servings if serving with rice and bread. If you are planning to serve it along or with just vegetable side dishes, I would say 4 servings.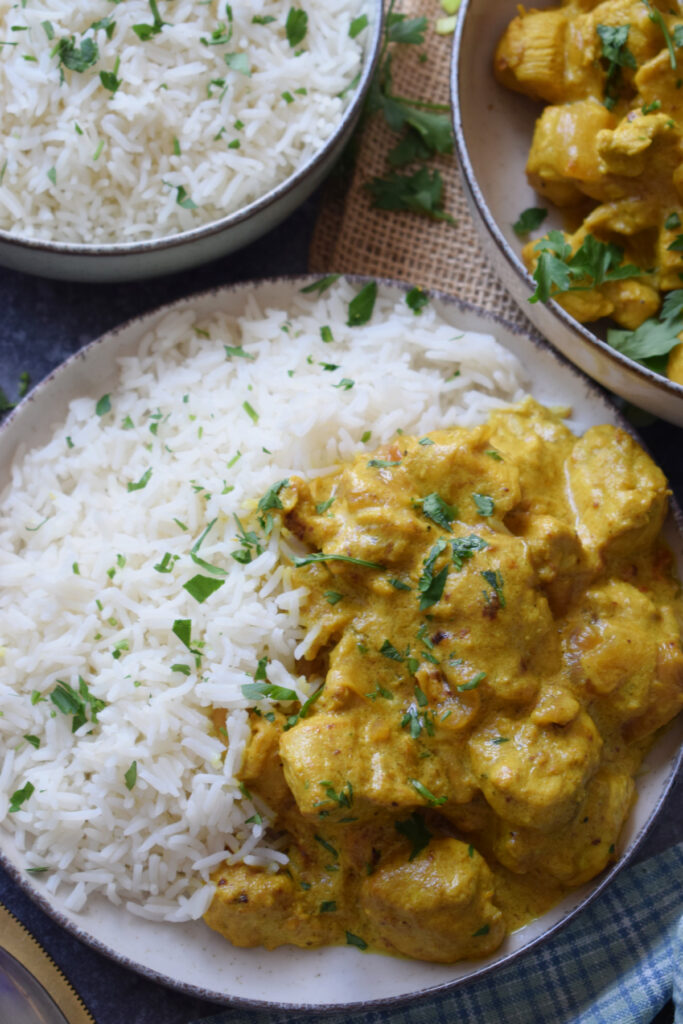 Ingredients
The chicken marinade

– This marinade is made from ginger root, garlic, chili powder, turmeric, coriander, salt, olive oil, lime juice and lemon juice.

Chicken

– I used boneless skinless chicken breast cut into bite sized pieces.

Onion

– I used a large white onion.

Other seasonings

– Ground turmeric and chili flakes are added to the sauce.

Olive oil

– Olive oil was used to cook the chicken and the onions.

Heavy cream

– This adds a creamy texture to the sauce.

Greek yogurt

– I added yogurt to add a little lightness to the sauce.
NOTE, The full recipe and instructions can be found at the end of the post in the recipe card.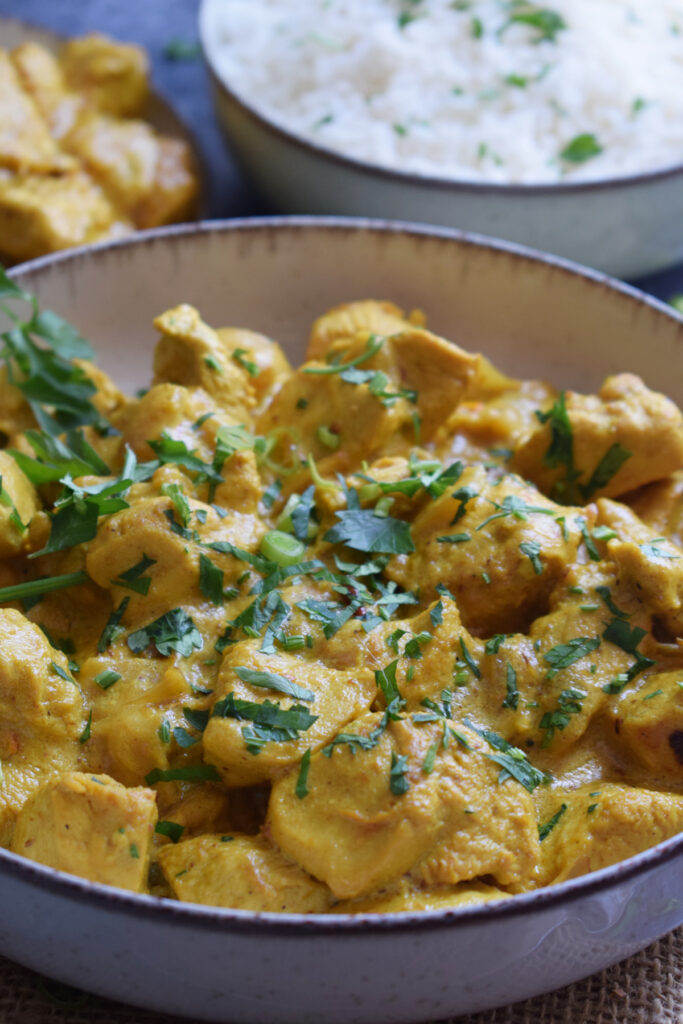 Instructions
Make the chicken marinade

– Made the chicken marinade by combining the ginger, garlic, chili powder, ground coriander, ground turmeric, salt, lemon juice, lime juice and olive oil. Stir to combine. In a large bowl combine the chicken pieces with the marinade and stir well to coat. Set aside.

Cook the onions

– In a large skillet set over medium to high heat, add the olive oil. Add the dried chili flakes and turmeric and stir well for about a minute. Add the onions and stir well to completely coat in the flavours from the spices. Reduce heat to medium low and allow the onions to cook for about 5 – 8 minutes or until softened.

Cook chicken and make sauce

– Turn the heat up to high and add the marinaded chicken. Stir really well and allow the chicken to brown for about 5 minutes. Pour in the cream and add the Greek yogurt. Stir really well and reduce heat to low. Cover and leave to cook for a further 15 minutes or until chicken is cooked and tender.

Garnish and serve

– Remove from heat and garnish with fresh coriander if desired. Serve with fluffy Basmati rice.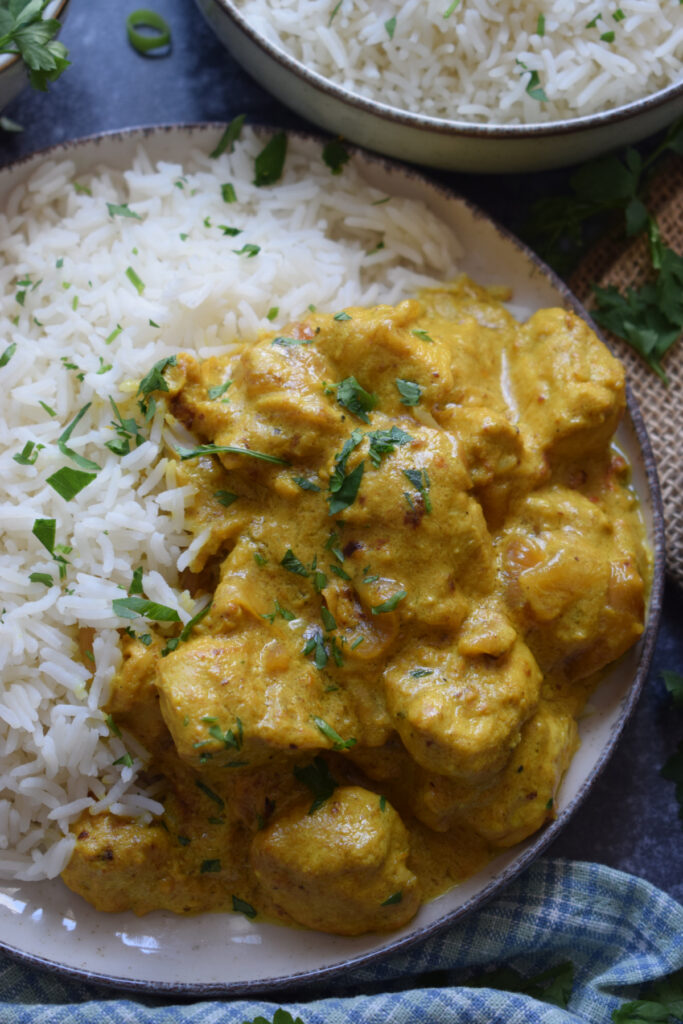 Recipe Tips
Prep ahead

– You can marinade this chicken up to 24 hours before cooking.

Cook ahead

– This chicken dish can be made up to 24 hours before serving. Just allow it to cool to room temperature, store it in an airtight container and keep it in the fridge. For reheating, I recommend in a large saucepan over medium to low heat until hot.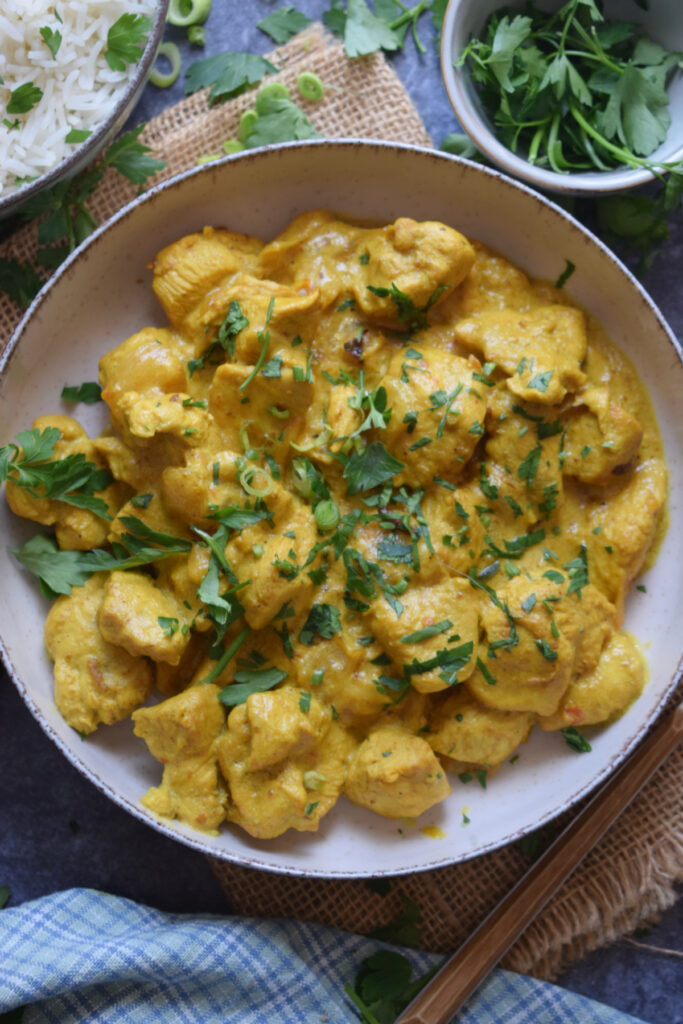 What to Serve With Chicken Masala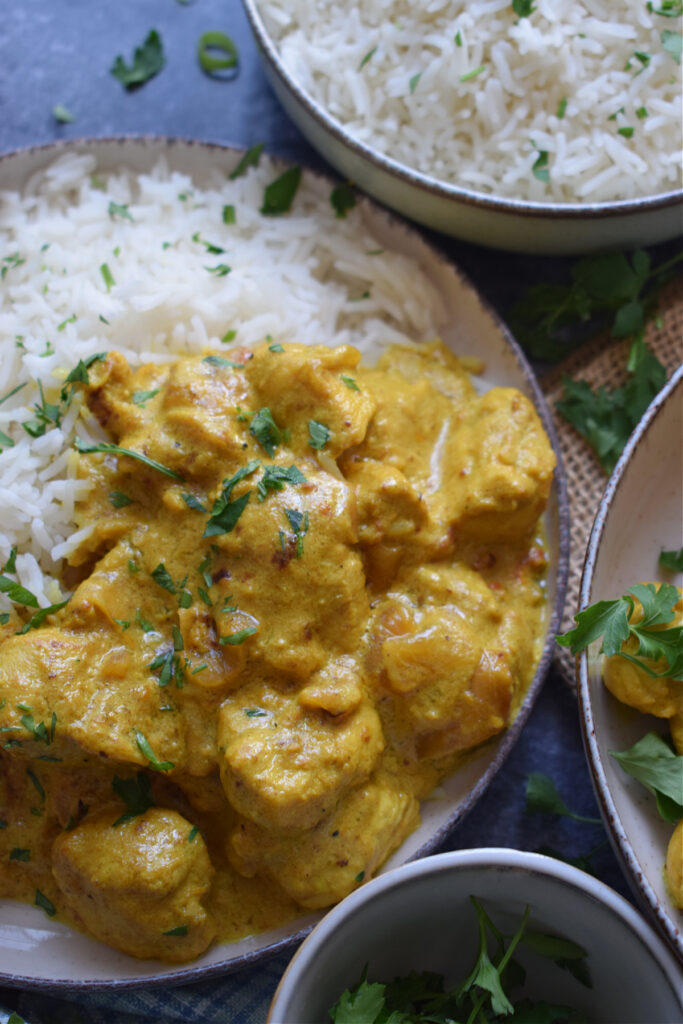 ---
frequently Asked Questions
What is the difference between Chicken Masala and Chicken Marsala?
Chicken Masala is a spiced Indian chicken dish made from fragrant spices, tender pieces of chicken and a creamy sauce. Chicken Marsala is an Italian chicken dish cooked using Marsala wine, herbs and a little cream.
Is Tikka Masala and Masala the same dish?
Tikka refers to a dish that is either cooked on a grill or roasted and then added to a cream tomato sauce. Masala is generally cooked in the creamy sauce on the stovetop. Masala can contain tomatoes or it can be a straight cream/yogurt based sauce with spices.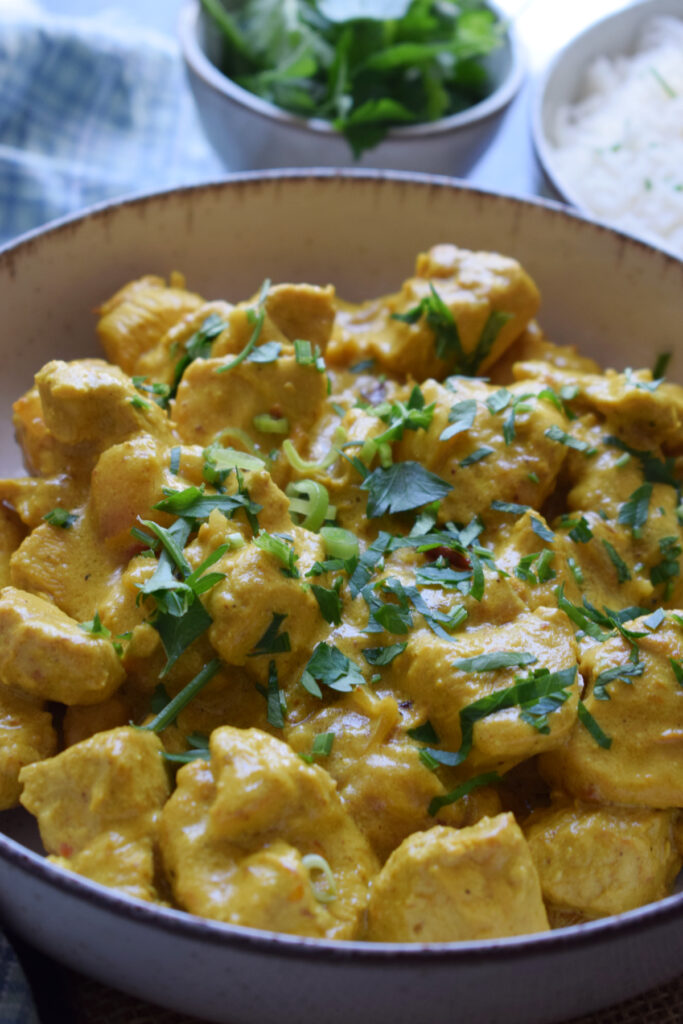 ---

---
Chicken Jalfrezi
Chicken Jalfrezi is a dinner you need to make! Tender pieces of chicken wrapped up in a spiced tomato sauce with bell peppers. Serve over Basmati rice for your perfect Indian inspired dinner.
Check out this recipe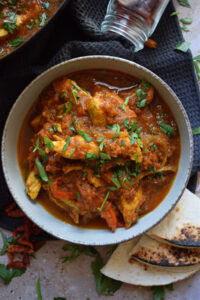 Chicken Tikka Masala
The ultimate comfort food to dive into this weekend! Chicken Tikka Masala brings all the flavour that you would expect from any great curry. It's not a dish that can be rushed, so grab a drink and take a look! The proof is in the eating.
Check out this recipe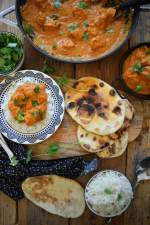 Slow Cooker Curry Chicken with Coconut Milk
Why not try this Slow Cooker Curry Chicken with Coconut Milk to make cooking curry easier. An easy mid week curry that can be popped in the slow cooker before work and all ready when you get home. Just steam some rice and you're all set for a delicious comfort dinner any night of the week.
Check out this recipe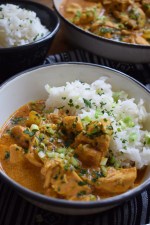 ---
---
---
Creamy Chicken Masala
This chicken curry is very creamy and just enough hint of spices to give it Indian flavour.
Ingredients
3

chicken breasts

boneless and skinless, cut into bite size piece

1

small piece of fresh root ginger

peeled and finely chopped

3-4

cloves

garlic

minced

1

tsp

chili powder

Small bunch of fresh coriander

chopped

Juice of one lime

Juice of one lemon

2

tbsp

olive oil

1

onion

coarsely chopped

1

red chill

2

tsp

ground turmeric

divided

1

tsp

ground coriander

1 1/4

cup

heavy cream

1/2

cup

Greek yogurt
Instructions
Make the marinade by adding ginger, garlic, chili powder, ground coriander, 1 teaspoon of ground turmeric, lime juice, lemon juice, and 1 tablespoon of the olive oil in a bowl and stir to combine. Add the chicken to the marinade and stir to make sure all the chicken is coated in the marinade. Cover and refrigerate. This can be done a few hours before or even the day before you want to cook it.

Chop the onion and seed the chili.

Heat a large shallow pan over high heat and add the remaining tablespoon of olive oil and toss in the onions. Give a good stir and let cook for about 5 minutes or until browned. Now, reduce the heat to medium-low and add 1 teaspoon of the turmeric along with the chili and stir to make sure all the onion gets coated in the spice. Cook for a further few minutes until the onion is quite soft and light brown. Next, turn the heat back up to high and add the the chicken. Stir for a few minutes while browning the chicken. Let cook for about 5 minutes or until all the chicken is browned. Reduce heat to medium-low again and add the cream and the yogurt. Stir well to combine and it is really creamy. Reduce heat to low, cover and let it continue to cook for a further 10 minutes or until chicken is cooked through and tender. Remove from heat.

This can be served right away, but I think it is best if it is let to sit for a while and then serve it. When ready to serve, top it with the fresh chopped coriander. We love to serve this with basmati rice and naan bread.
*A note on times provided: appliances vary, any prep and/or cook times provided are estimates only.
Nutrition Facts
Creamy Chicken Masala
Amount Per Serving (1 serving)
Calories 368
Calories from Fat 234
% Daily Value*
Fat 26g40%
Cholesterol 141mg47%
Sodium 165mg7%
Potassium 563mg16%
Carbohydrates 6g2%
Protein 27g54%
Vitamin A 968IU19%
Vitamin C 14mg17%
Calcium 65mg7%
Iron 1mg6%
* Percent Daily Values are based on a 2000 calorie diet.
---
Thanks For Stopping By & Hope To See You Soon!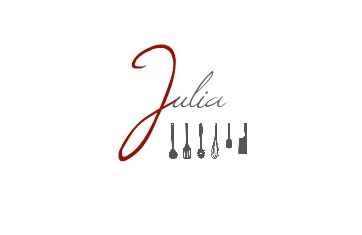 By