What better side dish to dive into that this Fluffy Mashed Potatoes Recipe. If you've been on the hunt for the ultimate creamy potato dish, these are the potatoes you need. The perfect side dish any day this fall.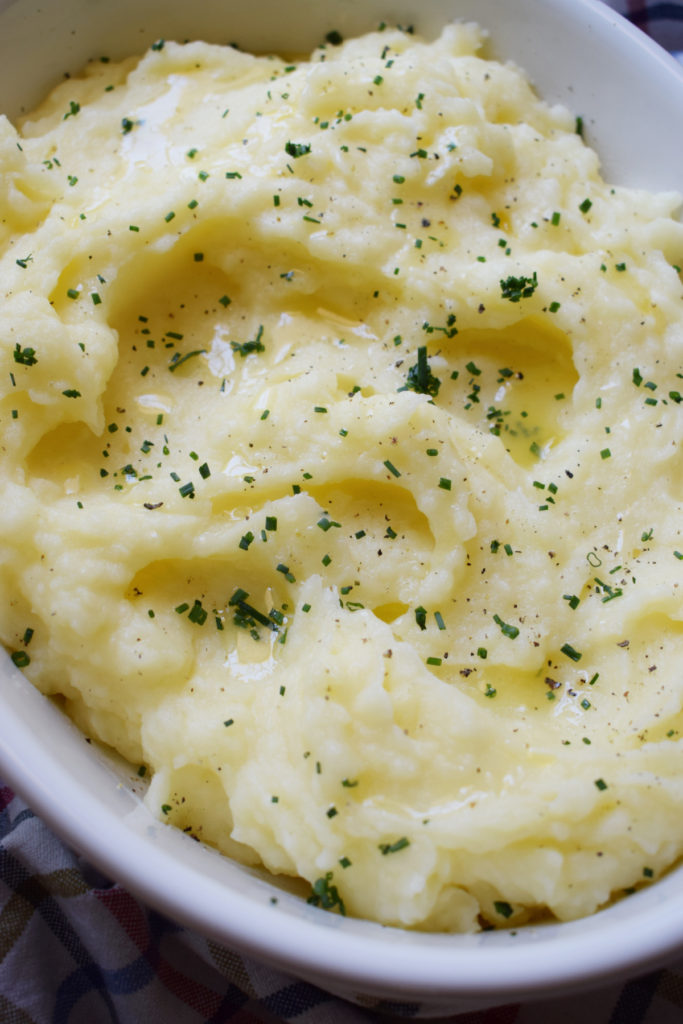 ---
Okay, you're probably asking yourself "Do I really need a recipe for mashed potatoes?". Well, I'm here to say yes, yes you really do. It was recently brought to my attention by my 16 year old that I didn't have a recipe for Mashed Potatoes. If you follow the blog, you might remember him saying the same things about Caramelized Onions. Well, I corrected that problem. And now I adding Mashed Potatoes. Easy, basic food that we all like to indulge in from time to time.
And now that we're fully heading into comfort food season, you're going to want to make these on repeat. I've made them recently with my Pan Fried Hake. I'm thinking they would go great on your Thanksgiving or even Christmas table. Oh, and have you seen my Potato & Spinach Gratin? Just saying, that one's a keeper.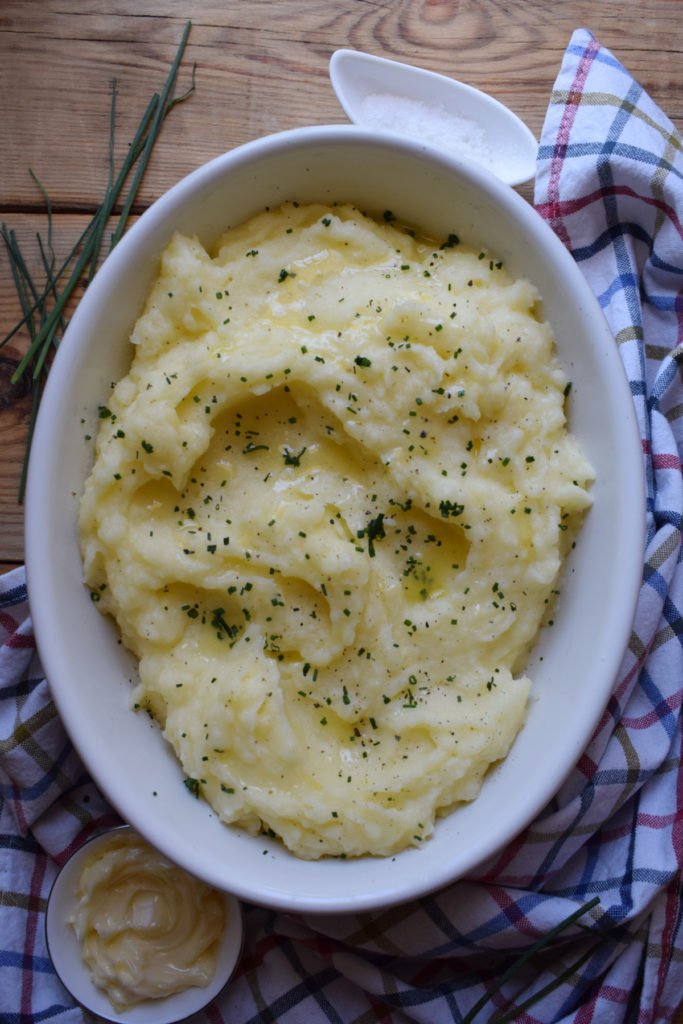 Here's What You'll Need For These Fluffy Mashed Potatoes
Potatoes
Butter
Milk
Salt
Fresh Chives
REMEMBER, The full recipe and instructions is always found at the end of the post in the recipe card.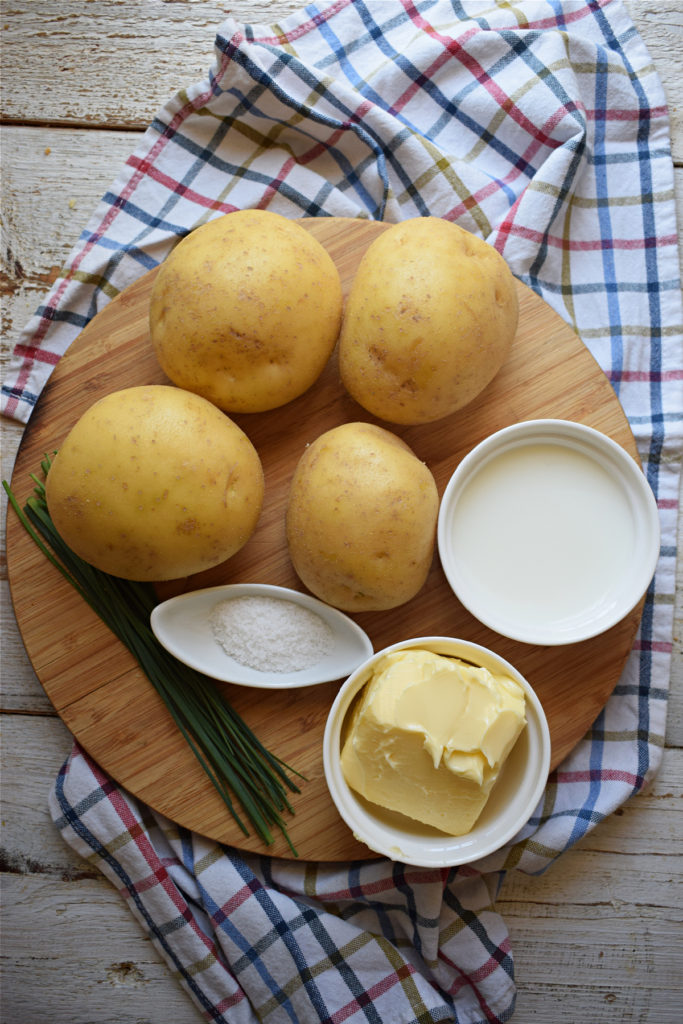 ---
Let's Make Some Mashed Potatoes
Peel, wash and cut potatoes

– I prefer my mashed potatoes without the skin. Then I cut them up into small 2-inch pieces. It's best to cut them small for even cooking. Bigger whole potatoes will not cook as evenly.

Cook potatoes

– place the potatoes in a medium saucepan with the water just about an inch above the potatoes. Bring to a boil over high heat and then reduce the heat and continue to cook for about 12 more minutes until soft when pierced with a knife.
COOKING TIP – Potatoes cut small will cook more evenly than large potatoes. Large potatoes can tend to have hard spots in them towards the center.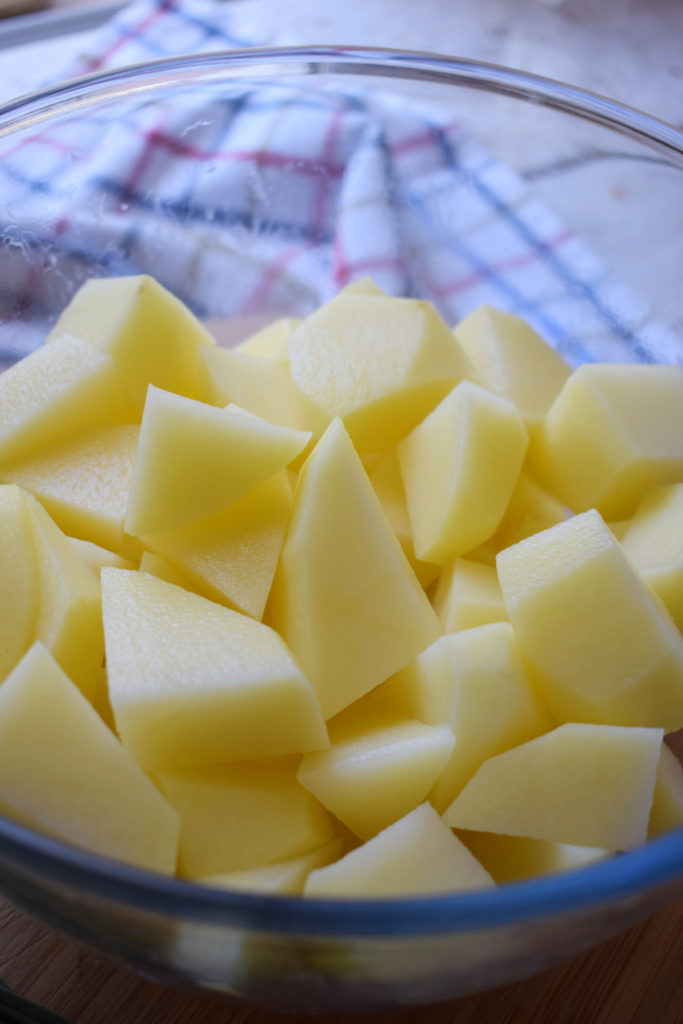 ---
Shake potatoes with lid

– Place the lid on the potatoes and give a gentle shake. This helps break up the potatoes and makes it much easier for mashing them.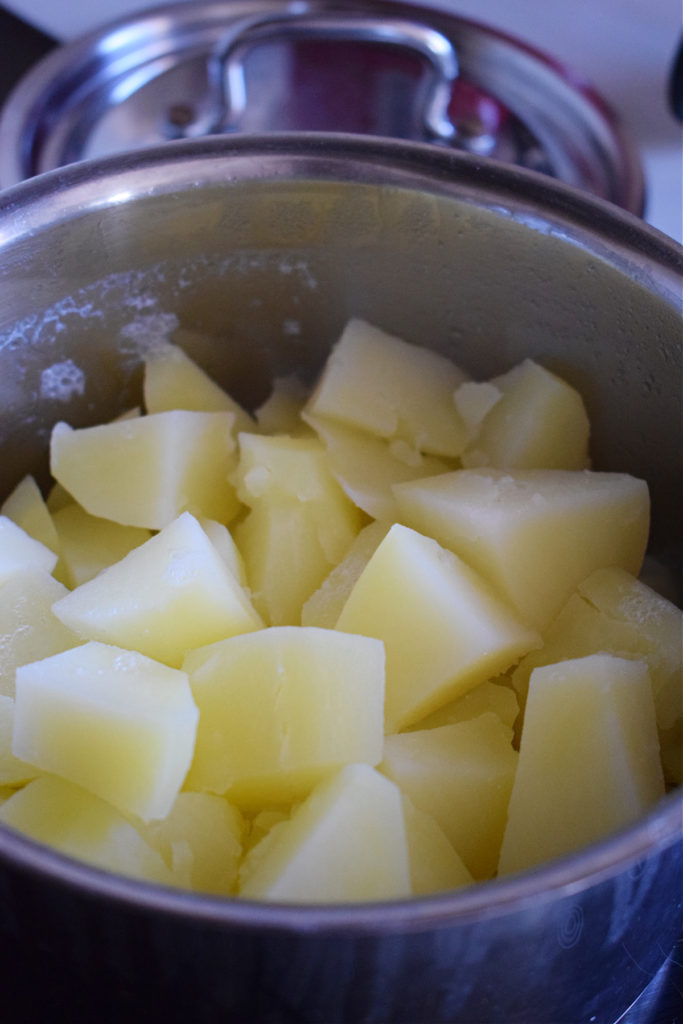 ---
Add butter, milk and salt

– add all of these to the cooked potatoes.

Mash potatoes

– using a potato masher, mash the potatoes well until there are no more lumps.
COOKING TIP – Don't over mix the potatoes or whey will become stodgy and not fluffy and creamy.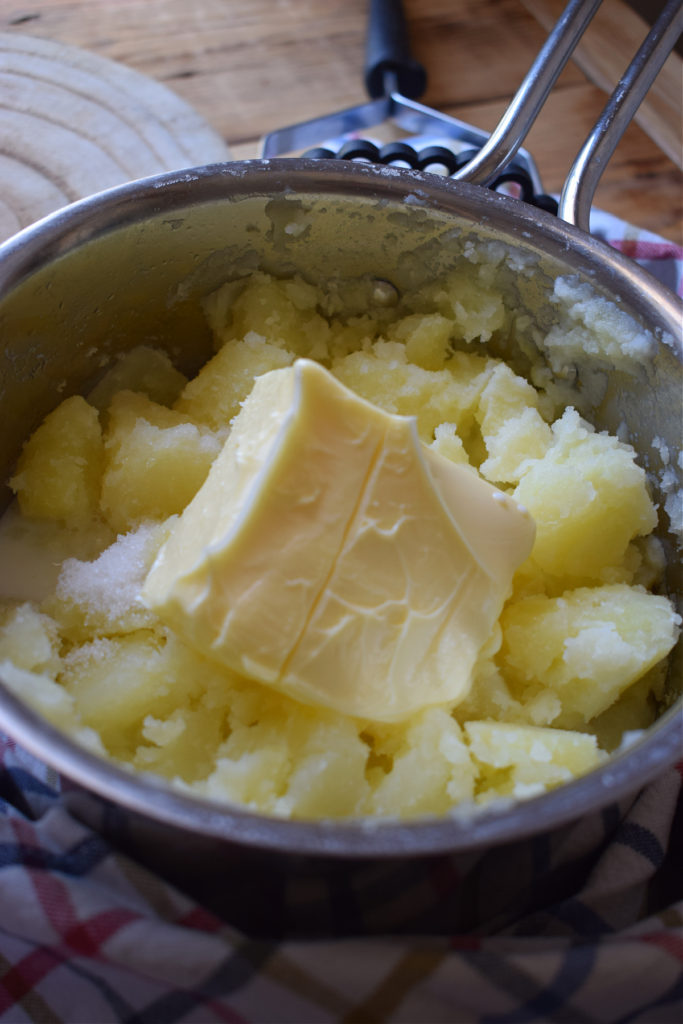 ---
Delicious Mashed Potatoes to Enjoy
Enjoy these just as they are because they are fantastic. But if you want to jazz them up a bit, feel free to add cheese, bacon bits, different seasonings, crushed garlic, different herbs like parsley or thyme. Anything goes really . You decide how you'd like them best.
---
Can I Make These Potatoes in Advance
The great news is yes you can. You can choose to either prepare in advance or cook in advance. I'll help you with how to do that.
Prepare the potatoes in advance

– peel, cut and wash potatoes. Place in a large bowl of water and keep in the fridge for about 4 – 6 hours before cooking.

Cook ahead of time

– you can even cook these potatoes as stated in the recipe below and store for later. Place the cooked potatoes in and airtight container and place in the refrigerator. You can do this up to two days before using. To reheat you can do the following:

Saucepan on the stove top

– place the potatoes back in a sauce pan and give a good stir. Place the saucepan over medium heat and cook until warmed through, about 10 minutes.

Oven method

– place in a oven proof dish and cover with aluminum foil. Place in the a 350 degrees F/180 degrees C oven for about 30 minutes.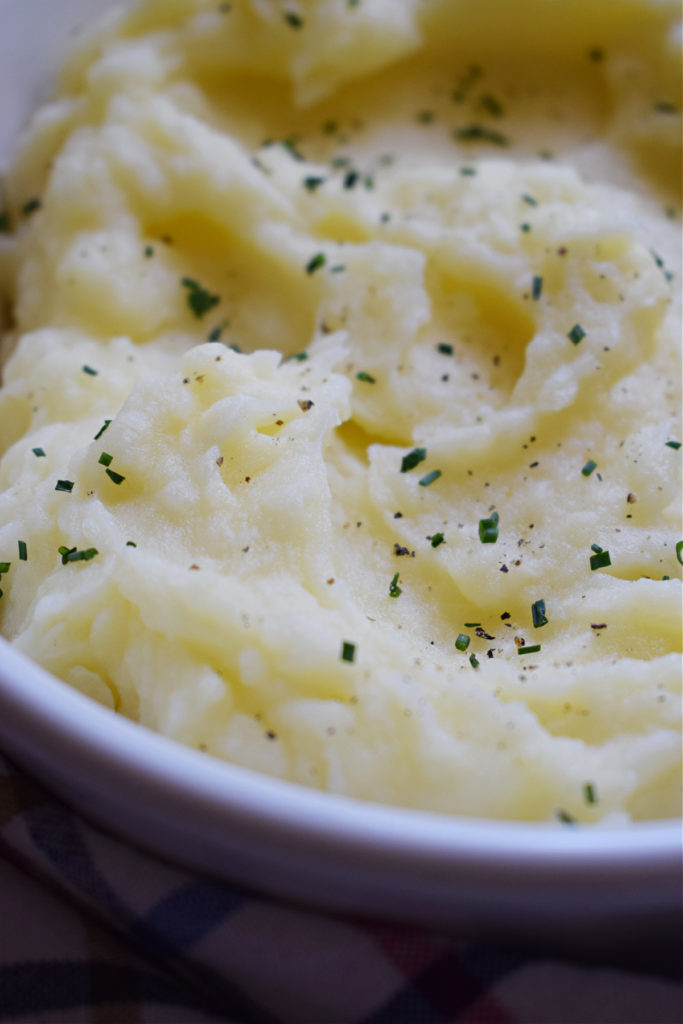 What Are The Best Potatoes to Use for Mashed Potatoes
Yes, there are so many varieties of potatoes, but for mashing, here's what I recommend.
Russet Potatoes

– these potatoes are large and they have a brown skin and are white on the inside. They have a high starch content which make them great for mashing. In the US they are commonly known as Idaho potatoes.

Yukon Gold

– these have a finely flaked yellow to white skin. They are bright and smooth on the inside.
Either of these potato varieties work well for mashing. Or you could even use a combination of the two varieties of potatoes. For this Fluffy Mashed Potatoes Recipe I used Russet Potatoes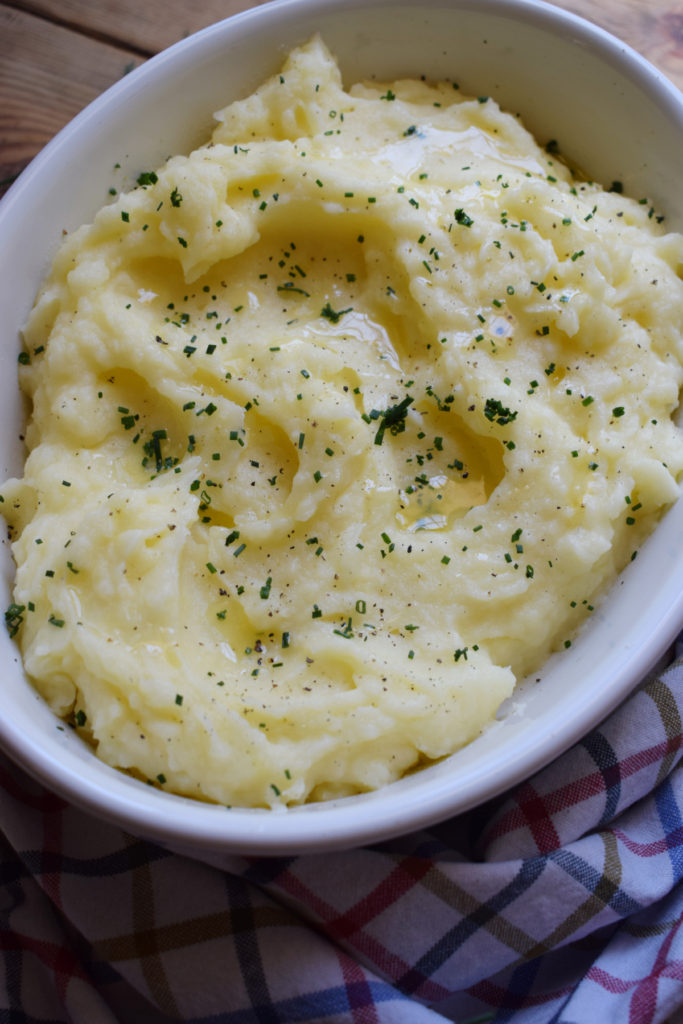 What are Some Great Dishes To Serve with These Fluffy Mashed Potatoes
The great things about Mashed Potatoes is how versatile they are as a side dish. Serve them with your family favourites or take a look at a few of my suggestions.
Enjoy The Fluffy Mashed Potatoes Recipe! I'll see you all in a few days with more seasonal cooking.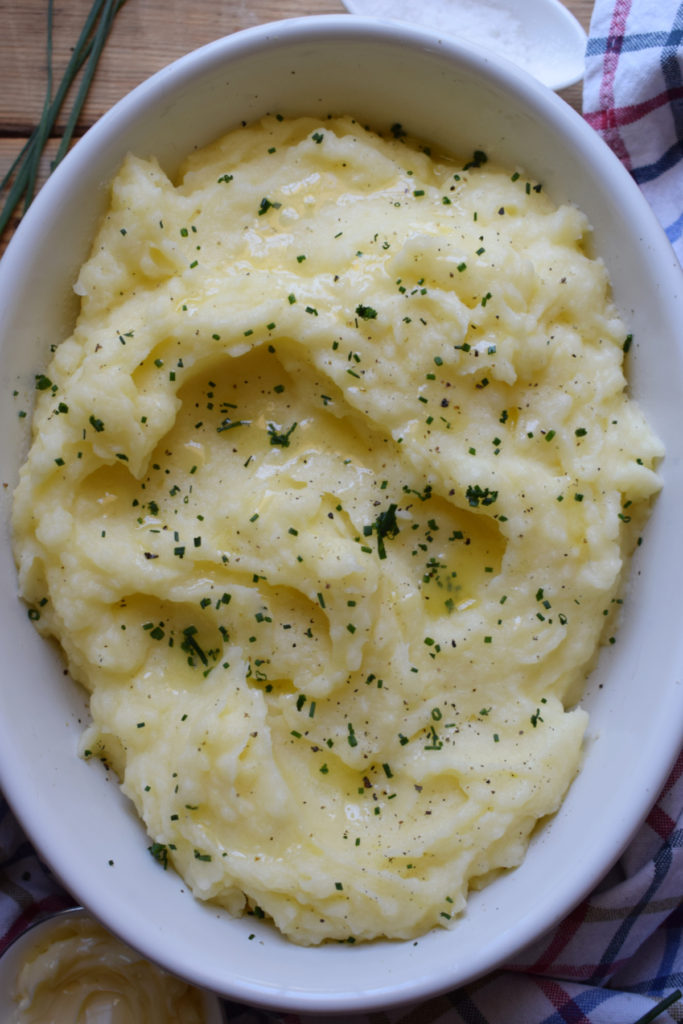 ---
Here's Some More Potato Recipes You'll Enjoy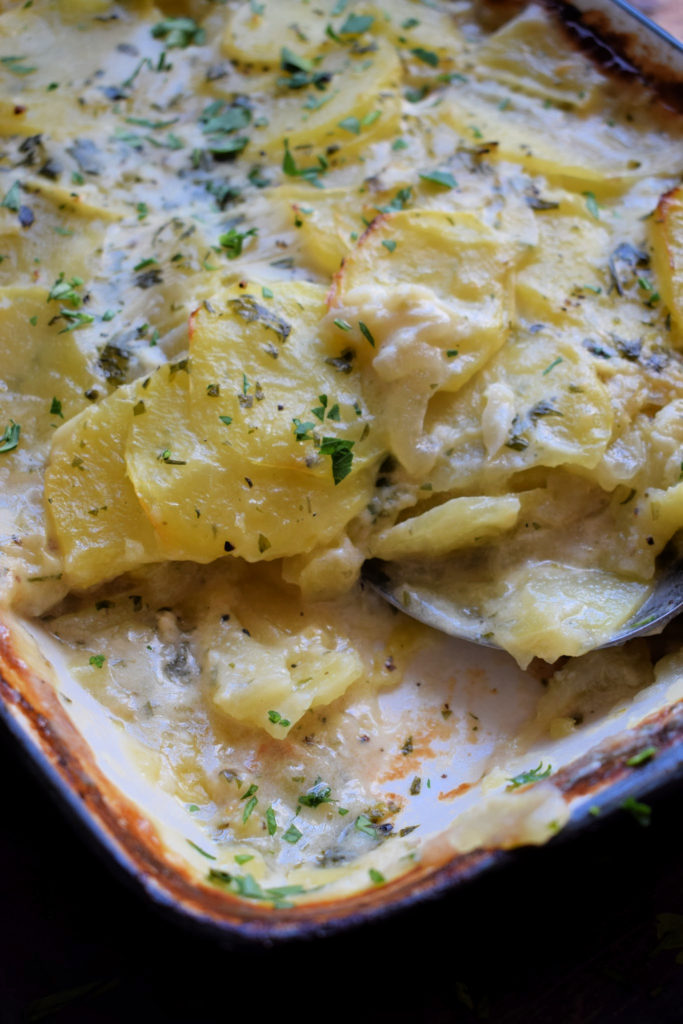 ---
Like what you see today? Don't forget you can follow on Facebook for daily inspiration or over on Instagram where I sometimes do daily cooking videos for fun! I'm also on Pinterest which is a great place that you can save and share your favourite recipes. As well, if you haven't yet, Subscribe to the newsletter. You'll be notified whenever there's a new recipe! You can do that at the top of the page.
---
Get The Recipe!
---
Fluffy Mashed Potatoes Recipe
What better side dish to dive into that this Fluffy Mashed Potatoes Recipe. If you've been on the hunt for the ultimate creamy potato dish, thee are the potatoes you need. The perfect side dish any day this fall.
Ingredients
2

lbs

potatoes

try russet or Yukon gold

1/2

cup

butter

1/3

cup

milk

fine sea salt

use according to taste

fresh chives

optional for topping the potatoes

black pepper

optional for topping the potatoes
Instructions
Peel the potatoes and cut them into about 2-inch pieces. Wash well and drain.

Place the potatoes into a saucepan of cold water filled to about one inch above the potatoes.

Bring the potatoes to a boil and reduce heat to medium. Continue to cook for about another 12 – 15 minutes. When potatoes are pierced with a knife and are soft they are done. Remove from stove and drain water.

Place the lid on the saucepan and give it a gentle shake to break apart the potatoes. Add milk, butter and extra salt. Mash until creamy, soft and fluffy.

Serve topped with black pepper and fresh chives.
*A note on times provided: appliances vary, any prep and/or cook times provided are estimates only.
Nutrition Facts
Fluffy Mashed Potatoes Recipe
Amount Per Serving (1 serving)
Calories 260
Calories from Fat 144
% Daily Value*
Fat 16g25%
Cholesterol 42mg14%
Sodium 150mg7%
Potassium 659mg19%
Carbohydrates 27g9%
Protein 4g8%
Vitamin A 498IU10%
Vitamin C 30mg36%
Calcium 38mg4%
Iron 1mg6%
* Percent Daily Values are based on a 2000 calorie diet.
---
Thanks For Stopping By & Hope To See You Soon!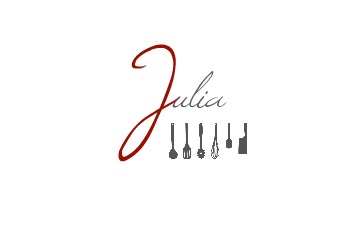 By