These Feta & Spinach Stuffed Mini Peppers are a must make summer appetizer. Sweet peppers stuffed with a creamy spinach and feta filling and topped off with fresh Parmesan cheese for an extra touch of goodness. These decadent little bites can be prepared in advance and popped in the fridge until just before baking. .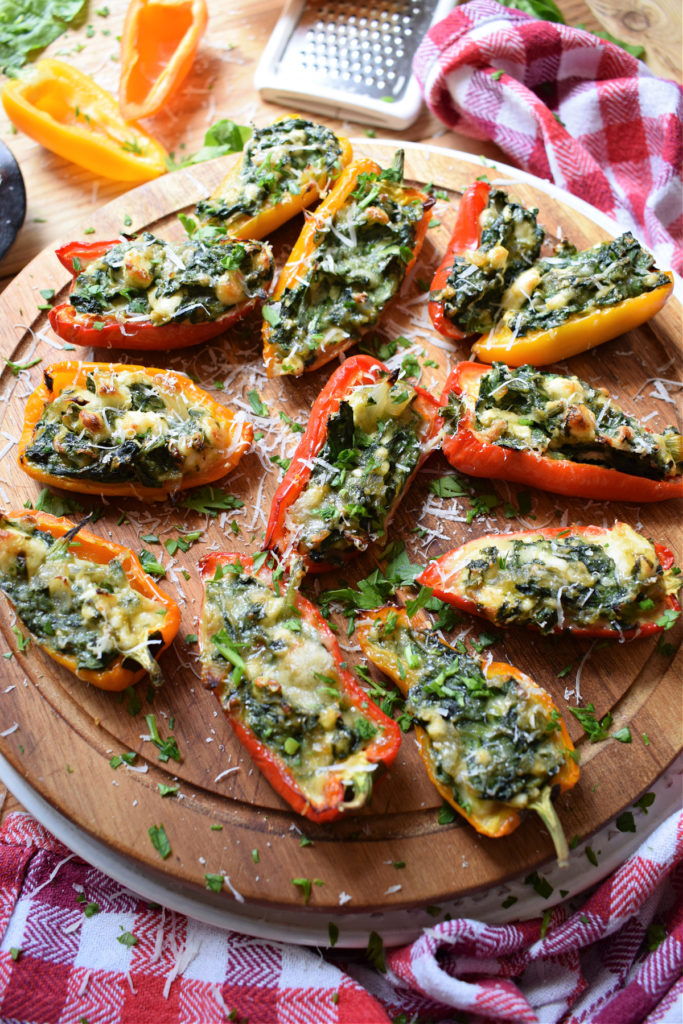 Dear friends, make these. The end! But seriously, I already know that these Feta & Spinach Stuffed Mini Peppers are going to be on my appetizer rotation for years and years to come. In my humble opinion, you can never ever go wrong with Feta Cheese. Much like my Feta & Spinach Pastries, there were a huge hit at our place and will be on repeat soon.
And because it's summer now, we have appetizers for dinner often! Did you get a chance to check out my recent recipe of the Caprice Salad Sticks or the Pesto Puff Pastry Pinwheels? All fresh and delicious nibbles to enjoy all summer long.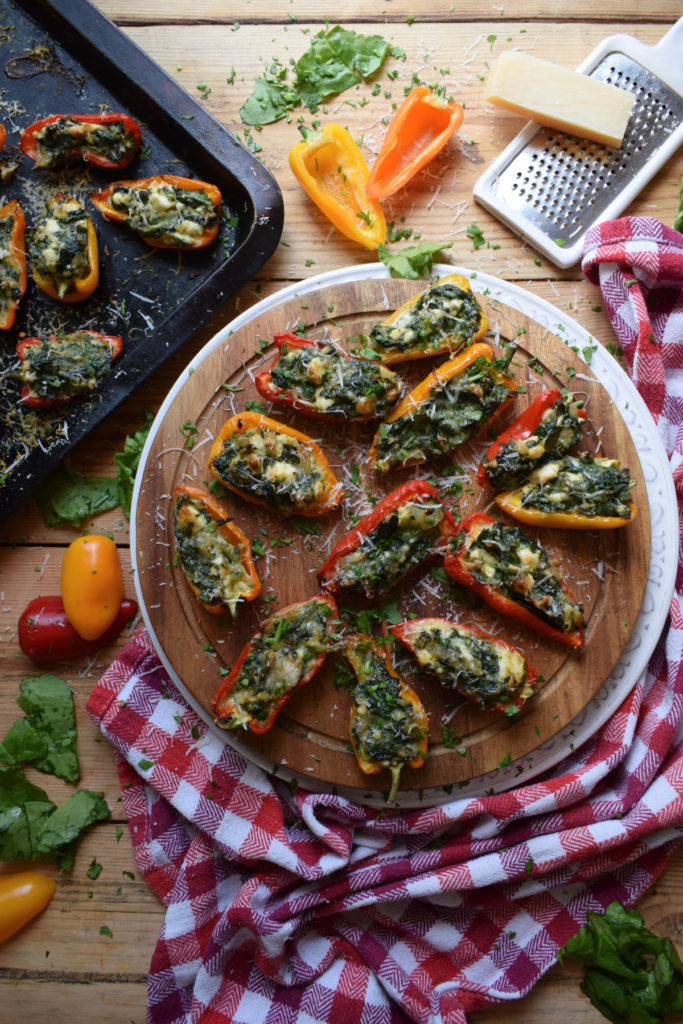 ---
Here's What We Need to Make The Feta & Spinach Stuffed Mini Peppers
Mini peppers
Fresh spinach
Feta crumbled
Parmesan cheese
Small onion
Spring onion
Fresh parsley
Garlic
Olive oil
Egg
Pepper to season
REMEMBER, The full recipe with ingredients and instructions is always found in the recipe card at the end of the post.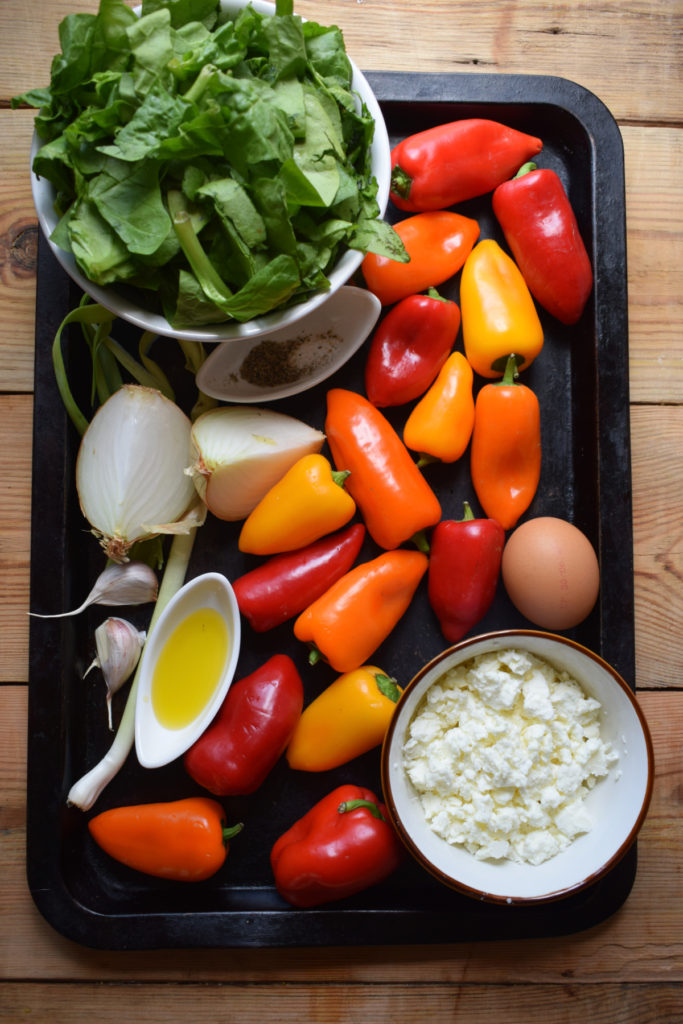 ---
How To Prepare This Appetizer For Stuffed Mini Peppers
Preheat oven to 375 degrees F/190 degrees C

, I usually preheat my oven before I get started so I don't forget.

Cut the peppers in half and take out the seeds

. There won't be too many seeds inside these peppers and you can use a spoon to take them out or just use your fingers.

Finely dice the onion and crush the garlic

. Remember, these are little appetizer, so you want to dice the onion small so there are no big pieces inside the stuffed pepper.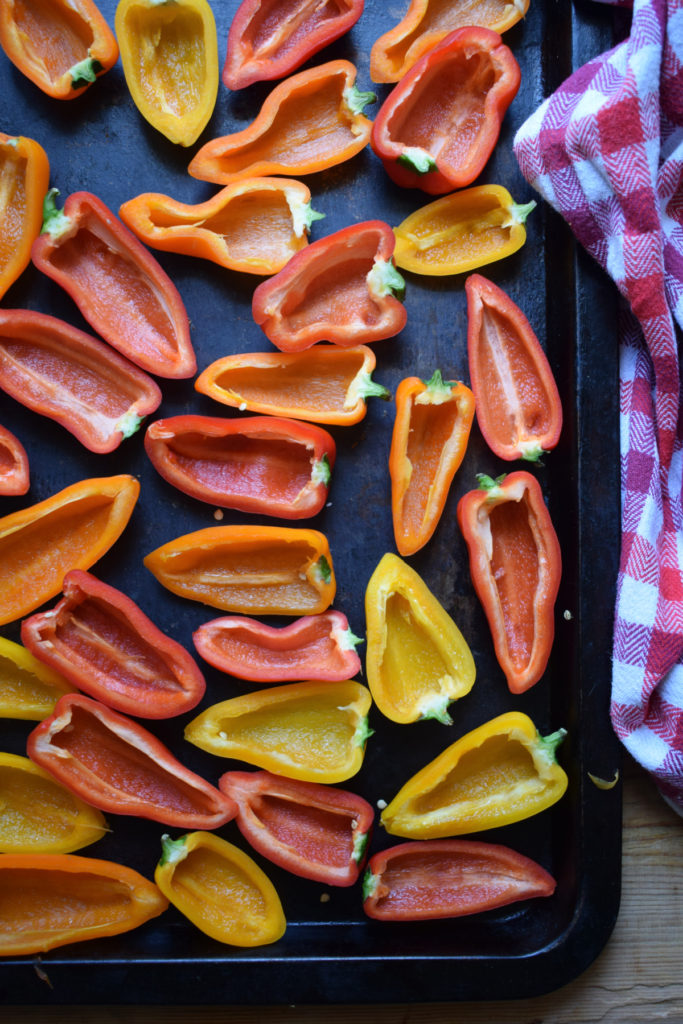 ---
Cook the onions and garlic

. I used a medium sized pan for this recipe. Cook over medium heat until the onions are soft and slightly golden. This will take about 5 to 8 minutes.

Add the spring onions.

These you only want add, stir and cook for just a minute. You want these to have the fresh flavour.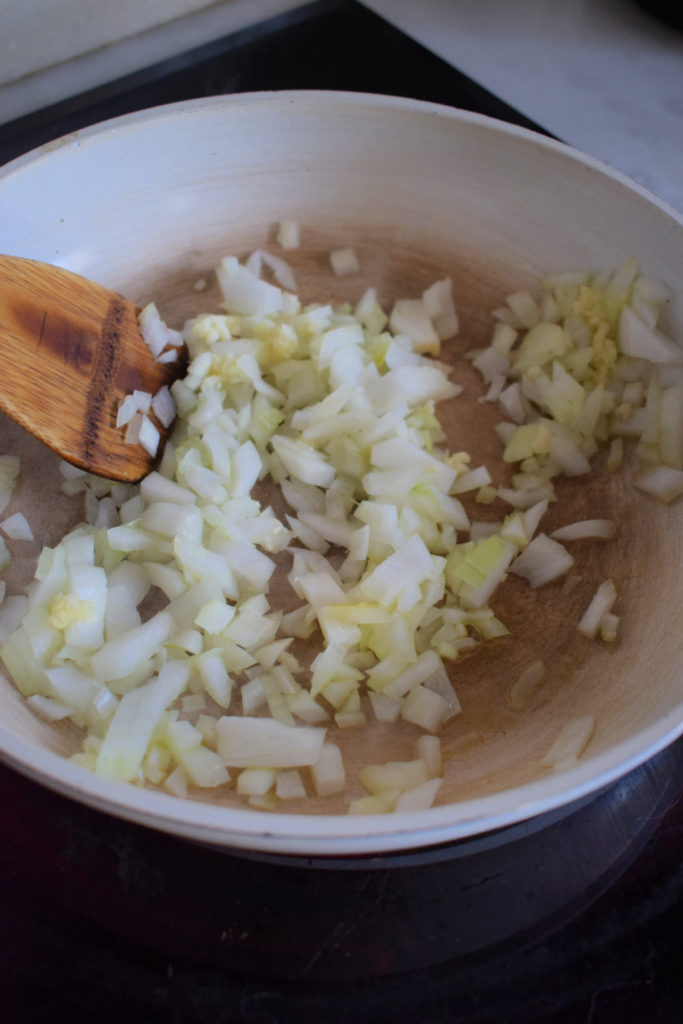 ---
Add the spinach to the pan.

I used a big bag of spinach and roughly chopped it up. It's important to chop the spinach because, again, you don't want big pieces.

Remove the pan from heat and allow to cool

. Important! Make sure to leave it for about 10 minutes to cool before adding the egg and the cheese. If you add these ingredients too quickly, the egg will scramble and the cheese will start to melt. Not what we're looking for!
---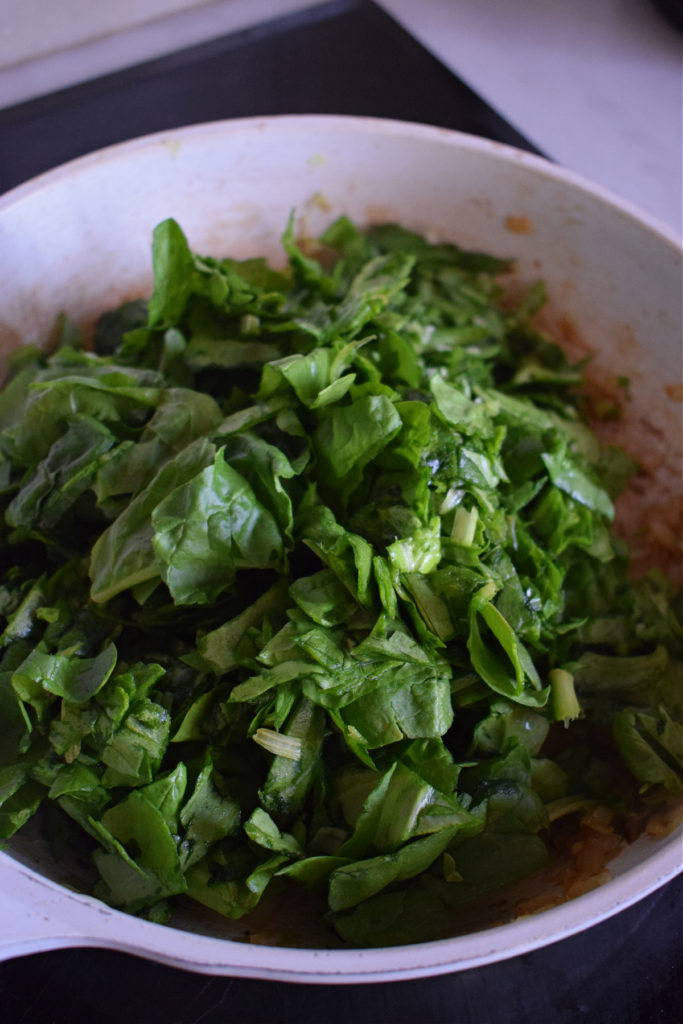 ---
Add the whisked egg and the feta cheese.

Okay, so after you've allowed the mixture to cool down, add the egg and feta cheese. Give it a gentle stir just until it's combined.

Season with salt and pepper.

Don't forget the seasonings! Add those in and just give a quick mix through.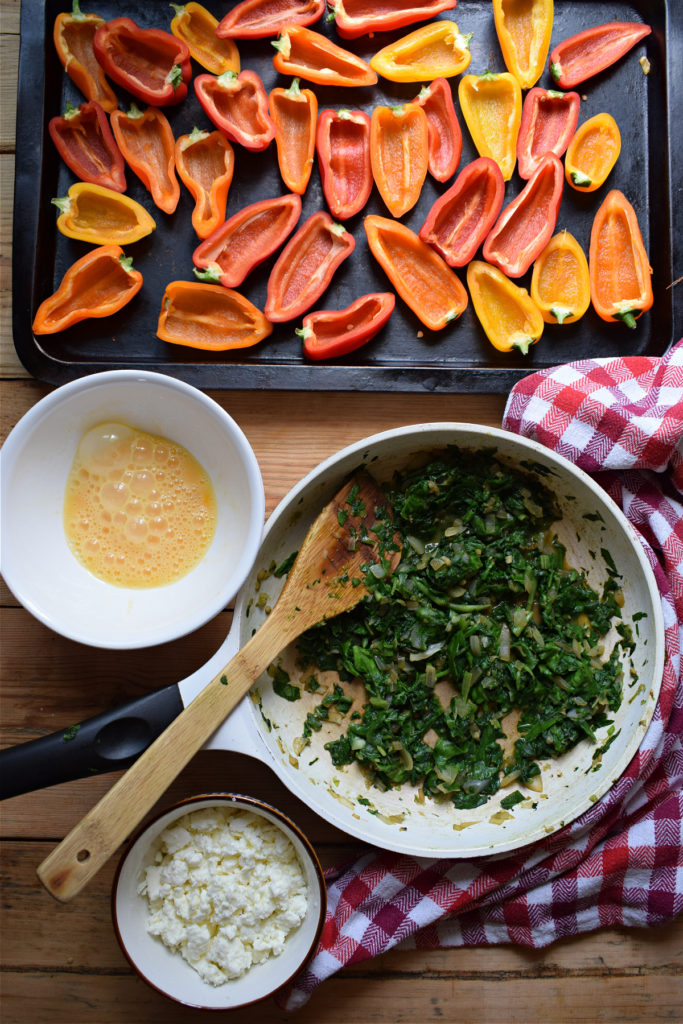 ---
How To Bake These Stuffed Mini Peppers
Bake peppers

– I baked these mini peppers for 18 minutes in a preheated 350 degree oven. Keep and eye on them as it could be between 15 – 20 minutes. They will be soft and the tops bubbly.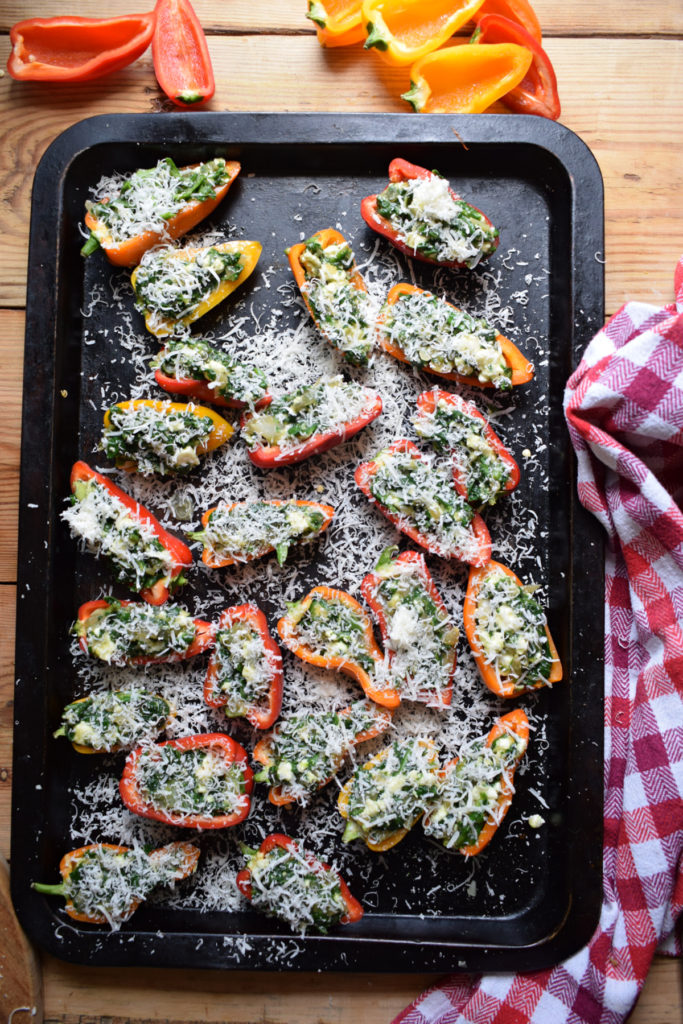 Freshly Baked Peppers ready to Enjoy
These are honest to goodness, dive in delicious! I'm telling you, if you love these ingredients, make these peppers this weekend! I'm a huge Feta Cheese fan, so I knew I was going to love these even before I started making them.
Serve these hot out of the oven for absolutely best results. I couldn't stop eating them when I pulled them out of the oven. Try not to burn your mouth…hahaha! They were just so delicious.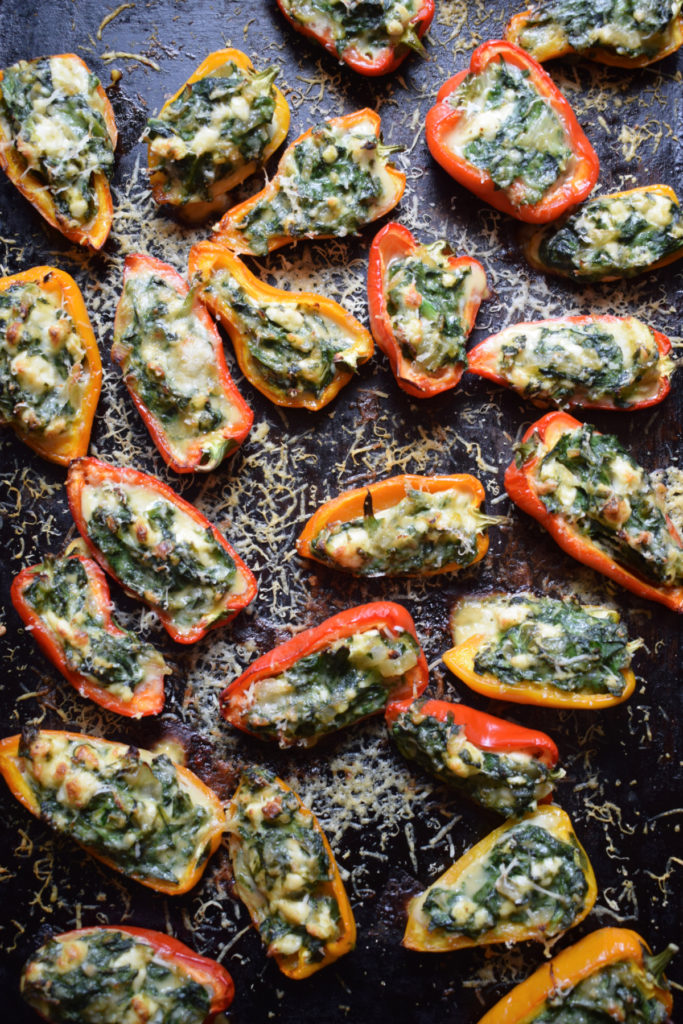 What Are some Other Dishes I can Serve with These Stuffed Peppers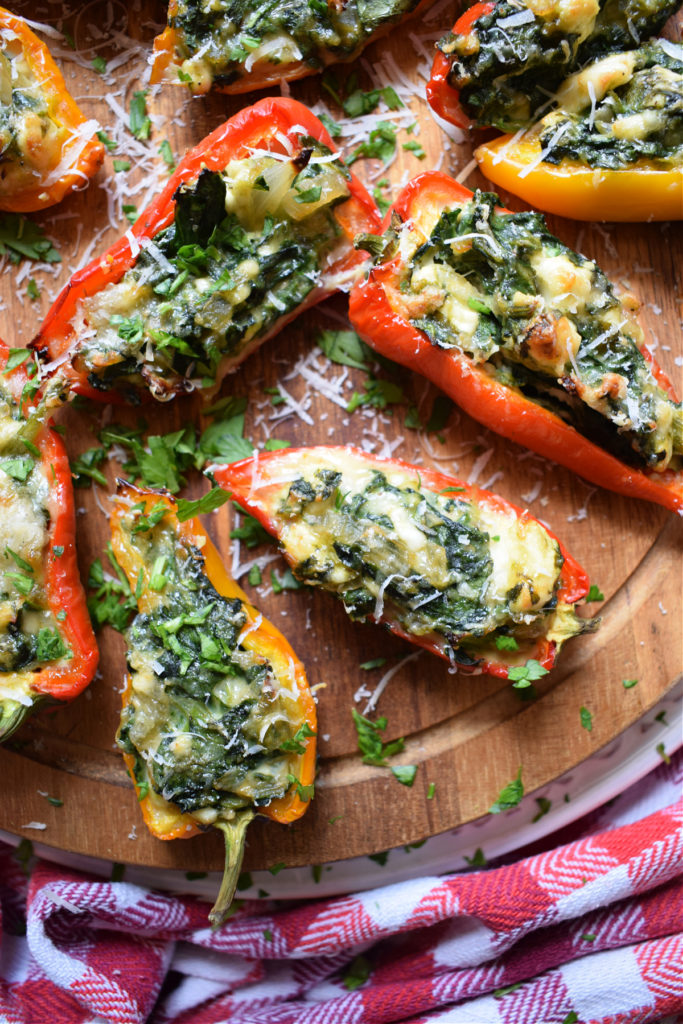 Okay, that just about brings this to a close. If you are looking for a great summer appetizer, you need to give them a try. Like I said before, I love all things appetizers in the summer. You just can't go wrong. Recipes like this one, my Crispy Oven Baked Chicken Wings and Fresh Tomato Bruschetta are what summer is all about.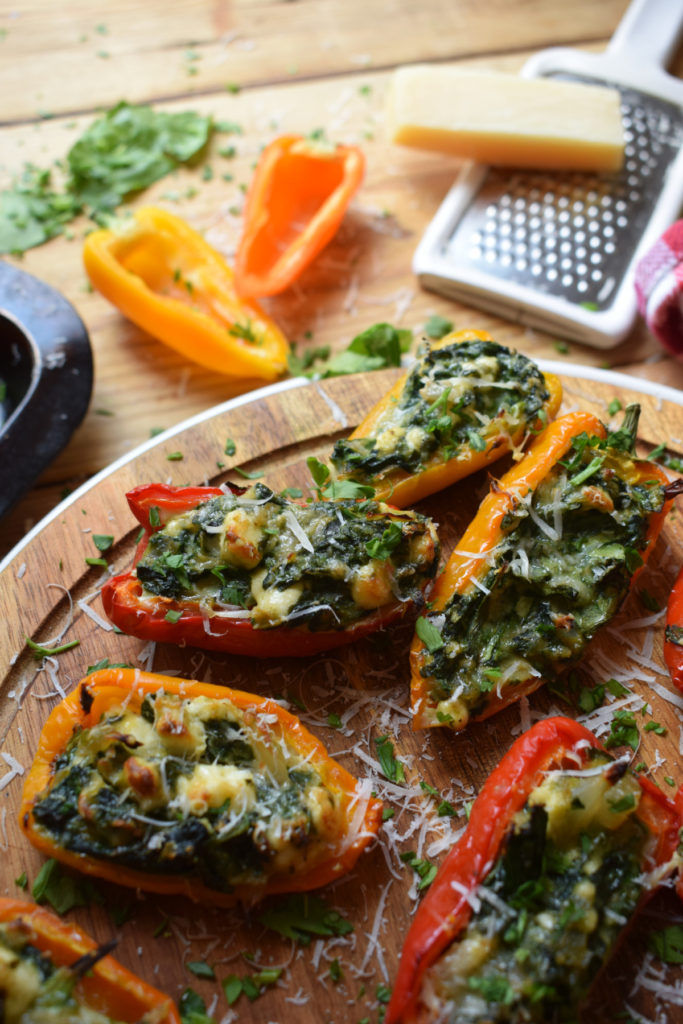 Frequently Asked Questions
Are mini peppers the same as bell peppers?
They are similar, but not exactly the same. Sweet mini peppers are smaller, have a tapered shape and are sweeter than bell peppers
Do you need to precook mini peppers?
No, you don't need to. These went plenty soft at 18 minutes in the oven.
What are other ways you can eat mini peppers?
These are great sliced up with dips, grilled, or just plain roasted in the oven.
Can these stuffed peppers be prepared in advance?
These stuffed peppers can be made in the morning, covered and popped in the fridge until baking time.
Here's Some More Great Feta Recipes You'll Enjoy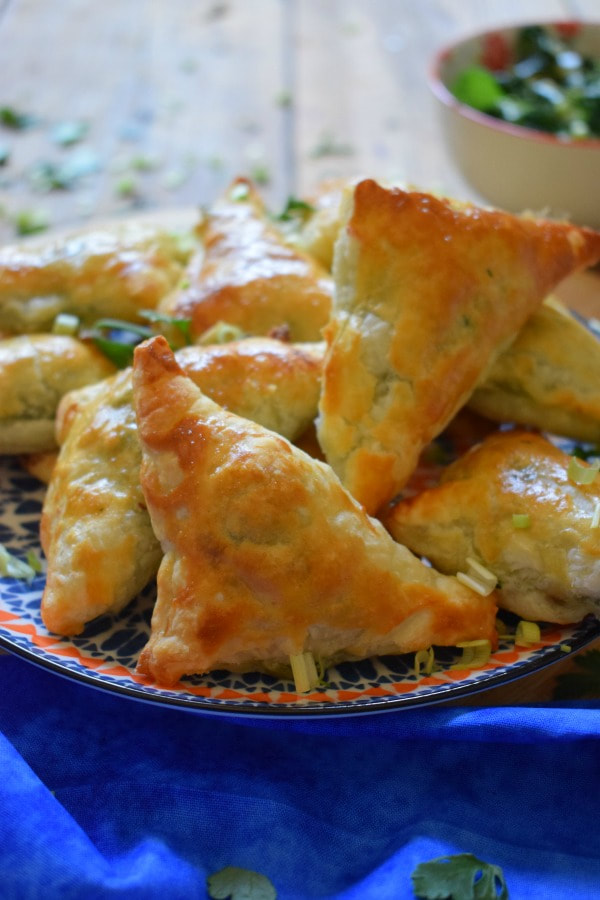 Get The Recipe!
Feta & Spinach Stuffed Mini Peppers
These Feta & Spinach Stuffed Mini Peppers are a must make summer appetizer. Sweet peppers stuffed with a creamy spinach and feta filling and topped off with fresh Parmesan cheese for an extra touch of goodness.
Ingredients
12

Mini peppers

cut in half and seeds removed

1

bag spinach roughly chopped

1

Cup

Feta

crumbled

2

tbsp

Parmesan cheese

finely grated

1

small

onion

1

Spring onion

fresh parsley (small bunch)

finely chopped

2

cloves

garlic

crushed

1

Tablespoon

olive oil

1

Egg

Pepper to season
Instructions
In a large skillet set over medium to high heat, add the olive oil and garlic. Stir for a minute and add the white onion. Cook for about 5 minutes, until soft. Add the spring onion and cook for a further 2-3 minutes. Add the spinach and stir until wilted. Just about a minute. Season with pepper and add the fresh parsley. Stir well. Remove from heat and leave to cool for about 5 minutes. Add the whisked egg and the feta. Stir to combine..

Preheat oven to 375 degrees F.

Lay out all the peppers on the baking tray. Evenly fill the peppers with the filling. Sprinkle over parmesan cheese.

Bake for about 15 – 18 minutes until cheese is melted and bubbly and browned slightly on the top

Serve straight away or at room temperature.
*A note on times provided: appliances vary, any prep and/or cook times provided are estimates only.
Nutrition Facts
Feta & Spinach Stuffed Mini Peppers
Amount Per Serving (1 appetizer)
Calories 32
Calories from Fat 18
% Daily Value*
Fat 2g3%
Cholesterol 12mg4%
Sodium 74mg3%
Potassium 117mg3%
Carbohydrates 3g1%
Protein 2g4%
Vitamin A 261IU5%
Vitamin C 48mg58%
Calcium 39mg4%
Iron 1mg6%
* Percent Daily Values are based on a 2000 calorie diet.
Thanks For Stopping By & Hope To See You Soon!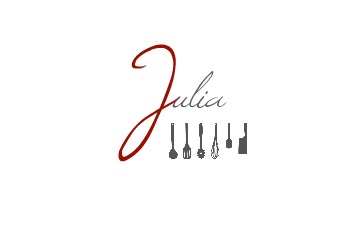 By