A slow cooker is an appliance that can be used in any season. And these Slow Cooker Chicken Taquitos are great for summer and winter alike. Chicken tenders slow cooked in a homemade spice rub with fresh tomatoes. Then shredded and wrapped up in a taco wrap with cheese and crisp bell peppers. Then baked in the oven until crisp and ready to enjoy. These Taquitos would go great with the Mexican Style Rice.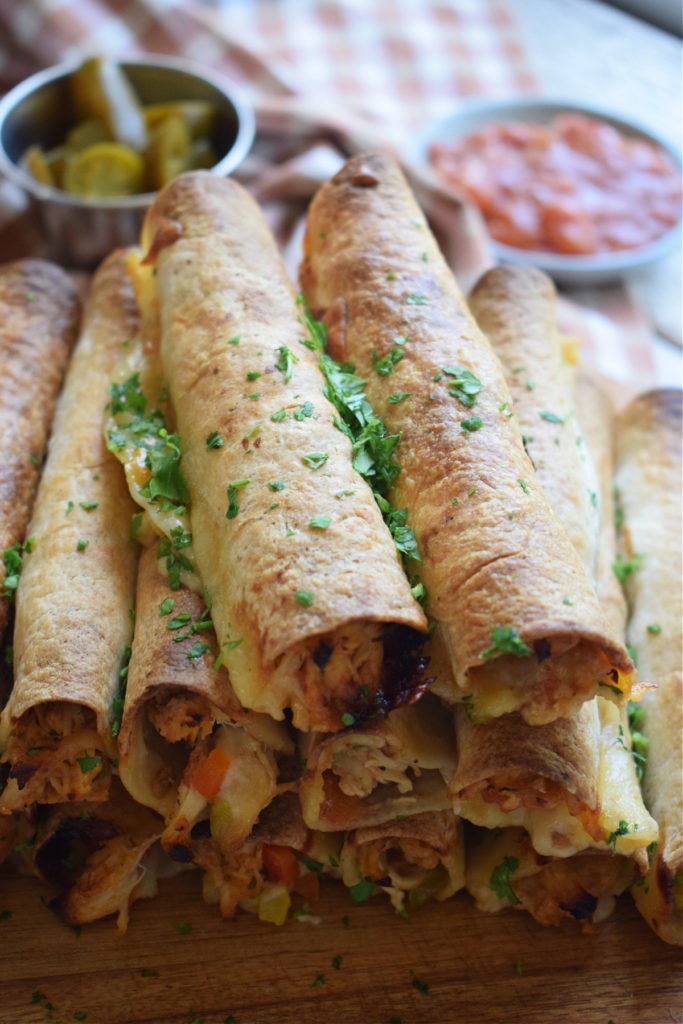 ---
It's Saturday and it's hot as you know what? I spent the morning doing garden work until I felt like I was going to burst. So, I'll be hiding here in my office for the rest of the afternoon with the curtains drawn, an Iced Coffee and a cool fan blowing. Sounds like a plan!
Friends, you might think I'm crazy putting out a slow cooker recipe at the beginning of the season know as "infrerno", but it's the way to go. I know most people are putting out recipes for Fresh Summer Salads and everything for the grill! Don't get me wrong, I'm on that grilling page too. This coming week, I plan to get my barbecue on with a few oldies from my Top 12 Barbecue Kebab Recipes.
But for now, I sharing these Slow Cooker Chicken Taquitos. And do you know why using a slow cooker in the heat is a great idea? Because it doesn't heat up your kitchen, yes! So, let's make some Taquitos!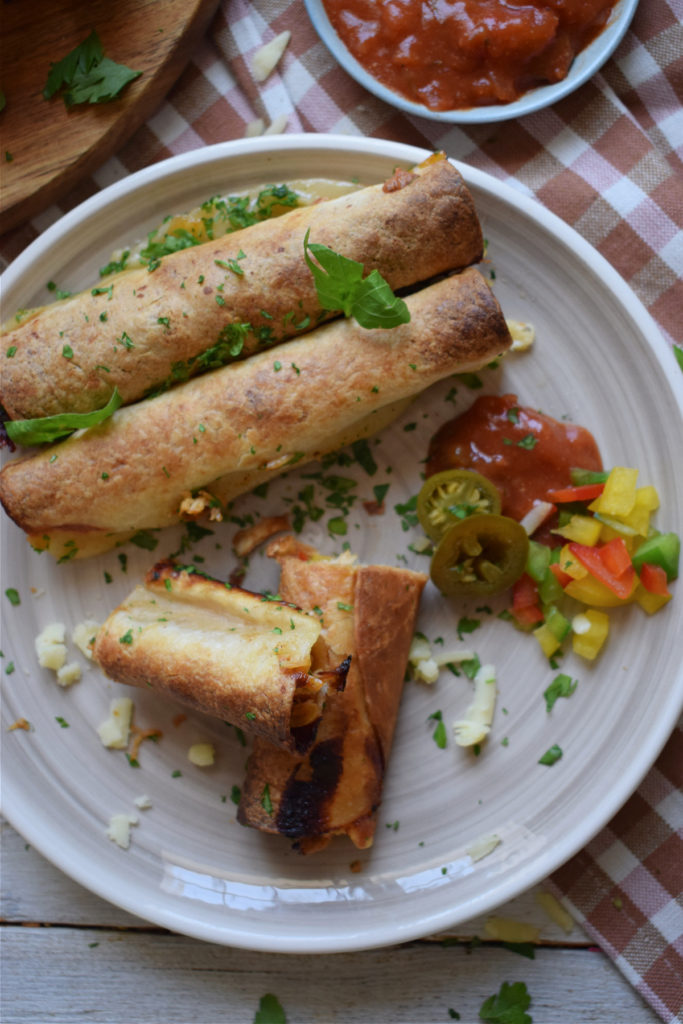 ---
What We Need To Make The Slow Cooker Chicken Taquitos
For the chicken
chicken tenders
tomatoes
Cumin
paprika
onion powder
garlic powder
chili flakes optional
salt
black pepper
Other
taco wraps
cheddar cheese
red pepper
yellow pepper
green pepper
vegetable oil
REMEMBER, the full recipe and instructions can be found at the end of the post in the recipe card.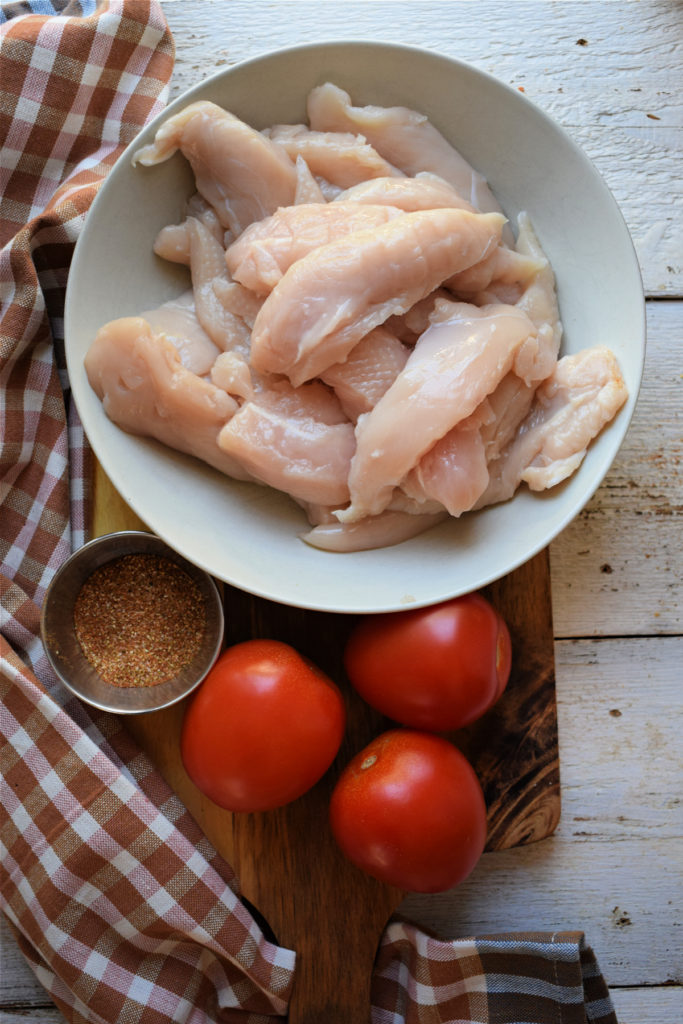 ---
Preparing The Chicken For The Slow Cooker
Season the chicken,

using the home made spice blend completely coat all of the chicken tenders. Yes, you can use a purchased taco or fajita seasoning if you like.

Dice the tomatoes

, I used three medium sized ripe tomatoes for this recipe. If you prefer you can use can tomatoes, but drain the juice out of the can before adding them to the slow cooker. Also, keep in mind there may be more liquid in the end if using canned tomatoes.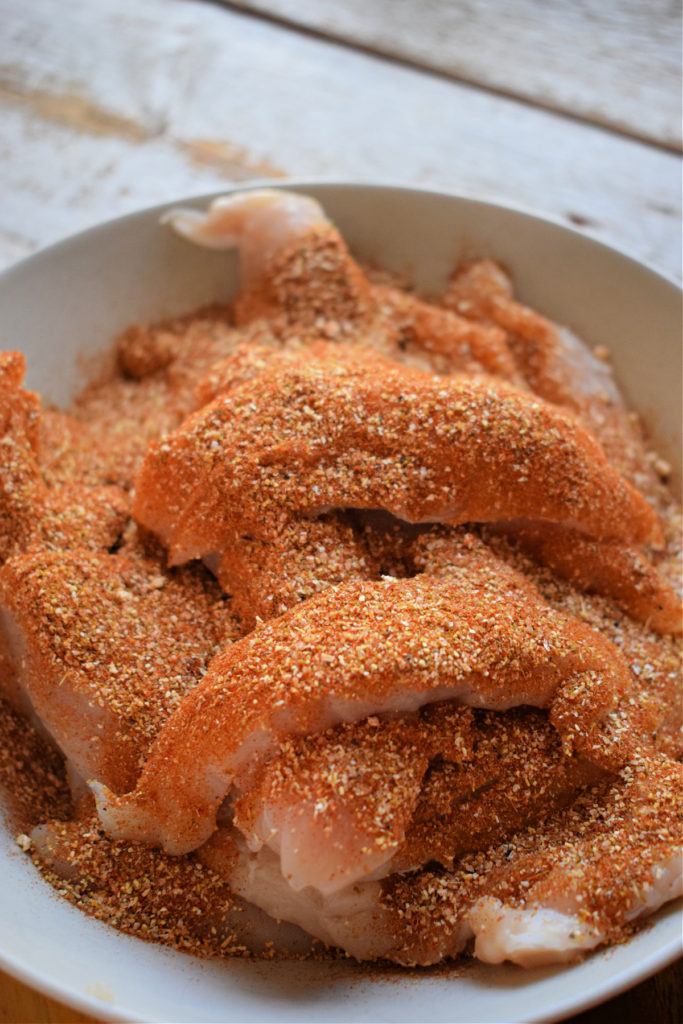 ---
Cooking The Chicken To Tender Perfection
Add the seasoned chicken and diced tomatoes to the slow cooker

. Give it a stir around to ensure the tomatoes are over and under the chicken.

Cook on low for about 3 hours

, Keep in mind that all slow cookers are slightly different and cooking time may vary. Chicken will be cooked with it falls apart easily when pressed with a fork.
IMPORTANT, If you use chicken breast the cooking time will be much longer as they are much bigger. Keep this in mind if you decided to use the whole breast instead of tenders.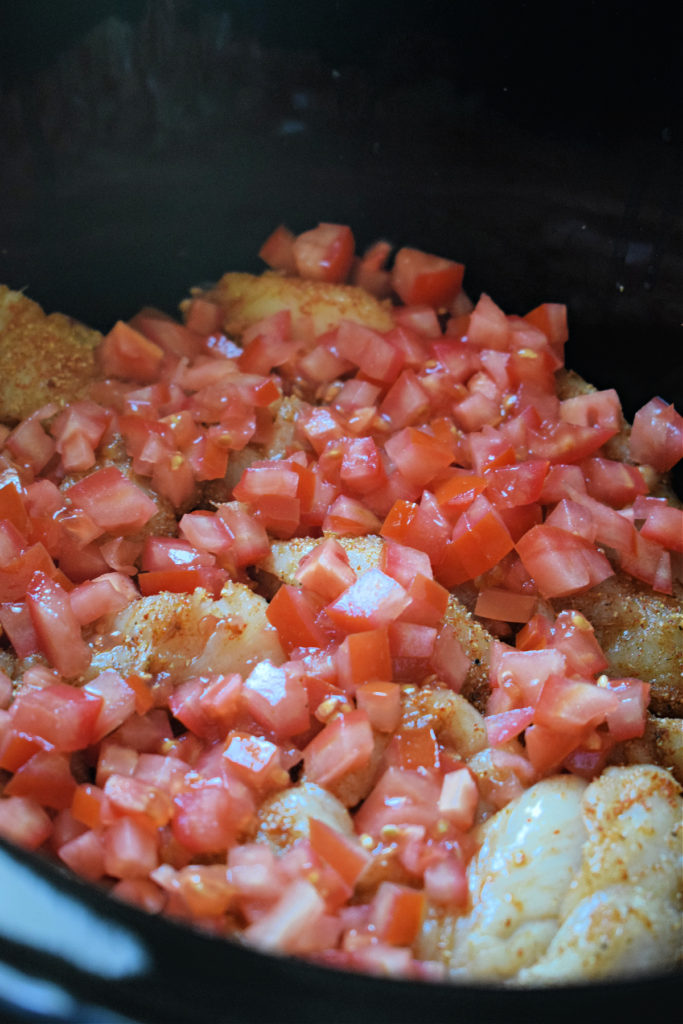 ---
How to Put Together The Taquitos
Shred the chicken,

using two forks, shred apart the chicken. NOTE: if there is still too much liquid in the chicken just drain it off.

Dice the peppers

, make sure to do them small as the taquitos are small bites of food.

Grate the cheese

, I used sharp cheddar and grated it on the bigger setting of the grater. You can use the cheese of your preference.

Fill the wraps,

start with the chicken, peppers and cheese, Do a line like you see below. Don't over stuff them or they will be difficult to roll up.

Roll up the taquitos

, roll them really tight and firm so that they hold together and don't fall apart
You can prepare this recipe to this stage, cover and refrigerate to cook later in the day.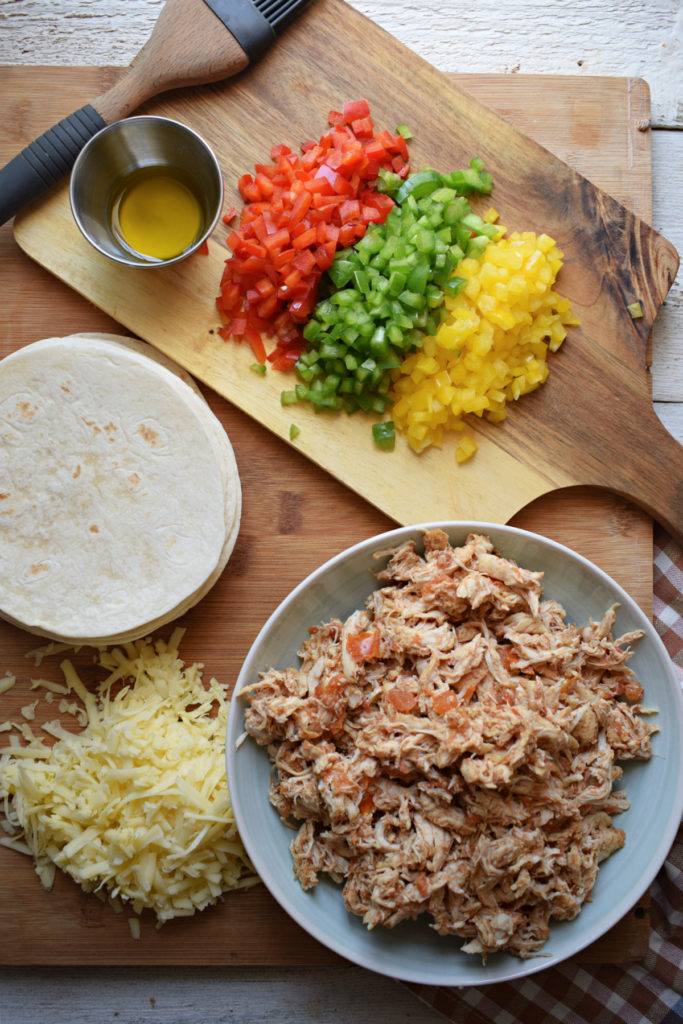 ---
How To assemble and bake the TAquitos
Brush your baking dish with vegetable oil

, you can use a spray if you prefer.

Assemble the taquitos in the baking pan

, press them together but not too tight or they won't go uniformly crisp. Make sure to have the fold of the taquito at the bottom

Brush taquitos with remaining vegetable oil,

use more if necessary. And again, you can use a spray if you prefer.

Bake for 30 minutes

, or until golden and crispy.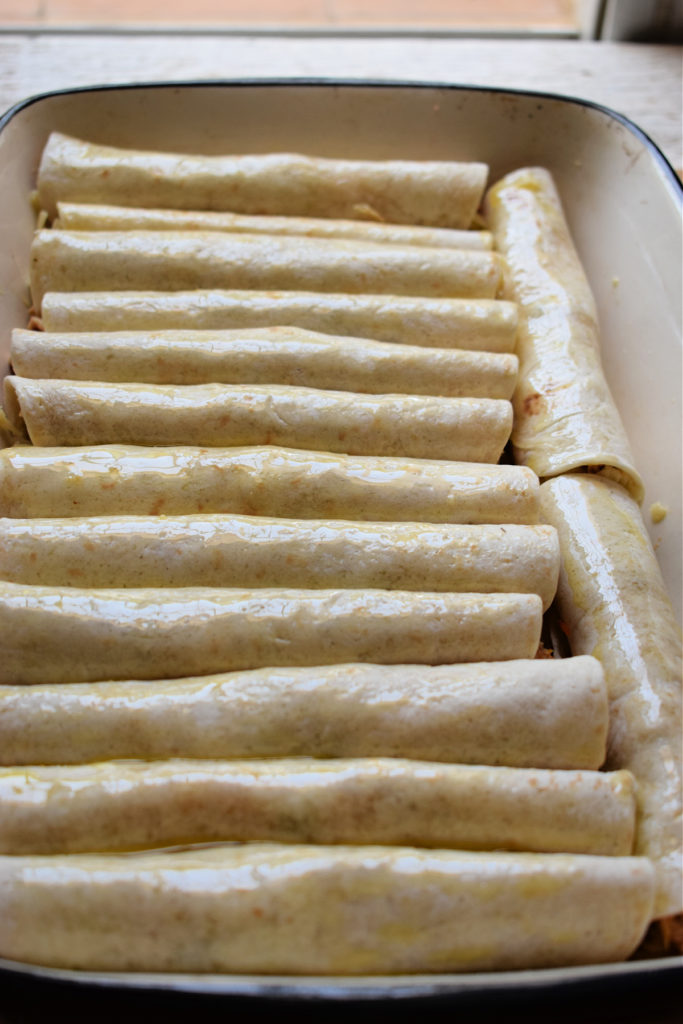 ---
Ready to Enjoy The Taquitos
Friends, these really are fantastic and best served fresh straight out of the oven. You can enjoy them just as they are or with some Spicy Salsa, guacamole or sour cream on the side. However you decide to enjoy them, you need to make them soon! They have been a huge hit in our house for a few months now and I imagine I'll be making them for a long time to come.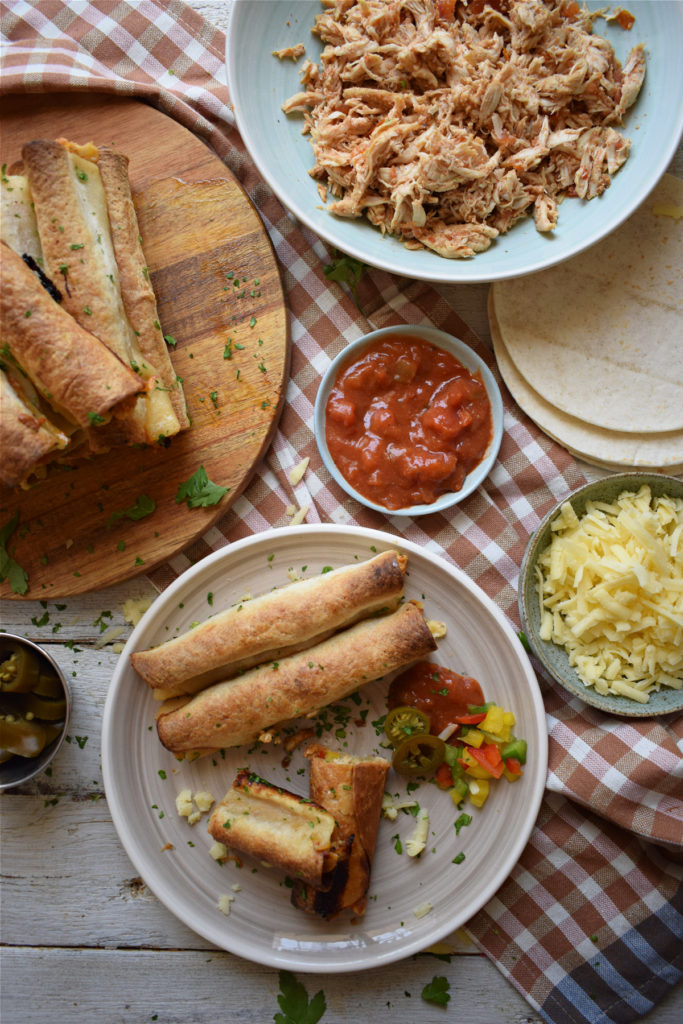 Can I make These Taquitos without a Slow Cooker
Absolutely, no problem at all. Since this recipe uses chicken tenders, the chicken can be baked in the oven for about 20 minutes. Keep in mind if you do this, it will not be as tender. You will probably have to cut the chicken in small pieces instead of shredding it. I have cooked the tenders in the oven and cut them up for taquitos.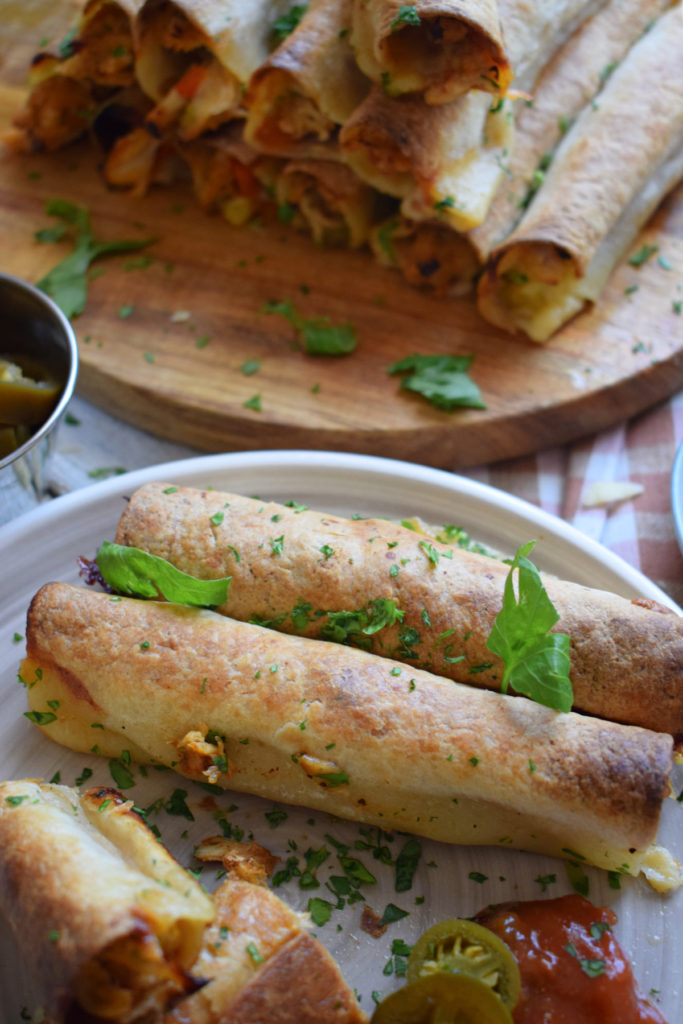 What Would Be great to Serve on the Side with These Taquitos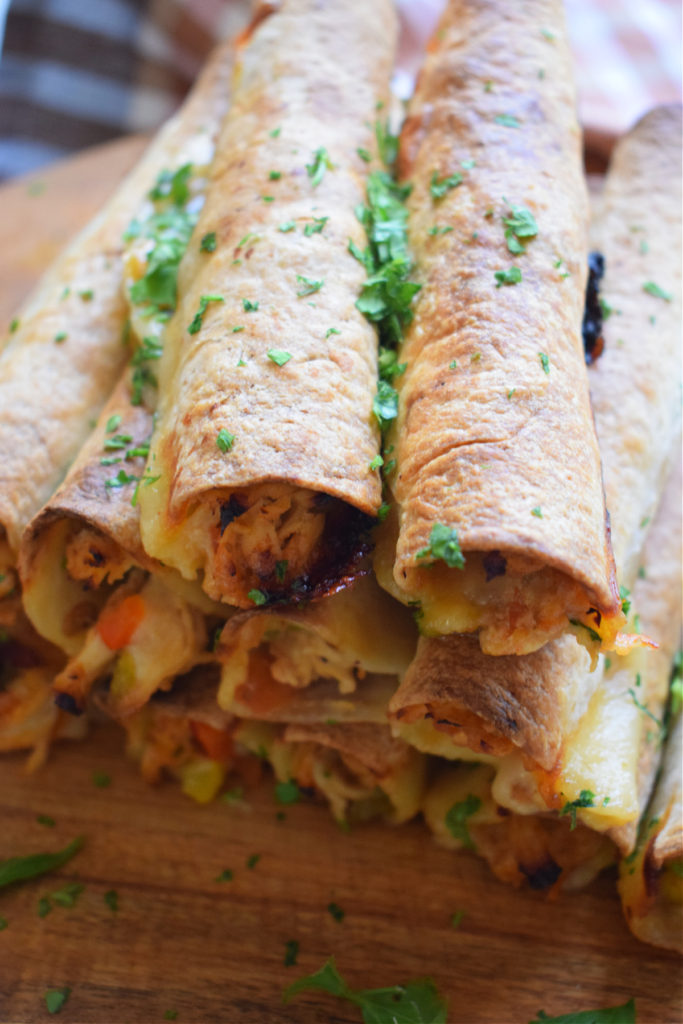 ---
Enjoy the recipe friends, sorry it's a day later than I had promised. Yesterday, I got snowed under with admin work and the recipe didn't get finished. But I hope you get a chance to enjoy this sometimes soon. And remember slow cookers are for all year long cooking!
Happy cooking, enjoy the weekend and I'll see you all next week with some more kitchen inspiration!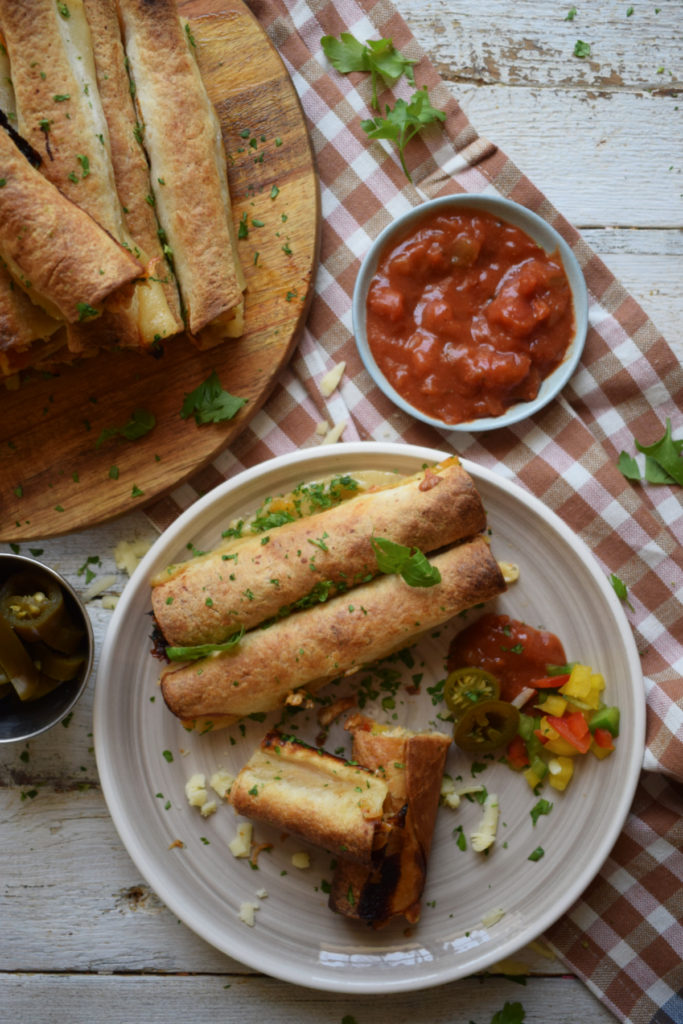 ---
Here's Some More Great Recipes You Should Check Out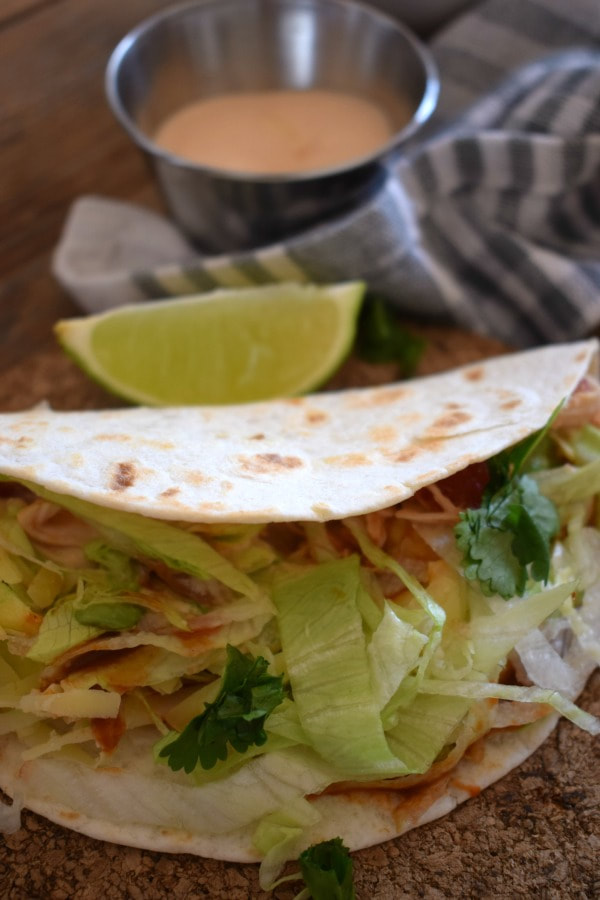 ---
Get The Recipe!
---
Slow Cooker Chicken Taquitos
These Slow Cooker Chicken Taquitos will be loved by the whole family. Slow cooked chicken, shredded and wrapped up with cheese and peppers. Baked until crispy!
Ingredients
For the chicken
2

lbs

chicken tenders

3

tomatoes

diced small

1 1/2

Tablespoons

cumin

1

Teaspoon

paprika

1

Teaspoon

onion powder

1

Teaspoon

garlic powder

1/2

Teaspoon

chili flakes optional

1

Teaspoon

salt

1/2

Teaspoon

black pepper
Other
18

taco shells

2

cups

cheddar cheese

grated

1

small

red pepper

finely diced

1

small

yellow pepper

finely diced

1

small

green pepper

finely diced

2

tbsp

vegetable oil
Instructions
For the slow cooked chicken
Make the spice rub by combining the cumin, paprika, onion powder, garlic powder, salt and pepper. Stir to combine.

Completely coat the chicken in the spice rub and place them in the slow cooker.

Top the chicken with the finely diced tomatoes and give a good stir.

Put the lid on the slow cooker and cook on low for about 3 hours or until the chicken falls apart easily when pressed with a fork.

Remove chicken from slow cooker and drain off any excess liquid.

Using two forks, shred the chicken tenders.
Putting together the taquitos
Preheat oven to 375 degrees f/190 degrees c.

Place a small amount of shredded chicken inside the taco wrap, make a line down the middle. Top with a few diced peppers and cheese. Tightly roll it up. Repeat for all taquitos.

Brush a deep sided baking dish with vegetable oil and place all the taquitos in the pan with the fold side down. Repeat until the pan is filled up. Brush the tops with oil.

Bake in the oven for about 30 minutes or until golden and crispy.
*A note on times provided: appliances vary, any prep and/or cook times provided are estimates only.
Notes
This recipe uses chicken tenders which are quite small.  You can use chicken breast, but the slow cooking time will be much longer, between 5 – 7 hours.
I used a home made spice blend for the chicken but you can use a pre bought package of taco of fajita seasoning.
Vegetable oil is used for brushing the taquitos before baking.  You can use spray as well.
I used soft wrap flour tacos, but you can use corn if that's your preference.
Depending how much chicken you put in your taquitos, you may have chicken left over.  You can always make more taquitos or store the extra chicken in the fridge.  It will keep 2 – 3 days in an airtight container in the fridge.
Nutrition Facts
Slow Cooker Chicken Taquitos
Amount Per Serving (1 taquito)
Calories 165
Calories from Fat 63
% Daily Value*
Fat 7g11%
Cholesterol 31mg10%
Sodium 259mg11%
Potassium 315mg9%
Carbohydrates 8g3%
Protein 15g30%
Vitamin A 527IU11%
Vitamin C 20mg24%
Calcium 114mg11%
Iron 1mg6%
* Percent Daily Values are based on a 2000 calorie diet.
Thanks For Stopping By & Hope To See You Soon!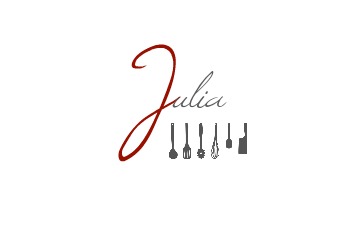 By