These crispy Paprika Spiced Potato Wedges make the best side dish or even snack food. Chunky potato wedges, coated in a paprika spice blend and baked in the oven to crispy perfection. A great side dish any day of the week.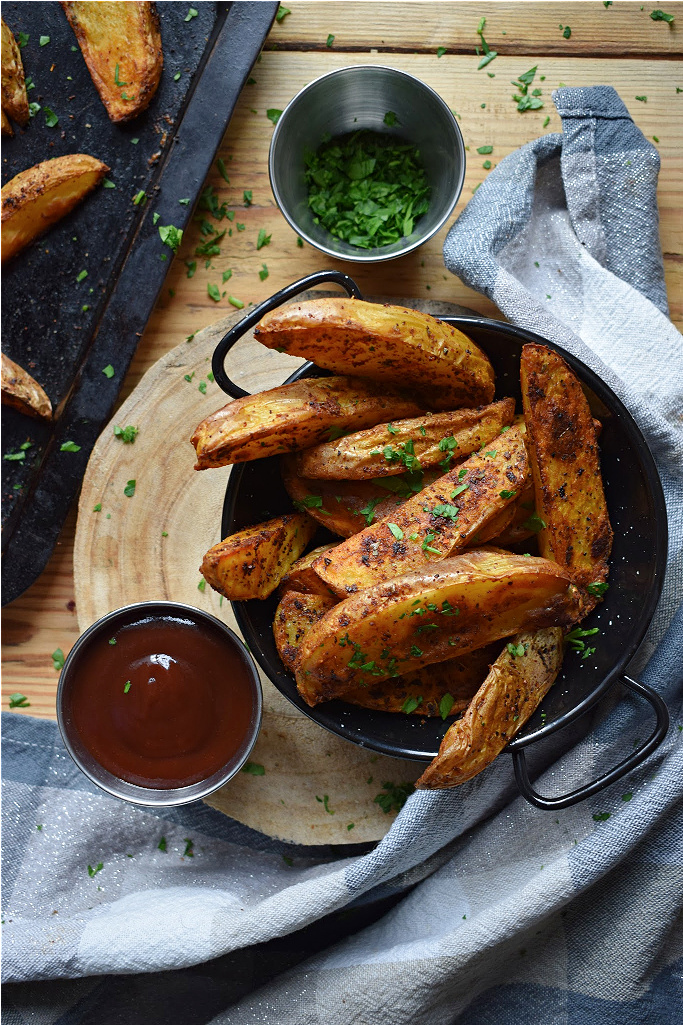 ---
Crispy, spicy & delicious! Those three words really sum up these potato wedges. You just can't ever go wrong with a great potato recipe, right?
At our place, potatoes go on the table in some form a few times a week. My teens, love the Crispy Oven Fries. And, yes they are pretty good, but I love my Old Fashioned Scalloped Potatoes. Pure comfort food right there. Those along with the Thyme & Lemon Roasted Potatoes are just a few of our family favourite potato recipes.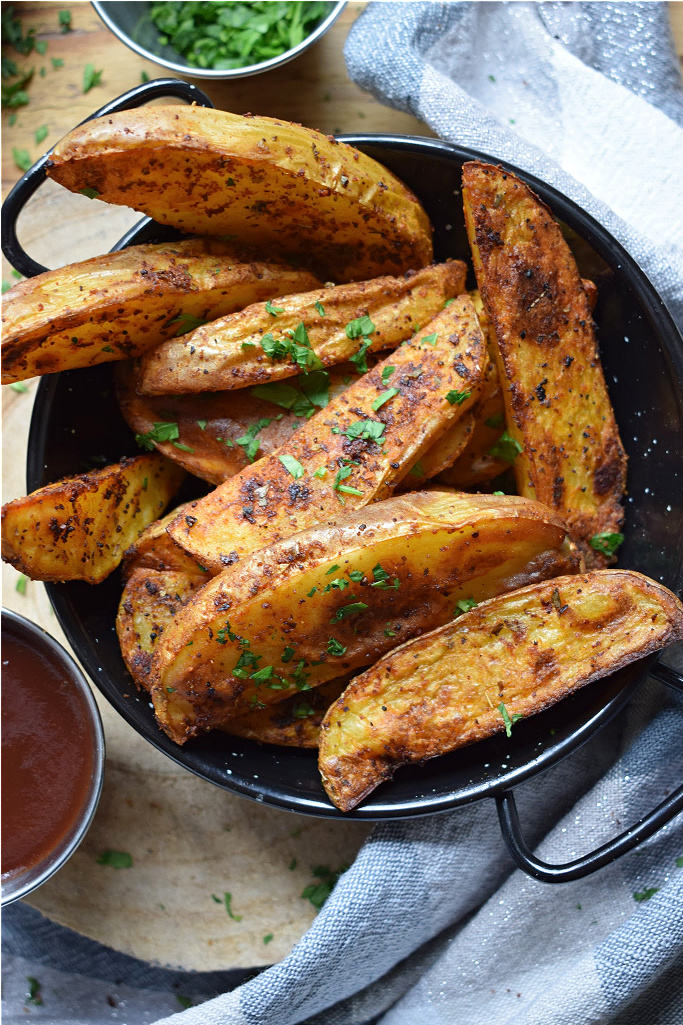 So, with that being said, I'm always on the search for making new potato dishes. When I made these Paprika Spiced Potato Wedges the other week, they disappeared in no time. So much, in fact, that I had to make a second batch. Yes!
And they would go great with the Dry Rub Cajun Chicken Wings.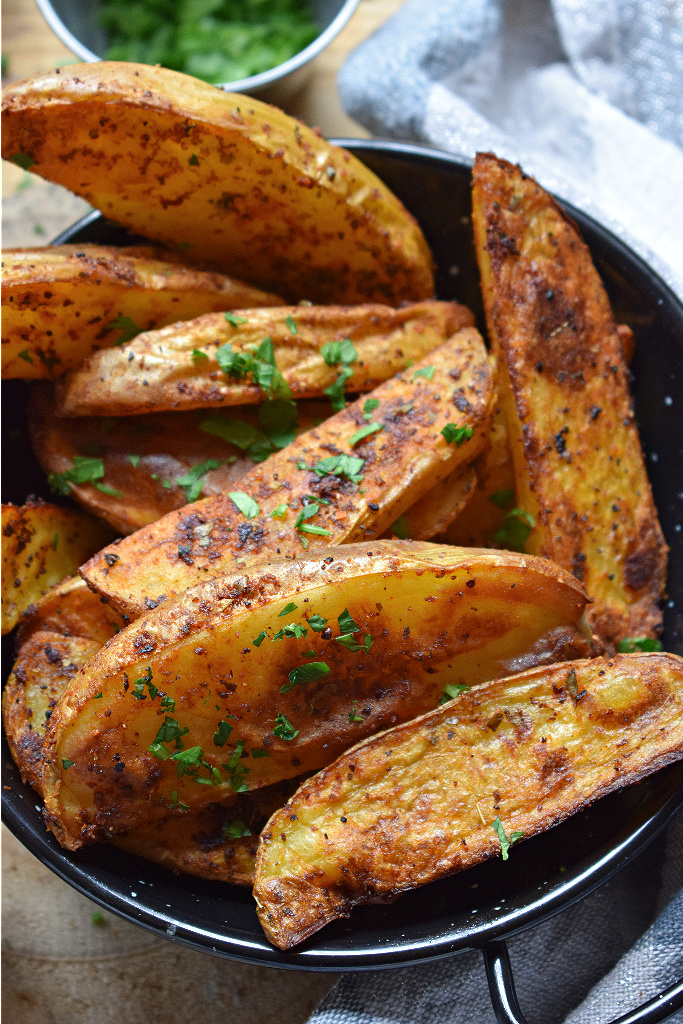 What We need to Make the Spiced Potato Wedges
Start with the type of potatoes we'll need. Use a waxy kind of potato like a baking potato. Something like Russet or Yukon Gold are great potatoes for this recipe. Avoid using small baby potatoes or fingerling potatoes. They are too wet and won't crisp up enough when you bake them.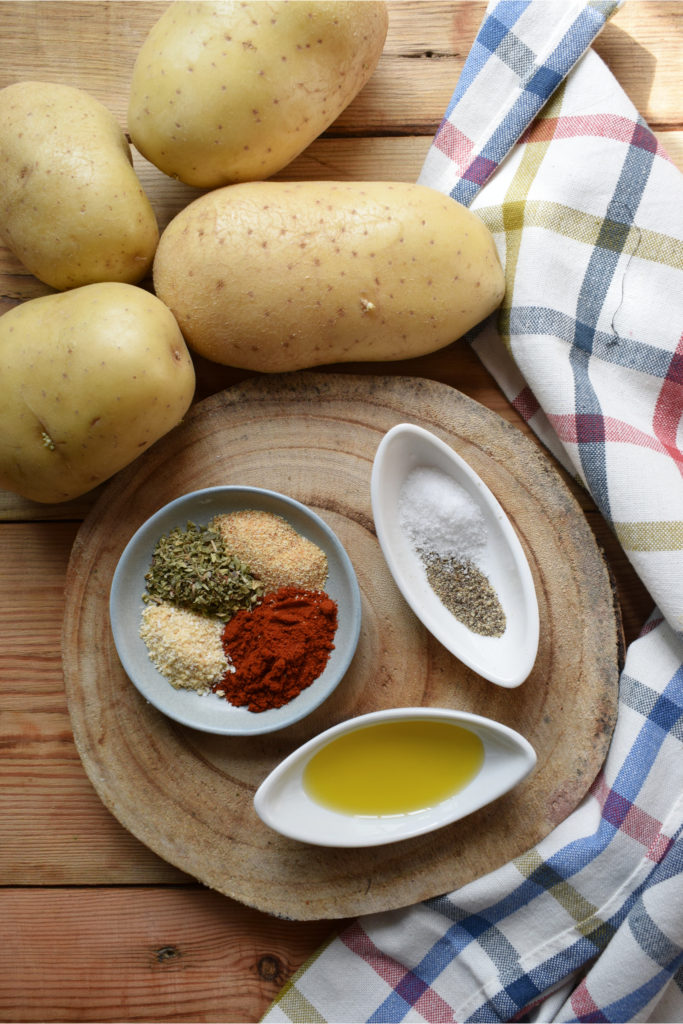 ---
The Spice Blend We're using
Much like my Cajun Spice, this is really easy to put together. it's amazing what you can do with spices.
The Paprika Spice Blend For These Potatoes
Paprika
Oregano
Garlic Powder
Onion Powder
Salt
Pepper
REMEMBER, Full recipe with instructions is always found at the end of the blog post.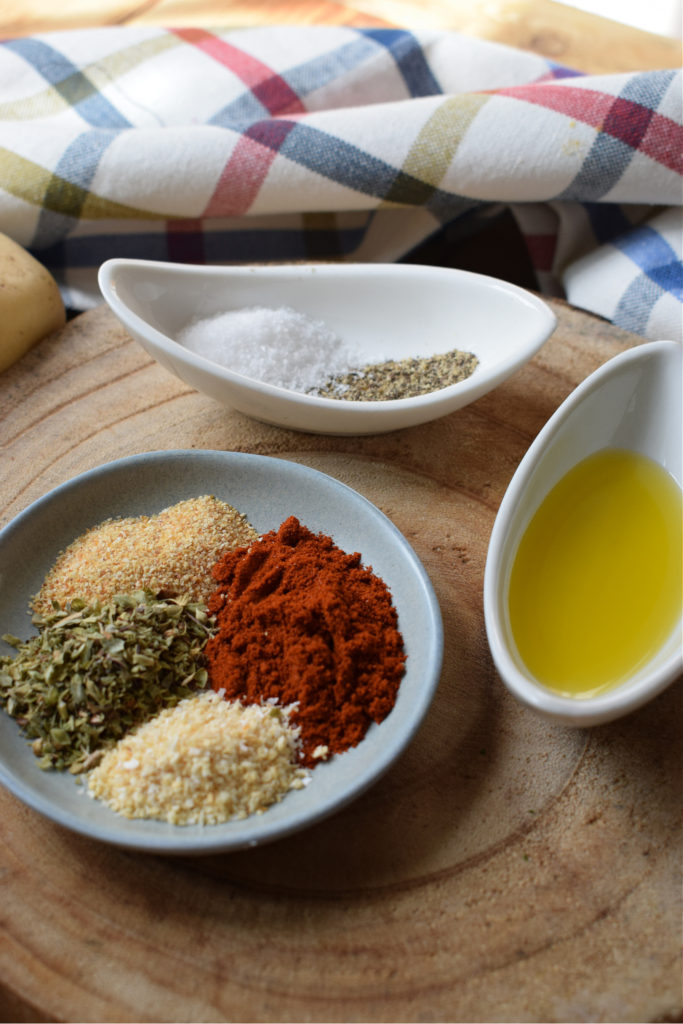 ---
Make The paprika Spice Blend
Combine together all the spices in the bowl with the olive oil and stir well to combine.
COOKING TIP! You can make this spice blend in advance and store it in a spice jar for six months. As well, you can make the spice blend with oil added and keep it in a jar in the fridge for about two weeks.
---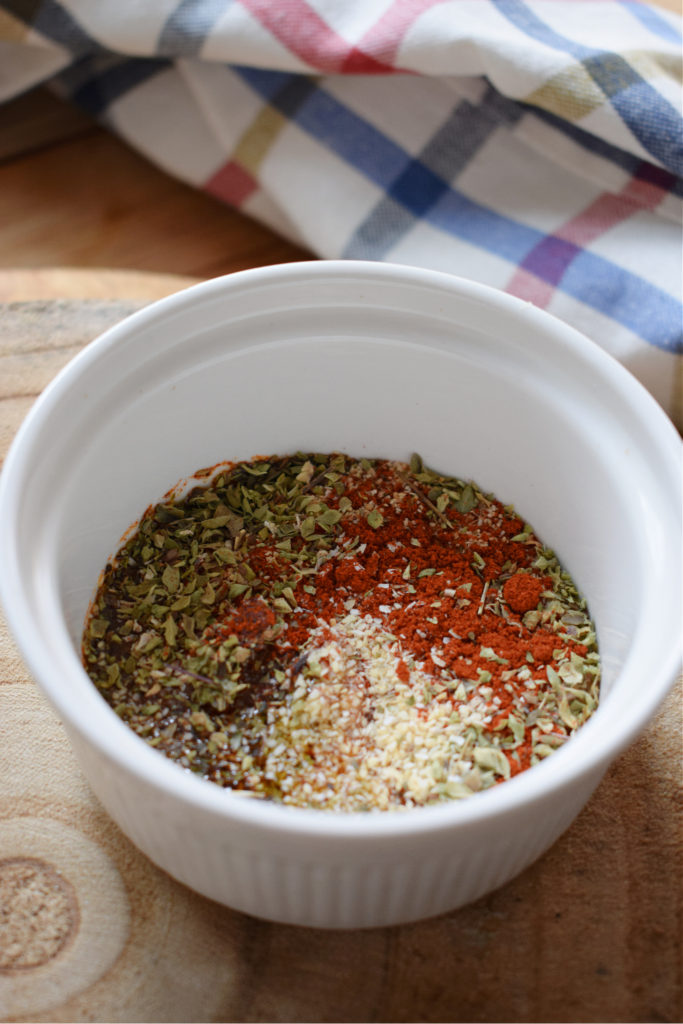 ---
How to Cut The Potatoes to Make Potato Wedges
We keep the skin on for these potato wedges, so no need to peel the potatoes. Give the potatoes a good scrub.
Cut the potatoes in half length ways and then cut each half into 4 quarters length ways.
Next, arrange them all on a baking tray.
COOKING TIP! Don't overlap the potatoes on the baking tray. To get them extra crispy they need to be in a single layer.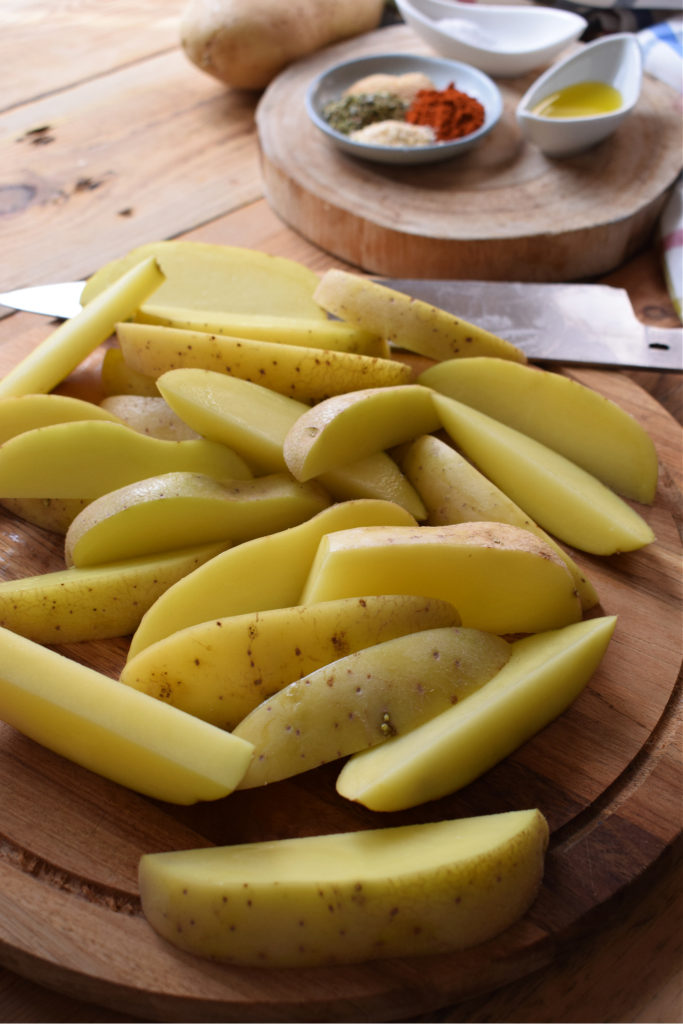 ---
How To Add The Spice Blend To The Potato Wedges
You want to make sure you coat all the potatoes. The best way to do this is to use your hands to rub the spice blend all over the potatoes. It's much easier and effective than trying to do it with a spoon or spatula.
Baked in a preheated oven for about 45 minutes or until golden and crisp.
FOOD PREP TIP! Have disposal gloves on hand in your kitchen. They are great for jobs like these as you'll be able to avoid getting your hands stained and covered in oil.
---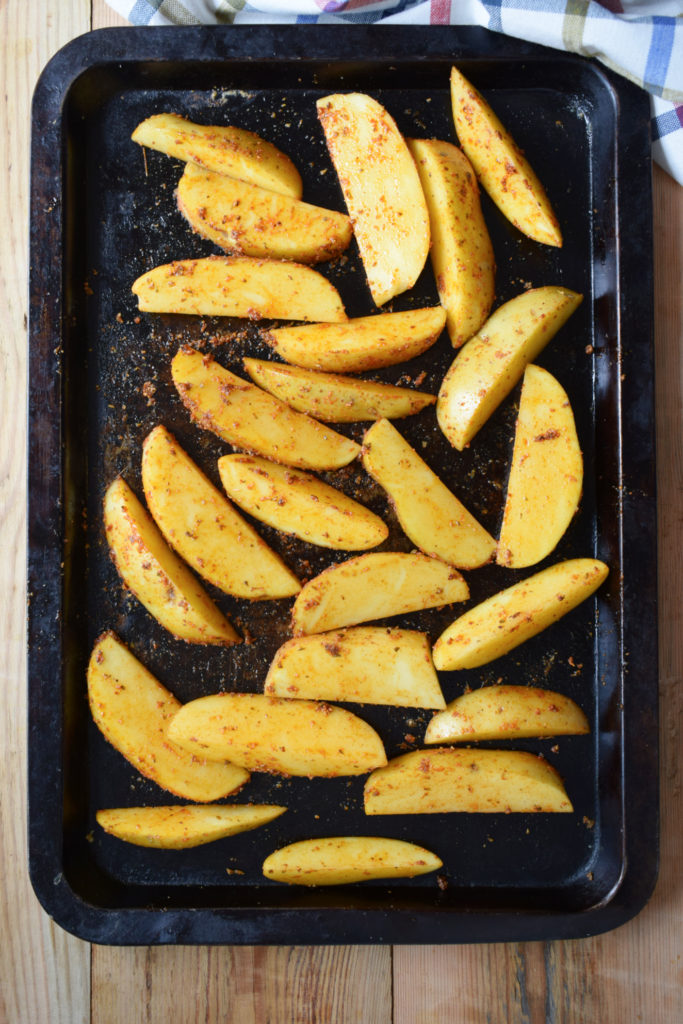 ---
Paprika Spiced Potato Wedges Hot Out Of The Oven
They are on the table and ready to enjoy! Try serving my Homemade Barbecue Sauce on the side, it goes great! Alioli Sauce would be another great choice!
However you choose to enjoy these spiced potato wedges, they are pretty tasty.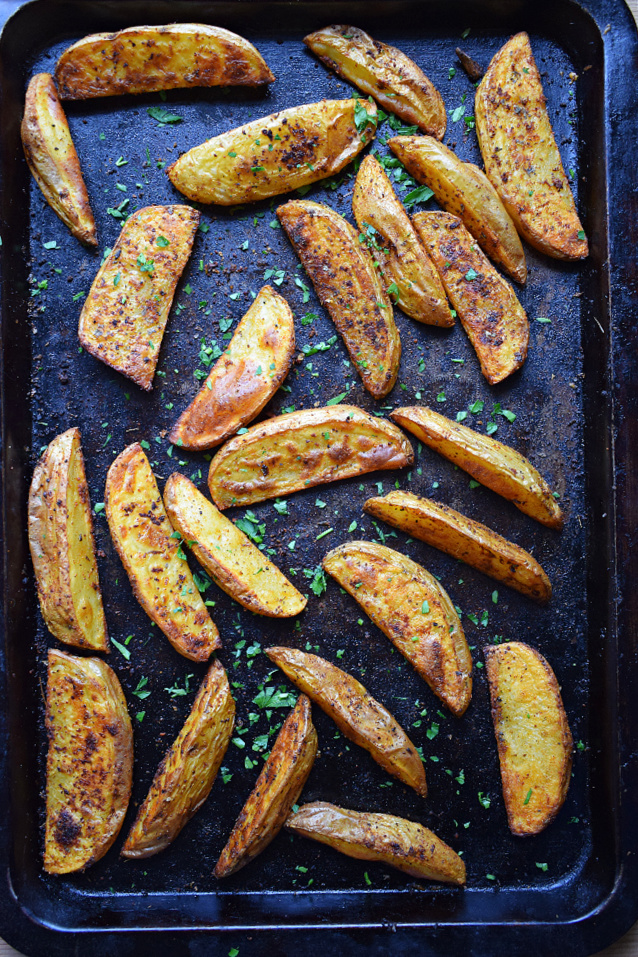 ---
Can I prepare These Potato Wedges IN advance To Cook later
The simple answer is yes! You can cut and prepare them up to a day before. If doing so, keep them covered in water and store them in the fridge.
Only put them on the baking tray and coat them in the seasoning just before roasting.
COOKING FACT! Did you know that soaking potatoes in water, pulls starch out of the potatoes? This means that when you roast or fry the wedges or fries, they will be crispier.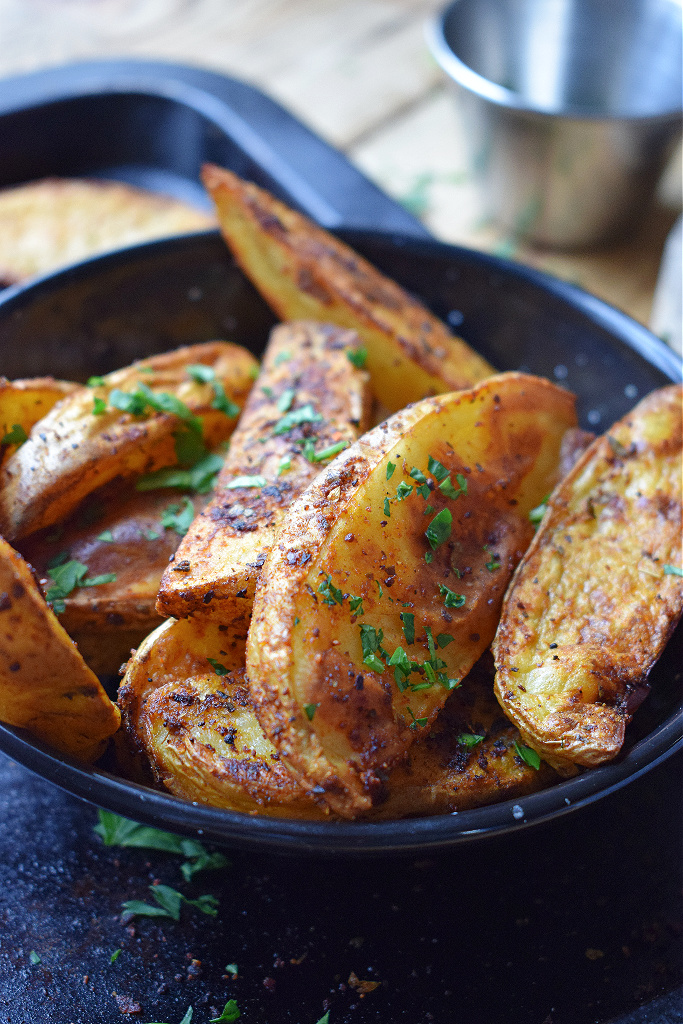 ---
Hungry For More Great Potato Recipes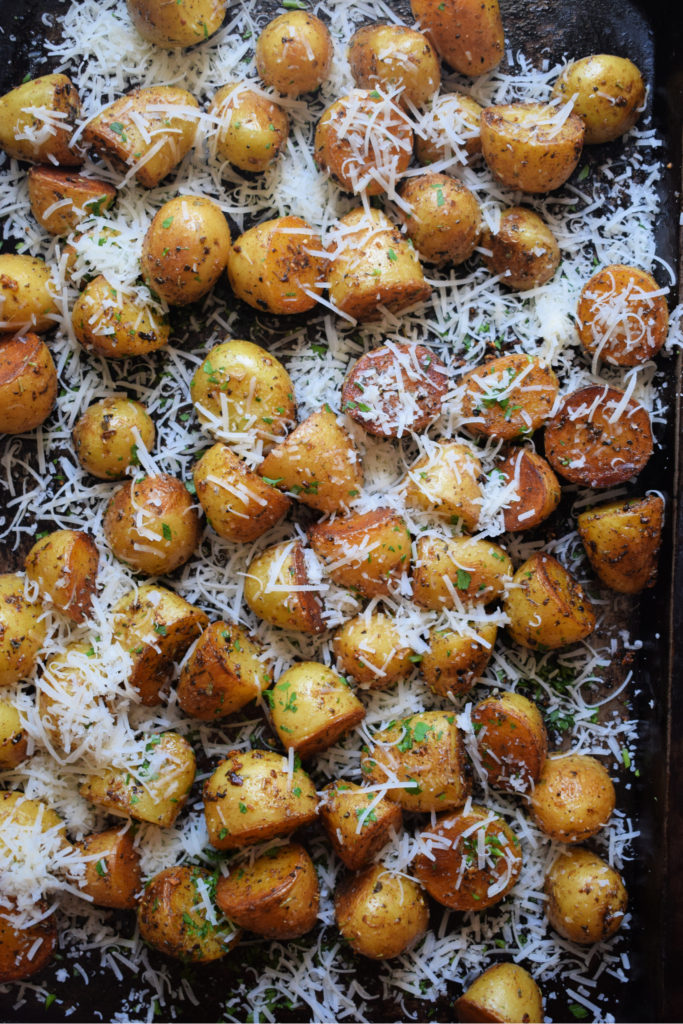 ---
Can I Reheat These Spiced Wedges After they are cooked
Honestly, these are best fresh out of the oven. Sorry friends, it's just one of those foods that you really need to cook fresh. You can reheat them but they dry out a little and lose their crisp. So, I really recommend eating them as soon as you cook them.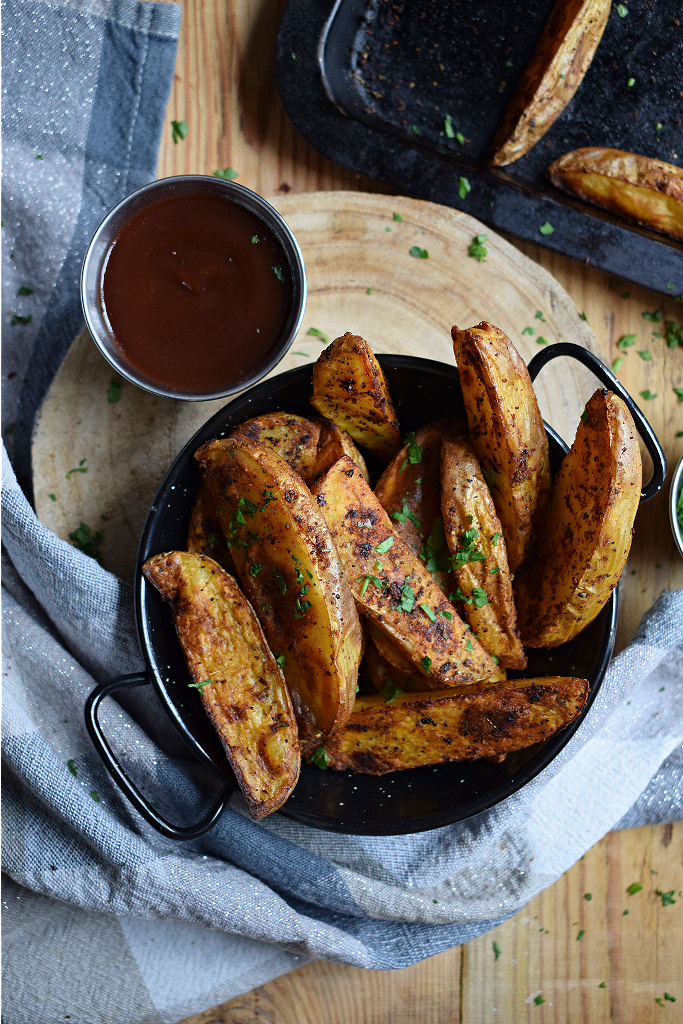 Let me know if you get a chance to make the wedges, they are pretty tasty. Don't forget there's lot of other fun food ideas to serve with these. The Parmesan Crusted Turkey Tenders would be great! They'd also go great with Turkey Burgers. You decide!
Thanks for being here and I'll see you all soon. Happy Cooking!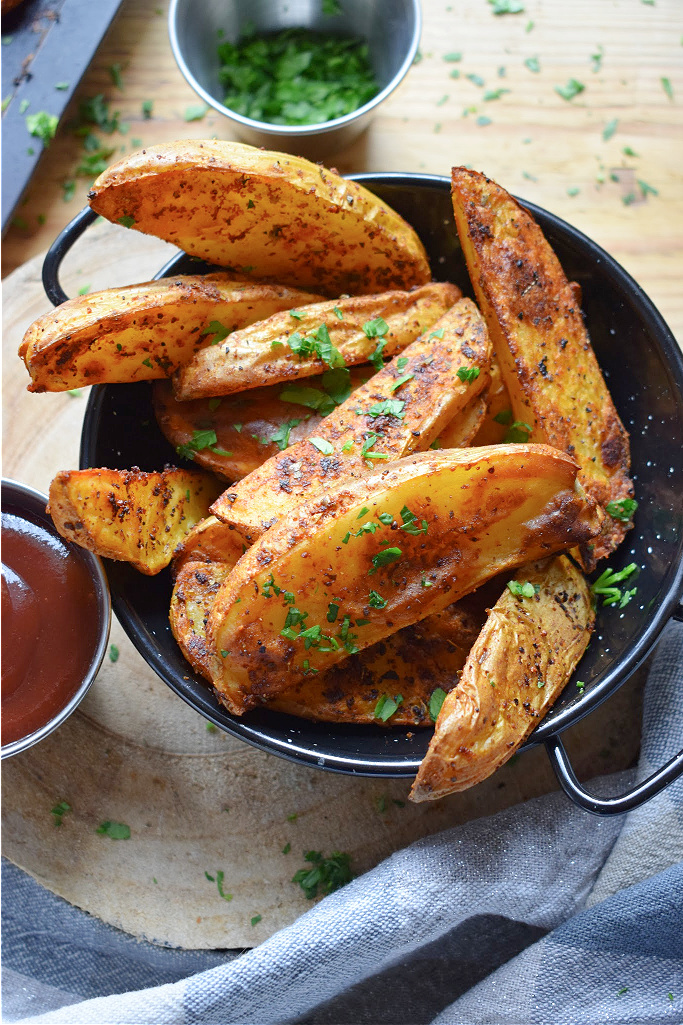 ---
Get the recipe!
---
Spiced Potato Wedges
These crispy Paprika Spiced Potato Wedges make the best side dish or even snack food. Chunky potato wedges, coated in a paprika spice blend and baked in the oven to crispy perfection. A great side dish any day of the week.
Ingredients
4

large

potatoes

peeled, washed and cut into wedges

1

Teaspoon

paprika

1

Teaspoon

garlic powder

1/2

Teaspoon

onion powder

1/2

Teaspoon

dried oregano

1

Teaspoon

sea salt

1/2

Teaspoon

fresh ground black pepper

1

Tablespoon

olive oil
Instructions
Preheat oven to 375 degrees F/180 C and have ready a large baking tray.

In a small bowl, combine the paprika, garlic powder, onion powder, dried oregano, salt, pepper and olive oil. Stir to combine.

Put the potatoes in a large bowl and add the spice blend. Using your hands mix it up really well to coat the potatoes completely.

Tip the potatoes onto your baking tray. Cook for about 25 minutes and then flip the potato wedges. Return to oven for a further 20 minutes or until crisp, golden and cooked through. Serve immediately.
*A note on times provided: appliances vary, any prep and/or cook times provided are estimates only.
Nutrition Facts
Spiced Potato Wedges
Amount Per Serving (1 serving)
Calories 320
Calories from Fat 36
% Daily Value*
Fat 4g6%
Sodium 605mg26%
Potassium 1576mg45%
Carbohydrates 65g22%
Protein 8g16%
Vitamin A 254IU5%
Vitamin C 73mg88%
Calcium 47mg5%
Iron 3mg17%
* Percent Daily Values are based on a 2000 calorie diet.
---
By