If you happen to love the great outdoors and great food, you're in luck today with 20 + Meals You Can Make Camping for all your camping culinary needs. I've got it all covered from lunches and dinners to breakfast and dessert. So, the next time you're headed into some wide open spaces, here's some great cooking inspiration to keep the hunger away!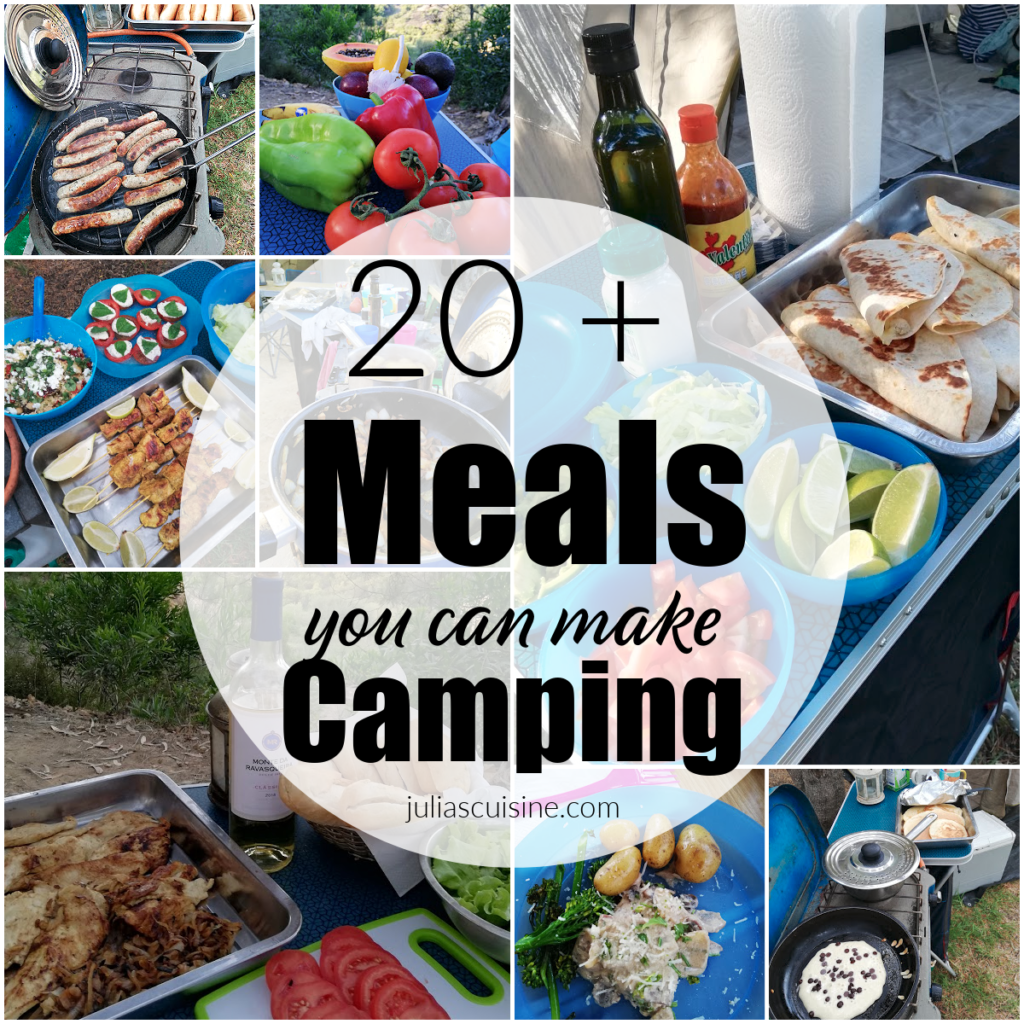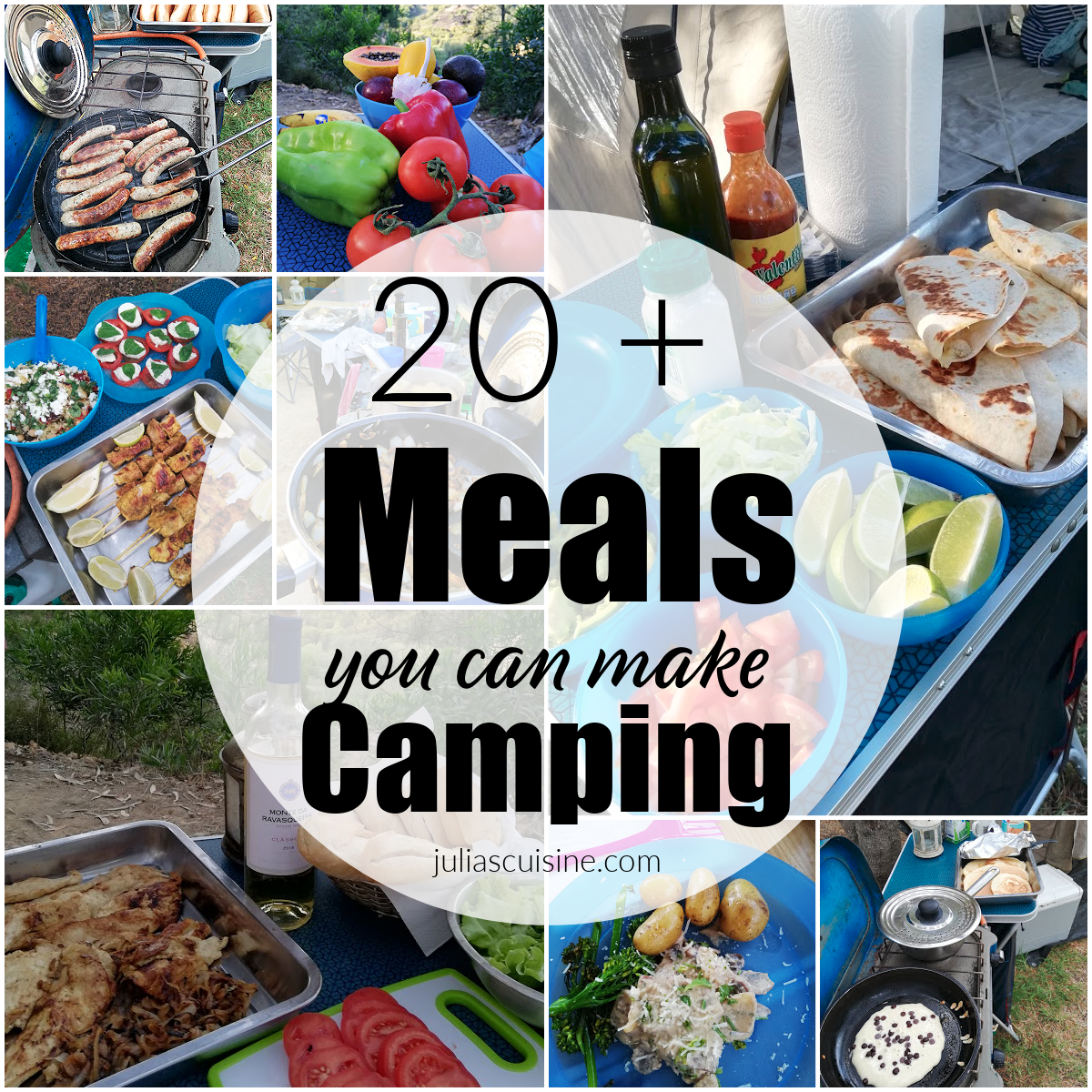 When you're camping, there's nothing better at the end of a long day than a hot dinner. We've been avid campers for twenty years. And when I say camping, I meal good ol' fashioned tent camping. We've had trips as long as two weeks in a tent using cool boxes as food storage and buying ice daily to keep food fresh. Guess what, it works!
So, through the years, I've learned a thing or two about food preparation, food storage, cooking and the ins an outs of what you can cook on a camp stove with a cool box for fresh food. Here I've put together a whole lot of dishes that I make regularly while in the great outdoors.
Take a look through and see what you can find for your next camping adventure.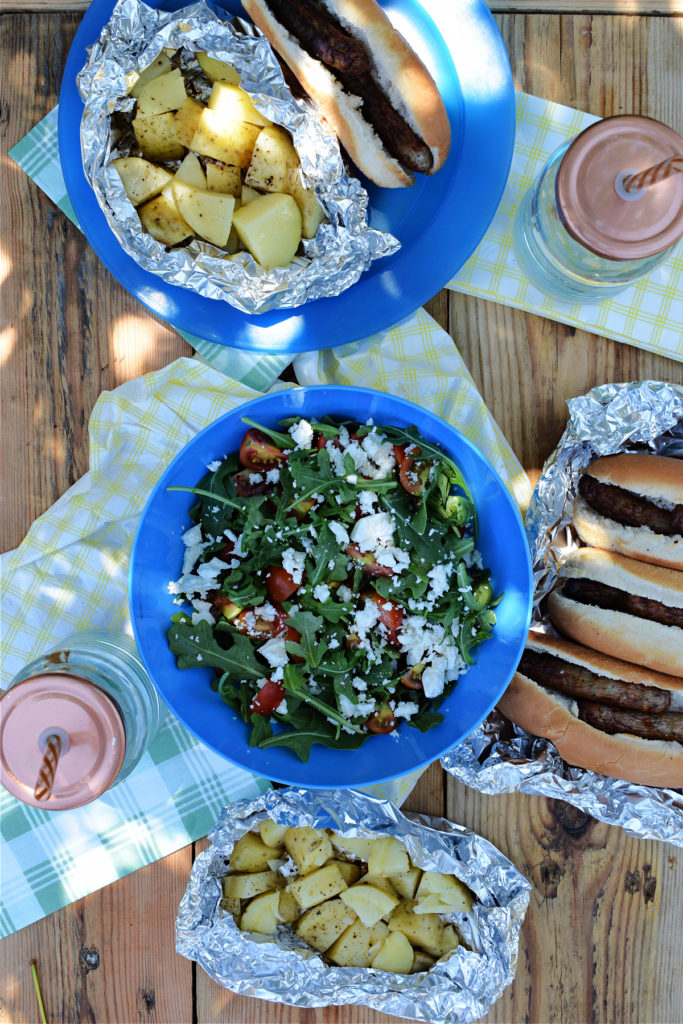 ---
This is an absolute favourite of my kids. It pretty much always makes an appearance on camping trips as it is stove top and all in one pot! Get the Chicken & Mushroom Stroganoff for you next wilderness adventure.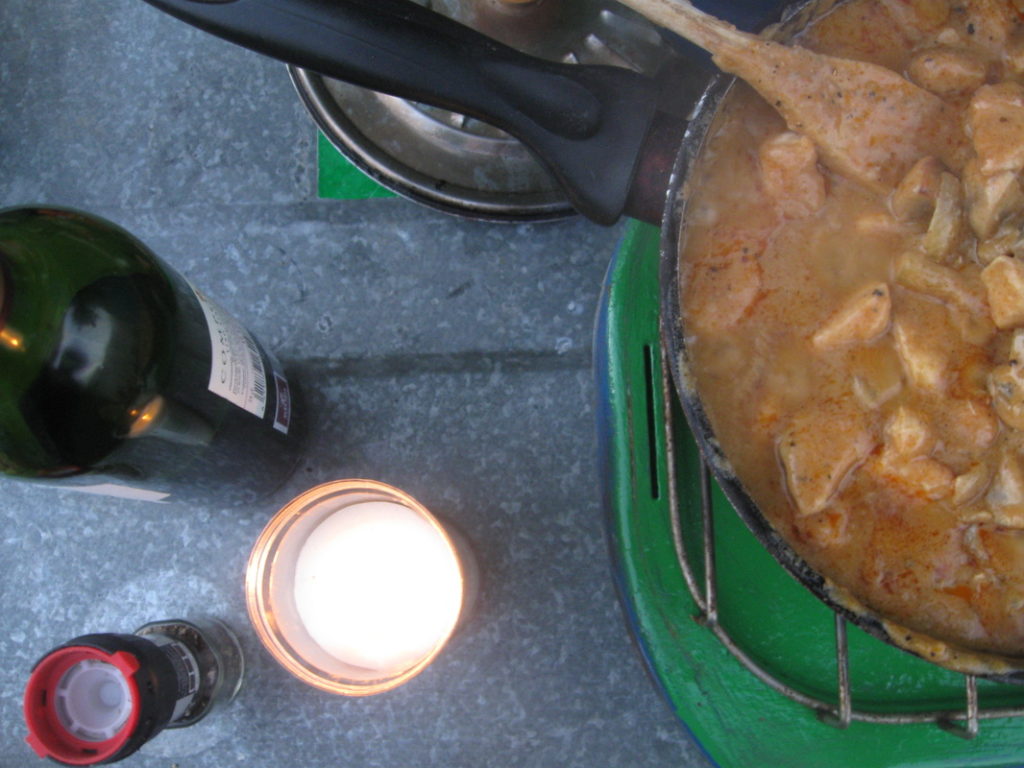 ---
Why not fancy things up camping with this Turkey & Mushrooms in a Creamy White Wine Sauce. This might not seem like the obvious choice for camping, but it can be done and everyone will love it. I served it with some basic boiled potatoes and tender stem broccoli.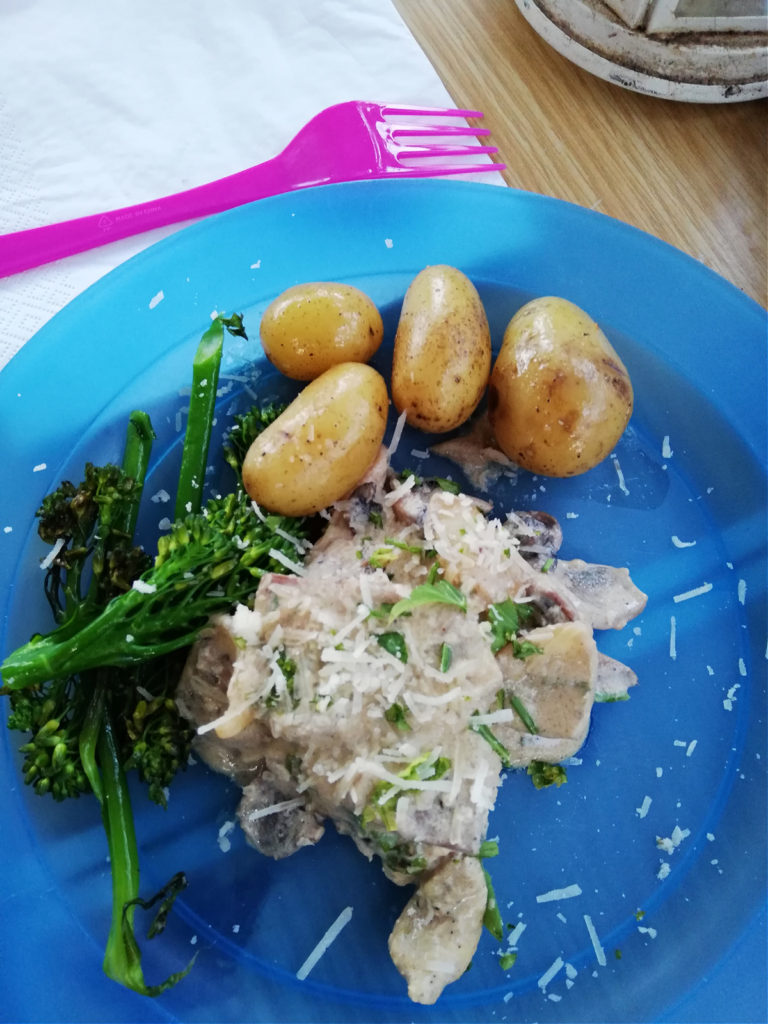 Tips For Making More Fancier or complicated dinners While Camping
I know, you're probably thinking why would I do that? Well, here's the thing, we love eating nice food when we're camping. We tent camp and come the end of the day everyone looks forward to a hot dinner. Sometimes it is Hot Dogs, and that's great. But other nights, we like to indulge. Here's a few tips to make it go smoothly.
Clean up as you go along,

I can't stress the importance of this. You will be limited with space and dishes, so make sure to stay on top of things as you are preparing each dish or stage of cooking.

Make one dish at a time

, if making multiple dishes, try making each one then cover and set it aside while you make the next dish.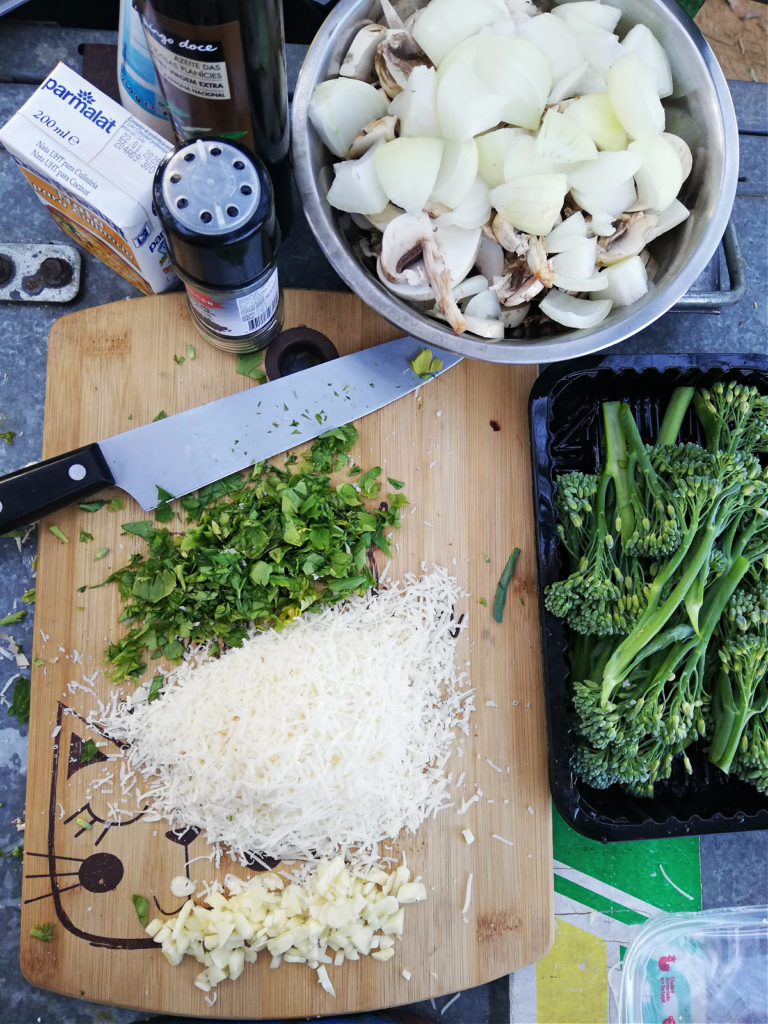 ---
Foil Packet Potatoes
Foil Packet Potatoes are perfect for camping and can be done on a camp stove or a barbecue. Here's what we need and how to make them
Ingredients
4 baking potatoes
4 tablespoons butter
Salt and pepper to taste
4 sheets of aluminum foil
Instructions
Wash a cut potatoes into 2 inch pieces. Shake off excess water or dry with paper towels. Arrange each cut potato into the center of a foil sheet. Sprinkle over salt pepper and a table spoon of butter. Seal tightly.

Stovetop Method

, Heat a large skillet over medium heat. Place the foil packets in the skillet and cover with a lid. Cook for about 30 minutes or until potatoes are cooked through.

Barbecue (Grill) Method,

Place foil packets directly on the barbecue. Cook for about 15 minutes then open packets and give the potatoes a little stir around. Close foil and continue to cook for a further 15 minutes or until cooked through.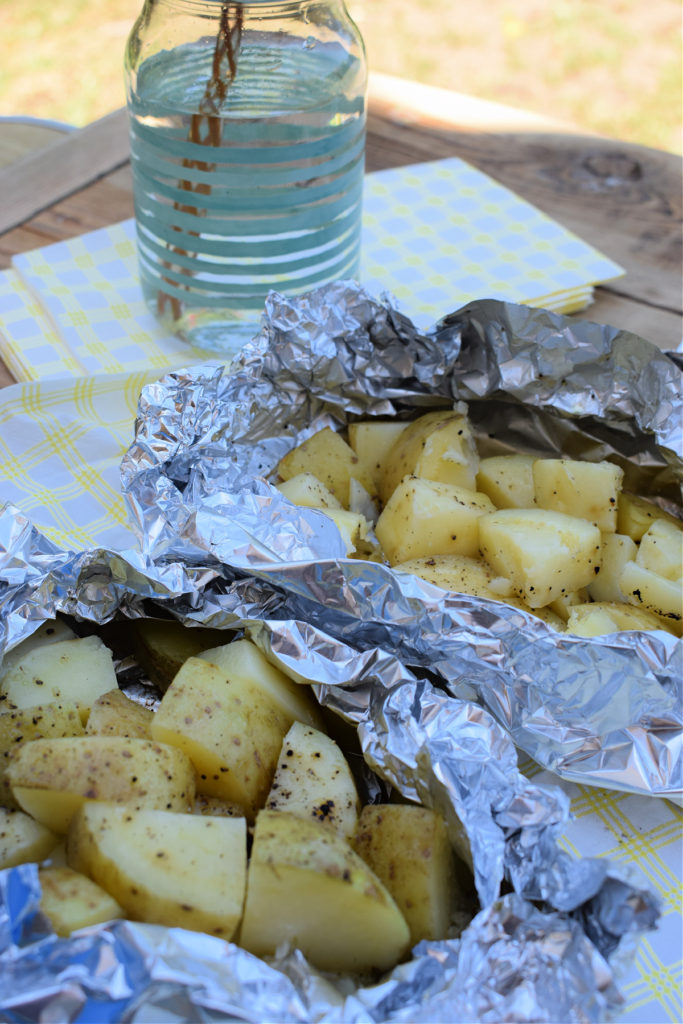 These Foil Packet Potatoes are great just as they are. IF you want to fancy them up a bit, add grated cheese as soon as they are cooked.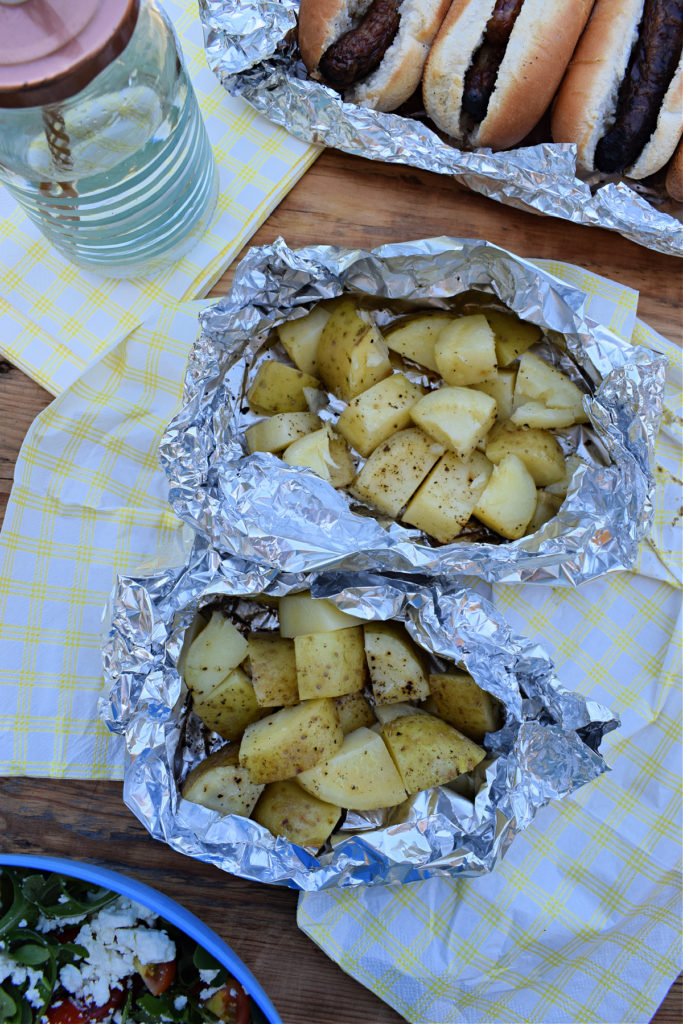 ---
Every single time we go on a camping trip, I bake one treat for the road. Many things are usually requested, but this Carrot Cake, was the success of this trip. It easily will last a few days in an airtight container while in your home away from home.
---
Other Great Treats We Like To pack for Camping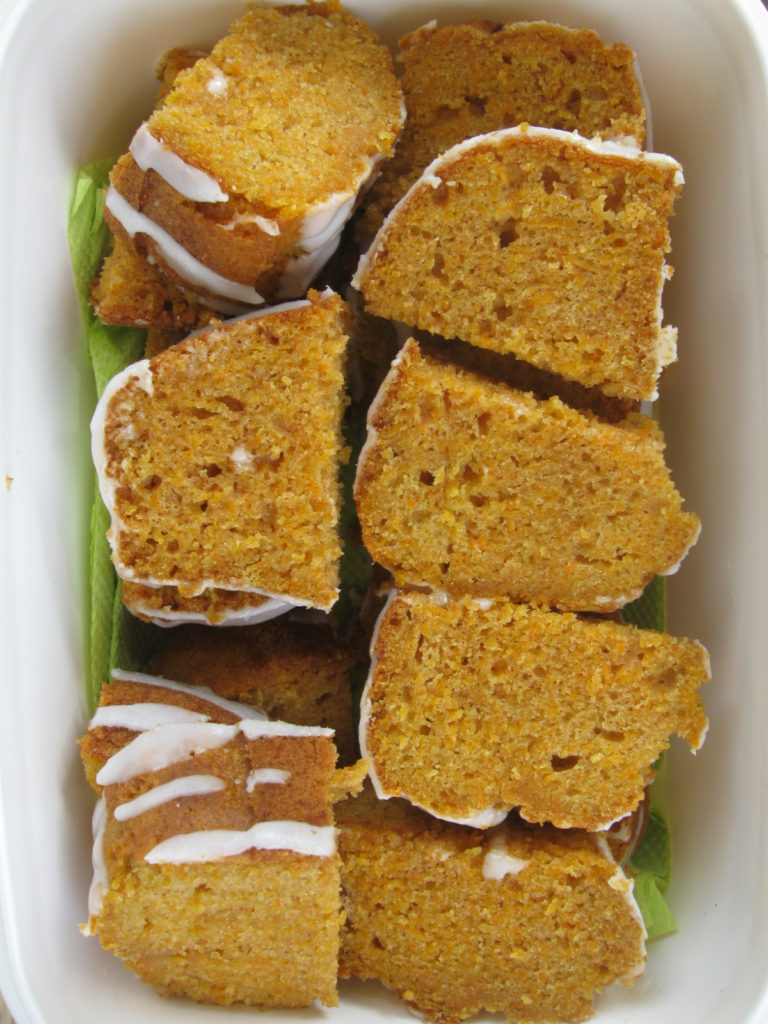 ---
Pita Tuna Salad sandwiches
Sandwiches are always great camping, and these Pita Tuna Salad Sandwiches are fantastic. I don't have a link to the recipe, but will give a little explanation here.
Ingredients
Pita breads
3 cans tuna
1 finely chopped onion
salt & black pepper
1/4 cup white vinegar
iceberg lettuce, shredded
Method
Combine the tuna with the onion, vinegar, salt and pepper. Stir to combine and set aside.
Wrap the pitas in foil and place over the stove top on direct heat. Leave for a a few minutes then turn over. Remove from heat. Slice open and fill with tuna and lettuce. Ready for a quick bite on the go.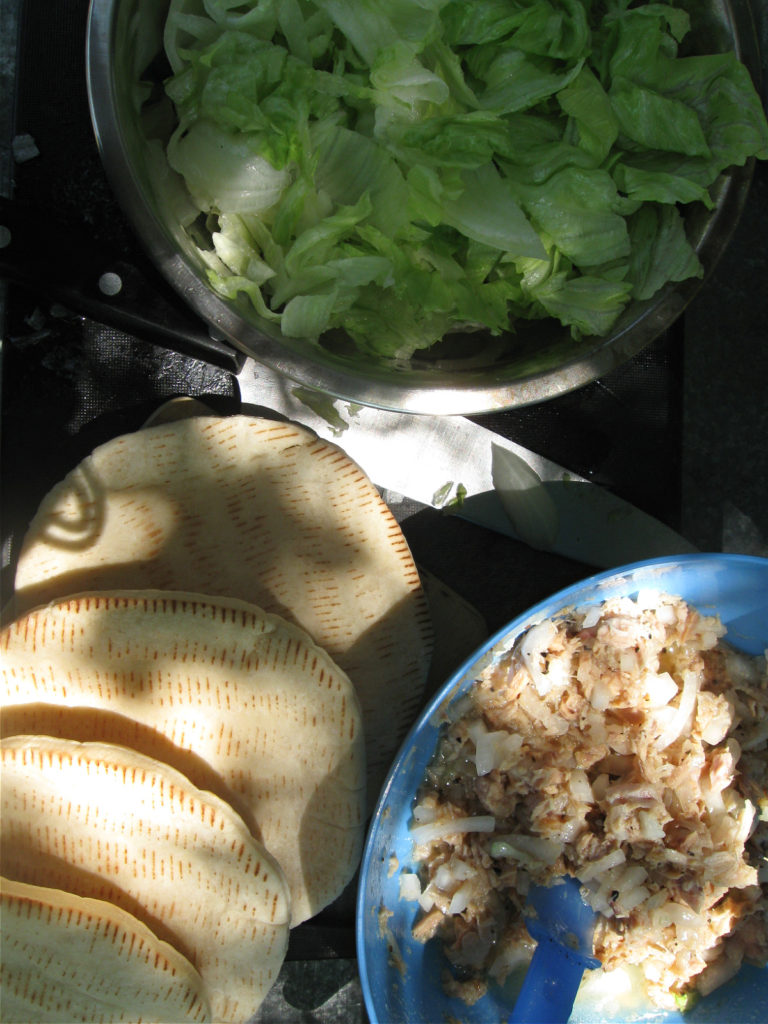 ---
All food tastes better when it is cooked and eaten outside. The first time I had Payella, it was cooked by my husband on a tiny camp stove set on the ground in Tarifa, Spain. That was 20 years ago. Payella now, has become a camping tradition for our family.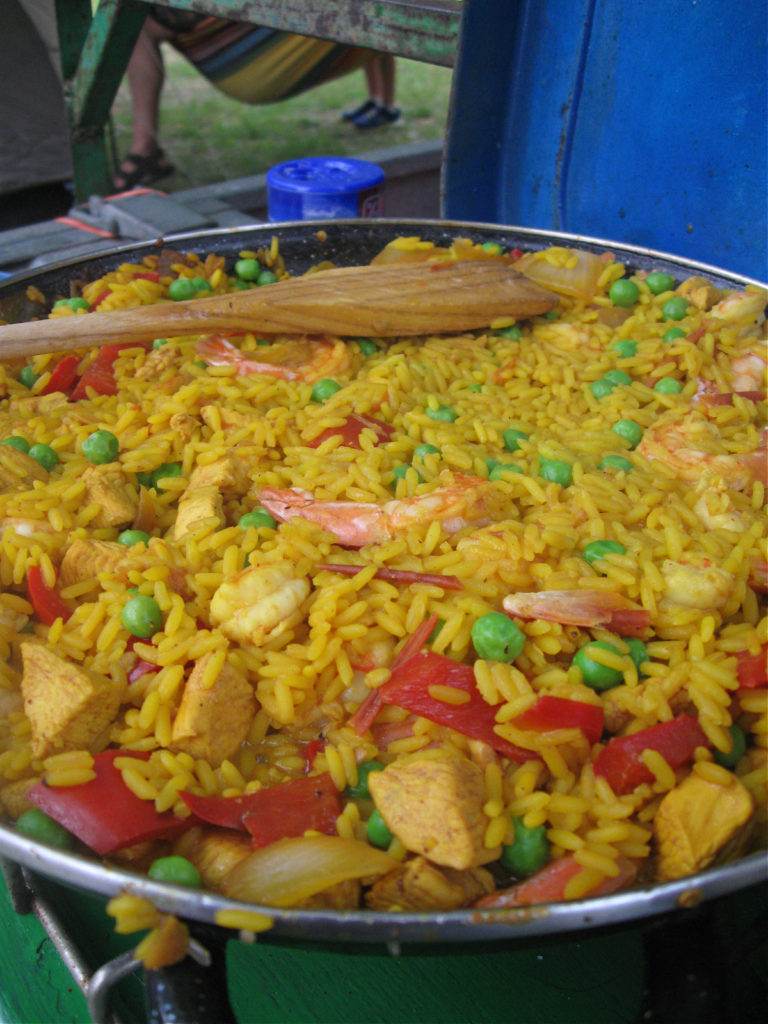 ---
Sausage Dogs
You just can't go wrong with Hot Dogs or Sausage Dogs when camping. A super simple dinner everyone will love. Serve them with your favourite toppings and everyone is happy!
I cooked these on a grill pan on the gas stove. They are easy to cook this way.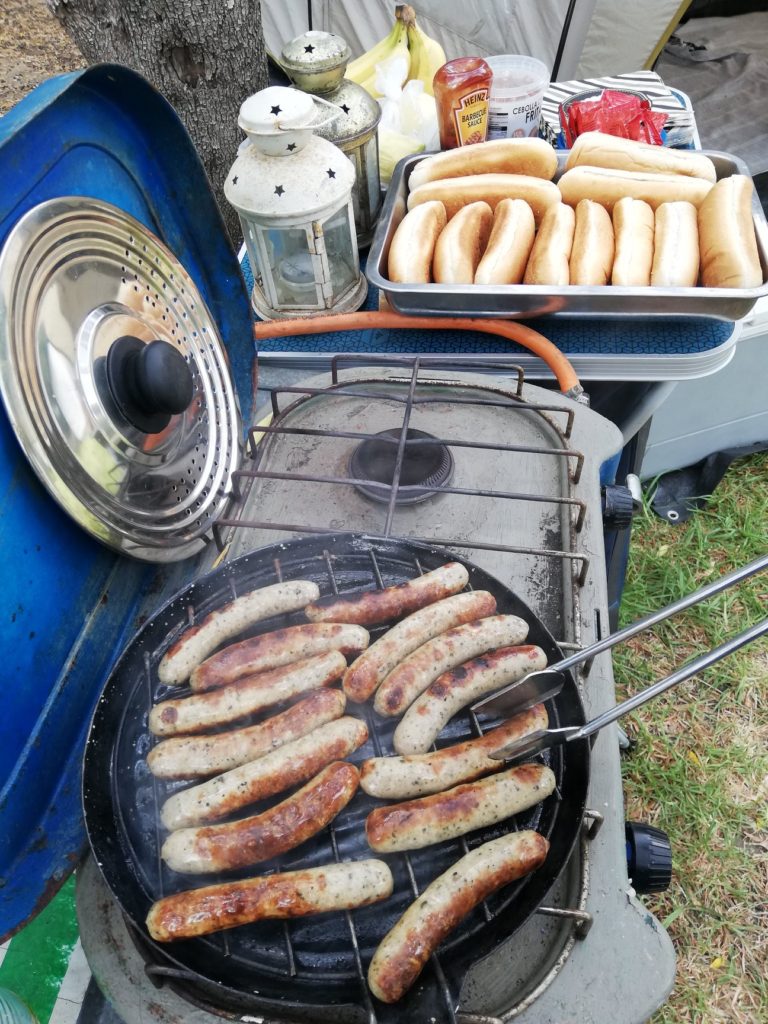 ---
S'mores
You just can't have a camping trip complete without S'mores.
Ingredients
Biscuits/cookies
Milk chocolate
Marshmallows
Sticks
Method
Skewer a marshmallow onto a stick and roast over gas stove, barbecue or open fire.
Place in between two biscuits with a piece of chocolate.
Enjoy!
If you happen to be camping at a camp site that prohibits fires and barbecues, don't fret, you can still make smores. We always make them over a camp stove as fires and barbecues are not allowed in most parts of Spain.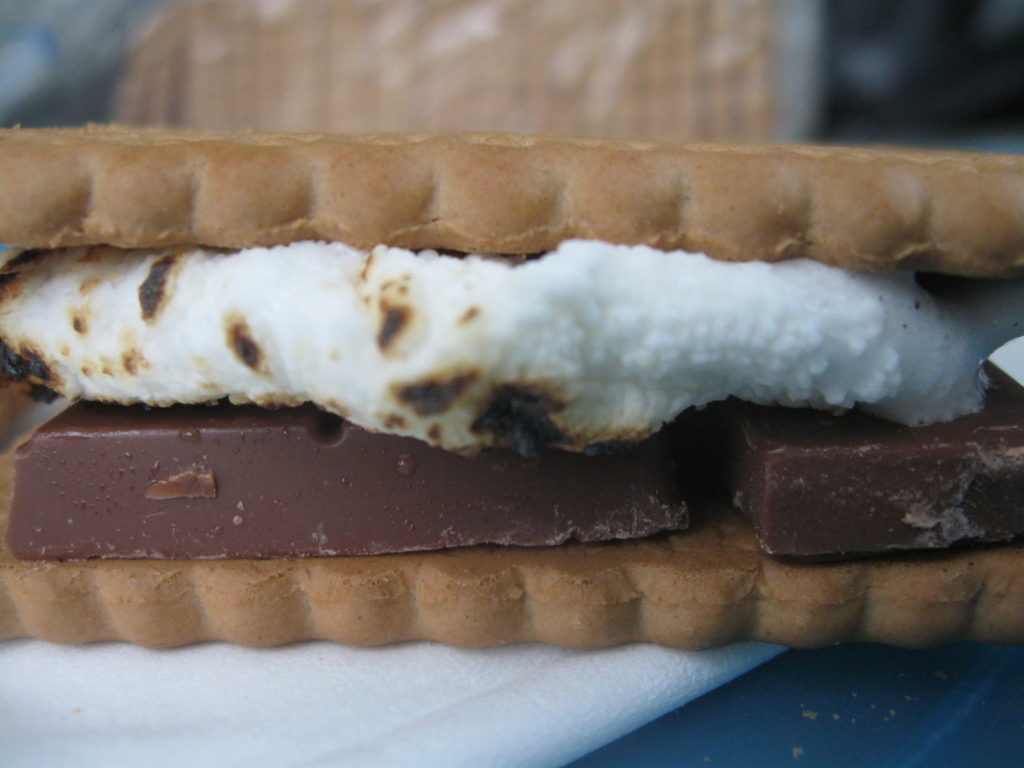 ---
Sausage & Eggs Breakfast
When you're camping, you always seem to wake up hungry and cooked breakfasts are always welcomed. Sausage and Eggs are a great way to start any day in the great outdoors.
Ingredients
4 slices bread
4 eggs
salt and pepper
8 sausages
Method
Use a grill pan over your camp stove to cook the sausages. When they are nearing the end of cooking time, push them to one side and place the bread on the grill pan to toast.
Cook the eggs to your liking
Season the eggs with salt and pepper.
Serve and enjoy!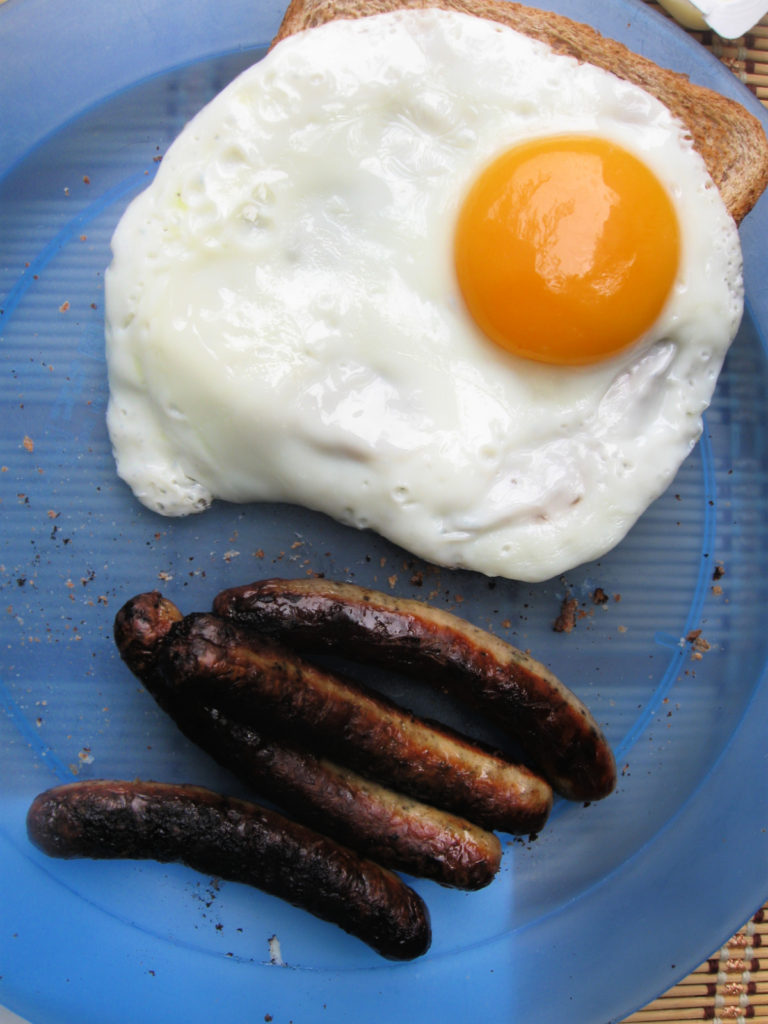 ---
Sauteed vegetables
When you are camping sometimes you just want something fresh and delicious. Most of the places we camp have nearby small shops where you can buy fresh fruit and vegetables. Always a great find, when you are on the road for weeks and don't have refrigeration storage.
How to Make The Sauteed Vegetables
These sautéed red peppers and zucchini below we cooked in exactly that way, because the local shop had both. This was just simply cooked in a skillet over medium heat with olive oil, garlic and a little bit of salt. Stir or toss it regularly for about 15 minutes until the vegetables are soft and charred. Goes great as a side dish to grilled fish or even stirred into pasta.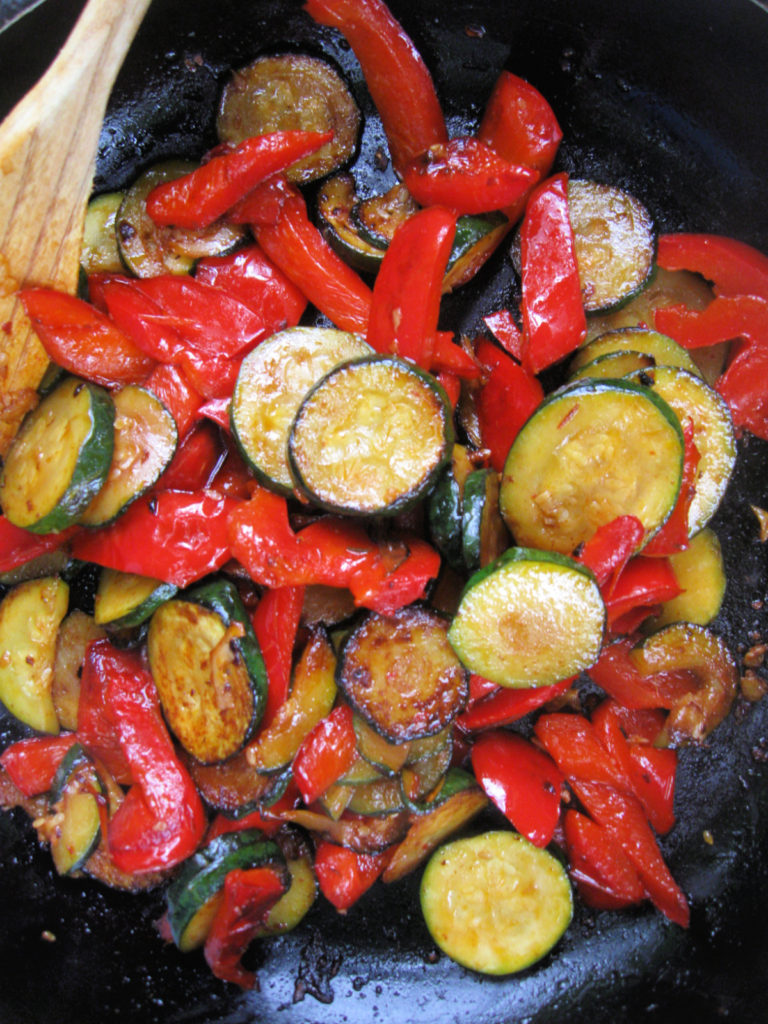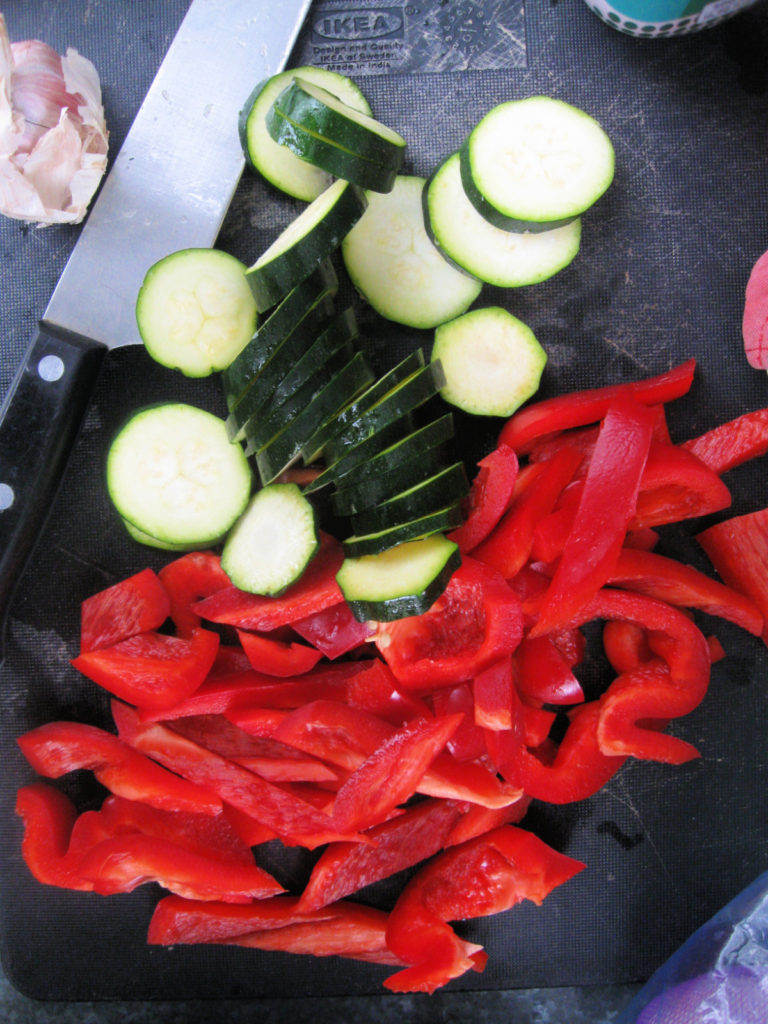 ---
A kid's favourite camping is these Chocolate Chip Pancakes. Easily prepared at the outdoor kitchen and cooked on the stove top.
NOTE: The recipe link above will take you to blueberry pancakes. Just substitute the blueberries for chocolate chips. The pancake recipe is exactly the same!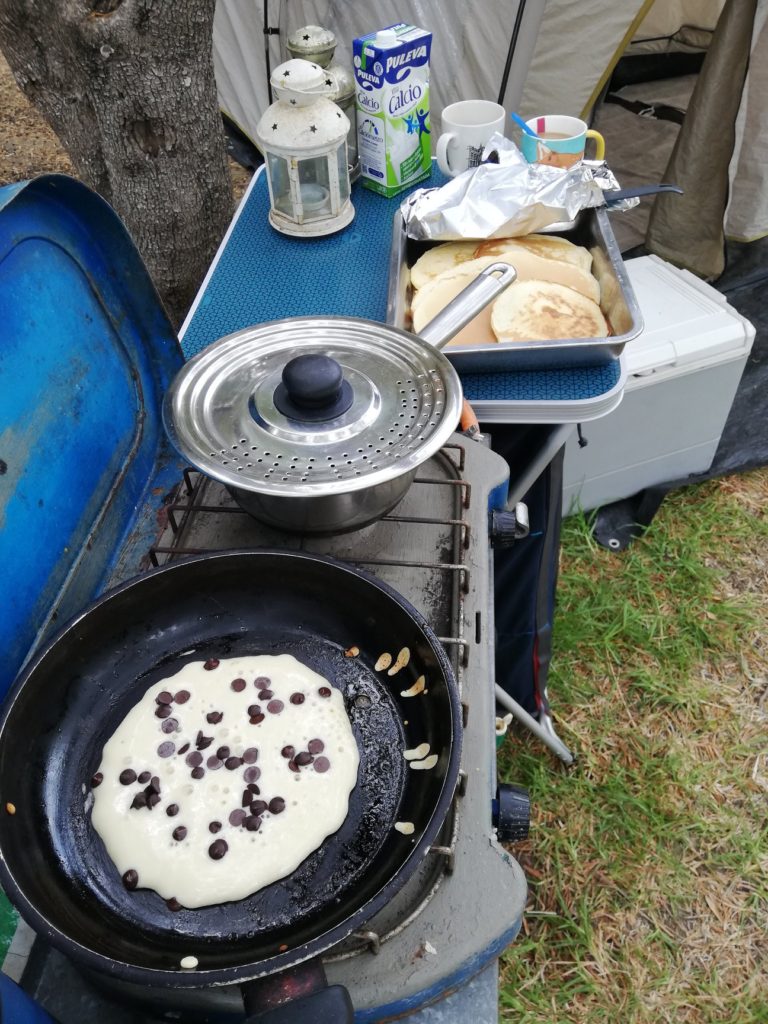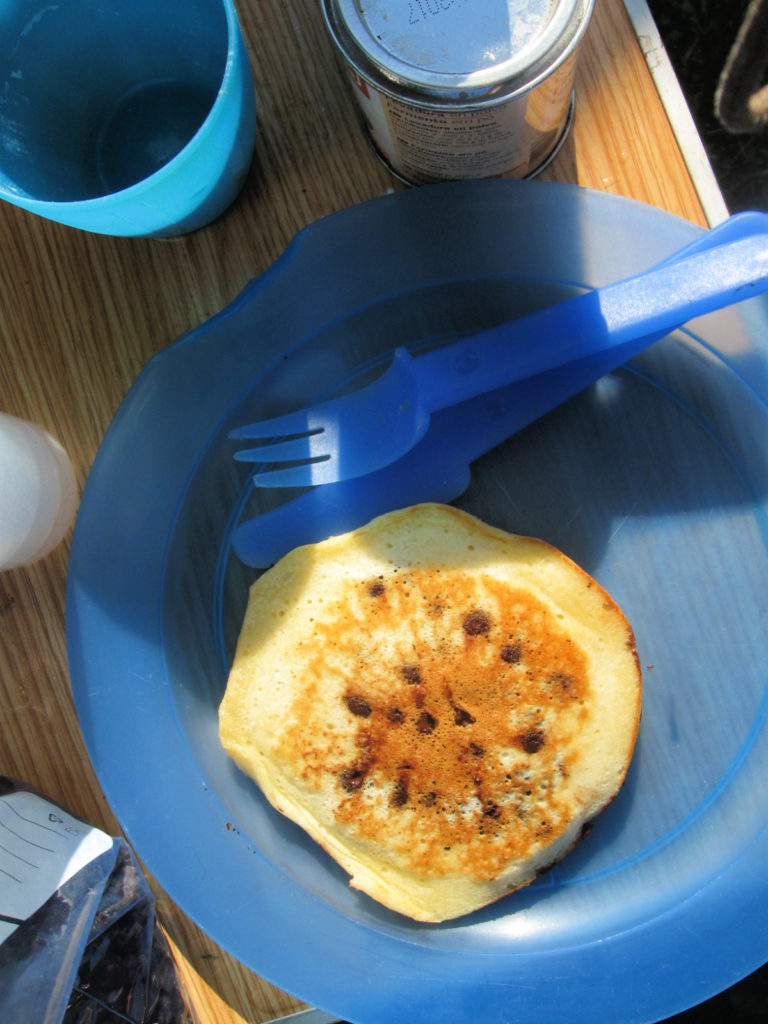 ---
Skillet Pasta
This very simple pasta dish was one of surprisingly delicious dishes on this camping trip. It was so easy to make and using a jar of sun dried tomato pesto make life pretty easy. Check out the recipe for Skillet Pasta with Zucchini, Red Peppers and Sun Dried Tomato Pesto. Okay, that was a mouthful!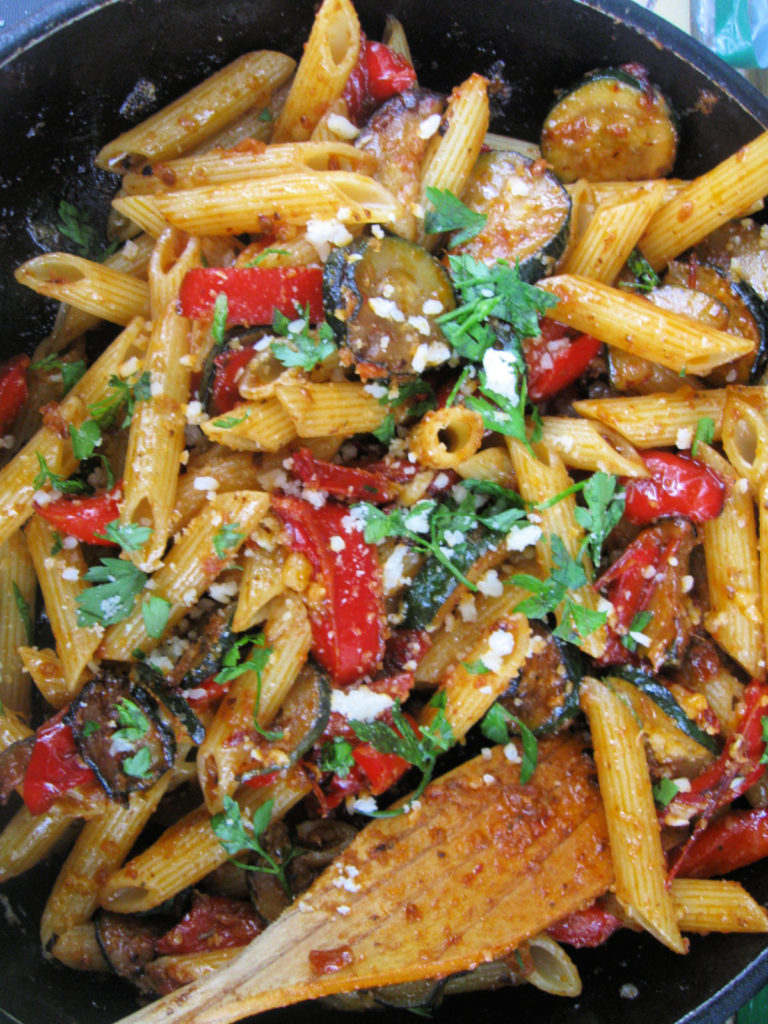 ---
Stove Top Apple Crumble
Making baked desserts can be tricky when camping with just a hob. By tricky, I pretty much mean impossible. On this trip, I was craving a crumble and was trying to figure out how in the world we could make it happen. Guess what, you can't beat a craving so you just got to dive in and figure out how. Check out how to make Stove top Apple Crumble for your next camping adventure.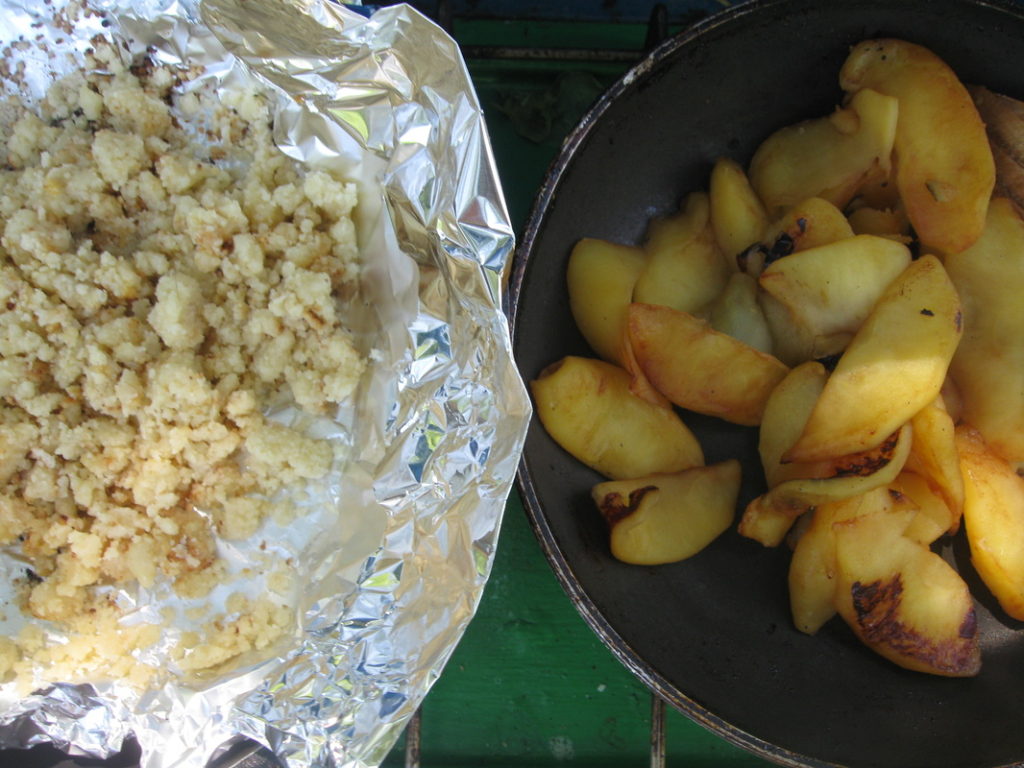 ---
The Best Chicken Sandwiches
Do you want to make The Best Chicken Sandwiches? Well, these are made from lightly marinaded chicken cutlets in lemon and garlic. Then they are cooked to tender perfection and topped with caramelized onions, crisp lettuce and tomatoes. All wrapped up in a soft Baguette Bread!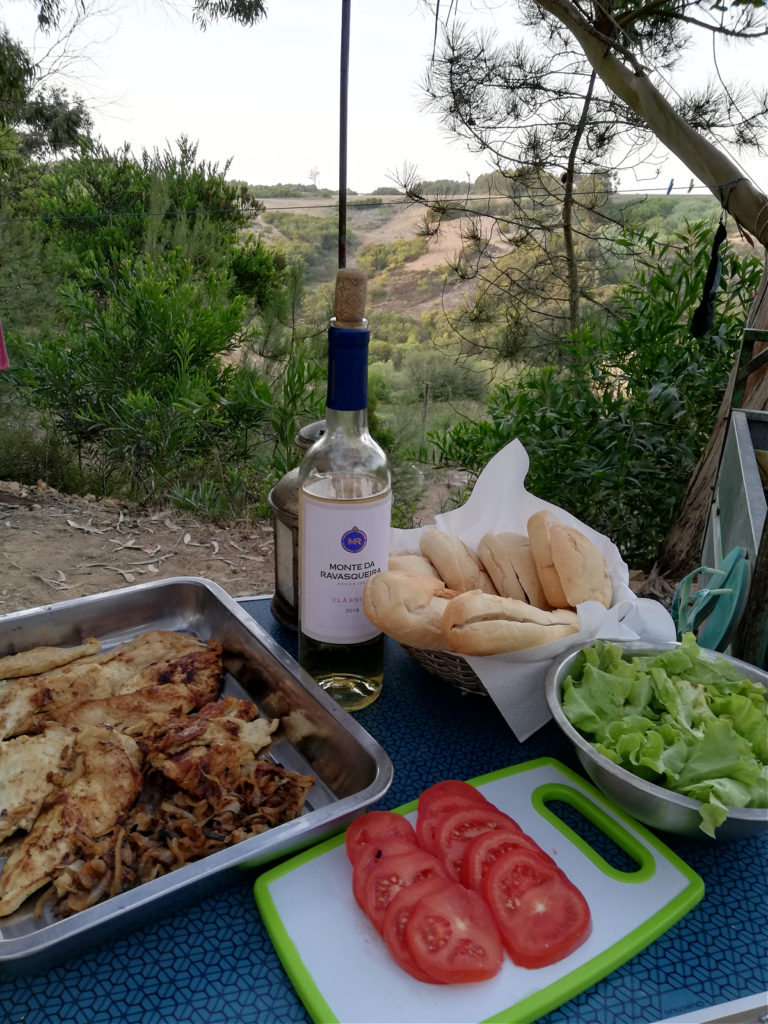 ---
Creamy Chicken Masala
This dish is a great example of how you an do without or substitute when cooking on the road. If you read along my blog, you will see that I am a huge fan of substitution when it comes to cooking. For those of you who follow a recipe to the tee, sometimes you just need to throw caution to the wind and do without. And you know what? Sometimes it even turns out better!
We made this Creamy Chicken Masala while camping and I didn't have turmeric. That might have something to do it it's lacking in colour. It still tasted great!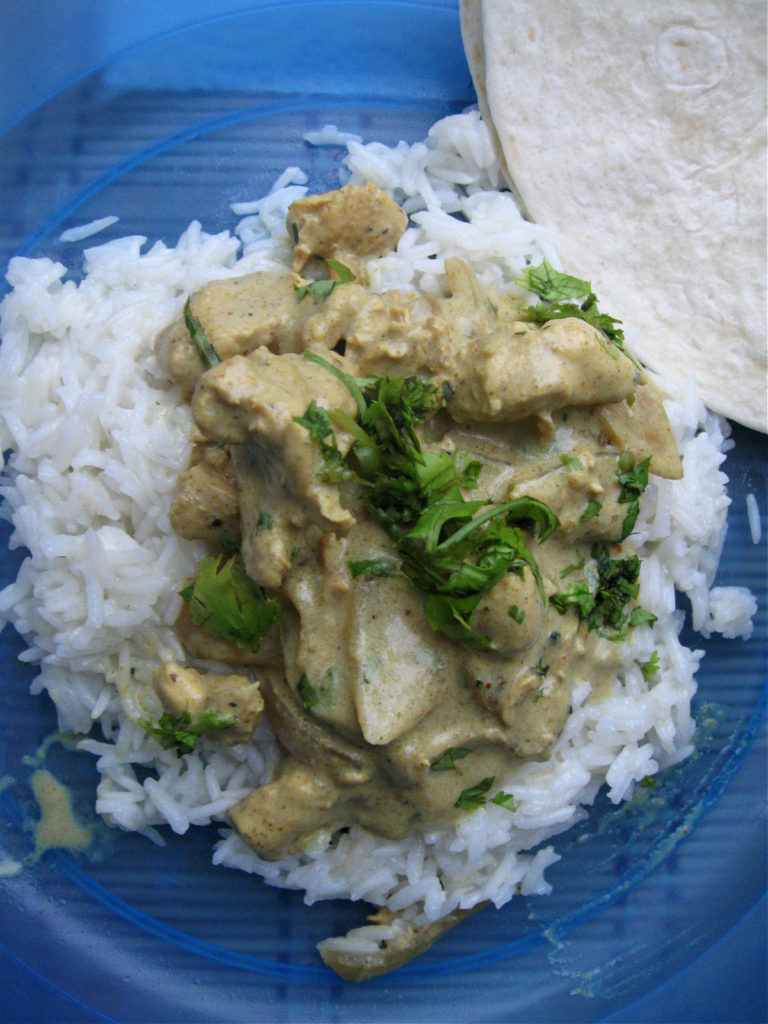 ---
Garlic Mushrooms
Garlic Mushrooms make a great side dish to just about any camping meal. If you are lucky enough to be at a camp site where barbecues are permitted, these go great alongside a good barbecued steak.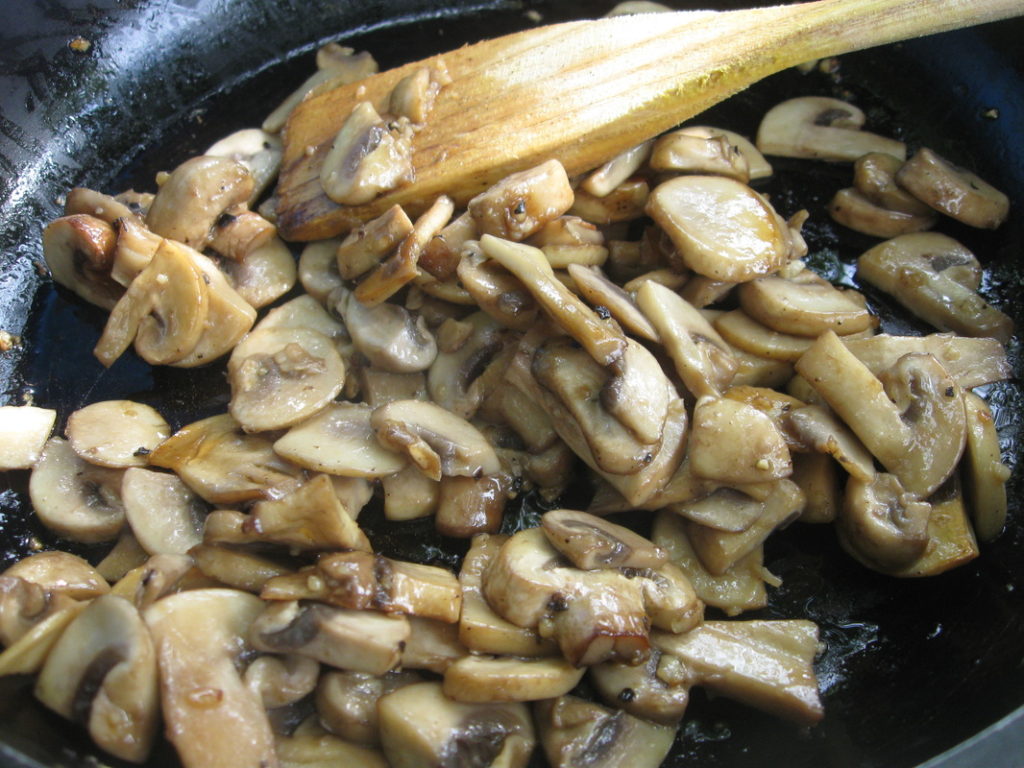 ---
Chopped Salads
Any kind of chopped salads make for easy camping food. Just toss some things in a bowl and you are done. We don't always need complex ingredients or methods to have something fresh, nutritious and tasty.
This below is just Arugula, Cherry Tomatoes and Feta Cheese. I topped it off with olive oil, white wine vinegar and sea salt. We had it as a side dish to fish.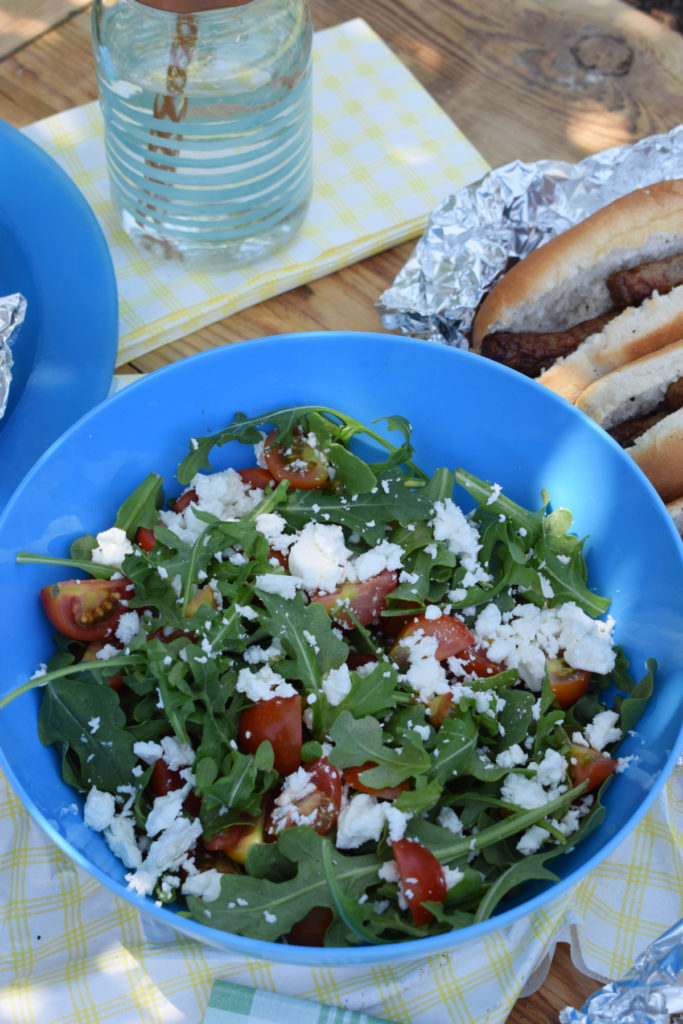 ---
Sun Dried Tomato Pasta
Another very easy pasta dish to make while camping. This dish has sun dried tomato pesto, fresh tomatoes and fresh spinach. Ready in 10 minutes!
Ingredients
8 oz pasta
two fresh tomatoes, chopped
fresh spinach
1 jar red pesto
Method
Cook pasta and drain.
Add tomatoes, spinach and red pesto to pasta. Stir well and enjoy!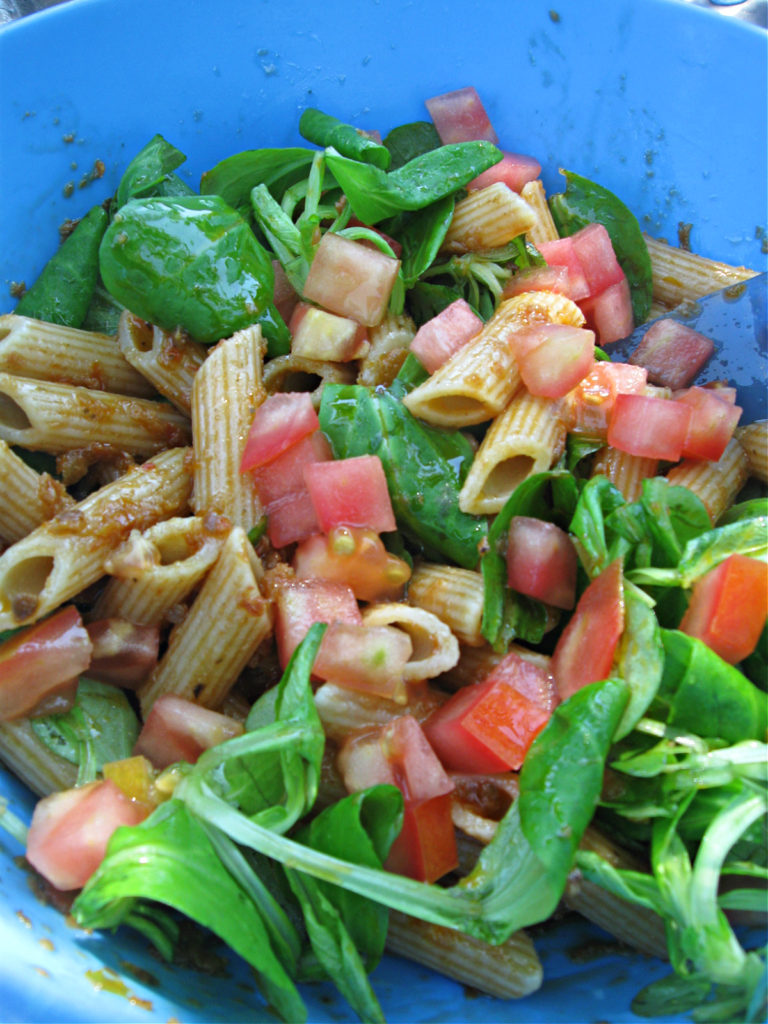 ---
Picnic Food
Picnic food! While on the road, you literally find yourself on the road. We rarely eat out in restaurants and cafés while on the road camping. For day trips, try to pack picnics using leftovers or whatever you have on hand. You would be surprised how tasty these snacks can be.
Below there is leftover grilled chicken, bread, hummus, carrots, tomatoes & cheese. All together this made for a great picnic lunch while having a road side stop.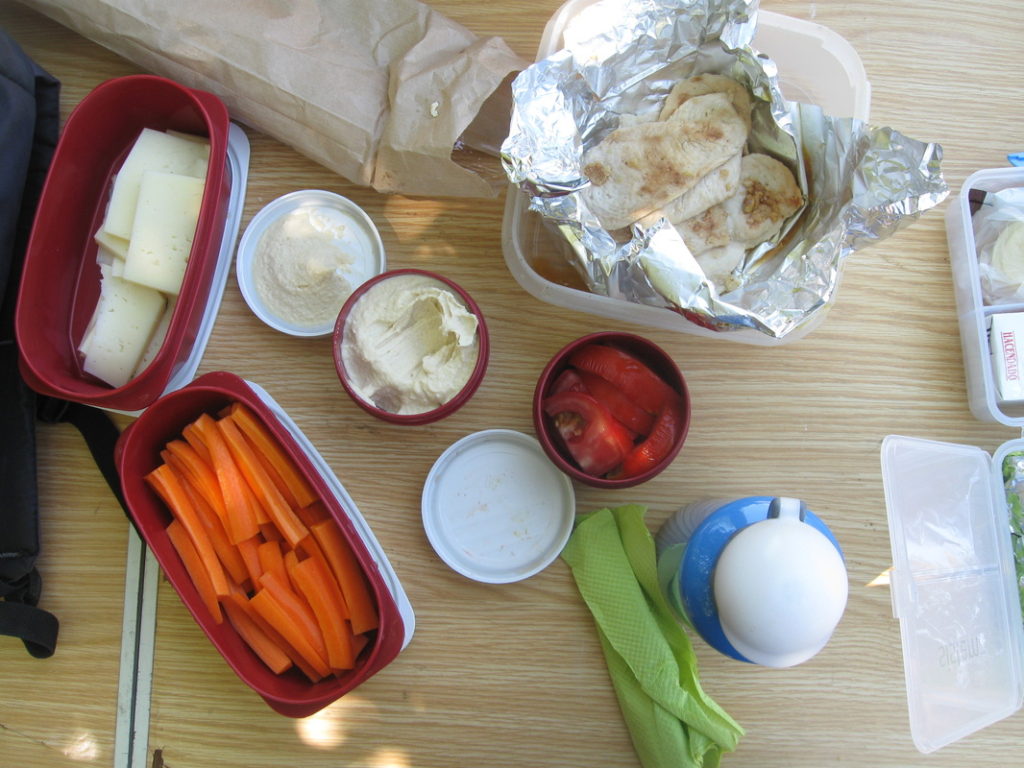 Moroccan Spiced Pork Kebabs, Caprice Salad & Couscous Salad
No question, this was a feast dinner. Yes, it took a little time, but it was well worth it and everyone enjoyed it to the max. You can dine well while camping!
Tips For marinading meat while camping
Make the marinade in a zip lock bag

. Add the meat and immediately store in the cool box until you are about to cook it.

Immediately throw away the bag when you've cooked the meat.

By keeping things around you will attract ants and bugs. So discard the bag as soon as possible after cooking.
Links for All The Recipes Can Be Found Below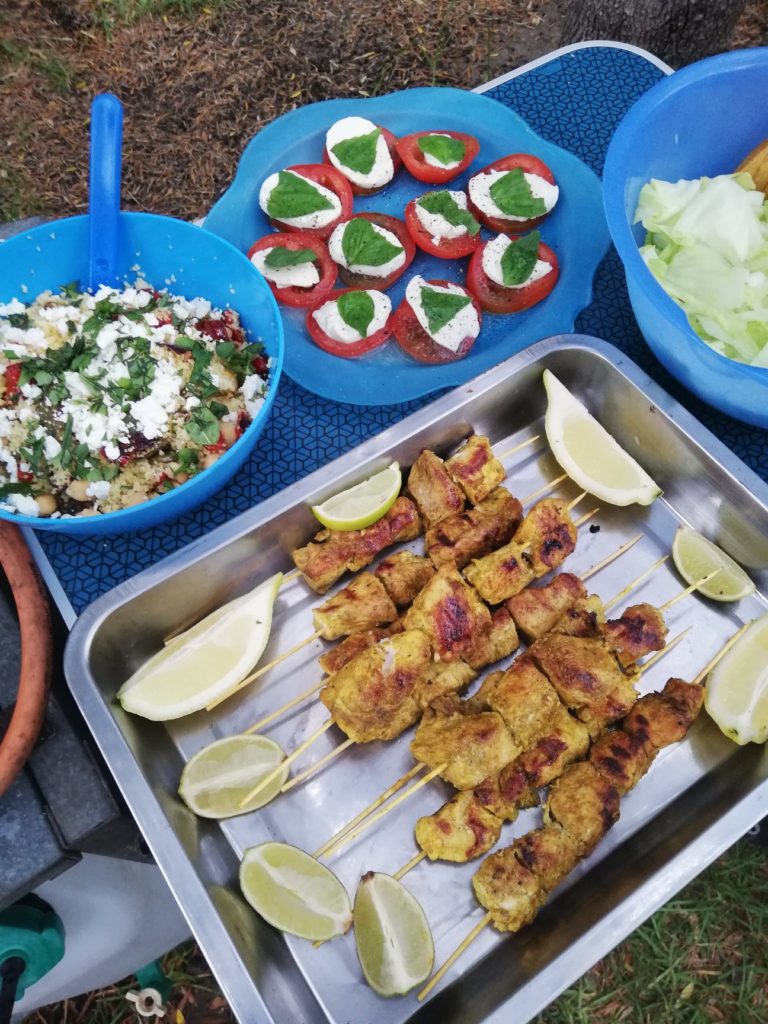 ---
Chicken Quesadillas
You can never ever go wrong with Chicken Quesasdillas! We have them every single time we go camping and they are always a hit!
Tips For Preparation and Cooking
Prepare all toppings before hand and keep in the cool box

. You can store it in small zip lock bags if you are tight on space.

Chicken can be cooked before hand as well

, just store it in the cool box.
TIME SAVING TIP, If you are only doing weekend camping, you can cook the chicken before you leave and keep it in the cool box until using. Chicken will keep up to 48 hours in a cold cool box while camping.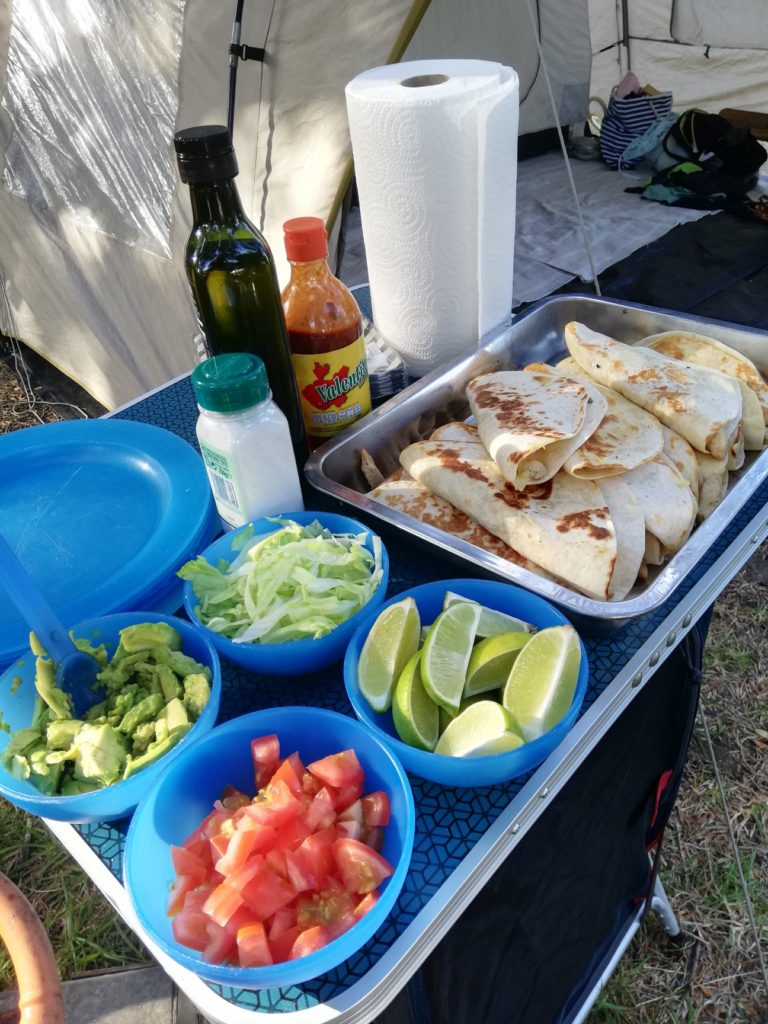 ---
A few things to keep in mind when preparing food and storage for  a camping trip
Meal plan before hand

, this will save a whole load of frustration while camping
Keep stock of dry ingredients

in an accessible place while camping
Prepare a check-list of all the food you plan on taking BEFORE your trip
Make sure you have all the equipment and utensils you will need to cook and prepare the dishes you will be making while away
Always eat up your left overs the next day. This will avoid waste and save time in meal preparation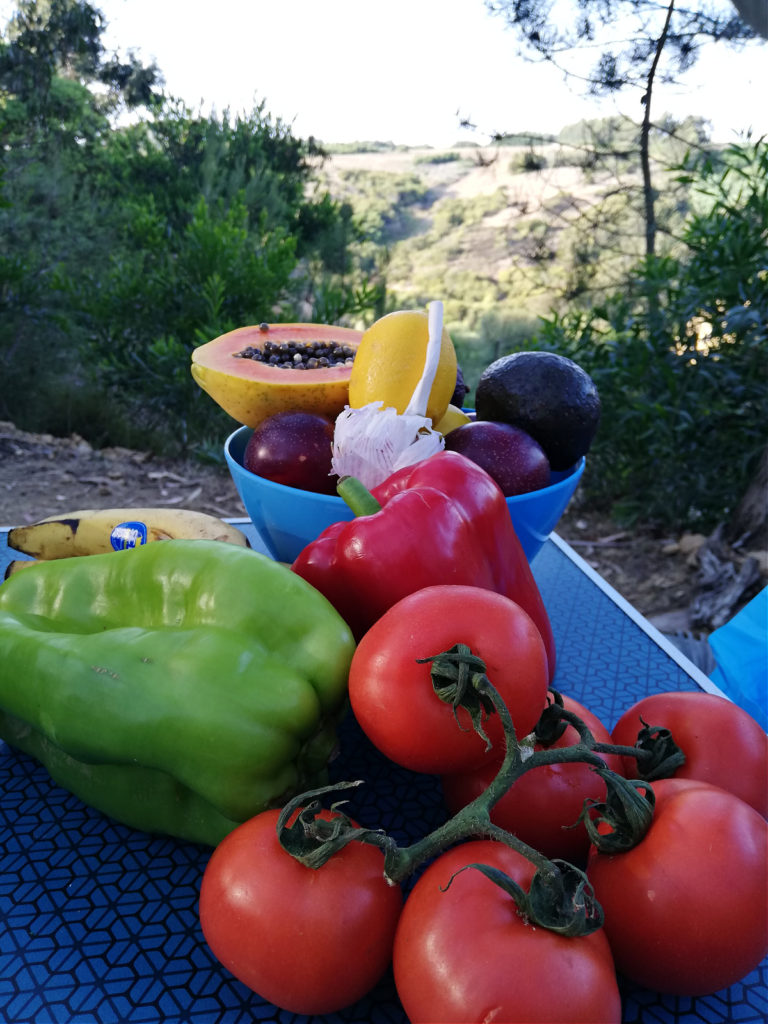 ---
Handy Tips For Storing and Cooking Food Camping
Make sure you have enough gas for your stove

(trust me on this one)
Set up your outside kitchen in an ergonomic way that work for you.

Try to keep it set up through the trip and only put food items away that will spoil or will attract animals.
Always have clean water on hand with a bowl and a tea towel.

This is essential in food preparation when you don't have access to running water. We like to use a big container with a tap There is drinking water available at most camp-sites that you can just fill it up. We use this water for cooking and cleaning up around the "kitchen"
Keep a large washing up bowl on hand

to store your dirty dishes
Have access to water, drinking cups and frequently used items to avoid searching through bags and boxes
If available, buy fresh ingredients before you cook as this saves waste or the risk of food spoiling in heat.
Don't be afraid to experiment and try new things that you probably wouldn't try in your kitchen at home. You just might surprise yourself.
Keep condiments such as salt and pepper in a ready to use accessible place.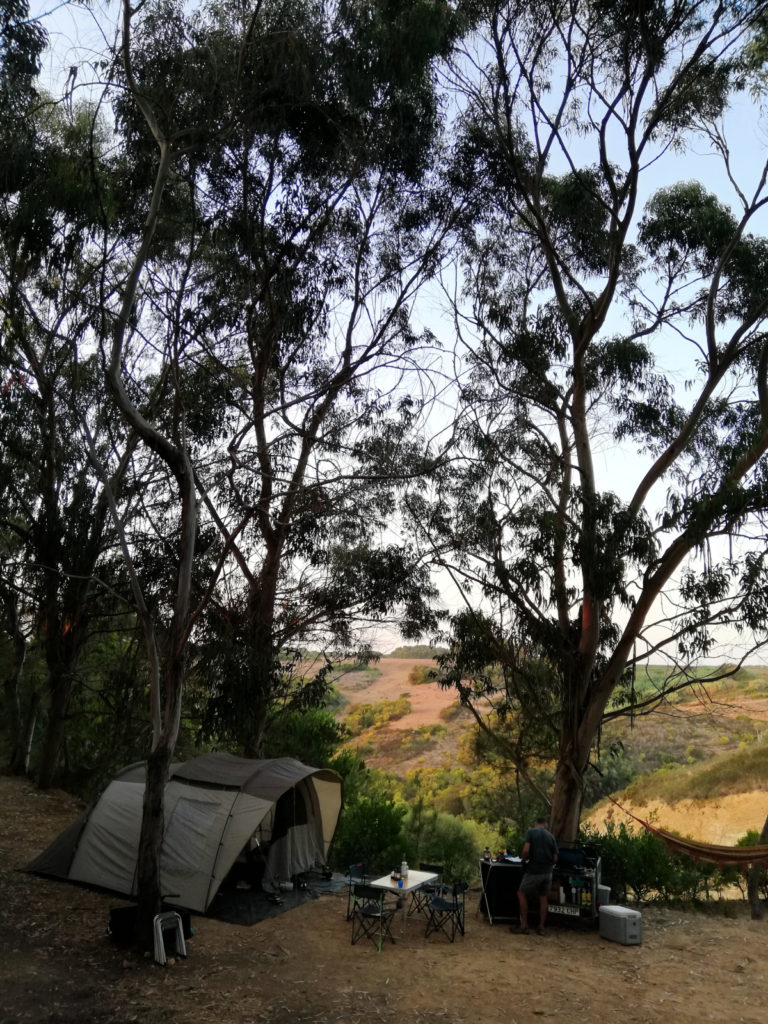 And this is where we manage to make it all happen. Camping proves that you don't need fancy equipment, kitchen spaces, electricity or even a roof to turn out great food! There are always challenges along the way, but isn't that just part of the fun? Okay, well sometimes it isn't. So, next time you head out camping, try to prepare a few dinners that you think are too adventurous for camping and you just might surprise yourself.
Good luck and happy camping!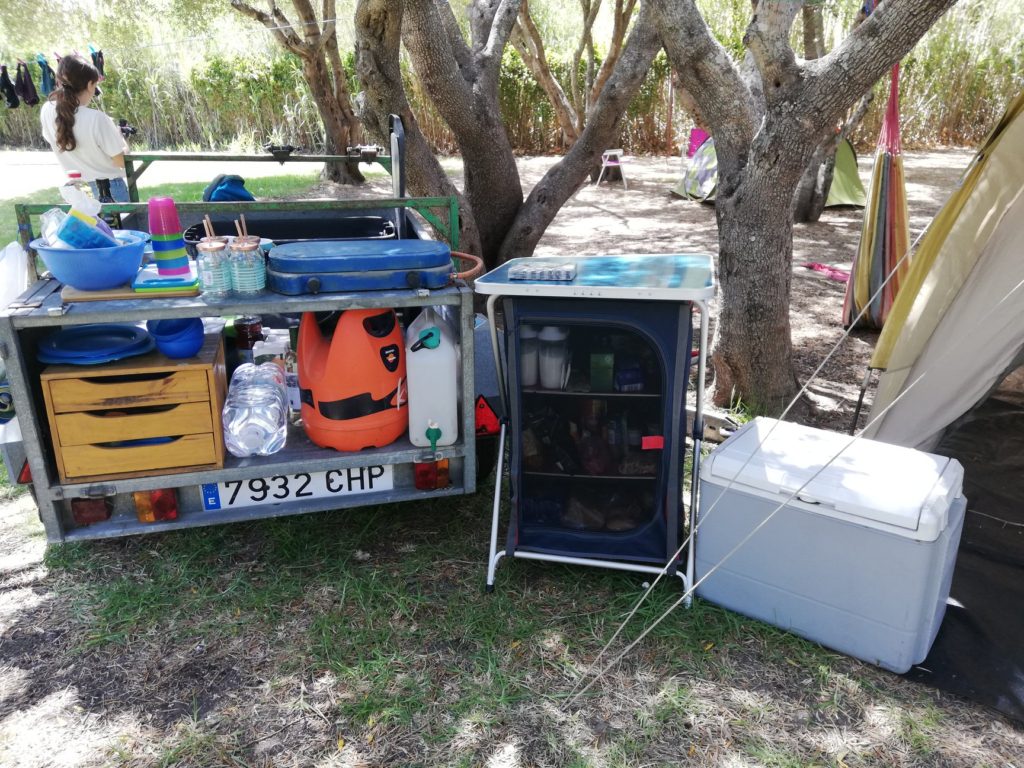 ---
Thanks for stopping by and hope to see you soon!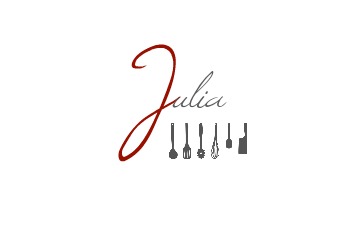 By