Rich and creamy cheesecake topped with apple pie filling! These Mini Apple Pie Cheesecakes make the perfect fall dessert. A great make ahead dessert for Thanksgiving or small dinner parties.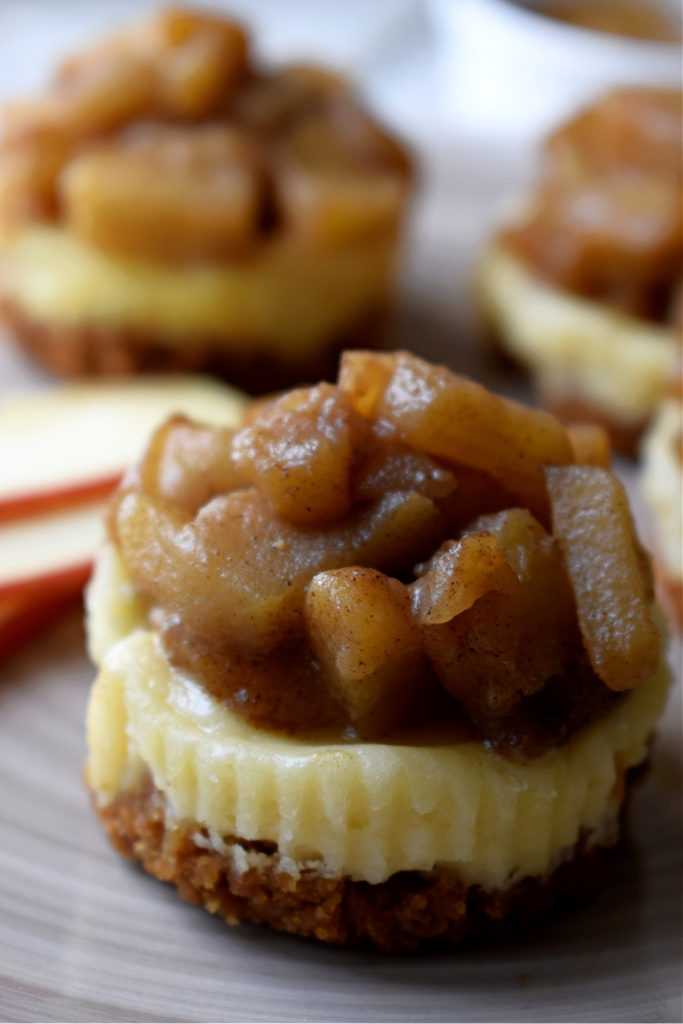 ---
Hello friends! I'd love to know how it is just about Halloween? Which really means Christmas is days away right? And can we all just blink and get on to 2021 where surely there will be big bright rainbows. I live in hope.
I know things are super quiet on the blog. I'm still wading my way through all the behind the scenes stuff of fixing my blog 2020. Fingers crossed I only have about four more weeks left of it and then the focus can 100% go back to food. Which is what we're all here for in the first place.
Don't miss Delicious Apple Desserts for Fall. More than a dozen great desserts from pie to cheesecake, muffins and more!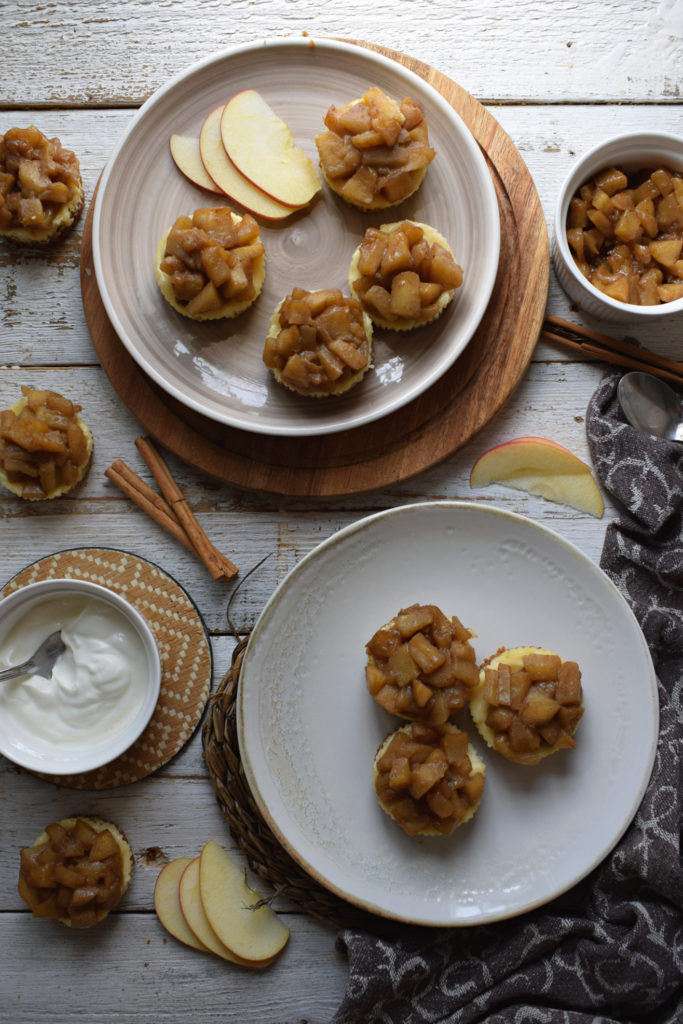 ---
And with food in the forefront, can we just take a minute to admire these perfect little Mini Apple Pie Cheesecakes. If you love cheesecake, (and why wouldn't you!), these are for you. A buttery cookie base, topped with a creamy cheesecake filling and finished off with spiced fall apples. Sounds like the perfect fall dessert to me.
And I a sucker for all things mini, like my Mini Chocolate Topped Raspberry Cheesecakes or Mini Lemon Cheesecakes filled with Homemade Lemon Curd, yum!
You'll want to keep these in mind for the holiday season that's ahead. These are easy to make, quick baking time and cooling time is much less than a big cheesecake. So, take a look at these delicious little bites of fall.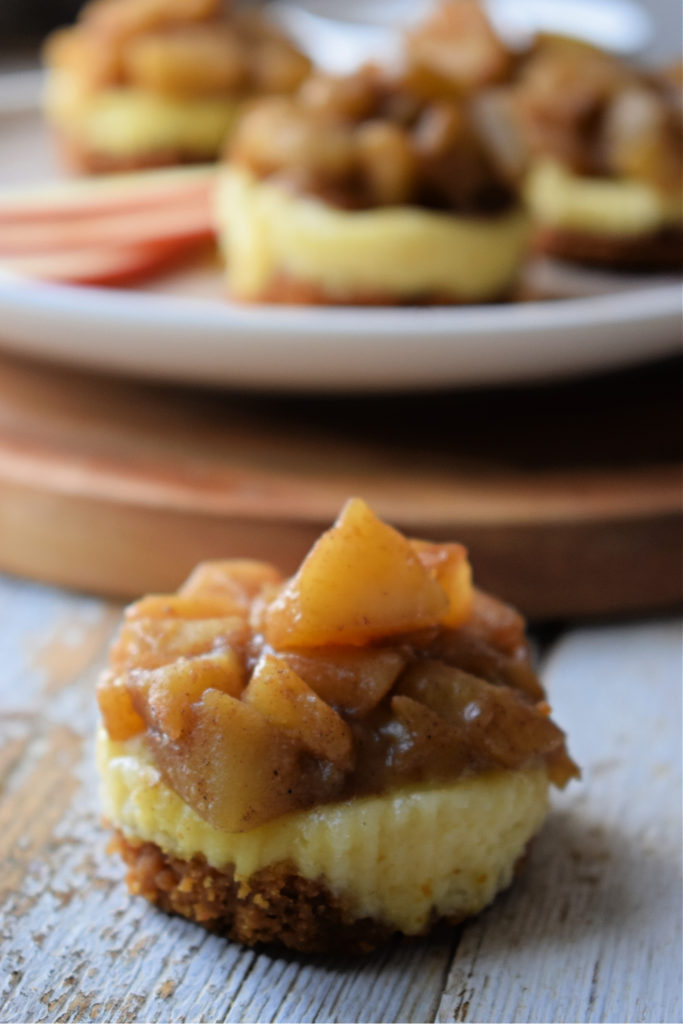 ---
Ingredients for The Mini Apple Pie Cheesecakes
Okay, so let's start with getting ALL of our ingredients in front of us. If you follow me, you know I can't state enough how much more easy your baking will go if you have everything in front of you before you start. Including all the mixing bowls, pans, spatulas, mixers…etc. Yes, all of it. and always read the full recipe before starting. You never know what surprises will be in store for you…hahaha
FULL RECIPE IS ALWAYS LOCATED AT THE END OF THE POST IN THE RECIPE CARD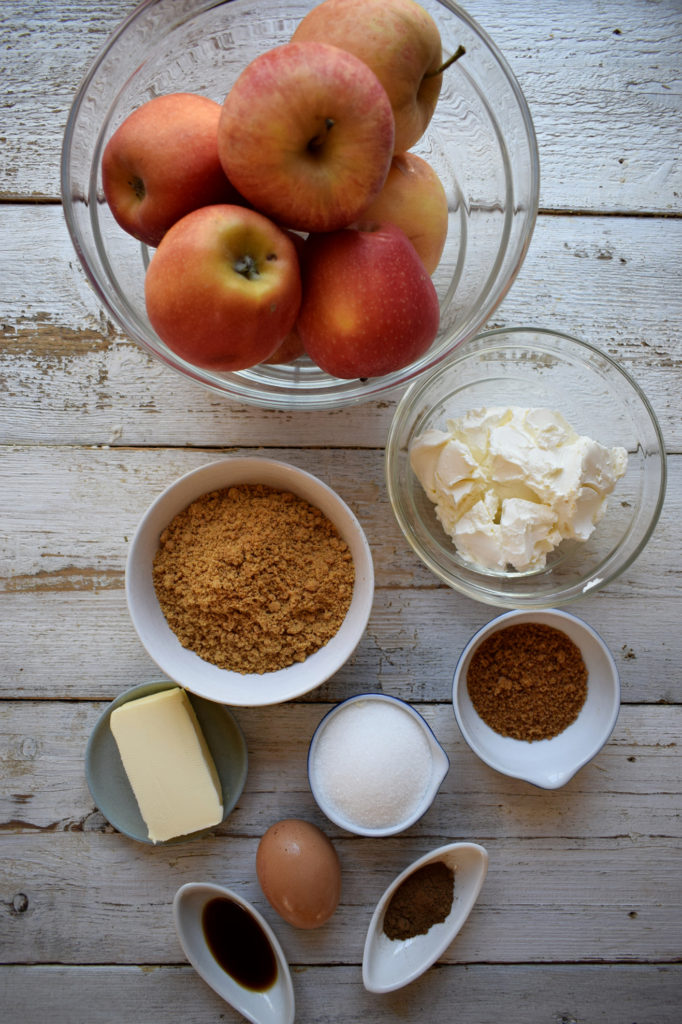 ---
Make The base For the Cheesecake
First thing we're going to do is make the base for the mini cheesecakes. You just simply combine the cookie crumbs with the butter and then stir to combine.
Put a tablespoon in each paper liner in your muffin trays.
IMPORTANT: Make sure you press the crumb mixture firmly into the bottom. If you fail to do so they will crumble when removed after baking.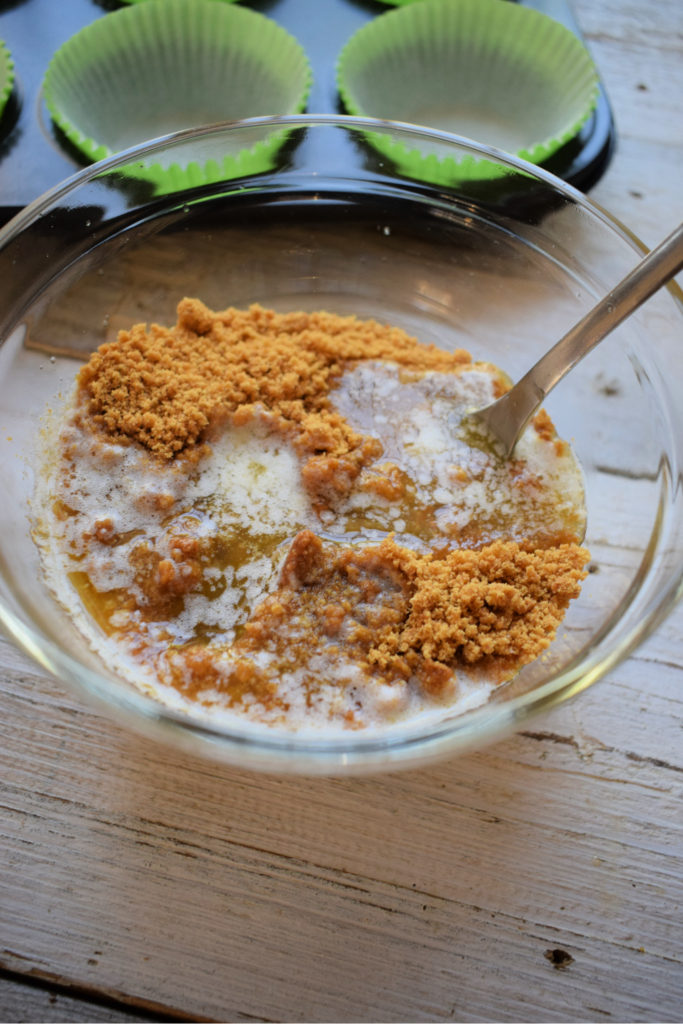 ---
Make The Filling
The filling is easy. Just combine the cream cheese, egg, vanilla and sugar to a mixing bowl. Mix on high speed for a couple of minutes until combined, smooth and light and a little fluffy.
Evenly spoon batter into the prepared pans on top of the cookie crumbs.
Bake for around 15 minutes in a preheated 350 F degree/180 C degree oven.
They should be slightly wobbly in the center. They will set as they cool. Leave to cool completely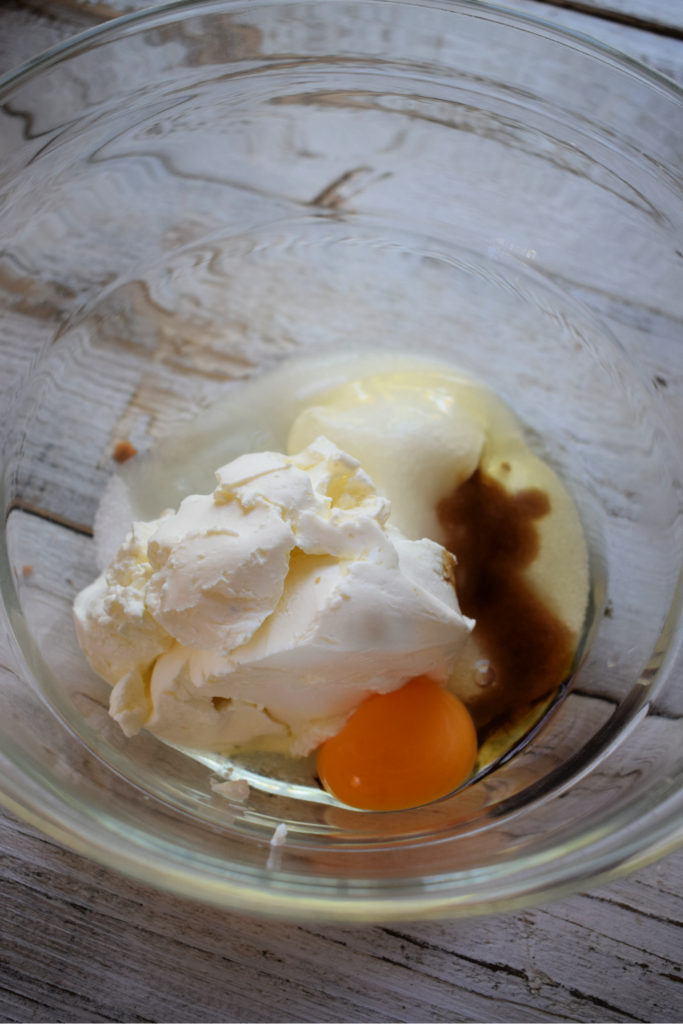 ---
Make The Apple Topping
---
The best part!
While the cheesecakes are baking, get started on this. Peel, core and dice the apples small like you see here.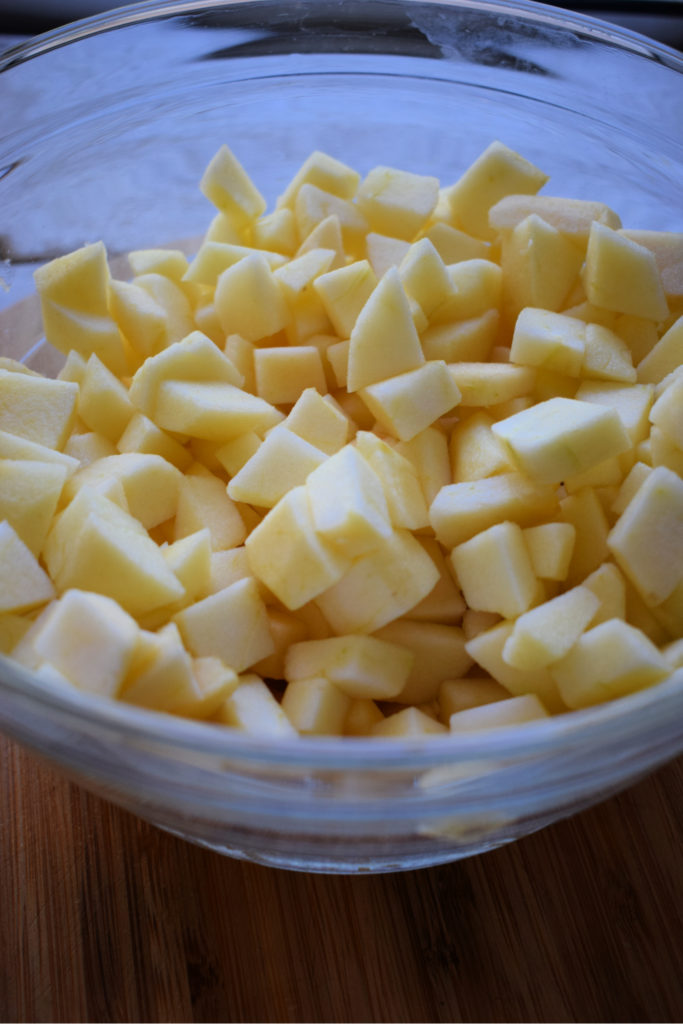 ---
Now everything is going to start smelling great. In a medium or large skillet set over medium heat, add the butter, brown sugar and cinnamon. Give a good stir and allow it to completely melt and slightly simmer. This will take about 3 – 4 minutes.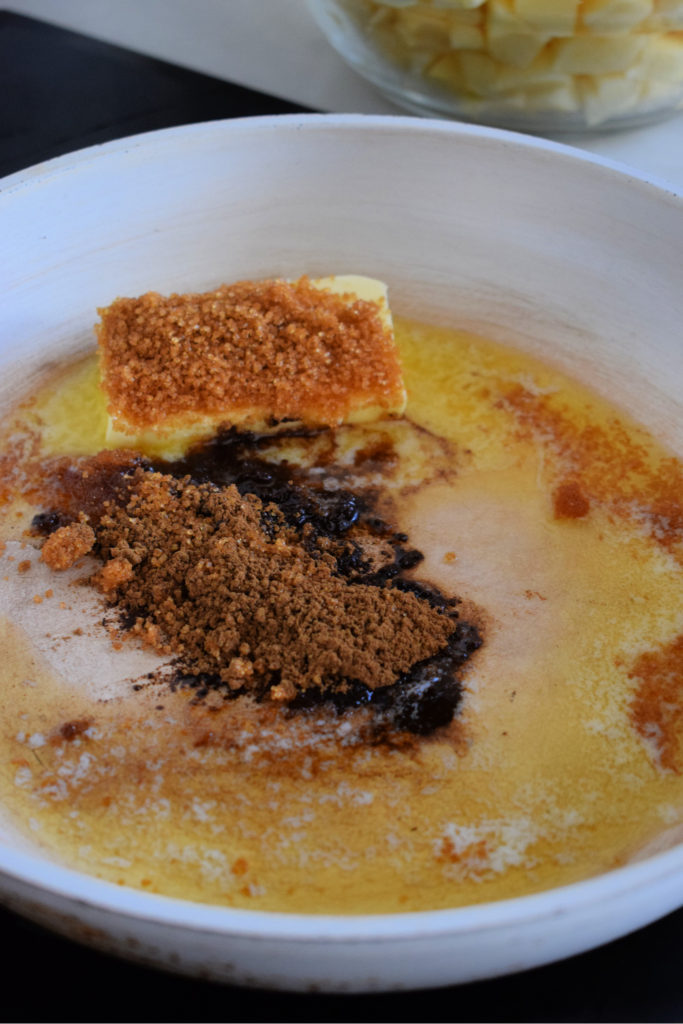 ---
Add the apples and stir to coat really well. Reduce heat to medium low and cover. Stir occasionally to prevent sticking and allow even cooking. Cook for about 15 – 20 minutes until the apples are completely cooked.
NOTE: If the apples start to stick during the cooking process, just add a few tablespoons of water and stir well.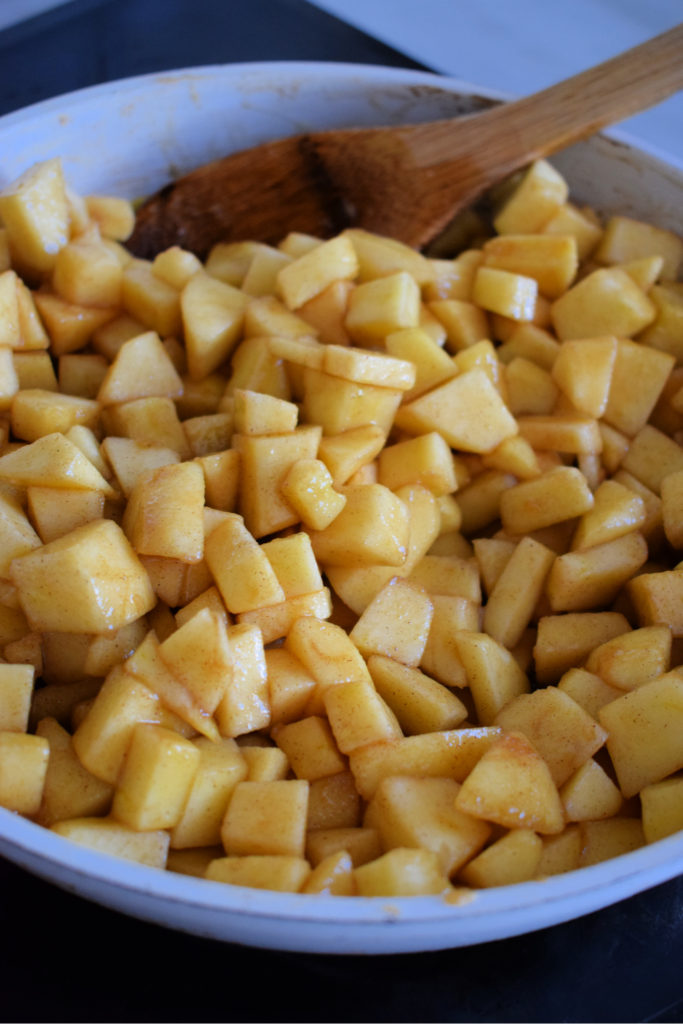 ---
Topping The Cheesecakes
---
Let the mixture cool completely before you top the cheesecakes. If you want to hurry up this process, you can put the filling in the fridge and it will cool quicker.
Just simply spoon the apple filling on top of the cheesecakes and then you are ready to dig in to this deliciousness!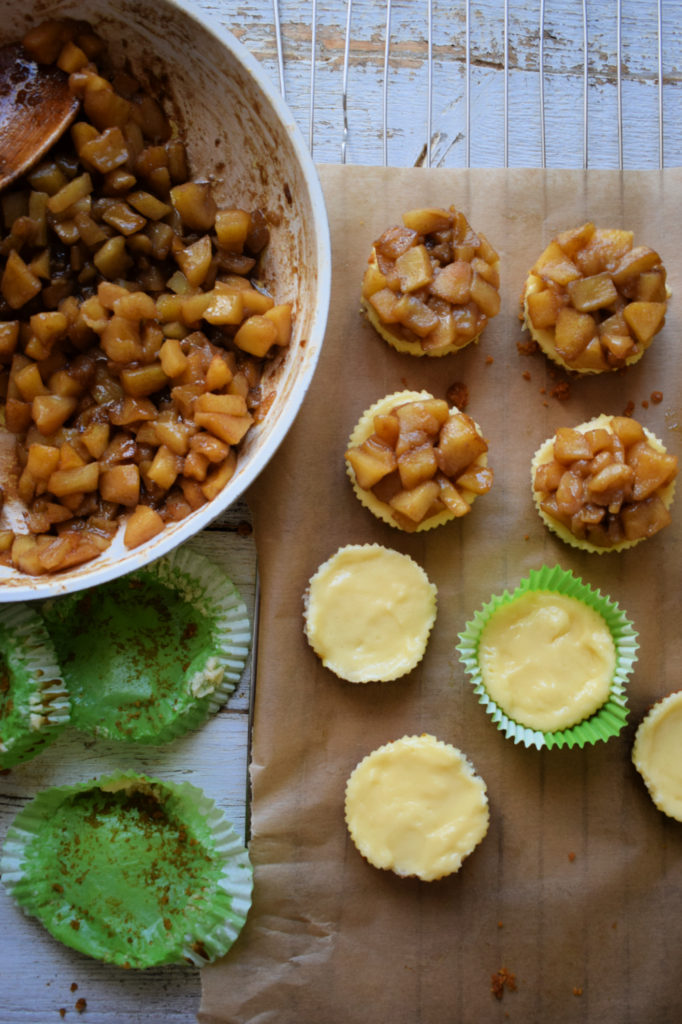 ---
Why Make Mini Cheesecakes
I've been asked before, "Why make mini cheesecakes and not just a big one?". There's a few great reasons for this and I'll tell you mine. And as much as I love a big ol' cheesecake, sometimes the mini ones are just what's needed and here's why.
Not only are the portions smaller, this recipe uses far less ingredients than a big cheesecake.
Baking time is just 15 minutes
Cooling time is only an hour
They are perfectly sized for a small dessert which is great for serving after dinners.
You can make it just a few hours before serving. Whereas with a big cheesecake it takes overnight to set properly.
And they are just cute!
Sometimes, the task of making a big cheesecake seems daunting and that's when mini cheesecakes come to the rescue. Much like my Mini Blueberry Compote Cheesecakes, these are a huge hit.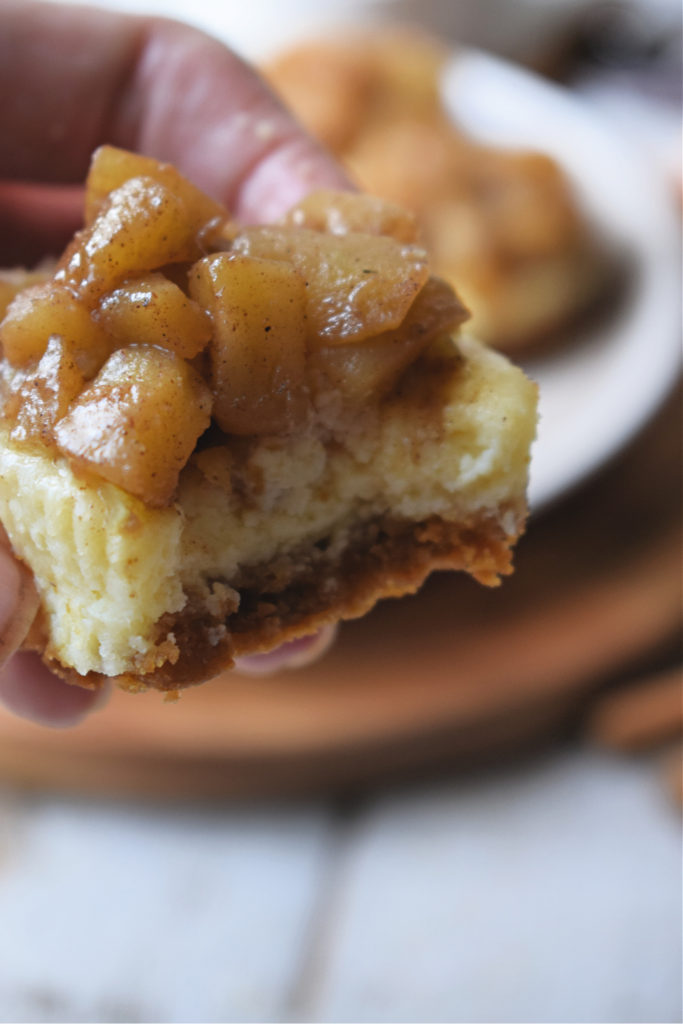 ---
If You Like These Cheesecakes, Here's some More Apple Dessert Ideas You Might Like to Take A Look at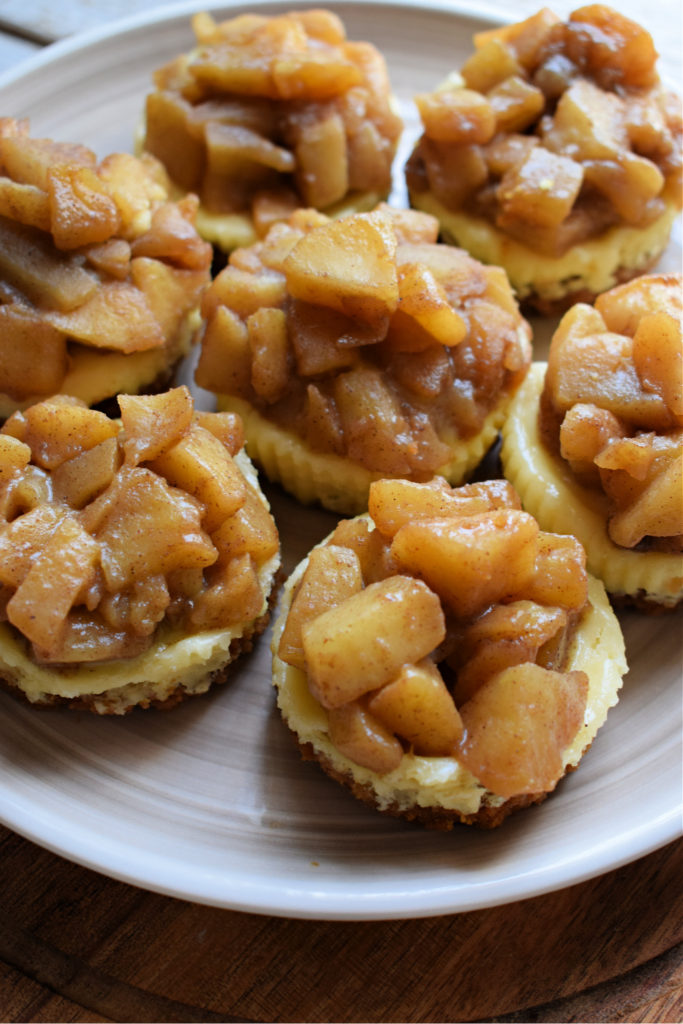 ---
These cheesecakes are great on their own or dressed up with fresh whipped cream or ice cream.
Well friends, thanks for your patience this year with my on and off regular postings. Like I said, I am truly nearing the end of getting all the stuff done that Google likes to see. Then it's full on back to food. That being said, I have been in the kitchen these past few weeks testing new recipes. Now, I just need the time to get them written out.
Happy Thursday and I'll be back really soon with something delicious to share. Promise!
Happy cooking and enjoy the mini cheesecakes.
---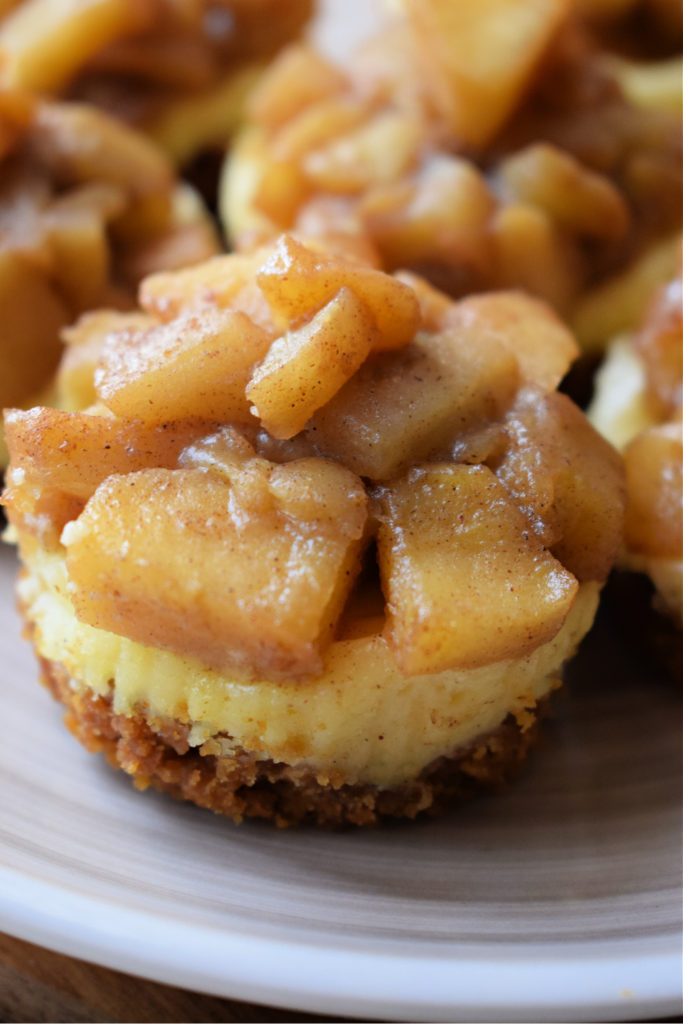 ---
Mini Apple Pie Cheesecakes
Rich and creamy cheesecake topped with apple pie filling! These Mini Apple Pie Cheesecakes make the perfect fall dessert. A great make ahead dessert for Thanksgiving or small dinner parties.
Servings:
12
MIni Cheesecakes
Ingredients
For The Base
1

Cup

digestive biscuits

crushed

4

tablespoons

butter

melted
For The Cheesecake Layer
12

oz

cream cheese

1 1/2 packs (based on 8 oz packs)

1

large

egg

1

Teaspoon

vanilla

1/3

Cup

sugar
For The Apple Topping
6

medium

Apples

peeled, cored and diced small

2

Tablespoons

butter

2

Tablespoons

brown sugar

1

Teaspoon

cinnamon

1 – 2

Tablespoons

water *

see recipe below
Instructions
Preheat oven to 350 degrees F/180 degrees C. Line 12 muffin tins with paper liners and set aside.

In a medium sized bowl combine the digestive crumbs with the butter. Equally divide the biscuit crumbs between the 12 muffin tins. Press firmly into each tin.

In the bowl of your electric mixer, mix the cream cheese on high speed until smooth. Add the sugar, vanilla and egg. Continue to mix until smooth. Evenly pour into the muffin tins. Bake for about 12-15 minutes or until they are almost set and slightly wobbly in the center. Remove from oven and let cool on a wire rack.

Make the apple topping while the cheesecakes are baking. In a large skillet set over medium to high heat, add the butter, brown sugar and cinnamon. Stir until it starts to bubble and toss in the apples. Stir to coat all the apples. Reduce heat to low-medium, cover and leave to cook for 15-20 minutes, stirring occasionally. If they start to stick while cooking adding a tablespoon of water. Apples should be soft and a nice golden brown colour. Remove from heat

Evenly spoon the apple filling ontop of the cooled cheesecakes. Serve straight away, or can be refridgerated to serve later.
*A note on times provided: appliances vary, any prep and/or cook times provided are estimates only.
Notes
When making the biscuit layer, it's important to firmly press the crumbs into the baking pan. If not, they will crumble after being baked.
I used golden delicious apples and they were medium sized and fairly firm.  If the apples start to stick to the pan during cooking, add a little water and stir well.
It's best to cook the apple filling while the cheesecakes are baking in the oven.
Allow cheesecakes and apple filling to cool completely before assembly.  If not, the filling will likely soften and melt the cheesecake filling somewhat. 
These will keep in the fridge up to 3 days.
Nutrition Facts
Mini Apple Pie Cheesecakes
Amount Per Serving (1 Mini Cheesecake)
Calories 261
Calories from Fat 153
% Daily Value*
Fat 17g26%
Cholesterol 62mg21%
Sodium 182mg8%
Potassium 152mg4%
Carbohydrates 27g9%
Protein 3g6%
Vitamin A 627IU13%
Vitamin C 4mg5%
Calcium 42mg4%
Iron 1mg6%
* Percent Daily Values are based on a 2000 calorie diet.
---
Thanks For Stopping by & Hope To See You Soon!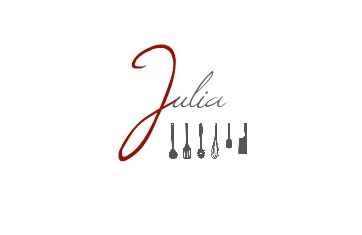 By