Stay warm with one of 20 + Soups to Make this Winter. I've covered something for everyone from smooth vegetable soups, to slow cooker, stews and Classic French Onion. All you need are the Homemade Dinner Rolls on the side.
---
Tips For Making Soups to Get You Started
Use a heavy bottomed pot

– A sturdy pot will transfer heat evenly and you will get a much better tasting soup.

Use a great broth

– A great soup starts with a great broth. You can buy some great broths in the grocery store these days. And if you're up for it, you can always make your own!

Sautee spices

– If your soup recipes uses any kind of spices, sautee those first. You will get much more flavour infused into the soup if you sautee any kind of spices or aromatics at the start of the soup.

Add broth as needed

– Always add broth as needed to soup. Although your recipe may call for 4 cups (for example), start by adding less. Add broth as needed to reach the desired consistency.

Season just before serving

– To avoid over salting a soup, don't season until the end. At times, broths can contain enough salt and you may not need to add any additional salt to your soup.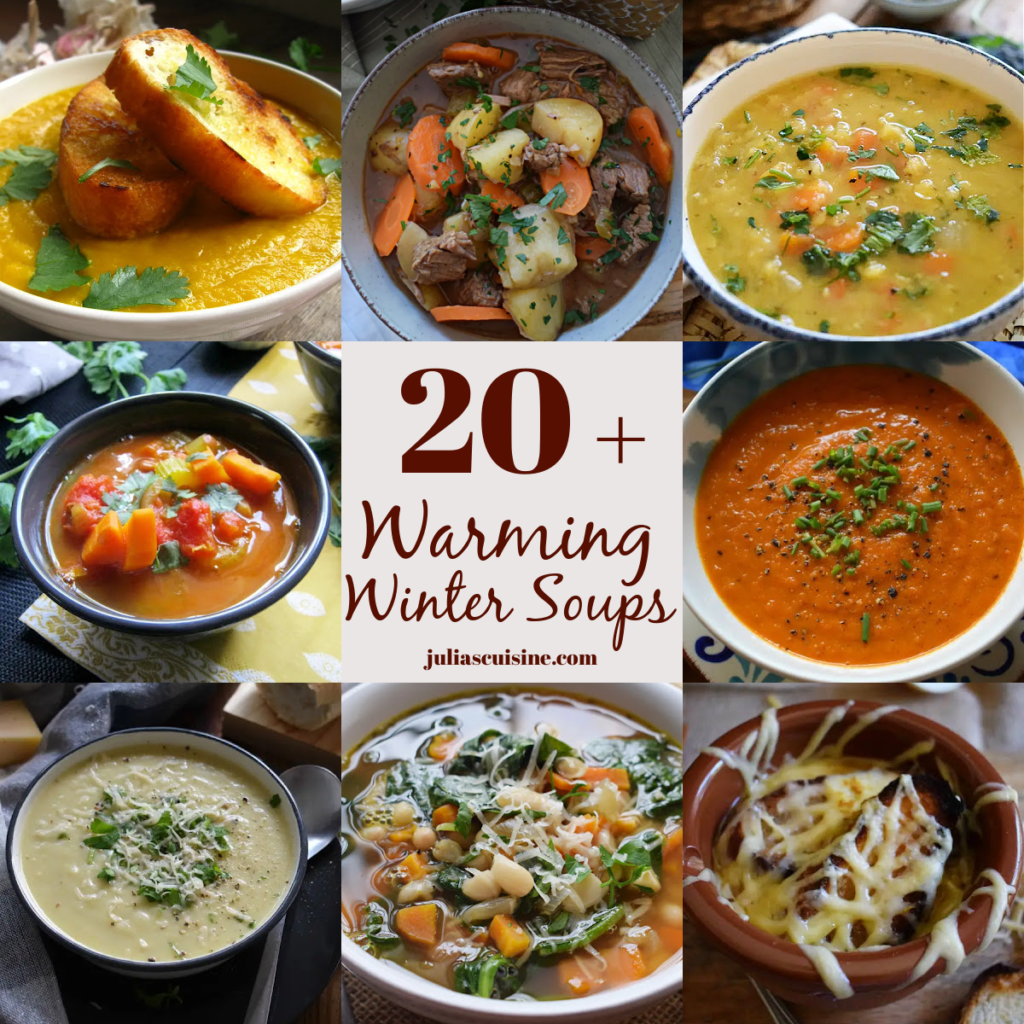 ---
Slow Cooker Soups
Slow cookers are a great way to dive into a warming bowl after a long day. Just add everything to your crockpot in the morning and enjoy later in the day!
---
Smooth Soups
Smooth soups are always welcomed at our dinner table. Easy to make and you can pretty much any vegetables you like. Top them off with a little creme and fresh herbs and serve with crisp croutons.
---
Vegetable & legume Soups
There is a huge space in my heart for chunky vegetable and legume soups. There is no end to what you can add and it's just like having a full meal in a bowl. My favourite way to serve chunky soups is with Fluffy White Dinner Rolls.
---
Classic soups
When I think about some classic soups, I think of Chicken & Vegetable and Tomato Soup. Those are among some of the soups I grew up with and still make on a regular basis. What are your go to classic soups?
---
Thanks For Stopping by & Hope to See You Soon!
By